31 of the BEST Chicken Breast Recipes made easy without compromising on flavour!
All of the chicken recipes in this round up have been made time and time again around the world by so many readers over the last two years since starting Cafe Delites. The BEST chicken breast recipes — baked, grilled, seared, crumbed, stuffed or smothered in delicious sauces.
Click on the image or link provided to go straight to the recipe!
The deliciously creamy mushroom sauce rivals any restaurant!
One of the most sought after dishes served in restaurants is super fast and easy to make in your very own kitchen. Perfect for weekend OR weeknight cooking, this is one of the best chicken breast recipes you will make time and time again.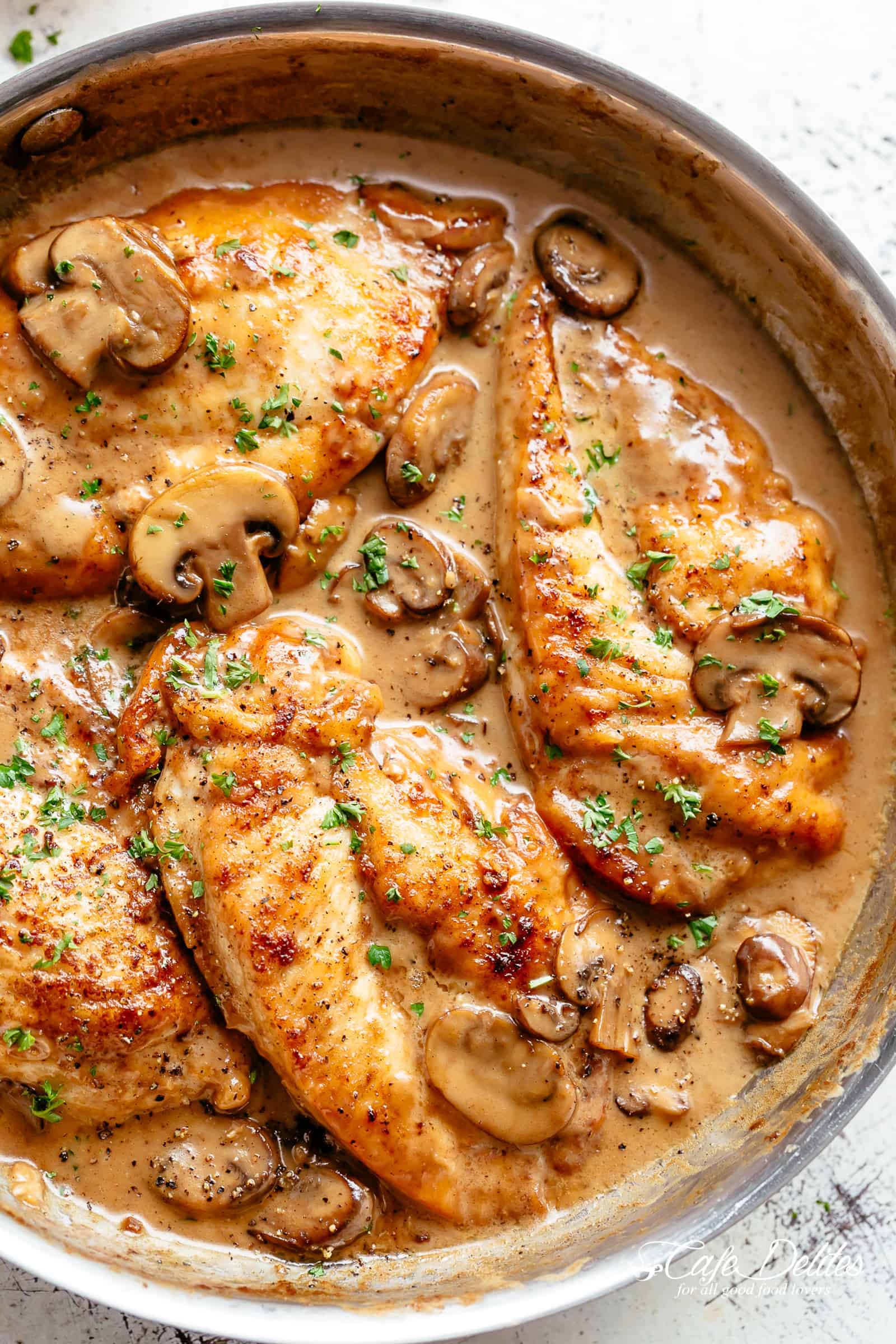 A twist on caprese, filled with both fresh and sun dried tomatoes for a flavour packed chicken!
Chicken breast has never been so juicy! This is where two chicken breast recipes merge into one to become one unforgettable delicious dish.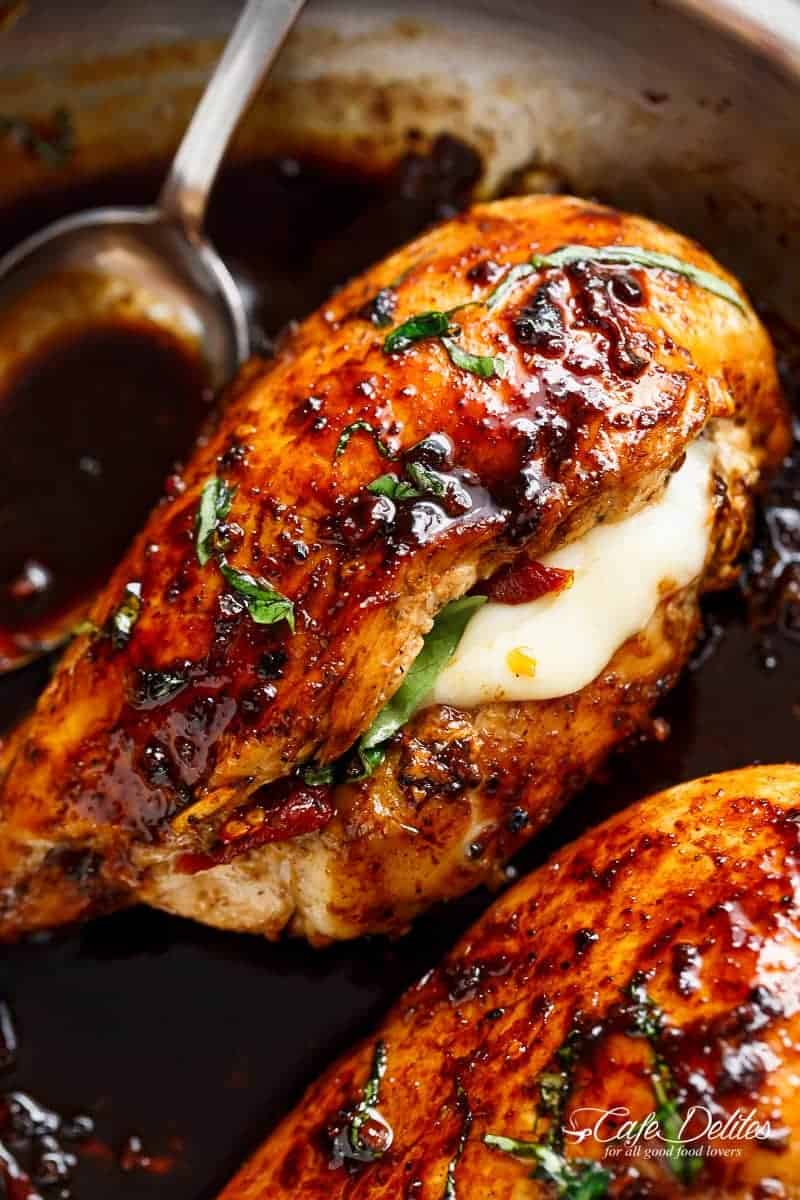 Easy to make right at home in one pan with simple ingredients!
This rich and creamy flavoursome Chicken tikka rivals any Indian restaurant! Why go out when you can make it better at home! With aromatic golden chicken breast (or thigh) pieces swimming in an incredible curry sauce!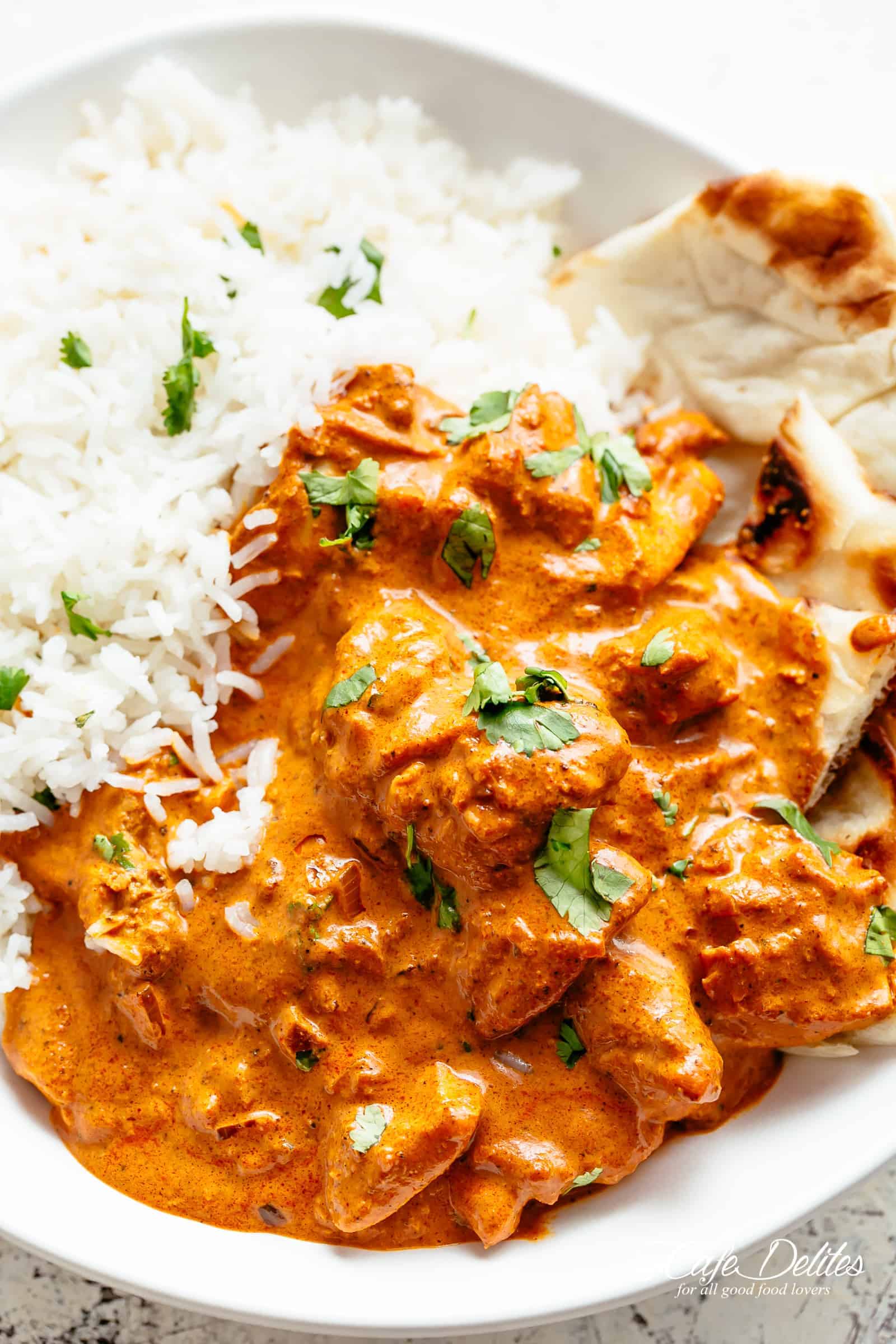 Marinated in the best juicy lime marinade, then seared for that unmistakeable crisp-charred outer edge!
Serve with onions and colourful bell pepper strips, and wrap them in a lettuce leaf for low carb, or the traditional flour (or corn) tortillas for the best dinner in minutes!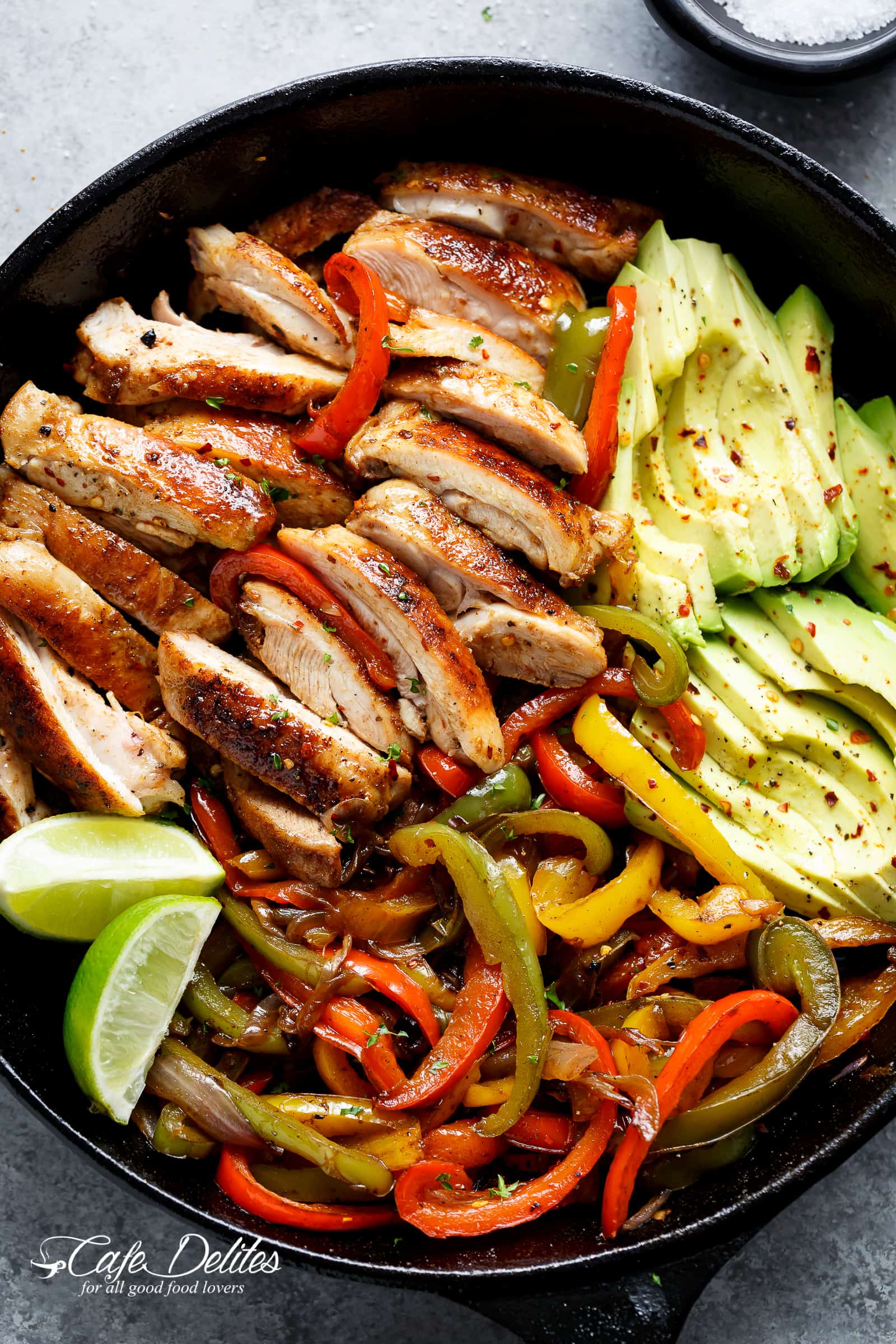 A thick and creamy sauce with mushrooms.
PACKED with flavour, chicken breast recipes have never been easier!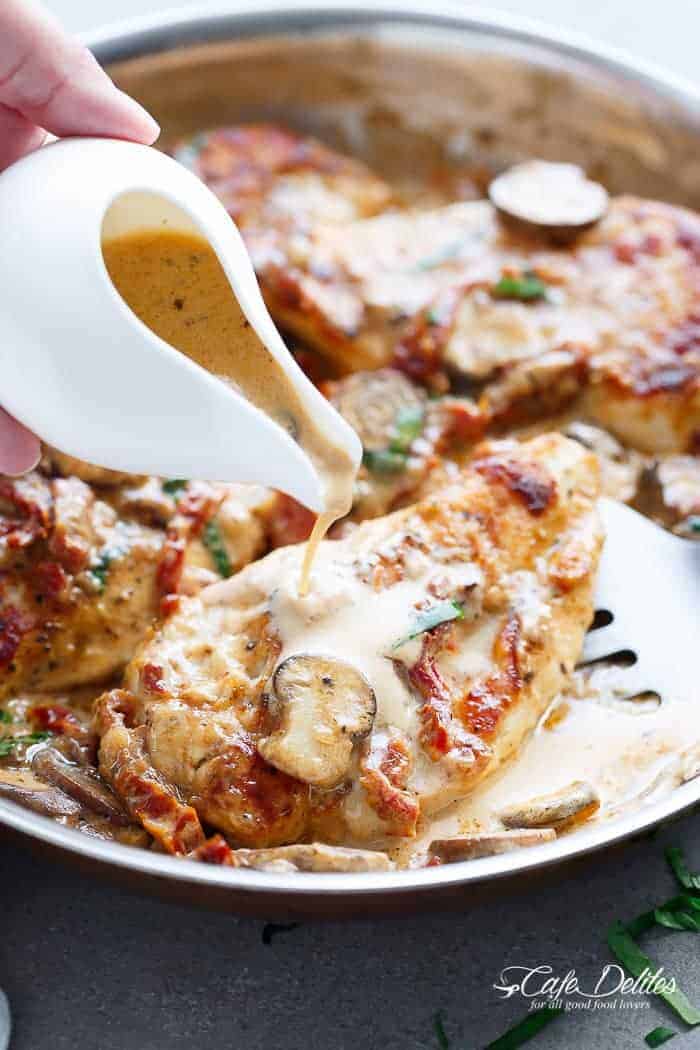 Oven baked crispy chicken, potatoes and green beans is a complete dinner smothered in garlic butter sauce!
Throw your frying pans out the window for this one. So easy with a deep fried TASTE!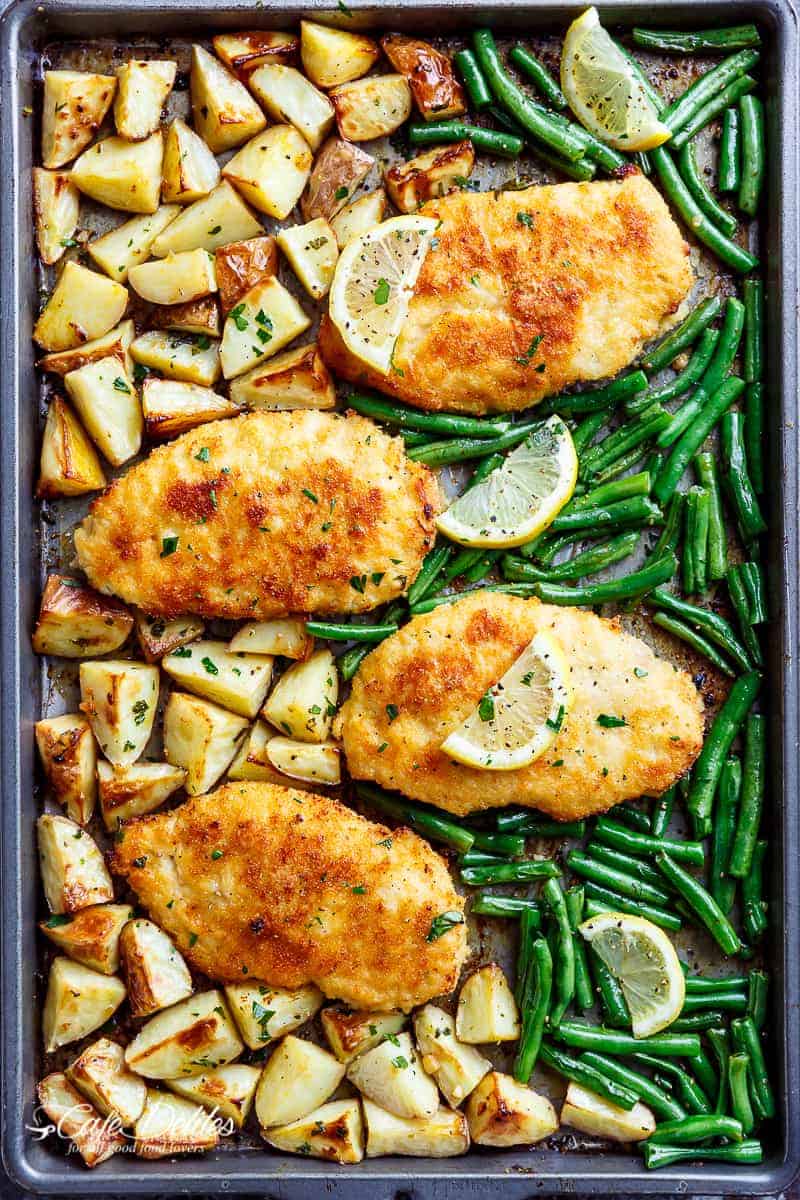 Low carb dream!
Seasoned chicken breasts simmered in a homemade tomato sauce and topped with melted mozzarella cheese. The BEST Easy Mozzarella Chicken recipe that happens to be exactly what it claims to be… EASY! You won't MISS a crispy crumb on this chicken…it is SO good!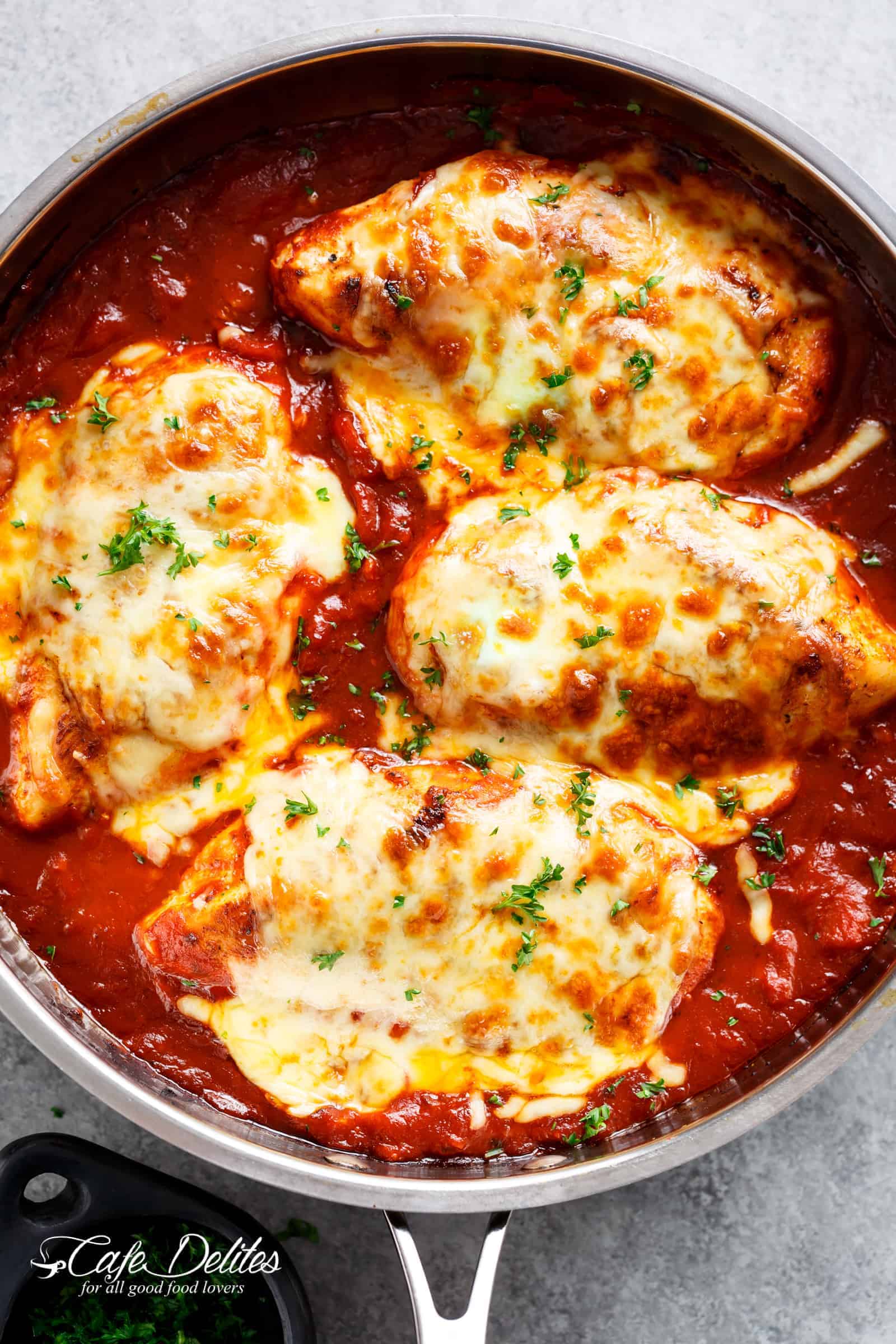 A meal in a salad mixing two of your favourites into one delicious bowl!
Chicken Caesar salad is hands down one of the most popular and loved salads around the world. So is a good Cobb salad. Merging two into one? EVEN BETTER!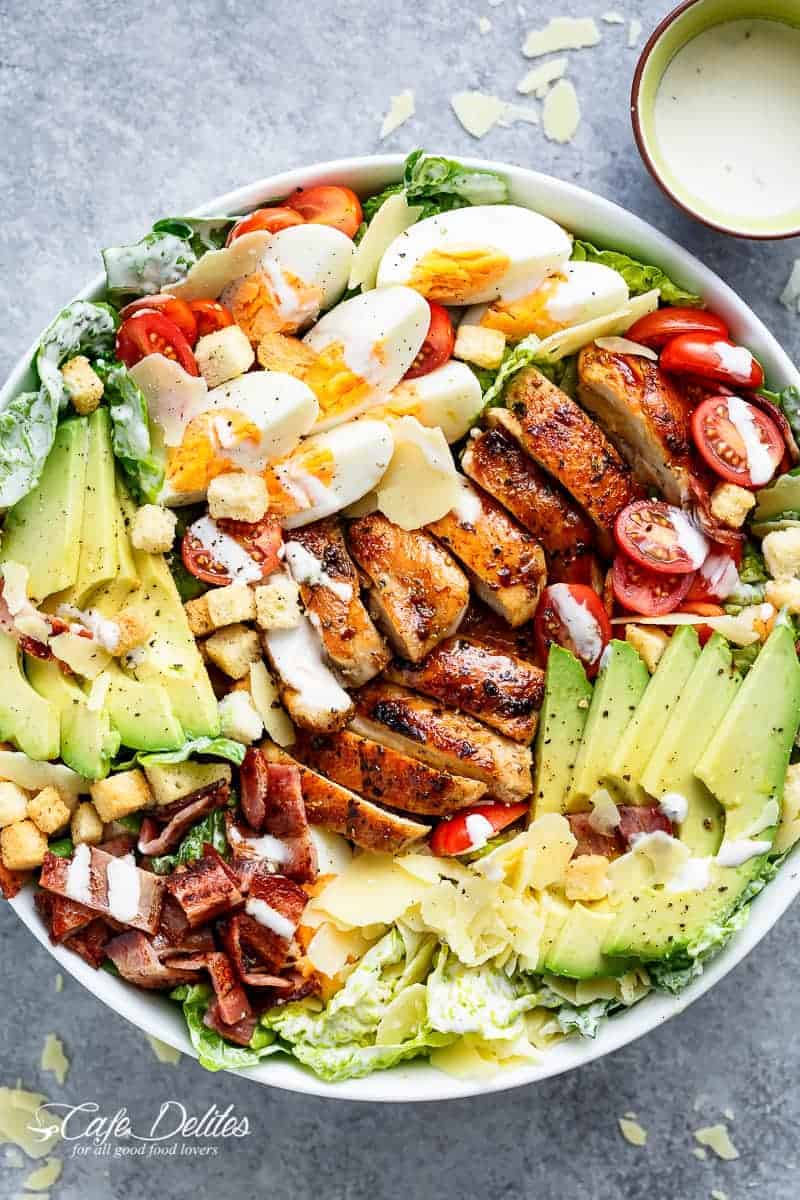 Calling ALL Garlic Mushroom lovers… this is THE chicken recipe of your dreams!
Golden, crispy chicken on the outside, juicy and buttery on the inside, filled with cheese and the most delicious garlic butter mushrooms.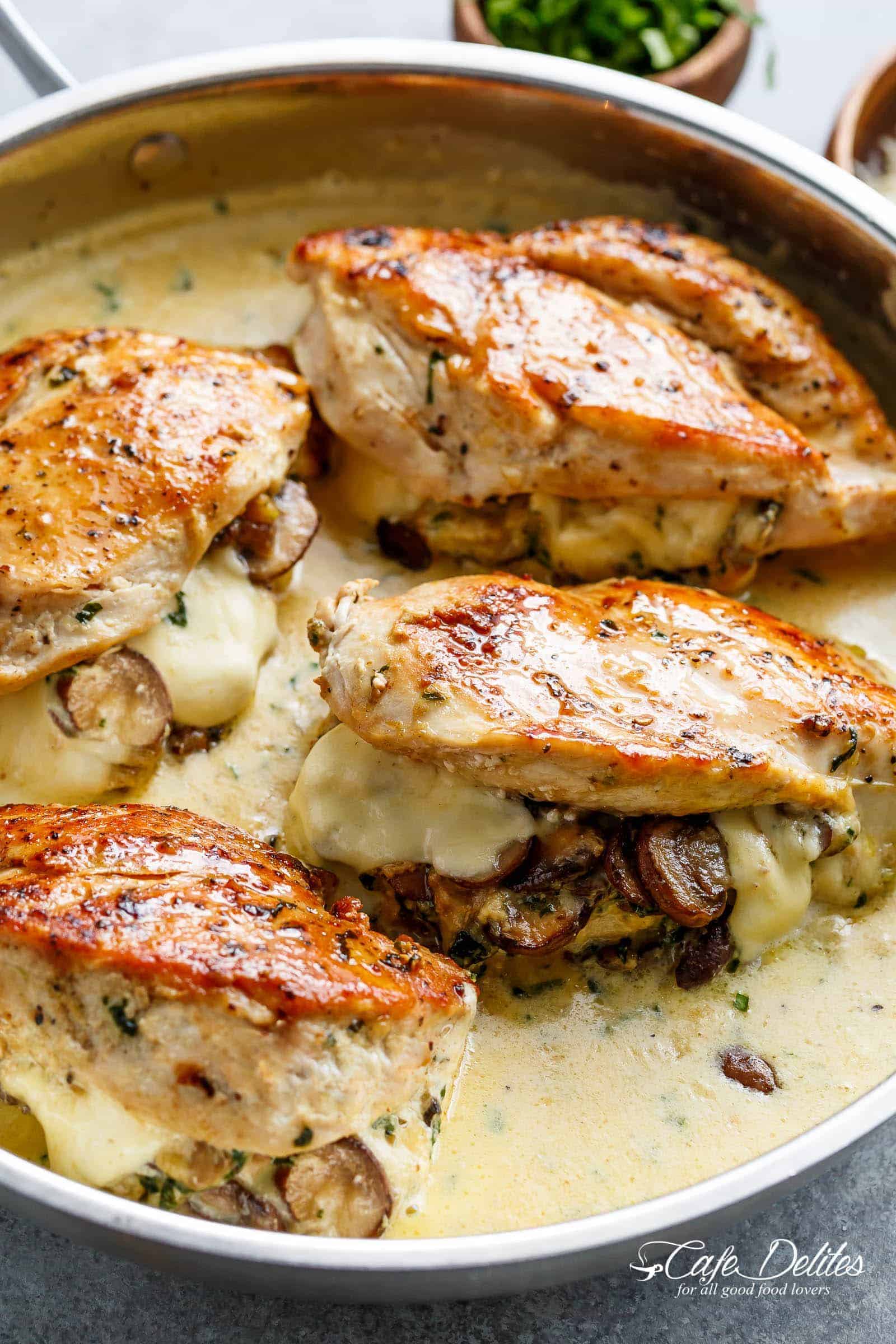 Tender and juicy baked chicken breasts take only minutes to make!
This recipe couldn't be any easier to prepare for a quick and easy dinner idea! Smothered in a Honey Mustard Sauce with a kick of garlic and lemon juice, with optional roasted asparagus all cooked on the same pan!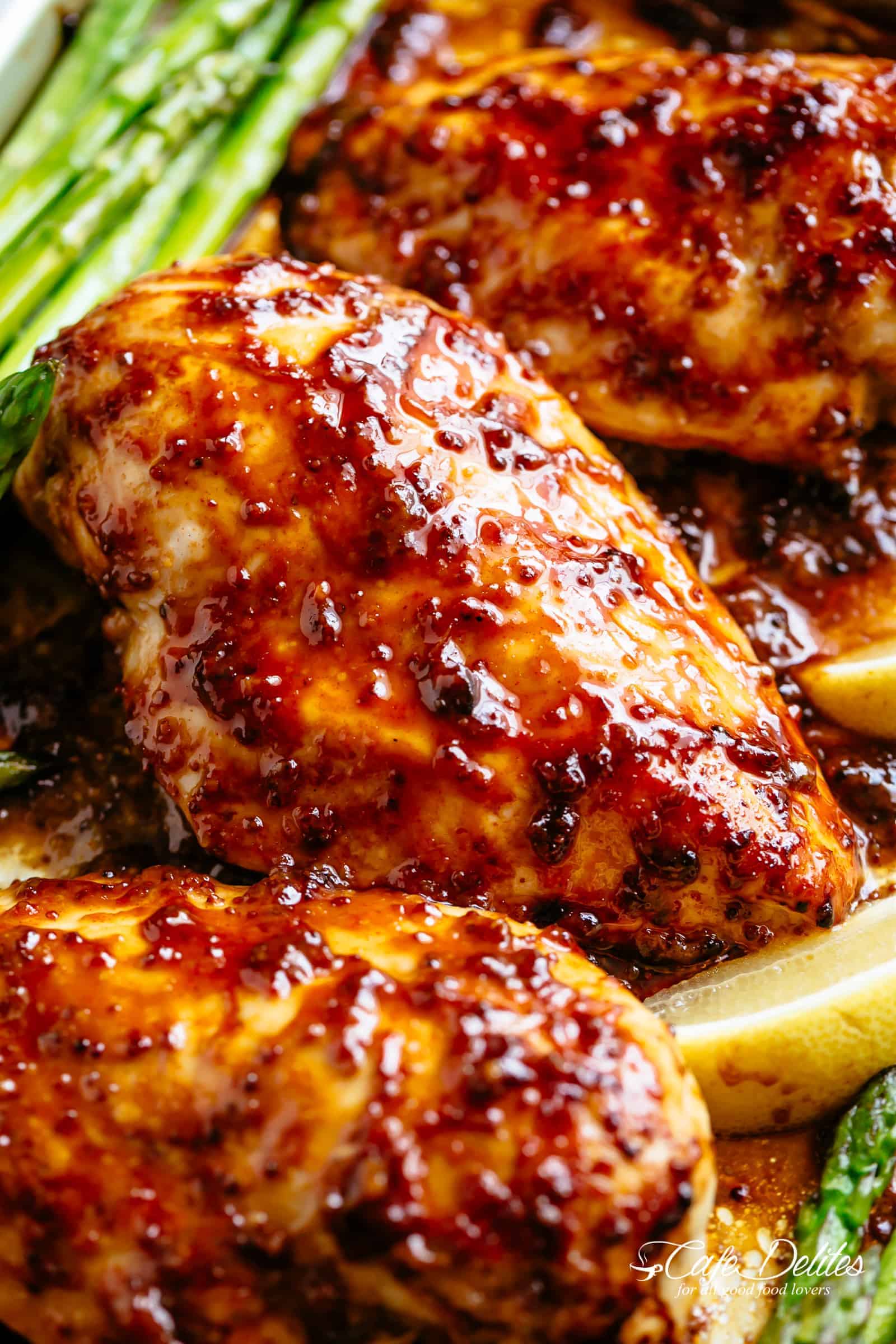 One pot dinner made on the stove in less than 30 minutes!
It will be hard to go back to regular Mac and Cheese after this! Here's the thing: garlic + sun dried tomatoes + parmesan cheese + mozzarella cheese + spinach + creamy sauce + topped with pan seared chicken breasts = SO MUCH FLAVOUR!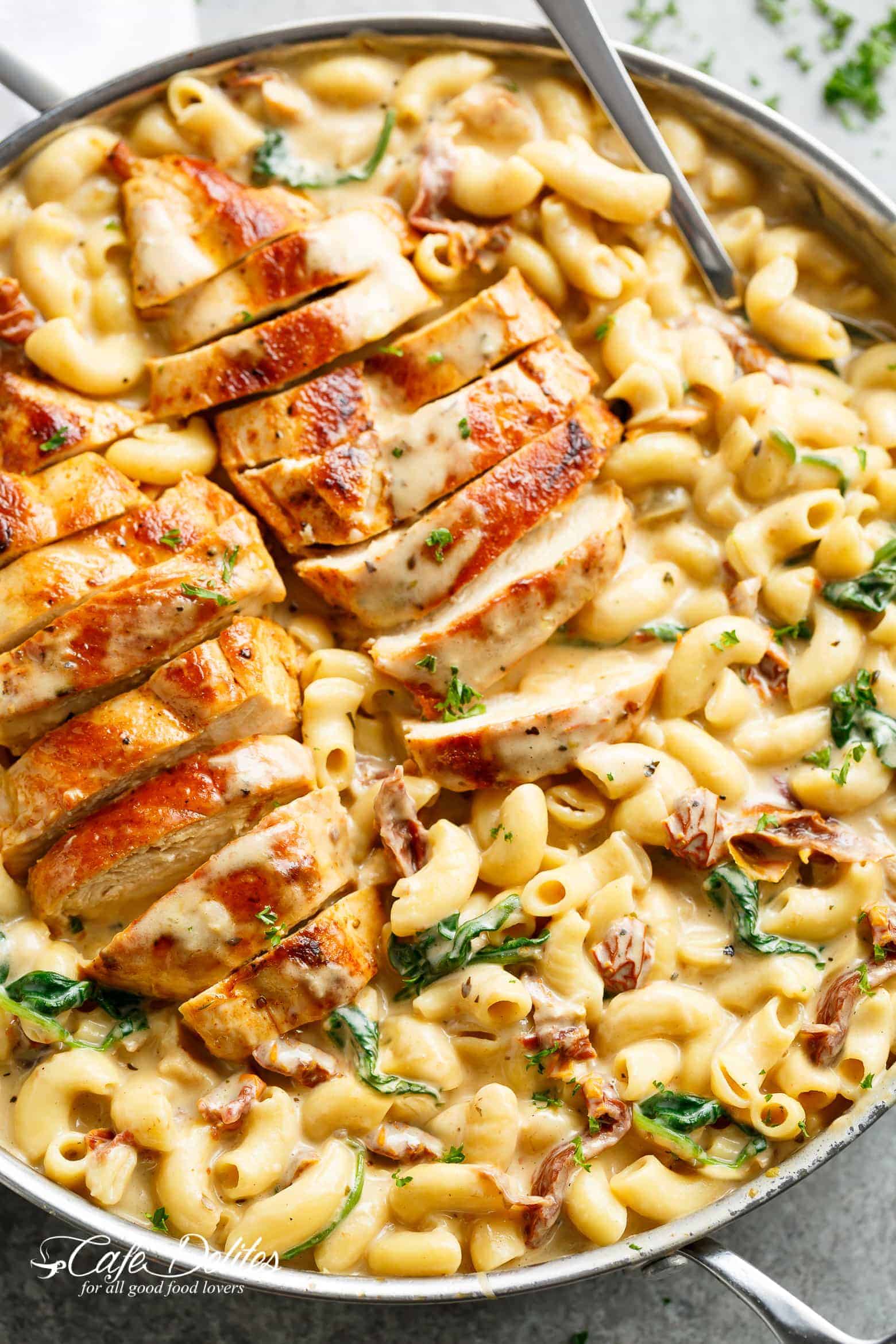 Cooked in 10 minutes…no marinading!
Just as good with chicken breasts swimming in a beautiful flavoured homemade teriyaki sauce. Super addictive and better than ANY store-bought teriyaki sauce, guaranteed.
A family favourite chicken breast recipe adding a garlic twist to an authentic piccata!
Golden, crispy chicken breasts lightly dredged in flour and parmesan cheese, pan fried and finished off in a buttery, lemon sauce. It doesn't get any better than this easy chicken piccata for dinner!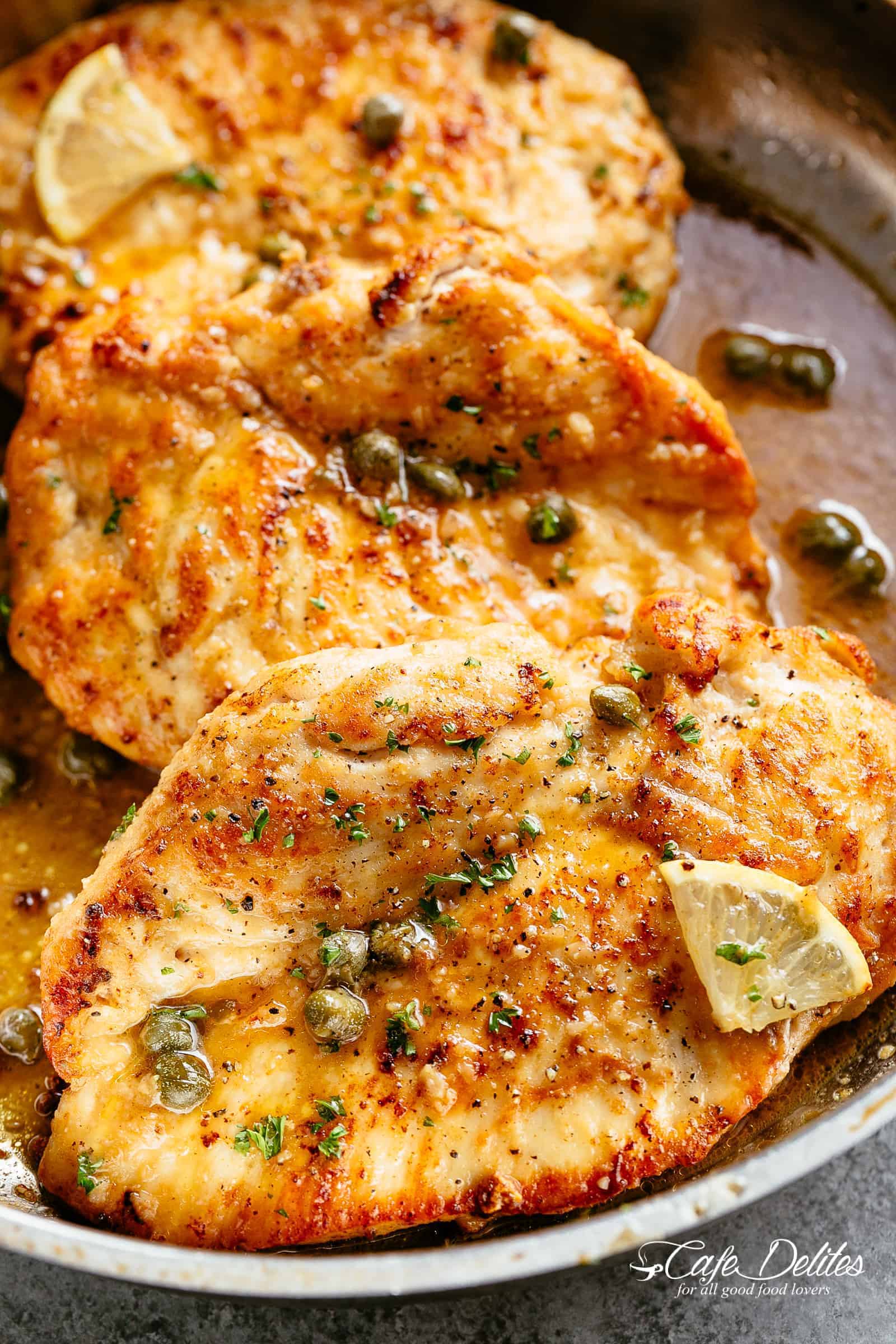 Souvlaki flavours are smothered all over this salad, thanks to this incredible dressing that doubles as a marinade.
Complete with Tzatziki and warm homemade Garlic Flatbreads!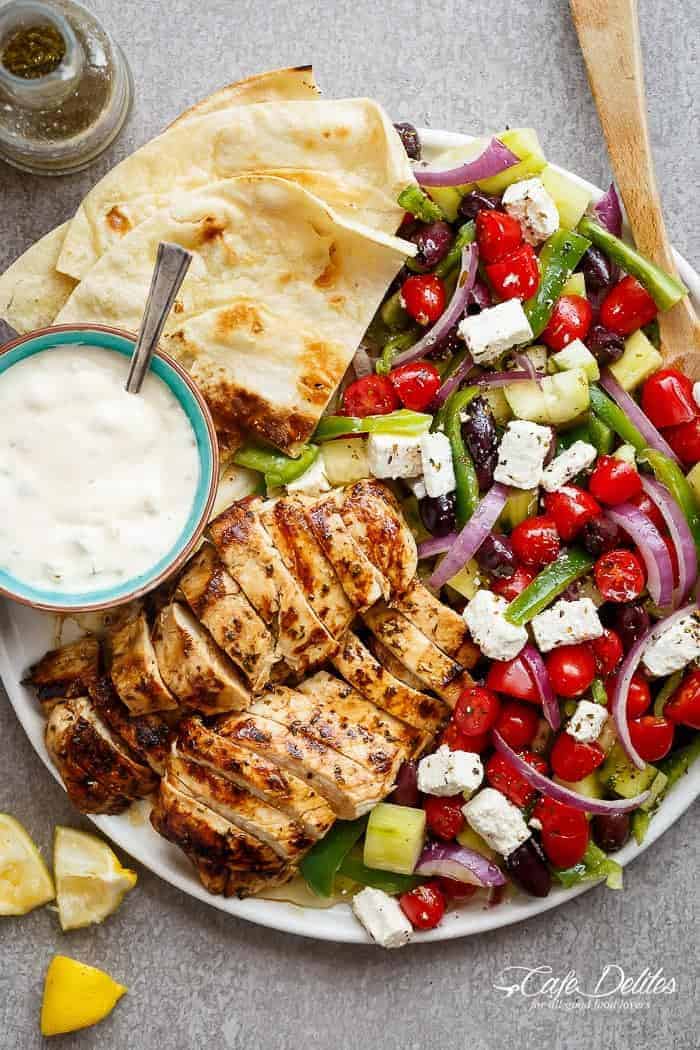 The ultimate twist! Golden chicken breasts soak up a carbonara inspired sauce with crispy bacon pieces.
Recipe includes low carb, low fat and full fat options!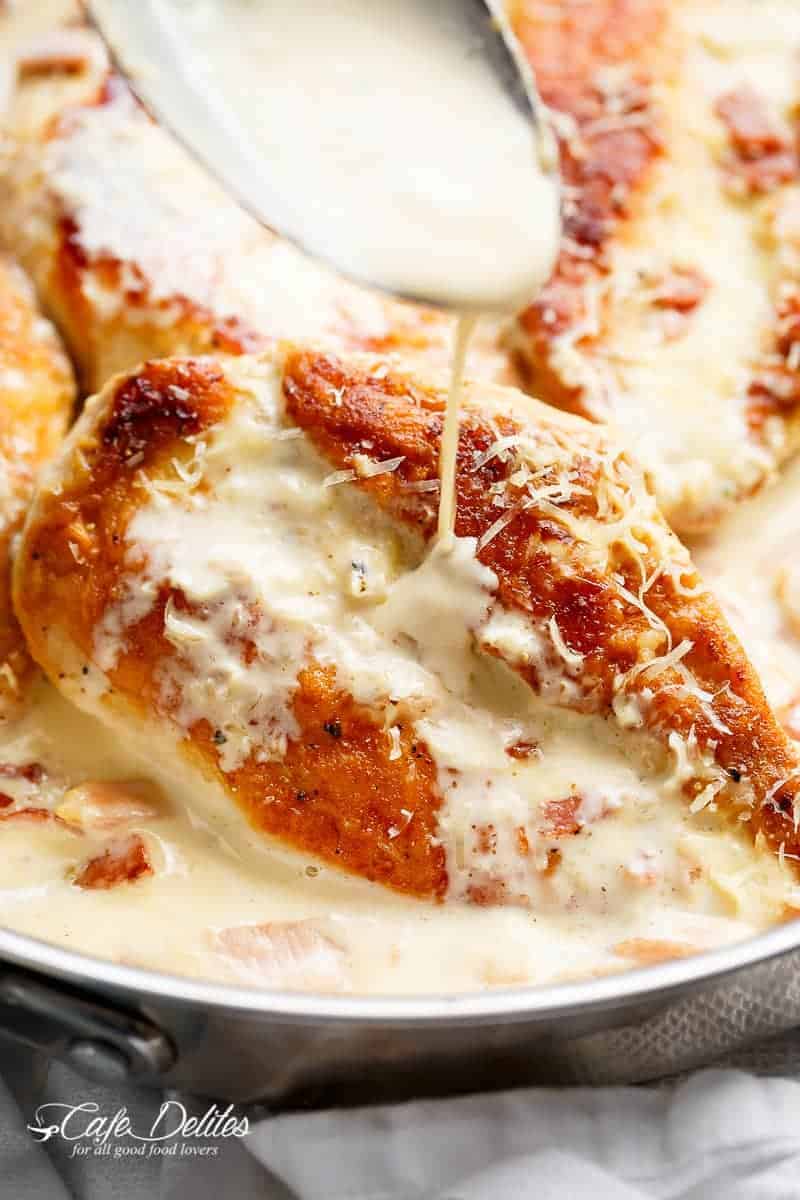 Chicken breasts rubbed with garlic and herbs, dripping with a tomato balsamic sauce and melted mozzarella cheese!
It doesn't get any better than this EASY recipe! Let your oven do ALL the work and have the most delicious chicken on your table in less than 30 minutes!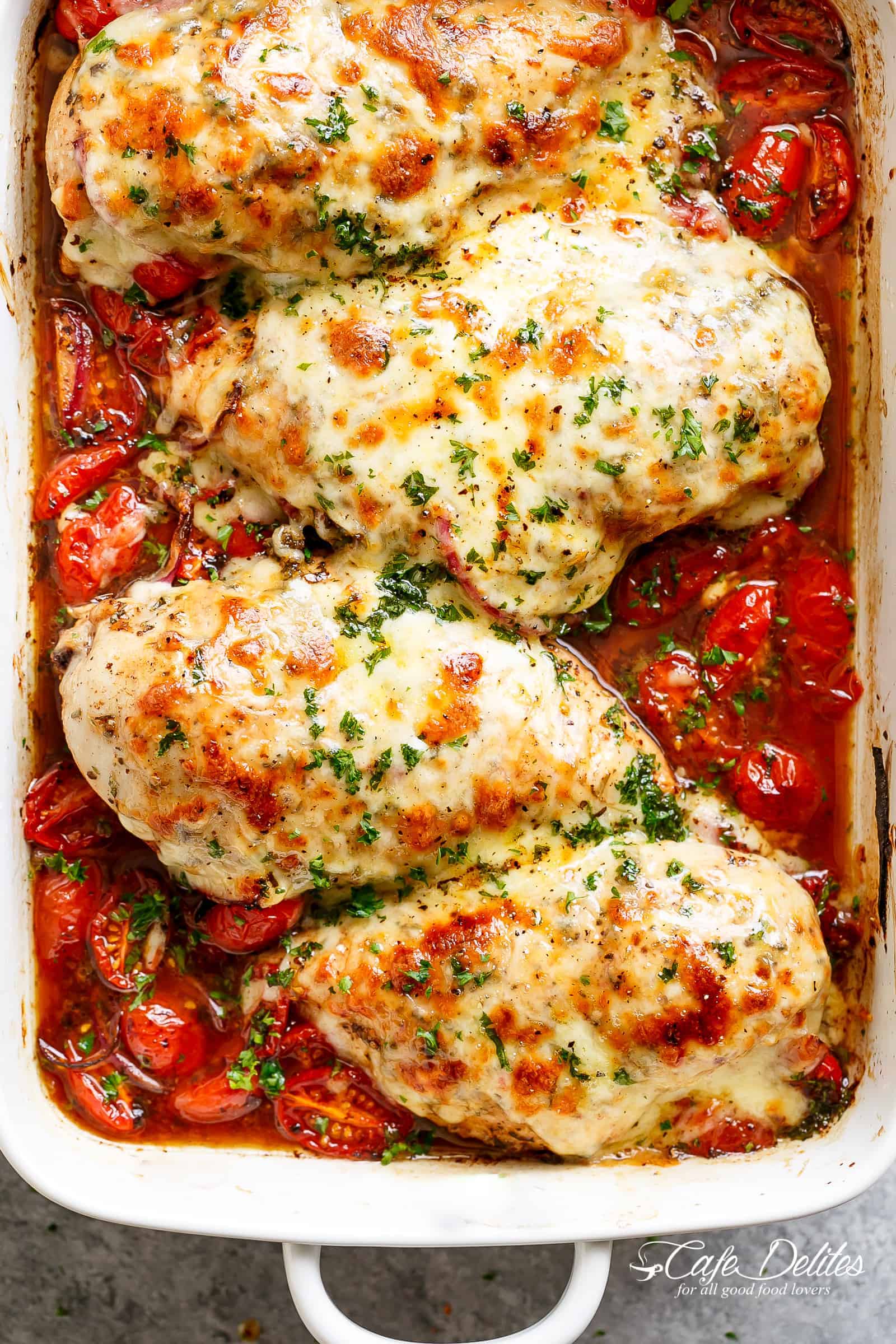 A low carb alternative to a traditional Bruschetta!
Italian Herb Bruschetta Chicken is exactly like the traditional crusty bread version, but with chicken breasts rubbed with minced garlic and seasoned with Italian herbs for a lighter meal in minutes! Drizzled with balsamic glaze for an extra punch of flavour.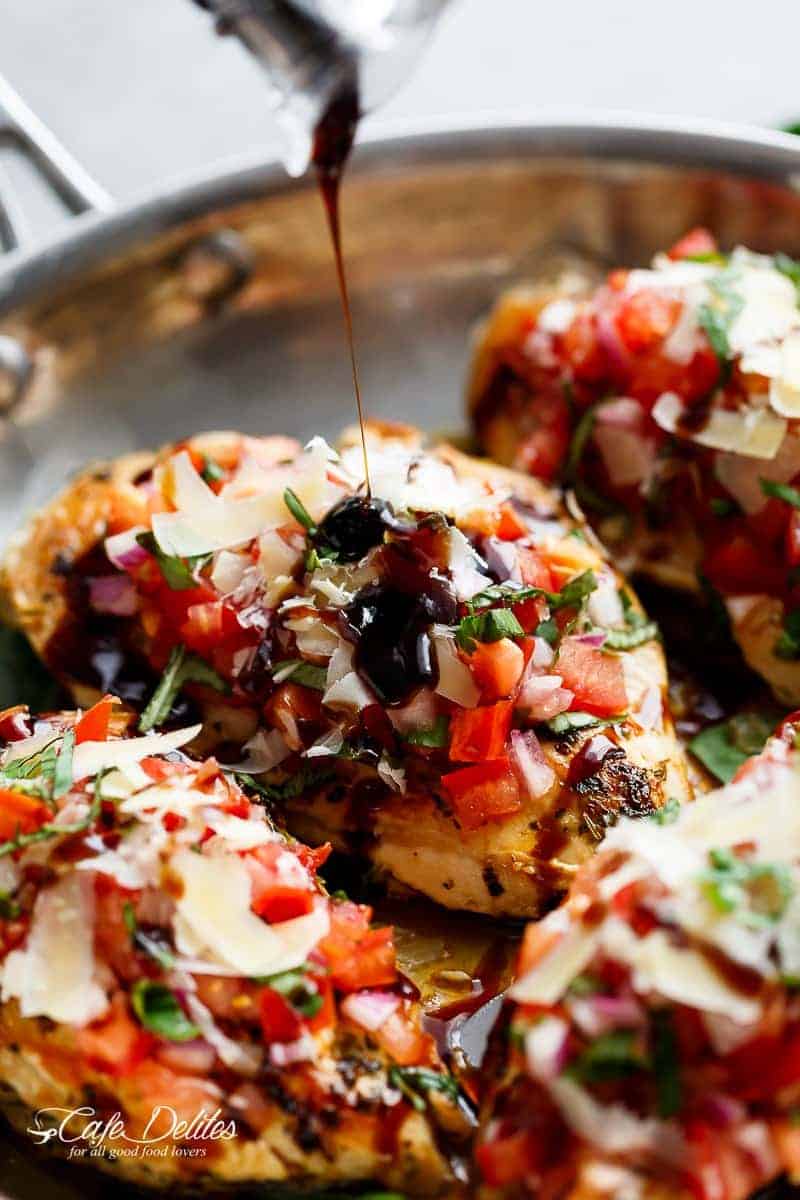 All cooked in one pot, ready and on the table in less than 20 minutes!
Crispy golden seared chicken is mixed through a super creamy garlic parmesan Alfredo sauce! Our favourite chicken breast recipe with the pasta cooked right in! Perfect comfort food.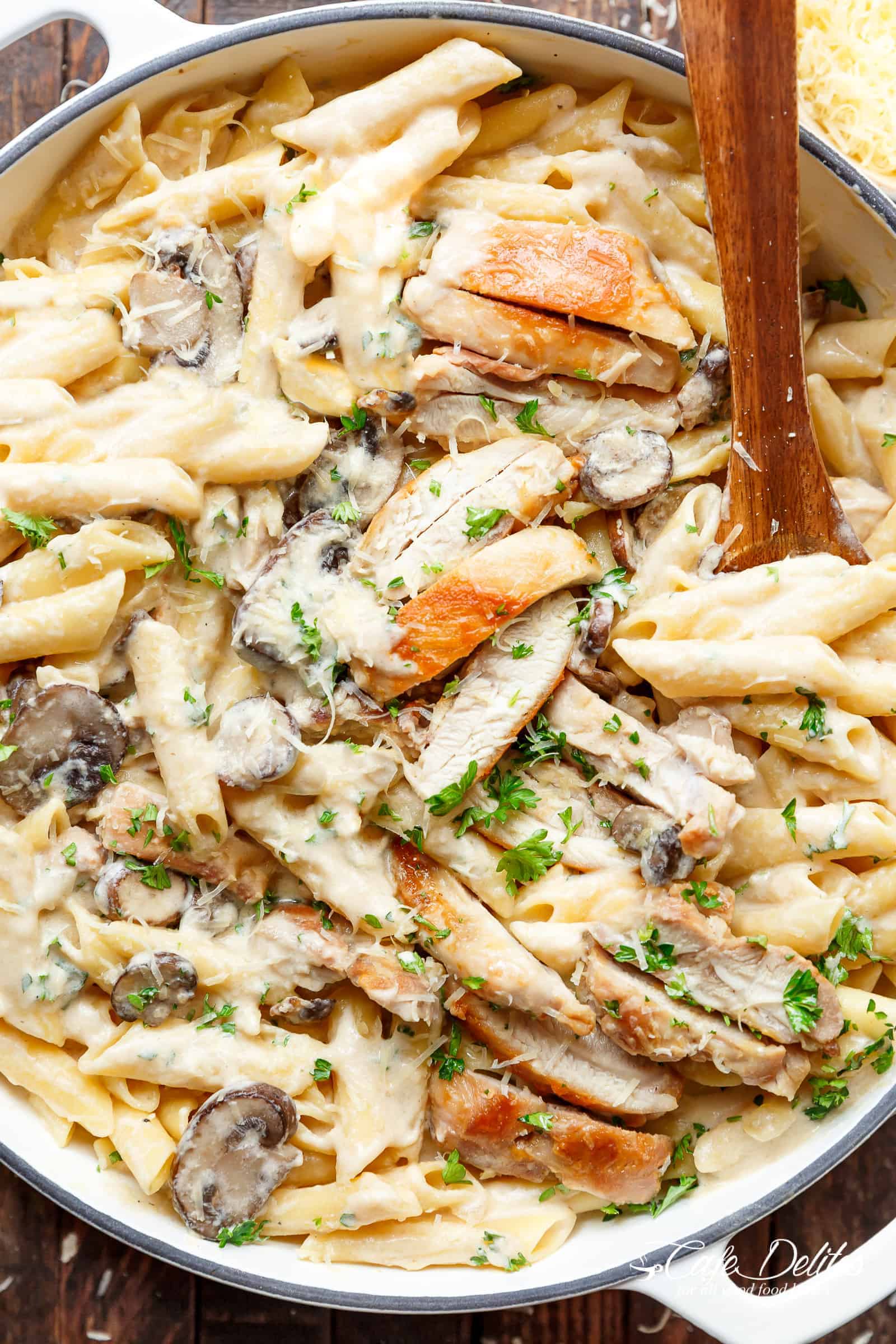 A delicious way to turn a creamy dip into an incredible dinner!
A low carb winner of a chicken dinner, these Spinach Artichoke Stuffed Chicken Breasts has definitely won the family over! Extremely popular for a good reason, you'll never want regular, plain old breasts again after trying these!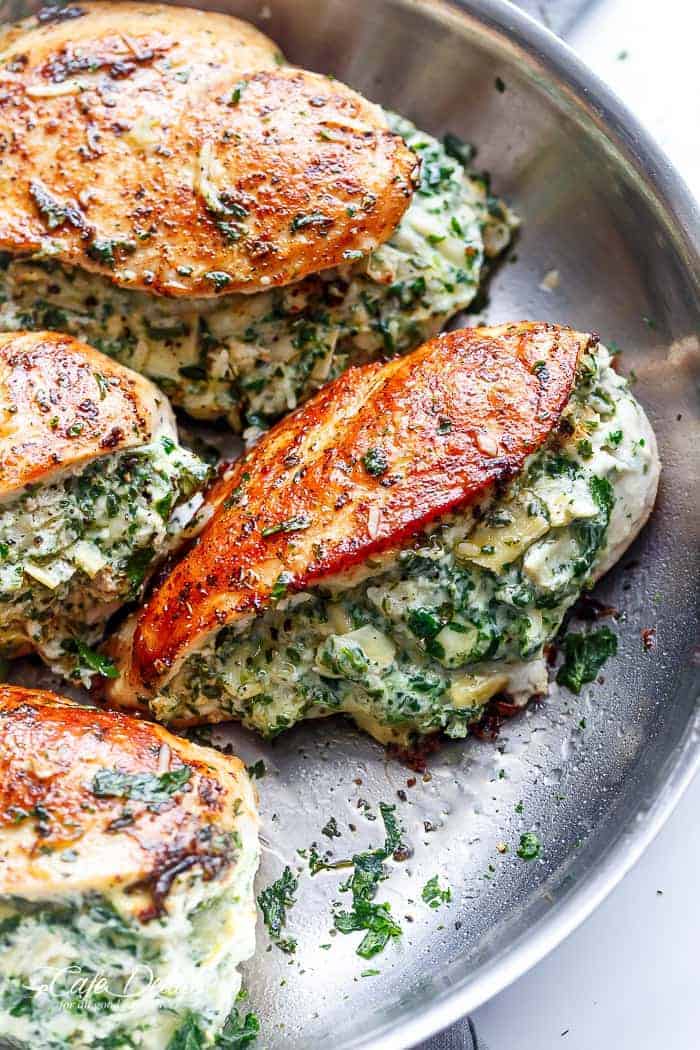 Quick to whip up without compromising flavour!
Tomato and basil are a match made in heaven as it is. Buttery, blistered tomatoes and garlic flavours in this chicken breast recipe!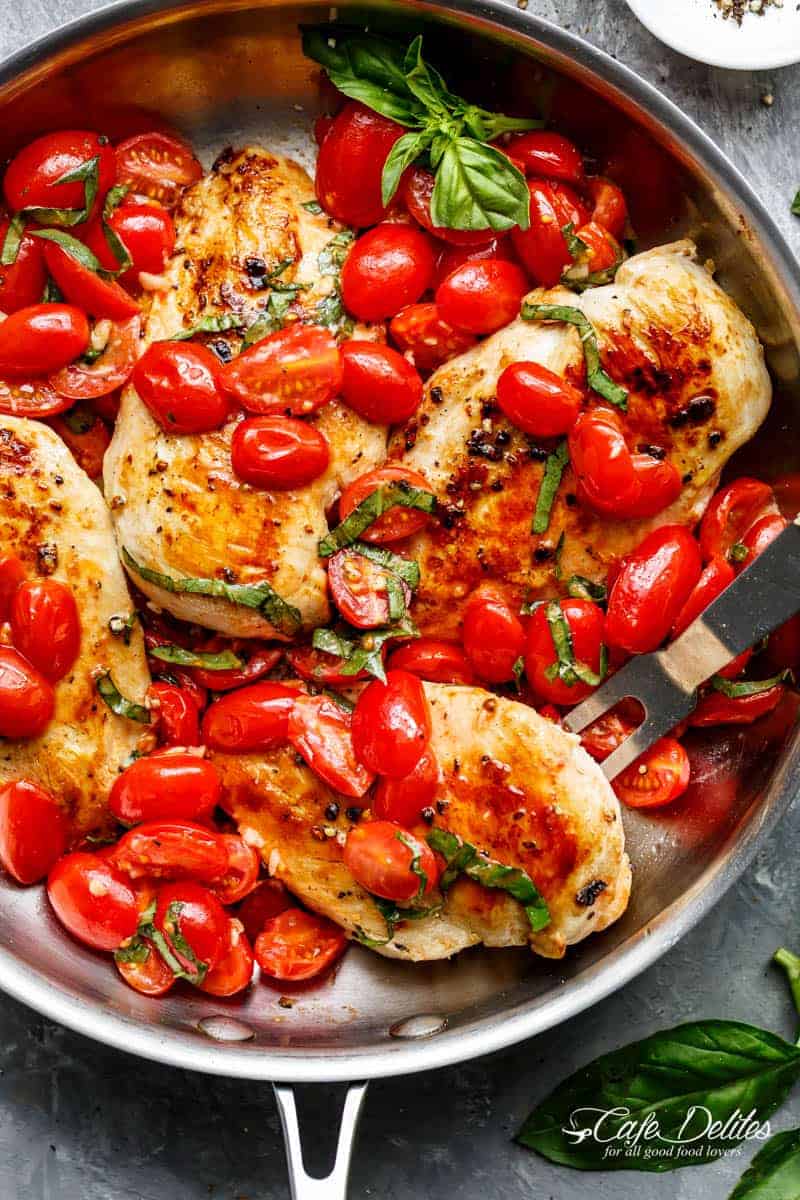 Filled with so much flavour ready and on your table in 15 minutes? Yes!
Rosemary, Thyme, garlic and cream make this recipe unforgettable!
A highly addictive stir-fried chicken with the perfect combination of salty, sweet and spicy flavour!
Make Kung Pao Chicken better than Chinese take out right at home! With crisp-tender, mouthwatering chicken pieces swimming in the most delicious silky Chinese sauce exploding with flavour.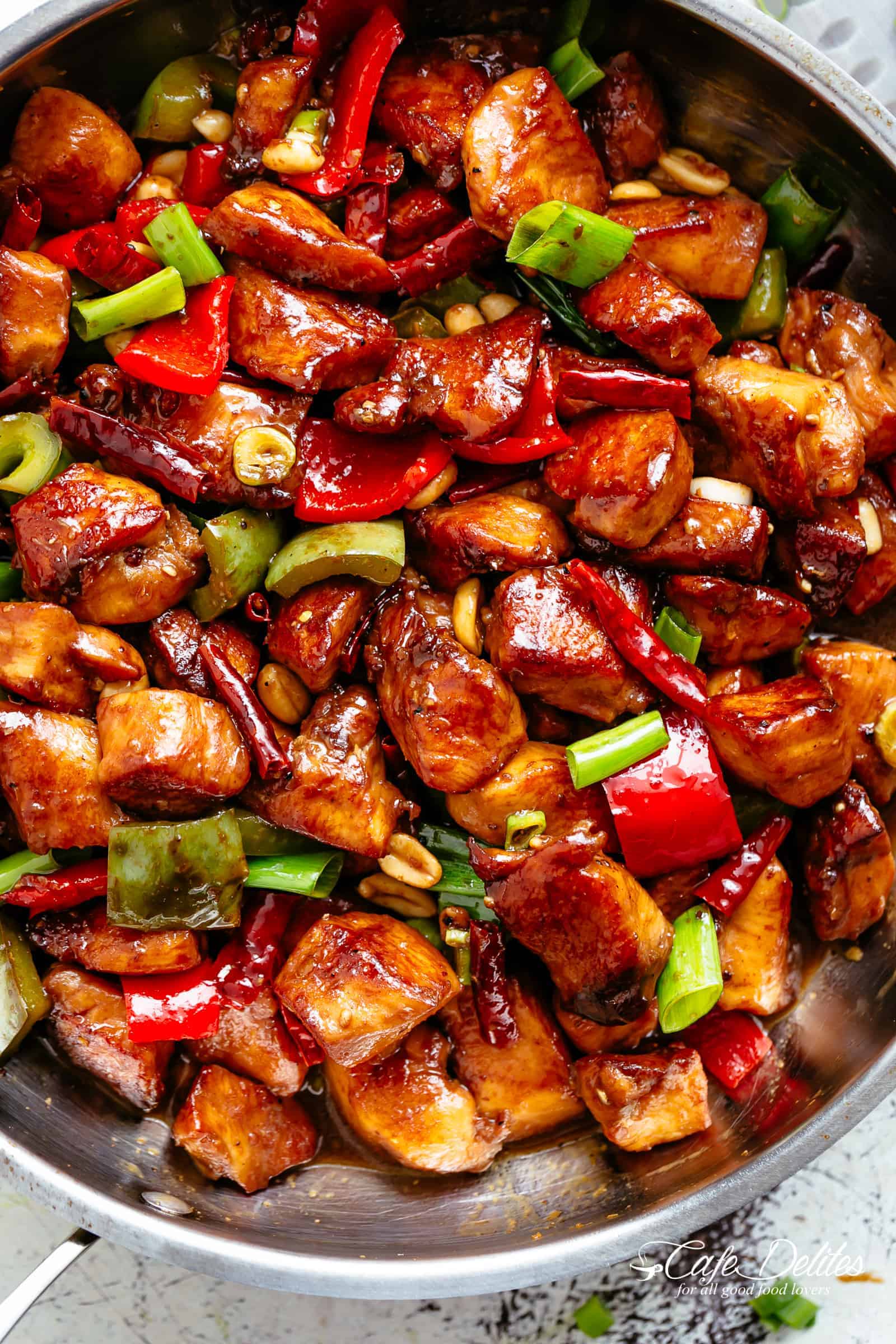 With a delicious crispy coating, smothered in a rich homemade tomato sauce and melted mozzarella cheese!
Oven baked Chicken Parmesan is simple to make and worth every minute! If you love a crispy crumb coating vs a soggy crumb, look no further!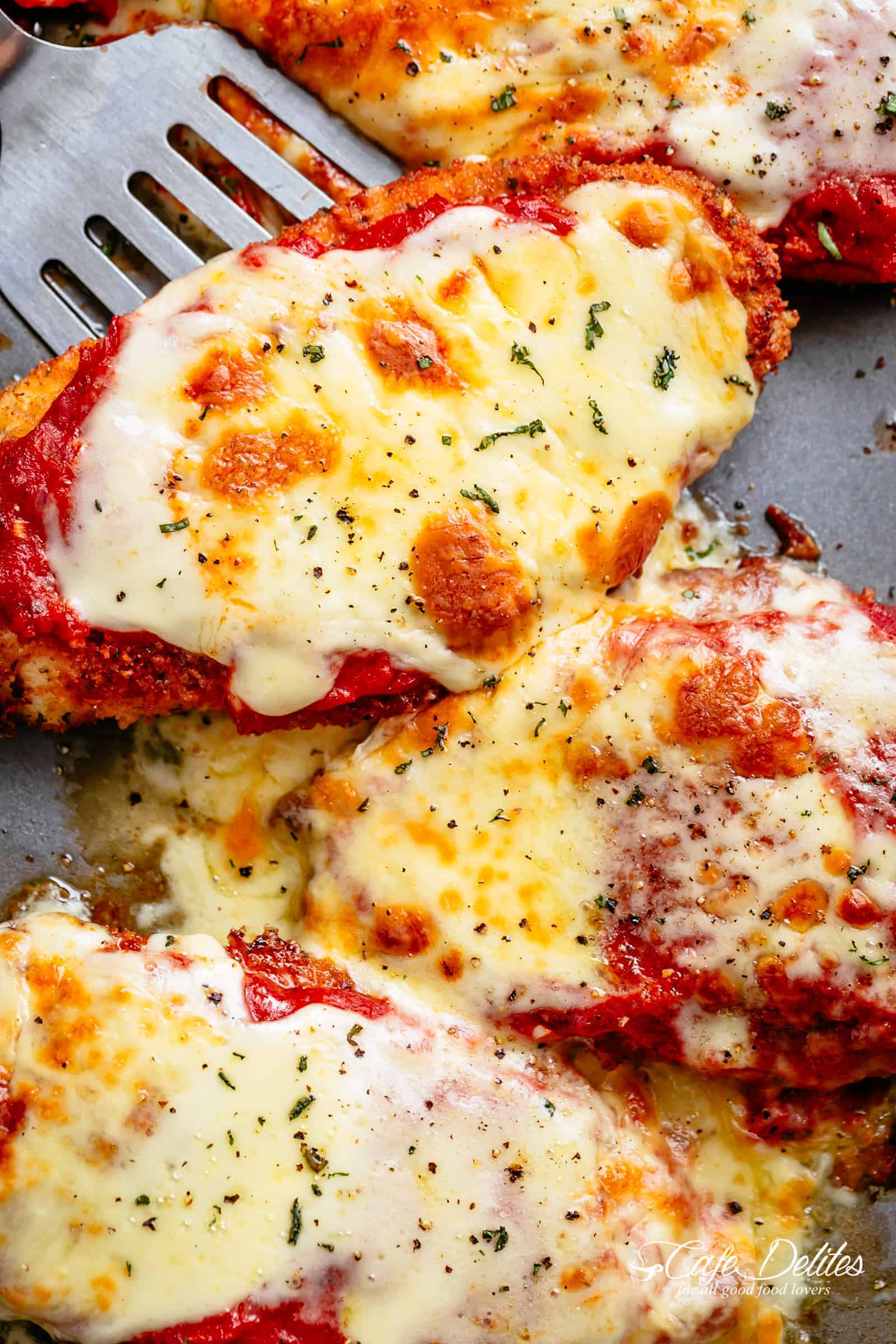 Grilled or oven baked, smothered in a creamy, homemade basil pesto!
Served with cherry tomatoes, this chicken is out of this world crazy good, low carb and only needs 2 main ingredients!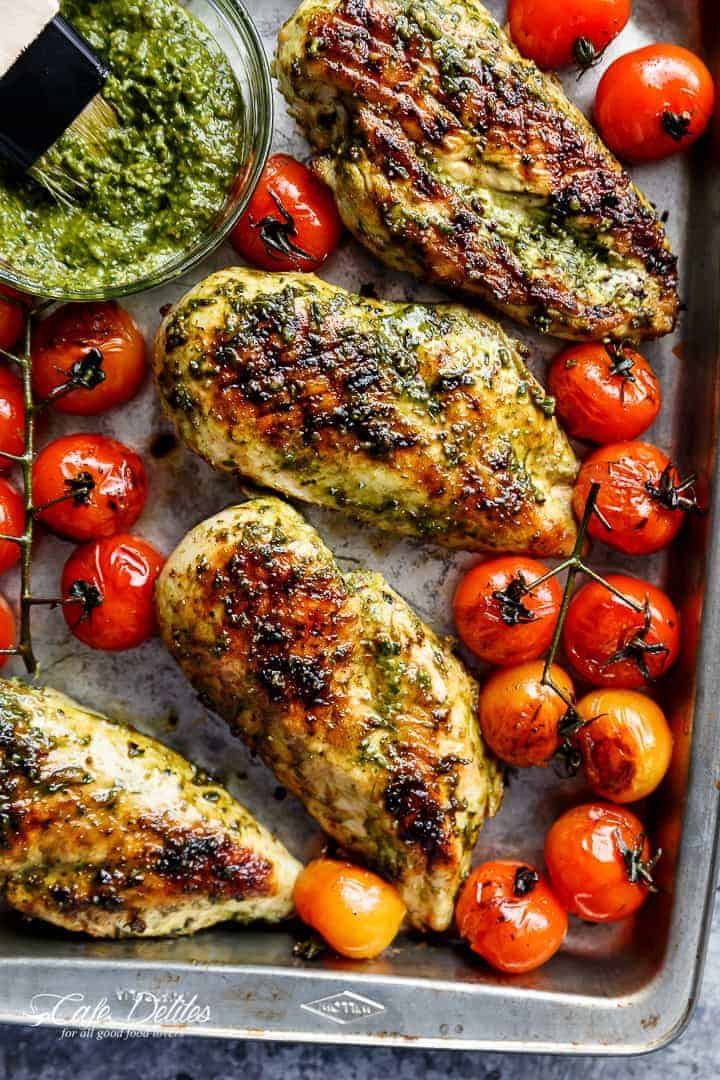 Just as good as a Piccata!
The flavours in a traditional Francese are absolutely incredible. Now they are EVEN BETTER by adding a kick of garlic and a splash of cream to the sauce!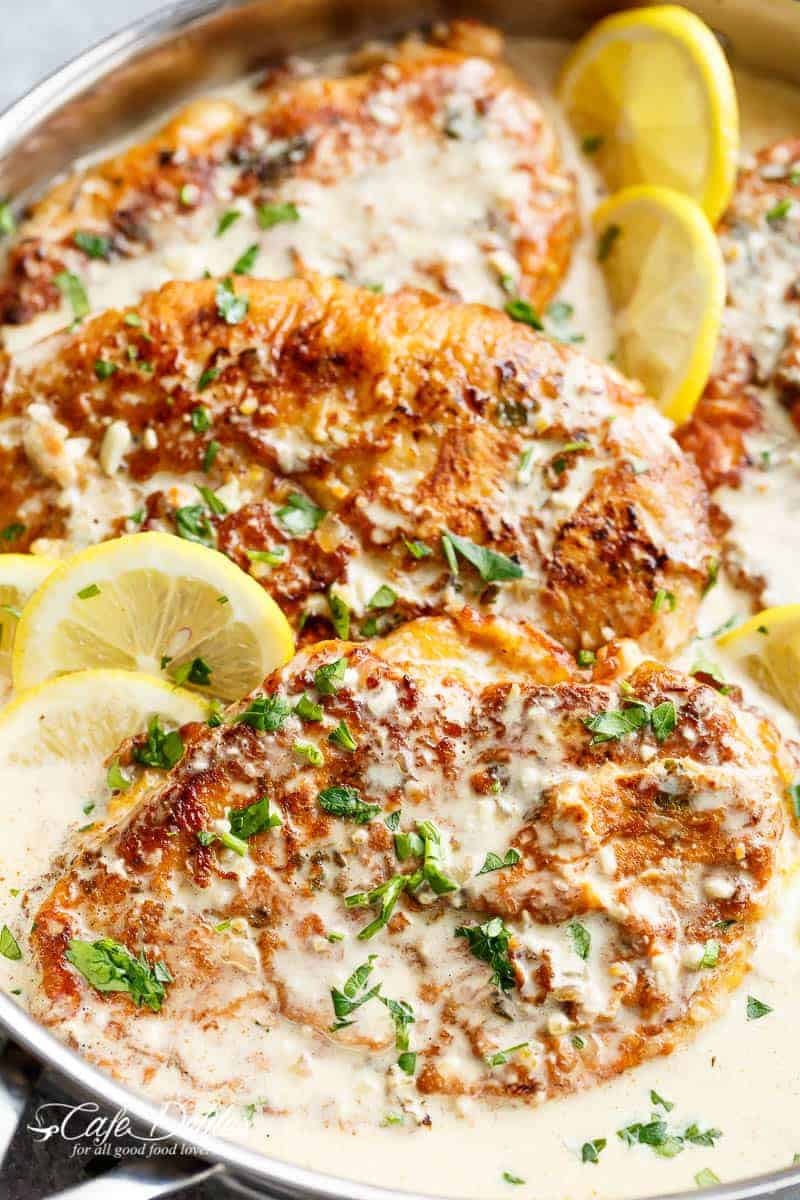 A complete sheet pan chicken dinner with roasted potatoes and green beans!
Believe it or not, this Sheet Pan Garlic Herb Butter Chicken recipe is low in fat and absolutely incredible. So buttery with so much flavour, it TASTES so sinful yet contains half the fat of a regular butter sauce that no one knows the difference! Only you….*insert evil laugh*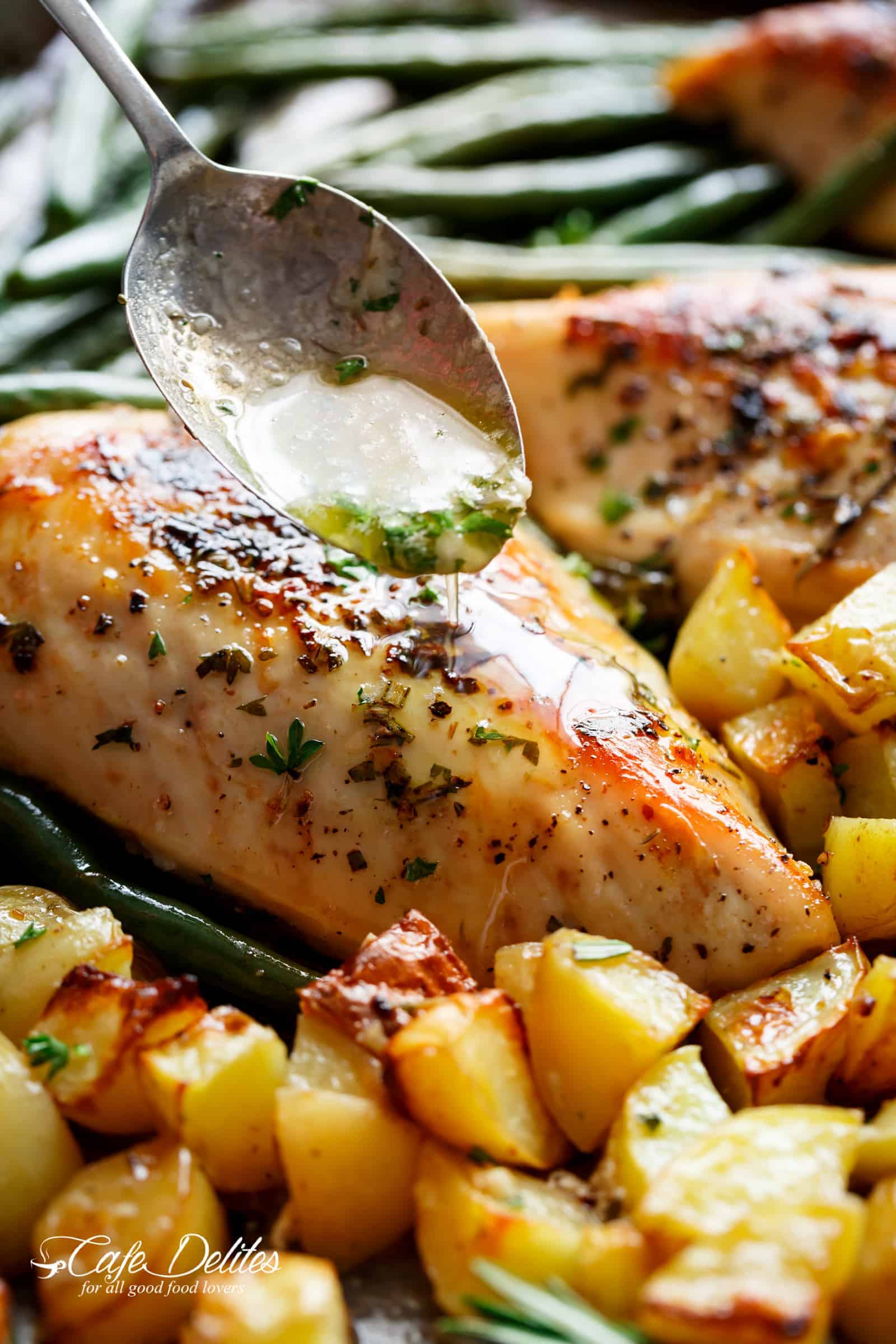 Italian grilled chicken and a good kick of parmesan cheese, this is one pasta salad that will impress!
A pasta salad you won't regret!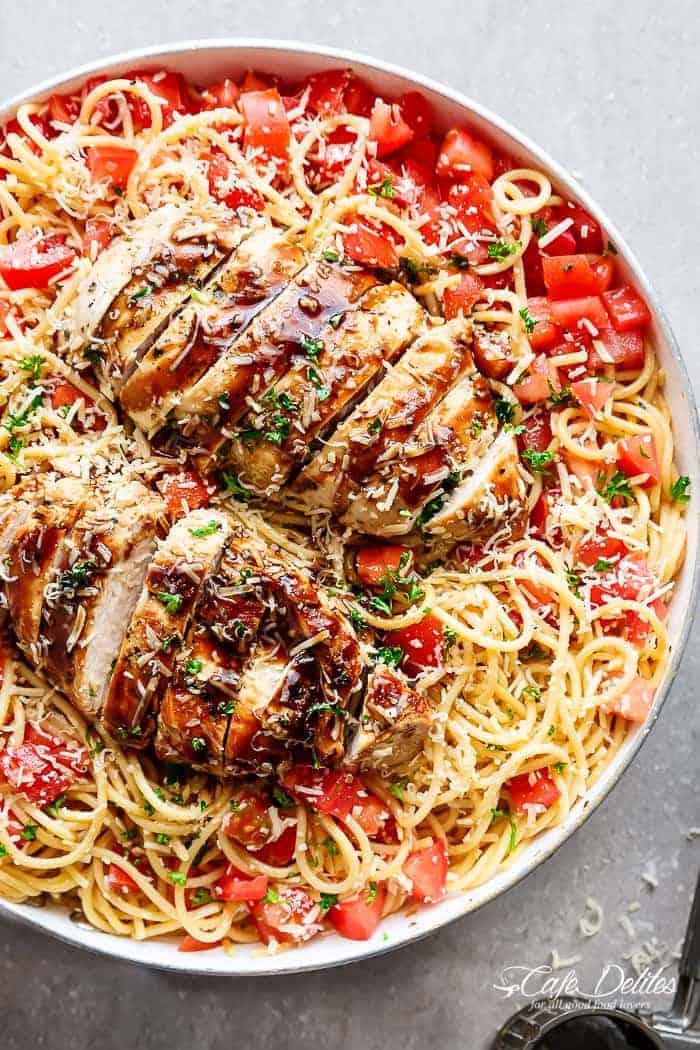 Out of this world delicious and a huge reader favourite!
Chicken is dredged in finely grated parmesan cheese, then served in a lemon and parmesan cream sauce. One of my personal favourites… the ultimate in gourmet chicken breast recipes.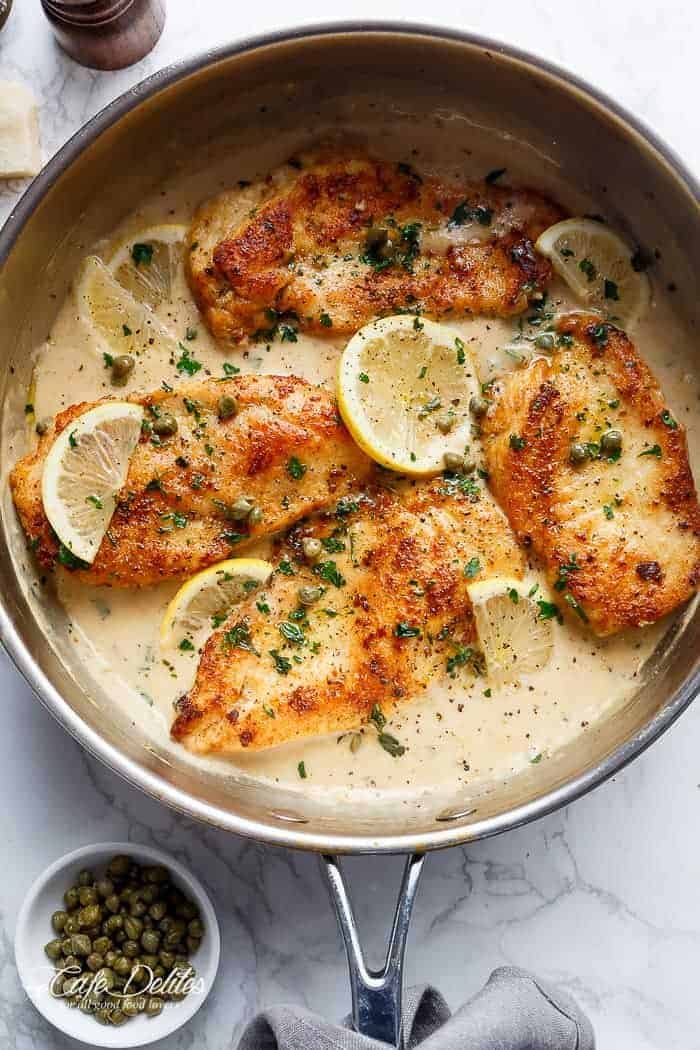 With a 5-ingredient dressing!
Loaded with fresh ingredients and succulent chicken…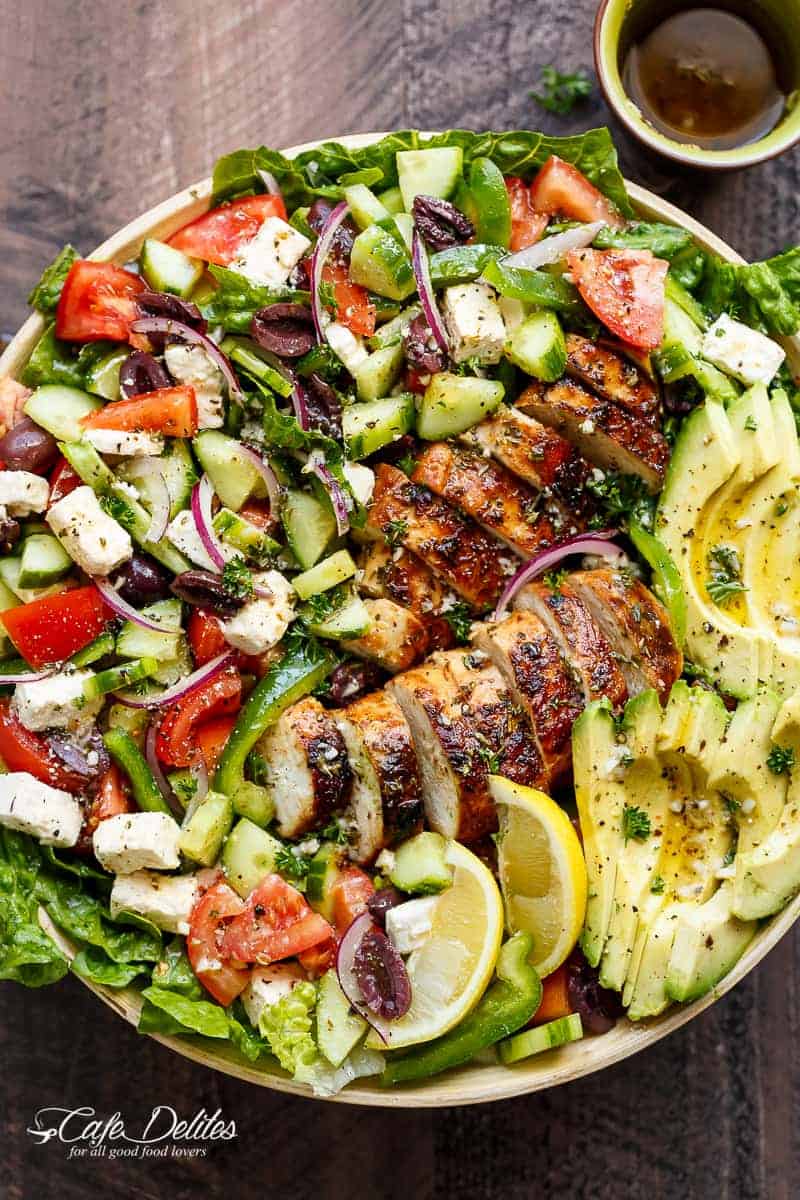 The sauce alone takes LESS than 5 minutes to pull together, with minimal ingredients and maximum taste.
Tender, juicy chicken breasts swimming in sauce with crispy bacon pieces! Chicken breast recipes don't get easier than this!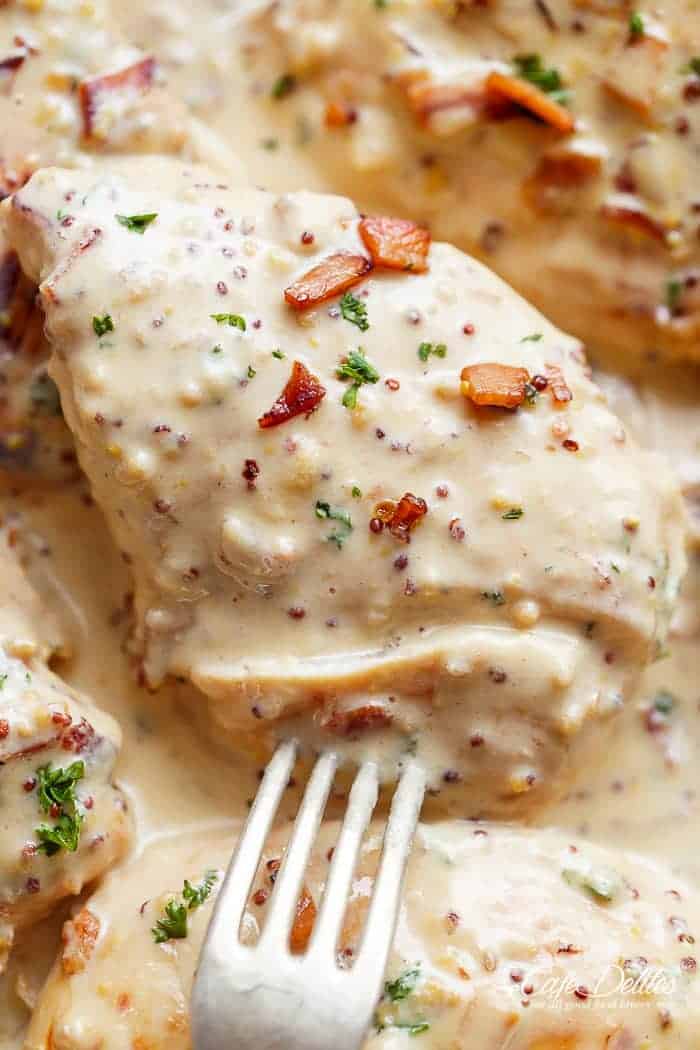 Easy Sheet Pan Chicken Cordon Bleu is a complete dinner for the entire family!
Crispy crumbed chicken breasts filled with Dijon mustard, Swiss cheese and ham, baked with vegetables and served with an incredible Dijon Cream Sauce for the ultimate restaurant feel right at home!