Teriyaki Chicken is a super easy chicken recipe cooked in 10-minutes with no marinading!
Crispy skinless chicken thighs stir-fried and swimming in a beautiful flavoured homemade teriyaki sauce. A hint of garlic adds a twist on a traditional Japanese Teriyaki Chicken recipe and makes it absolutely addictive! This is better than ANY store-bought teriyaki sauce, guaranteed.
Why get Japanese take out when you can make a deliciously close to authentic Teriyaki Chicken right at home!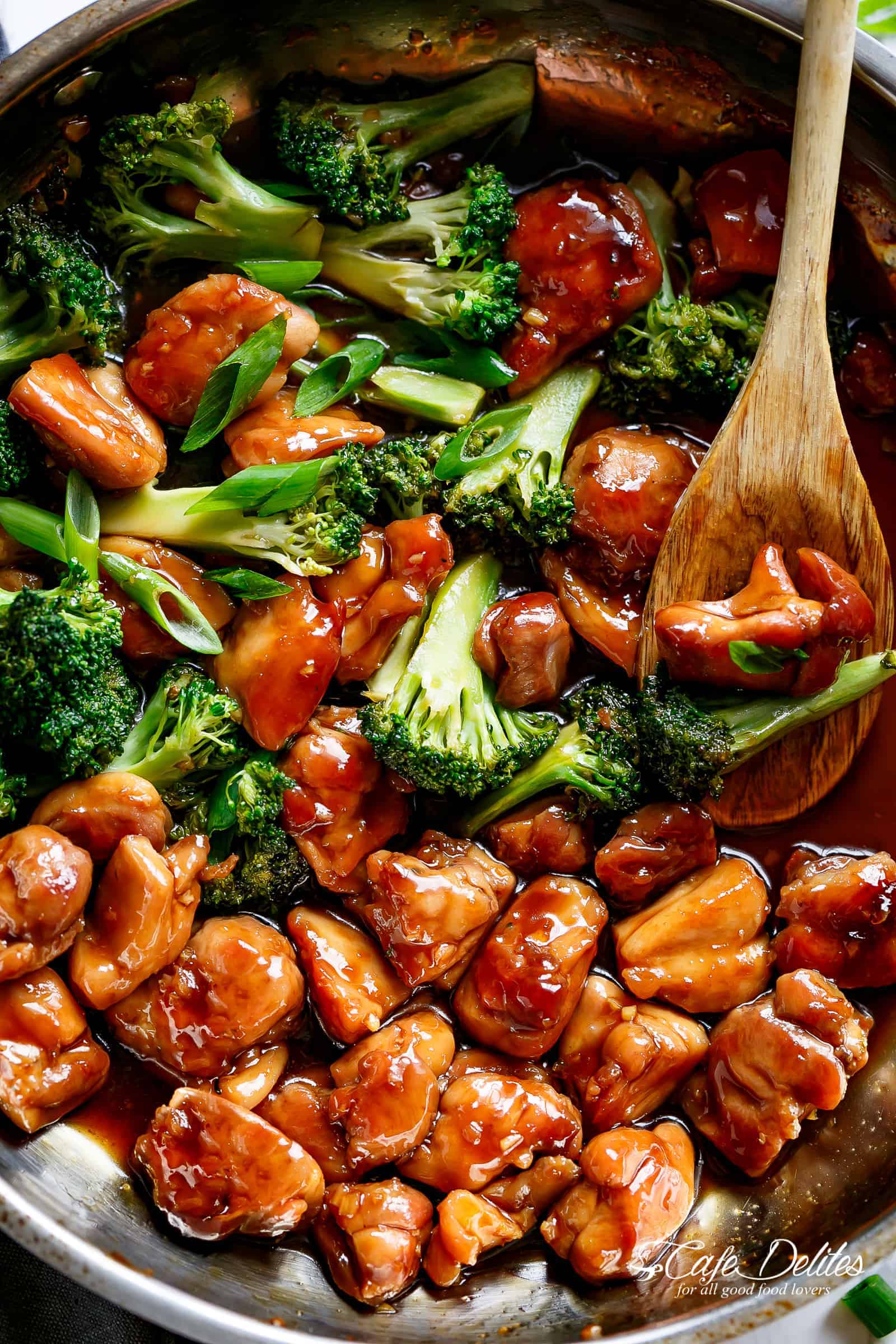 There is no need to de-bone chicken thighs, or worry about rendering fat from skin. This Teriyaki Chicken Recipe is Fast. Simple. Delicious.
It's no secret that this is my favourite sauce, right? Through the years you can find The Best Teriyaki Beef Meatballs, Teriyaki SALMON, and my favourite → Simple Chicken Teriyaki Stir Fry.
One thing I found is that I haven't actually given you a simple and easy Teriyaki Chicken Recipe for those hectic days in the week where dinner is no where in sight, but CAN be in no time at all. No wonder Teriyaki chicken is one of the most popular chicken recipes in the world!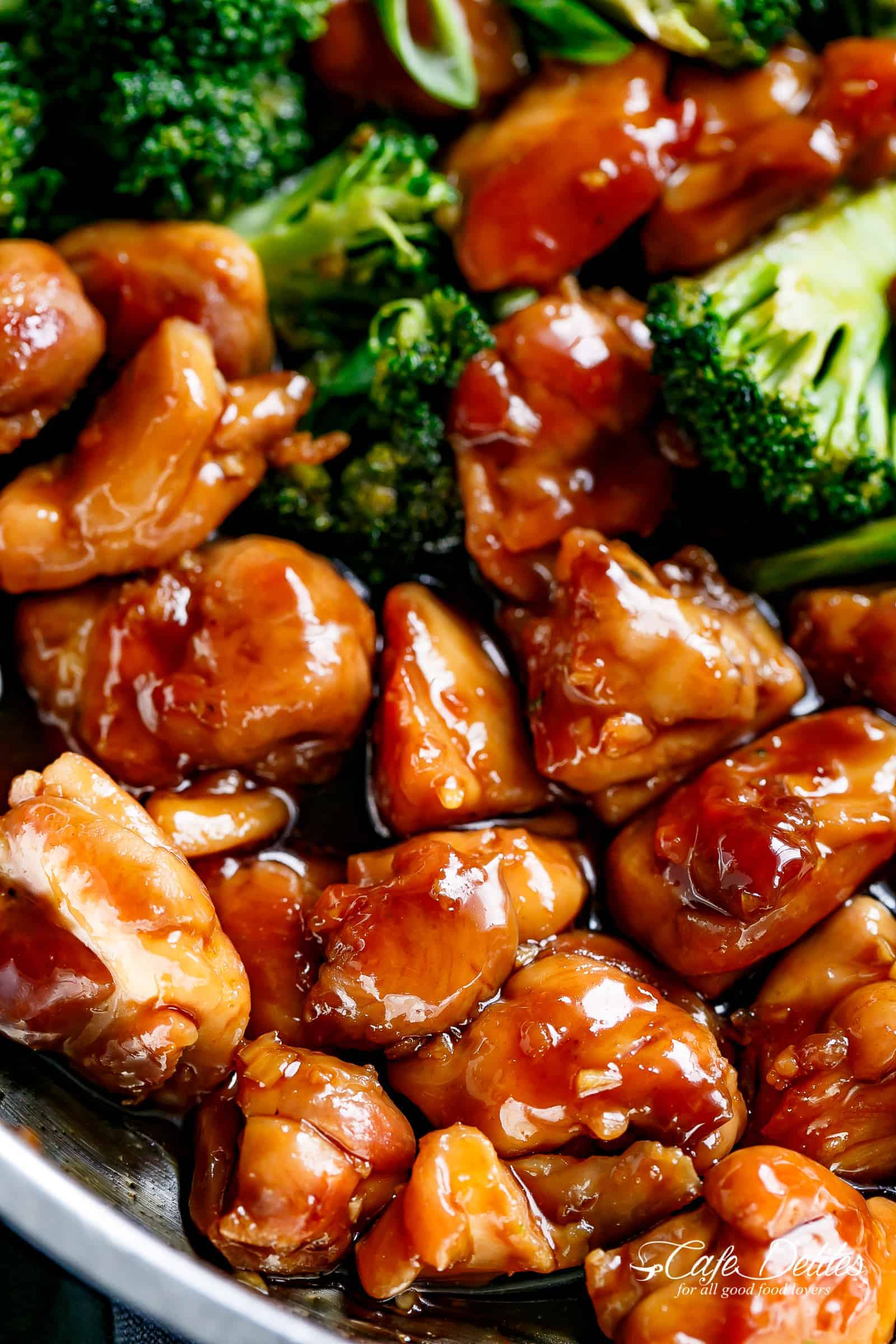 How to make Teriyaki Chicken
This recipe will be loved by your entire family, using minimal ingredients you already have in your pantry or refrigerator!
Soy sauce (use a light soy to reduce the sodium content)
Sugar (white is the preferred sugar used in a traditional Teriyaki sauce, however I prefer using brown sugar)
Sake (or a rice wine vinegar if you have it, but any white vinegar will work)
Mirin (This is an optional ingredient because I understand not many readers have it or can find it. If you want to get yourself a bottle, any Asian or Japanese store will stock it. Otherwise, you can always order it online. Or just skip it all together!
Garlic (because…well, garlic) — you can substitute garlic for ginger if you prefer!
Please use chicken thighs for this. Breasts do work well, BUT chicken thighs stay extra juicy and are perfect for Teriyaki.
When searing your chicken, make sure the oil in your pan is hot before adding the meat to get a really nice golden sear. Use a large pan to avoid over-crowding and simmering your chicken in their own juices. You want them to fry! The pans I tend to use are 12-inches (30 cm) or over.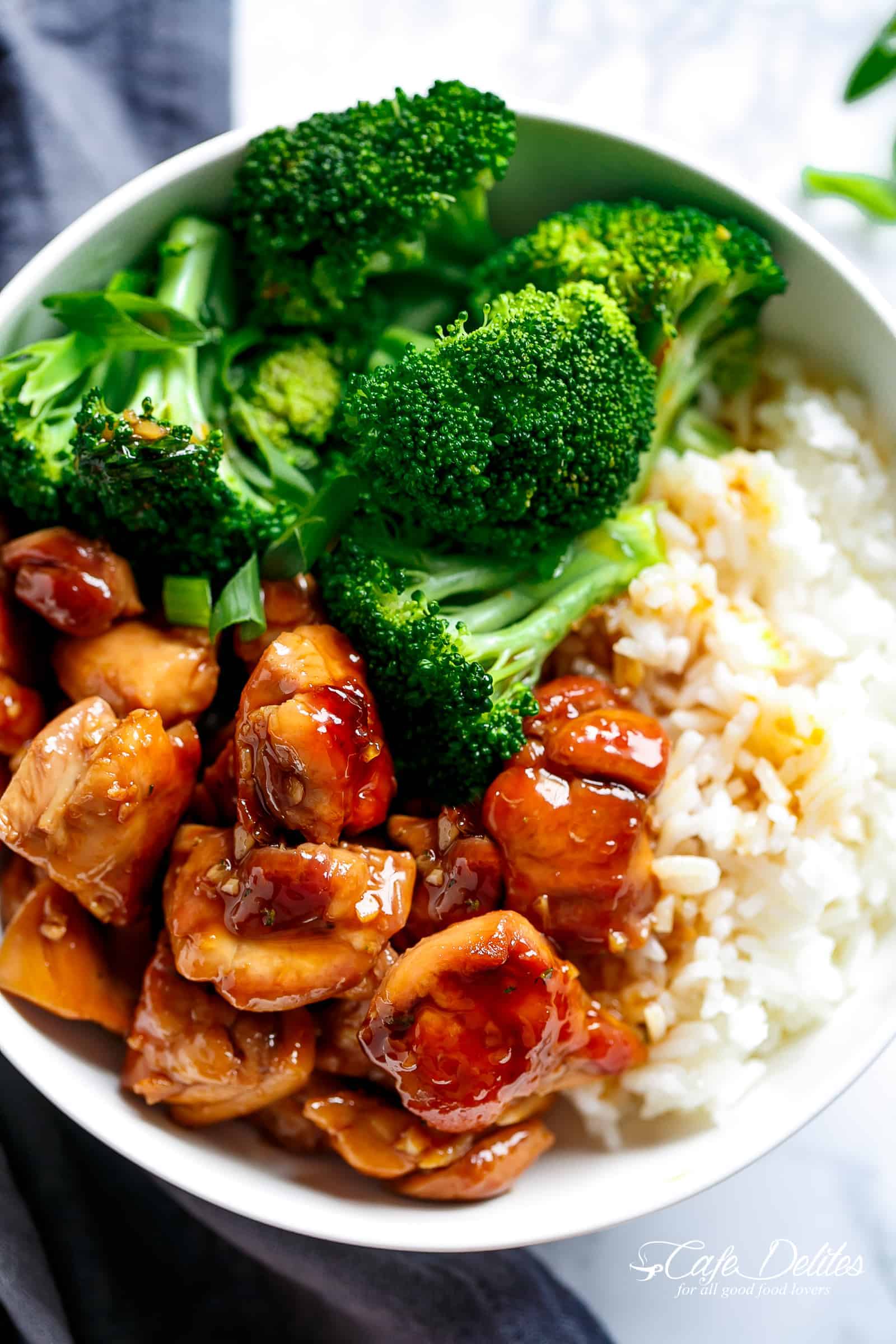 Sake and Mirin
Both are Japanese alcoholic beverages, although Mirin is generally only used in cooking. Mirin is stronger and sweeter than sake. If you can't find Mirin, Sake can be used as a substitute with a pinch of sugar.
If you cannot get a hold of Sake, you can use sherry, any white vinegar, apple cider vinegar, Chinese shiaoxing wine, Vermouth or dry white wine.
You can also leave them out all together, but they do add a hint of acidity to balance out the sweetness of the sugar, plus a really nice subtle tang to the Teriyaki sauce.
What to serve with Teriyaki Chicken
Steamed broccoli and rice are the BEST sides (white, jasmine, brown or even wild rice work really well). Or try it with our Fried Rice recipe! Drizzle all of the extra sauce over everything in your bowl for ultimate flavour.
You can also top your chicken with sesame seeds and/or sliced green onion and enjoy a Teriyaki Chicken Bowl in the comfort of your own home!
Homemade Teriyaki Chicken And Rice Bowls!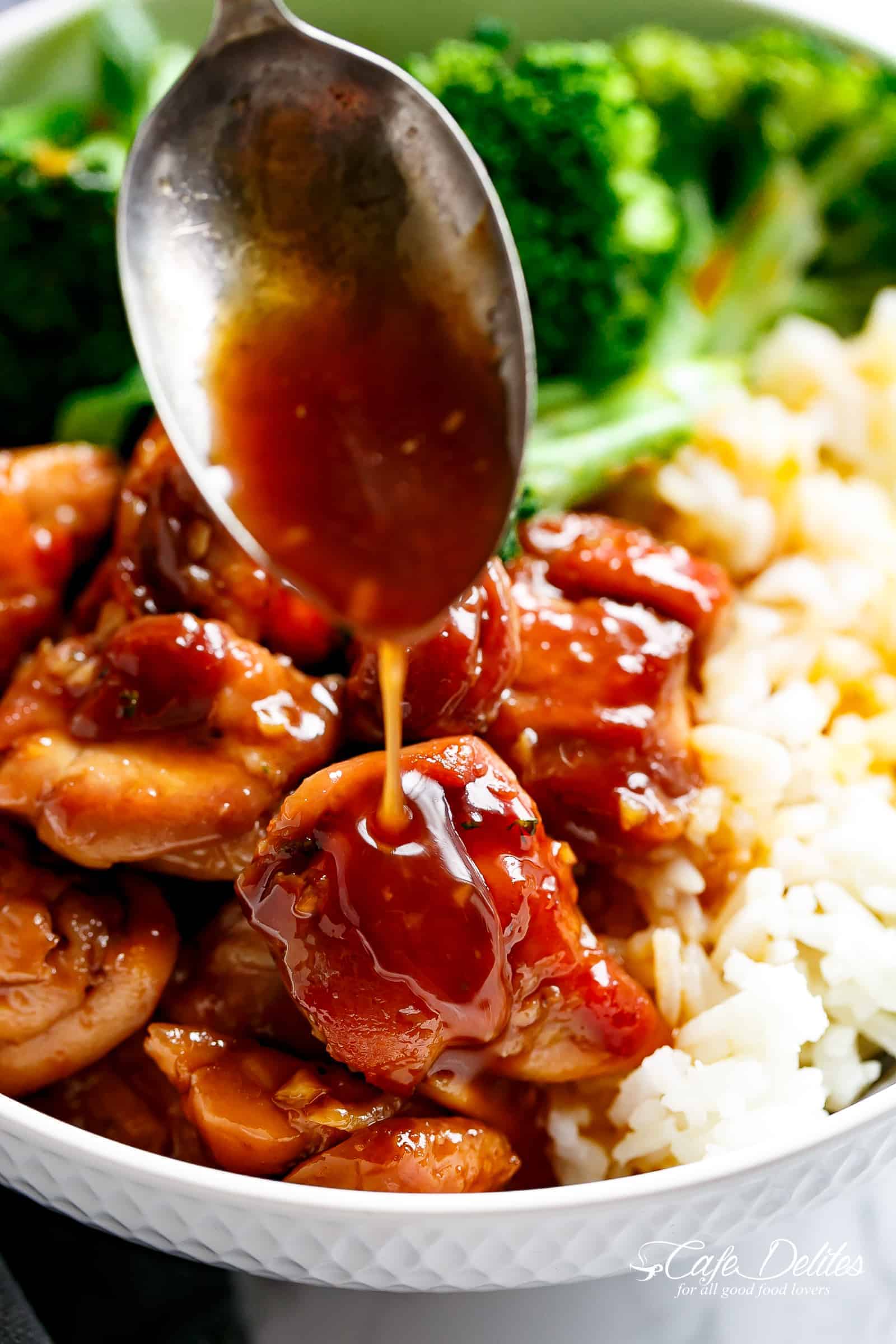 Teriyaki Chicken On Video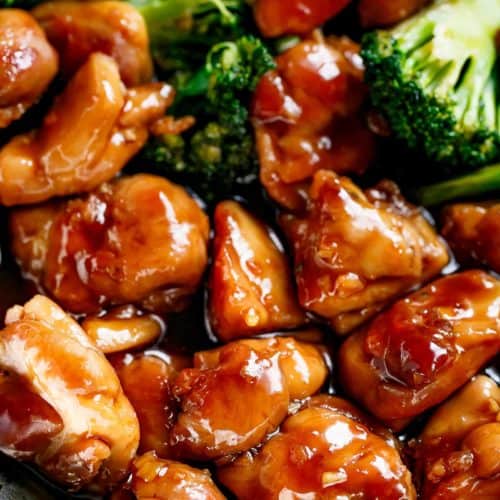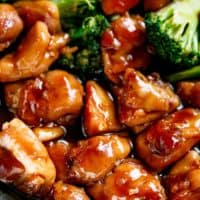 Teriyaki Chicken
Teriyaki Chicken with broccoli is a super easy chicken recipe cooked in 10-minutes with no marinading needed! Crispy and juicy skinless chicken thighs stir-fried and swimming in a beautiful flavoured homemade teriyaki sauce. A hint of garlic adds a twist on a traditional Japanese Teriyaki. Better than bottled sauce!

PRINT
SAVE
go to your favorites
Ingredients
1.3

pounds

(600 grams) skinless boneless chicken thighs,

cut into 1 1/2-inch pieces

1

tablespoon

cooking oil

1/4

cup

low-sodium soy sauce

3

tablespoons

light brown sugar

(or white granulated sugar)

3

tablespoons

cooking Sake

((rice wine vinegar or apple cider vinegar)

2

tablespoons

Mirin

(optional -- white wine or dry sherry can be substituted)

1

tablespoon

sesame oil,

optional (adds a wonderful flavour)

2

teaspoons

minced garlic

(2 cloves garlic)*

1

shallot/green onion stem,

sliced to garnish

4

cups

broccoli florets,

lightly steamed

1

teaspoon

cornstarch

(or corn flour) mixed with 2 teaspoons water (ONLY IF NEEDED)
Instructions
Heat cooking oil in a large pan over medium heat. Stir fry chicken, stirring occasionally until lightly browned and crisp.

In a small jug or bowl whisk together the soy sauce, sugar, Sake/vinegar, Mirin and sesame oil to combine. Set aside.

Add the garlic to the centre of the pan and saute until lightly fragrant (about 30 seconds). Pour in the sauce and allow to cook, while stirring, until the sauce thickens into a beautiful shiny glaze (about 2-3 minutes).*

Add in the steamed broccoli. Garnish with green onion (or shallot) slices and serve over steamed rice.
Notes
Replace garlic for 1/2 teaspoon minced ginger. You can also use both if you wish.
If for some reason your sauce has not thickened, quickly whisk in the cornstarch/water mixture and continue stirring until syrupy.
Alternatively, if sauce is too thick, add water in tablespoon increments until reaching your desired thickness.
Nutrition
Calories:
492
kcal
|
Carbohydrates:
22
g
|
Protein:
27
g
|
Fat:
31
g
|
Saturated Fat:
7
g
|
Cholesterol:
144
mg
|
Sodium:
643
mg
|
Potassium:
640
mg
|
Fiber:
2
g
|
Sugar:
12
g
|
Vitamin A:
710
IU
|
Vitamin C:
82.5
mg
|
Calcium:
69
mg
|
Iron:
2
mg