The BEST Teriyaki Beef Meatballs are smothered in a thick and easy to make homemade Teriyaki sauce!
So versatile, these Teriyaki Beef Meatballs can be served as a meal with steamed rice and veggies OR as an appetiser! The BEST part? Get your oven to do the work for you! No need to wait around a hot pan watching your perfectly rounded meatballs flatten while they cook, or worry you're going to burn them if you turn around for 2 minutes.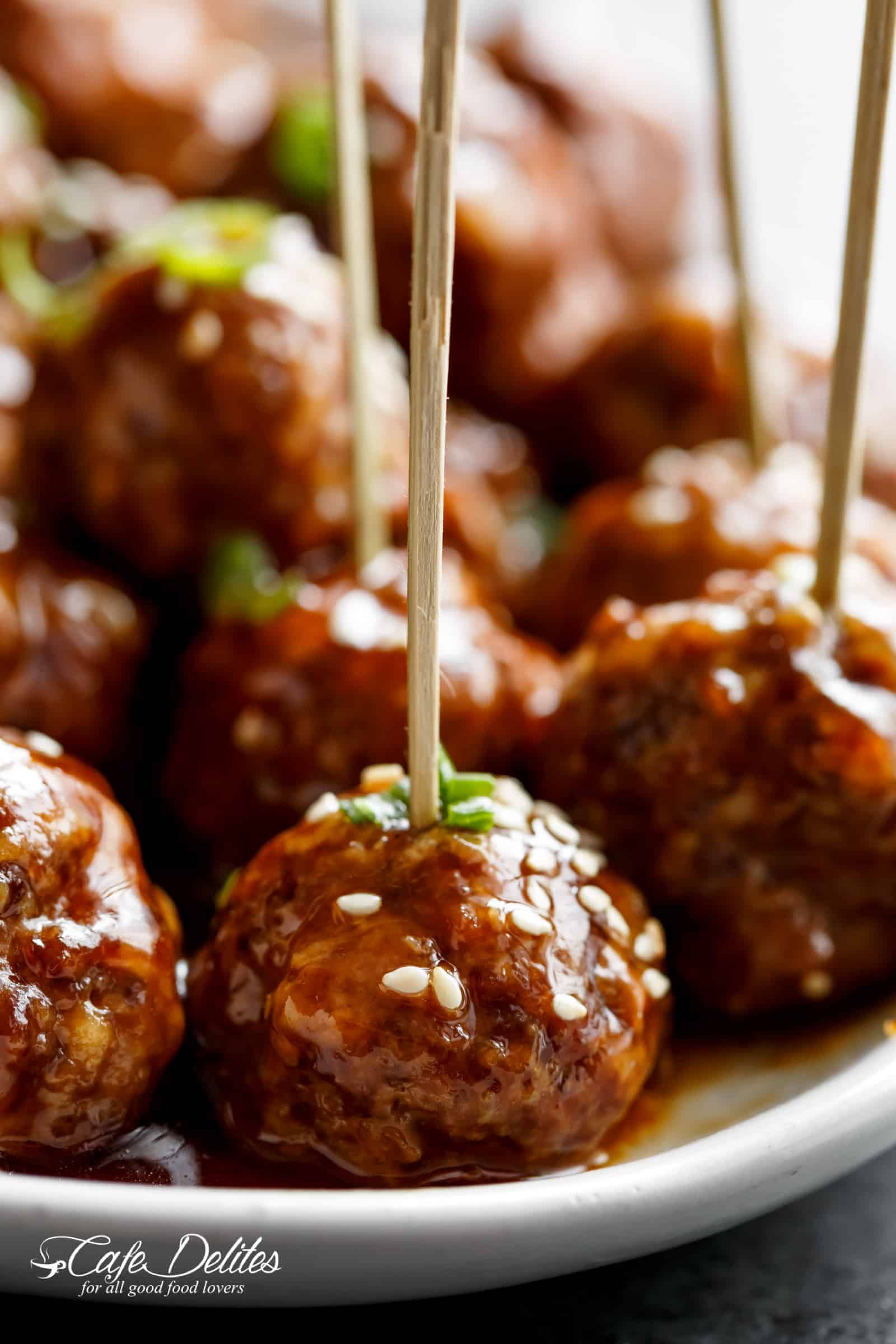 How To Make Teriyaki Beef Meatballs?
Just like these Mongolian Meatballs, these Teriyaki Beef Meatballs Recipe couldn't get any easier. Your'e just THREE easy steps away form the most perfect meatballs you could serve ANYWHERE:
Mix — there are so many wonderful aromas and flavours in the meatball mix alone!
Roll — get the kids or your mates involved and get them done in 1/4 of the time!
Bake — ah yes. BAKE. Why, you may ask? To keep life simple. So while they're cooking, you have all the time in the world to make your sauce while comfortably knowing all of your handwork making your meatballs nice and round will actually stay that way.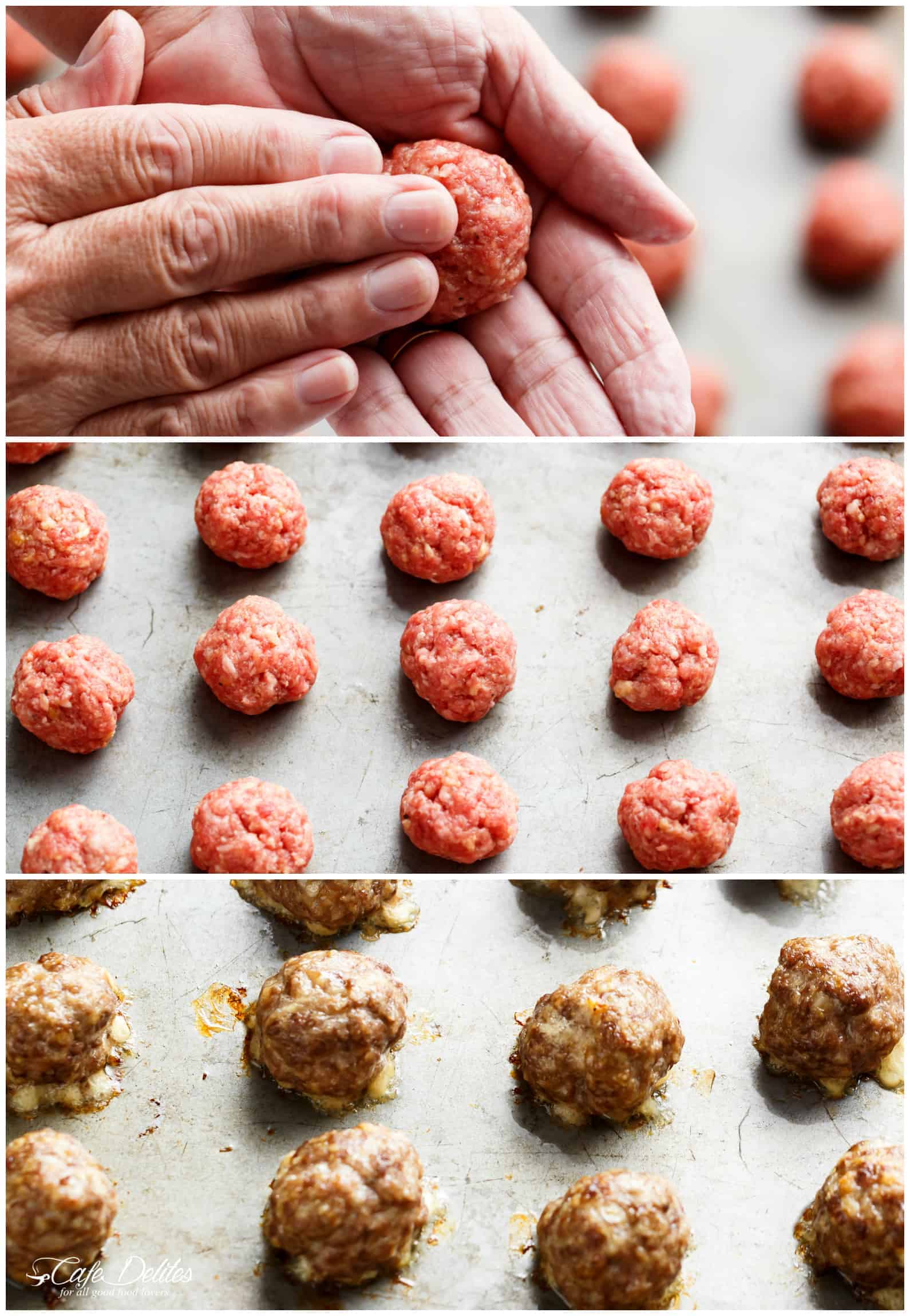 And if that's not enough, your sauce is JUST as easy AND good! Just to note here, I add a few extra things to my homemade Teriyaki sauce for added flavour.
The Best Teriyaki Sauce!
Sesame oil: it adds a wonderful fragrance PLUS flavour to your sauce.
Garlic: well, you should know me by now. I LOVE garlic, and Teriyaki sauce is perfect with the addition of it.
Brown sugar: this is a personal preference. Normally, a good Japanese Teriyaki sauce only needs white sugar, but in testing, I prefer the results and taste of brown sugar.
And then the traditional ingredients all go in: soy sauce, Mirin and Sake.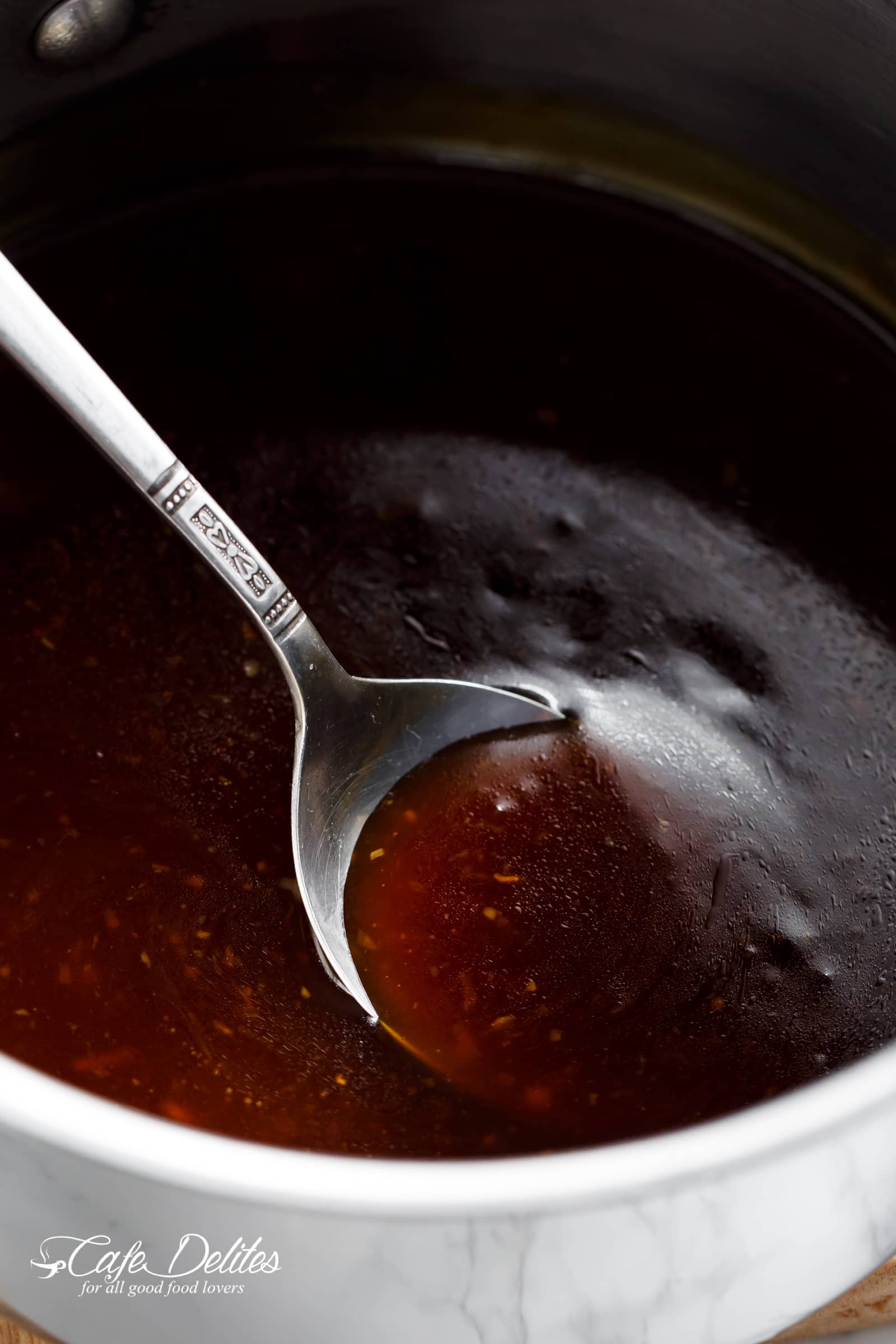 What are Cooking Sake and Mirin
Cooking Sake and Mirin add incredible flavour to a good Teriyaki sauce and are pretty much essential. They are both two types of rice wines that you will find at regular grocery stores or supermarket chains (usually found in the Asian section or isles). If you can't find them at your store, Asian stores have a larger (and cheaper) selection. Having said this, sake can be substituted with a Chinese cooking wine OR dry sherry. Mirin can't really be substituted, but if you're desperate, most people comment that apple cider vinegar does the trick. I can't guarantee because when it comes to Teriyaki, I only make mine with those two wines. If you're worried about the alcohol, it does evaporate when cooked!
I added extra water and a cornstarch slurry to this sauce to make enough to coat these meatballs without making the sauce too overpowering.
Once your sauce its done, pour them over your meatballs and toss them to fully coat!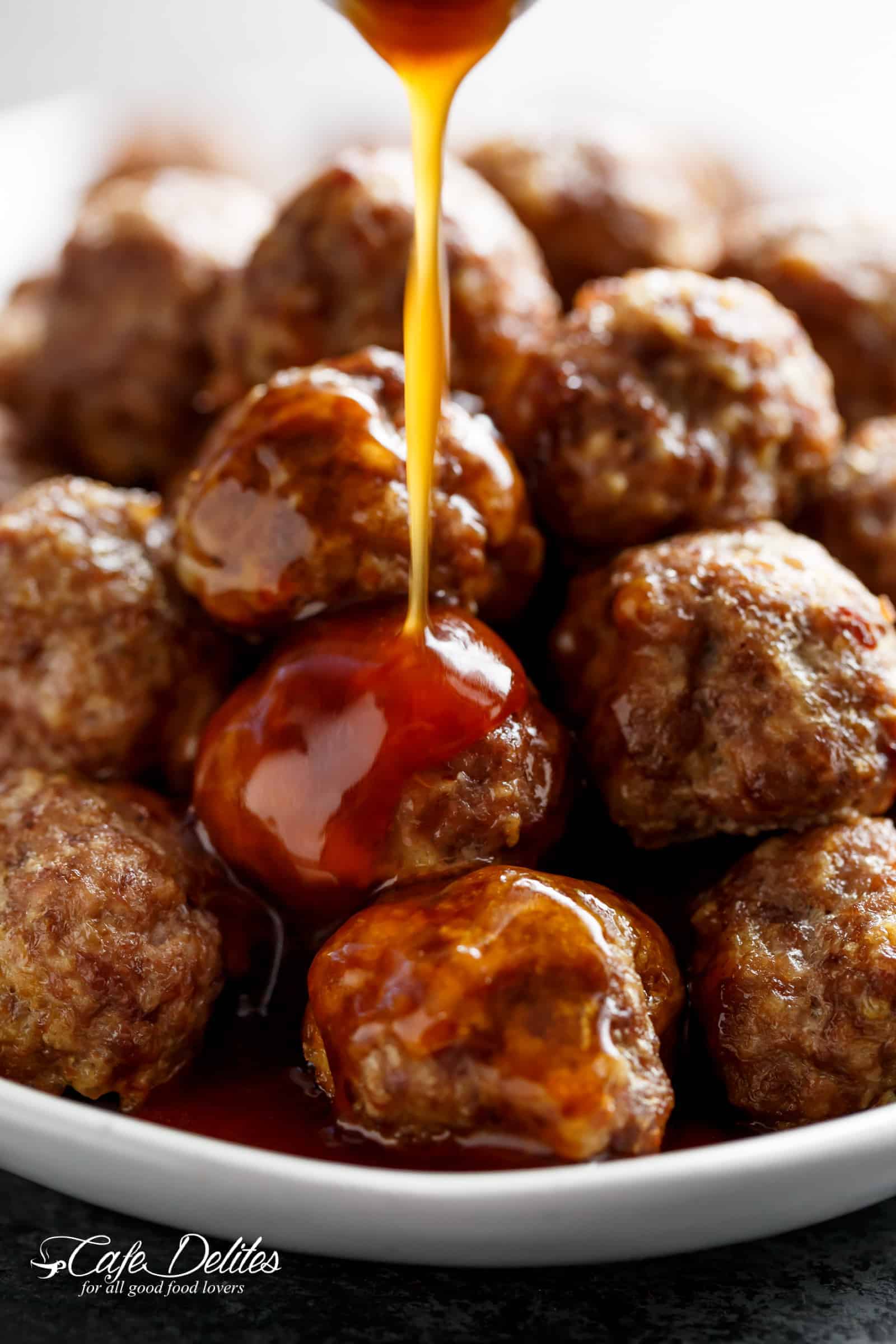 Then, garnish them with green onion slices and sesame seeds, add some toothpicks to the side of your plate with any remaining sauce, and your appetiser is DONE!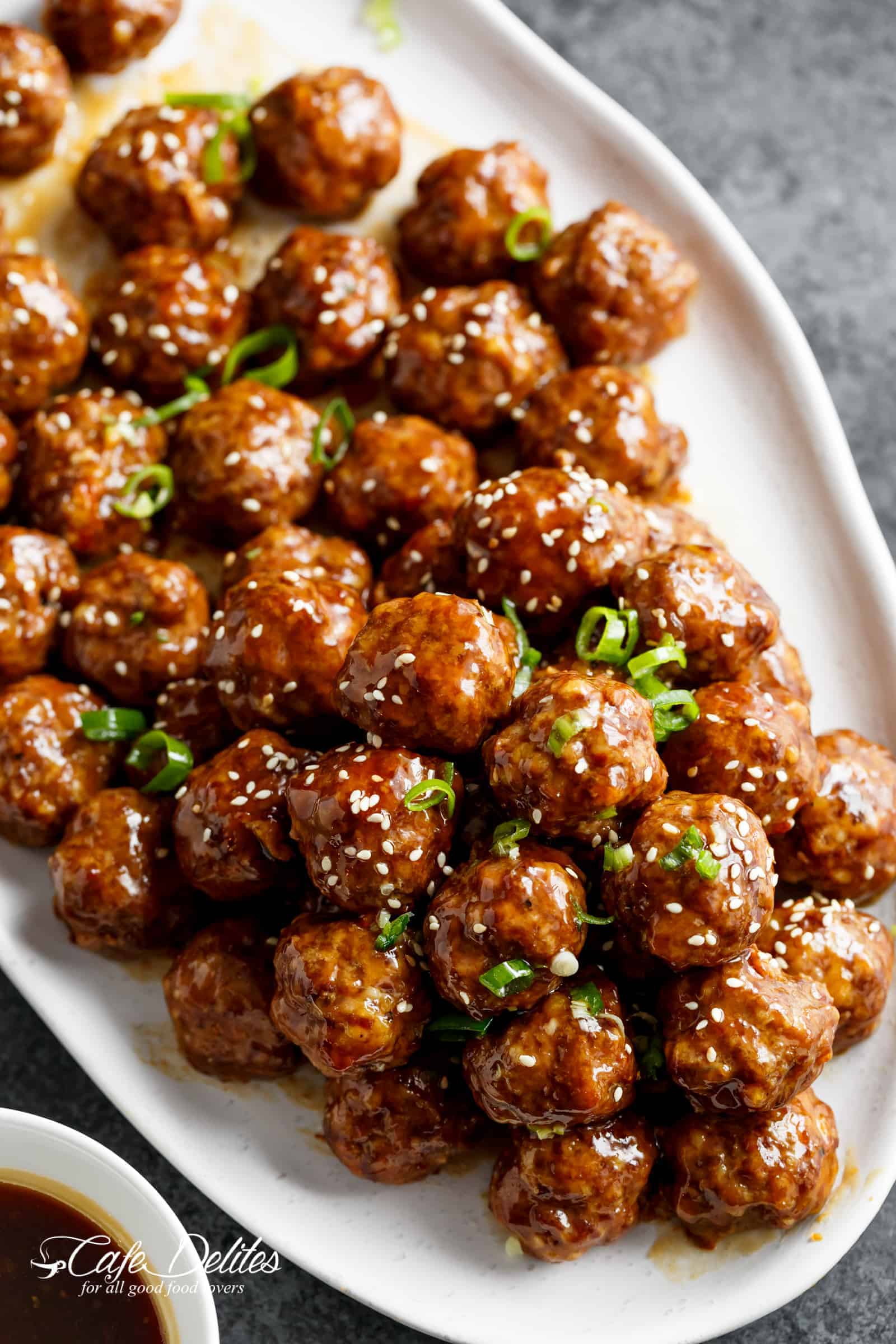 Easy Teriyaki Beef Meatballs Recipe!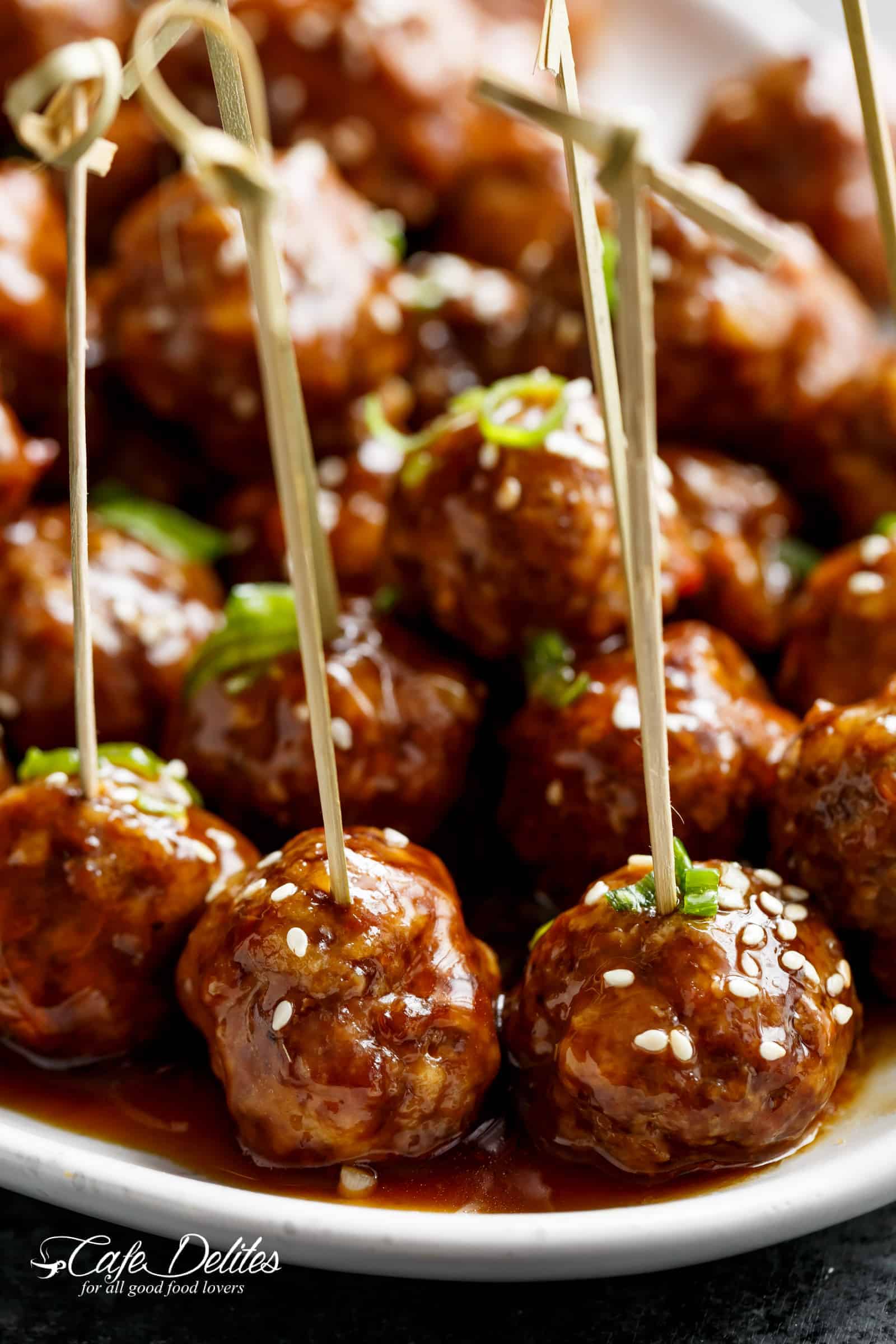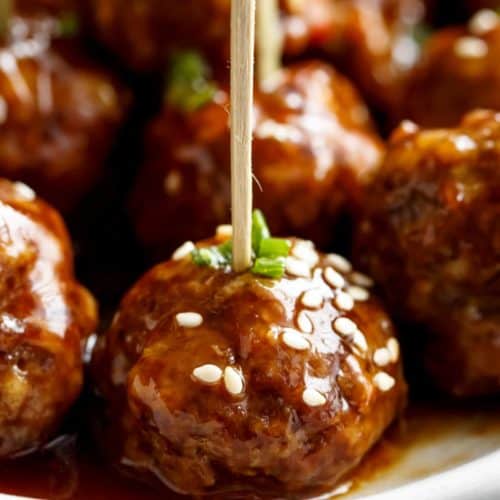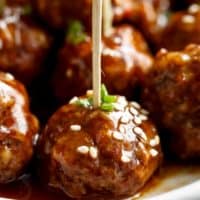 The BEST Teriyaki Beef Meatballs
Easy Teriyaki Beef Meatballs are smothered in a thick and easy to make homemade Teriyaki sauce! So versatile, these Teriyaki Beef Meatballs can be served as a main meal with steamed rice and veggies OR as an appetizer! The BEST part? Get your oven to do the work for you!
PRINT
SAVE
go to your favorites
Ingredients
MEATBALLS:
2

pounds

(1 kg) ground beef mince

(or pork, chicken, turkey)

3/4

cup

Panko breadcrumbs,

(or regular breadcrumbs)

2

eggs

2

scallions or green onions,

finely chopped

2

cloves

garlic,

minced

2

tablespoons

low sodium soy sauce

1

tablespoon

cooking Sake or Shaoxing,

(Chinese wine or dry sherry)

Pinch

salt and pepper,

to taste
TERIYAKI SAUCE:
1

teaspoon

sesame oil

2

cloves

garlic, minced

(or 2 teaspoons)

1/3

cup

low sodium soy sauce

1/4

cup

mirin

1/4

cup

sake

1/4

cup

brown sugar

1/2

cup

water

1

tablespoon

cornstarch mixed with 2 tablespoons of water

1

teaspoon

Sriracha

or more. (Adjust to your preference of spice)
TO SERVE:
Sesame seeds

1

green onion

finely sliced
Instructions
Preheat oven to 200°C | 400°F.
FOR THE MEATBALLS:
Mix together all of the meatball ingredients in a large bowl until well-combined. Spoon out 1 1/2-inch of meat mixture with a cookie scoop (or tablespoon), shape into balls and place onto 2 large baking sheets or trays lined with baking or parchment paper.

Bake for 10-12 minutes, or until golden browned and cooked through.

While the meatballs are baking, make your sauce!
FOR THE SAUCE:
Heat a medium-sized pot over medium-high heat. Whisk ALL of the sauce ingredients together (except cornstarch and water mixture) in the pan until well blended. Bring to a simmer, pour the cornstarch mixture in and give it a quick good mix until it dissolves into the sauce. Continue cooking until sauce thickens, while stirring occasionally to prevent burning or sticking on the bottom of the pan (about 5 minutes).
COAT:
When meatballs have finished cooking, pour 3/4 of the sauce over them and toss gently to evenly coat. Transfer the glazed meatballs to a serving dish or tray.

Sprinkle with sesame seeds and sliced green onions (if desired), and serve warm with toothpicks or mini forks, and with remaining sauce for dipping.
Need more Appetizers? Try THESE!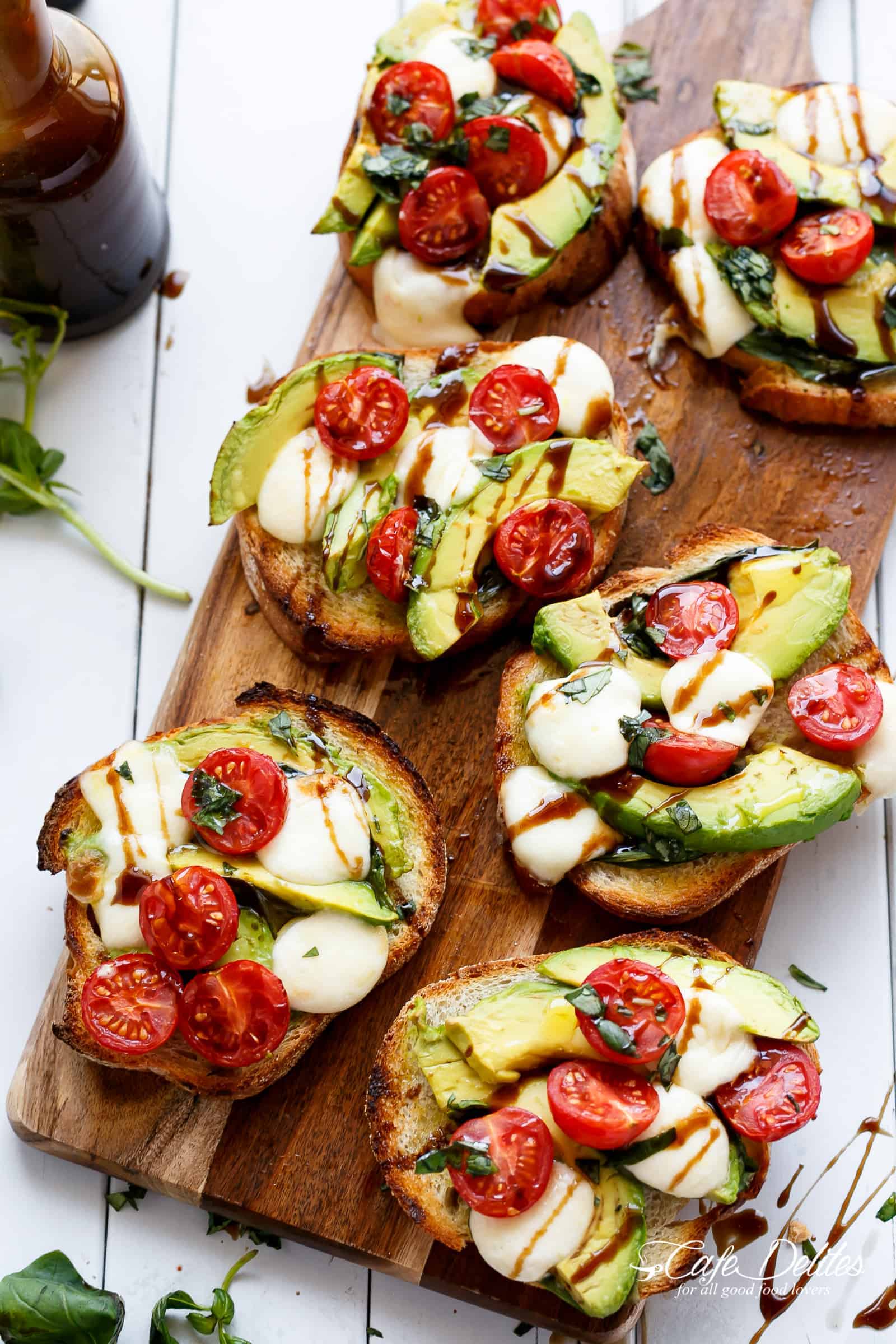 Skillet Spinach Bacon Artichoke Dip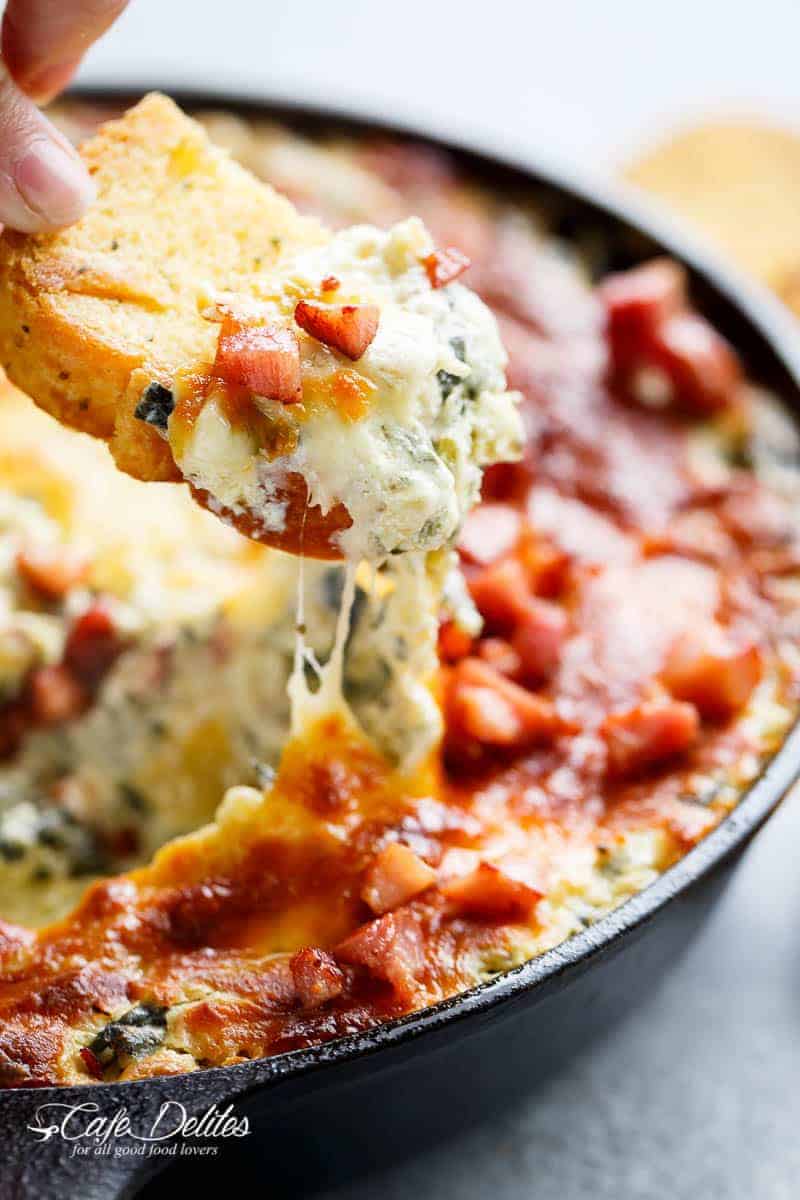 Chili Lime Texas Caviar (Cowboy Caviar)