Slow Cooked Chicken Cacciatore, with chicken falling off the bone in a rich and rustic sauce is simple Italian comfort food at its best.
The perfect Italian inspired recipe to make the dinner table sing! Chicken Cacciatore is a classic, but you'll never get a more succulent home cooked meal than this recipe!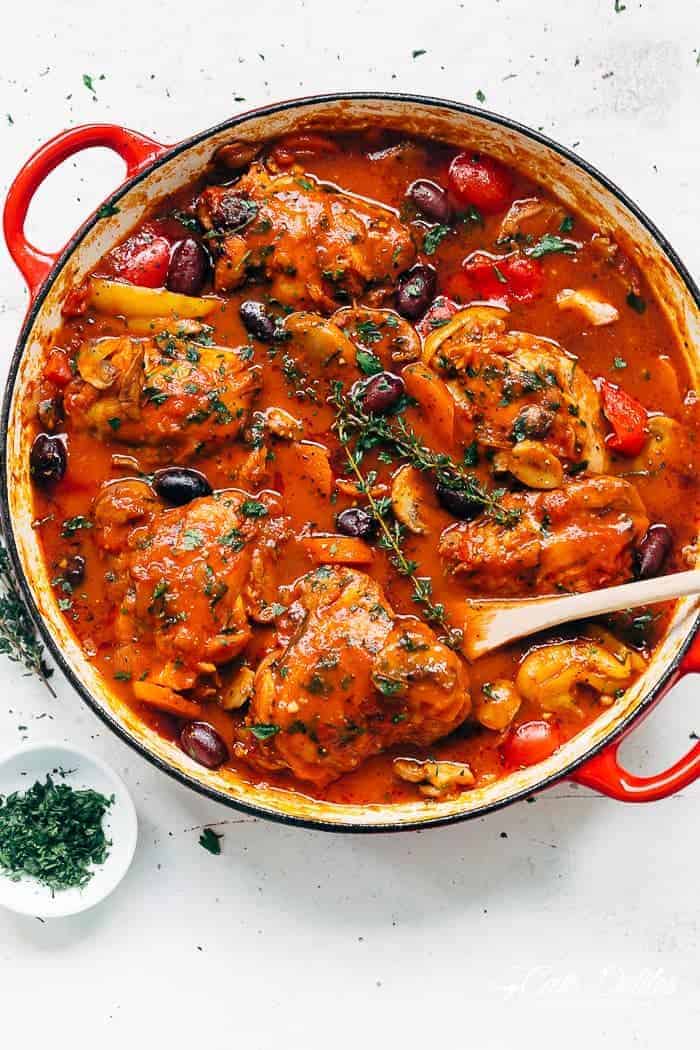 Easy to make and loved by the entire family…..cacciatore aromas fill your kitchen — no — your whole house…..with comfort and warmth as it looks after itself on the stove or in the oven! But what about a slow cooker method? It's right here! Slow Cooker Chicken Cacciatore WITH Potatoes.
Cacciatore means hunter in Italian, and alla cacciatora translates to a  'hunter-style' meal with chicken (or rabbit), onions, tomatoes, herbs, vegetables, and usually wine or vinegar. This is one of those recipes I found years ago in an old, tattered Italian cookbook, and every time I'd remake it through the years, I'd change something or adjust the cooking, which eventually brought me to this recipe. One I love and make time and time again.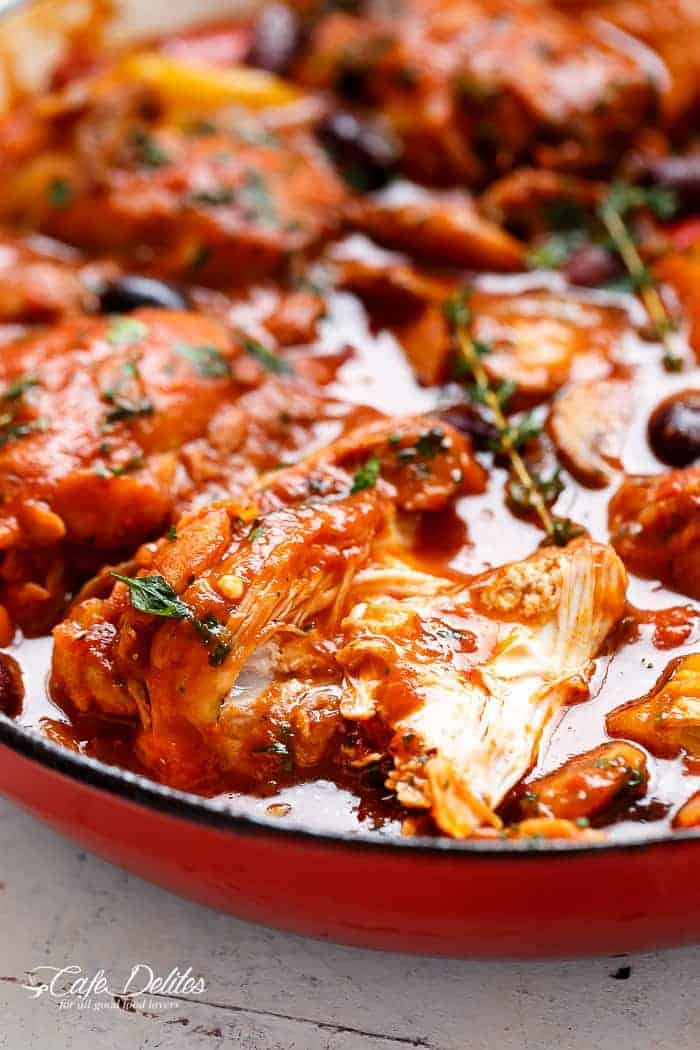 True to its name, I hunted. I hunted all the way out to the supermarket ⇒ 7 minutes around the corner from my house, walking through pouring rain just to get the chicken and herbs for this recipe, returning with clothes drenched and possible pneumonia. With the storms happening over here in Melbourne over the last few days, all we've wanted is comfort food.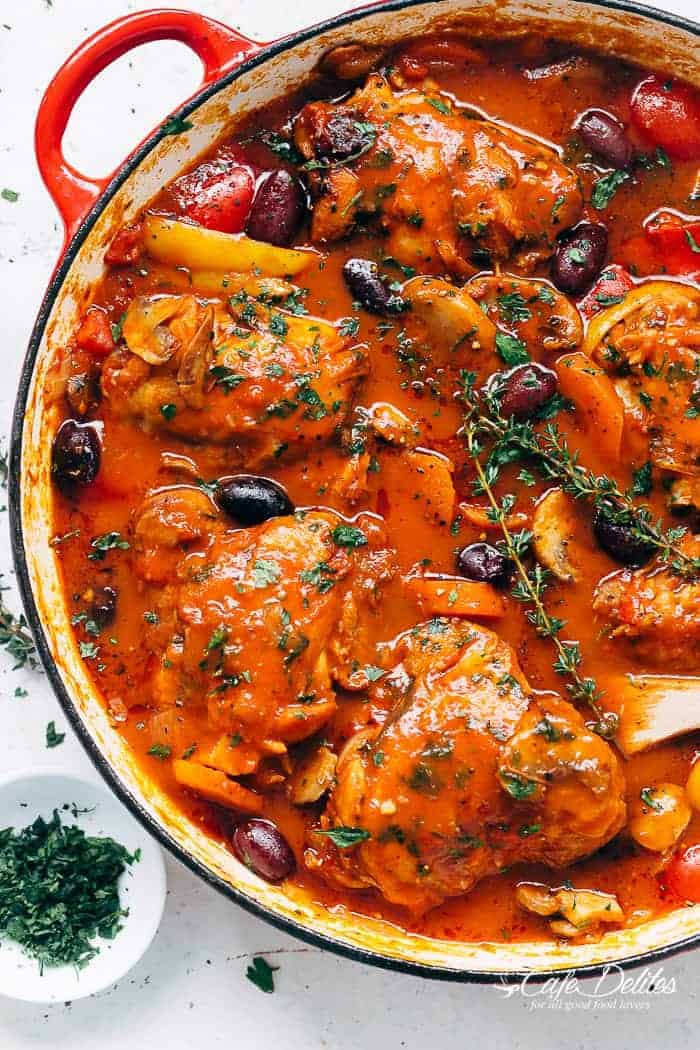 What in my right mind made me walk to get the ingredients? Knowing an easy meal was coming with the most delicious sauce soaking into these chicken thighs, while I sit back, read a magazine and let it cook on its own (with a little supervision). Slow cooked meals are my favourites, like this Easy Slow Cooker Lasagna Soup or Slow Cooker Asian Glazed Chicken, and there definitely aren't enough on this blog!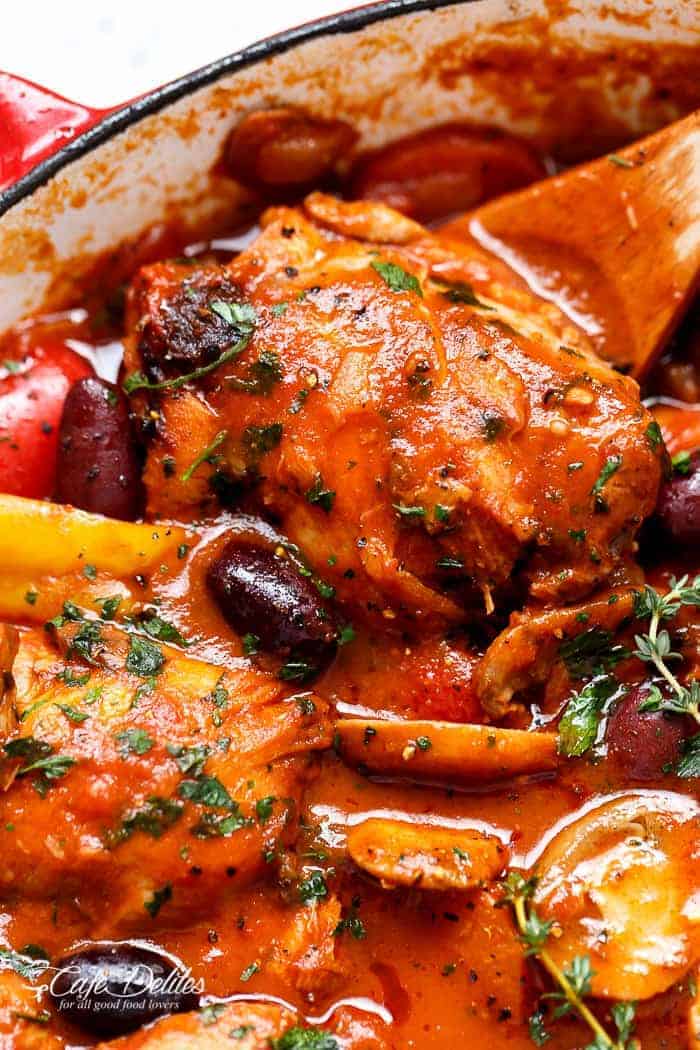 Keep it low carb and serve over cauliflower rice or vegetables. OR carb load it with pasta or rice! If there are any leftovers, the flavours are even better the next day! Or you can freeze it for another night.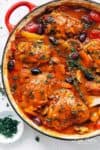 Chicken Cacciatore
Slow cooked Chicken Cacciatore, with chicken falling off the bone in a rich and rustic sauce is simple Italian comfort food at its best.
Ingredients
6

skinless chicken thighs

, bone-in

Salt and pepper to season

2

tablespoons

olive oil

(more if needed )

2

tablespoons

minced garlic

(or 8 cloves)

1

medium onion

, diced

1

small yellow pepper

(capsicum), diced

1

small red pepper

(capsicum), diced medium

1

large carrot

, peeled and sliced

10

oz

| 300g mushrooms

, sliced

1/2

cup

pitted black olives

8

sprigs of thyme

2

tablespoons

each freshly chopped parsley and basil

, plus more to garnish

1

teaspoon

dried oregano

150

ml

red wine

2

x 14 oz | 410g cans crushed tomatoes

2

tablespoons

tomato paste

7

oz

| 200g mini Roma tomatoes

, halved

1/2

teaspoon

red pepper flakes
Instructions
Season chicken with salt and pepper. Heat oil in a heavy cast iron skillet, drizzled with olive oil.

Add the garlic and fry until fragrant (about 30 seconds). Add the onion, peppers, carrot, mushrooms and the herbs; sauté for 5 minutes until the onion is transparent and the vegetables are beginning to soften.

Add the chicken and sear on both sides until deep golden brown on both sides. (Occasionally mix the vegetables around the chicken in the pan so they don't stick).

Pour in the wine and allow it to simmer and reduce down (about 5-6 minutes).

Add the crushed tomatoes, tomato paste, Roma tomatoes and chill flakes. Season with salt and pepper to your tastes. Continue to cook over stove top OR in the oven following the instructions below.
FOR STOVE TOP:
Mix all of the ingredients together; cover with lid, reduce heat and allow to simmer (while stirring occasionally) for 30-40 minutes or until the meat is falling off the bone. Add in the olives, allow to simmer for a further 10 minutes. Garnish with parsley and serve immediately.
FOR THE OVEN:
Transfer the covered skillet to a preheated oven at 375°F | 190°C and cook for 50 minutes. Remove the lid and cook for an additional 20 minutes until the chicken is tender and falling off the bone, and the sauce has reduced down.
FOR THE SLOW COOKER, USE THIS RECIPE: http://cafedelites.com/2016/11/08/slow-cooker-chicken-cacciatore/
Recipe Notes
If the sauce is too thin for your liking, add 2 tablespoons of tomato paste while it's simmering to thicken.
TO MAKE AHEAD:
This chicken cacciatore can be made up to 1 day ahead, cooled, covered and refrigerated. Rewarm over low-medium heat.
TO FREEZE:
Transfer the cooled cacciatore into an air tight container and transfer to the freezer. The day of serving, thaw it out in the morning and bring to room temperature. Transfer to a skillet / pan and reheat over low-medium heat until warmed through.