Cauliflower fried rice is an easy and fast Chinese-inspired side dish ready in 20 minutes or less!
One of the most popular dishes to order at a Chinese restaurant is fried rice, however, this recipe has a tasty low carb twist! Florets are chopped into small pieces to mimic the look and texture of rice for this Cauliflower fried rice! Cooked in a blend of authentic flavors and stir-fried to infuse maximum taste into each serving, you will love this twist!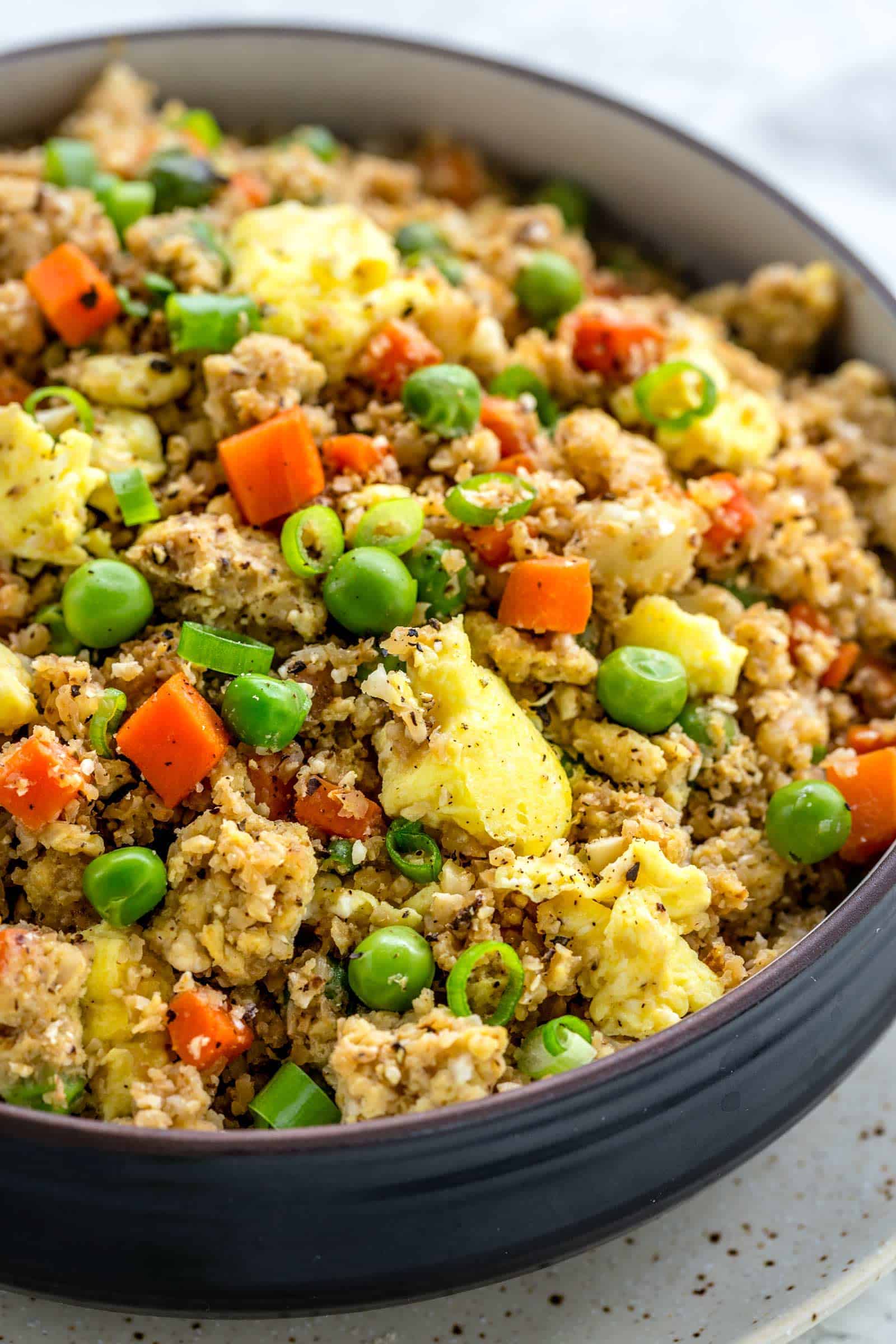 Hi there! I'm Jessica Gavin, a Certified Culinary Scientist and cookbook author. I love to teach the science behind better cooking with my readers on JessicaGavin.com. I'm so excited to share this low carb recipe with you on Karina's mouth-watering website!
I grew up eating a lot of Chinese fried rice, especially when there was leftover rice from dinner the night before. It's one of those super easy and quick dishes that utilized a mashup of flavorful, savory ingredients that everyone loved.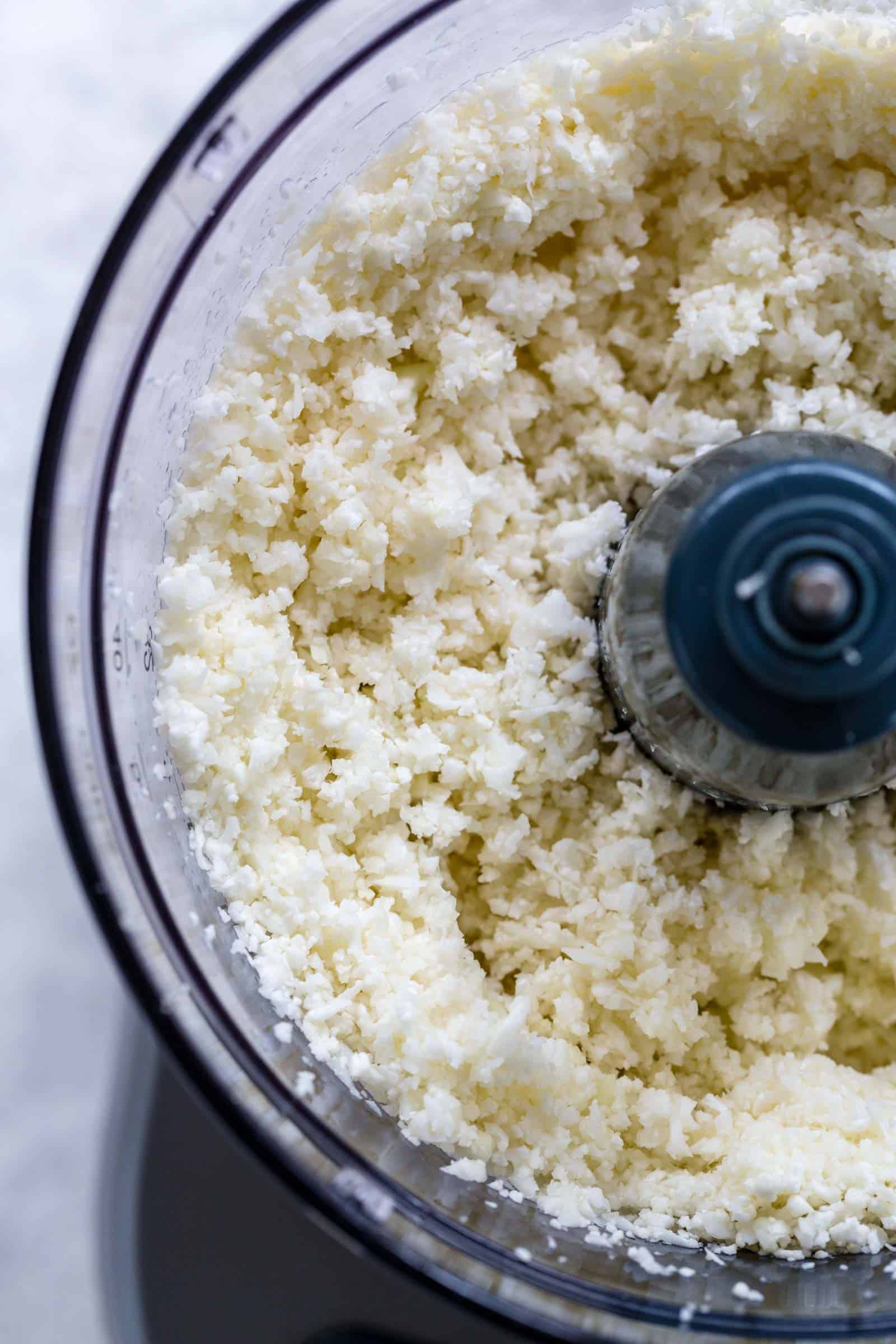 This cauliflower fried rice is a healthier version loaded with vegetables and protein in every bite. A combination of chopped cauliflower, tender peas, carrots, eggs, and seasonings makes for a crowd-pleasing side dish!
Easy Ways to Make Cauliflower Rice
I have four simple methods for how to make cauliflower rice. These techniques give multiple options, no matter what tools are available.
Chop- Use a large chef's knife to chop florets into grain-sized pieces.
Grate- Use the large holes of a grater to make smaller pieces.
Food Processor- Add smaller florets and process into smaller pieces.
Blender- Process florets into smaller grain-sized pieces.
The key is to cut the head of cauliflower into pieces similar to the size of a cooked grain of rice. Chopping the florets with a knife will yield slightly more substantial parts, and may require a few more minutes of cooking time. Cauliflower rice can be portioned and stored in a resealable plastic bag in the freezer for later use.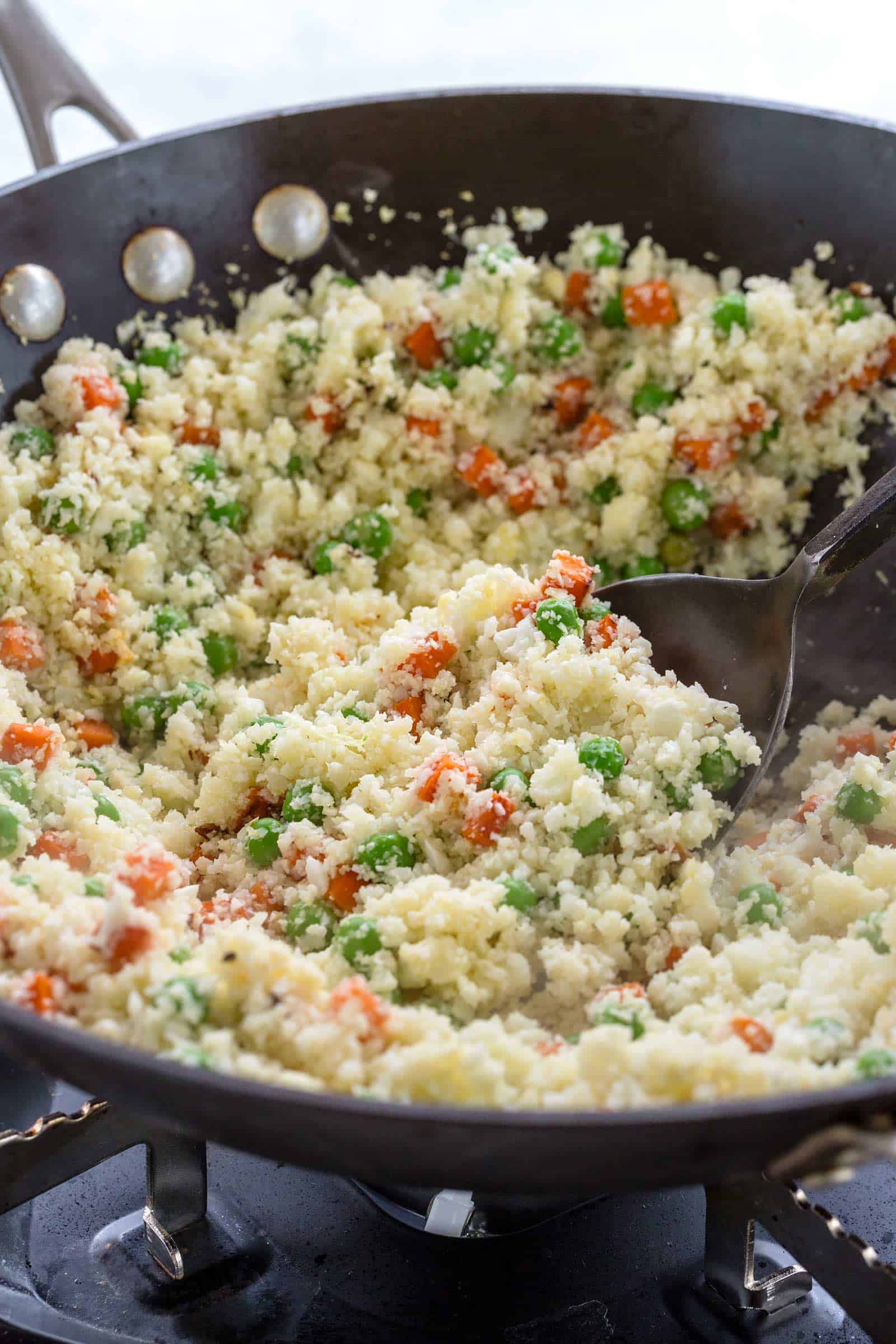 How to Make Cauliflower Fried Rice
To make cauliflower fried rice, I use the same technique as I would for making a stir-fry.
The wok or skillet should be very hot in order to quickly cook the ingredients and add color and texture to the cauliflower rice. Keep the components moving around in the pan!
Saute garlic until just fragrant, only 30 seconds.
Spread the cauliflower rice in a thin layer in the pan for quick and even cooking.
Add in beaten eggs towards the end of cooking by making a well in the center to scramble the eggs. If you like larger egg curds, cook them first before you add the other ingredients, set aside, and stir back in later.
Traditionally no soy sauce is added to fried rice, the stir-frying in the hot wok gives the brown color of the rice. However, the earthiness of the cauliflower is complemented better with some sesame oil and soy sauce.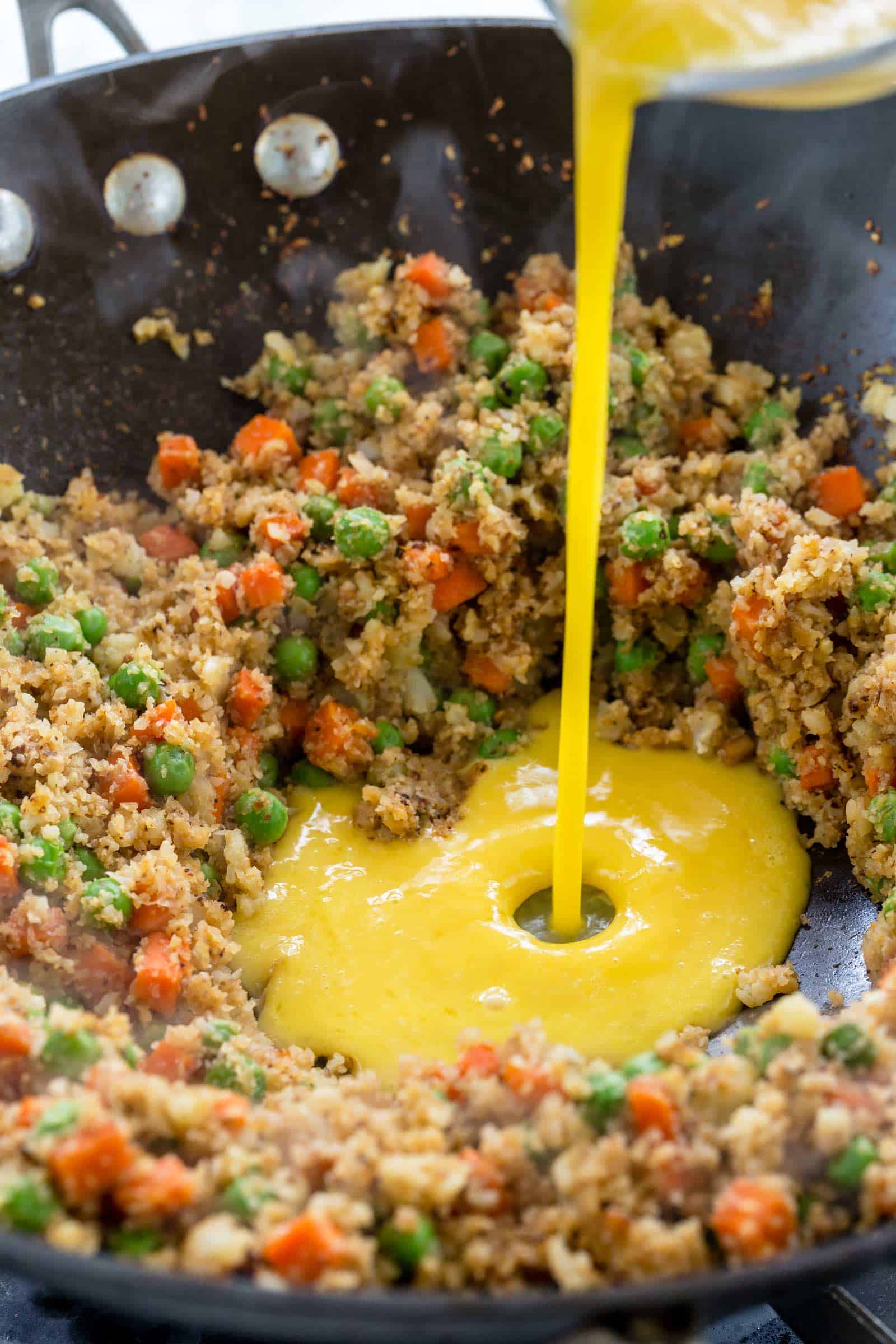 If you're looking to make this recipe gluten-free, switch out the soy sauce for coconut aminos or tamari. They'll give a similar savory flavor. Make sure to adjust by adding a smaller amount at first until the desired taste is reached.
In this cauliflower fried rice recipe, garlic, peas, carrots, scrambled eggs, green onions, sesame oil and soy sauce combine for incredible flavor and interesting texture to the dish. Any variation of vegetables or proteins can be incorporated to switch things up. One of my favorite versions is shrimp fried cauliflower rice if you're looking to experiment.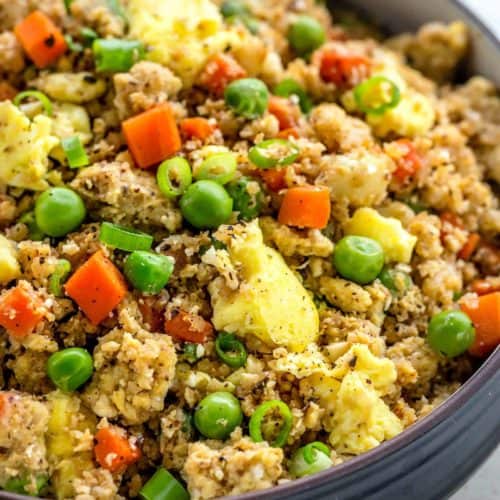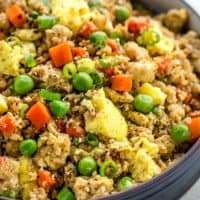 Cauliflower Fried Rice
Cauliflower fried rice is an easy and fast Chinese-inspired side dish ready in 20 minutes or less!
PRINT
SAVE
go to your favorites
Ingredients
1

large

head of cauliflower

2

tablespoons

vegetable oil

divided

3

large

eggs

beaten

2

cloves

garlic

minced

3/4

cup

carrots

¼-inch dice

3/4

cup

peas

fresh, canned or frozen and defrosted

2

tablespoons

soy sauce

1/4

teaspoon

sesame oil

2

tablespoons

green onion

thinly sliced
Instructions
Use a knife to remove the outer leaves of the cauliflower.

Cut off the cauliflower florets from the stem. Cut florets into 1-inch sized pieces.

Add florets 3/4 full into a food processor and pulse until small pieces form, scraping the sides of the bowl as needed.

Work in batches for larger heads of cauliflower in the food processor.

If larger pieces of cauliflower do not get processed, remove from the food processor or blender.

Cut into smaller florets and process after removing the cut cauliflower rice from the food processor.

Alternatively, chop cauliflower florets into small rice-sized pieces with a chef's knife, grated, or processed with a blender.

Heat a wok or large skillet over medium-high heat. Once hot, add the minced garlic and stir-fry for 30 seconds, until fragrant but not browned.

Add the carrots and cook for 2 minutes, until tender.

Add the peas and cook for 1 minute.

Add the cauliflower, and stir to combine.

Spread the cauliflower mixture out evenly in the pan so that it has more area to fry, allow to cook without stirring for about 2 minutes.

Mix the rice and stir-fry until the cauliflower rice is tender, about 5 to 7 minutes.

Add the soy sauce and sesame oil, stirring to combine. Taste the rice and add more soy sauce, salt, and pepper as needed.

Reduce heat to medium and make a large well in the center of the pan using a spatula.

Add 1 tablespoon of vegetable oil to the center of the pan and allow to warm.

Once hot slowly add in the eggs. Use a quick stirring motion to cook and break the eggs into small scrambled pieces.

Once cooked, stir together with the cauliflower rice.

Garnish cauliflower rice with sliced green onions and serve hot.
Nutrition
Calories:
163
kcal
|
Carbohydrates:
8
g
|
Protein:
8
g
|
Fat:
11
g
|
Saturated Fat:
6
g
|
Cholesterol:
139
mg
|
Sodium:
282
mg
|
Potassium:
193
mg
|
Fiber:
2
g
|
Sugar:
3
g
|
Vitamin A:
4450
IU
|
Vitamin C:
26.2
mg
|
Calcium:
44
mg
|
Iron:
1.5
mg