Spinach Ricotta Manicotti or Cannelloni with a creamy soft filling, homemade marinara sauce and melted cheese. YES!
Spinach Ricotta Manicotti is pure comfort/indulgence food to be enjoyed for dinner any time of the week OR for special occasions! Pasta recipes are our family specialty… think Lasagna, Ravioli, Tortellini, or a good Chicken Alfredo.
Manicotti, however, is EASY! A family favourite and signature dish!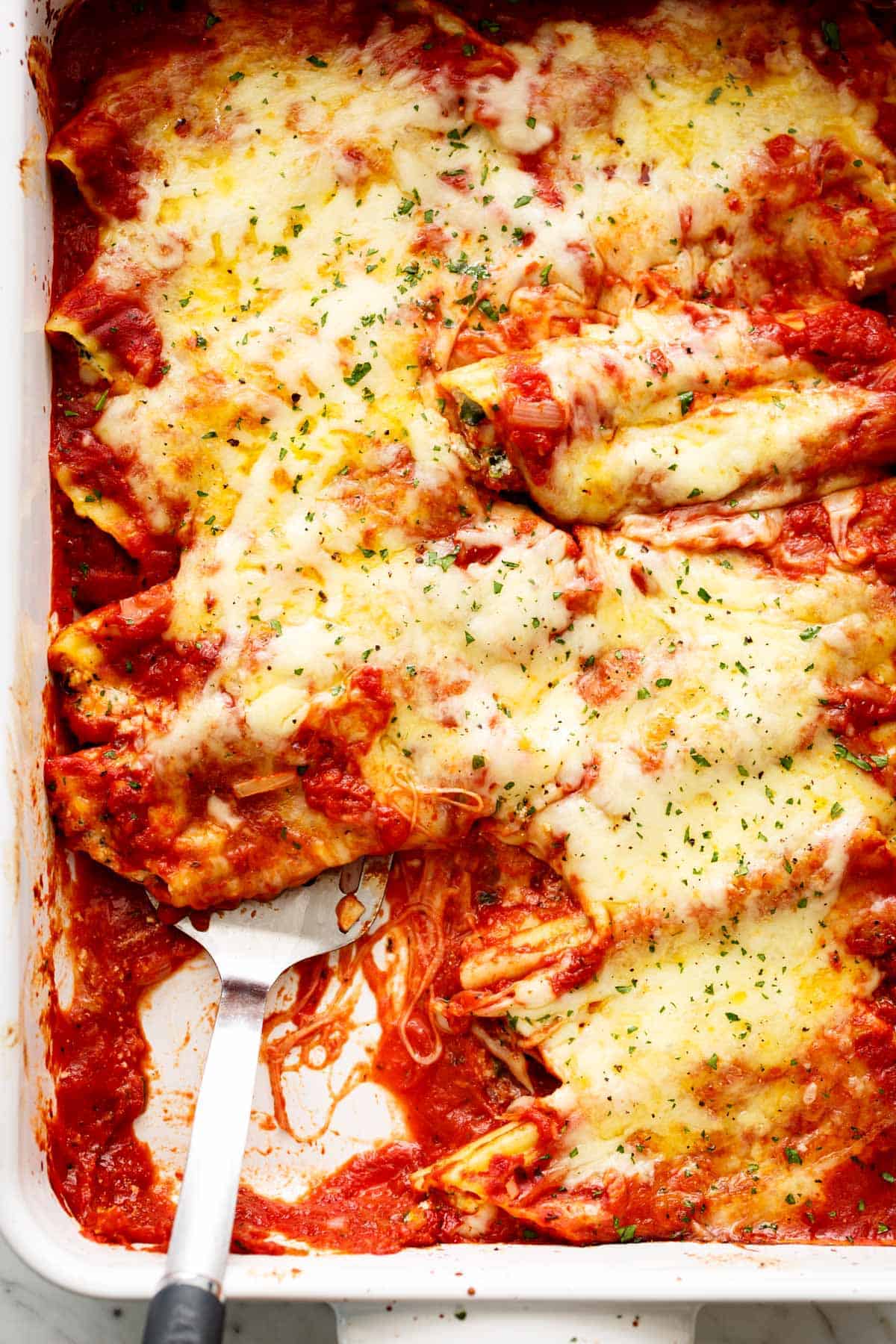 SPINACH AND RICOTTA CHEESE MANICOTTI
Looking for something special? Need ideas for your Christmas Eve, New Years, or a special weekend menu plan? Spinach Ricotta Manicotti is it. The perfect pasta recipe with a gourmet touch to serve to your guests!
Preparing Manicotti may take time and involve a few steps, but it's NOT hard! Especially with the tips I have for you here to make your lives a little easier. The bonus? Stuffed pasta is really worth that effort, because the flavour in the filling AND the sauce is just insane!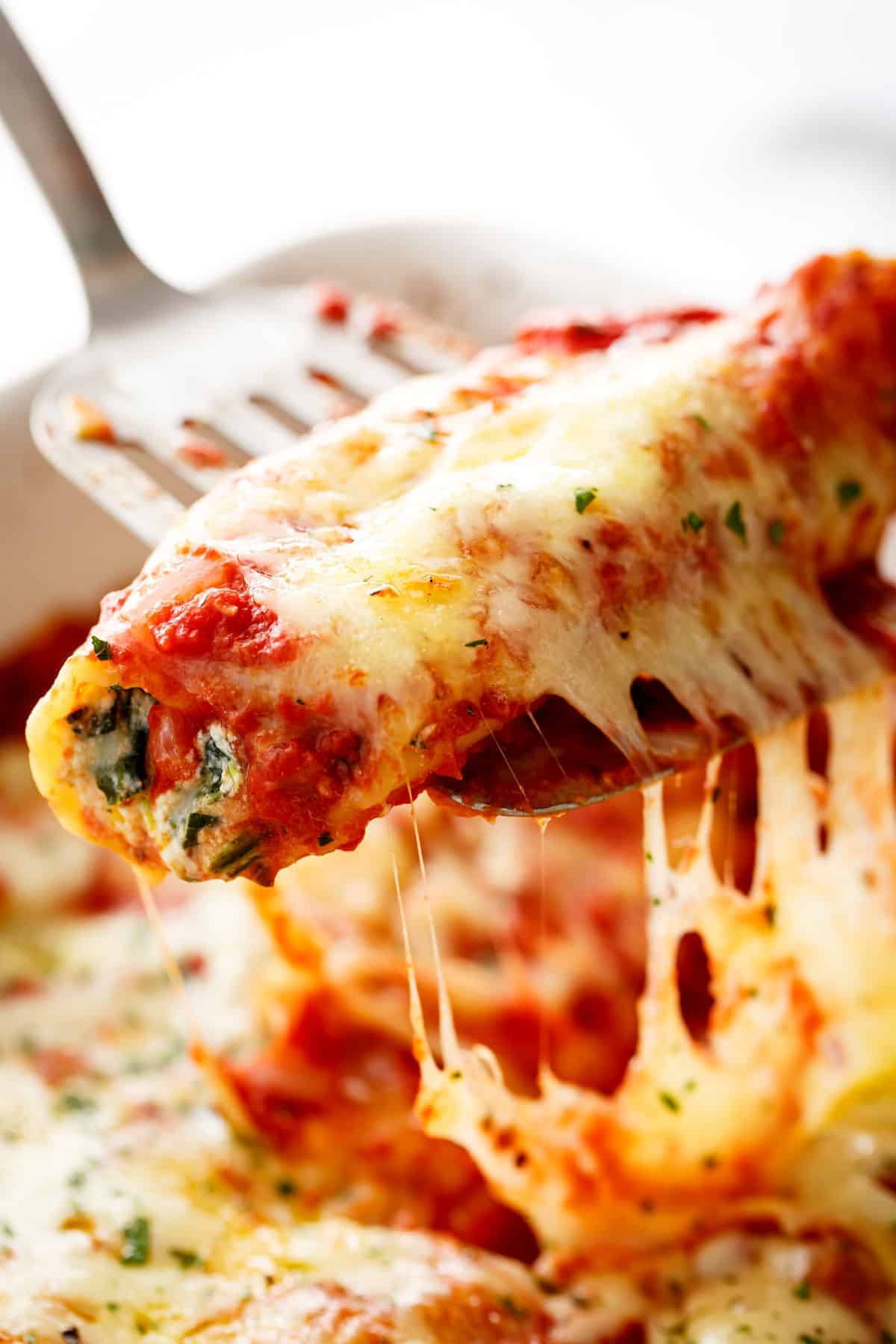 THE DIFFERENCE BETWEEN MANICOTTI AND CANNELLONI
Manicotti is the Italian-American version of Cannelloni. Both are pasta tubes, but the difference between the two is fairly minimal:
Manicotti tubes are ridged, larger and slightly thicker
Cannelloni tubes are smooth, a touch smaller and slightly thinner.
The spinach and ricotta filling in this recipe fills 12-14 manicotti tubes, or 18–22 cannelloni tubes. For your reference, I've included both methods in the recipe box below.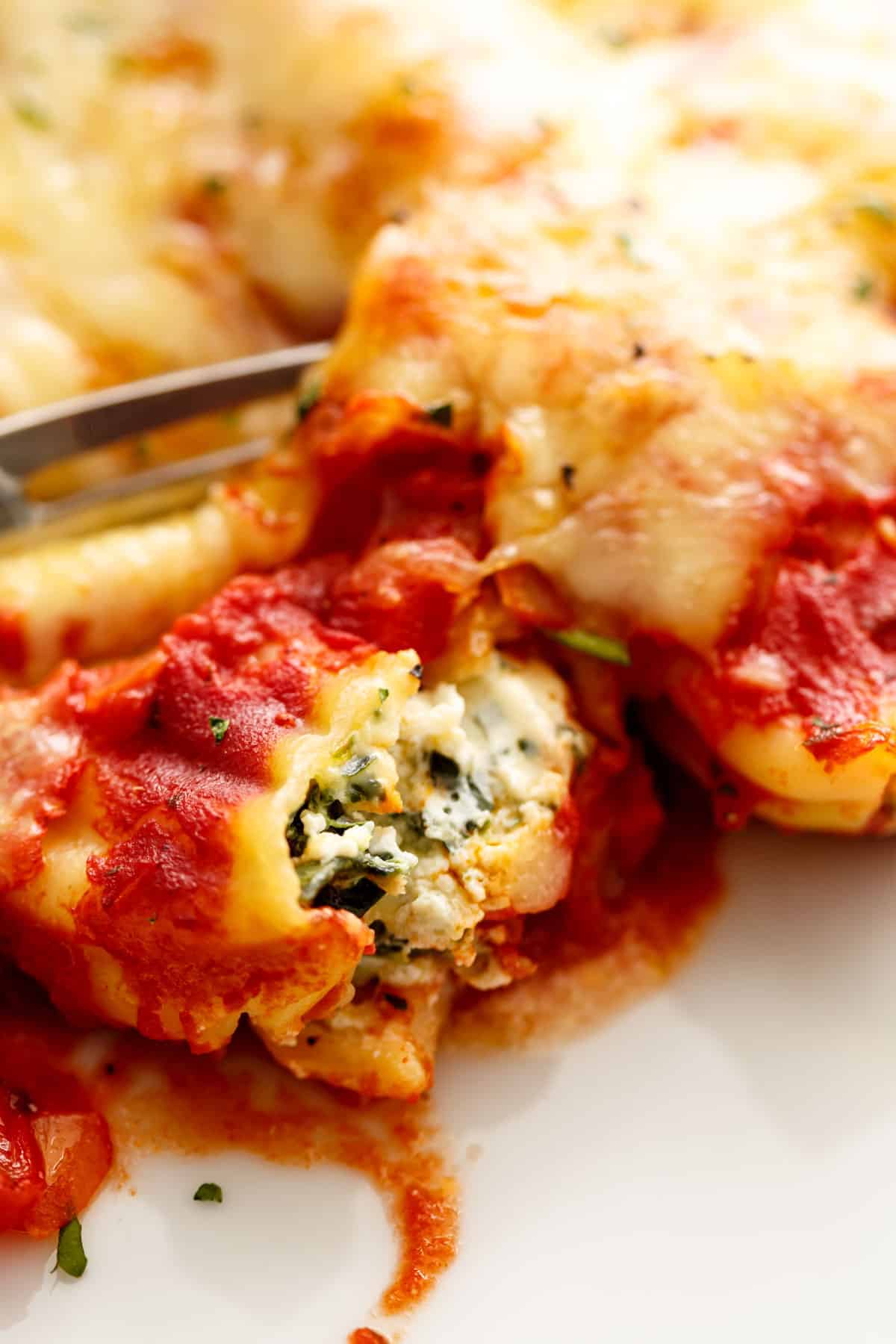 PREPARE MANICOTTI TUBES
After a few failed attempts over the years (imagine ripped over-boiled pasta shells, breaking dry shells, taking an hour to stuff them with a knife, etc), the best advise I can give you is NOT to pre-boil. Most of us are not completely sure how long to boil them for; or we get distracted and completely forget them; or we don't realise they need to be cooled down fast to prevent them from over cooking and going soggy or limp.
Because of those issues, we prefer to place them in a baking dish; pour salted boiling water over them; cover and let sit for 7-10 minutes. This is easier than boiling the pasta and only require that one step. There's no need to cool them in an ice bath when they're done.
You'll know when they are ready: they begin to soften but are still firm to the touch (not hard or dry). Then simply use a slotted spoon to place them on a large plate or baking sheet, ready to stuff them.
Of course, if you're using dry Cannelloni tubes like the ones available here in Australia, you can skip this step completely.
HOW TO STUFF MANICOTTI TUBES WITHOUT BREAKING
In my experience, the easiest and fastest way to stuff pasta tubes is to use a large strong zip-lock bag or a pastry bag without a tip. You'll need to cut the zip-lock bag at one of the bottom corners to create a slightly smaller opening than the manicotti tube circumference.
To prevent the mixture from spilling out from the top, insert the tip of your zip-lock bag a quarter of the way into the tube. To prevent the filling oozing out from the bottom, place the tube down onto a surface, fill the top as above, then turn it and fill the other other end in the same way.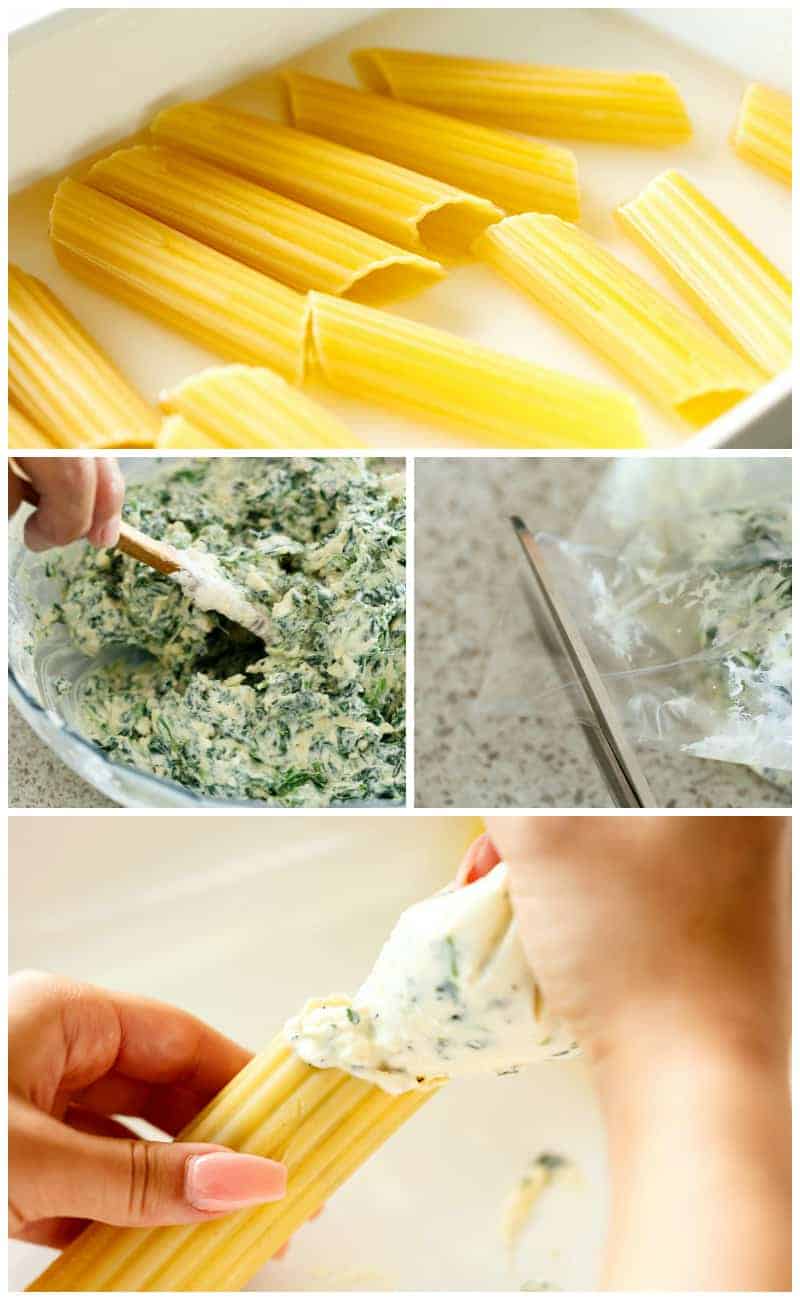 SAUCE FOR MANICOTTI
Manicotti needs to be completely covered with sauce to ensure there's enough liquid for them to cook in the oven. Our marinara sauce is a simple tomato filled with flavour and compliments our Spinach Ricotta Manicotti perfectly. Of course you can use bottled sauce to cut time, but make sure it's a sauce you already know and love.
To make our tomato sauce, all you need is onion, garlic, tomato sauce or Passata, tomato paste, seasonings + a little water to cook those tubes in. The water IS necessary and does not alter or dilute the flavours in the sauce.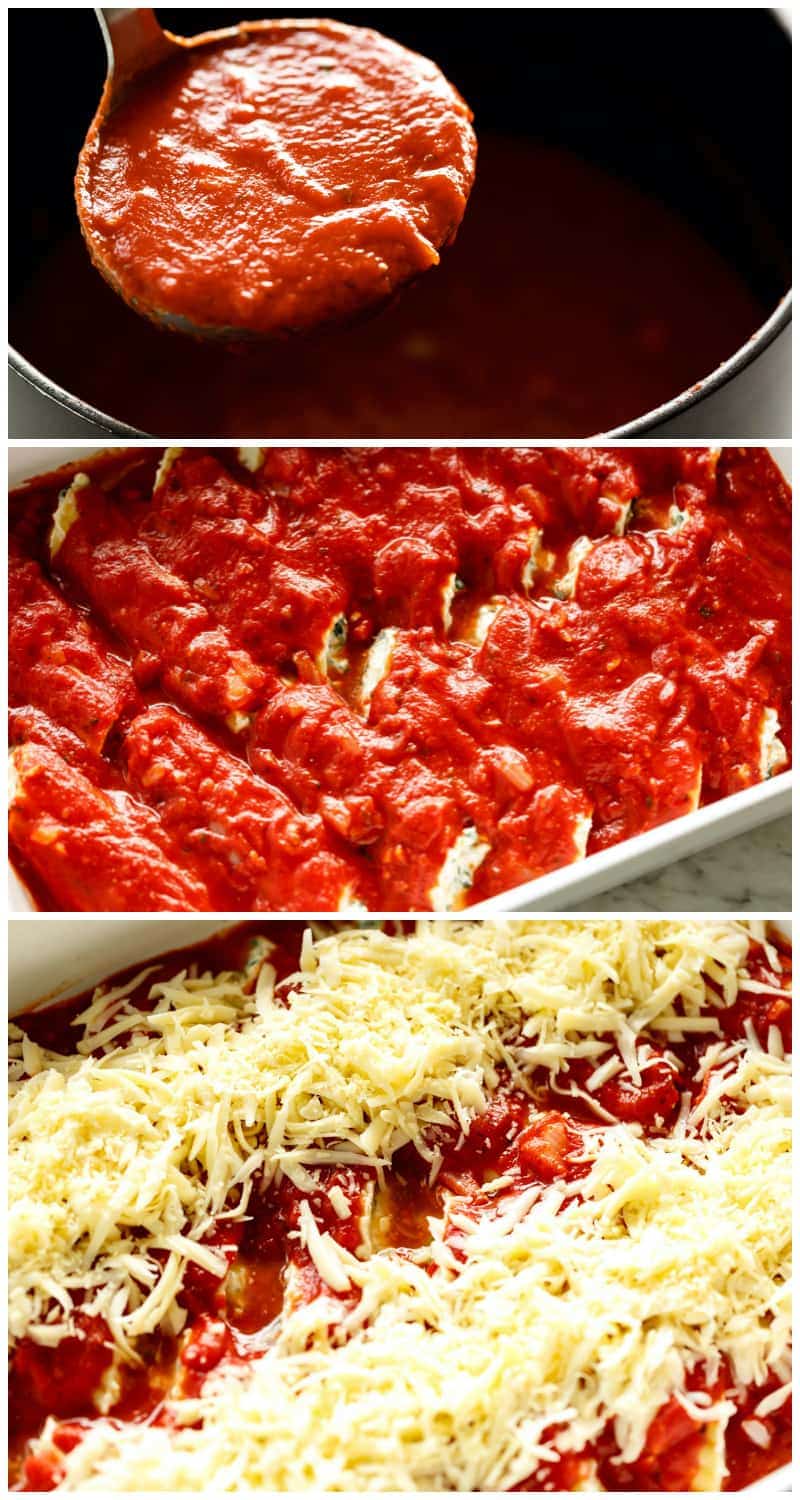 CAN SPINACH RICOTTA MANICOTTI BE MADE AHEAD?
Absolutely! Spinach Ricotta Manicotti (OR Cannelloni) is a great make-ahead meal!
Prepare the manicotti as directed in the recipe.
Cover and refrigerate the unbaked dish.
Remove from refrigerator 30 minutes before baking.
Preheat oven and bake as directed in the recipe.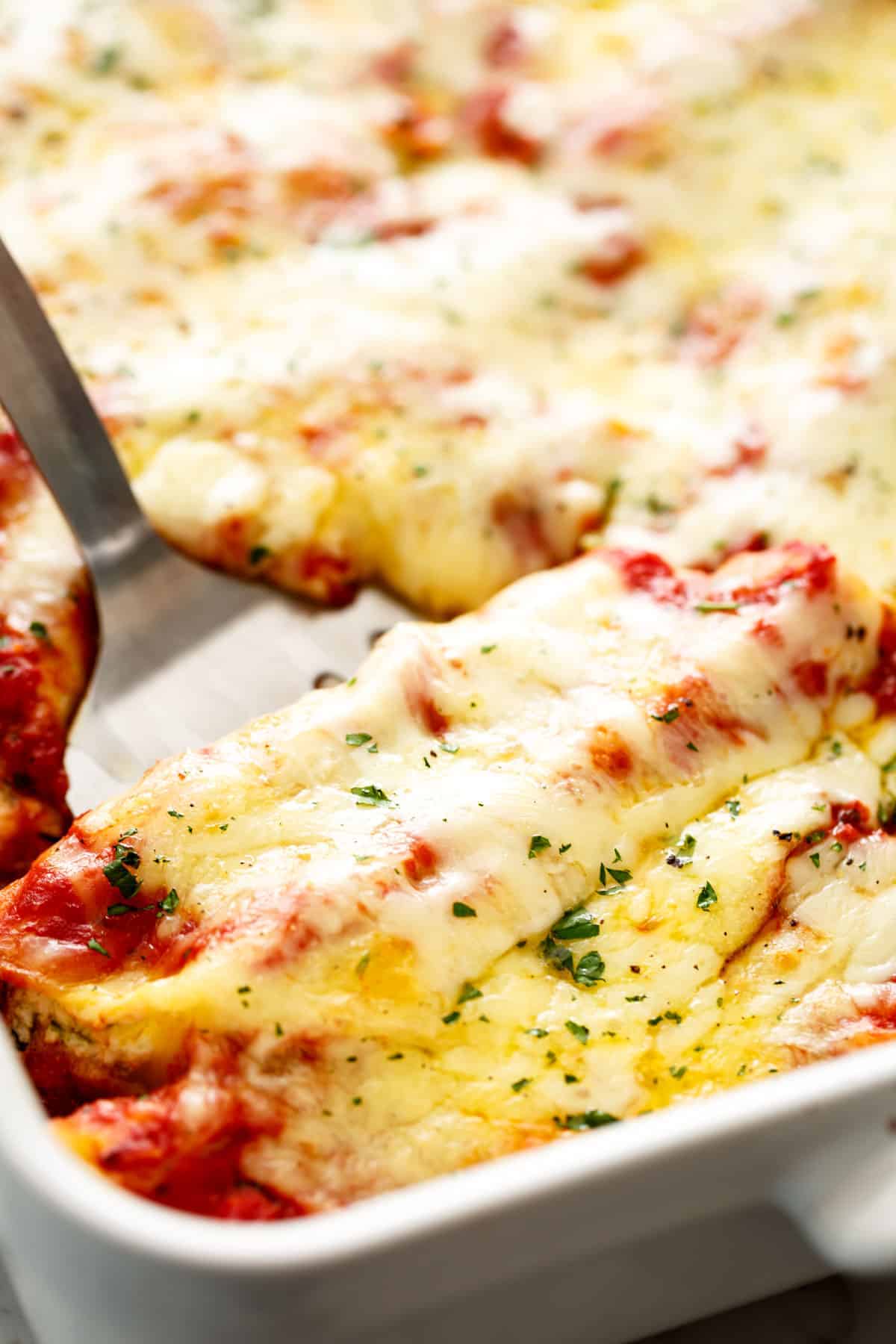 WHAT TO SERVE WITH STUFFED MANICOTTI
A Simple tomato salad compliments a heavy pasta dish like this, as does this Avocado Tomato Corn Salad. Throw some Soft Dinner Rolls or crusty bread on the dinner table and everyone is happy!
MORE PASTA RECIPES
One Pot Creamy Mushroom Chicken Pasta
Meatballs
Chicken Fettuccine Alfredo with Bacon
Chili Mac
Lasagna Soup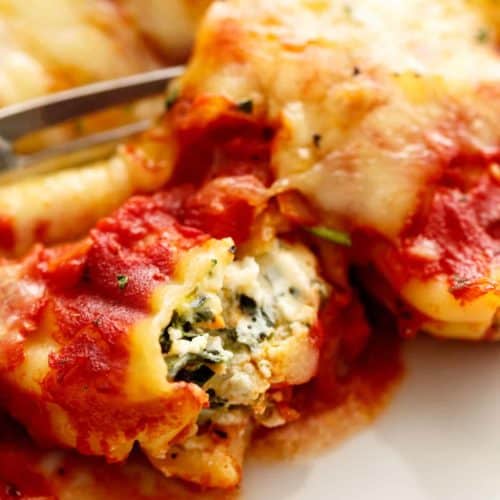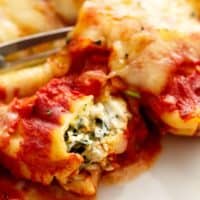 Spinach Ricotta Manicotti
Spinach Ricotta Manicotti or Cannelloni with a creamy soft and flavourful filling, homemade marinara sauce and melted cheese. Pure comfort food indulgence!
PRINT
SAVE
go to your favorites
Serves:
14
stuffed manicotti tubes
Ingredients
MANICOTTI OR CANNELLONI
14

uncooked manicotti shells

(or 18 dried cannelloni tubes)

Good pinch of salt
FILLING
8

oz

(250 g) frozen spinach,

thawed

1

lb

(500 g) ricotta cheese

1

cup

fresh shredded mozzarella cheese

(4 oz | 120 g)

1/2

cup

freshly grated Parmesan

2

large

eggs

2

cloves

garlic,

finely chopped or minced

1

teaspoon

Italian seasoning

Pinch

freshly grated nutmeg

(optional)

3/4

teaspoon

salt

1/2

teaspoon

fresh ground pepper
MARINARA SAUCE
2

tablespoons

extra-virgin olive oil

1

small

onion,

finely chopped (about 1/4 cup)

2

cloves

garlic,

finely chopped (or minced)

28

oz

(800 g) American tomato sauce,

(Passata)

1

cup

water

(swirl in tomato bottle to wash excess out for the sauce)

1

teaspoon

tomato paste

2

teaspoons

each fresh chopped basil and parsley

(or 1 1/2 teaspoons Italian seasoning)

1

teaspoon

salt

Freshly ground black pepper
TOPPING
1

cup

fresh shredded mozzarella cheese

1/2

cup

freshly grated Parmesan
Instructions
MANICOTTI
In a large shallow dish, cover manicotti shells with boiling water and season generously with salt. Cover with foil or plastic wrap and set aside to soften slightly (about 7-10 minutes while you prepare your sauce).
MARINARA SAUCE
Heat the oil in a medium saucepan over medium-high heat. Sauté onion until transparent (about 3 minutes), then addd the garlic and cook until fragrant (about 30 seconds). Add the tomato sauce (Passata), water, paste and herbs. Bring to a boil, then lower the heat and simmer, covered, for 10 minutes.

Stir in salt and pepper to taste. Use now, or store covered in the refrigerator for up to 3 days, or freeze for up to 2 months.
FILLING
Squeeze excess water from the thawed spinach.

Combine filling ingredients in a bowl until well combined.
ASSEMBLE AND COOK
Preheat oven to 350°F | 175°C.

Spray the bottom of a 9 x 13-inch ovenproof baking dish with nonstick spray. Spread out about 2 ladles (or 1 cup) of the marinara sauce on the bottom of baking dish.

Transfer filling mixture into a strong ziplock bag. Cut a hole in the bottom corner of the bag (see photos in post, or use a piping bag).

Once manicotti tubes have softened slightly but are still firm to the touch, use a slotted spoon to transfer them from the boiling water to a plate. 'Pipe' filling into manicotti tubes and arrange them in a single layer over the sauce in the baking dish. Top with remaining sauce and cheese.

Cover with foil and bake for 30 minutes. Uncover and bake for a further 10-15 minutes, or until pasta shells are cooked through.

Serve immediately.
Notes
FOR CANNELLONI:
Use dried cannelloni tubes that do not need to be pre-boiled before cooking in the oven if you can. If you can't find them, follow pre-cooking packet instructions for what you have on hand.
Cover stuffed cannelloni tubes with foil and bake for 25 minutes.

Remove foil and bake for a further 10 minutes, or until cooked through.
LEFTOVERS
Refrigerate for up to 3 days.
Alternatively freeze for up to 2 months.
Nutrition
Calories:
243
kcal
|
Carbohydrates:
18
g
|
Protein:
14
g
|
Fat:
13
g
|
Saturated Fat:
7
g
|
Fiber:
2
g
|
Sugar:
4
g