Cheesy Meatballs are juicy and tender, simmered in a rustic homemade tomato sauce. Topped with melted mozzarella cheese and serve over spaghetti for a delicious dinner!
The best meatball recipe starts with the most tender meatballs, browned in a hot skillet to seal in the juices and get crispy, golden edges. Soaking up rustic tomato sauce flavours underneath a golden blanket of melted mozzarella cheese, Cheesy Meatballs is an easy dinner recipe that will be a hit with your family!

MEATBALL RECIPE
Dry meatballs are a thing of the past with our recipe. While most nonna's hold a secret to get the perfect meatballs, some people just can't seem to get it right. Cooking dry meatballs that are often times flavourless and hard to swallow, I agree with most in that meatballs can be hard to master. It's easier to buy cooked meatballs in throw them in a sauce.
Even though it can be hard to get the texture and taste right out of a humble meatball, I'm here to tell you it's super easy. All you need is the right meatball recipe!
We have a trick up our apron sleeves (or straps), that make these meatballs so moist and juicy and absolutely the best meatballs we've ever eaten. You will love our cheesy meatballs!
HOW TO MAKE MEATBALLS
It all starts with your meat mixture. There are two key elements crucial to a good meatball recipe:
Without these two details, meatballs are bland, dry and not worth the effort that goes into making them.
Bread soaked in milk instead of dry breadcrumbs is the secret to getting juicy, moist meatballs every single time. The same method we use for our Meatloaf recipe.
Meatballs also need to be well-seasoned. We use salt and a crushed bouillon cube to get the flavours going, as well as aromatics like onion and garlic.
Herbs are just as important to get those classic Italian flavours in each bite. Our recipe calls for fresh parsley and dried oregano and basil, purely taking seasonal availability into account. Feel free to mix it up with your own favourite combination. Mint, tarragon, thyme or marjoram, plus a pinch or two of nutmeg adds a subtle flavour. You decide.
Eggs are also added to bind the meat, bread and parmesan together, making them light and spongy.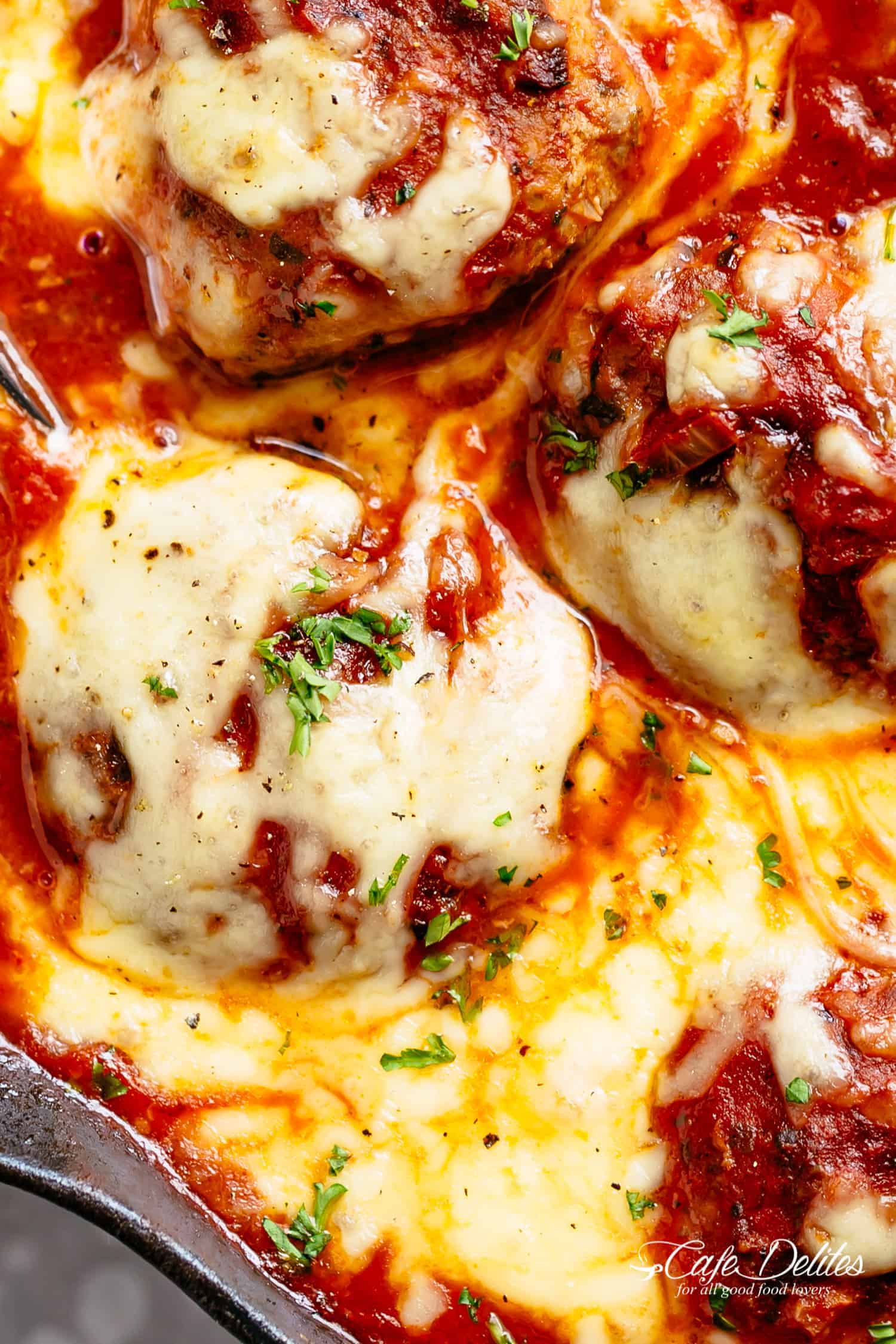 HOMEMADE MEATBALLS
The next step to incredibly tender meatballs is mixing your meat mixture until the ingredients are just incorporated, with your hands. Use gloves if you have an aversion to touching raw meat, or mix lightly a wooden spoon. Full pieces of ground meat should still be visible.
Roll your meatballs with lightly oiled hands to prevent the meat from sticking to your fingers, while adding a little extra moisture into each meatball. Then place each meatball onto a lined plate or baking sheet. This just helps keep your kitchen stay clean without creating too much of a mess, and prevents your balls from rolling all over your bench top.
HOW TO COOK MEATBALLS
If there's one thing my father passed down to me from the Italian side of his family, it's never to poach or boil beef. There's nothing like the aromas and flavours of meat hitting a hot skillet or pan. Sizzling first to get a perfect browned crust before adding in sauce. You won't be cooking them all the way through in this step.
Space the meatballs out evenly into your skillet or pan by cooking in batches of three, instead of throwing them all in the pan together. This avoids the meat poaching or simmering in its own juices.
Rustic, homemade meatballs are never perfectly rounded, especially when seared first. Don't worry if they begin to flatten in the pan. The blanket of melted cheese will cover them.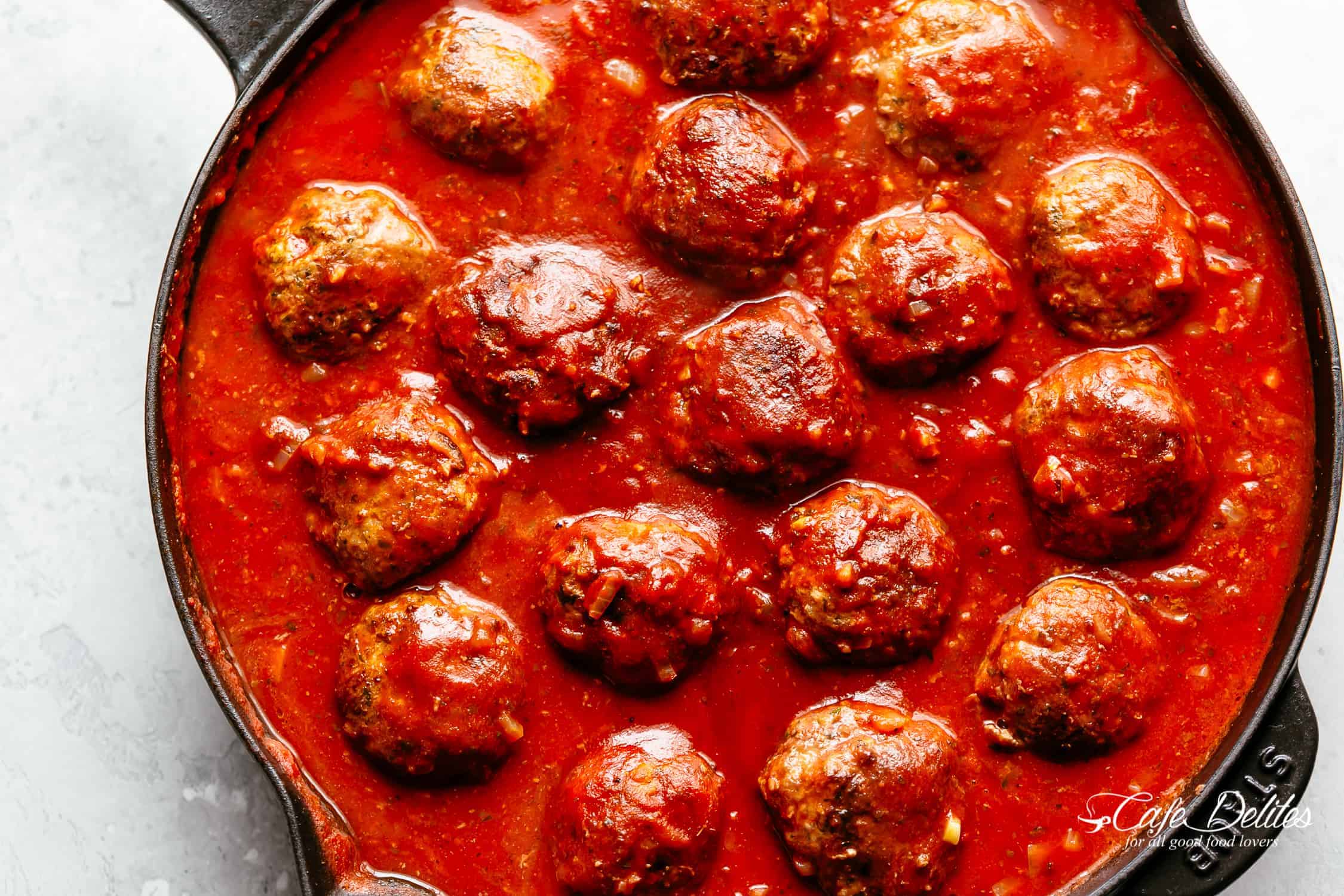 MEATBALL SAUCE
Our sauce recipe is easy, starting with onion and garlic to get those aromatics in. Tomato sauce, puree or passata is simmered with tomato paste, herbs, chili flakes (if using), salt and pepper. Add a pinch of sugar to cut through some of the bitterness, or use 1/4 teaspoon of aluminium free baking soda to help neutralise the acid.
It's really hard to overcook meatballs in your sauce, since they're simmering in liquid. Braise them for about 15-20 minutes, turning the meatballs in the sauce to get those flavours absorbing evenly into the meat while simmering. I also suggest stirring the sauce to prevent it from burning on the bottom.
Top with cheese and finish them off under the broiler in your oven.
If you don't have a broiler, continue simmering them until he cheese has melted.
There you have it! Cheesy meatballs!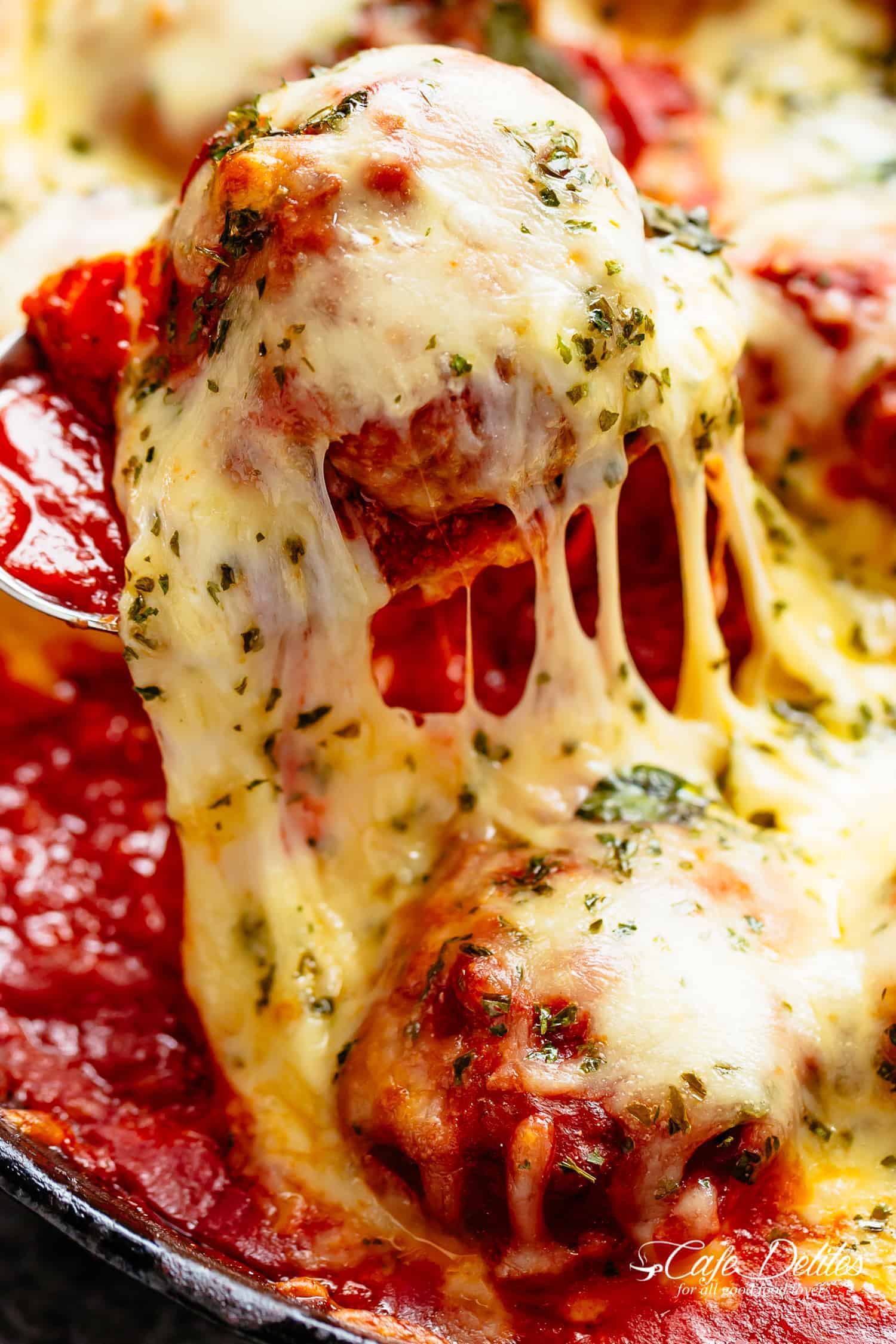 WHAT TO SERVE WITH CHEESY MEATBALLS
Serve cheesy meatballs over spaghetti or zucchini noodles; mashed potatoes or buttery mashed cauliflower; or with crusty bread!
Looking for more meatball recipes? Try these!
Swedish Meatballs
Teriyaki Meatballs
Turkey Meatballs with Garlic and Pesto
MEATBALL RECIPE ON VIDEO!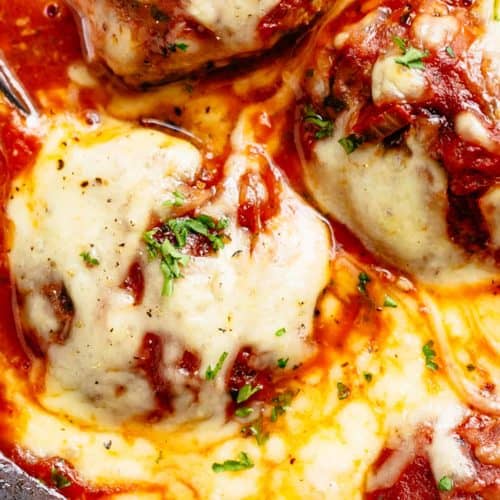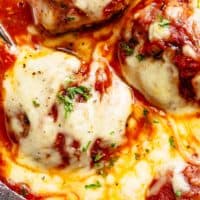 Cheesy Meatball Recipe
Cheesy Meatballs are soft, juicy and tender, simmered in a rustic homemade tomato sauce. Topped with melted mozzarella cheese and serve over spaghetti for a delicious dinner!
PRINT
SAVE
go to your favorites
Ingredients
MEATBALLS:
3

slices

white bread

crust removed

1/2

cup

milk

17

oz

(500 g) ground beef

(or minced beef)

17

oz

(500 g) ground pork

(minced pork)*

1

onion

finely chopped

4

garlic cloves

minced

2

egg

1/2

cup

fresh grated parmesan cheese

1

teaspoon

each dried basil and oregano

1/4

cup

fresh parsley

finely chopped

1

teaspoon

beef bouillon powder

(or vegetable stock powder)

1

teaspoon

salt

to taste

cracked black pepper,

to taste
Tomato Sauce:
2

tablespoons

olive oil

divided

1

large

onion

finely chopped

4

garlic cloves

minced

24

oz

(700-gram) bottle of tomato sauce

(puree or passata)

1/4

cup

water

2

tablespoons

tomato paste

2

teaspoons

each of dried basil and oregano

1

teaspoon

red chili flakes

(optional)

salt and pepper

to taste

1/4-1/2

teaspoon

sugar

(optional)

1 1/2

cups

shredded mozzarella cheese

fresh basil or parsley

chopped to garnish
Instructions
PREHEAT oven grill on medium high heat, or main oven to 430°F (220°C).

Combine bread and milk in a large bowl. Press the bread down into the milk to fully submerse and soak into the bread. Set aside.

While the bread is soaking, get all of your meatball ingredients chopped and ready. Add all of the meatball ingredients in the bowl with the soaked bread and mix well.

Roll about three tablespoons worth of meat mixture into a ball. Set aside onto a plate and repeat until all meat is used.

Heat one tablespoon of olive oil in a large well-seasoned skillet or non stick pan over medium high heat. Brown the meatballs on all sides until golden (they won't be cooked all the way through, but you will finish them off in the sauce). Transfer to a warm plate.

Heat the remaining tablespoon of olive oil in the pan. Fry the onion until transparent (about 2 minutes), while stirring occasionally. Add in the garlic and sauté for 1 minute until fragrant.

Stir through the puree (or passata), water, tomato paste, herbs, chili flakes (if using), salt and pepper. Mix together well with a wooden spoon; bring to a simmer. Reduce heat down to low and taste test. Add in the sugar if needed.

Transfer the meatballs back into the sauce, along with any juices released from the meatballs on the plate.

Cover and cook for 20 minutes, while stirring the sauce occasionally, until meatballs are cooked through. (Turn the meatballs a couple of times in the sauce while cooking.)

Top with the mozzarella cheese; transfer to the oven and grill or bake on the middle shelf of your oven, until the cheese has melted and is bubbling.

Garnish with the freshly chopped parsley and extra dried oregano and/or basil. Serve over pasta, mashed potatoes or rice.
Notes
*You can substitute ground pork for beef, chicken or turkey.
Use a 14-inch (35-cm) skillet. If you don't have an oven-proof skillet or pan large enough: transfer sauce and meatballs to a baking dish. Sprinkle with cheese and broil until cheese has melted.
Nutrition
Calories:
239
kcal
|
Carbohydrates:
8
g
|
Protein:
14
g
|
Fat:
16
g
|
Saturated Fat:
6
g
|
Cholesterol:
66
mg
|
Sodium:
192
mg
|
Potassium:
400
mg
|
Fiber:
1
g
|
Sugar:
3
g
|
Vitamin A:
450
IU
|
Vitamin C:
7.2
mg
|
Calcium:
126
mg
|
Iron:
2.1
mg
ORIGINALLY PUBLISHED APRIL 11, 2017.
ADAPTED FROM Sun Dried Tomato Cheesy Meatballs (Low Carb)