Grilled Avocado Caprese Crostini are the ultimate EASY appetizers or snacks to kick off a party, take to a picnic OR enjoy at home!
Golden crisp little toasts infused with olive oil and garlic are piled high with Caprese flavours and ingredients, then drizzled with balsamic glaze for an extra flavour explosion in your mouth! These Avocado Caprese Crostini have been SO popular since I first posted them back on February 7th, 2015!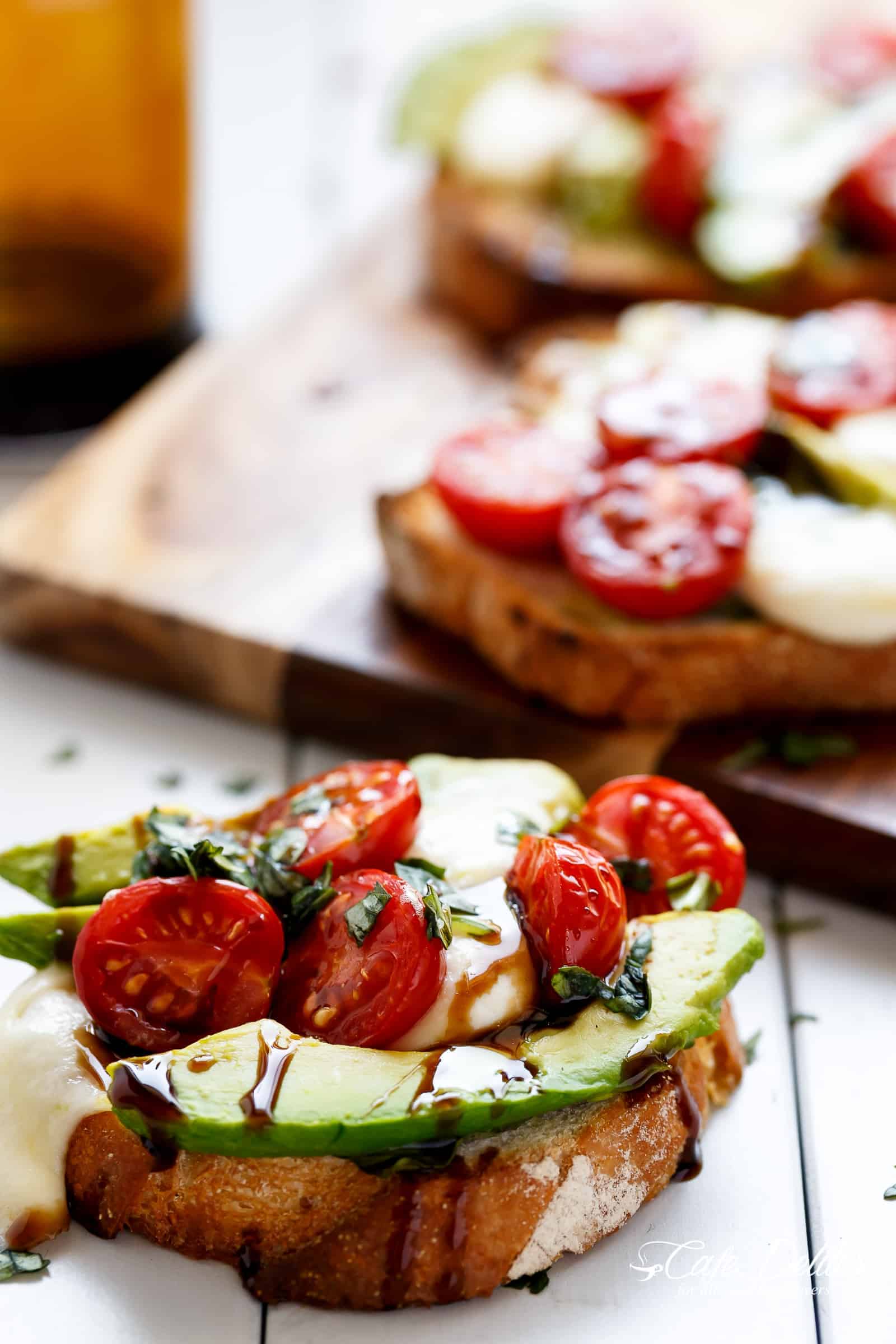 Basically I wanted to upscale my toast, and I think I did a pretty good job of it. Cherry tomatoes, basil and melted mozzarella cheese, PLUS the addition of avocado slices make these a wonderful addition to any dinner table!
WAIT…what is the difference between Crostini & Bruschetta?
Incredibly popular and easy-to-make Italian appetizers, both include sweet or savoury toppings on top of toasted or grilled bread slices. The difference in the two is subtle. It's in the bread:
type of bread
size of slices
toasting method
Bruschetta comes from the Italian word bruscare — 'to roast over coals' — referring to large and thick slices of bread grilled (traditionally over a fire) to create nice charred edges. The bread is then rubbed with a clove of raw garlic, drizzled with olive oil and seasoned with thick flakes of salt. Pretty much the best garlic bread on the planet.
Crostini — 'little toasts' — are usually smaller and thinner (usually sliced from a baguette), toasted in the oven and topped with vegetables, cheese and/or savoury spreads. Think finger-foods or bite-sized snacks.
Where one piece of bruschetta can pretty much keep you satisfied; 2-3 crostini would do the same job. Additionally, both can also be enjoyed with a glass (or two) of wine.
If you're wanting to change these to an Avocado Caprese Bruschetta, use a large sourdough loaf and cut your slices into thick 1 1/2-inch slices…or thicker!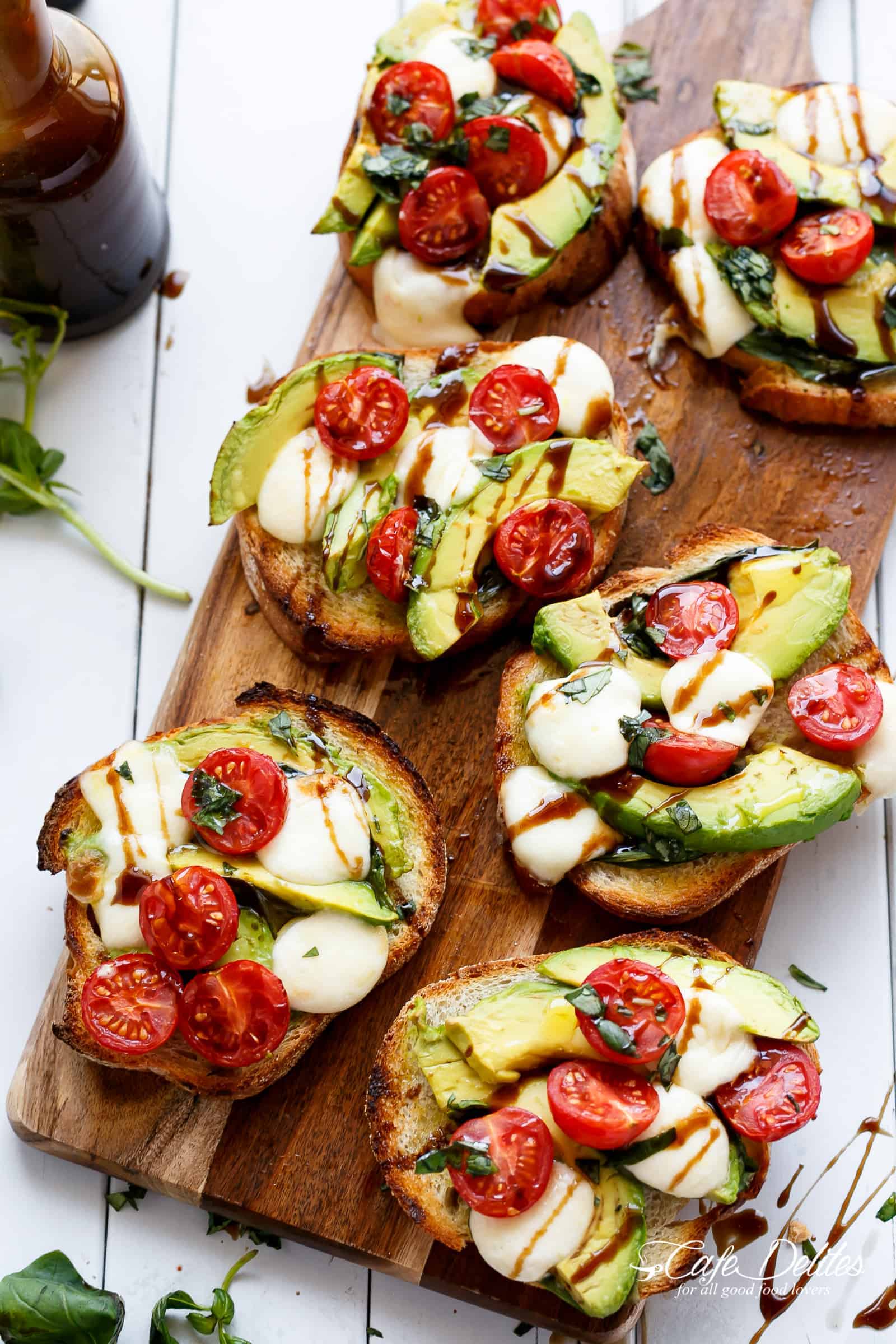 How Do You Make The Perfect Crostini?
Start with fresh ingredients. For these Avocado Caprese Crostini, I used vine ripened cherry tomatoes, fresh baby bocconcini, basil leaves plucked from the garden and Hass avocados.
Drizzle both sides of your bread with olive oil and bake for 15 – 20 minutes until just golden, flipping toasts midway through to crisp all over. Don't leave them in any longer because you will be returning them back into the oven to broil your cheese until it's melted and the last thing you want to do is end up with burnt toast.
Now, I rub the warm toasts with a cut side of garlic BECAUSE I love garlic. This step is optional.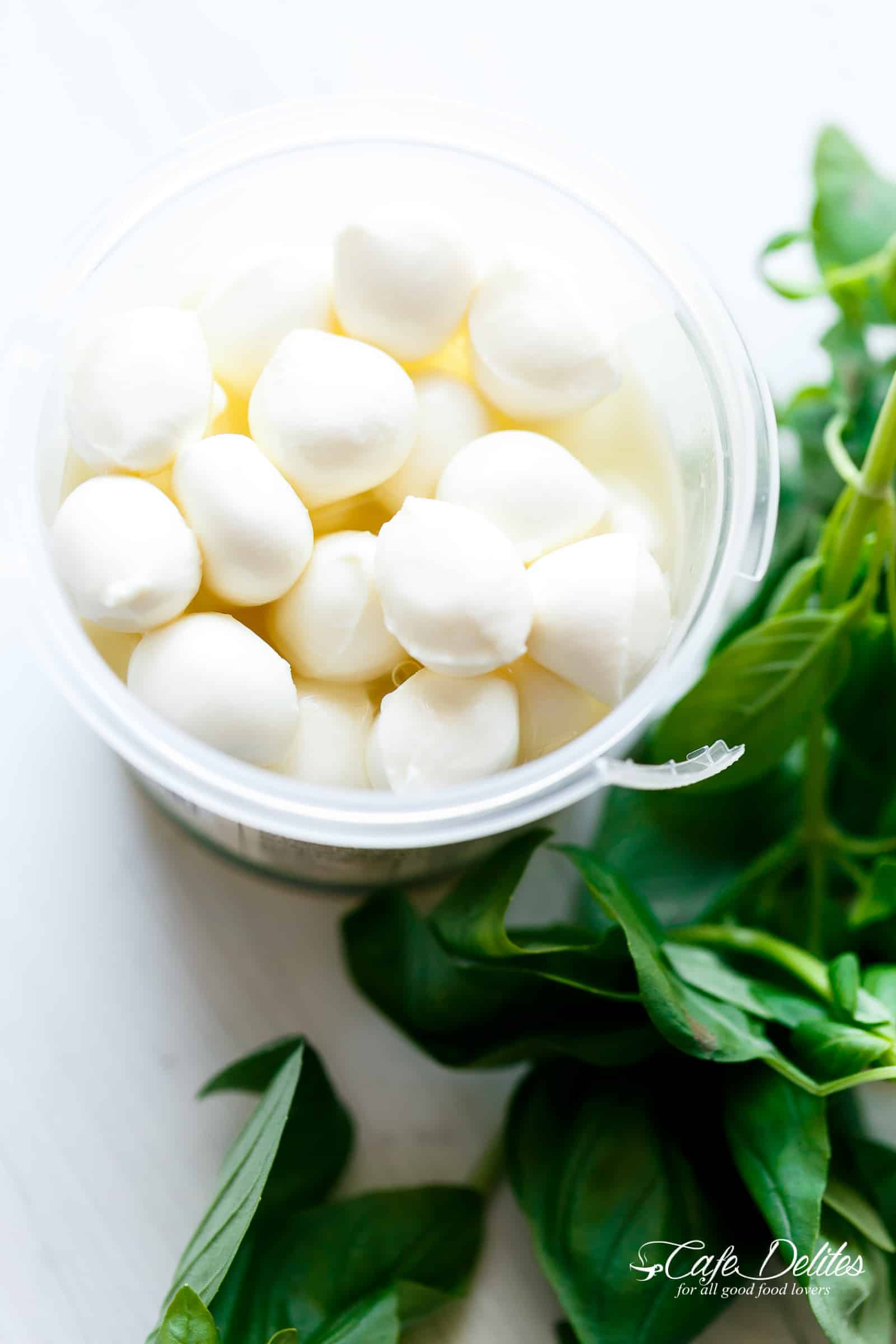 Top your crostini appetizers with the rest of your ingredients and BROIL (or GRILL for Aussies) until the cheese just begins to melt. I personally didn't keep them in there for too long because I didn't want super hot avocado slices. Just enough to melt the cheese!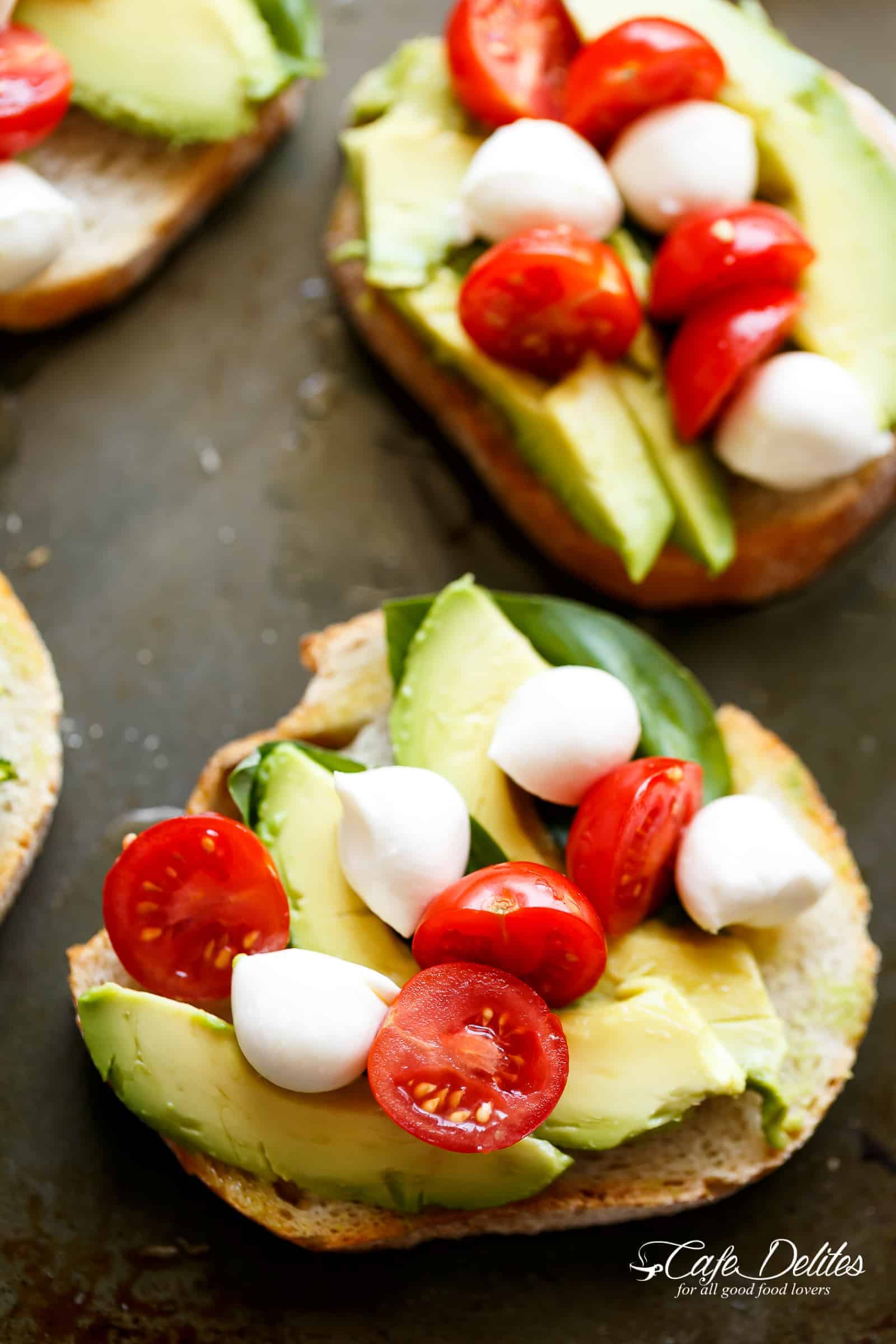 Drizzle with store bought balsamic glaze and BUON APPETITO!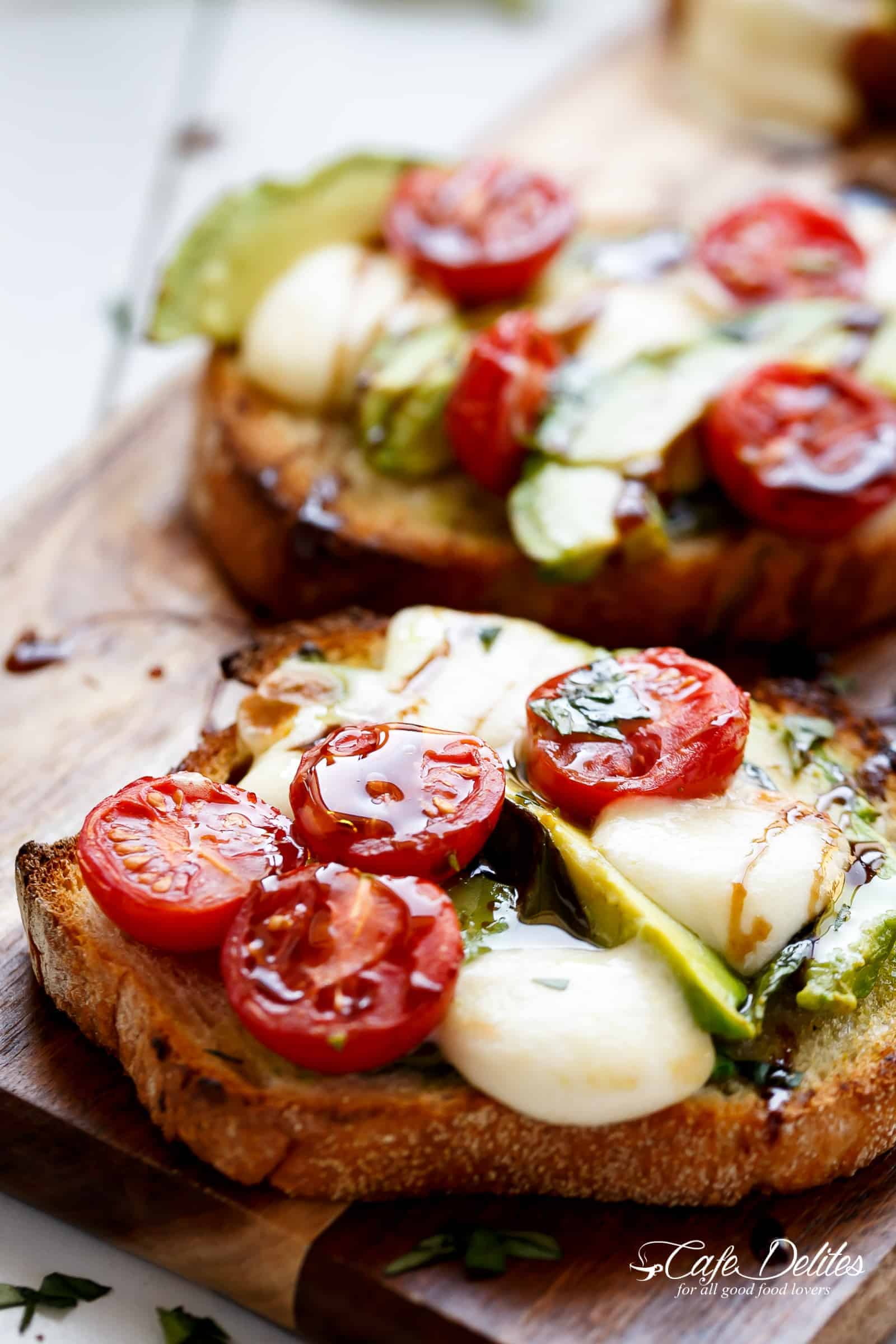 An Avocado Caprese Crostini recipe to add to your Christmas or New Years menu!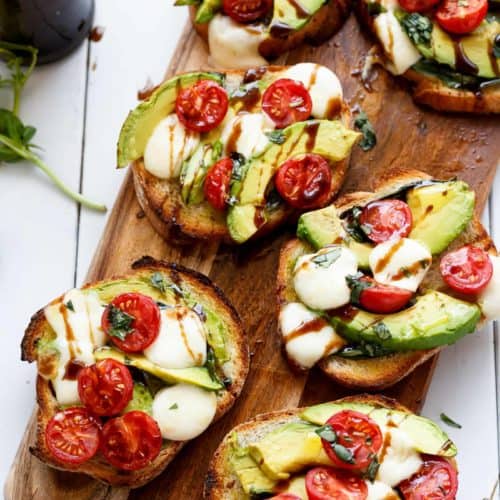 Ingredients
8

pieces

sliced French or Italian baguette,

sliced 1/2-inch thick

2

tablespoons

olive oil

1

avocado,

sliced thinly

9

ounces

(250 grams) vine ripened cherry tomatoes,

halved

3.5

ounces

(100 grams) fresh bocconcini in water

(or baby mozzarella balls)

1/2

cup

basil leaves,

divided

2

tablespoons

balsamic glaze
Instructions
Preheat oven to 375°F | 190°C.

Arrange bread on a baking sheet, drizzle both sides with olive oil and bake for 15 - 20 minutes until golden, flipping toasts midway through to crisp all over. Rub the crostini with the cut side of the garlic while still warm and season with a little salt and pepper.

Divide 1/4 cup of the basil leaves on each slice of bread (about 2-3 basil leaves per bread), then top each with the avocado slices, tomato halves and mozzarella (bocconcini). Season with salt and/or pepper to taste.

Broil (or grill) for 3-5 minutes, or until cheese has started to melt through.

Finely chop remaining basil leaves and sprinkle over the crostini. Drizzle with balsamic glaze to serve.
Notes
To make these Avocado Caprese Crostini into Avocado Caprese Bruschetta, use a large sourdough loaf and cut your slices into 1 1/2-inch wide slices. Then double or triple the rest of your ingredients to ensure your topping fully covers each slice!
Nutrition
Nutrition Facts
Grilled Avocado Caprese Crostini
Amount Per Serving
Calories 279
Calories from Fat 90
% Daily Value*
Total Fat 10g 15%
Cholesterol 4mg 1%
Sodium 342mg 14%
Potassium 277mg 8%
Total Carbohydrates 37g 12%
Protein 10g 20%
* Percent Daily Values are based on a 2000 calorie diet.
LOVE CAPRESE? HERE'S MORE!
Easy Caprese Stuffed Garlic Butter Portobellos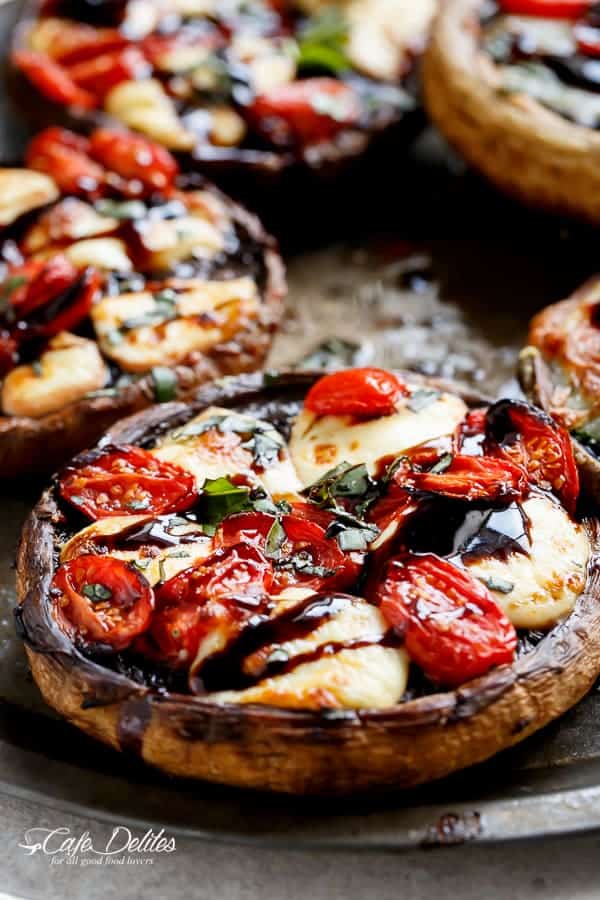 Juicy Caprese Stuffed Balsamic Chicken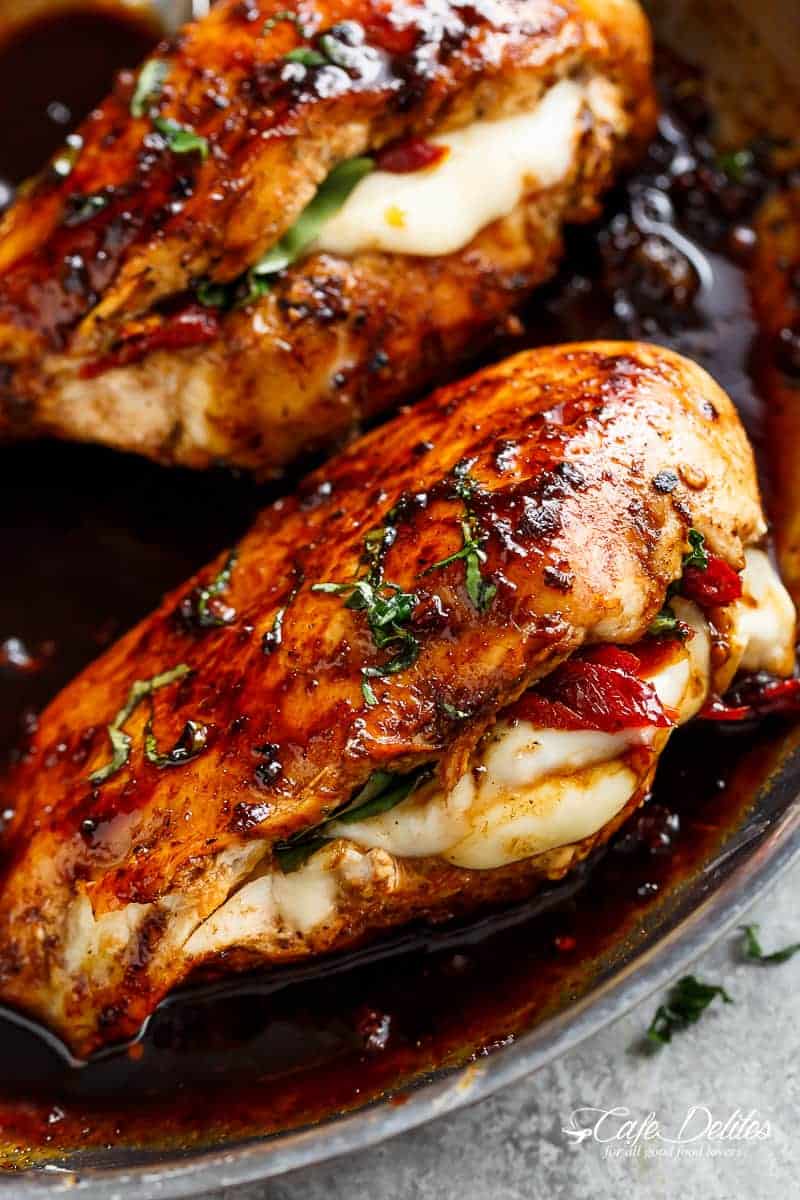 Quick Caprese Frittata