WARM SPINACH ARTICHOKE DIP IS A HIT AROUND THE TABLE!  TOPPED WITH CRISPY BACON, WHAT'S NOT TO LOVE!
There's spinach and artichoke dip, then there's Spinach BACON Artichoke Dip. Hot Spinach Artichoke Dip with crispy bacon pieces is so easy! Made with just a handful of ingredients and ready in less than 30 minutes, this spinach bacon artichoke dip is a favourite!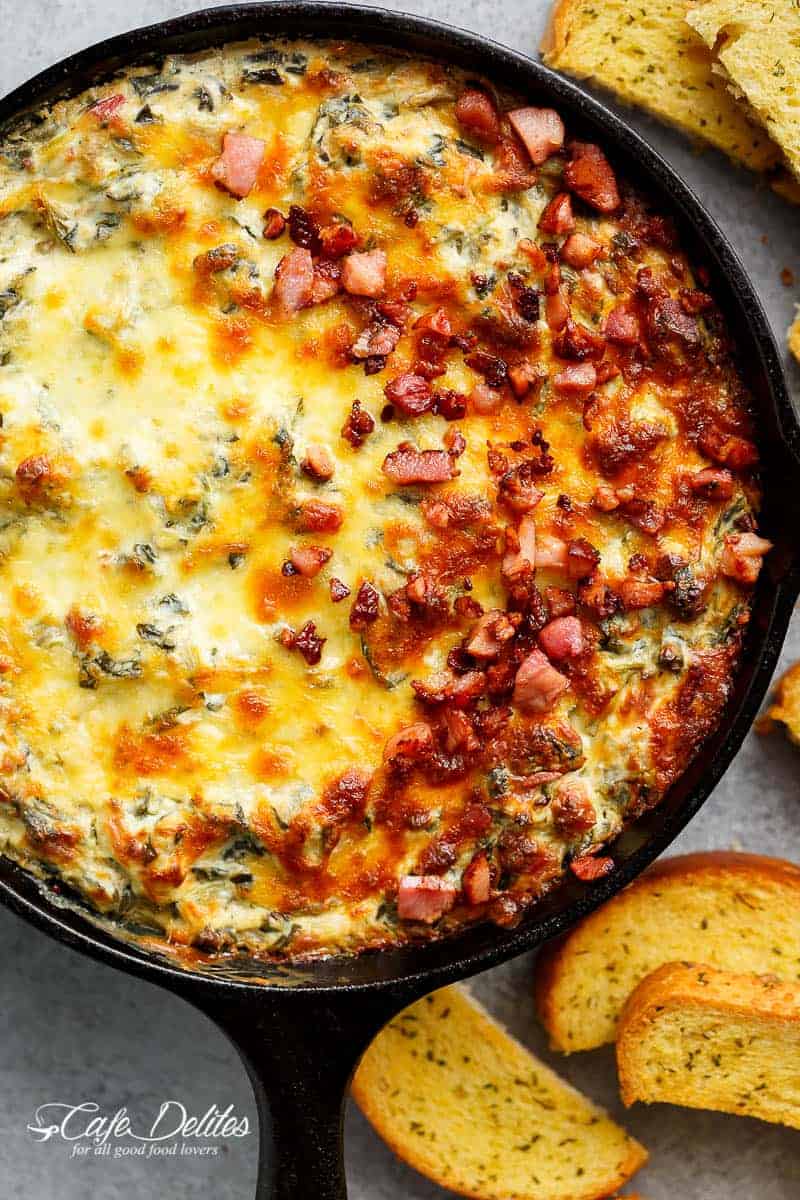 SPINACH ARTICHOKE DIP
One of our favourite family dips is our family's irresistibly creamy baked spinach artichoke dip recipe. Remaking it through the years and adding my own spin on it — like bacon, for example — blew all our minds. Such a simple addition but provides so much flavour. This is the best spinach artichoke dip recipe around!
SO MUCH FLAVOUR, it hurts to look at it and not have it in front of me.
As if this Spinach Artichoke Dip Stuffed Chicken isn't enough, I had to pull out the chicken part and add in the bacon pieces to satisfy a huge craving happening in my kitchen.
WHAT GOES IN SPINACH ARTICHOKE DIP
There's so much happening in this skillet in the form of:
spinach
bacon
marinated artichokes
bacon
cream cheese
sour cream (or mayonnaise)
bacon
mozzarella cheese
parmesan cheese
HOW DO YOU MAKE SPINACH ARTICHOKE DIP?
Bacon is first fried in the skillet, coating it in all the flavour, before the dip is mixed through said flavour and baked in the oven with Mozzarella and parmesan slowly melting on top, filling your kitchen with amazing aromas.
We also add in garlic to give us even more flavour.
Top with extra crispy bacon to ensure plenty of bacon with each and every mouth watering bite!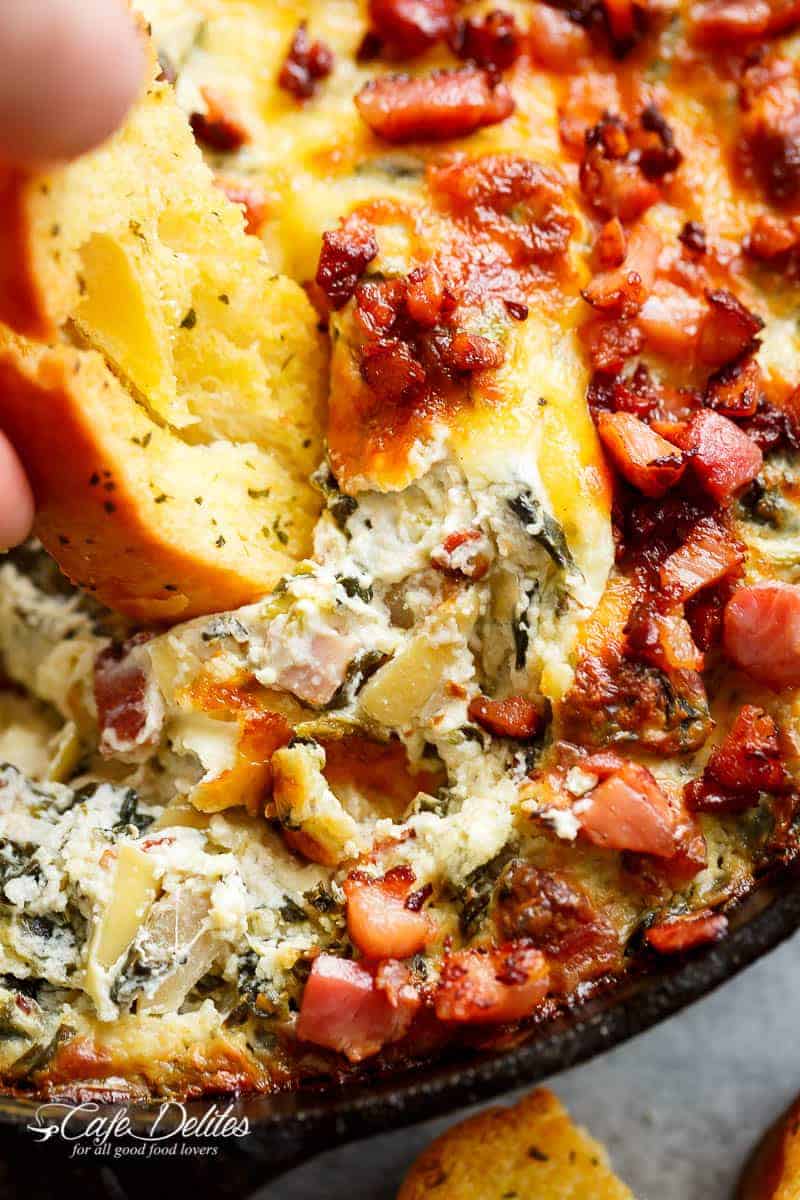 If you don't own a skillet, you can still make this in a 9-inch, 2 quart (or 2 litre) baking dish.
I placed this skillet in the middle of our dinner table, and to say it was gone in 5 minutes is a severe understatement — no exaggeration. PLUS crispy garlic bread to serve it with, because WHO doesn't love garlic bread? This was lunch for three days after. I mean, remaking it, because forget any possibility of leftovers. What are leftovers?
You could also serve it with THIS cheesy garlic bread!
More Appetizers!
Sausage Cream Cheese Dip Stuffed Mushrooms
The Best Teriyaki Beef Meatballs Recipe
Baked Shrimp Scampi
ON VIDEO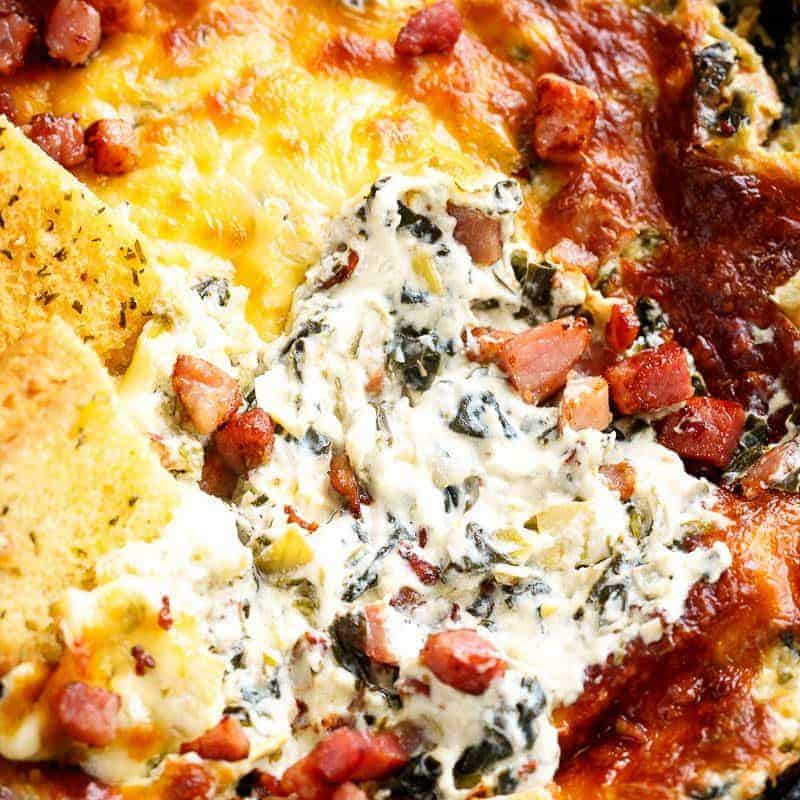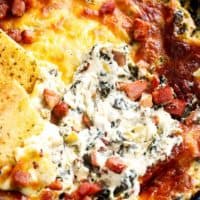 Skillet Spinach Bacon Artichoke Dip
Warm Spinach Bacon Artichoke Dip is a hit around the table! Topped with crispy bacon, what's not to love!

PRINT
SAVE
go to your favorites
Serves:
24
people (as a dip)
Ingredients
2

teaspoons

olive oil

1/2

cup

diced bacon

2

teaspoons

minced garlic

1

9 ounce

(250 gram) packet frozen spinach,

thawed completely and squeezed dry

1

9 ounce

(275g) jar marinated artichoke hearts,

chopped

250

g

cream cheese

(reduced fat if possible)

1/2

cup

sour cream

1/2

cup

Greek yogurt

(or whole egg mayonnaise -- reduced fat)

1/2

cup

milk

Salt and pepper,

top taste

1 1/2

cup

mozzarella,

divided

1/2

cup

fresh Parmesan cheese,

divided
Instructions
Preheat oven to 175°C | 350°F. Heat oil in a 9-inch skillet over medium-high heat. Fry bacon until crispy. Take skillet off the heat. Remove half of the bacon for later; set it aside on a plate.

To the bacon in the skillet, add in the garlic, thawed and dried spinach, artichokes, cream cheese, sour cream, yogurt, milk and salt and pepper to taste. Mix well to combine.

Mix in 1 cup of the mozzarella cheese and 1/4 cup of parmesan cheese, until completely mixed through.

Top with the remaining mozzarella and parmesan. Bake in preheated oven for 10-15 minutes, or until the cheese is golden and bubbly.

Top with extra crispy bacon.
Nutrition
Calories:
86
kcal
|
Carbohydrates:
1
g
|
Protein:
3
g
|
Fat:
7
g
|
Saturated Fat:
4
g
|
Cholesterol:
22
mg
|
Sodium:
120
mg
|
Potassium:
43
mg
|
Vitamin A:
250
IU
|
Vitamin C:
0.2
mg
|
Calcium:
85
mg
|
Iron:
0.1
mg