Easy Garlic Flatbread Recipe (No Yeast)
Paired up with the Shakshuka (or Menemen) recipe from last week is this incredibly easy flatbread recipe, as promised, with a subtle kick of garlic for extra flavour. These flatbreads are soft on the inside while crispy on the outside and perfectly salted and flavoured. Using a mixture of Greek yogurt for added protein, and olive oil to make them pliable and soft without making them too doughy, they come in at 152 calories per flatbread, or Weight Watchers 4 Smart Points!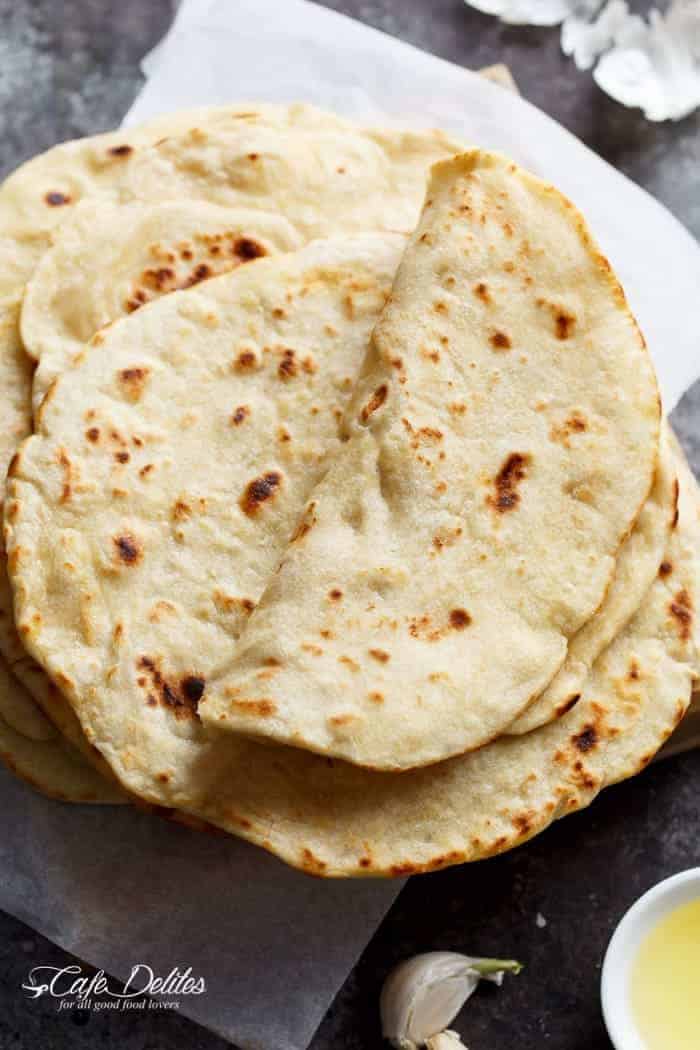 Plus, the added bonus of being healthier than store bought wraps without any added artificial preservatives.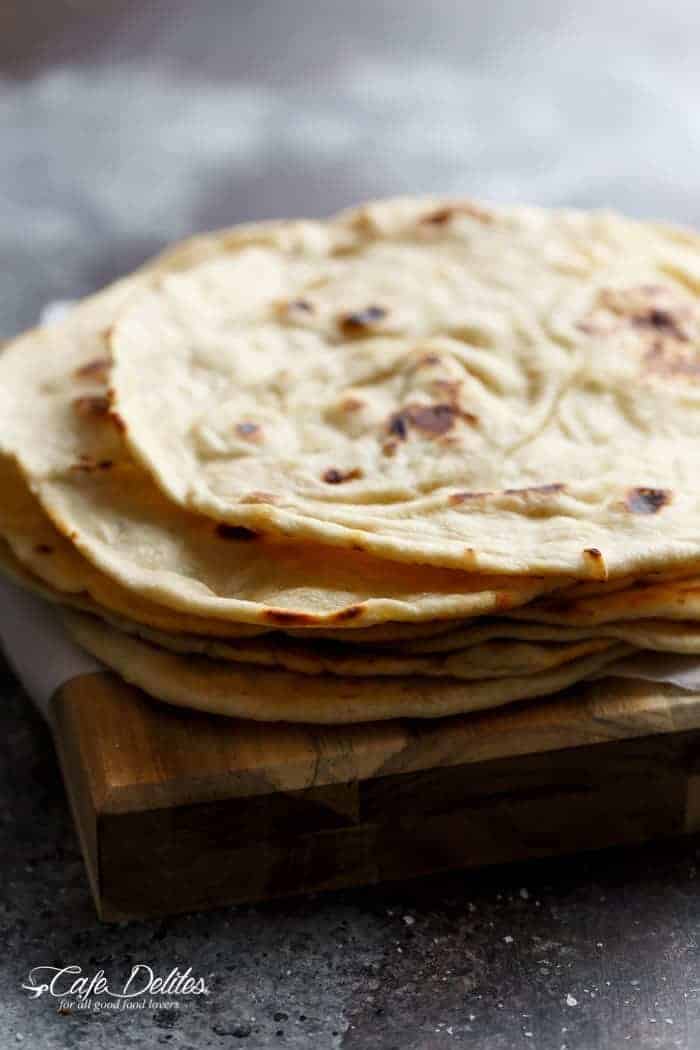 I mean, who doesn't love warm, soft, FRESH bread steaming out of a pan and filling their kitchens with that unmistakable, sweet-fresh-bread-smell? The one that draws you into a bakery in slow motion that you feel like you're floating in on a cloud. THAT aroma is one of my favourites, and one that was drifting through my kitchen.
This recipe is so easy. Minimal ingredients, NO YEAST, and maximum texture and flavour. Because with bread, it's all about that perfect soft texture on the inside.
Start off with your own dough, and once it's all together, cover with cling wrap. While this one was set aside, I made that killer Shakshuka for dipping.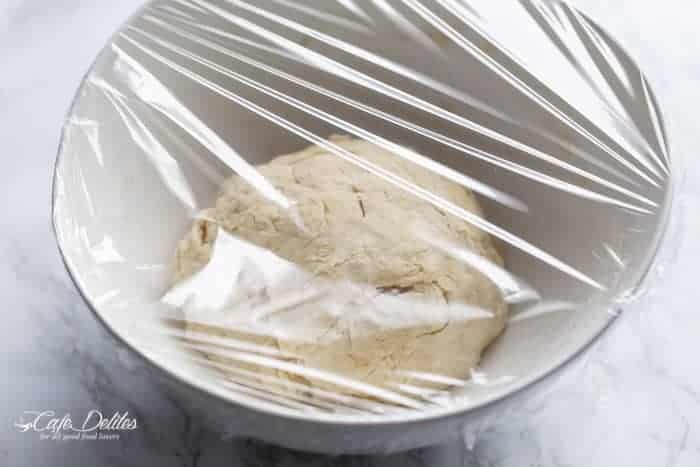 Once it has rested, divide it in two… Then into 10 equal parts (or approximately). Roll them into balls…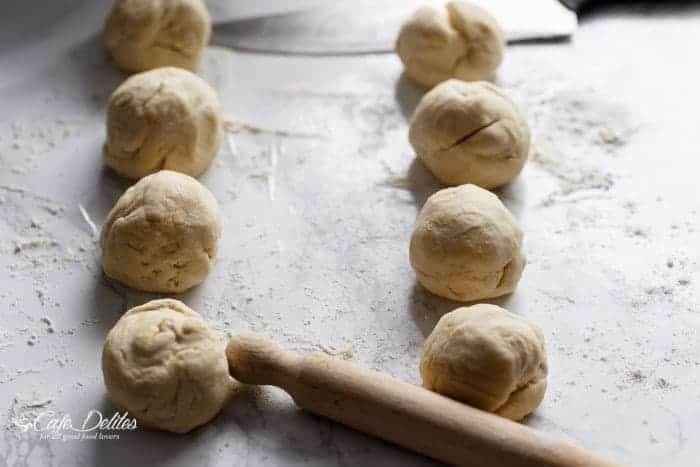 Then using a rolling pin, roll them flat. They don't need to be perfect. I love the rustic look of freshly made wraps!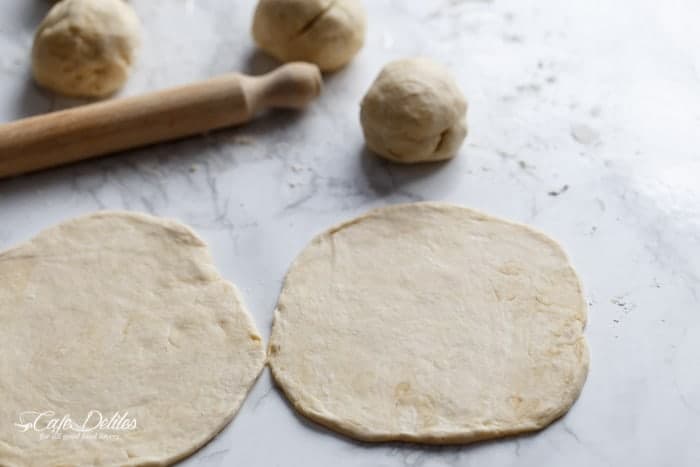 And serve with whatever your heart desires. Make them into Quesadillas, Taco's, dip them into any curry or pasta or super saucy dish, like this one…
…and get ready to be mesmerised at how easy it is to make your own wraps at home!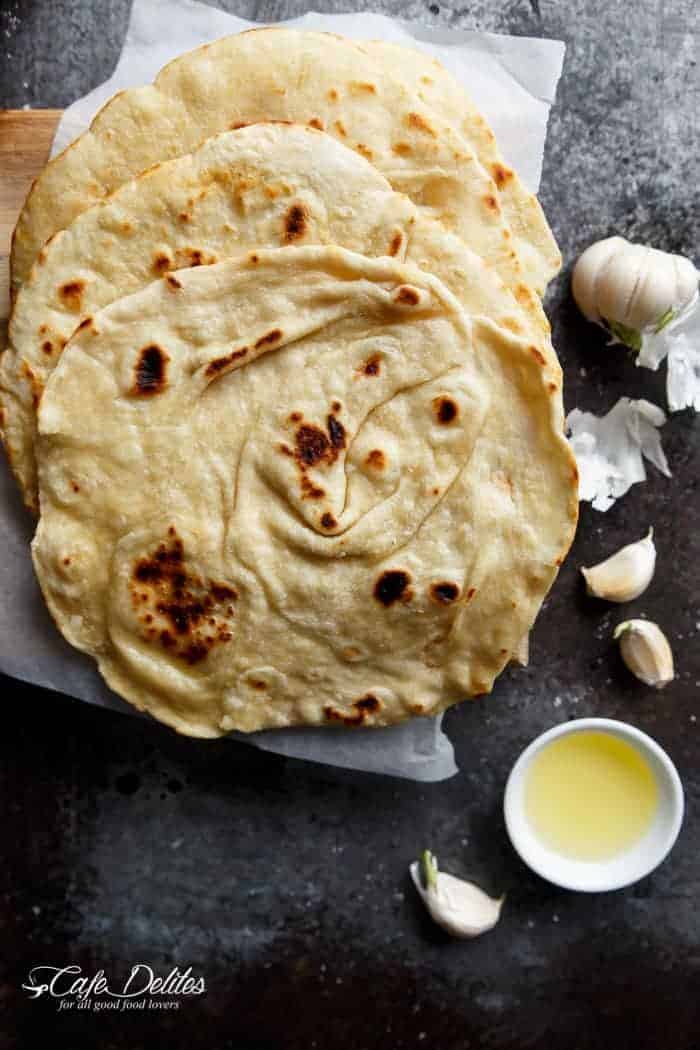 I love to brush a small amount of oil onto them when they've just come out of the pan. The fried bread flavour is crazy!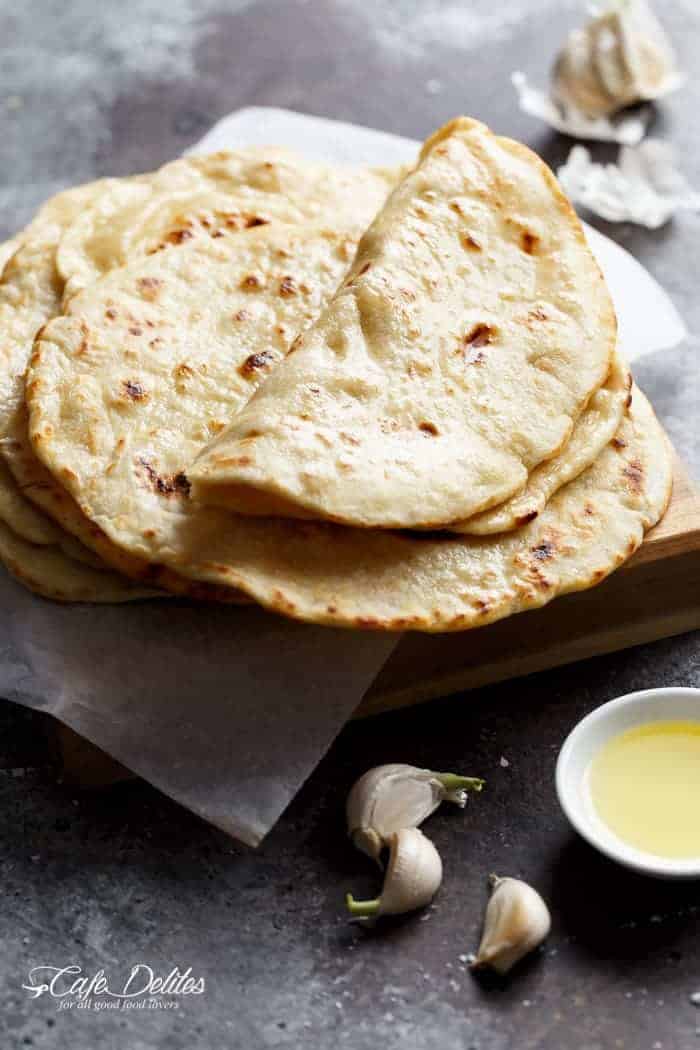 Or just leave them as they are. Either way is a win-win! I would brag about how this is the ONLY flatbread recipe you'll ever need, but…well, okay this is the only flatbread recipe you'll ever need. Combining two completely different recipes — one from Jamie Oliver and the other from Julie Goodwin, this recipe down there ↓ is absolutely incredible.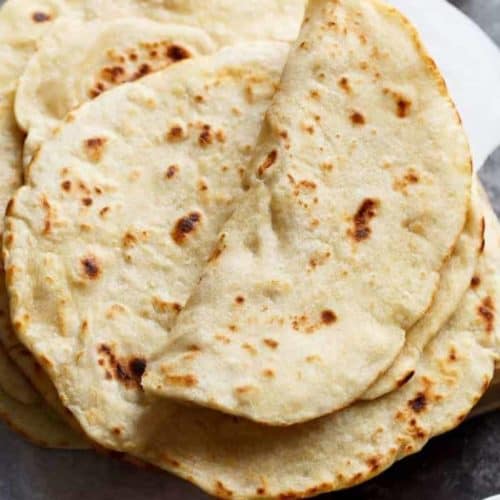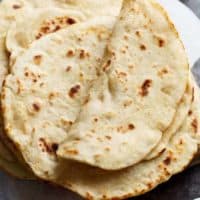 Easy Garlic Flatbread Recipe
Easy to make flatbreads; soft on the inside while crispy on the outside, perfectly salted with a kick of garlic, using a mixture of Greek yogurt and olive oil to make them perfectly pliable. One of the best flatbread recipes you'll ever try!
Weight Watchers Smart Points: 4 per flatbread
PRINT
SAVE
go to your favorites
Ingredients
3

cups

plain flour

plus extra for dusting

1

teaspoon

garlic powder

1

teaspoon

baking powder

1

teaspoon

sea salt

6

tablespoons

(2.6 oz | 75g) plain Greek yogurt

2

tablespoons

olive oil

250

ml

(1 cup) milk
Instructions
Whisk flour, garlic powder, baking powder and salt together in a bowl. Make a well in the centre and add the yogurt, oil and milk.

Knead for about 1 minute until a soft dough is formed (it doesn't need long). Cover bowl with wrap or a plate and set aside to rest at room temperature for 20-30 minutes.

Dust a clean work bench with a light coating of flour. Divide dough in half, then divide each half in 4 equal-sized pieces (you will have 8 pieces in total). Roll the pieces into balls; flatten them out with the palms of your hands, then use a rolling pin to roll each piece 2mm thick and about 3 1/2 inches or 10cm in diameter.

Lightly grease a nonstick pan with cooking oil spray (or a small brush of oil) over medium heat. Cook one piece for 2 minutes on one side. Lightly spray or brush the top over with oil/butter again before flipping. Cook until golden. Repeat with remaining flatbread.

To serve, lightly brush each piece with a small amount of olive oil or garlic olive oil (optional).
Nutrition
Calories:
152
kcal
|
Carbohydrates:
25.8
g
|
Protein:
4.4
g
|
Fat:
3.5
g
|
Fiber:
1.1
g