This easy sesame beef stir fry is incredibly flavorful and easy! Serve with authentic ramen noodles, over rice, or in a lettuce cup for a lower carb version!
Chinese takeout is something we all love right? Sesame Beef Stir Fry is a guilty pleasure and takes so little time to arrive to your door!  But what if I told you that you could make something every bit as tasty, in just about the same amount of time… and YOU get to control the ingredients?  Sounds amazing right?
Sesame Beef Stir Fry
Hey guys, it's Amanda from The Chunky Chef, a recipe blog that focuses on comforting family recipes, and Smart Skinny Recipes. Healthy weight watcher recipes with bold flavors.  I'm a self-taught home cook who loves whipping up fabulous comfort food that everyone loves… like this easy beef stir fry!
IS STIR FRY GOOD FOR YOU
In many ways, yes!  The tender crisp vegetables actually retain more nutrients by cooking quickly in a wok or skillet than they would if they were boiled.  This particular stir fry uses two different kids of oils, but in relatively small amounts, which is much healthier than cooking in a large amount of oil (like most takeout Chinese restaurants do – at least in my area).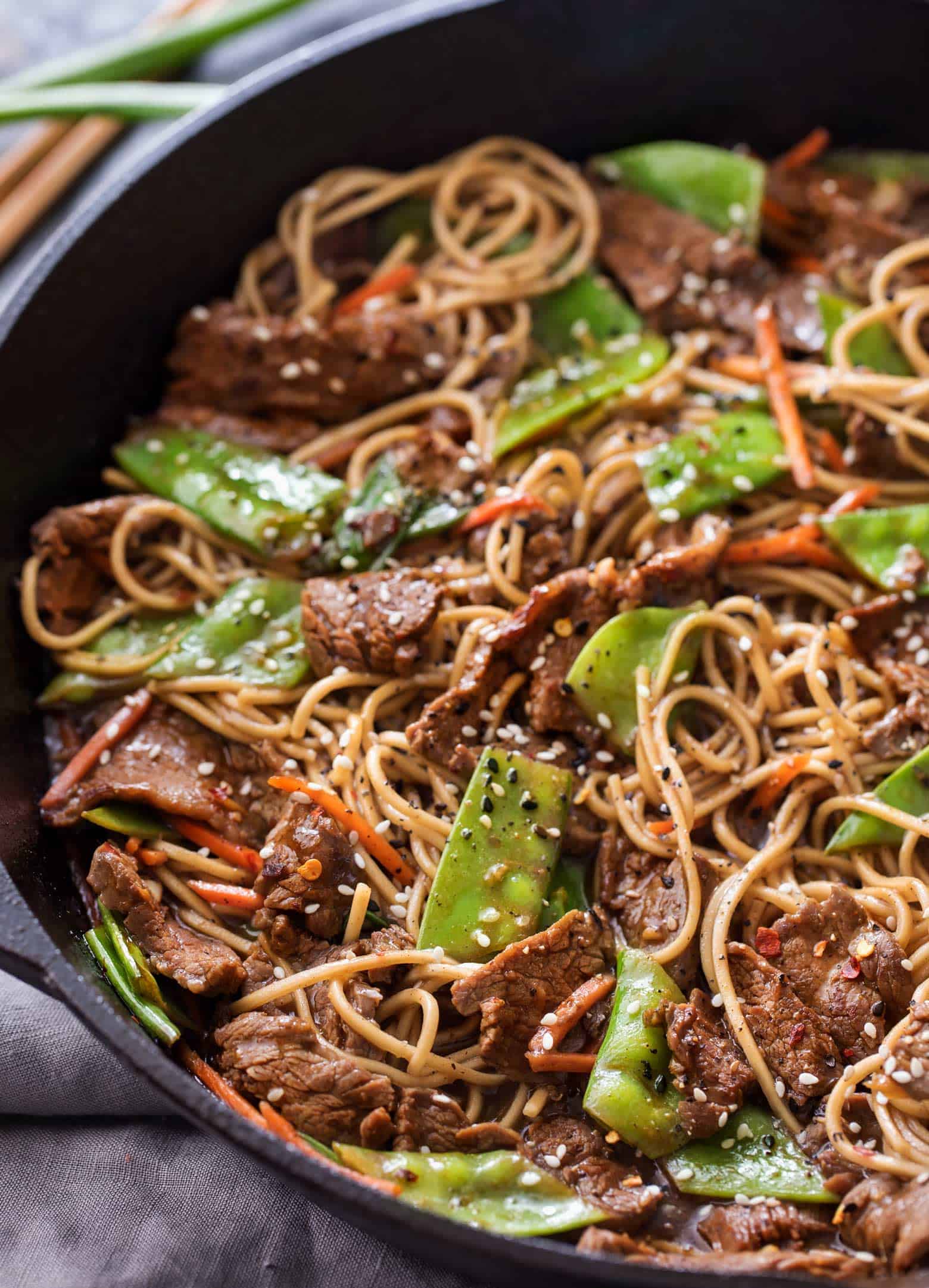 WHAT DO YOU PUT IN A STIR FRY
Just about anything you want!  The basics of a stir fry are as follows:
Protein – beef, pork, chicken, shrimp, tofu, etc.
Vegetables – snow peas, mushrooms, carrots, bell peppers, onions, broccoli, water chestnuts, etc.
Sauce – broth, soy sauce, vinegar, sugar, and oil.  Play around with added flavor by adding garlic, ginger, green onions, etc.
WHAT FOOD GOES WITH A STIR FRY
Usually stir fries are served with rice or noodles.  But two great healthy options are lettuce cups and cauliflower rice!  For this particular beef stir fry recipe, I chose some authentic ramen noodles (not the ones from a packet, which is why they're not curly).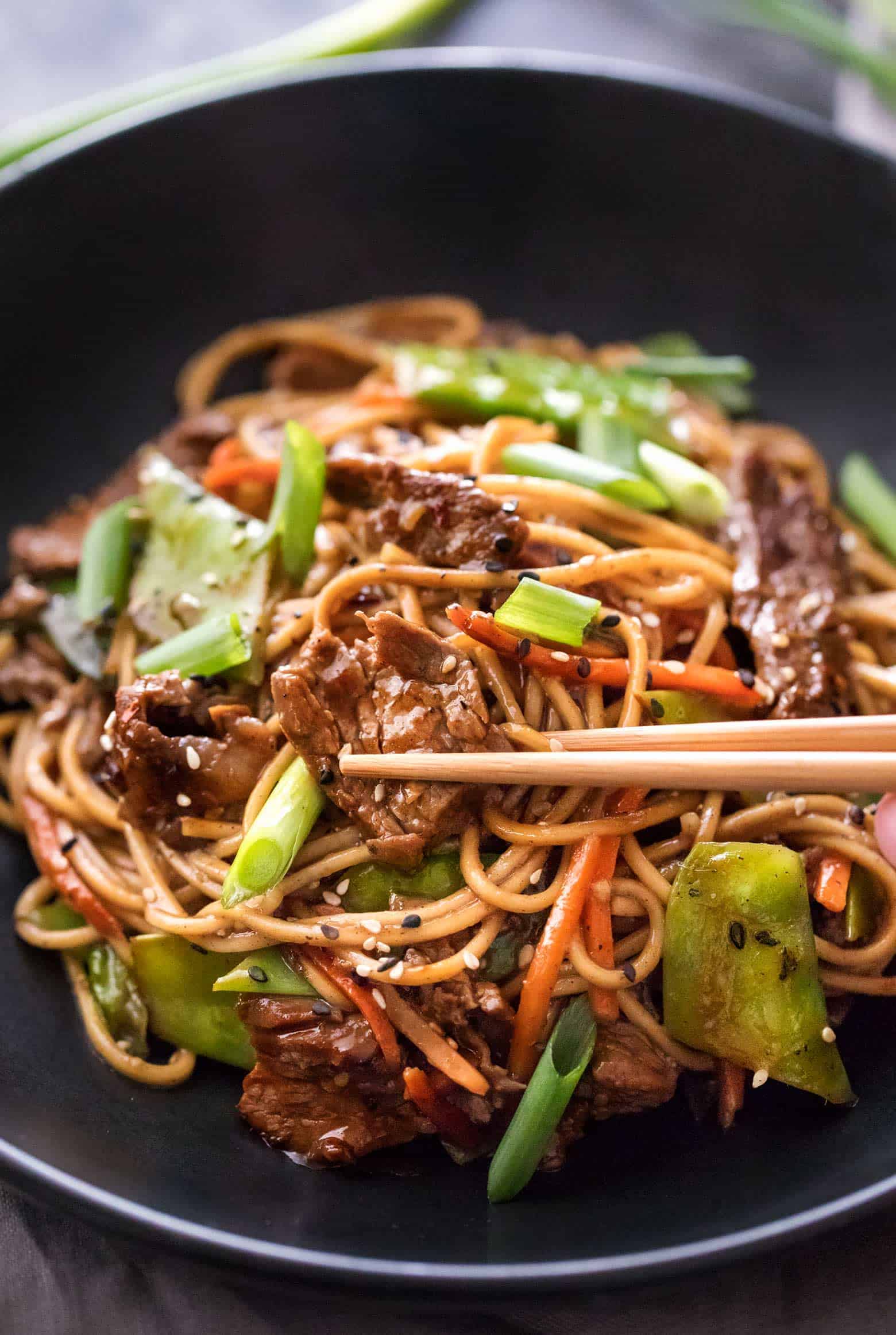 TIPS FOR MAKING SESAME BEEF STIR FRY
Slice the flank steak when it's still partially frozen.  This lets you get the slices super thin, with minimal effort!
Make sure to slice the steak against the grain.  When you look at the flank steak, you'll see thin white lines running across it.  By slicing perpendicular to the lines, you make the steak super tender, instead of chewy and tough.
Prepping ahead is key for a stir fry.  Stir fry's cook SO quickly, the best thing you can do to stay stress-free is to have all the veggies chopped and sauces whisked.
I hope you all give this skinny slow cooker loaded potato soup a try, I'm sure you'll love it!  Hope to see you around The Chunky Chef and Smart Skinny Recipes too!
Looking for more stir fry recipes? Try these!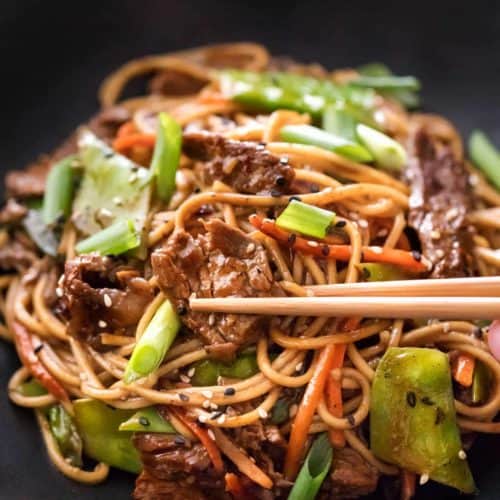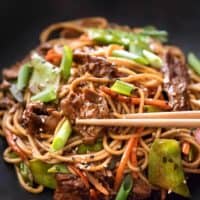 Ingredients
BEEF MARINADE
2

tsp

minced garlic

1

Tbsp

grated fresh ginger

2

Tbsp

reduced sodium soy sauce

1

Tbsp

rice vinegar

1

Tbsp

sesame oil

1

Tbsp

sesame seeds

1/2

tsp

Chinese 5 spice

1/4

tsp

black pepper
STIR FRY
1

lb

flank steak,

thinly sliced

1

cup

snow peas, sliced in half across

1/2

cup

sliced carrots

8

green onions, sliced

1/4

cup

beef broth

2

Tbsp

reduced sodium soy sauce

1-2

Tbsp

honey or light brown sugar

1

Tbsp

rice vinegar

1/2

Tbsp

minced garlic

2

tsp

sesame oil

1

tsp

grated fresh ginger

1

tsp

cornstarch

1/2

tsp

red pepper flakes

2

Tbsp

vegetable oil

(for cooking)
Instructions
Combine marinade ingredients in bowl and add flank steak. Set aside 15 minutes.

Heat 1 Tbsp vegetable oil in large skillet over MED HIGH heat. Remove excess marinade from steak and cook in a single layer, for 2-3 minutes, stirring to cook both sides. Depending on the size of your pan, you may need to do this in batches. Remove steak to plate.

Heat remaining 1 Tbsp vegetable oil, then add peas, carrots and green onion and cook stirring often, 2-3 minutes.

Whisk together broth, soy sauce, honey/brown sugar, rice vinegar, garlic, sesame oil, fresh ginger, cornstarch, and red pepper flakes. Add steak and sauce to skillet, stirring to combine. Sauce will thicken.

Stir in cooked ramen noodles if using, and serve!