A Mongolian Beef And Broccoli better than take-out? YES! It IS possible.
With an added ingredient to make this thick and glossy sauce taste even BETTER than take-out, PLUS extra sauce in the recipe, the beef is tender/soft using less than half the oil than other recipes. Most Mongolian Beef recipes do not have the addition of vegetables and call for deep frying the beef in 1 cup or more of oil. But not this one. I tried many ways to reduce the calorie content in this recipe.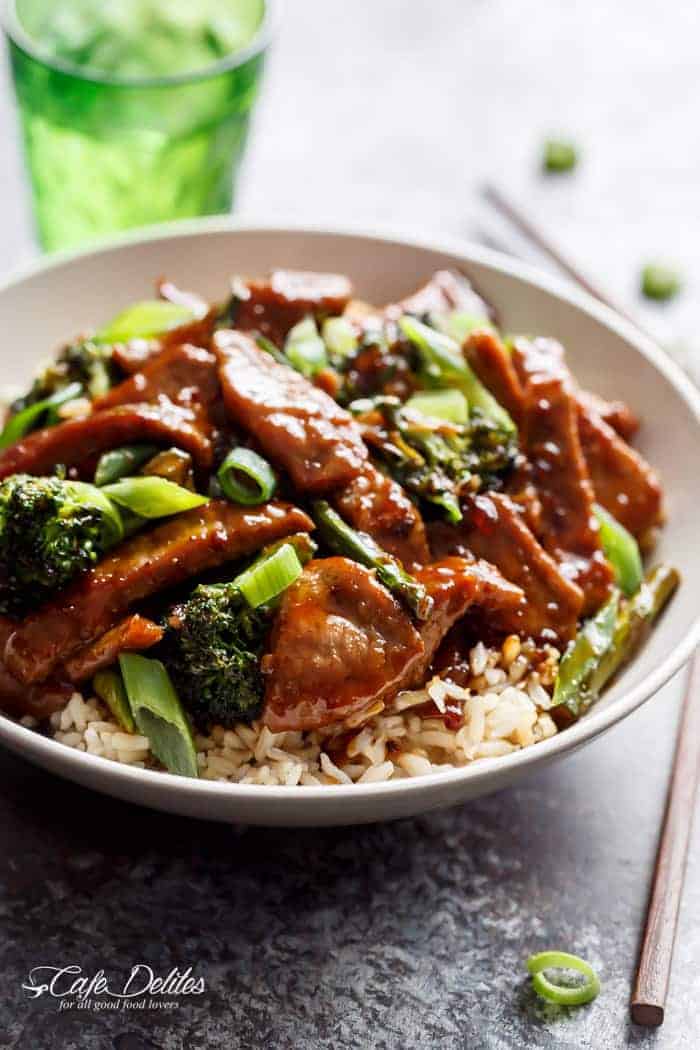 MONGOLIAN BEEF
I'm hoping you can see how soft, silky and smooth that beef really is. Plus, the addition of broccoli turns Mongolian Beef into an incredible family loved stir-fry!
VELVETING
The most important step in this recipe is to marinade the beef in a mixture of cornstarch and Chinese wine. The technique that most Chinese restaurants use to create that tenderised texture we love so much is called velveting. It feels like a secret to Chinese cooking. Well, not anymore. Velveting can be made up of a mixture of egg whites, baking soda and wine. In this case, we're using cornstarch, Shaoxing and soy sauce.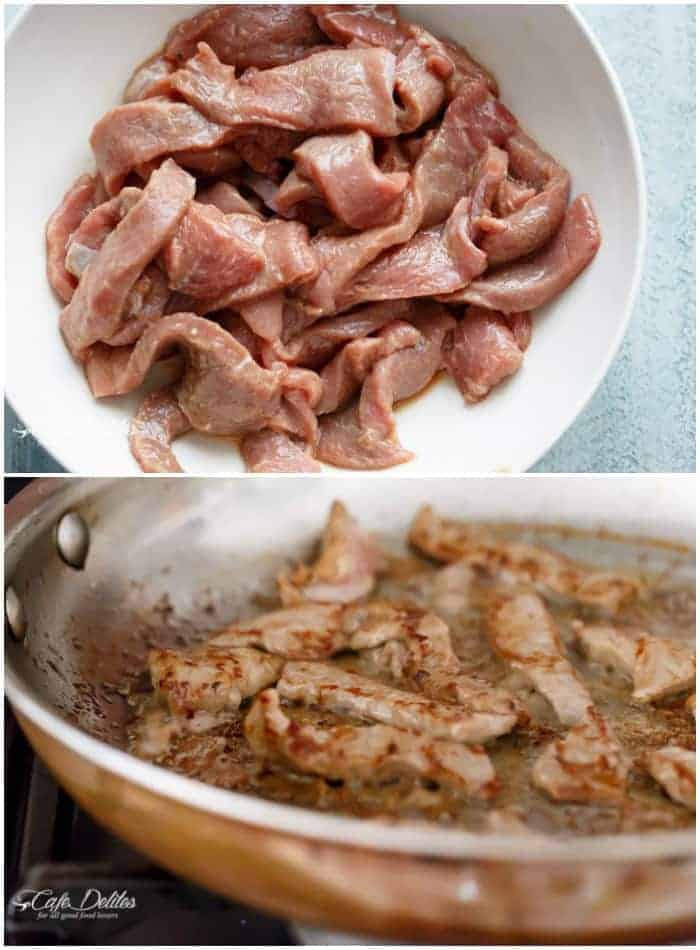 HOW TO COOK THIS MONGOLIAN BEEF
After the meat is marinated, it is then — most traditionally — blanched in deep fried oil, then drained and ready to be stir fried. Well, as usual, I broke tradition to make this recipe easier for those of us home-cooks that aren't comfortable with deep frying → not wanting to start any fires → not wanting to think of the fat pants needed afterwards.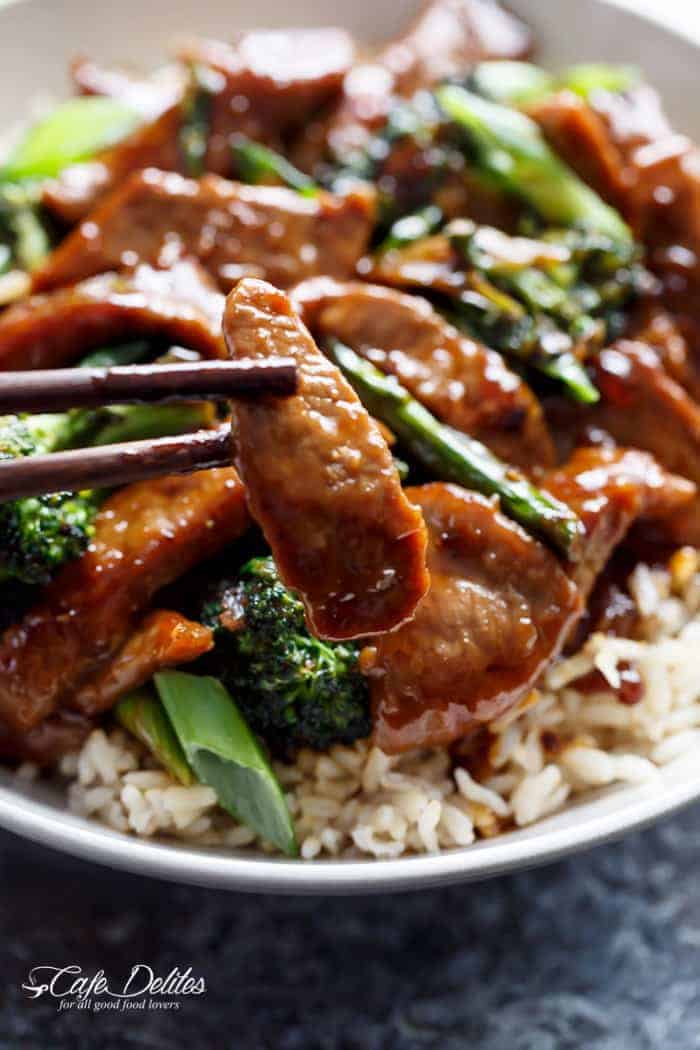 NO DEEP FRYING
We only needed 1/4 cup of oil for 2 pounds (1 kilo) of beef strips, and found that was plenty, without needing to drain any oil afterwards or worry about where I was going to put any leftovers. The method works, don't let it scare you. And only half the fat pants needed.
My biggest piece of advice is to have your oil hot before adding the meat. DO NOT have your oil on high heat, or it will spit and spatter all over you and your stove top. Just…..trust me. Medium heat is enough. If your oil is preheated and hot, your meat will cook FAST. Stir frying it for about 2 minutes is enough time, until you see crispy, golden edges.
MONGOLIAN SAUCE
Adding Hoisin sauce into tho sauce? Priceless. A delicious addition and adds an incredible flavour. Beautiful, soft Mongolian Beef. At first glance, who can be bothered with that extra step, but believe me, if you want Chinese restaurant quality beef, go the extra step and do it.

LOVE ASIAN INSPIRED RECIPES? TRY THESE!
Teriyaki Chicken
Mongolian Glazed Meatballs
Fried Rice
WATCH US MAKE MONGOLIAN BEEF RIGHT HERE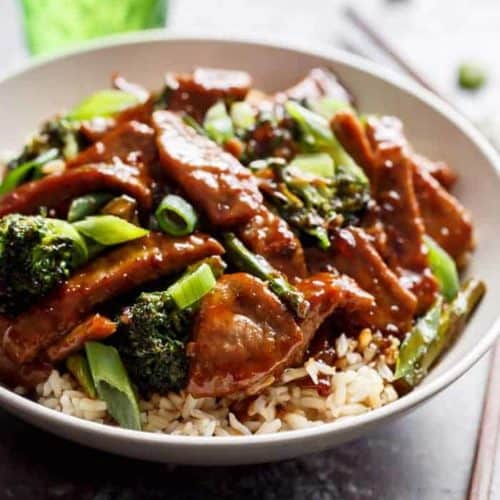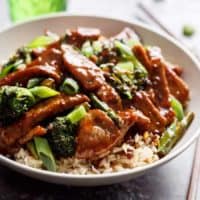 Mongolian Beef And Broccoli
A Mongolian Beef And Broccoli like traditional take-out? With only HALF the oil needed compared to other recipes, this Mongolian Beef is even better!
PRINT
SAVE
go to your favorites
Ingredients
Marinade:
2

lbs

| 1 kg beef tenderloin

, thinly sliced

2

tablespoons

water

1

tablespoon

soy sauce*

1

tablespoon

Shaoxing

(Chinese) wine**

2

tablespoons

cornstarch

(corn flour)
Sauce:
1/2

cup

low sodium soy sauce

(important. See Notes)*

2/3

cup

water

1/3

cup

brown sugar

(or coconut sugar)

2

tablespoons

hoisin sauce

(optional BUT adds incredible flavour)

1

tablespoon

oyster sauce

3/4

tablespoon

ground white pepper

(or 1-2 teaspoons red chili powder)
Stir Fry:
1/4

cup

oil

1

teaspoon

sesame oil

8

cloves

(or 4 tablespoons) garlic, minced

1/2

tablespoon

minced ginger

1

Broccoli

, cut into florets

4

green onion / scallion stems

, thinly sliced

1

tablespoon

cornstarch mixed with 2 tablespoons water

(corn flour)
Instructions
Whisk marinade ingredients together until well combined. Marinate the beef slices for 30 minutes to an hour (The more marinading, the more tender the meat will be).

While beef is marinating, whisk together the sauce ingredients until well combined. Set aside and prepare vegetables.

Heat up a wok over medium heat with the 1/4 cup of oil. When oil is hot, stir-fry the marinated beef in batches of four (don't crowd the wok) until they are just crisp on the edges (about 2 minutes. They cook FAST in the hot oil. Don't have the oil on high heat or it will spit and spatter all over you and your stove). Remove the meat, leaving as much oil in the wok, and set aside.

Heat up the sesame oil in the wok with any remaining oil, and stir-fry the garlic and ginger until fragrant. Add the vegetables and stir fry until they are vibrant in colour and just tender.

Add the beef back into the wok with the prepared sauce. Simmer in the sauce until the beef slices are cooked through (about 2 minutes); add the con starch mixture and the sliced green onions. Cook for a further minute or until the sauce thickens, wile stirring quickly.

Garnish with extra green onion slices and serve immediately over rice or steamed vegetables.
Notes
*I used normal soy sauce in the beef marinade, BUT found low sodium soy sauce tasted A LOT better for the sauce. We found normal soy in the sauce was too salty.
**If you can't find Shaoxing wine, use a Rice Wine Vinegar; White or Apple Cider Vinegar instead.