Cheesy Garlic Butter Mushroom Stuffed Chicken WITH an optional Creamy Garlic Parmesan Sauce! WHAT?! YES!
Calling ALL Garlic Mushroom lovers… this is THE chicken recipe of your dreams! Golden, crispy chicken on the outside; juicy and buttery on the inside; filled with two different types of cheeses PLUS the most delicious garlic butter mushrooms. With this Cheesy Garlic Butter Mushroom Stuffed Chicken recipe, you can stop right here OR continue on and make the best creamy garlic parmesan sauce of your life. The choice is… as always…. YOURS!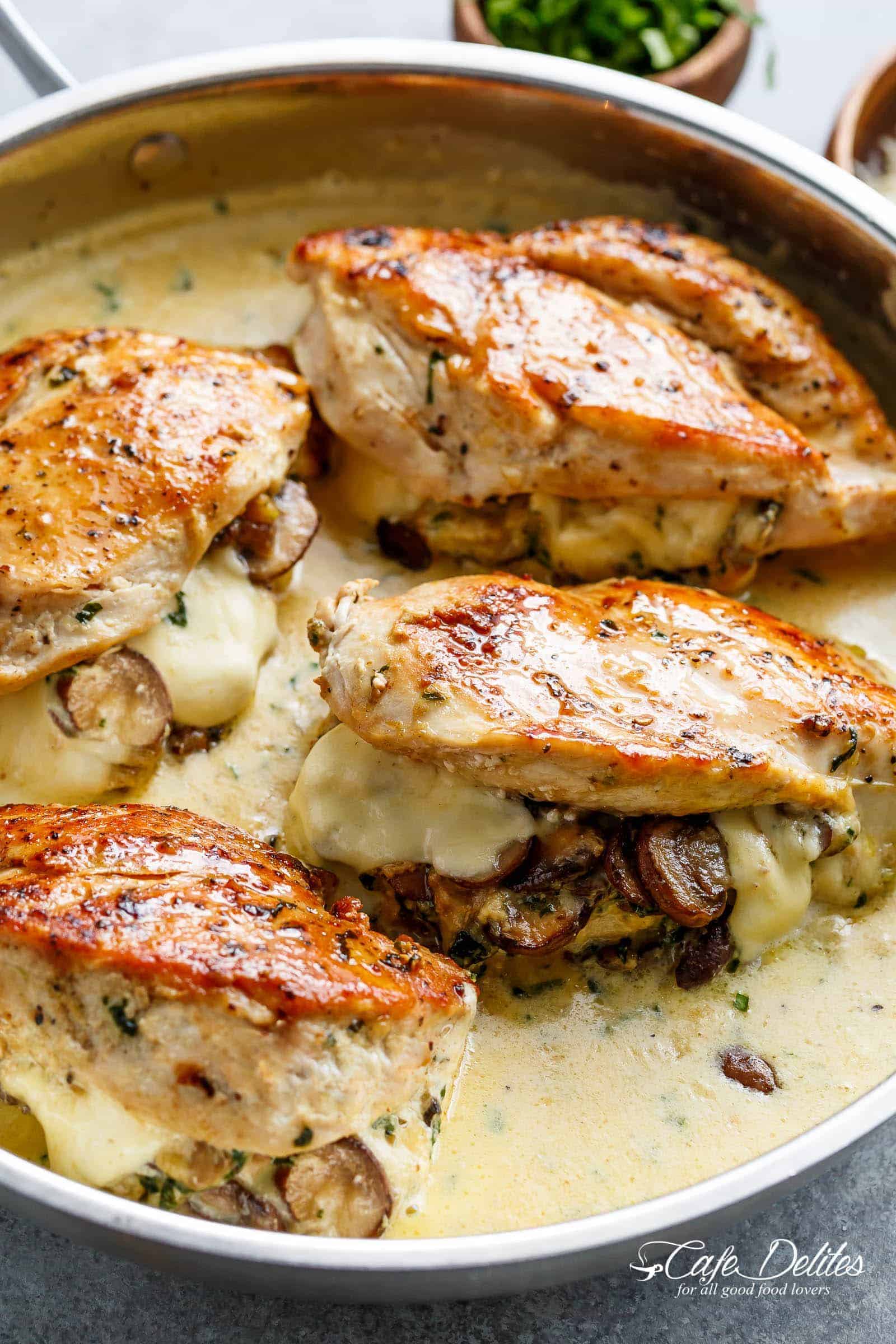 This was something out of a dream. No, I'm completely serious. I woke up at 3 in the morning breaking into a sweat dreaming about this chicken.
Stuffed Chicken Recipe
First, you are going to make the most irresistible buttery garlic mushrooms. Once they get stuffed inside your chicken breasts, you are going to COOK them IN THE REMAINING GARLIC BUTTER that by this stage is filled with beautiful pan juices left over from the mushrooms. Also, I should note that by this stage, your butter begins to brown and turn into a mushroom browned butter. After this is when you can make a decision based on preference, diet, hunger, and whatever else you base your decisions on.
Creamy sauce? Or no creamy sauce? THAT is the question.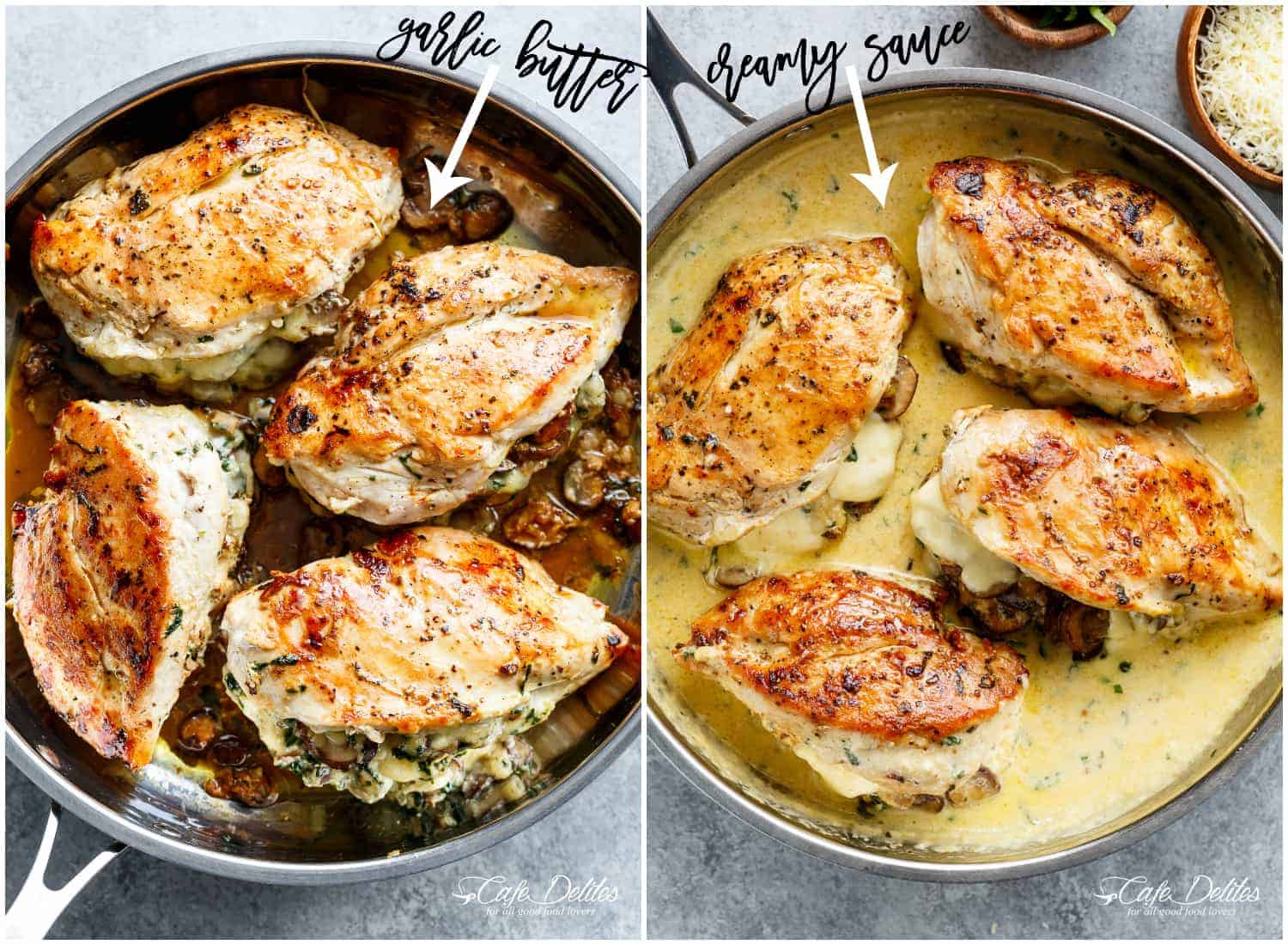 Decisions decisions. Because said sauce is NOT just any sauce. PARMESAN GARLIC CREAM SAUCE. Yeah. There's that.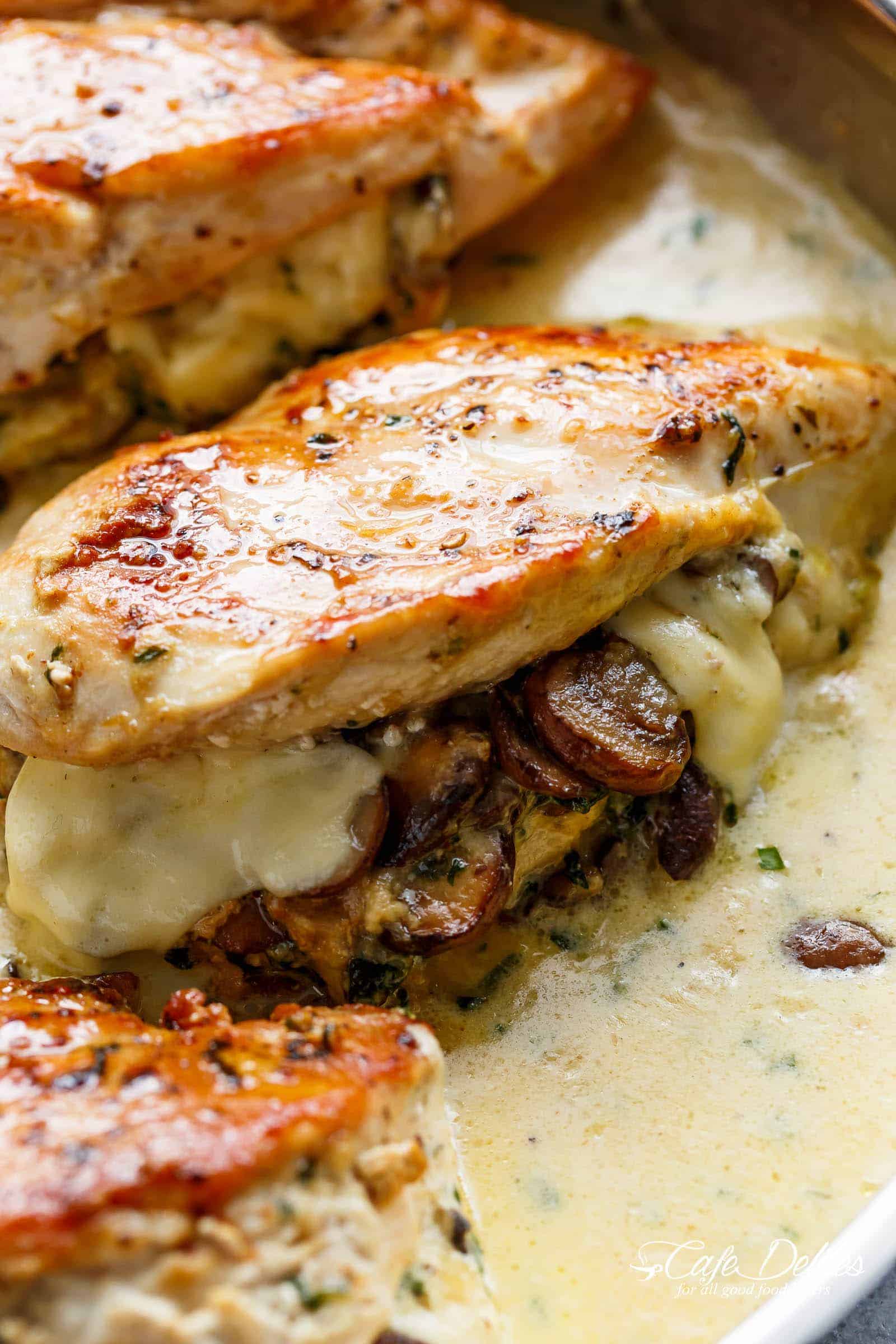 Personally, I can't decide, and I can't help you, because both ways were just as good as each other. I tried both with pasta and rice, pouring both butter AND cream sauce on the two different options to help me choose, and BOTH WON. HOW DOES THIS EVEN HAPPEN?
Then, if that's not enough of a flavour bomb, the CHEESE oozing out of these Cheesy Garlic Butter Mushroom Stuffed Chicken breasts is.just.too.much!
Sides Suggestions
I'd love to hear which one YOU decide to make!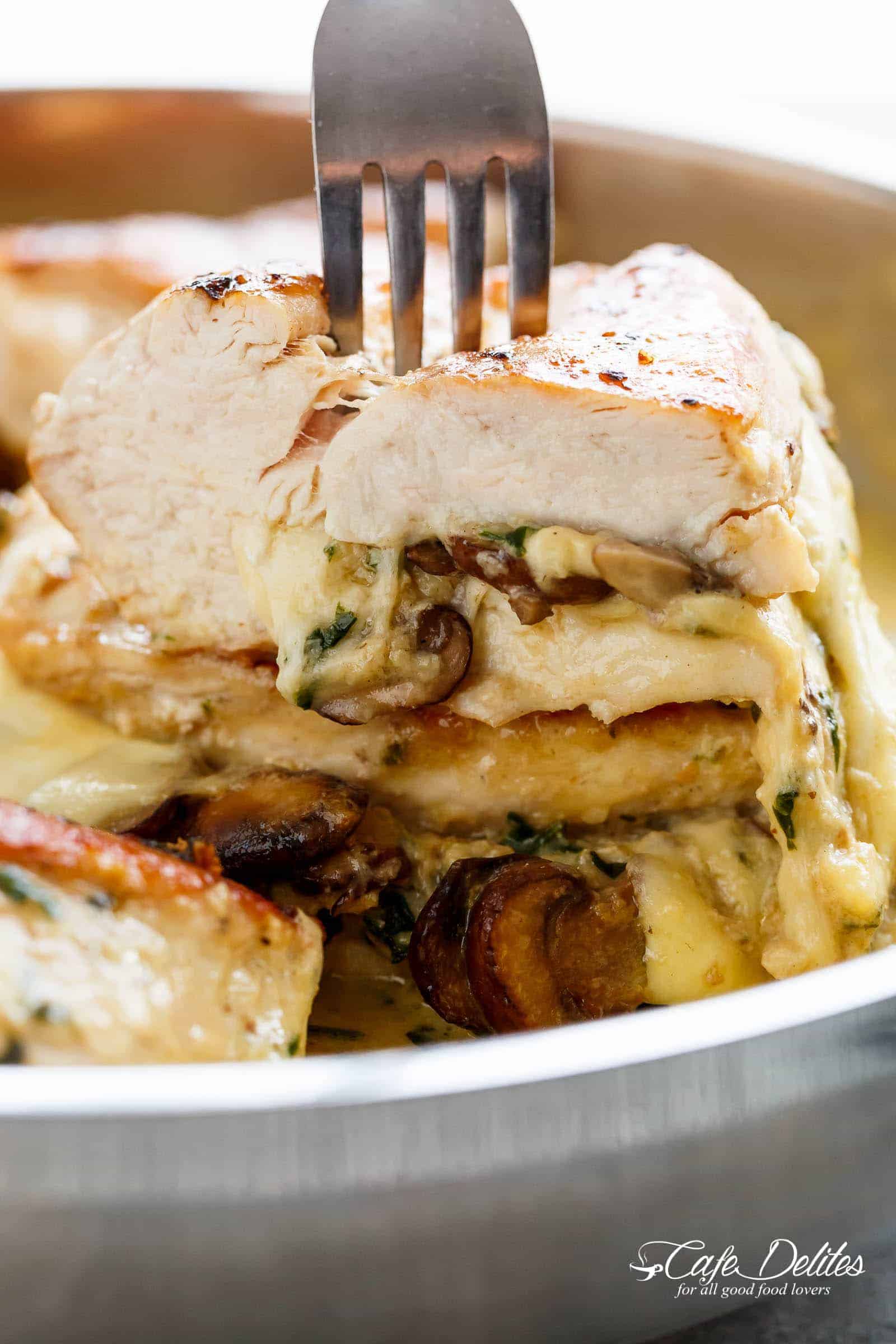 Want more stuffed chicken recipes?
Try our: Spinach Artichoke Dip Stuffed Chicken | Caprese Stuffed Balsamic Chicken | Skillet Mozzarella Stuffed Chicken Parmesan | Margarita Pizza Stuffed Chicken
WATCH OUR Garlic Butter Mushroom Stuffed Chicken BEING MADE RIGHT HERE!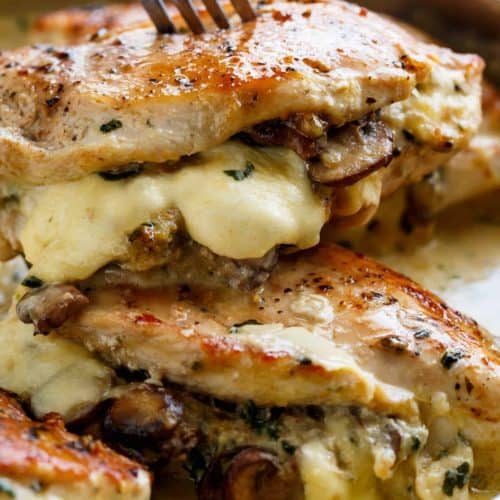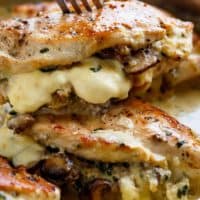 Garlic Butter Mushroom Stuffed Chicken
Cheesy Garlic Butter Mushroom Stuffed Chicken WITH an optional Creamy Garlic Parmesan Sauce! ALL Garlic Mushroom lovers... this is THE chicken recipe of your dreams!
PRINT
SAVE
go to your favorites
Ingredients
Mushrooms:
4

tablespoons

butter

8

ounces

(250 grams) brown mushrooms,

sliced

4

cloves garlic,

minced

2

tablespoons

fresh parsley chopped

Salt and pepper,

to taste
Chicken:
4

chicken breasts,

skinless and boneless

Salt and pepper,

to season

1

teaspoon

onion powder

1

teaspoon

dried parsley

8

slices

mozzarella cheese

1/4

cup

fresh grated parmesan cheese
Garlic Parmesan Cream Sauce:
1

tablespoon

olive oil

2

large cloves garlic

minced or finely chopped

1

tablespoon

Dijon mustard

1-1/2

cups

half and half

or use reduced fat cream or evaporated milk*

1/2

cup

finely grated fresh Parmesan cheese

Salt and pepper,

to your tastes

1/2

teaspoon

cornstarch

cornflour mixed with 2 teaspoons of water (OPTIONAL FOR A THICKER SAUCE)

2

tablespoon

fresh chopped parsley
Instructions
Chicken:
Preheat oven to 200°C or 400°F.

Melt butter in a large (over 12-inch or 30 cm) oven proof pan or skillet over medium heat. Add garlic and sauté until fragrant (about 1 minute). Add in mushrooms, salt and pepper (to your tastes), and parsley. Cook while stirring occasionally until soft. Set aside and allow to cool while preparing your chicken.

Pat breasts dry with a paper towel. Season with salt, pepper, onion powder and dried parsley. Rub each piece to evenly coat in seasoning.

Horizontally slice a slit through the thickest part of each breast to form a pocket. Place 2 slices of mozzarella into each breast pocket.

Divide the mushroom mixture into four equal portions and fill each breast with the mushroom mixture (leave the juices in the pan for later. If there are any left over mushrooms, don't worry. You'll use them later). Top the mushroom mixture with 1 tablespoon of parmesan cheese per breast. Seal with two or three toothpicks near the opening to keep the mushrooms inside while cooking.

Heat the same pan the mushrooms were in along with the pan juices (the garlic butter will start to brown and take on a 'nutty' flavour). Add the chicken and sear until golden. Flip and sear on the other side until golden. Cover pan and continue cooking in preheated oven for a further 20 minutes, or until completely cooked through the middle and no longer pink.

Serve, with pan juices and any remaining mushrooms, on top of pasta, rice or steamed vegetables.

(To make the optional cream sauce, transfer chicken to a warm plate, keeping all juices in the pan.)
Sauce:
Fry the garlic in the leftover pan juices until fragrant (about 1 minute). Reduce heat to low heat, and add the mustard and half and half (or cream).

Bring the sauce to a gentle simmer and add in any remaining mushrooms and parmesan cheese. Allow the sauce to simmer until the parmesan cheese has melted slightly. (If the sauce is too runny for your liking, add the cornstarch/water mixture into the centre of the pan and mix through fast to combine into the sauce. It will begin to thicken immediately).

Season with a little salt and pepper to your taste. Add in the parsley and the chicken back into the pan to serve.
Notes
*Half and Half is an American product blending equal parts whole milk and light cream. If you don't have access to half and half, make your own with 3/4 cup full fat milk and 3/4 cup reduced fat cream.*
Nutrition
Calories:
556
kcal
|
Carbohydrates:
6
g
|
Protein:
46
g
|
Fat:
37
g
|
Saturated Fat:
19
g
|
Cholesterol:
166
mg
|
Potassium:
760
mg
|
Sugar:
2
g
|
Vitamin A:
1285
IU
|
Vitamin C:
8.8
mg
|
Calcium:
536
mg
|
Iron:
1.4
mg