The ultimate in gourmet comfort food with a twist. Dredging the chicken in finely grated parmesan cheese and adding parmesan and extra garlic into the creamy lemon sauce for added flavour, this Creamy Lemon Parmesan Chicken Piccata is out of this world.
This recipe is one of my personal favourites and I know people out there love it too! What could go wrong with this Creamy Lemon Parmesan Chicken (Piccata) recipe!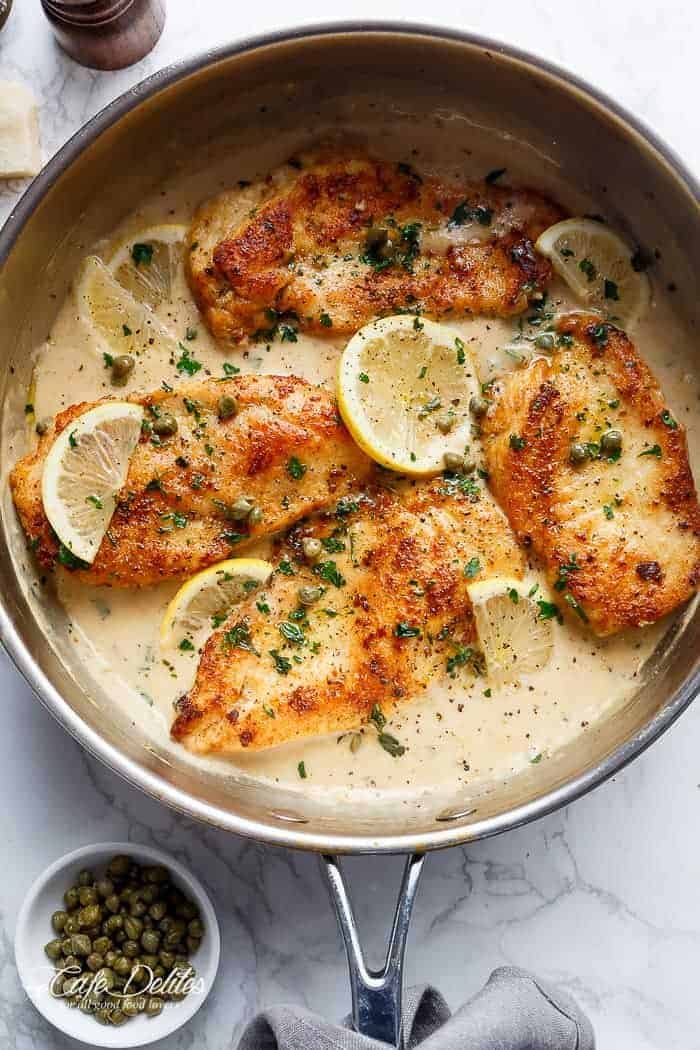 This Easter weekend, we served our creamy chicken over pasta, but a Piccata can be served over anything: rice, zucchini noodles, steamed vegetables, or anything else you can think of. The light flouring including the parmesan cheese changed this Piccata from amazing into something else. Something impressive with double the parmesan hit.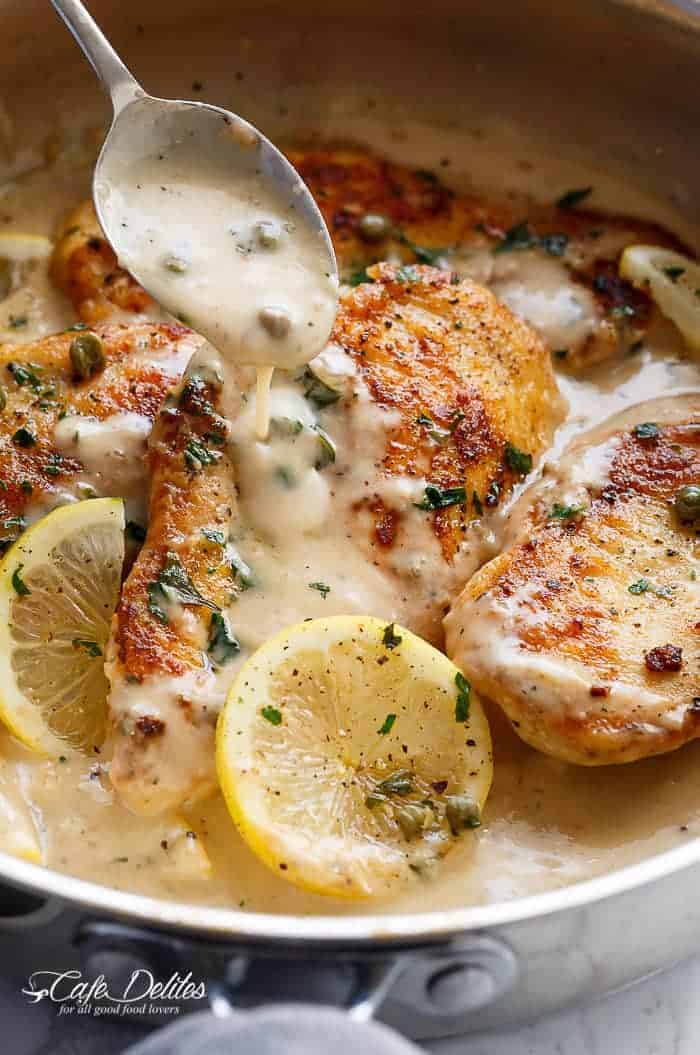 With parmesan cheese, especially in this recipe, I use fresh and finely grated from a delicatessen here in Melbourne. Wait. Am I the only one that gets embarrassingly excited seeing parmesan this fine, on sale at a deli? Walking past the glass windows with my mum, I slammed the brakes on mid-stride to plant my face on the shop front window, halting the sea of trolley-traffic behind me. Lord, help me.
You can always grate your own on the smaller holes on a box grater, or buy it ready to use like this, and you will pretty much put it on everything. For this recipe, DO NOT use the parmesan out of a container. The flavour is completely different and too strong for this chicken.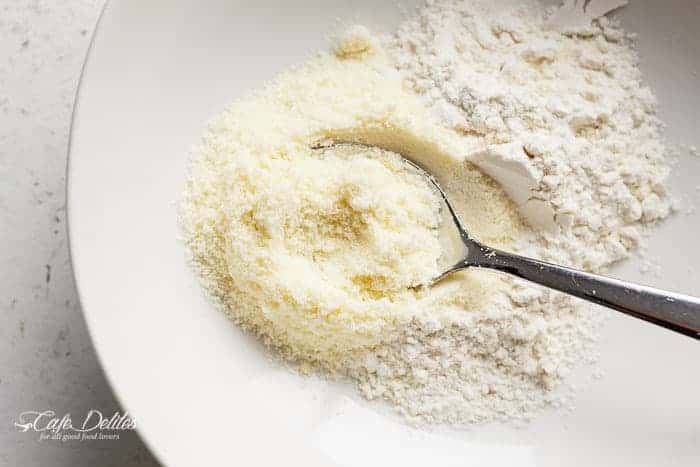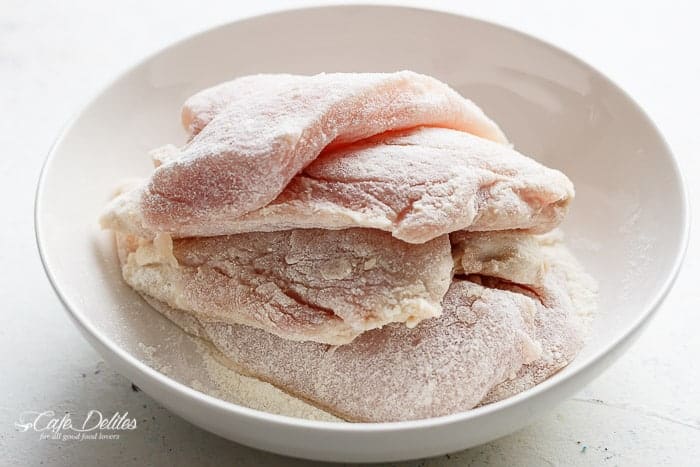 Usually, a Piccata calls for a lot of butter and oil, but in this recipe I used half the oil (olive oil) and only a quarter of the butter. You can use Ghee if you wish, and coconut oil to make it healthier if that's your preference.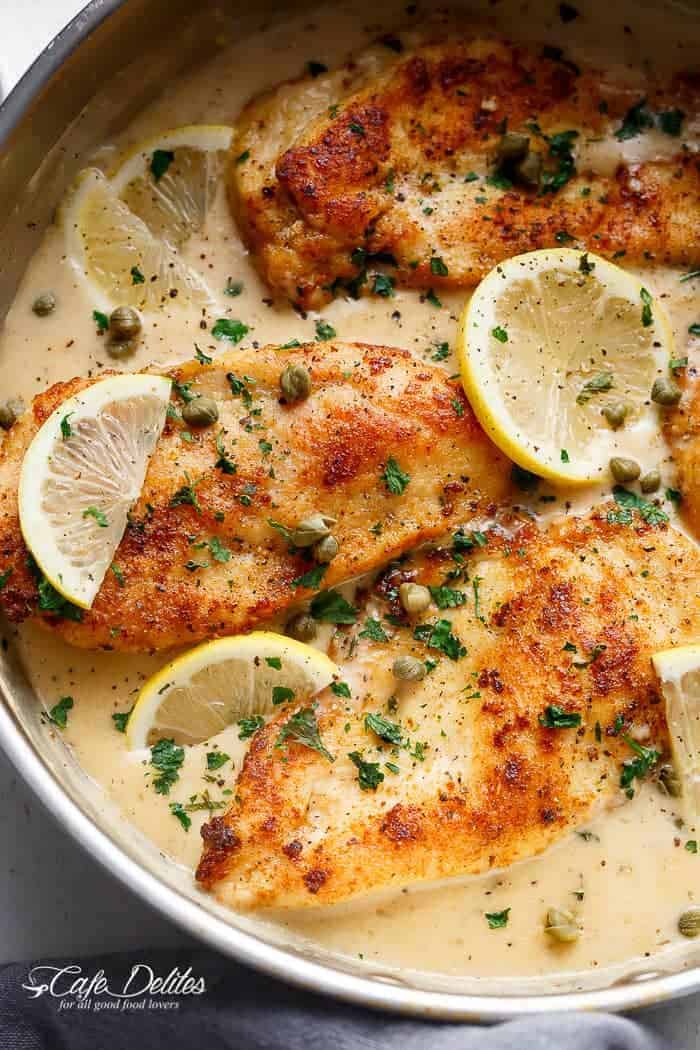 And believe it or not, no heavy cream! Having said that, you CAN use heavy or thickened cream if you like, but for the sake of cutting calories, I used MILK! The shock.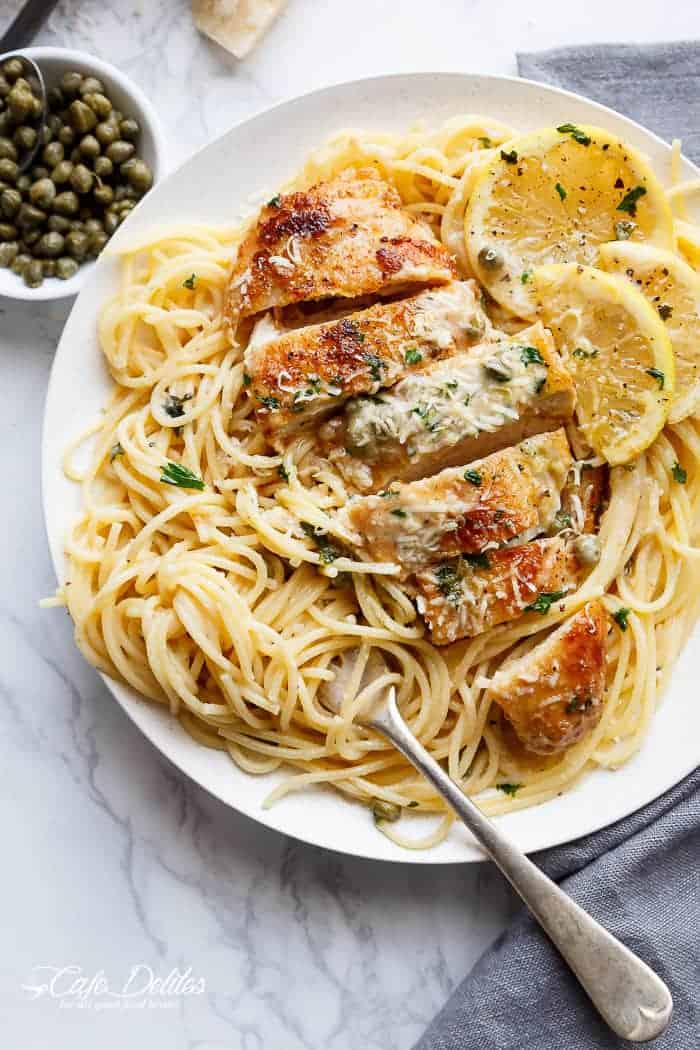 Cut the calories only to serve it over pasta. That's the way, Karina. Well, at least some calories were saved. A Creamy Lemon Parmesan Chicken Piccata to impress yourself, more than anyone else.
Try this Easy Salmon Piccata OR a Creamy Lemon Parmesan Shrimp!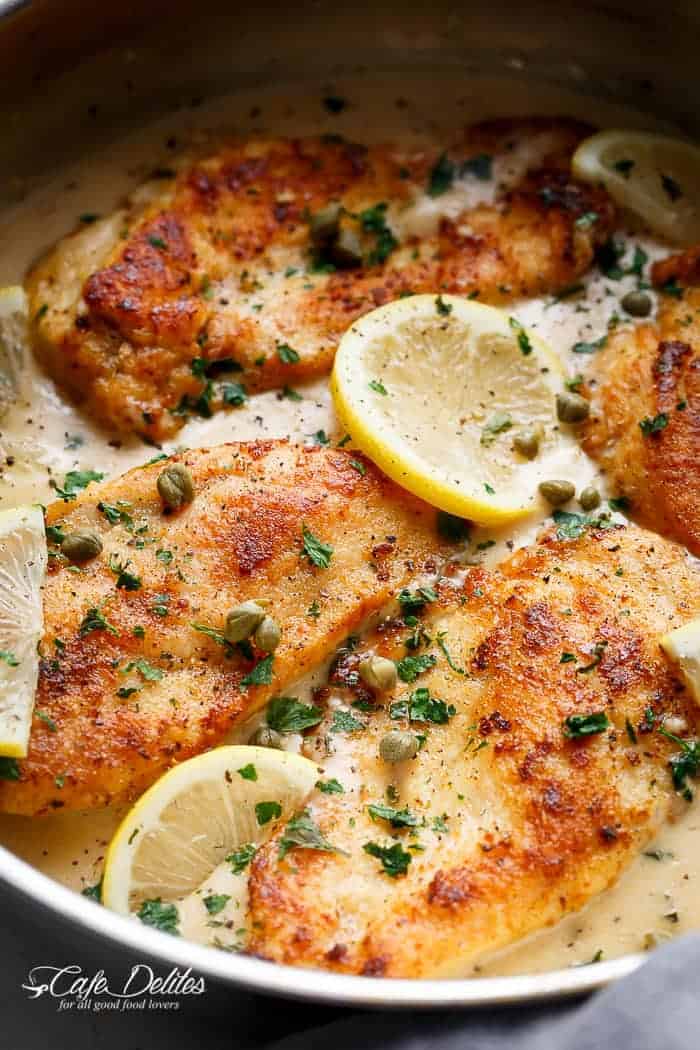 REMEMBER TO SUBSCRIBE TO CAFE DELITES NEWSLETTER FOR FREE AND RECEIVE FRESH RECIPE NOTIFICATIONS DELIVERED INTO YOUR INBOX!
If you try a recipe, please use the hashtag #cafedelites on INSTAGRAM for a chance to be featured!
FOLLOW CAFE DELITES ON FACEBOOK, INSTAGRAM, PINTEREST AND TWITTER FOR ALL OF THE LATEST CONTENT, RECIPES AND UPDATES.
EQUIPMENT USED: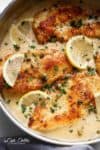 Creamy Lemon Parmesan Chicken (Piccata)
The ultimate in gourmet comfort food with parmesan cheese, garlic and a creamy lemon sauce, this Creamy Lemon Parmesan Chicken Piccata is out of this world.
Ingredients
For The Chicken:
2

large boneless and skinless chicken breasts

, halved horizontally to make 4

2

tablespoons

flour

(all purpose or plain)

2

tablespoons

finely grated fresh Parmesan cheese

1

teaspoon

salt

Cracked pepper
For The Sauce:
1

tablespoon

olive oil

2

teaspoons

butter

(or oil)

2

tablespoons

minced garlic

1 1/4

cup

chicken broth

(stock)

1/2

cup

milk

(full fat or 2% -- or use reduced fat cream or heavy cream)

1/3

cup

finely grated fresh Parmesan cheese

2

tablespoons

capers

(plus 2 tablespoons extra to garnish)

1

teaspoon

cornstarch

(cornflour) mixed with 1 tablespoon of water

2-3

tablespoons

lemon juice -- juice of 1 lemon

(adjust to your tastes)

2

tablespoons

fresh parsley
Instructions
In a shallow bowl, combine the flour and parmesan cheese. Season the chicken with salt and pepper; dredge in the flour mixture; shake off excess and set aside.

Heat 1 tablespoon of oil and 2 teaspoons butter in a large skillet over medium-high heat until butter has melted and pan is hot. Fry the chicken until golden on each side and cooked through and no longer pink (about 3-4 minutes, depending on the thickness of your chicken). Transfer onto a warm plate.

Add the garlic to the oil in the pan (spray with a light coating of oil if needed) and fry until fragrant (about 1 minute). Reduce heat to low-medium heat, add the broth and milk (or cream). Bring the sauce to a boil; season with salt and pepper to your taste; add in the parmesan cheese and capers and allow sauce to simmer for about 2 minutes until thicker. (If the sauce is too runny for your liking, add the cornstarch/water mixture into the centre of the pan and mix through fast to combine into the sauce. It will begin to thicken immediately).

Pour in the lemon juice, allow to simmer for a further minute to combine. Add the chicken back into the pan to serve, or serve over steamed vegetables, zucchini noodles or cooked pasta with the sauce. Top with extra capers to garnish, lemon slices and parsley.