Creamy Lemon Garlic Salmon Piccata is a classy yet easy salmon recipe you've been waiting for with a deliciously creamy lemon garlic sauce!
A twist on a Creamy Lemon Chicken Piccata, THIS Creamy Lemon Garlic Salmon Piccata has become one of our favourite salmon recipes on Cafe Delites! Buttery salmon fillets pan seared with a golden brown crust and crisp edges, served with a deliciously creamy lemon sauce with capers and fresh parsley. A delicious combination.
An original Cafe Delites creation posted April 5,2017.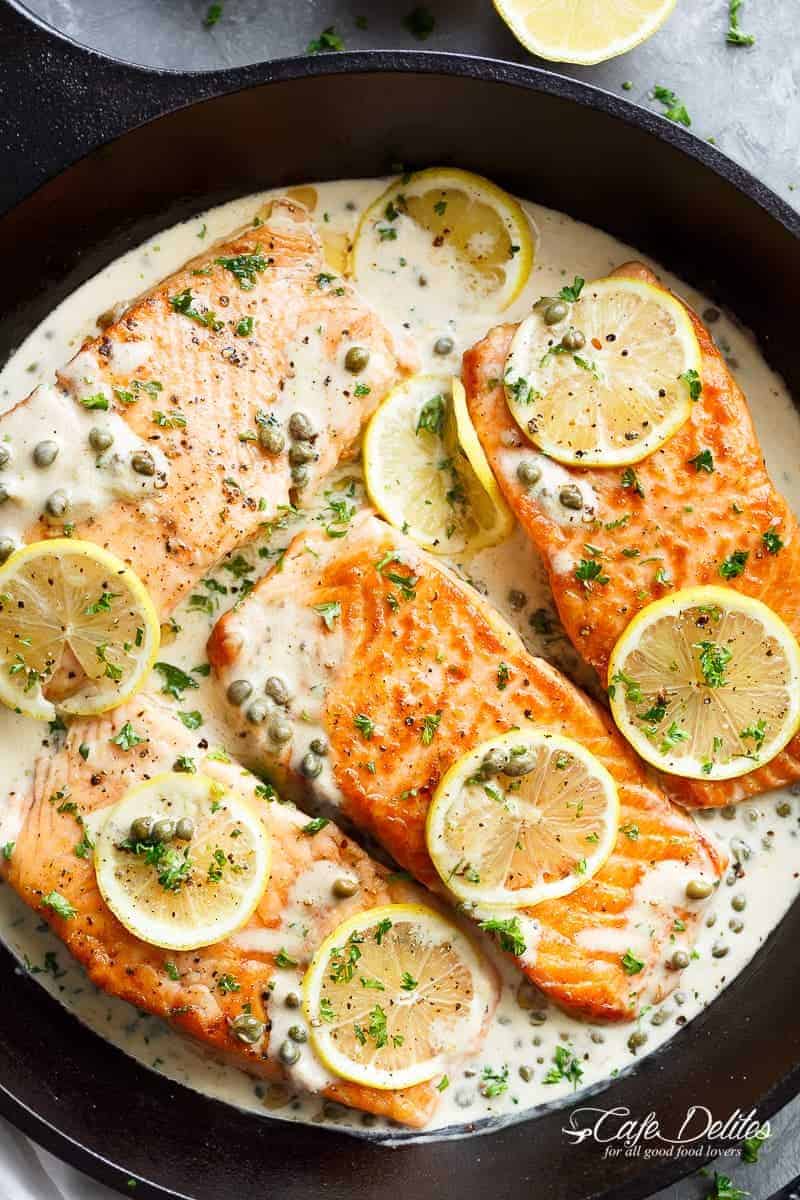 Creamy Salmon Piccata
This Salmon Piccata came to me after making my easy salmon piccata last month for dinner. I had some cream in the fridge about to expire and without even thinking added it to the sauce. The next thing I knew, I went from taste testing to just about finishing off all of the sauce before serving. Sorry family.
If you're not a fan of capers, you can leave them out and still create a delicious meal, because all of the flavour is in that incredible lemon garlic sauce!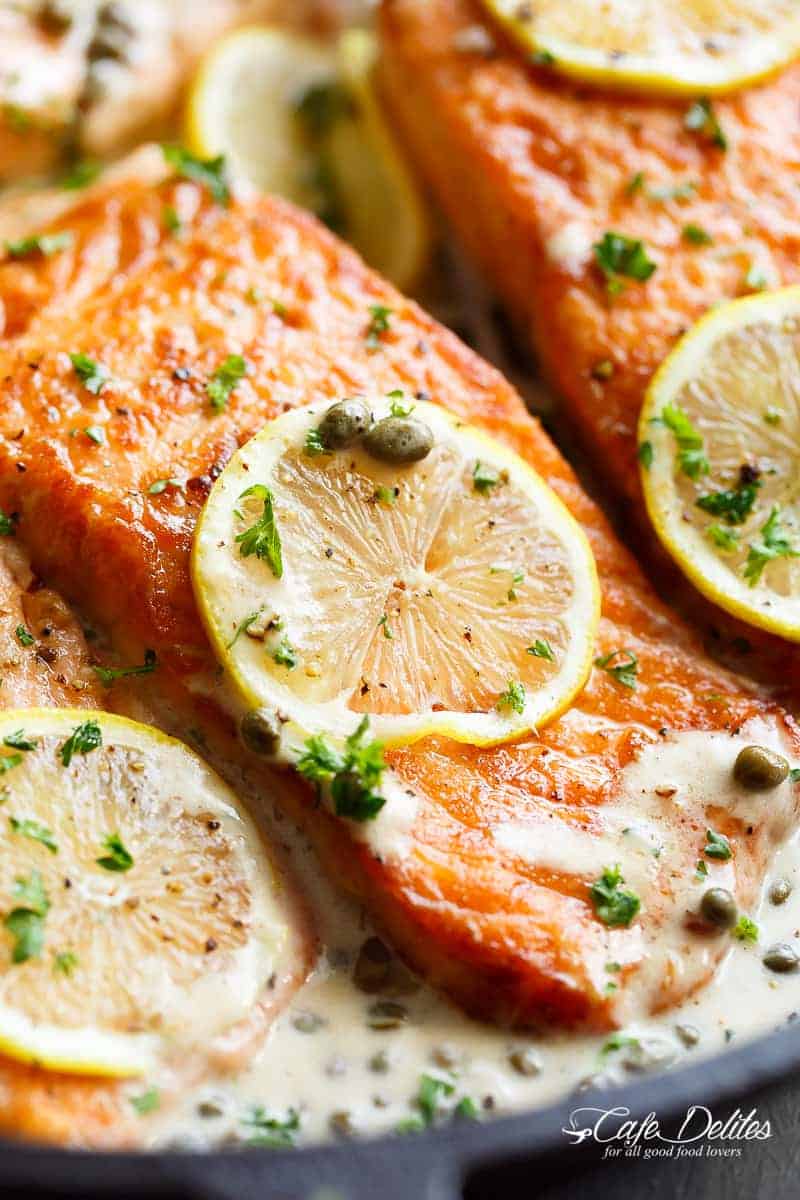 How Do you Pan Sear Salmon
With pan seared salmon, here are a few tricks I've found through the years to get an amazing crispy coating:
Use a good quality non stick pan OR well-seasoned cast iron skillet.
Pat salmon dry before cooking.
Preheat pan/skillet before cooking.
Use butter with oil to prevent the butter from burning.
Once you place your salmon in your pan, don't move it around! Give it time to get nice and crispy before flipping.
Sear in batches with 2 fillets at time.
How To Make Creamy Salmon Piccata
You're only four easy steps away to this for dinner!
Coat
Fry
Sauce
Serve
Coating the salmon in flour is optional according to your dietary needs. For a low carb option, skip the flour and go straight to searing!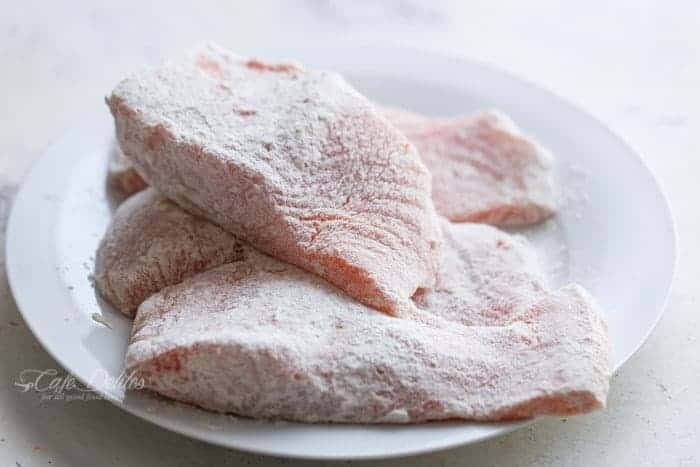 Sear your steaks in a butter/olive oil mixture…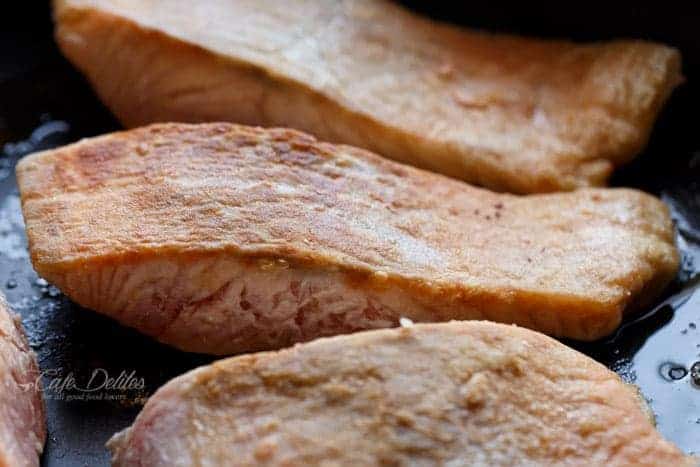 Make your sauce…and prepare to celebrate with your taste buds!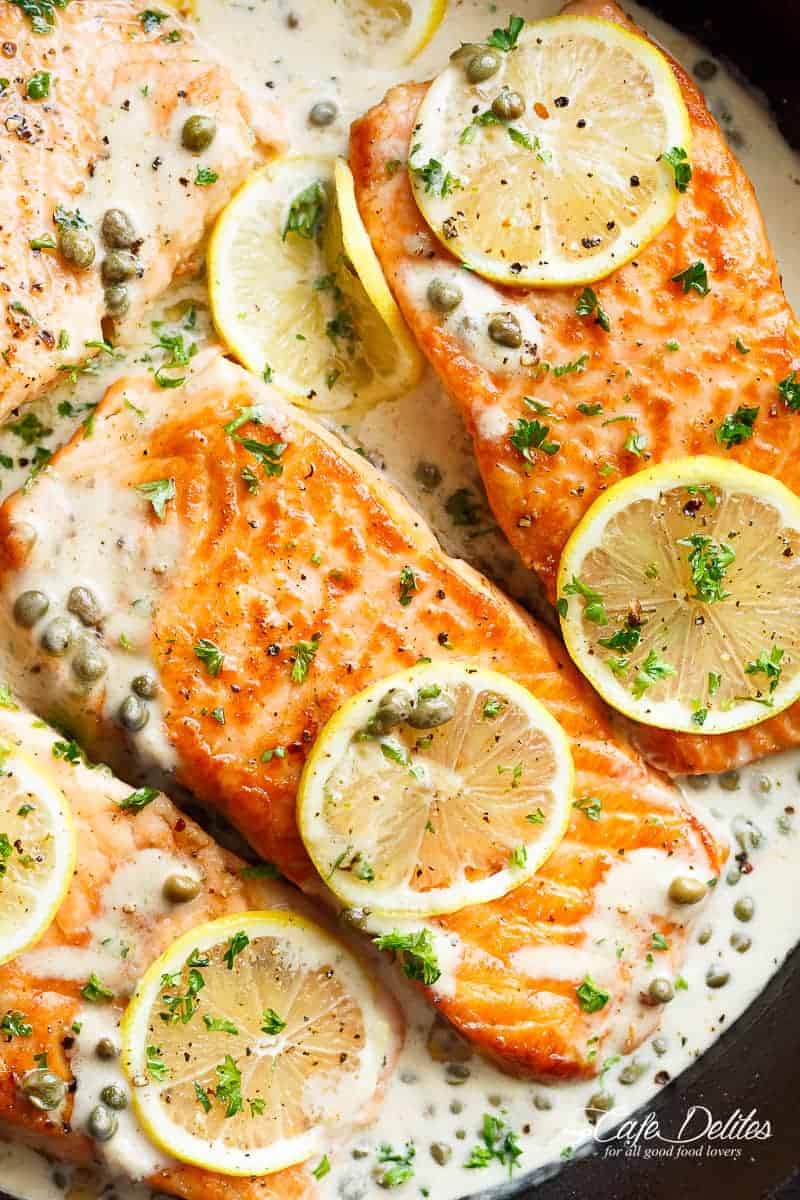 Pour the flavour filled lemon sauce allllll over your crispy salmon!
Perfect to serve over rice or pasta, or for a low carb option serve with cauliflower rice and zucchini noodles.
WATCH US MAKE This Creamy Lemon Garlic Salmon Piccata!

Love Creamy Salmon? Try these recipes!
Creamy Garlic Butter Tuscan Salmon
Creamed Spinach Dip Stuffed Salmon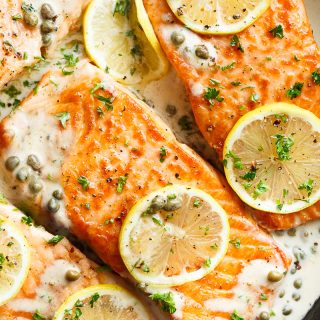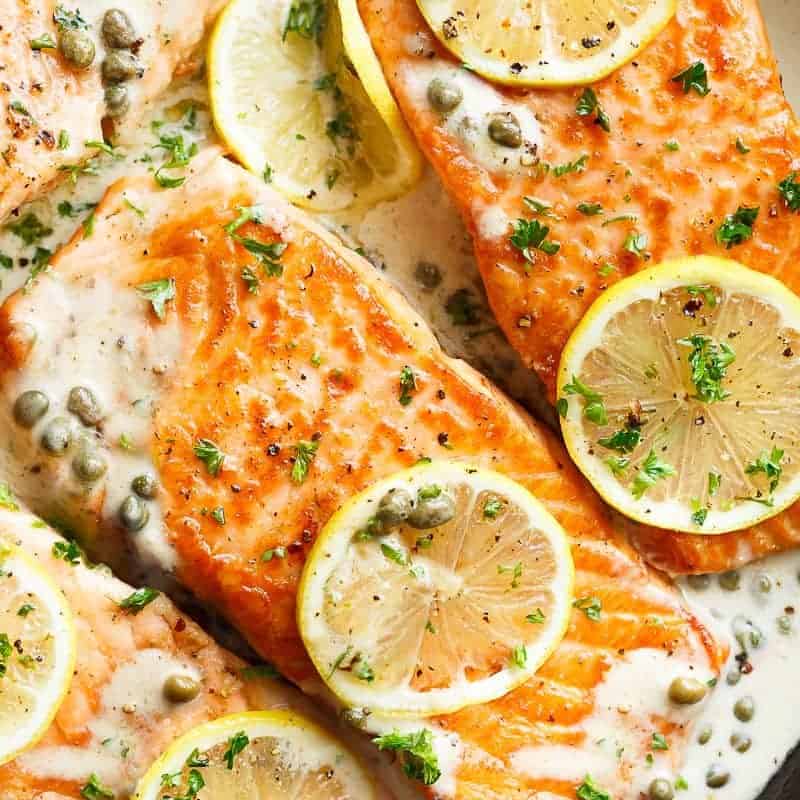 Ingredients
4

x 170g | 6 oz skinless salmon fillets

Salt and pepper

to taste

¼

cup

flour

(OPTIONAL)

2

tablespoons

unsalted butter

1

tablespoon

olive oil

4

medium garlic cloves

minced

⅓

cup

dry white wine*

1

cup

low-sodium chicken stock/broth

(fat free if you can find it)

1-2

level teaspoon cornstarch

(or corn flour)

3-4

tablespoons

fresh lemon juice

(adjust to your tastes)

4

tablespoons

rinsed and drained capers

1/2

cup

reduced fat cream

(or heavy cream)*

2-4

tablespoons

coarsely chopped parsley

to serve

Lemon slices

to serve
Instructions
Season both sides of salmon fillets evenly with salt and pepper. Add ¼ cup of the flour to a shallow dish; dredge the salmon in the flour to evenly coat. Shake off excess.

Melt 1 tablespoon of butter in a large nonstick pan or skillet over medium-high heat. Add 1 tablespoon oil and swirl to mix through the butter. Add salmon; sauté 4 minutes on each side or until just cooked to your liking. Transfer salmon to a warm plate; tent with foil and set aside.

Add remaining 1 tablespoon butter (or oil) to pan and melt. Add the garlic; sauté for a further minute until fragrant. Add wine; bring to a boil scraping any browned bits off of the bottom of the pan. Cook until liquid almost evaporates, stirring occasionally. Add ¾ cup stock/broth to the pan along with the lemon juice; bring to a boil and cook for a further minute.

Mix 1 teaspoon of cornstarch (or cornflour) with 2 tablespoons of the reserved broth, whisking well to combine. Pour the mixture into the pan, stirring through the liquid to create a sauce. Cook for 1 minute or until slightly thickened. If it's not thick enough, mix the remaining cornstarch with the remaining broth and add to the centre of the pan. Stir in the cream and remove from heat and add the capers.

Place the salmon fillets back into the pan. Sprinkle with chopped parsley, pepper and add in lemon slices.

Serve immediately with the sauce over rice or pasta, vegetables of choice or with a salad.
Notes
*Replace wine with extra broth, but the wine adds amazing flavour.
**Substitute cream with evaporated milk or half and half to reduce calories and fat
Nutrition
Nutrition Facts
Creamy Salmon Piccata
Amount Per Serving
Calories 459
Calories from Fat 225
% Daily Value*
Total Fat 25g 38%
Cholesterol 126mg 42%
Sodium 526mg 22%
Potassium 1018mg 29%
Total Carbohydrates 13g 4%
Protein 38g 76%
* Percent Daily Values are based on a 2000 calorie diet.