A deliciously Creamy Honey Mustard Chicken with crispy bacon pieces will become your new favourite dinner — WITH dairy free options!
Sweet and creamy honey mustard sauce that takes LESS than 5 minutes to pull together, with minimal ingredients and maximum taste. Yesssss, I'm ALL about that simple quick flavour. It's an unconditional love type situation I have with honey mustard. But then there's THIS creamy honey mustard that compares to nothing else. Just staring at these pictures all over again…..well, oh em gee.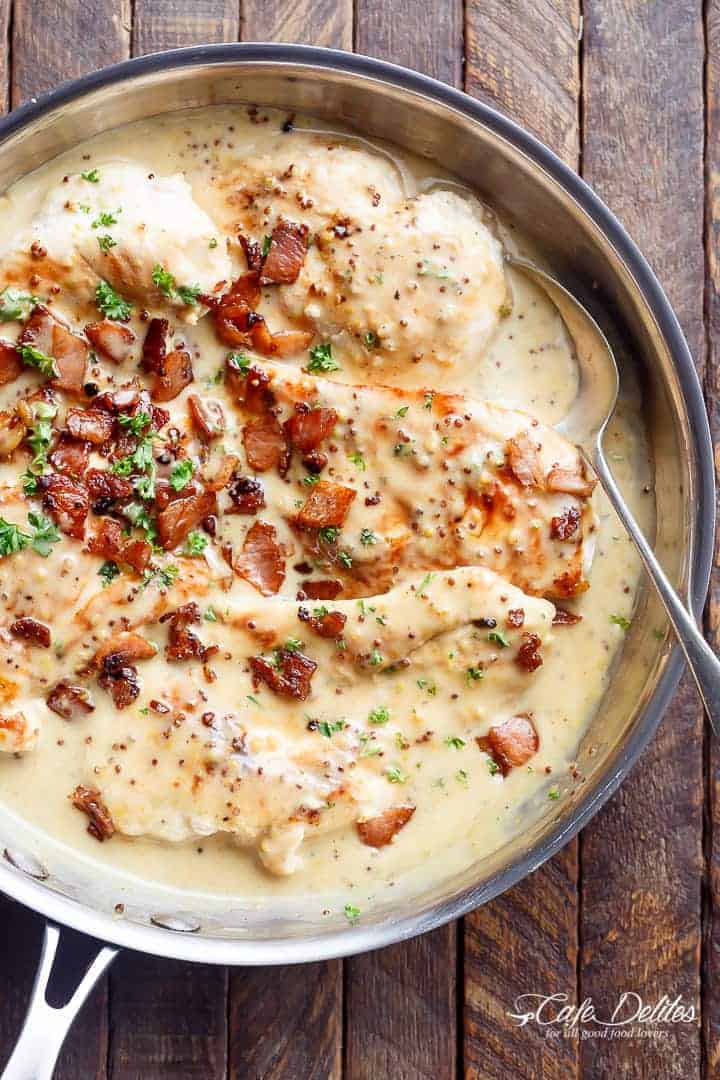 Since you guys have been loving this Honey Mustard Chicken, Avocado + Bacon Salad, mostly writing in to tell me that salad hating husbands have now been converted to salad loving men (you're welcome, by the way), I know in my heart of food hearts that it's the combination of chicken → bacon → honey mustard → that has helped the transformations. So, I thought, what would happen if I turned that into the ultimate of comfort foods → throwing in a creamy sauce → for an epic dinner recipe that would rock our worlds and our senses?
I took this recipe, made a few changes, and developed the best creamy honey mustard chicken I've ever tried. IN my life time. Most recipes I've tried in the past call for 1 teaspoon of honey and 1 teaspoon of mustard in a whole entire pan of cream (in my world, that's about the size of 2 pin-heads going into a haystack). What is that amount supposed to do? My taste buds are forever searching around for HONEY and MUSTARD flavours, coming up with only an infinitesimal trace. Ugh.
Not this sauce, friends. This sauce will have you weak at the knees, drinking it straight from the pan and good luck to anyone else that's too slow not to come up with that idea first because now there's none left. Type of thing.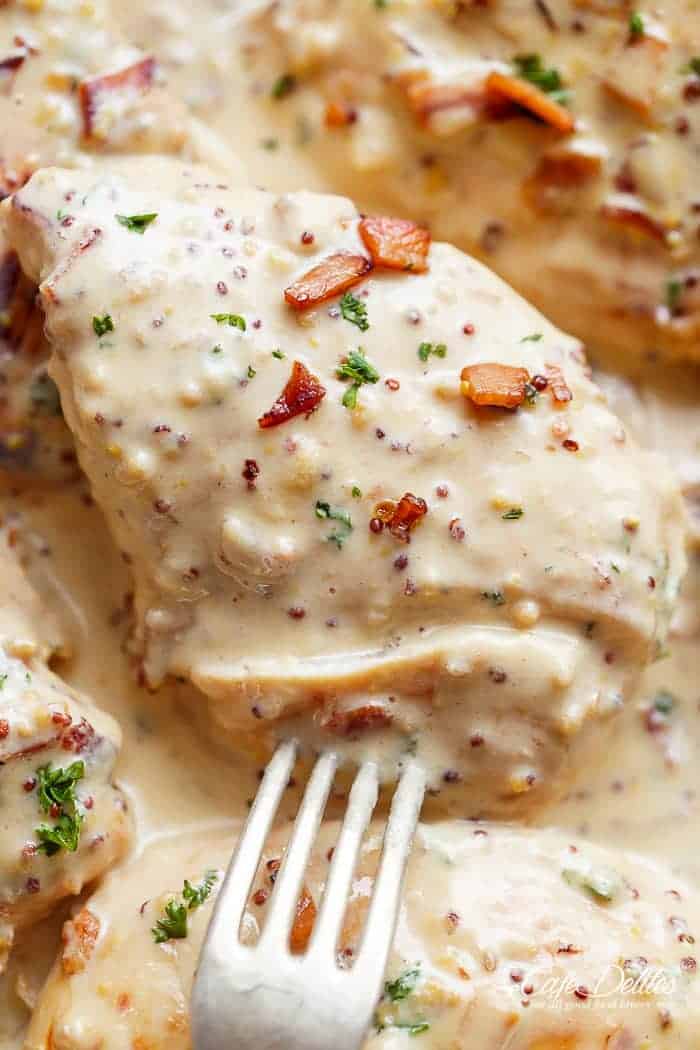 This. This is what happened ↑↑↑↑↑↑↑↑.
How To Make Creamy Honey Mustard Chicken With Crispy Bacon
First, we coat the chicken in said sauce. I've used both breasts AND thighs in this recipe. Both work. You can use either. Again, you're welcome.
While the chicken is sitting in the most perfect honey mustard creation, the bacon is fried until crispy, leaving behind it's flavourful oil to fry the chicken in. Chicken fried in bacon fat. Mmmmmm. Once again, you're welcome.
You CAN leave the bacon in the pan at this point and fry the chicken WITH the bacon….however, I transfer it out to sear the chicken on their own, because I don't like the smoky flavour the bacon adds into the creamy sauce in the end. Bacon fat? Yes. Bacon pieces? No.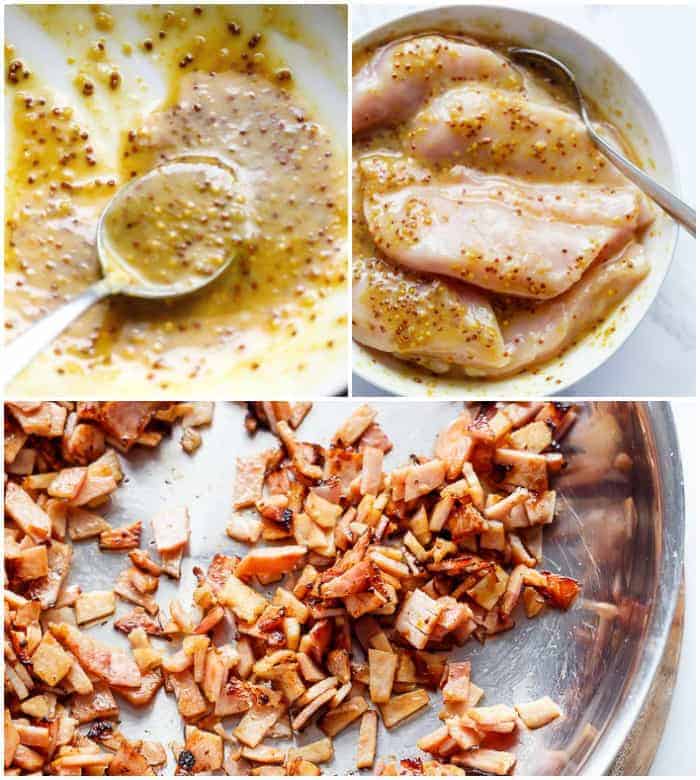 THEN, the sauce goes in. For this recipe and for the sake of the best, creamiest flavour, I pour in 1/3 cup of light or reduced fat cream. Now, you can replace this with milk of your choice (skim, 2% fat OR full fat — even almond milk works too since we are thickening it at the end with some cornstarch). BUT I personally love the small addition of cream to add that unmistakeable creamy flavour.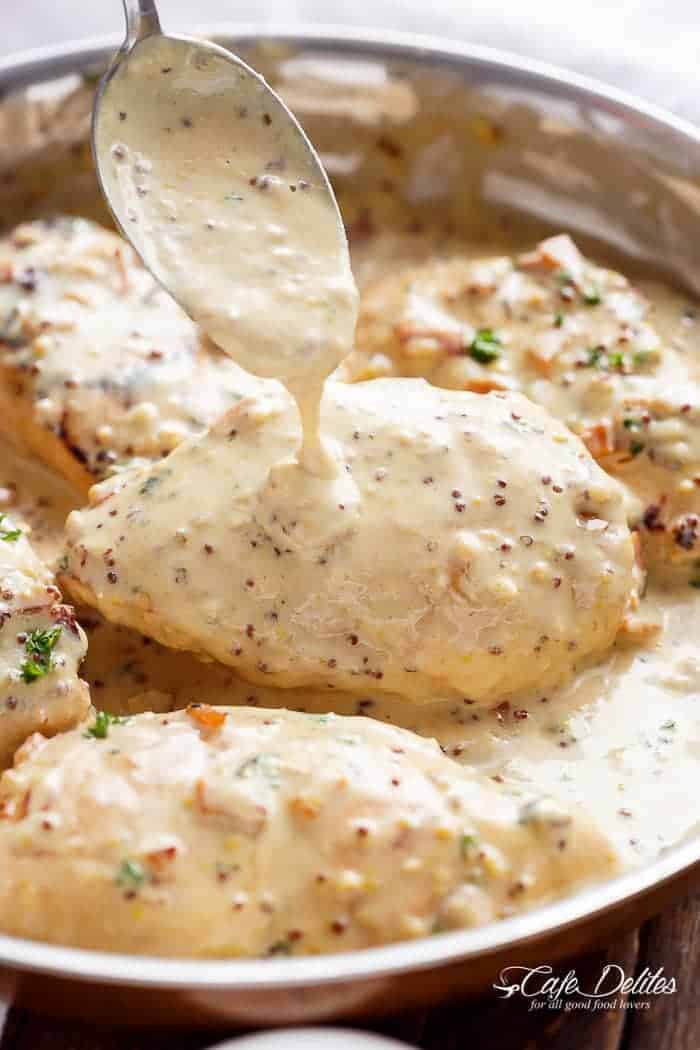 THEN, top with the crispy bacon pieces and HOHMYGOSH eat it straight out of the pan because HELLO NO PATIENCE!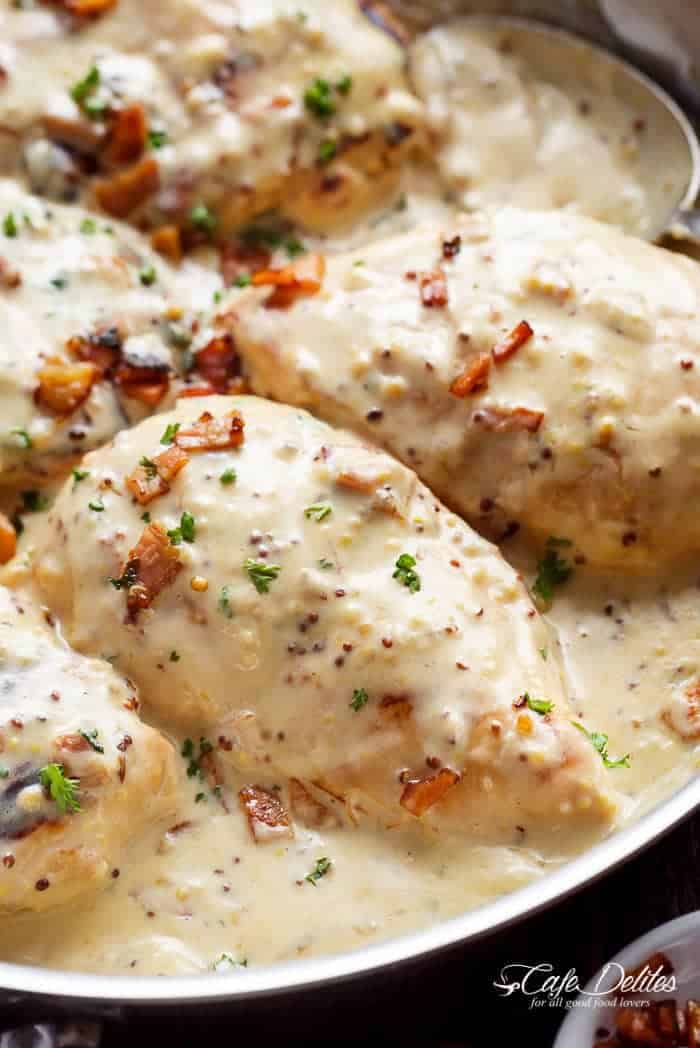 I mean. DO YOU SEE THE THICK CREAMY HONEY MUSTARD IN THERE? ↑ GAH!
Creamy Honey Mustard Chicken With Crispy Bacon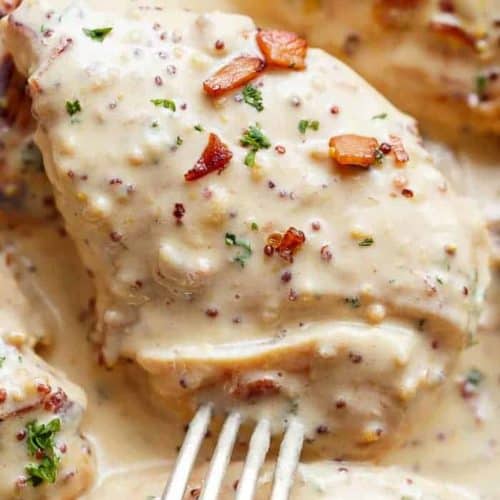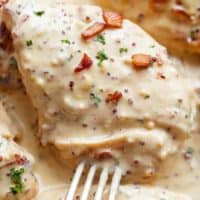 Creamy Honey Mustard Chicken With Crispy Bacon
A deliciously Creamy Honey Mustard Chicken with crispy bacon pieces will become your new favourite dinner, with dairy free options!AN ORIGIANL CAFE DELITES RECIPE
PRINT
SAVE
go to your favorites
Ingredients
1/3

cup

honey

3

level tablespoons whole grain mustard

1 1/2

tablespoons

minced garlic,

(or 3-4 cloves crushed garlic)

1

tablespoon

olive oil

Salt to season

5

skinless and boneless chicken breasts

(or chicken thighs)

1/2

cup

diced bacon,

trimmed of rind and fat (I used 4 small bacon rashers)

1/3

cup

cream

(light or reduced fat) *SEE NOTES FOR SUBSTITUTION OPTIONS

1

cup

milk

(skim, 2% or full fat - almond milk may be used for a dairy free option)

1

teaspoon

cornstarch

(corn flour) mixed with 1 tablespoon water

2

tablespoon

chopped fresh parsley
Instructions
In a large, shallow dish, combine the honey, mustard, garlic, oil and salt to taste (not too much salt if serving with bacon as the bacon will add a salty flavour when served). Coat chicken evenly in the sauce. Set aside.

Heat a nonstick pan (or skillet) over medium heat. Fry bacon until crispy; transfer to a plate. To the same pan, sear chicken fillets on each side in the oil left over from the bacon until just beginning to brown (about 3 minutes per side -- not completely cooked through as we will finish them in the sauce).

Add any remaining honey mustard sauce into the pan along with the cream and milk. Bring to a simmer while stirring occasionally to mix the favours through the sauce (about 3 minutes), until the chicken is cooked through. Transfer the chicken to a warm plate.

Pour the cornstarch mixture into the centre of the pan, mixing it through the sauce until it thickens. Place chicken back into the pan; coat with the sauce. Top with the bacon and garnish with parsley.

Serve over steamed / roasted vegetables for lower cal options. Also great with pasta, rice or mashed potatoes!
Notes
*Replace the cream with milk of your choice. Just make sure you LOVE the flavour of the milk you are using as it will impact the flavour of your sauce! I recommend skim, 2% or full fat. You can also use almond milk for a dairy free option.
Nutritional information is based per serve, including cream.
Nutrition
Calories:
327
kcal
|
Carbohydrates:
20
g
|
Protein:
25
g
|
Fat:
12
g
|
Saturated Fat:
5
g
|
Cholesterol:
100
mg
|
Sodium:
186
mg
|
Potassium:
533
mg
|
Sugar:
21
g
|
Vitamin A:
480
IU
|
Vitamin C:
4.9
mg
|
Calcium:
81
mg
|
Iron:
0.7
mg
More Honey Mustard Recipes?
Delicious Honey Mustard Salmon In Foil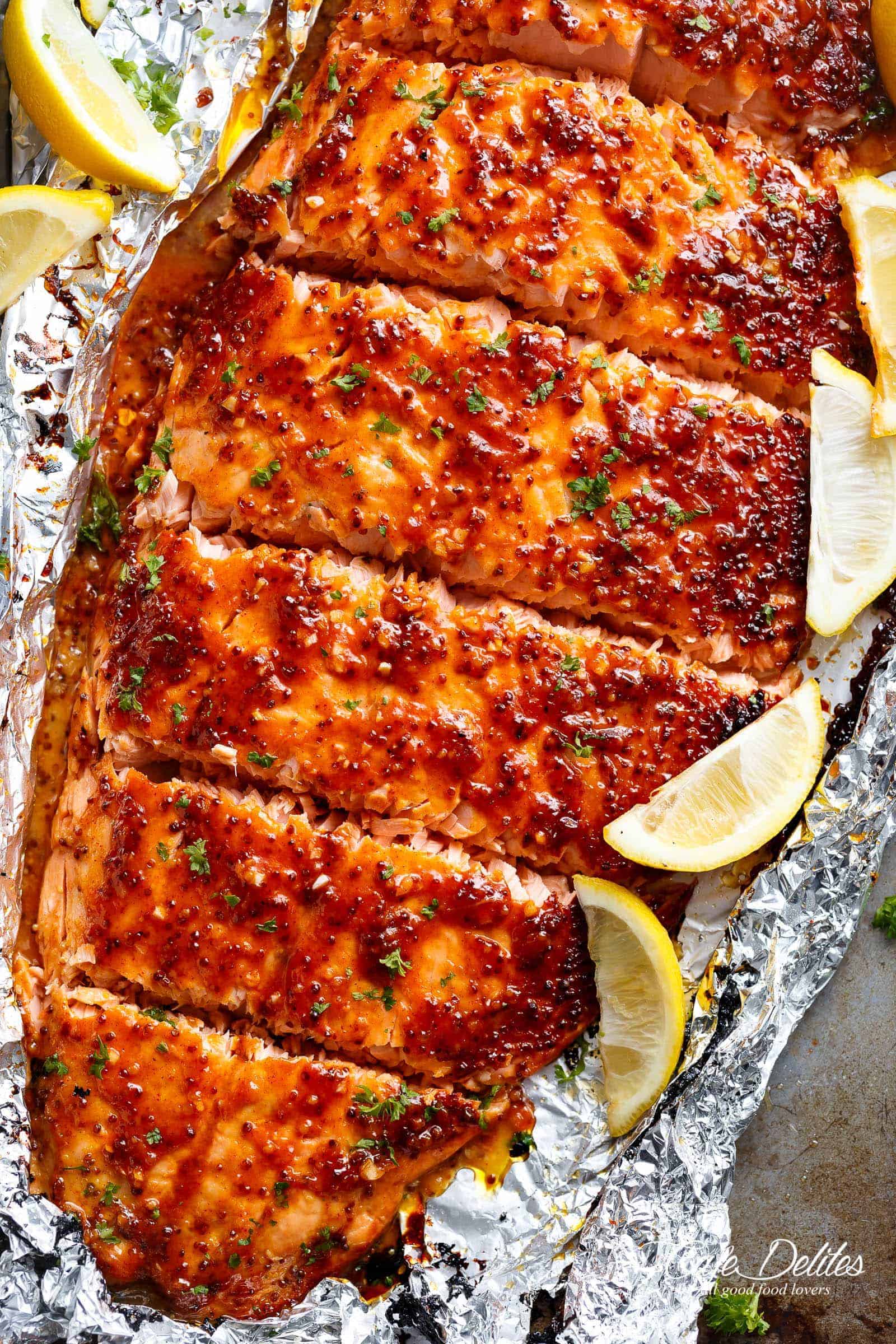 Crispy Honey Mustard Chicken & Potatoes (One Pan)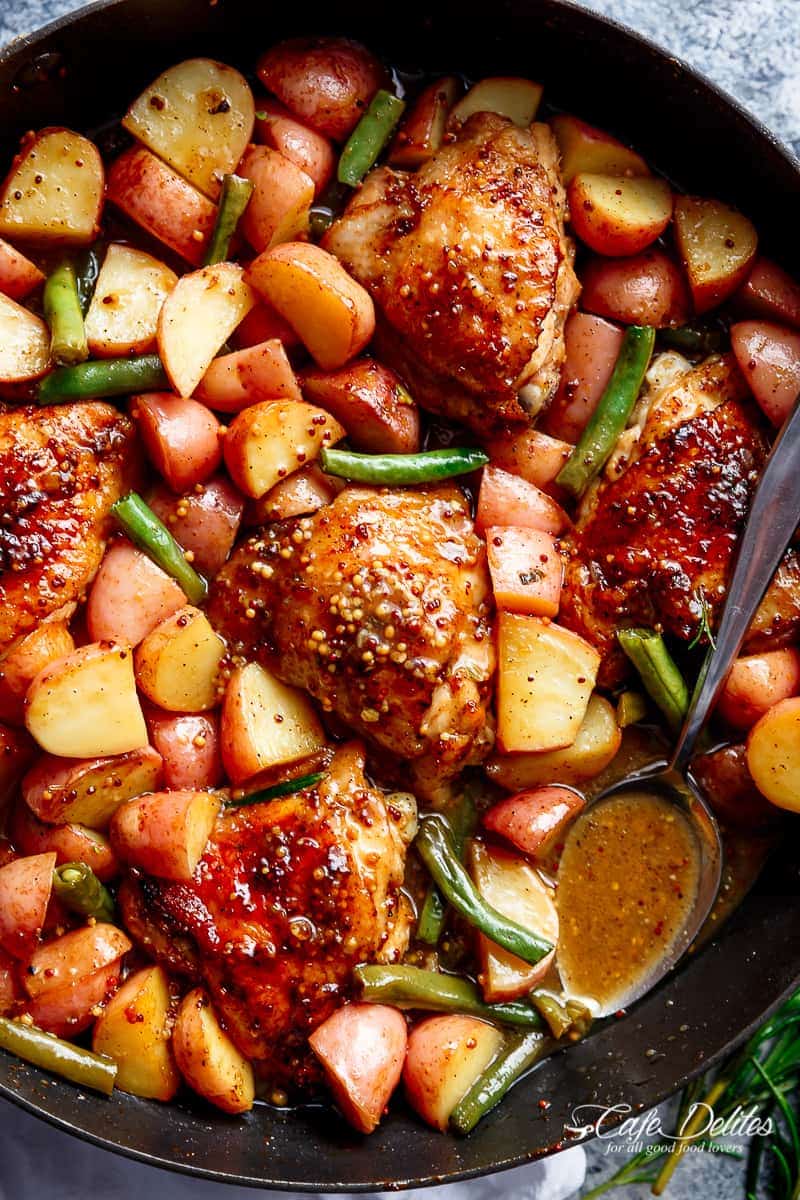 Honey Mustard Chicken, Avocado + Bacon Salad