Honey Mustard Salmon In Foil is a quick and easy salmon recipe, leaving you with no pans to wash and a juicy salmon for your dinner table!
A new family favourite salmon recipe, this Honey Mustard Salmon In Foil is right up there with your favourite Honey Garlic Butter Salmon In Foil! Combining two favourite flavours: Honey Mustard and Garlic Butter, this salmon recipe is the ultimate in flavour! Looking for a Garlic Salmon With Honey Mustard Cream Sauce? Try this one!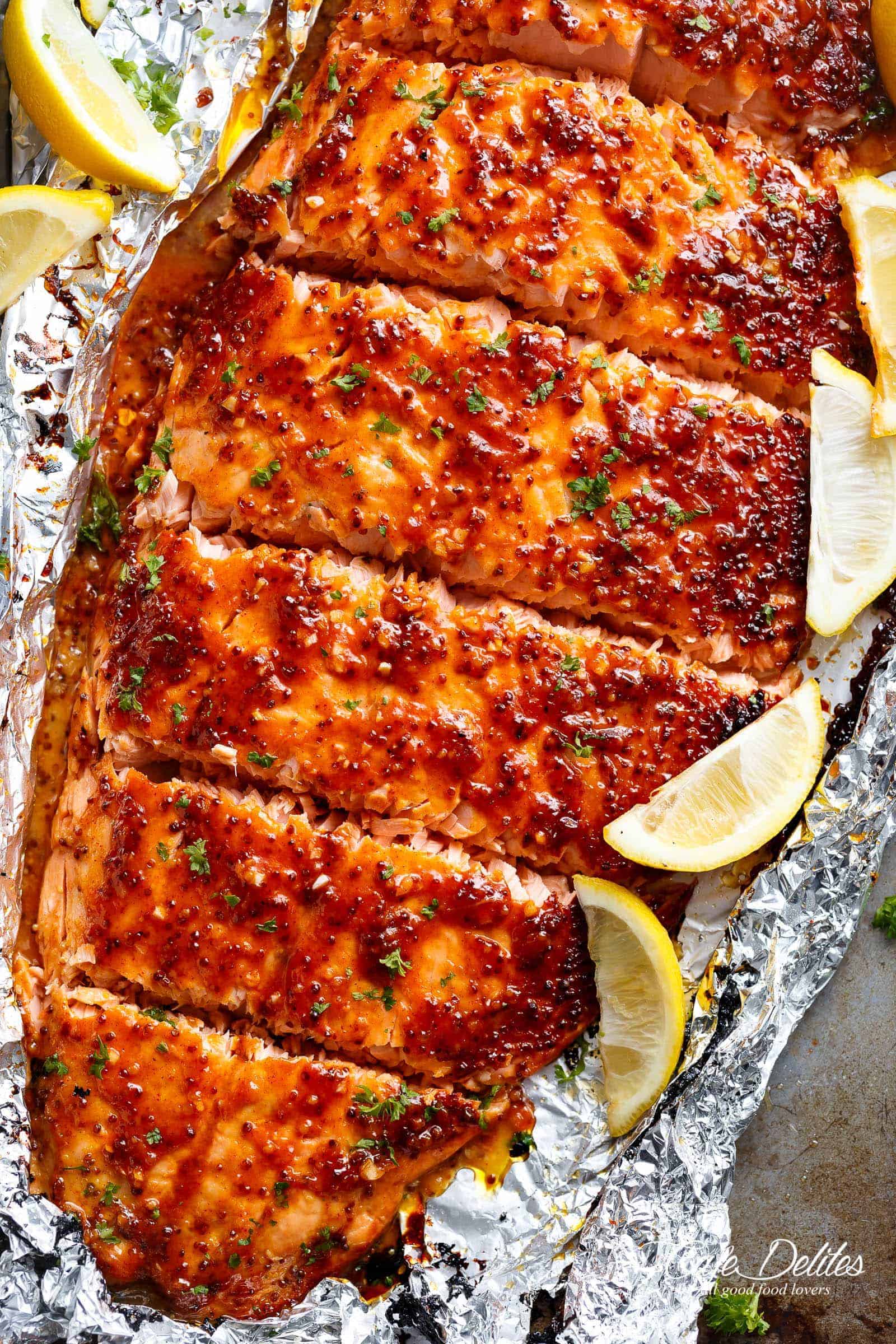 You're only 6-ingredients away from creating the most beautiful sauce for your next salmon recipe. I say next because I KNOW this Honey Mustard Salmon In Foil is going to hit your tables…SOON.
Just like with this Honey Garlic Butter Salmon, you are going to start by combining honey, butter and garlic in a saucepan to melt and combine. The difference between these two recipes is the addition of Dijon and wholegrain mustards, like we used in this Honey Mustard Chicken Avocado Bacon Salad that you guys equally loved just as much. With all of the honey mustard recipes on this site, I do believe the best flavour comes into play when combining those both mustards together. Please don't substitute either of these out.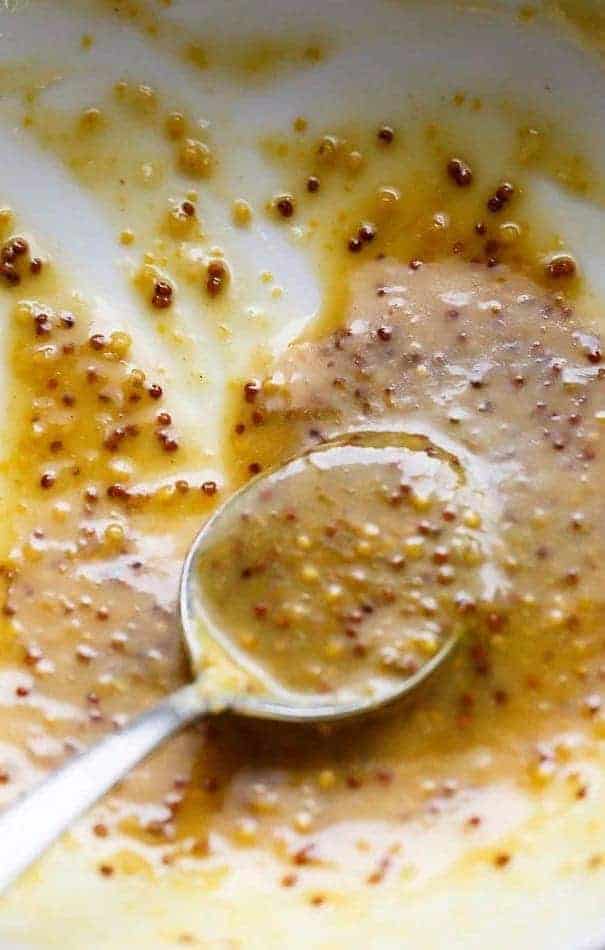 After making up the most epic of sauces, you're going to pour it all over a side of salmon, wrap it in foil and bake in the oven for around 10-12 minutes, depending on how hot your oven runs. Then, you have the option of opening up the packet being CAREFUL of escaping steam, and broiling (or grilling for us Aussies), to get those charred edges thanks to the honey in the recipe. (Well, not really an option because HELLO charred edges!)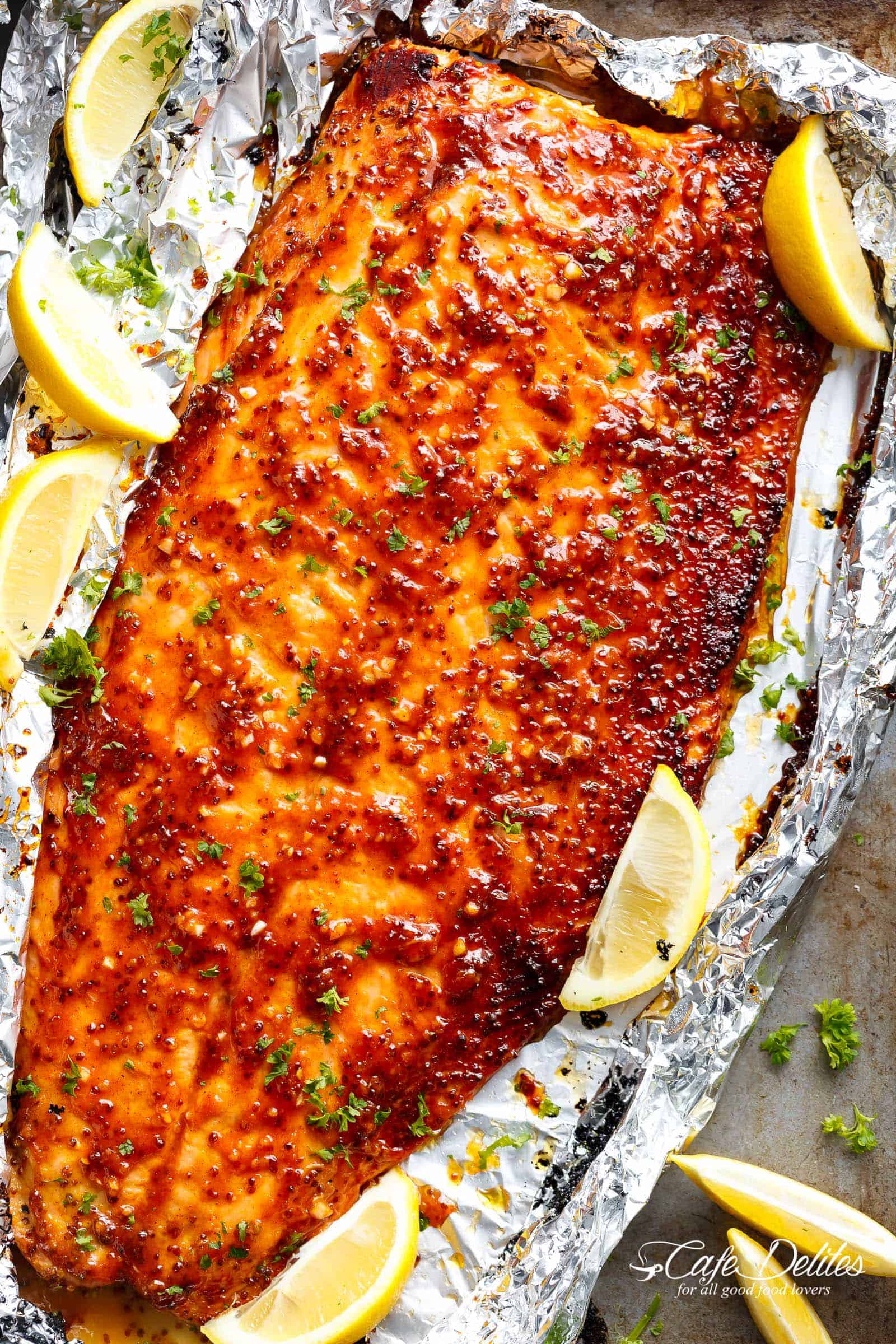 Serve with a lemon wedge and a squeeze of lemon, because one can never have enough lemon on salmon.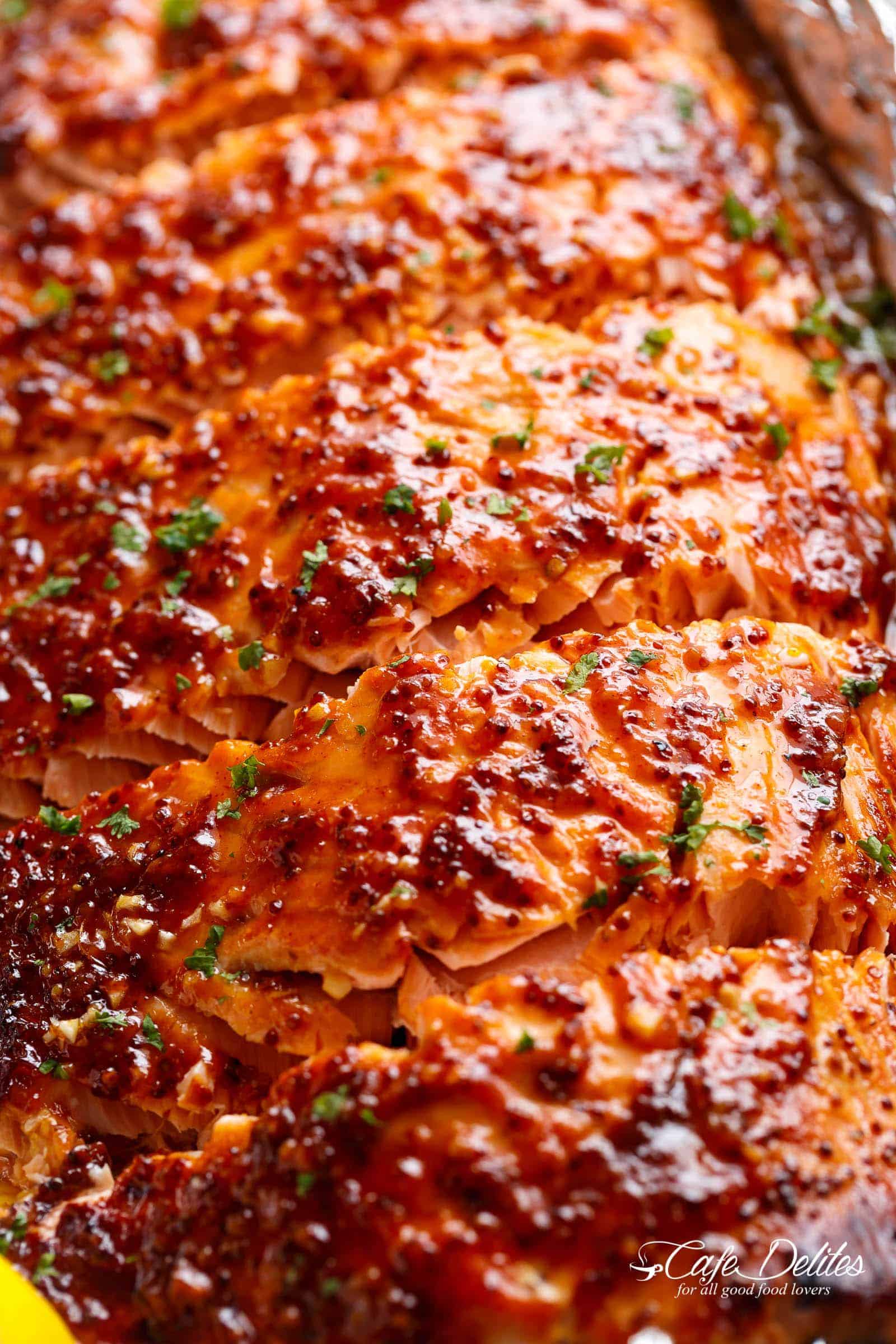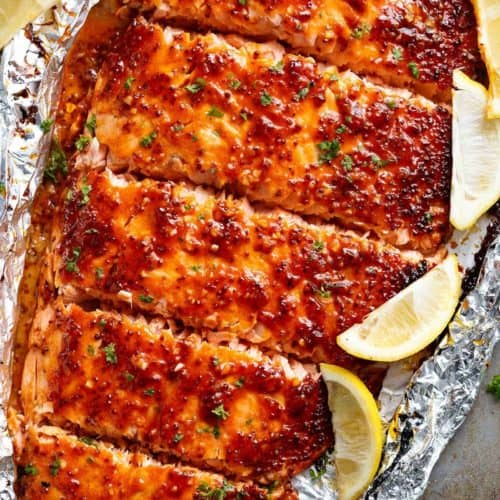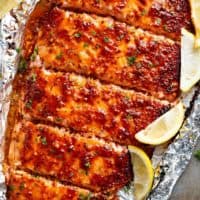 Honey Mustard Salmon In Foil
Honey Mustard Salmon In Foil is a quick and easy salmon recipe, leaving you with no pans to wash and a juicy salmon for your dinner table!
PRINT
SAVE
go to your favorites
Ingredients
1/3

cup

honey

1/4

cup

butter

1/4

cup

whole grain mustard

2

tablespoons

smooth and mild Dijon mustard

5

cloves

garlic

peeled and minced

2

tablespoons

fresh lemon juice

1/4-1/2

teaspoon

chili powder (or cayenne powder)

OPTIONAL -- adjust to your tastes and spice preference*

1.2

kg

| 2 1/2 pound side of salmon

Salt

to season

Black cracked pepper

to taste

2

tablespoons

fresh chopped parsley

Lemon wedges

OPTIONAL
Instructions
Position a rack in the middle of the oven. Preheat oven to 375°F | 190°C. Line a baking tray / sheet with a large piece of foil, big enough to fold over and seal to create a packet (or 2 long pieces of foil over lapping each other lengthways to create your salmon packet, depending on the width of you fillet).

In a small saucepan, combine the honey, mustards, butter, garlic and lemon. Whisk until the honey has melted through the butter and the mixture is well combined.

Place the salmon onto lined baking tray | sheet. Pour the butter/honey mixture over the salmon, and using a pastry brush or spoon, spread evenly over the salmon. Sprinkle with a good amount of salt (about 2 teaspoons) and cracked pepper. Fold the sides of the foil over the salmon to cover and completely seal the packet closed so the butter does not leak.

Bake until cooked through (about 10-12 minutes, depending on the thickness of your fish and your preference of doneness). Open the foil, being careful of any escaping steam, and grill / broil under the grill / broiler for 3-4 minutes on medium heat to caramelise the top. Garnish with parsley and serve immediately with lemon wedges.
Notes
*If you don't want the addition of spice, leave it out all together OR add mild or sweet paprika for an added pop of colour.
Nutrition
Calories:
318
kcal
|
Carbohydrates:
13
g
|
Protein:
30
g
|
Fat:
15
g
|
Saturated Fat:
5
g
|
Cholesterol:
97
mg
|
Sodium:
250
mg
|
Potassium:
771
mg
|
Sugar:
11
g
|
Vitamin A:
340
IU
|
Vitamin C:
3.5
mg
|
Calcium:
31
mg
|
Iron:
1.5
mg