Your Most Favourite And Most Tried 21 Best Recipes, 2017!
Now that 2017 is coming to a close, I've gone back into the archives to find 21 Best Recipes of 2017! The MOST loved recipes by YOU. PLUS, with each recipe I've included some of the comments left by YOU, my AMAZING readers!
21 delicious things! SO many dinner ideas, some sides and some sweets! From Creamy Carbonara Chicken to Tuscan Shrimp, Browned Butter Salmon and the Best Pot Roast, we have got you covered!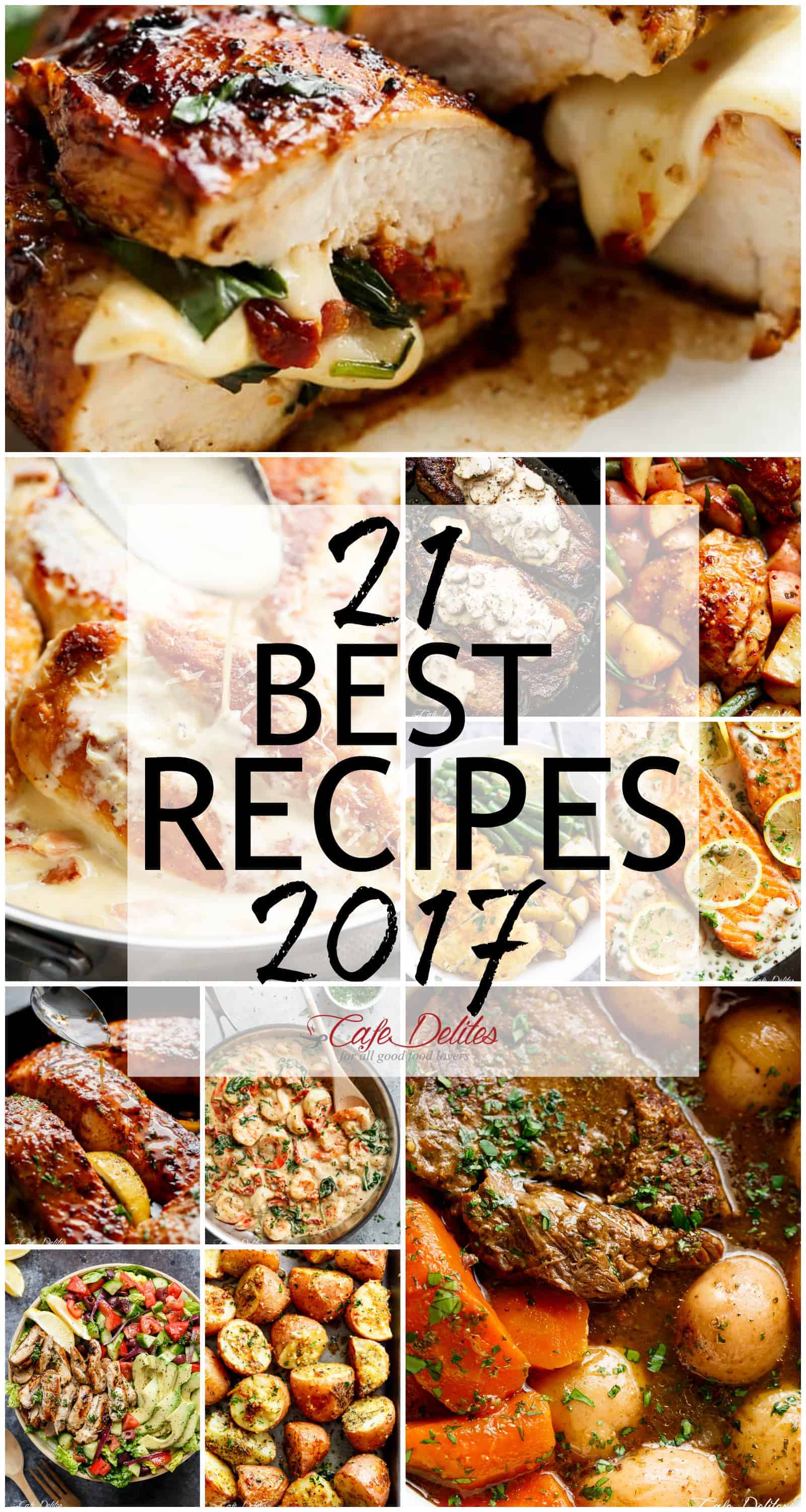 To see your favourites from 2016, scroll down and click on link at the bottom of the post!
COUNTING DOWN!
Browned Butter Honey Garlic Salmon
A Cafe Delites original recipe! Salmon steaks pan fried in browned butter, infused with garlic and honey, then grilled or broiled for an extra 6 minutes for extra golden, crispy and caramelised finish. Only 3 main ingredients in under 15 minutes.
"Hi, I found this recipe on Pinterest and HAD to try it ! I tried it once, and now we eat it at least once a week ! It is so delicious, thank you for this recipe!" — Celine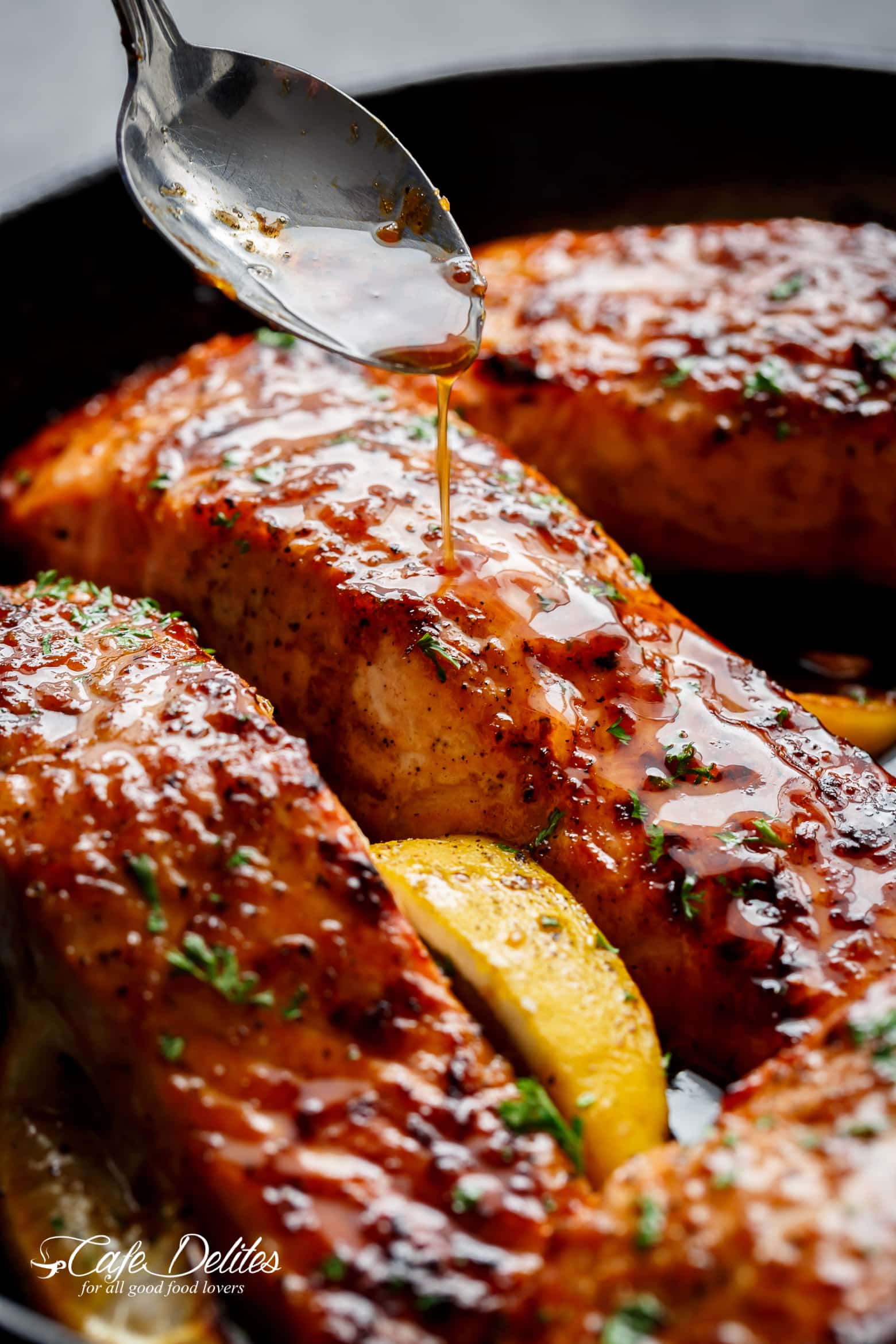 A ONE POT dinner made on the stove top, in less than 30 minutes! No extra pots or pans to wash up, and minimal work with simple ingredients! It will be hard to go back to regular Mac and Cheese after this!
"I made this last night and it came out awesome! It tastes as good as it looks. Perfect blend of flavors. Thank you so much!" — CATHERINE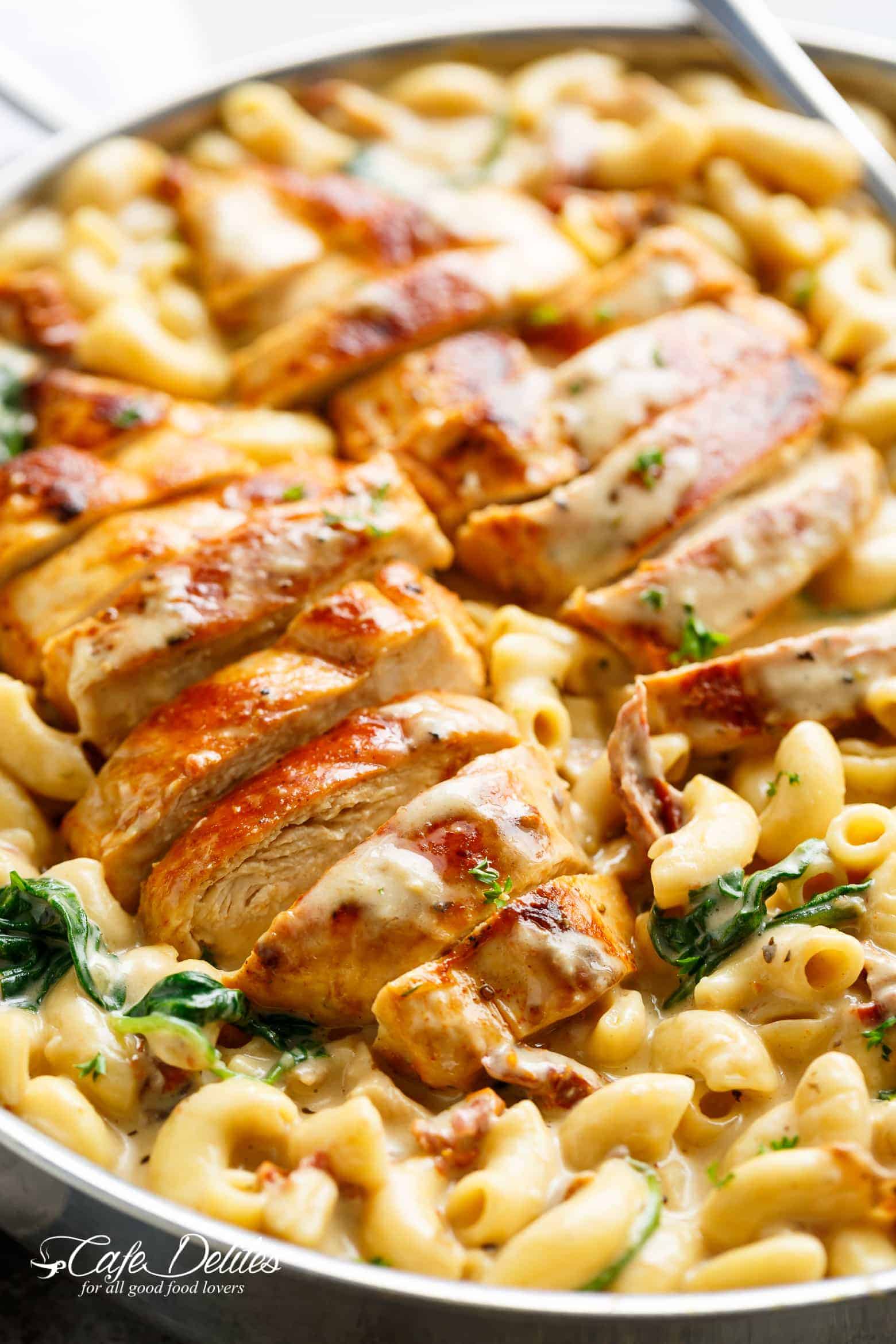 Creamy Garlic Parmesan Mushroom Chicken & Bacon
Packed full of flavour for an easy, weeknight dinner the whole family will love! Crispy chicken thighs in a garlic parmesan cream sauce loaded with sliced mushrooms and bacon. A perfect meal for all of your family and friends to enjoy!
"I made this recipe and it was the most delicious chicken dinner I have ever had. That is not an exaggeration. I have made Julia Child's recipes with wine and cream which was delicious, and I will honestly say that the sauce in this recipe was better than Julia Child's white sauce….The next day after I cooked this chicken dinner, I went back to the store and got ingredients to make some more of the sauce and I froze the sauce in increments for other dinners…." — CHERYL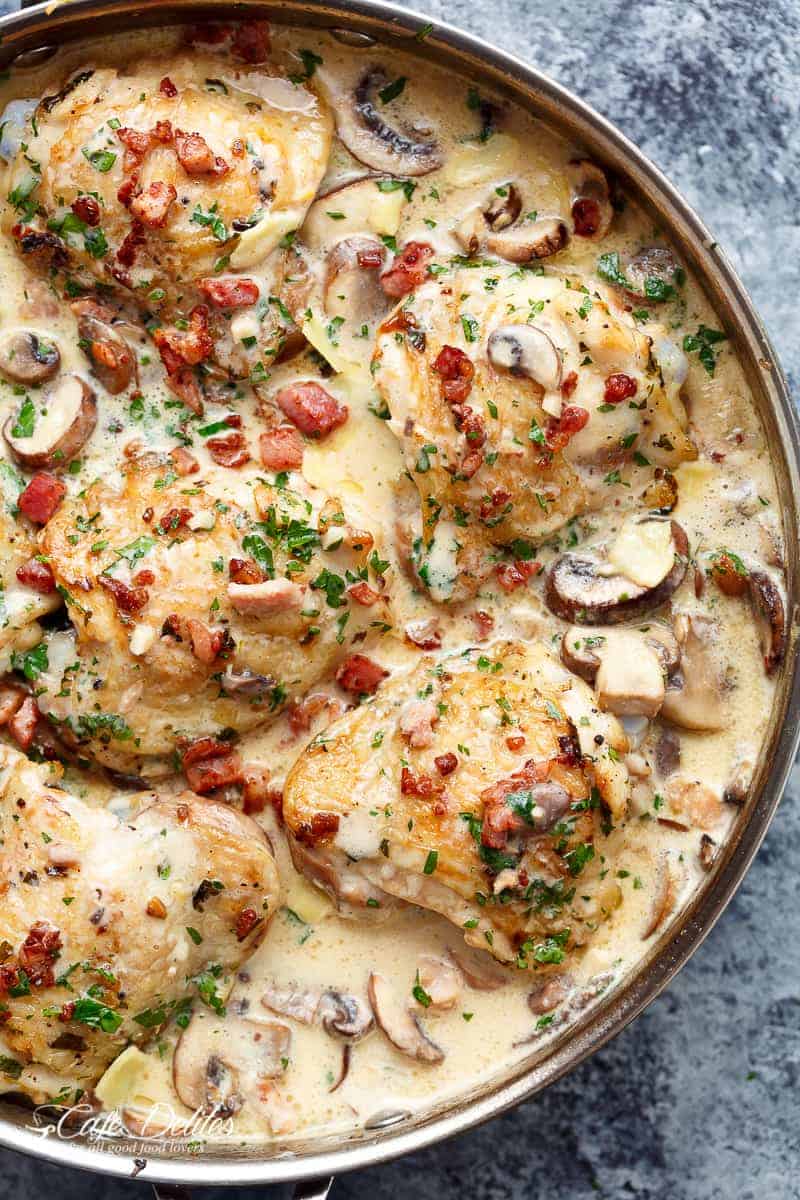 Slow Cooked Balsamic Pot Roast (Slow Cooker, Instant Pot or Oven)
Perfect for an easy weekday or weekend dinner! Fall apart-tender beef is slow cooked in a garlic balsamic sauce, along with potatoes and carrots to complete your meal!
"This was delicious! My husband hates roast and he loved it! I am making it twice this week." — JULIE
Garlic Butter Smashed Sweet Potatoes are crispy and buttery on the outside, while soft and sweet on the inside, making way for one of the best ways to eat a sweet potato!
"My fiance has not stopped talking about this recipe since I made them — they were seriously the BEST. We just kept rolling our eyes with happiness the whole time we were eating!!! I'm making more tonight and he's so excited he invited friends over — thanks for the amazing recipe!" — CARA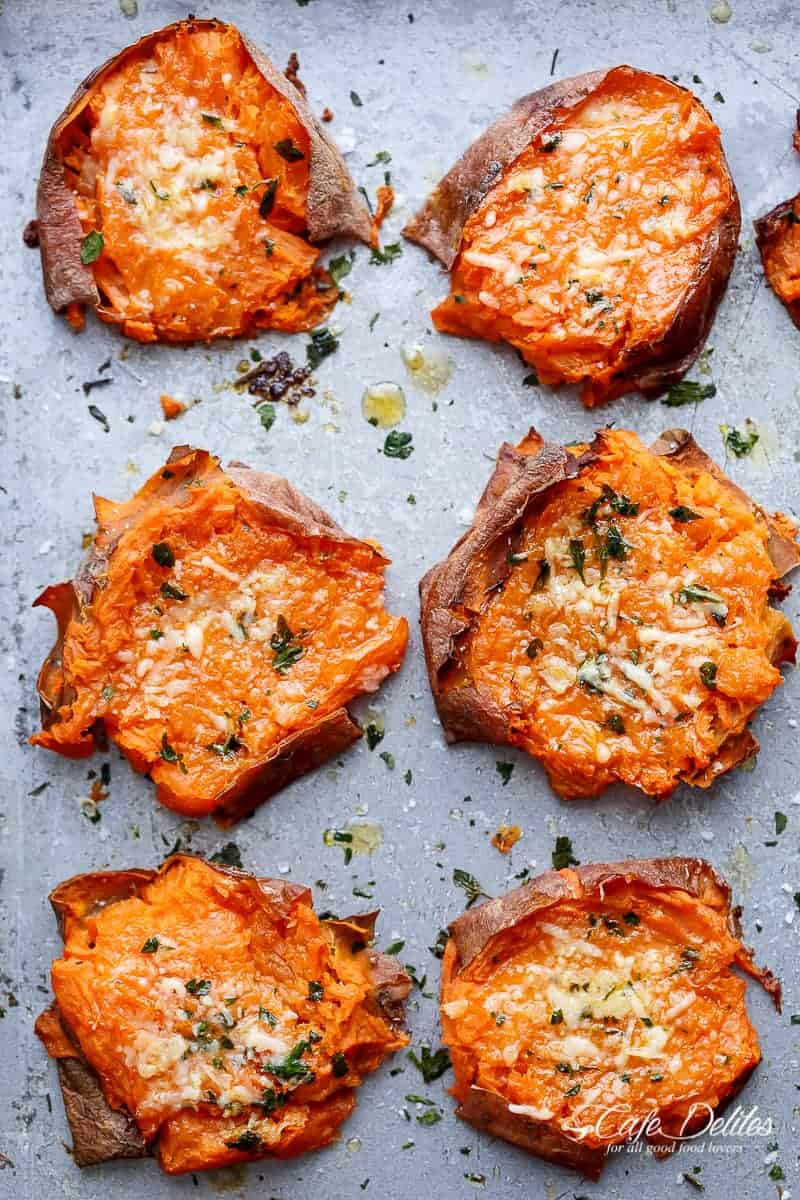 Creamy Sun Dried Tomato Parmesan Chicken
There's so much flavour happening in this pan right now. Pan fried garlic followed closely by sun dried tomatoes and mushrooms AND melted parmesan cheese through this sauce makes this dinner incredible.
"Thank you for your amazing recipes Karina. I used to have trouble getting my son to visit with his very busy work schedule but as soon as I tell him i'm making a dish like this he makes the time to visit. I also have to make more and freeze it for him so he can take them to work to eat in his lunch hour (he's the envy of his work colleagues who believe his dad is a master chef and want him to take them food in). Thank you once again for some amazing recipes, you are a godsend to this old fart who found his kitchen later on in life." — NEIL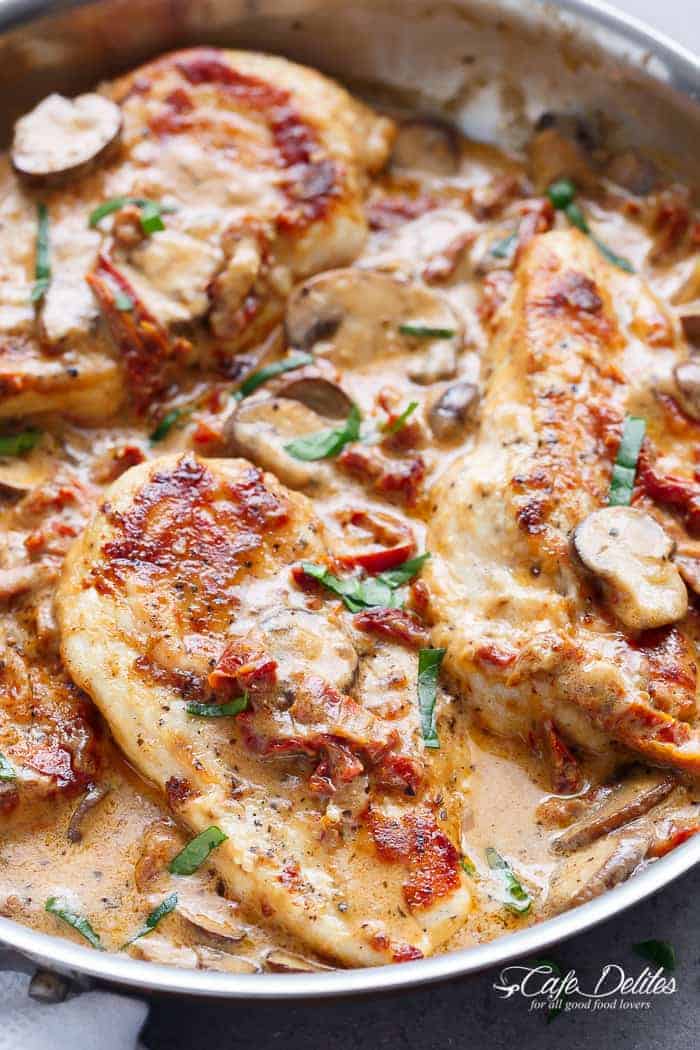 Honey Mustard Chicken & Potatoes
Succulent chicken thighs are cooked in the best honey mustard sauce, surrounded by green beans and potatoes for a complete meal in ONE PAN!
"This was so good, thank you! My husband could not stop saying, 'this is so good' lol! I'm not a huge honey mustard fan but you're right, this is the one to try." — ESTHER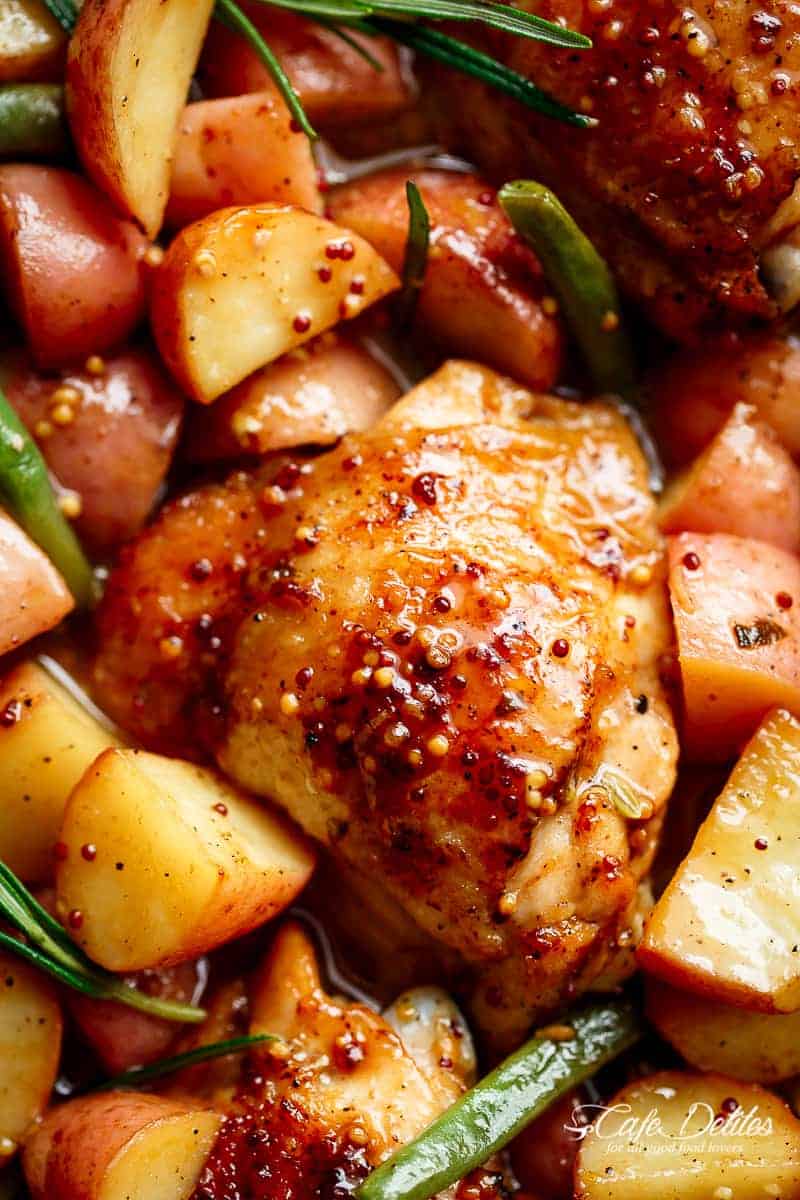 Move over chicken…. THIS creamy salmon piccata is THE classy yet easy salmon recipe you've been waiting for, with a delicious creamy lemon caper sauce!
"I rarely take the time to go back and make comments on recipes I make from online. However my family loved this recipe so much I just had to pop by and say so. Thanks for sharing what will surely be a new favorite!…." — ANN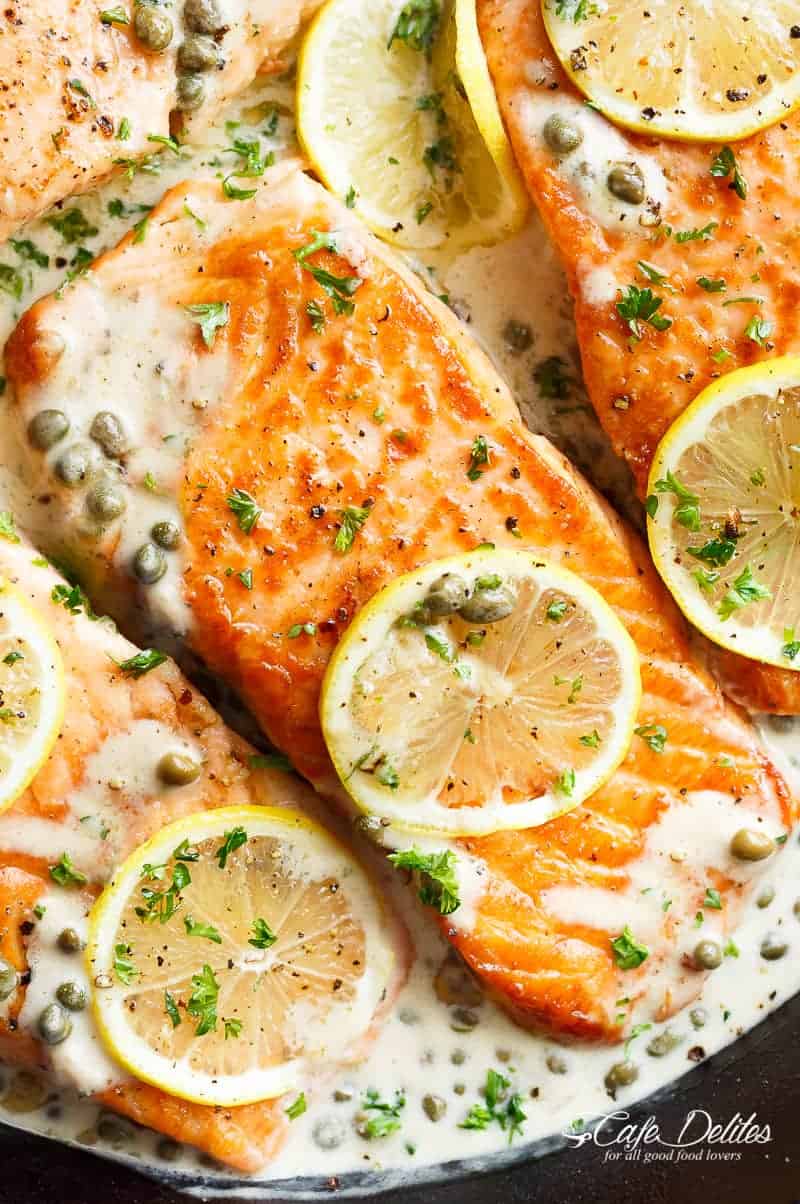 Cinnamon rolls with a cream cheese glaze are super fluffy and light with a simple homemade dough, and a quick method to get baking!
"Greetings from Cape Town! This recipe has never failed and is a resounding hit. Thanks for the useful tips, step by step guide and "easy to use" approach. Thank you for this recipe!" — SANDISIWE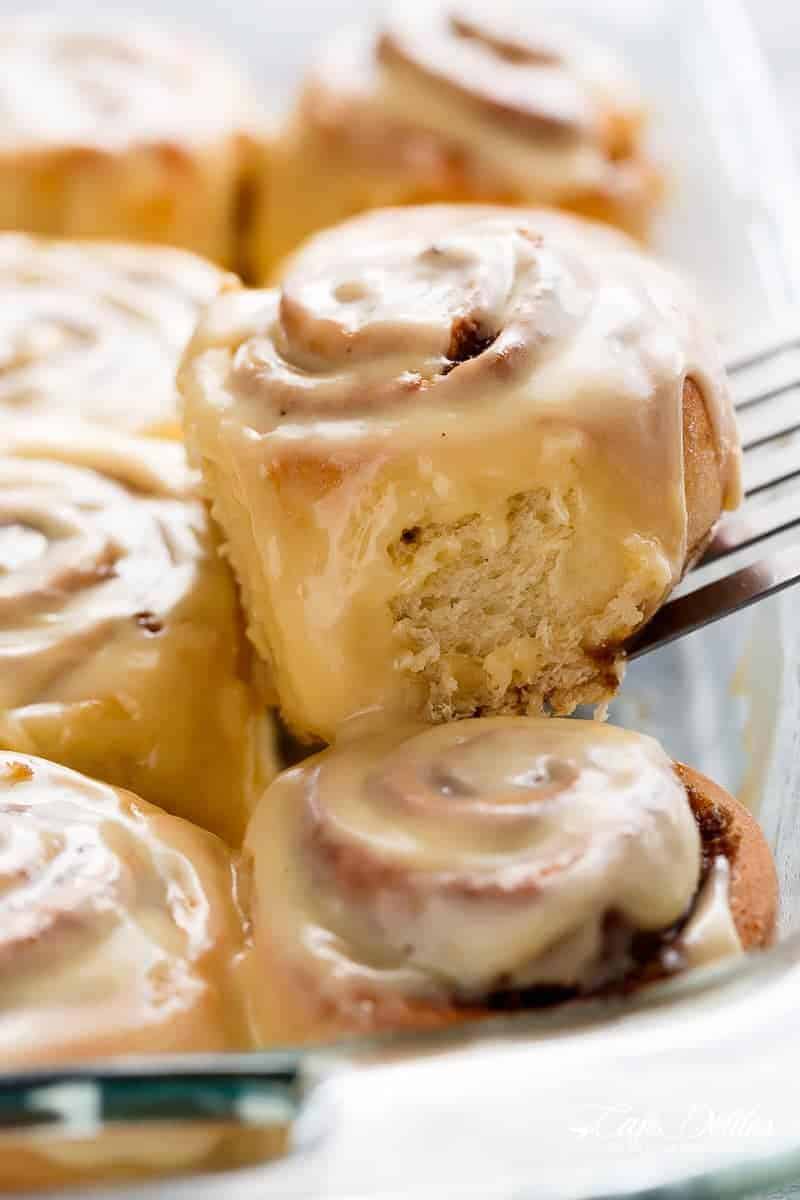 Caprese Stuffed Balsamic Chicken
A twist on the classic Caprese! Succulent chicken is filled with both fresh and sun dried tomatoes for a flavour packed chicken PLUS melted mozzarella cheese! Cooked in a perfect balsamic reduction, this is the chicken of your dreams!
"My mother flew cross county to visit and showed me this recipe. I made it and wooow! Amazing." — BRYANT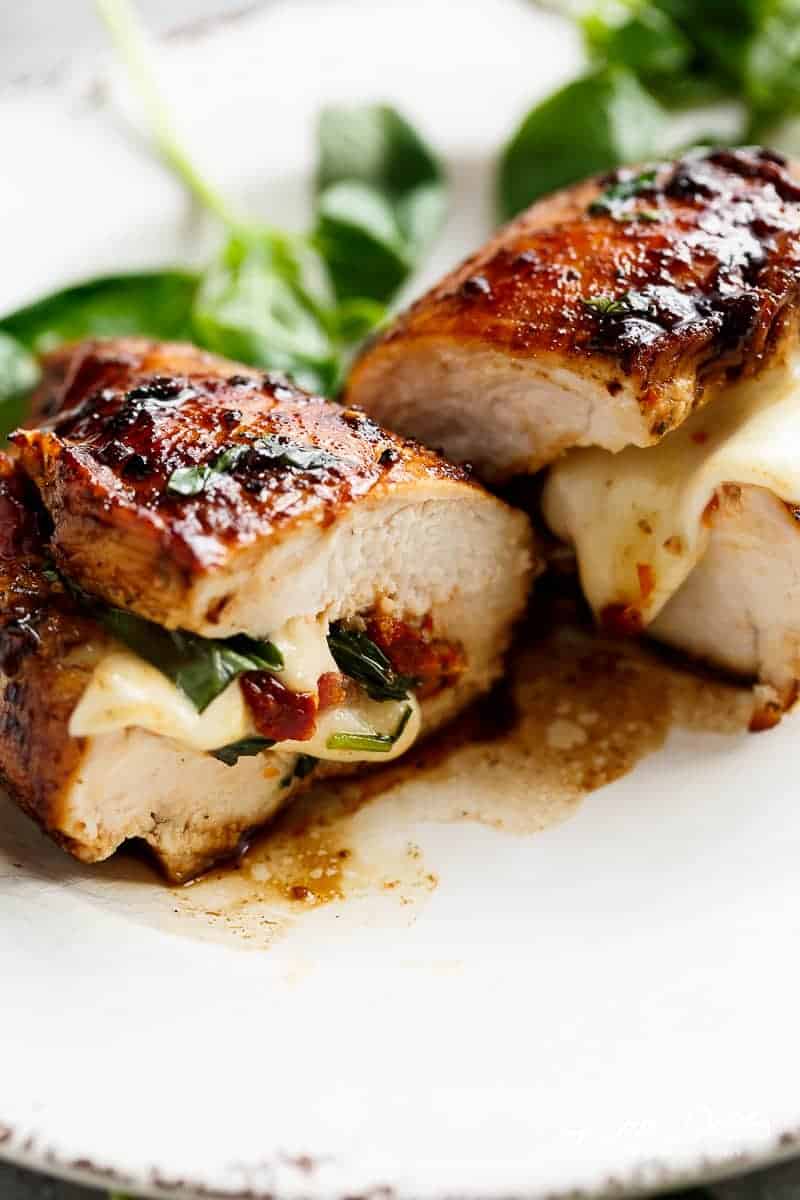 Pan Seared Garlic Butter Steak & Mushroom Cream Sauce
A perfect dinner for date night week night or any occasion that deserves something charred and extra juicy on the table!
"…tried it out for dinner last night for my family. IT WAS A HIT! Very delicious…it was awesome! I am looking forward to trying out other recipes of yours in the future. Thanks!" — Raphaela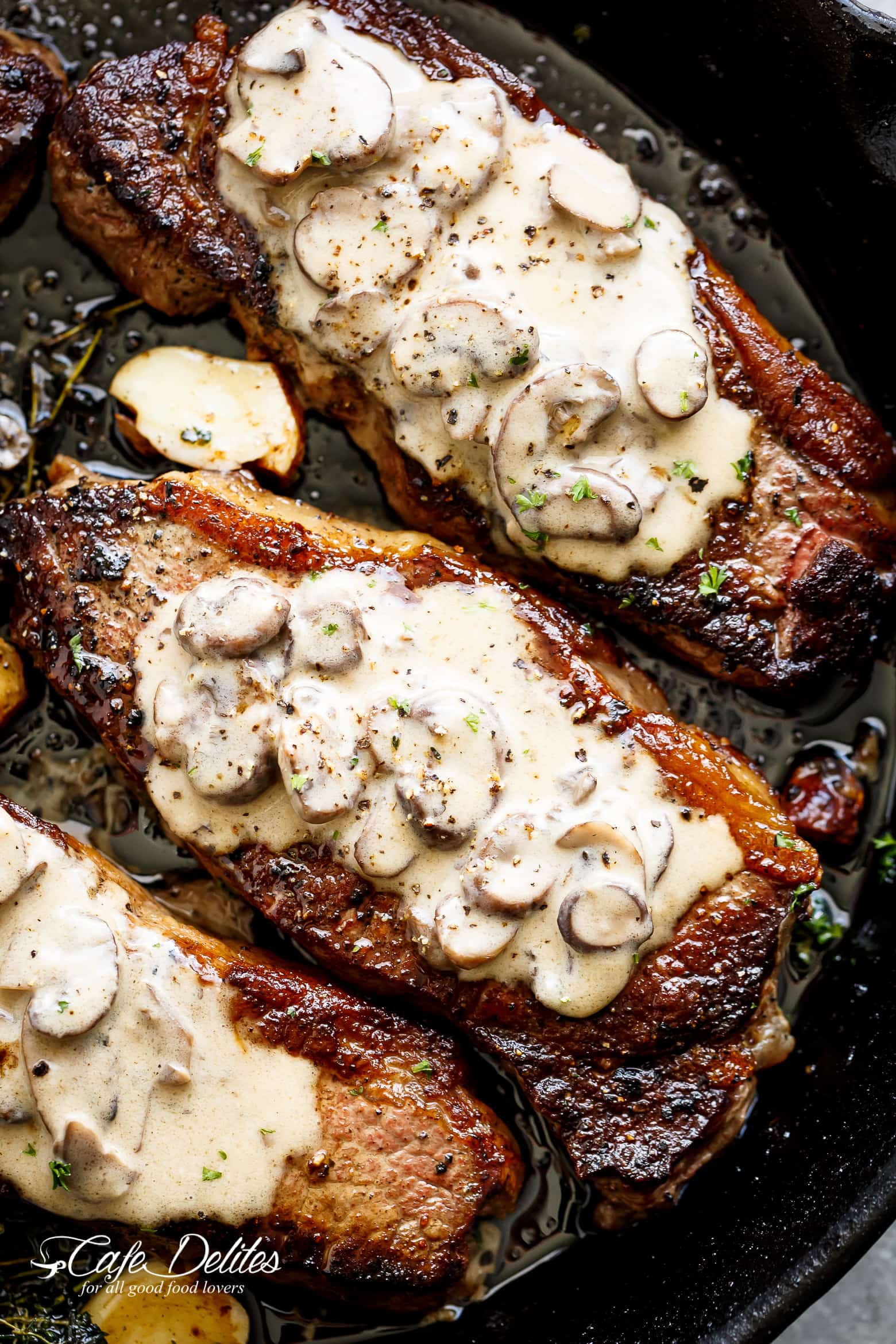 Browned Butter Roasted Potatoes
A delicious side dish with so much flavour, these potatoes go with ANYTHING! Regular roasted potatoes are one thing, BUT these potatoes are on a whole other level!
"Karina, your recipes are simply delicious. Do you have a recipe book on sale? If so, where can I purchase it?" — JIM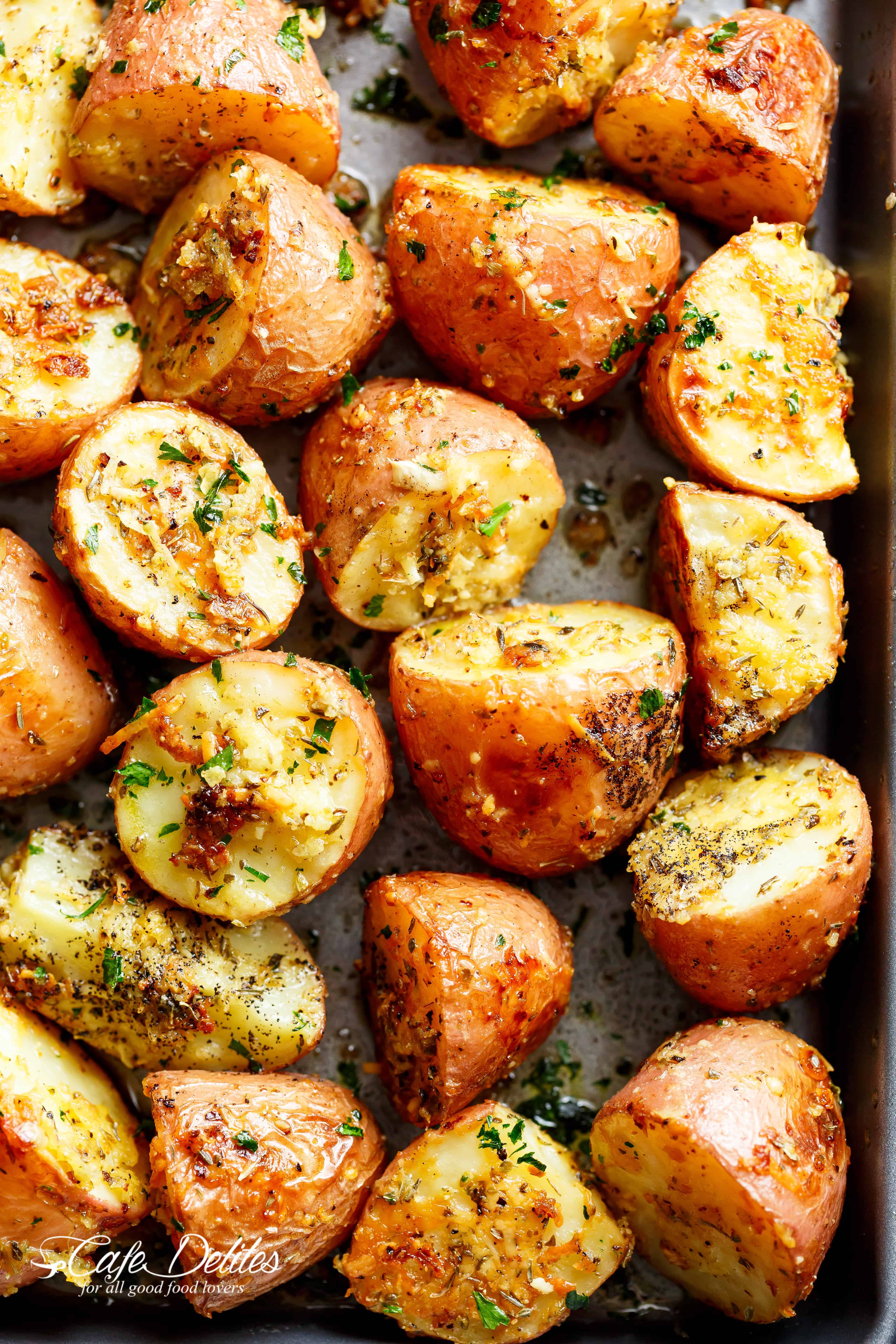 Spinach Artichoke Stuffed Chicken
Spinach Artichoke Stuffed Chicken Breasts is a delicious way to turn a creamy dip into an incredible dinner! with the option of serving it with a 'no cream' creamy sauce!
"OOOOOohhhh MY! I am admittedly a terrible cook. I found this recipe, and thought to myself, UGH… I hate artichokes… they are so slimy… and the Italian spice, yeah, not fond of that either. This recipe was THE BOMB!" — DEE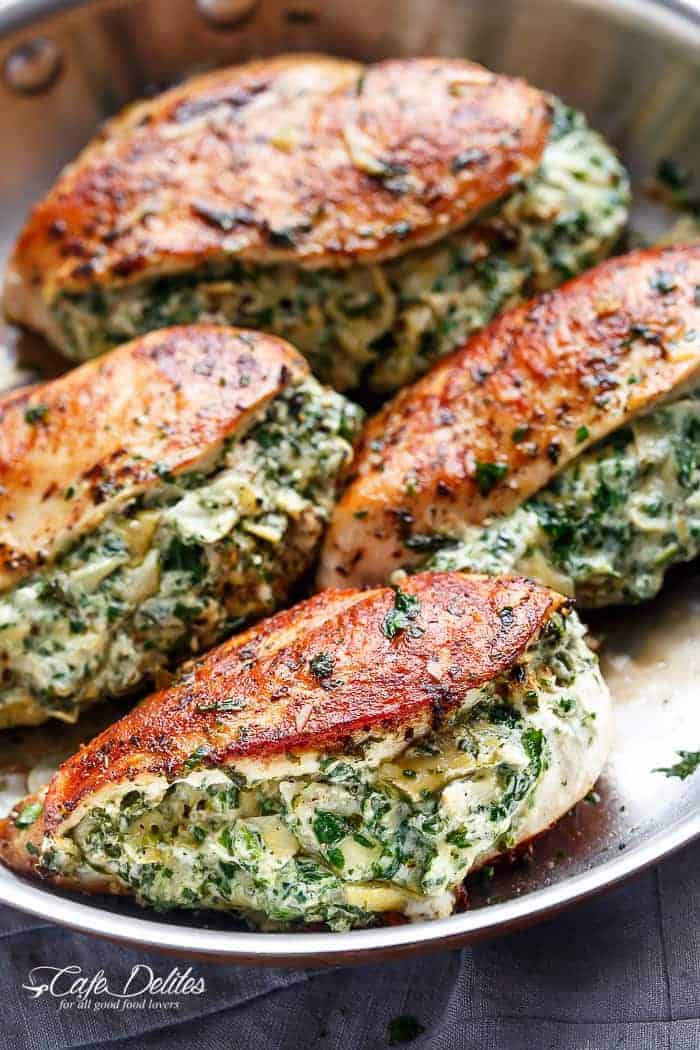 Creamy Parmesan Carbonara Chicken (No Egg)
The ultimate twist with Carbonara flavours! Crispy, golden chicken fillets soak up a carbonara inspired sauce for a new chicken recipe loved by the entire family!
"Oh my goodness. I'm embarrassed to admit that I, a 47 year old woman, literally just licked my plate clean. This was absolutely wonderful. Thank you, thank you, thank you!!!!" — MICHELLE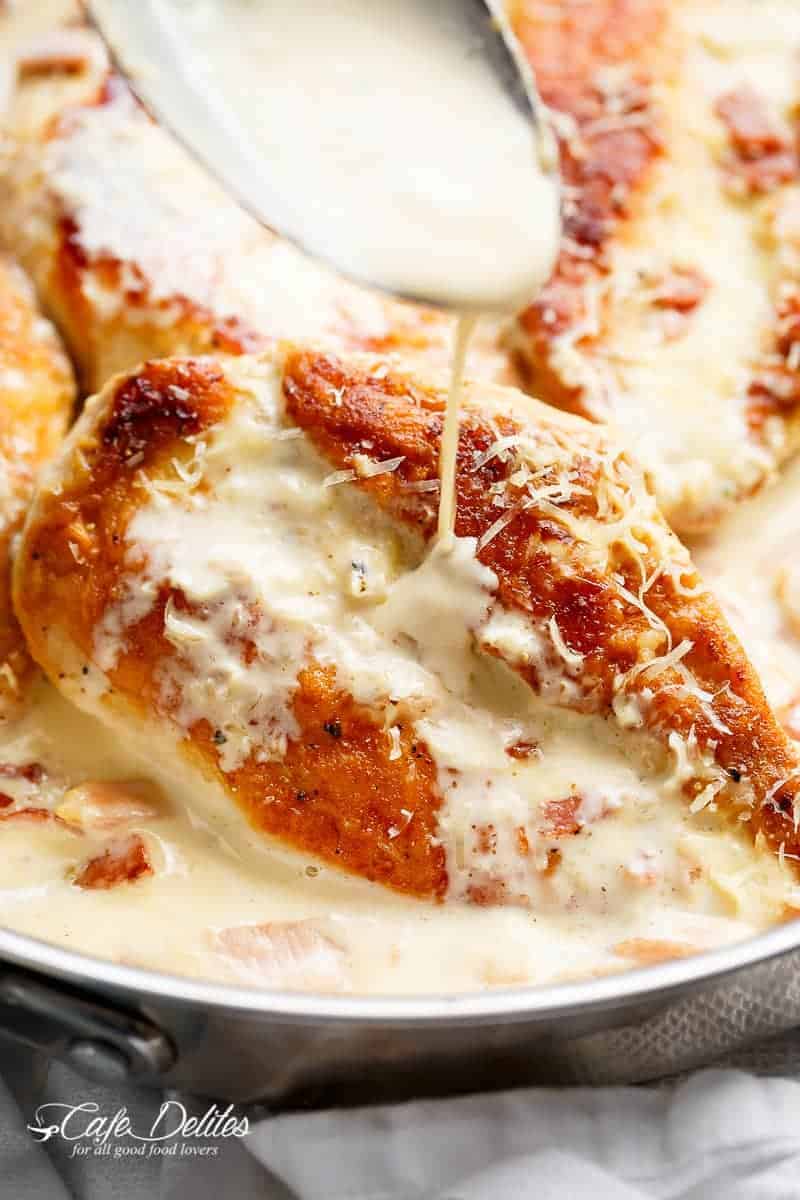 Hot Fudge Chocolate Pudding Cake
An extremely easy and fast to make! A rich chocolate fudge sauce forms underneath a layer of chocolate cake while baking, by itself! With two different cocoa powder tests, see the different results for yourself!
"I tried this on a whim last night and it was phenomenal! I am a self-proclaimed broke college student with no talent of cooking. But this worked well! My parents loved it and it has become our new dish to bring to parties. My mom also wanted to note that it is still delicious the day after." — RJ RISUENO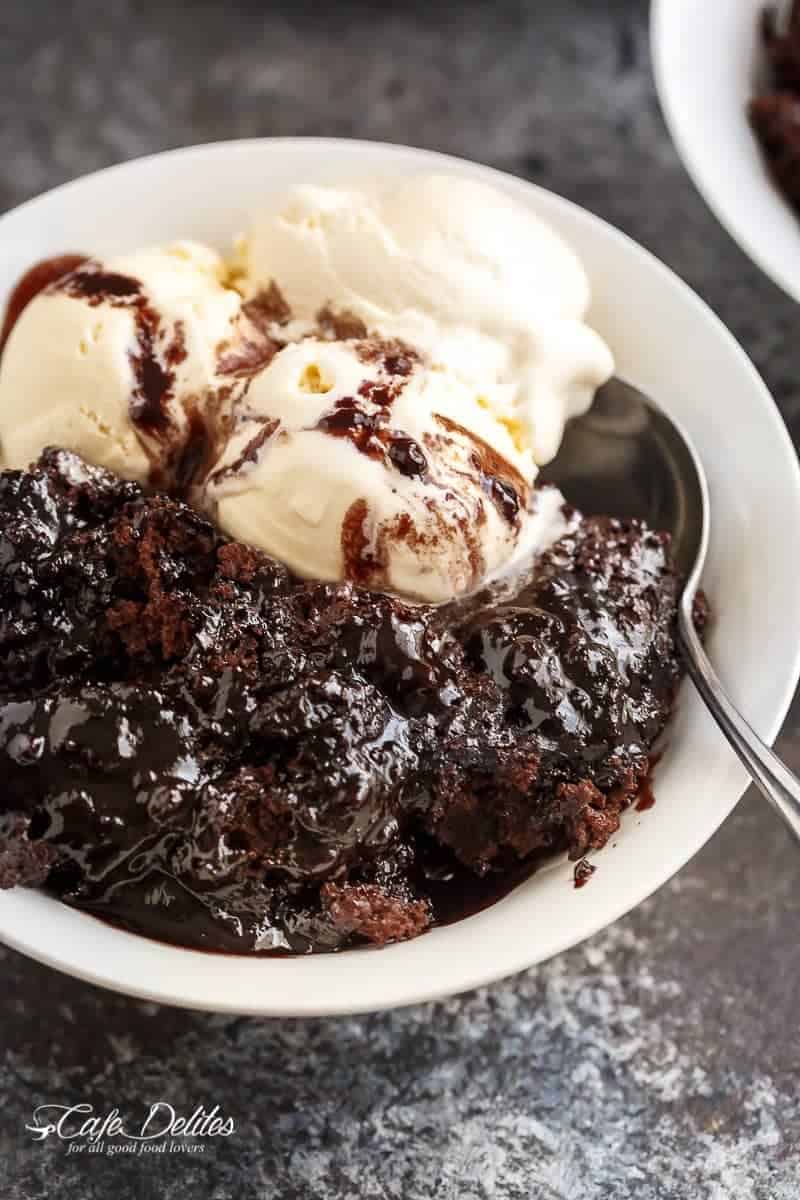 Caprese Stuffed Garlic Butter Portobellos
Portobello mushrooms stuffed and broiled with garlic butter and fresh mozzarella cheese, grape tomato slices and drizzled with a rich balsamic glaze! Low carb heaven!
"I made these last night with some smaller portobellos I had left over and they were incredible! They could have been a fancy appetizer from an upscale restaurant! Fortunately I was home alone so didn't have to share them with anyone…I'll definitely be making these again and will share next time. Thanks so much for sharing this awesome recipe." — HEATHER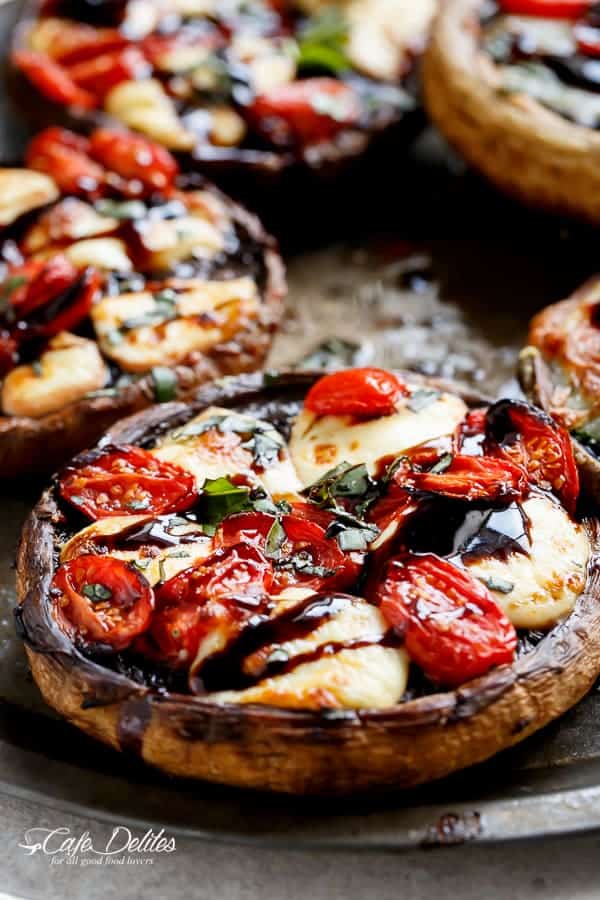 Quick & Easy Creamy Herb Chicken
Picture this: Tender chicken breasts simmered in a flavourful and creamy herb sauce with a hint of garlic = easy weekday meal. The sauce pairs perfectly over rice or pasta!
"Holy cow! This recipe was SO good! I made this for my family last night and it came out amazing! I love that it was a recipe I already had the ingredients for and it only took like 30 min. It was good with mashed potatoes, but I could also see it going great with pasta! Thank you! Two thumbs up!" — SOMMER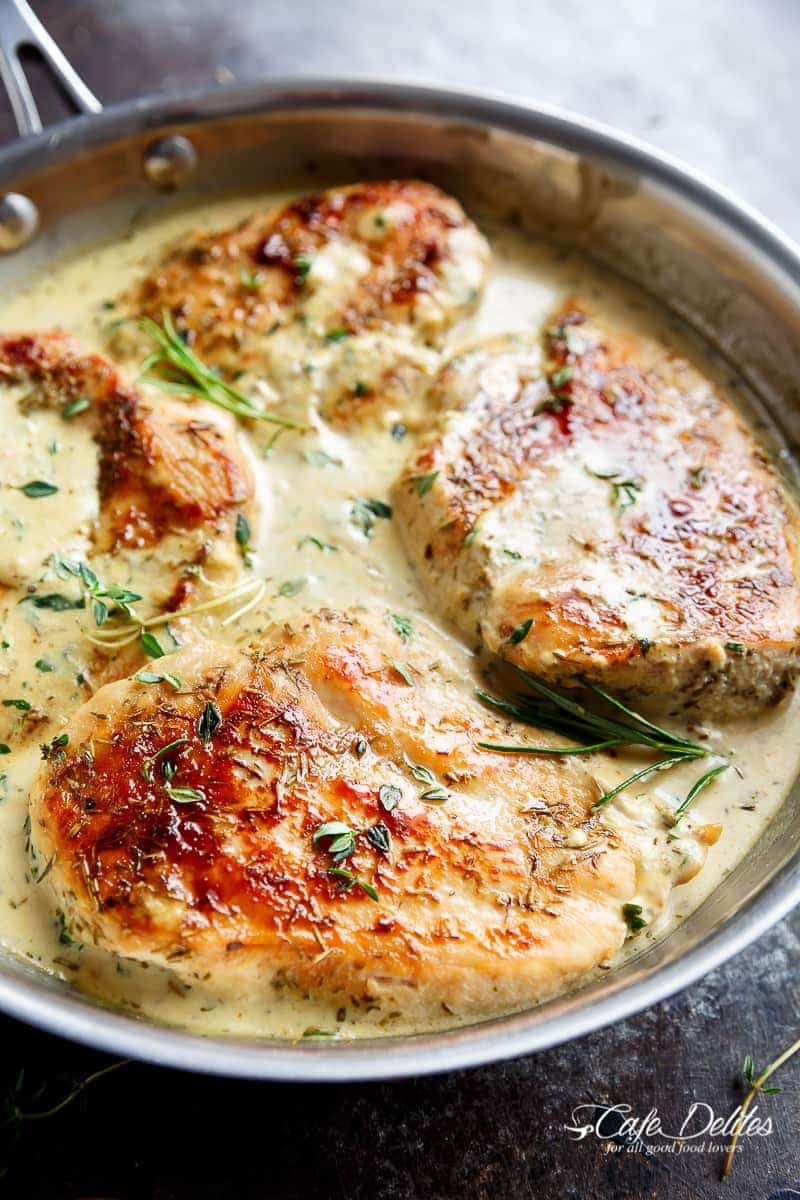 Grilled Lemon Herb Mediterranean Chicken Salad
With a dressing that doubles as a marinade, this Grilled Lemon Herb Mediterranean Chicken Salad recipe is as closest to perfect as you can get! Full of Mediterranean flavours: olives, tomatoes, cucumber, avocados, and chicken for a complete meal in a salad bowl!
"This is one of my favorite salads! Made it 3 times at least and now, will make it again! Thank you for the great recipe." — POLINA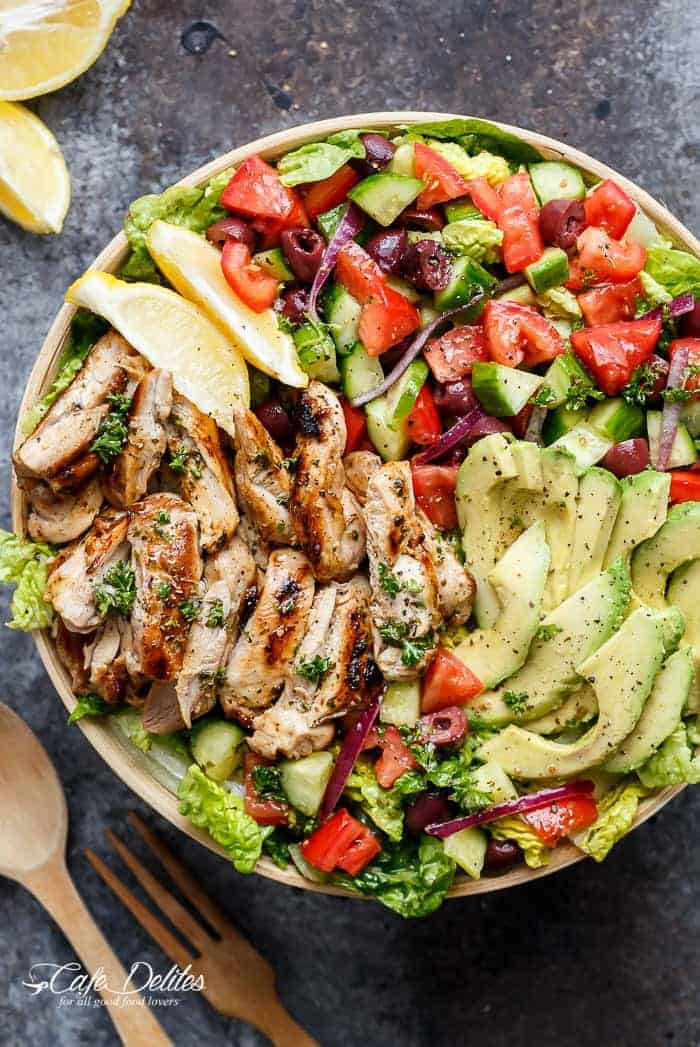 Garlic Steak & Cheesy Bacon Potato Hash Foil Packs
Two favourites cooked in one pack with NO pans to wash up afterwards! Cheesy potato hash + tender-juicy-charred steak + garlic butter for the ULTIMATE flavour combination!
"My children are very picky eaters and they all loved this steak/potatoes packet. Thanks!" — ISELA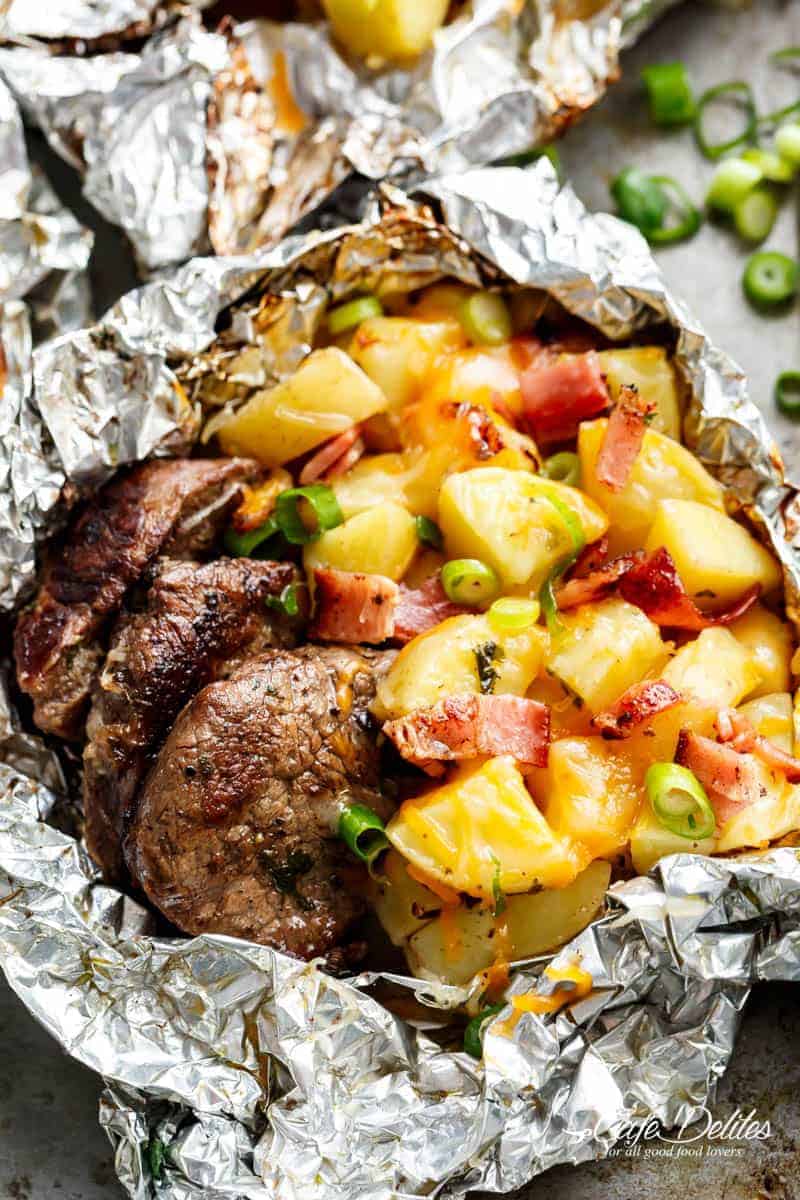 Sheet Pan Lemon Parmesan Garlic Chicken & Veggies (Milanese)
Oven baked and CRISPY Sheet Pan Lemon Parmesan Garlic Chicken & Veggies is a complete dinner, with potatoes and green beans smothered in a garlic butter sauce! All on the one pan. SO easy!
"This is my go-to recipe for when company comes, when I'm short on time, when i want something really yummy…basically, anytime!! Thanks for sharing this recipe. It's one of my faves!" — JEN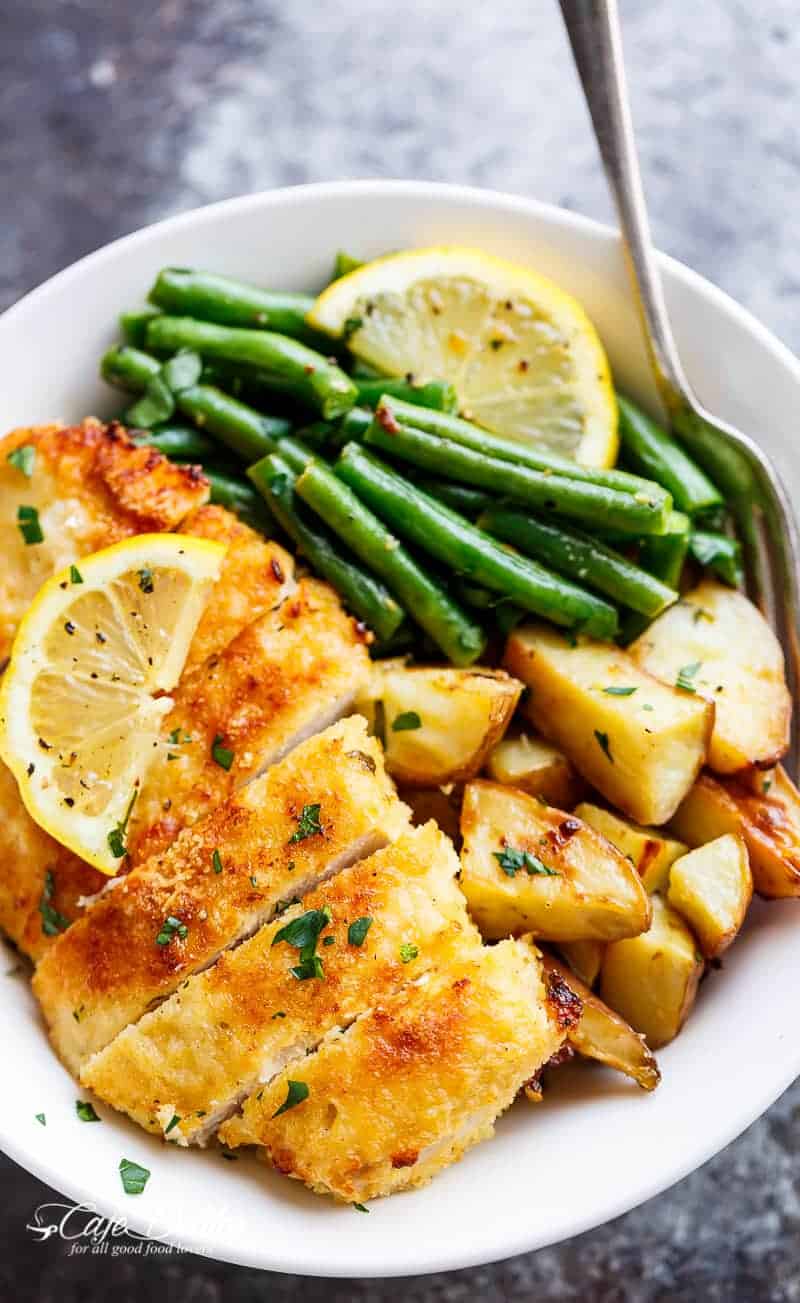 Creamy Garlic Butter Tuscan Shrimp
Coated in a light and creamy rich garlic parmesan sauce filled with sun dried tomatoes and spinach! Guaranteed to impress! Leave people wondering if there is a hidden chef in your kitchen with this one!
"This IS so good, thought I was eating at a restraunt, but even better!
Thanks!" — DC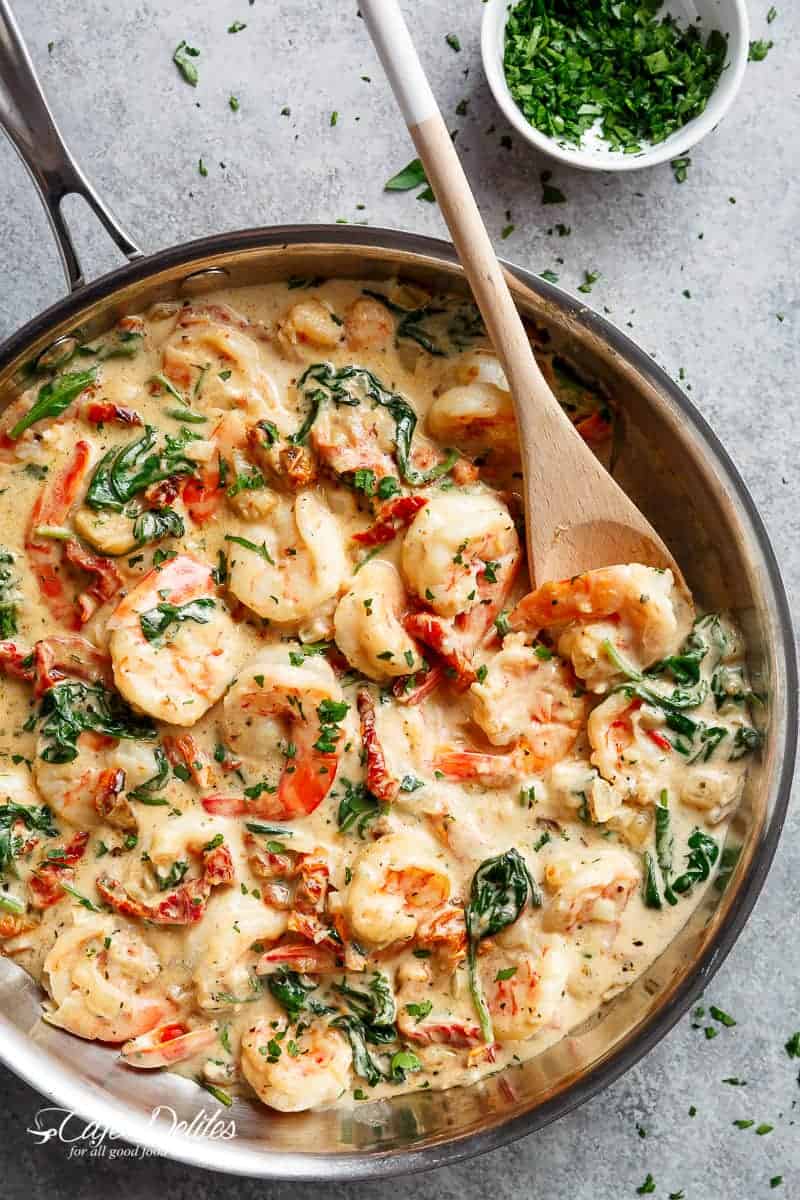 21 BEST RECIPES of the year!
To see last years favourites, click here!
For the BEST LOW CARB and LOW FAT ROUND UP, click here!
---
THANK YOU FOR BEING THE BEST READERS ON THE WHOLE WIDE WORLD OF THE WEB!