Creamy Garlic Parmesan Mushroom Chicken & Bacon is packed full of flavour for an easy, weeknight dinner the whole family will love!
Creamy Garlic Parmesan Mushroom Chicken & Bacon is a perfect meal for all of your family and friends to enjoy!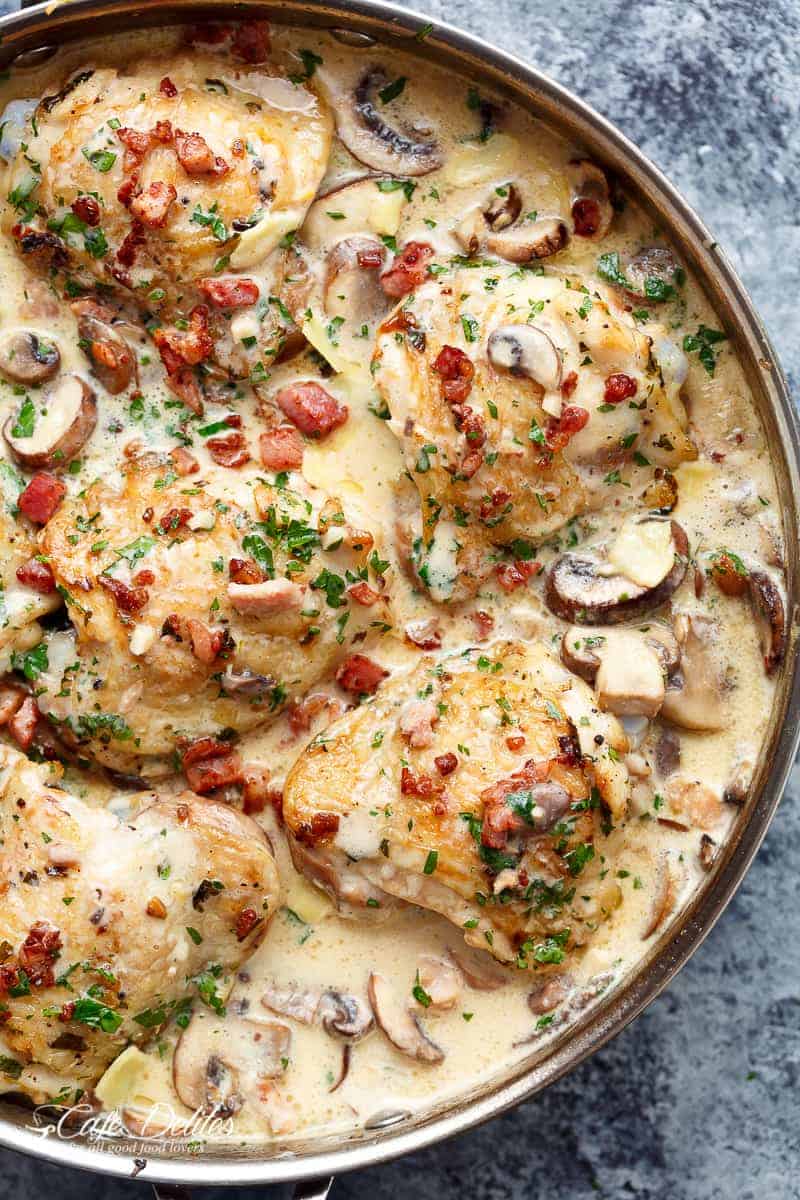 Where do I start with THIS PAN? The crispy skinned, juicy chicken thighs ? Or the crispy bacon? Maybe the garlic / parmesan cream sauce loaded with sliced mushrooms? Where where WHERE?
I can't.
For lower calorie and points purposes, I've included a cream free option for those of us worried about squeezing jeans passed our non-forgiving thighs. Creamy sauces are a favourite over here and I usually cheat on cream with milk like in this creamy piccata OR this sun dried tomato chicken. HowEVER, I sometimes like to use a reduced fat cream, because HELLO IT'S CREAM. ALSO, for those of you following low carb and high fat, go for gold with the heavy cream! May the fats be forever in your favor.
Dinner in my house has been looking a lot like this lately — mighty fine if you ask me. 30-40 minute dinners where my oven is fast becoming my bestest friend. With the birth of all of our videos happening, creating chaos in my house PLUS Facebook lately (you can peak at them here — our latest two garnering around 6 million views each!), I've been pulling out our old family favourite recipes and wondering why the hell I haven't shared them yet.
This one takes the cake. Or the cream. Whatever.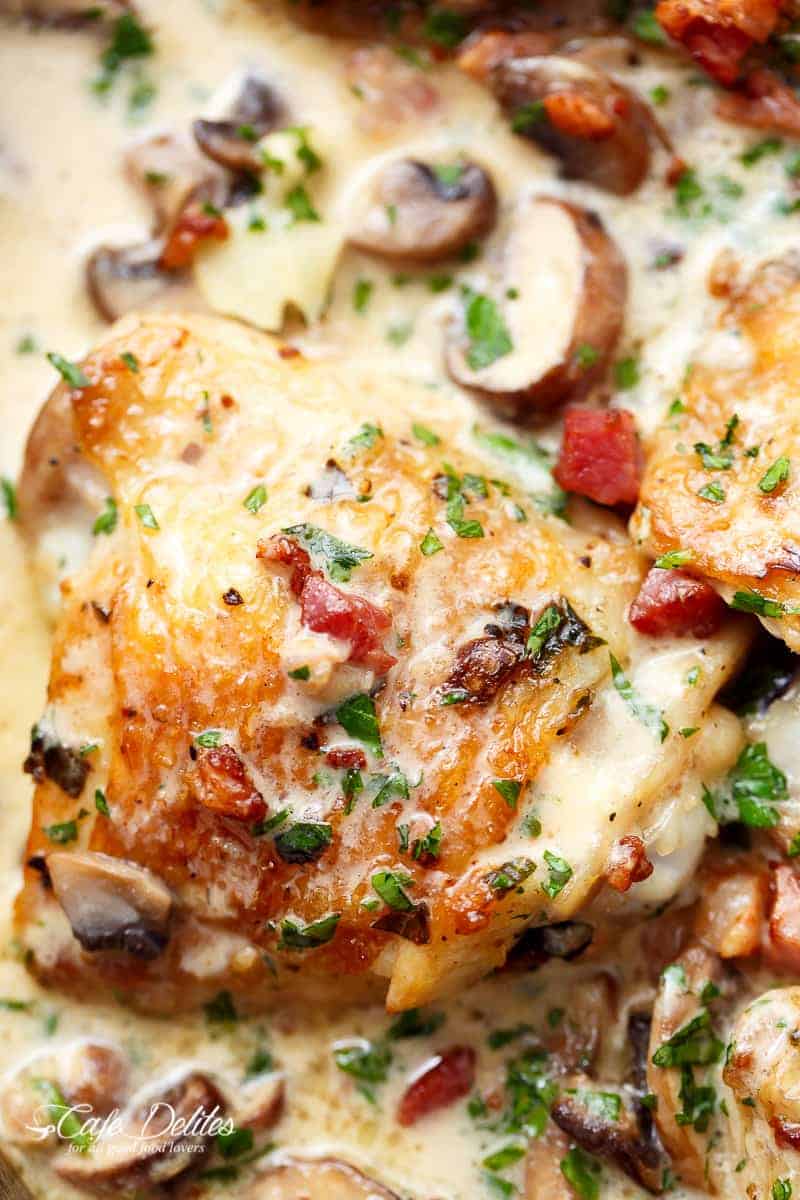 Parmesan and garlic together are flavours seen and devoured in most of our family recipes. Garlic Parmesan Mashed Potatoes, Garlic Parmesan Salmon, Garlic Parmesan Mac And Cheese, Garlic Parmesan Sweet Potatoes, etc. When sharing this Mac and Cheese video on Facebook, my husband was all over me (not in THAT WAY PEOPLE), telling me to try the same flavours in a creamy sauce with CHICKEN AND THROW IN SOME BACON FOR GOOD MEASURE.
OKAY THEN HUSBAND.
Me being the always listening and forever obeying wife (*ahem*), obliged.
So here we are. You will have to thank HIM for this Creamy Garlic Parmesan Mushroom Chicken.
P.S: The video is coming SOON. Keep your eyes peeled.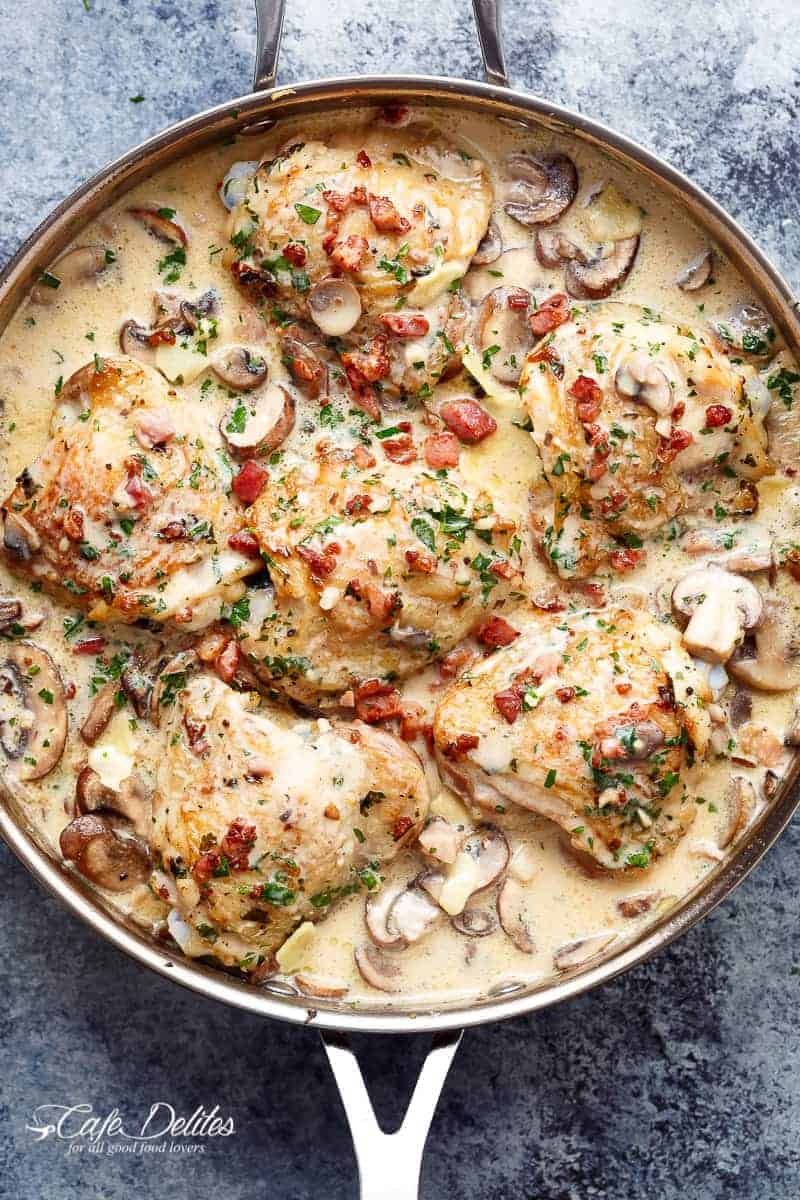 REMEMBER TO SUBSCRIBE TO CAFE DELITES NEWSLETTER FOR FREE AND RECEIVE FRESH RECIPE NOTIFICATIONS DELIVERED INTO YOUR INBOX!
If you try a recipe, please use the hashtag #cafedelites on INSTAGRAM for a chance to be featured!
FOLLOW CAFE DELITES ON FACEBOOK | INSTAGRAM | PINTEREST | TWITTER FOR ALL OF THE LATEST CONTENT, RECIPES AND UPDATES.
Creamy Garlic Parmesan Mushroom Chicken & Bacon
Creamy Garlic Parmesan Mushroom Chicken & Bacon is packed full of flavour for an easy, weeknight dinner the whole family will love!
AN ORIGINAL CAFEDELITES © RECIPE
Ingredients
FOR THE CHICKEN:
6

bone-in

, skin-on or off chicken thighs

1

tablespoon

olive oil

2

cloves

garlic

, crushed

2

tablespoons

chopped fresh parsley leaves

Kosher salt and freshly ground black pepper

, to taste
FOR THE CREAM SAUCE:
4

cloves

garlic

, crushed

7

ounces

| 200 grams diced bacon

14

ounces

| 400 grams sliced brown mushrooms

(cremini)

1

cup

cream OR milk*

1/2

cup

chicken broth

1/2

cup

freshly grated Parmesan

Freshly ground black pepper

, to taste

Salt

, only if needed to your taste

Extra chopped fresh parsley

, to garnish

Fresh shaved or grated parmesan

, to garnish
Instructions
Preheat oven to 200°C | 400°F.

Arrange chicken on a plate. Combine together the olive oil, garlic, parsley, salt and pepper in a jug. Rub the oil mixture over the chicken to completely coat.

Heat a

large, oven proof pan or skillet

over medium high heat. Sear the chicken, skin-side down first, until skin is crisp and golden brown. Rotate and sear the other side (about 2-3 minutes per side).

Transfer to oven and roast until completely cooked through, about 25-30 minutes.

Once chicken is done, remove from skillet; set aside. Pour out HALF of the chicken juices left in the pan.

Using the same skillet the chicken was in, fry the garlic in the reserved chicken juices over medium heat, stirring frequently until fragrant, about 1 minute. Add the bacon and fry until just beginning to crisp. Add in the mushrooms and cook until mushrooms begin to soften.

Pour in the cream OR milk, chicken broth and Parmesan; allow to simmer until slightly thickened, about 2 minutes. SEE NOTES if using milk INSTEAD of cream option)

Season with pepper. Taste first before adding in any extra salt, as the bacon will add the salt.

Add the chicken back into the pan; allow to simmer for 1-2 minutes in the cream to take on the flavours.

Garnish with parsley and shaved or grated parmesan, if desired. Serve over rice, pasta, or steamed/grilled vegetables.
Recipe Notes
*
If using cream
,
half and half
,
thickened cream
, heavy cream, or
light
or
reduced fat cooking cream
are all fine to use. If you prefer a thicker sauce, whisk together 1 level teaspoon cornstarch with 1 tablespoon milk until lump free and well blended. Add the mixture into the cream sauce, while stirring continuously, until thickened.
*
If using milk
, skim, low fat, full fat, almond, or cashew, etc are fine to use, to reduce calories. Add in the milk; bring to a simmer; whisk 2 teaspoons of cornstarch into 1-2 tablespoons of *extra* milk; pour cornstarch mixture into the centre of the pan; stir continuously until the milk thickens and becomes a 'cream'.
Nutrition facts are calculated based on skin-on, bone in thighs, and reduced fat cream.