Browned Butter Honey Garlic Salmon is a Cafe Delites original recipe! Okay. This is the deal. Salmon steaks pan fried in browned butter infused with garlic and honey; then grilled/broiled for an extra 6 minutes for extra golden, crispy and caramelised finish. Simple Browned Butter Honey Garlic Salmon. Only 3 main ingredients in under 15 minutes.
WATCH OUR RECIPE VIDEO HERE!
The browned butter cooks right into this salmon, and the honey and garlic give it such a beautiful flavour and charred finish in the oven.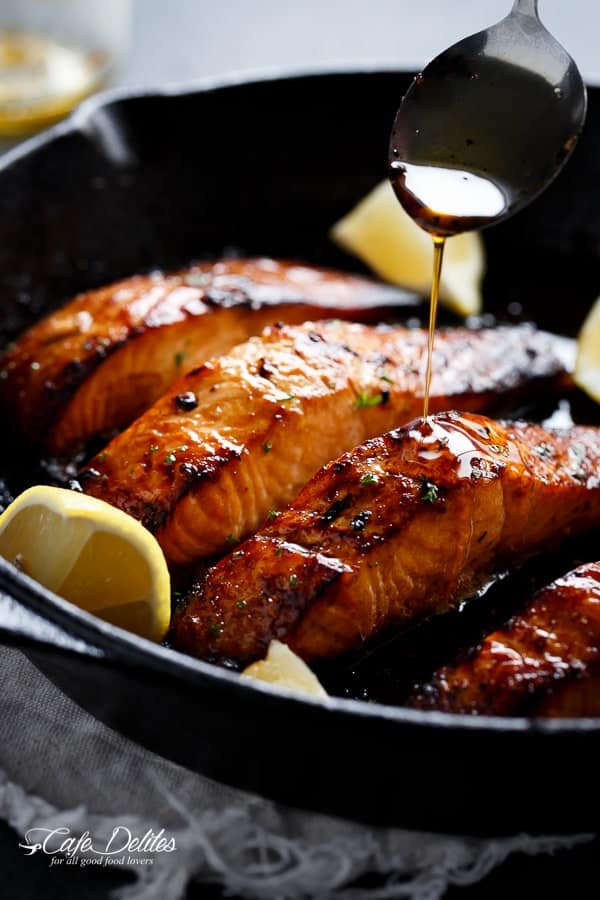 When I hear browned butter…I hear complicated. But when I said simple up there ↑ I really mean simple. Salmon broiled with a salty-sweet glaze. You'll be licking the plate clean! I mean, okay. Garlic butter has a taste to die for. However, when you take it that step further, and brown that butter first and then add your garlic to infuse all of those flavours into your browned butter? WOW! The combination is incredible! I looked online everywhere for something like this and couldn't BELIEVE it when I found out this flavour combo hadn't been explored!
I do have a few tips though!

How to make Browned Butter Honey Garlic Salmon:
The first step is to have all of your ingredients together and ready for you when you start cooking! This is an easy recipe where you need to act fairly quickly to get all of those flavours perfect in the pan. Also, make sure your oven shelf is not so close to your broiling/heat element, or your salmon will burn. A good 8-inches away is a great place to start.
Step two: brown your butter. As much as it may sound intimidating or difficult to do, it's the easiest thing in the world! My advice? Make sure your heat is on medium-high. If you have a 'stove that runs hot,' then medium is enough. After your butter melts, watch it continuously while it bubbles up, then foams and starts to give off a nutty aroma. At this point, stir it occasionally and swirl the pan carefully until the foam subsides. You'll be left with a dark golden hue and some charred bits on the bottom of your pan! THIS IS GOOD! From here you need to act quick though. Don't let it continue cooking for too long or it will burn. Burnt butter? No bueno in this recipe.
Once you add your honey, you need to let it melt completely though the browned butter. If you don't you'll end up with caramelised garlic! Also, no bueno.
Then, allow your garlic to sauté for a good minute! Let all the flavours work their magic into your browned butter/honey mixture. Any more than that though, and it will also burn.
After that, you need to add in your lemon juice, being careful of the butter spitting up. I add the salmon in with the top facing up, and I like to baste it while it cooks in the skillet. In the past I have tried this recipe cooking the salmon top down first, and ended up with semi-burnt pieces instead of nicely charred, due to the honey in the recipe.
Before broiling, you can add lemon wedges around your salmon if you like your sauces to take on more of a citrus flavour OR leave them out for a milder taste.
While broiling, I like to keep an eye on the salmon. It can easily go from slightly charred to burnt very quickly! Put your timer on for 3 minutes, and keep watch from there.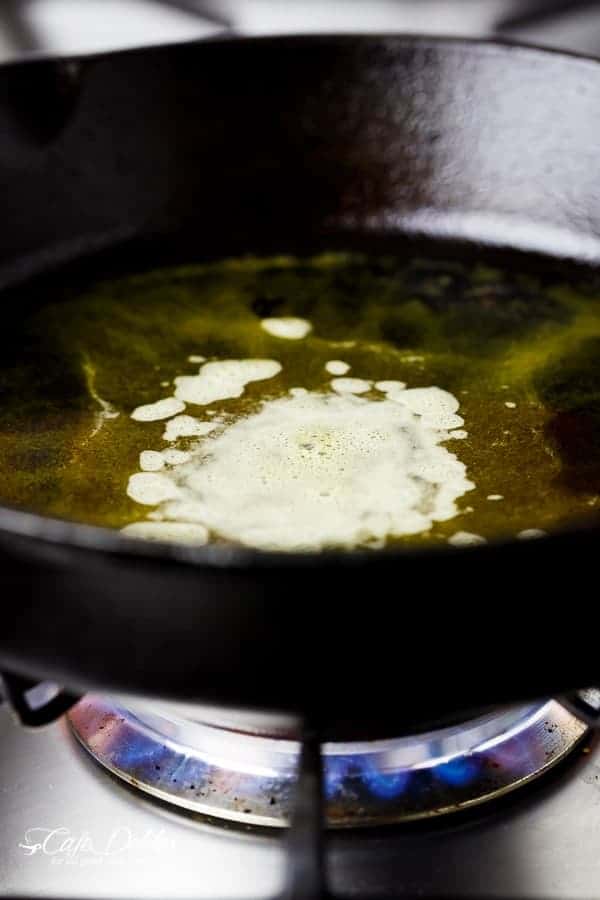 This salmon takes on a whole new level of crispy and caramelised on the edges, while staying juicy on the inside. If you've never tried browning your butter with salmon…try it! Serve with greens and extra garlicky brown butter sauce…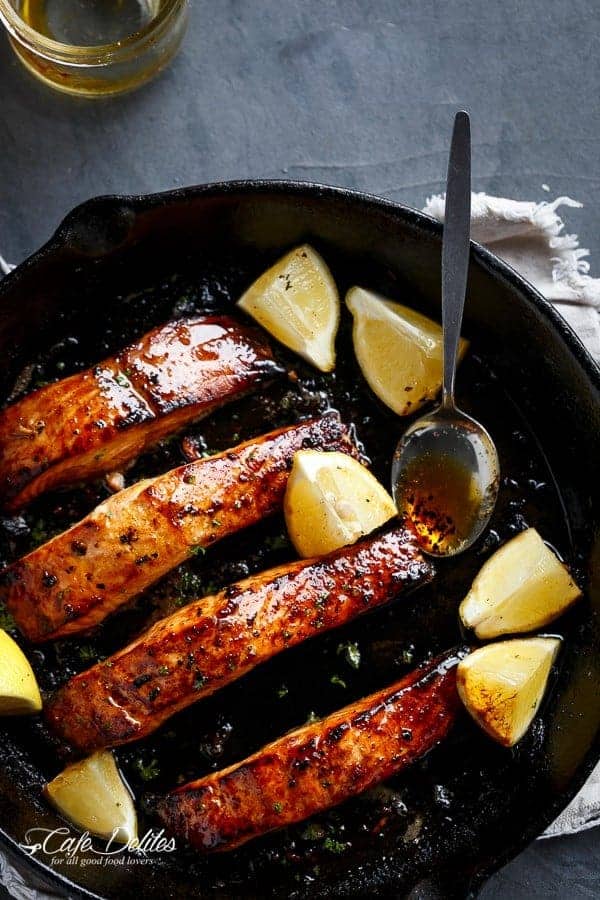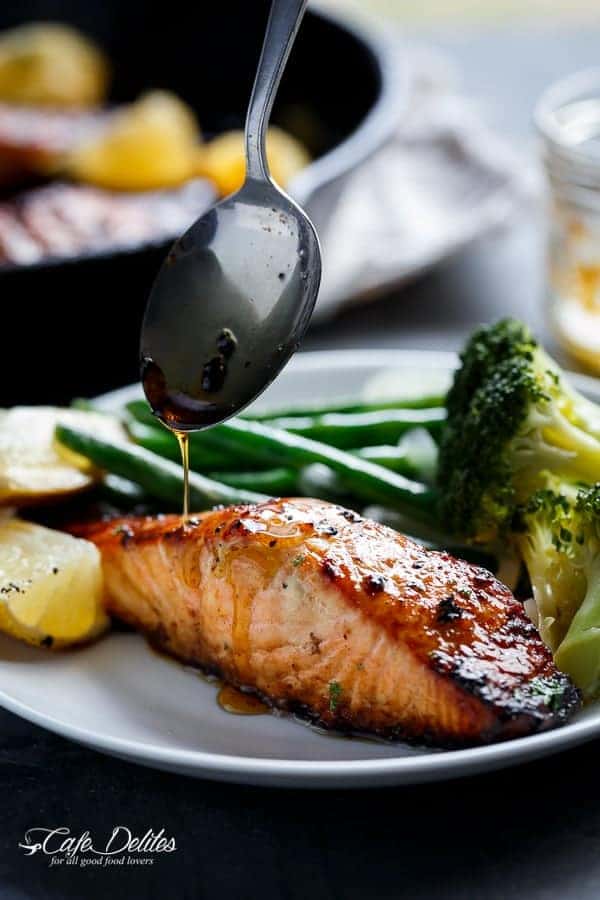 Browned Butter Honey Garlic Salmon for the win!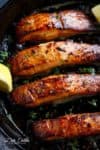 Browned Butter Honey Garlic Salmon
Browned Butter Honey Garlic Salmon is a great way to change up any salmon dinner! Only 3 main ingredients in under 15 minutes!
ORIGINAL RECIPE BY KARINA, CAFEDELITES ©
Ingredients
1/4

cup

(4 tablespoons) butter

1/4

cup

(4 tablespoons) honey

3

cloves

garlic,

minced

1-2

tablespoons

fresh squeezed lemon juice

(or juice of half a lemon)

4

wild caught salmon fillets (about 1/2 pound or 250 grams each),

skin off or on

Lemon wedges

(to serve)

Salt,

to taste
Instructions
Arrange oven shelf about 8-inches away from heat element in your oven. Preheat your oven to broil (or grill in Australia).

Place butter in a cast iron skillet (or an oven-proof frying pan if you don't have a skillet). Cook over medium heat, stirring and swirling pan occasionally for about 3 minutes, or until the foam settles; the butter begins to change in colour to golden brown and has a nutty fragrance.

Pour in the honey and let it dissolve into the butter. Then add in the garlic and sauté for about 1 minute until fragrant. Add in the lemon juice; stir well to combine all of the flavours together.

Add the salmon steaks to the butter in the pan; cook each fillet (skin-side down if there's any skin) for 3-4 minutes or until golden, while basting the tops with the pan juices. Season with salt and pepper, to taste.

Add the lemon wedges around the salmon. Transfer the pan to your oven to broil / grill for a further 5-6 minutes, or until the tops of the salmon are nicely charred.

To serve, drizzle with the reserved brown butter sauce. Serve with steamed vegetables; over rice or with a salad.
If you love my original recipe, you'll love this:
Browned Butter Honey Garlic Chicken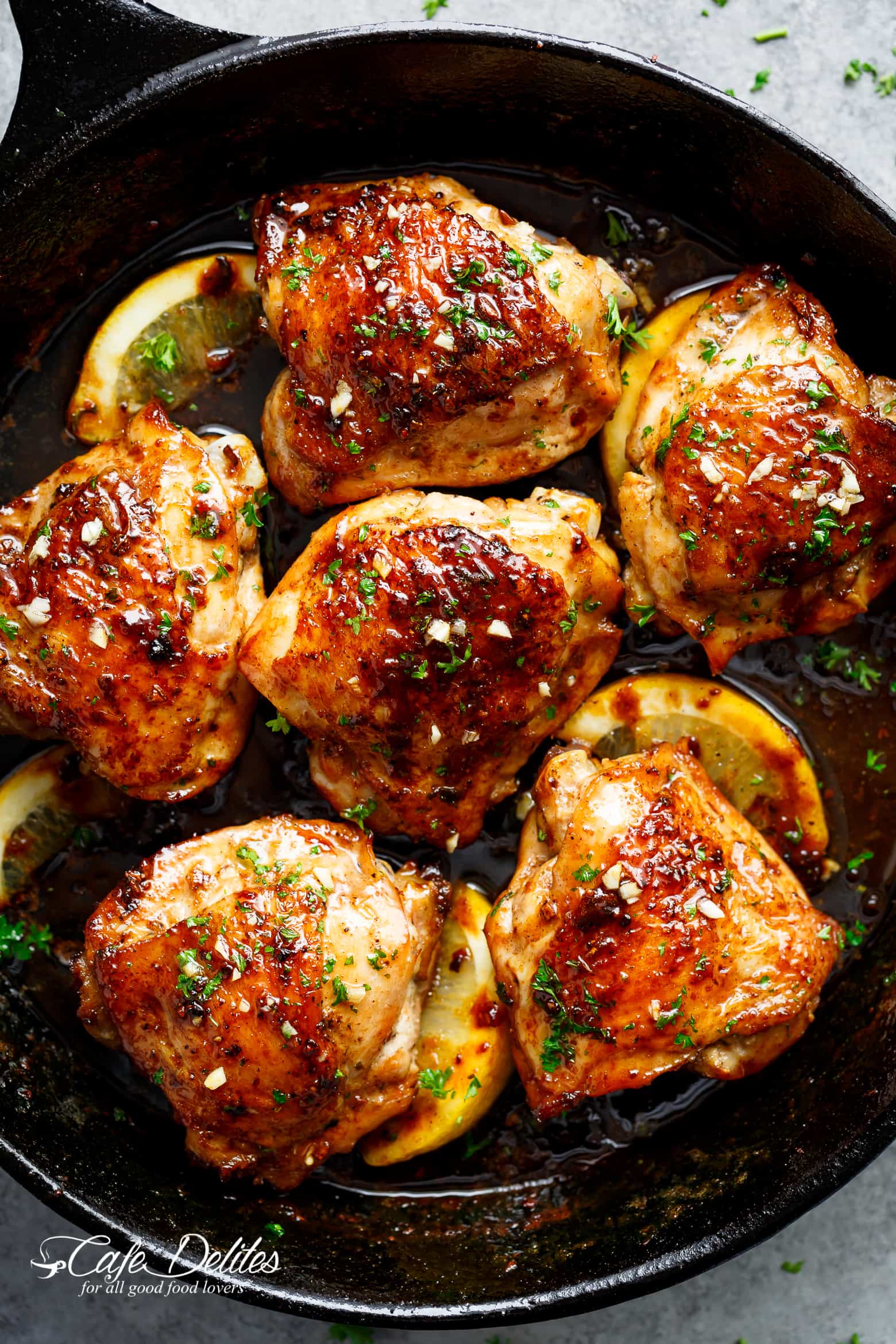 Browned Butter Honey Garlic Shrimp