Browned Butter Honey Garlic Salmon
Okay. This is the deal. Salmon steaks panfried on Browned Butter infused with garlic and honey; then grilled/broiled for an extra 8 minutes for extra golden, crispy and caramelised finish. So simple. Only 3 main ingredients in under 15 minutes.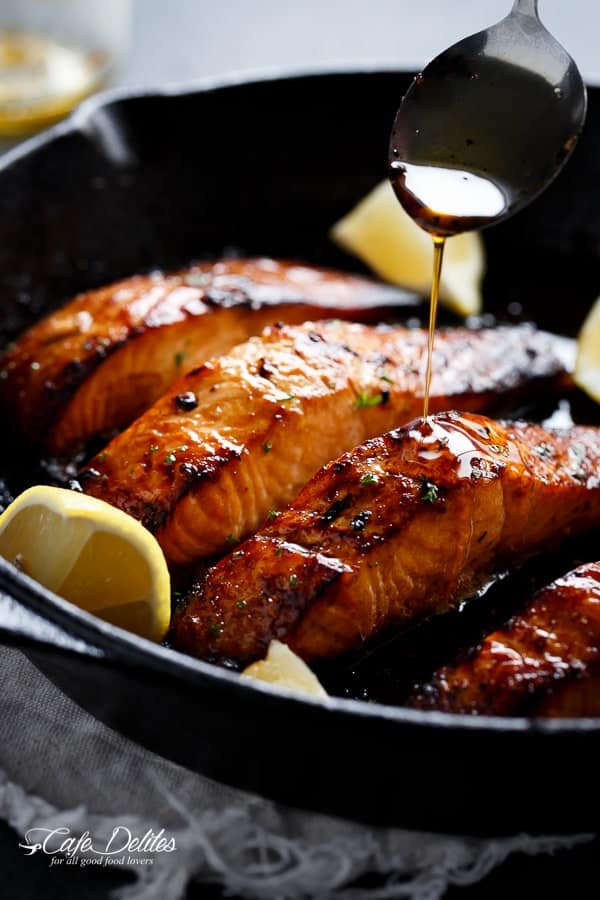 When I hear browned butter…I hear complicated.
But when I said simple up there ↑ I really mean simple. Salmon grilled with a salty-sweet glaze. You'll be licking the plate clean.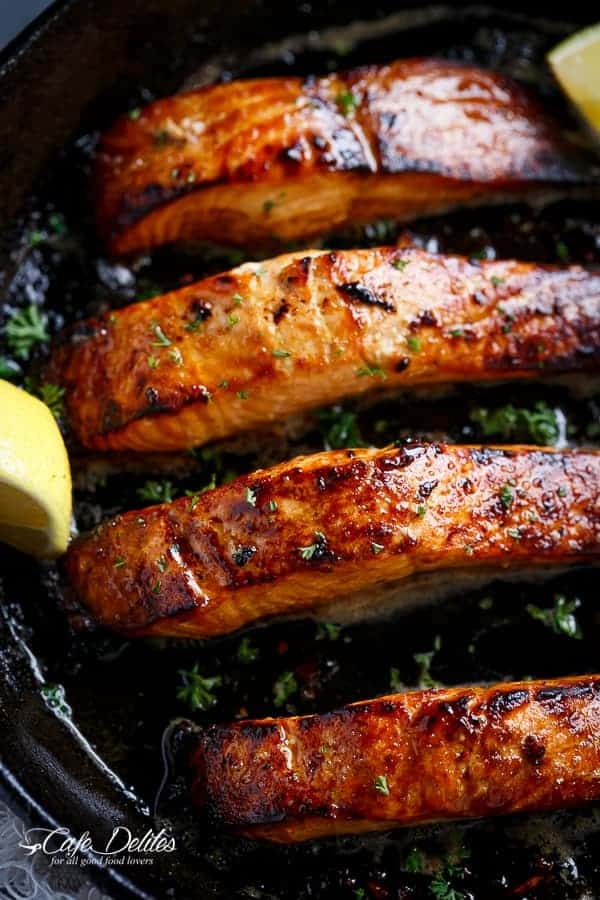 I mean, okay. Garlic butter has a taste to die for. Then, when you take it that step further, and brown that butter, then add your garlic to infuse all of those flavours into your browning butter. Wow.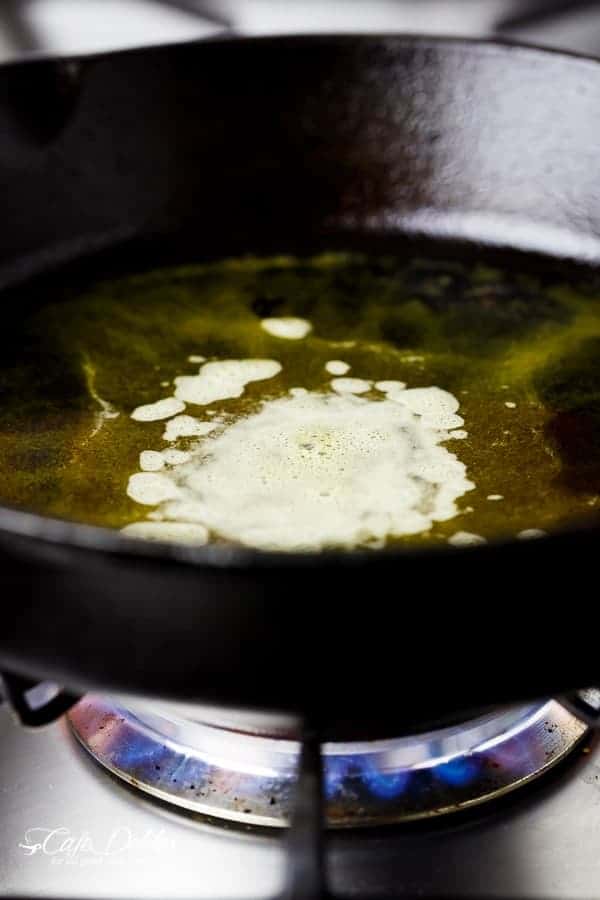 This salmon went to a whole new crispy and caramelised place. And retained their juicy and perfectly pink inside.
If you've never tried browning your butter…try it.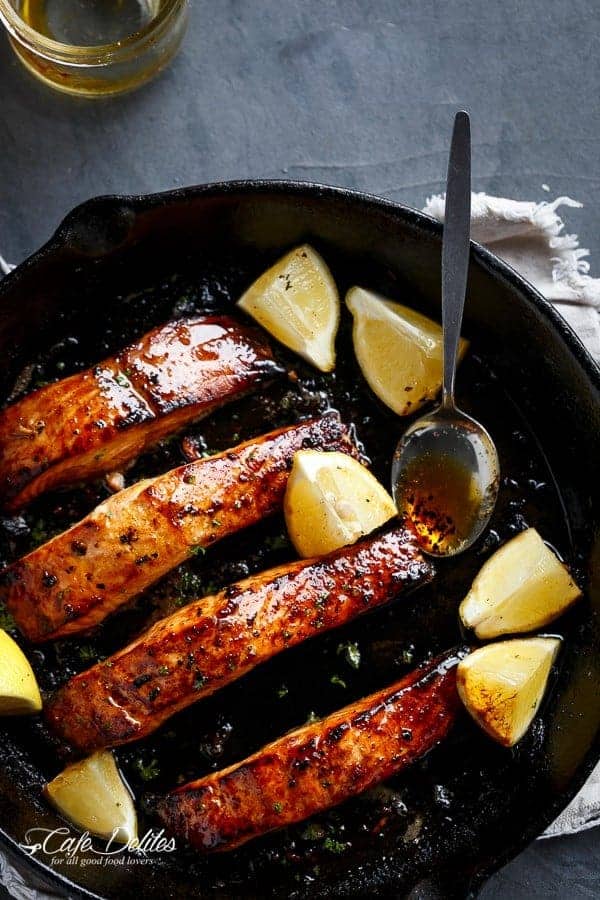 Then try this. Serve with greens and extra garlicky brown butter sauce…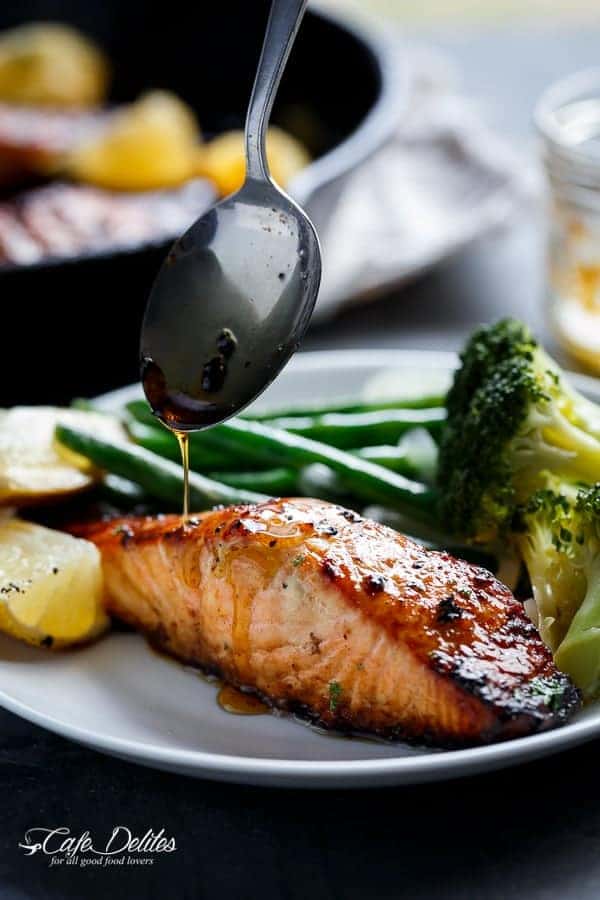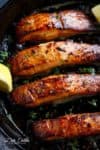 Grilled Browned Butter Honey Garlic Salmon
Browned Butter Honey Garlic Salmon is a great way to change up any salmon dinner! Only 3 main ingredients in under 15 minutes!
ORIGINAL RECIPE BY KARINA, CAFEDELITES ©
Ingredients
4

tablespoons

reduced fat butter

(or Ghee)

4

tablespoons

honey

1

tablespoon

fresh squeezed lemon juice

(or juice of half a lemon)

2

cloves

garlic

, minced

4

Salmon Fillets

Sea salt

Lemon wedges

(to serve)
Instructions
Preheat your oven to grill/broil settings on medium-high heat.

Place butter in an oven-proof pan/skillet (or a normal frying pan if you don't have one). Cook over medium heat, swirling pan occasionally and stirring continuously for about 3 minutes, or until the foam settles; the butter begins to change in colour to golden brown and has a nutty fragrance. Add the honey, lemon juice and garlic; stir well to combine all of the flavours together and cook for an extra 30 seconds - 1 minute until the garlic is fragrant. Remove from heat. Pour out half of the browned butter from the pan (liquid only) and reserve for later.

Add the salmon steaks to the butter in the pan; sear each fillet (skin-side down if there's any skin) for 3-4 minutes or until golden.

Flip each fillet; transfer the pan to your oven to broil / grill for a further 6 minutes.

To serve, season with salt to taste; drizzle with the reserved brown butter sauce. Serve with steamed vegetables; over rice or with a salad