A Holiday Cheeseboard to kick off your day/night with an easy and quick, throw together cheeseboard!
Finally, a 'recipe' with zero cooking, marinading, dressing, or thinking when you already have a million things happening for your feast. This Loaded Holiday Cheeseboard is CRAZY! You have a turkey in the slow cooker thanks to this recipe, a cheesecake setting in the fridge, and a whole other array of sides happening. But what about a starter? More importantly, what about preparing something that requires zero skill and no cooking?!
Cheeseboard for the win!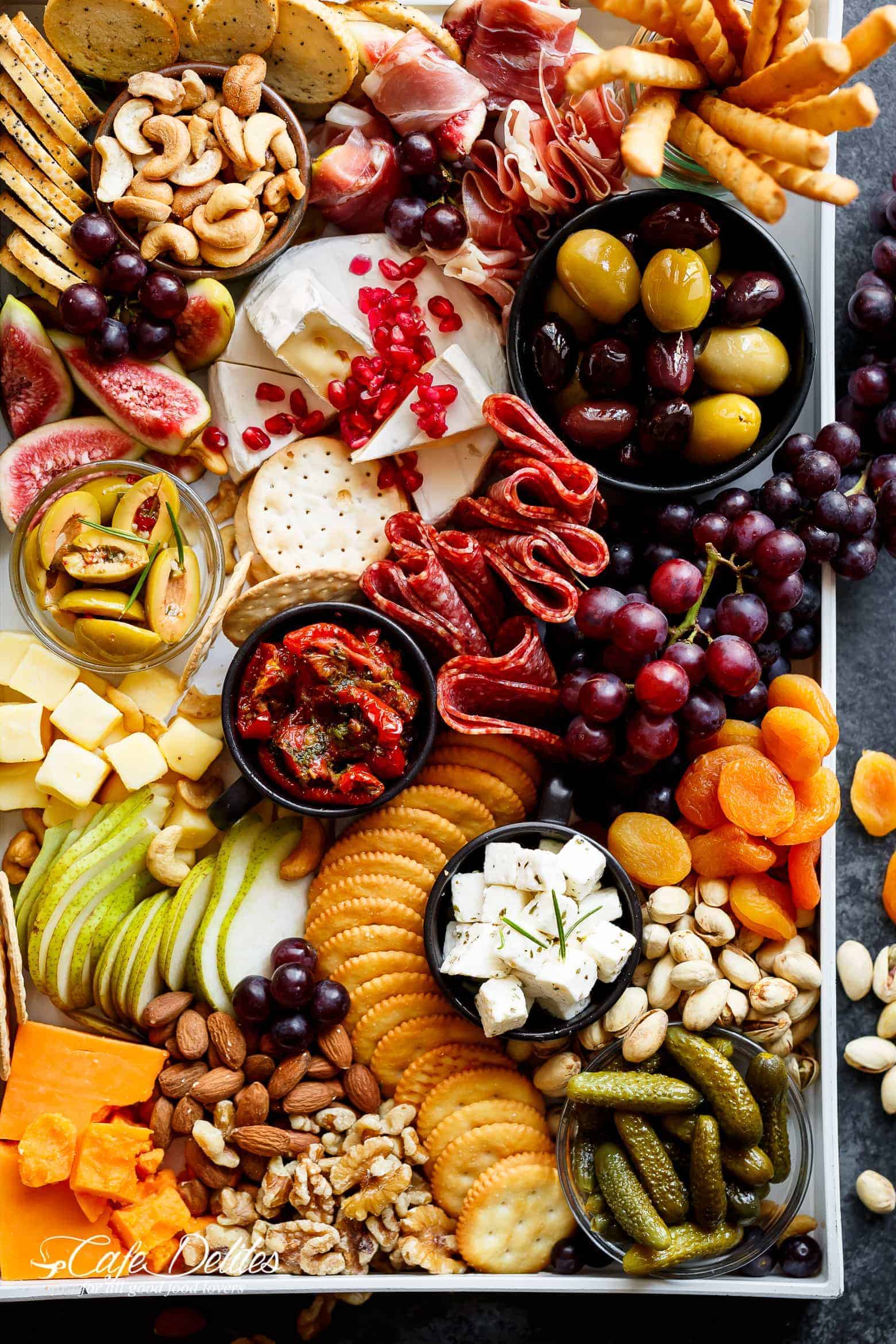 EASY HOLIDAY CHEESEBOARD
Truth be told… I had the time of my life building this cheeseboard. Whenever I get a moment to myself (forgotten what that feels like now), my favourite pastime is creating an epic cheeseboard with a glass/bottle of wine; sitting on the floor while binge-watching This Is Us (don't judge — I'm Jack-obsessed), and getting lost in meat, cheese and all things pickled. This has also been known in my life as LUNCH.
YES.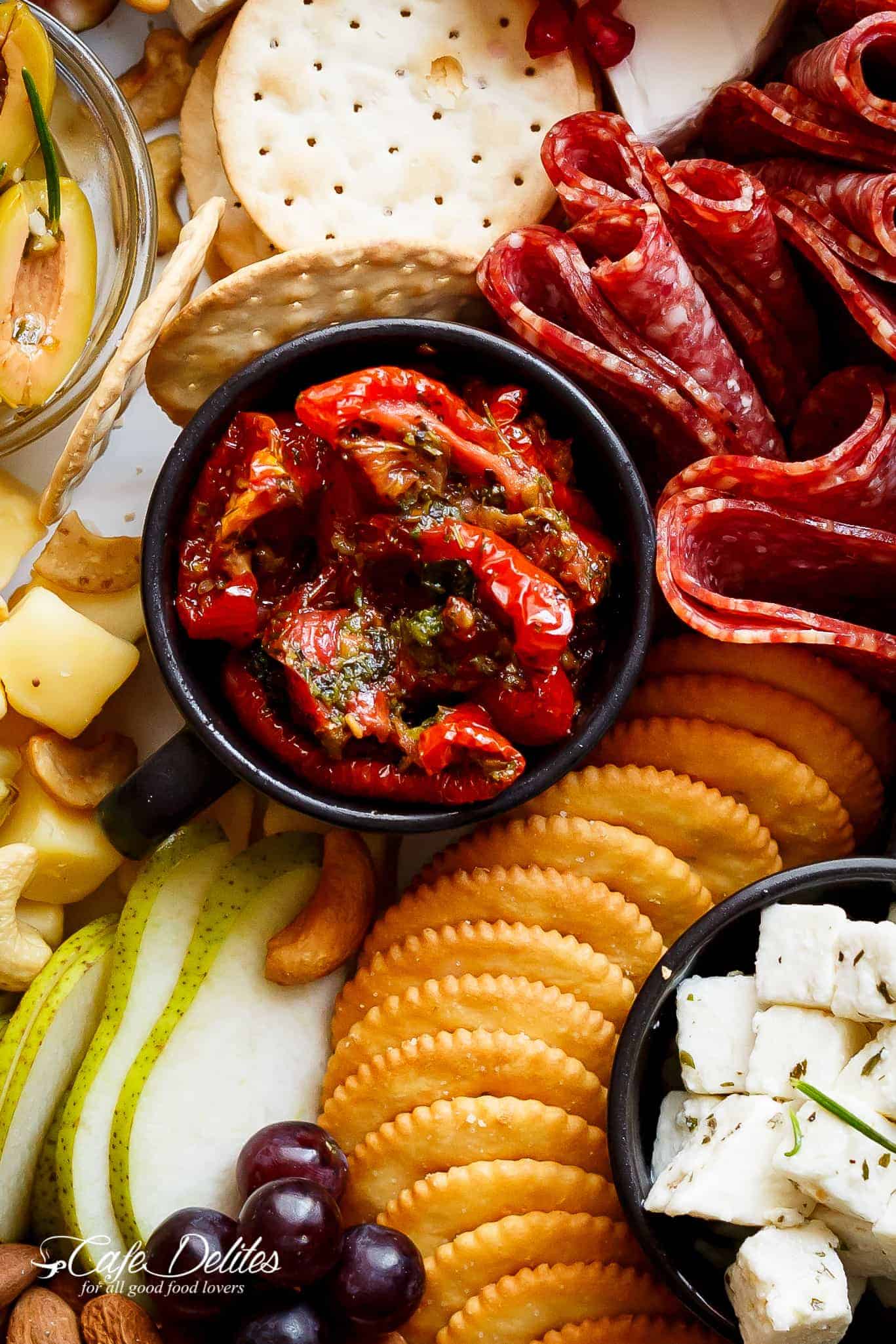 Usually I grab what I have, and since I love boards like this, I'm always fully stocked with jars of sun dried tomatoes, pickles, a fridge full of cheese and cold meats, and crackers in the pantry.
The best thing about a cheeseboard is that you can arrange it with ingredients or elements YOUR family loves, and however you want.
For this one I went with herbed breadsticks, bagel crisps, water crackers, dried apricots, fresh figs, pear slices, prosciutto slices, prosciutto WRAPPED figs (+HELLO), seedless grapes, olives, sun dried tomato, marinated feta, pomegranates, nuts, brie, American cheddar, parmesan, cornichons (or mini pickles), etc!
YES. There WAS wine involved during and after shooting these photos. I nice, chilled bottle of moscato.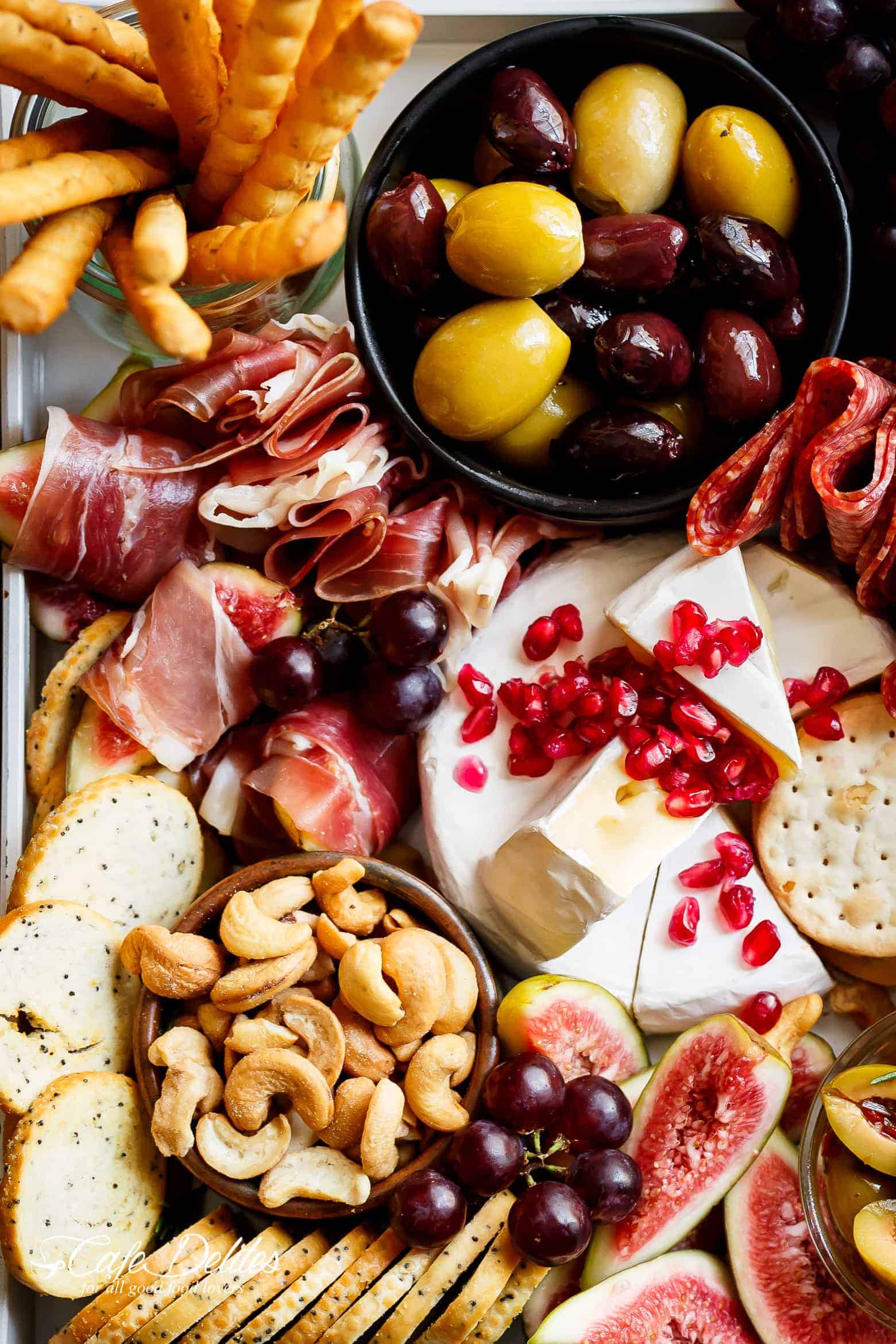 Loaded HOLIDAY Cheeseboard
So easy to throw together! How do you make your cheeseboard?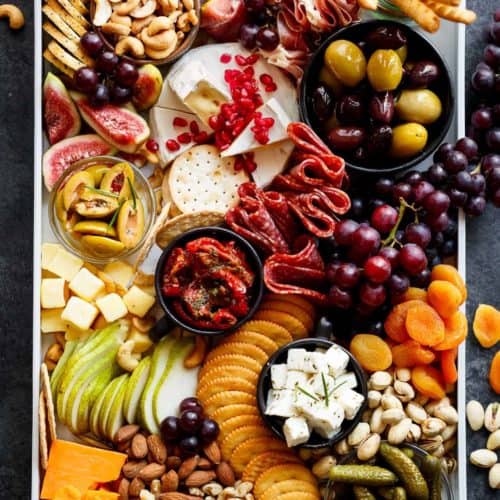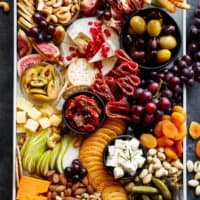 Holiday Cheeseboard
A Holiday Cheeseboard to kick off your day/night with an easy and quick, throw together cheeseboard that requires zero skill and no prep work!
PRINT
SAVE
go to your favorites
Ingredients
Bread twists or sticks

I used garlic and rosemary

Thinly Sliced Prosciutto

Thinly Sliced Hungarian Salami

Fresh Figs

Fresh Sliced Pear

Red seedless grapes

Olives

I used a mixture of cream cheese stuffed green olives, seedless Kalamata olives, and marinated olives

Marinated Sun Dried Tomatoes

Roasted Almonds

Salted Pistachios

Roasted Walnuts

Salted Cashews

Assorted cheeses

double cream brie, American cheddar, marinated Feta and Italian parmesan cubes

Pomegranate Seeds

Bagel Poppyseed Crisps

Ritz Crackers

Water Crackers

Dried Apricots

Mini Pickles
Instructions
Arrange everything on a large board or platter. Serve immediately.
Notes
You can also add Swiss cheese, camembert, blue cheese or goats cheese to your platter. Any cold meats can also be added.