Pumpkin Cheesecake with a chocolate Oreo base and bourbon whipped cream. Creamy, easy to make with mouth watering fall flavours.
A decadent, irresistibly creamy Pumpkin cheesecake is just what you need to complete your holiday plans. Every bite just melts on your mouth!
This recipe comes to you just in time for Thanksgiving.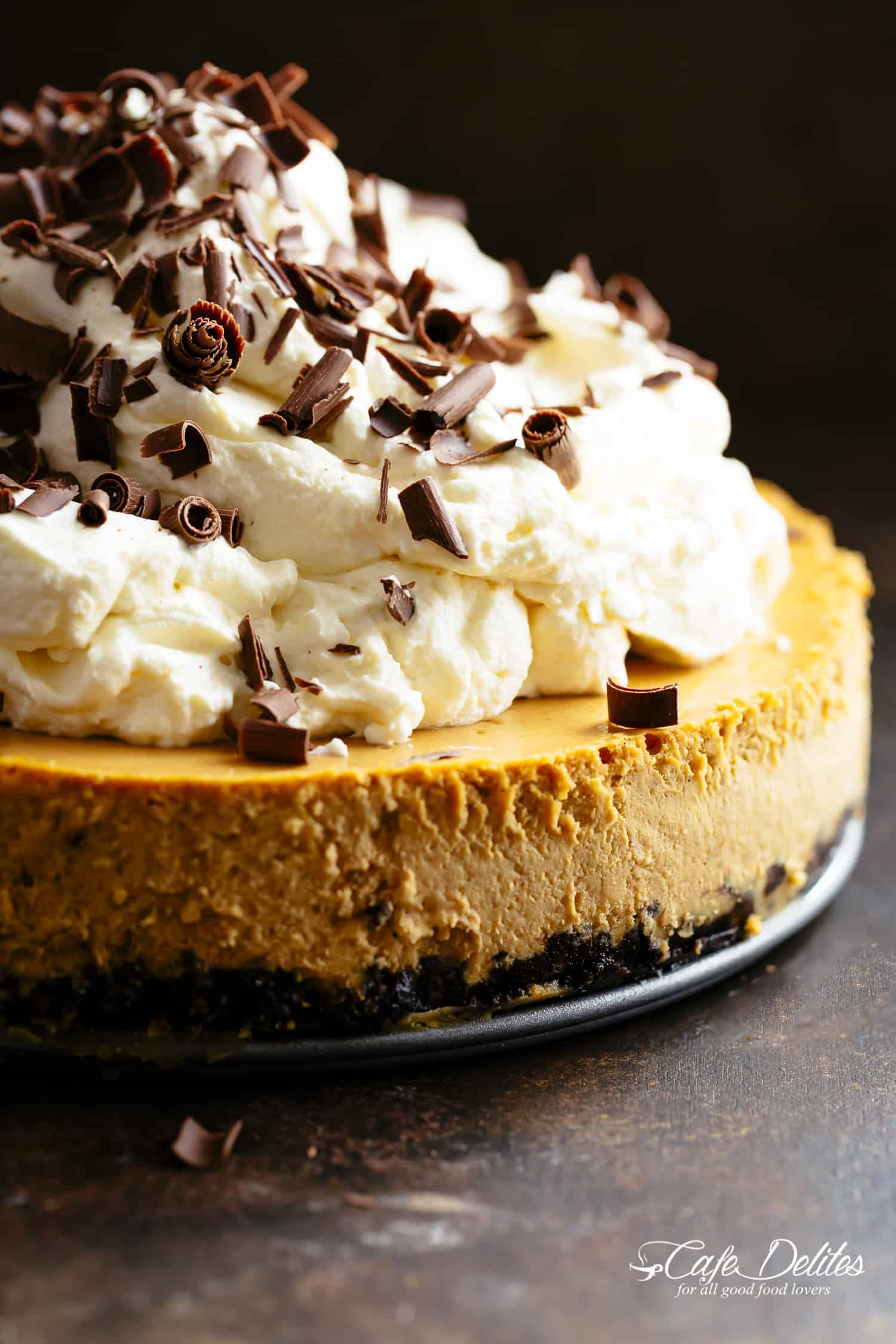 Pumpkin Cheesecake
I asked over 440,000 of my Instagram followers which dessert I should bake you all, and over 70% of the polls preferred pumpkin cheesecake to pumpkin pie! Believe me when I say I'm complaining! In fact > confession > hand to heart > I'm sitting here eating another slice while typing this post out!
With or without the bourbon spiked whipped cream (hello fat pants), and chocolate curls made so easy with a vegetable peeler and a block of chocolate. Because you all know how much I do easy and uncomplicated. Our pumpkin cheesecake is so hard to resist! One plate is not enough.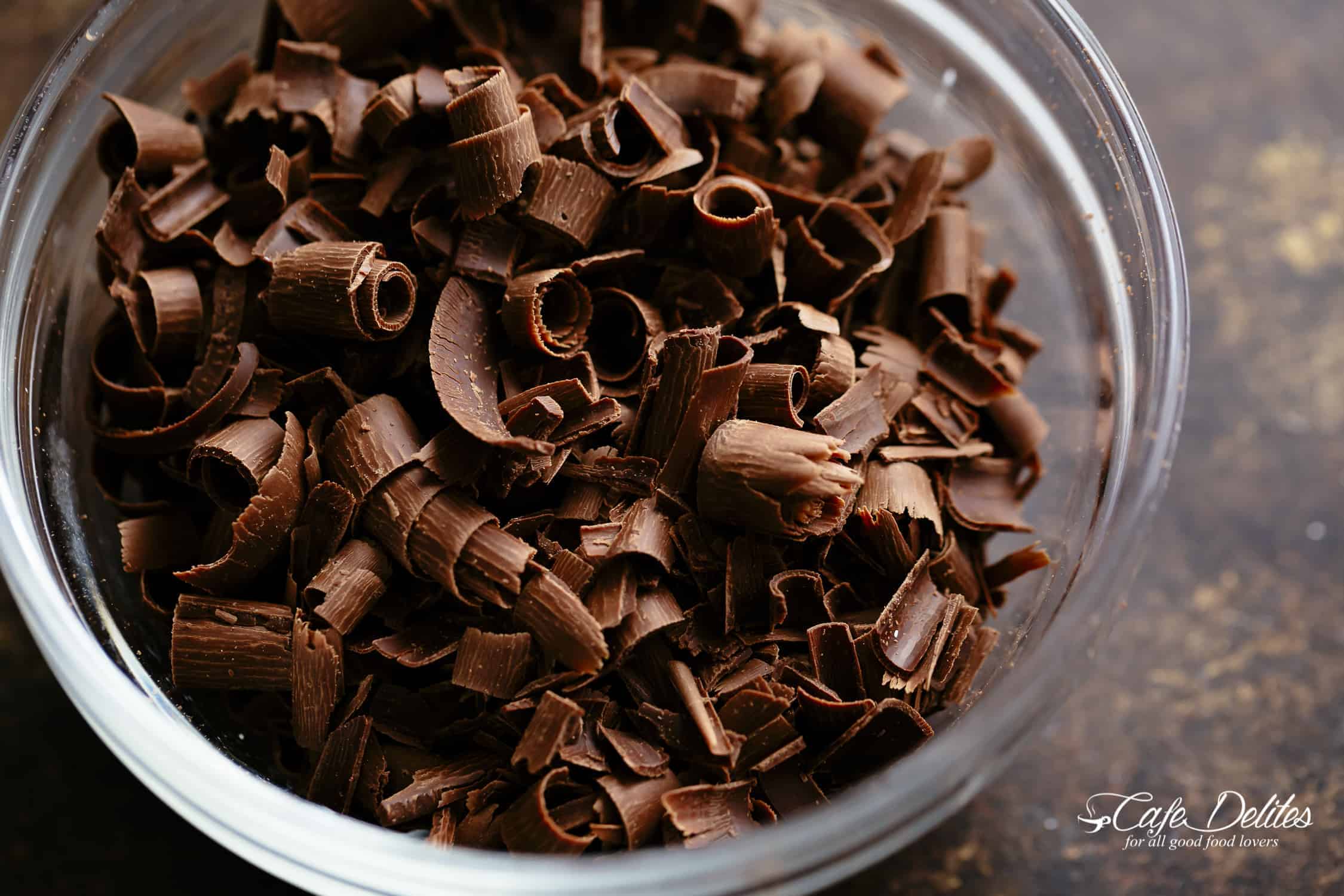 Cheesecake
Possibly my favourite one on this website. From the Oreo chocolate biscuit base, to the soft, airy cheesecake, and the cream on top! You guys are going to love this…but your guests? Get ready for some serious plate licking to take place.
Can I just say, I'm LOVING getting l'm loving getting all of these Thanksgiving recipes ready for you guys!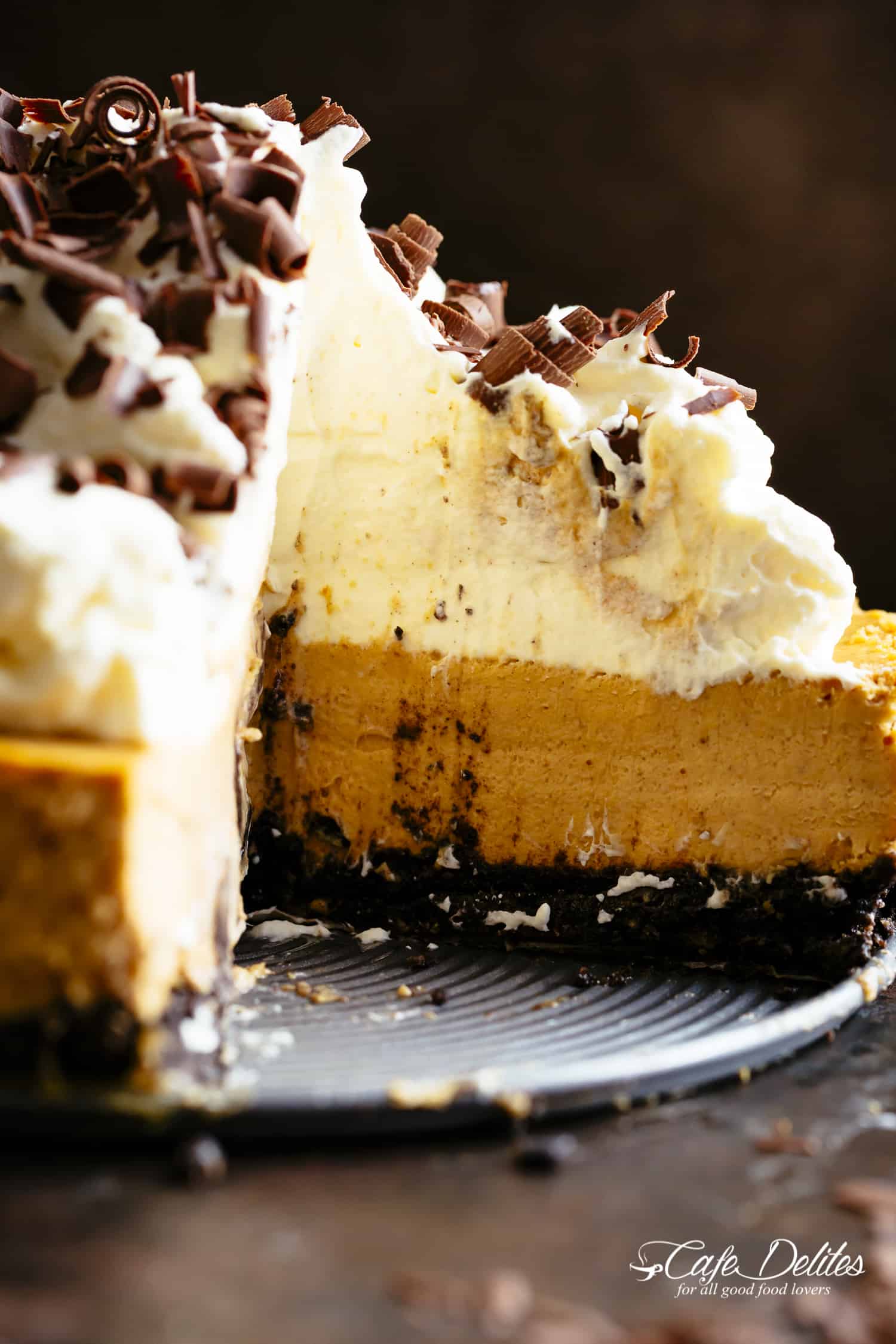 Cheesecake Chocolate Base
The recipe starts with crushing your Oreo cookies to a crumb. During testing, we tried two simple methods for you guys: beating them up with a rolling pin in a plastic zip lock back to crush them, and in a food processor. I preferred a couple of whizzes in the food processor to get all the cookies as pulverised as possible. Beating them with the rolling pin worked, but there were still some chunks left, and when slicing the baked cheesecake, it was REALLY hard to split those slices.
Use a springform pan for easy removal, and place some round parchment paper in the bottom of your pan if you're afraid the base will stick. This cheesecake needs a 9-inch round pan. An 8-inch pan may overflow when baking.
When pressing your cookie base down in your pan, use the bottom of a glass jar to press it down evenly.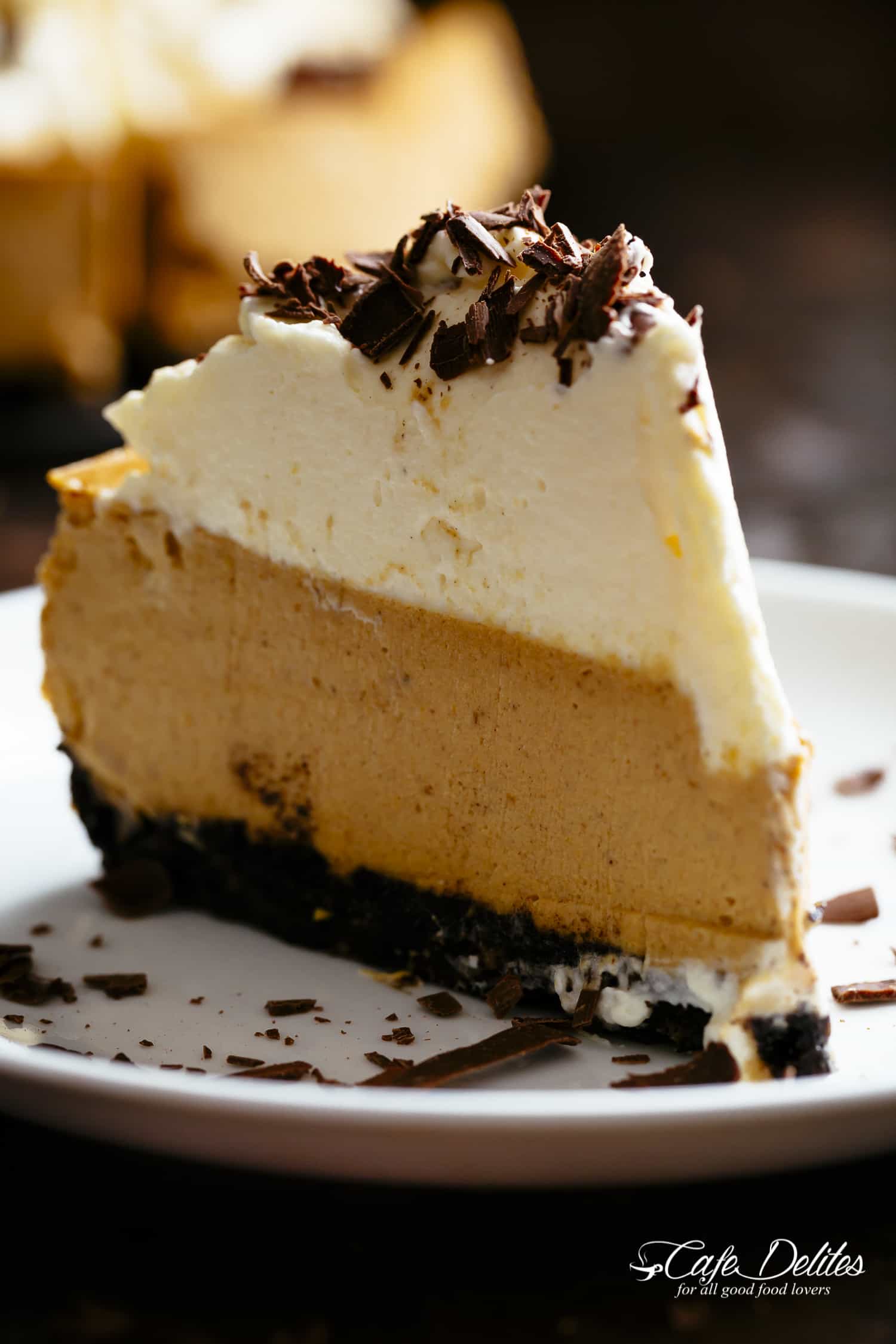 Tips To Make Pumpkin Cheesecake
Use a blender. Once you've beaten your cheesecake mixture, and easy way to remove any stubborn lumps in the batter is to pour it in batches into a blender. Yes, I know. TOO MUCH WORK, BUT ensures a smooth and lump free batter. This is my mother's not-so-secret-anymore tip of the day!
Use pumpkin puree, not pumpkin pie filling. We use Libby's.
The whipped cream is optional. It's important to use a cold bowl and keep your cream in the refrigerator right up until whipping it. We use a metal bowl and keep it in the refrigerator as well! The colder the better.
You can adjust the amount of bourbon you need in this recipe. I used 2 tablespoons, but you can add more or less, depending on your taste. Or leave it out completely!
Keep your cheesecake in the refrigerator right up until serving! This one is so creamy and soft, it's much easier to slice when it's chilled.
Lord have mercy….
Love Cheesecake? Try these recipes?
Cheesecake Stuffed Chocolate Chip Skillet Cookie
Carrot Cake Cheesecake
Chocolate Raspberry Cheesecake (Low Carb + Low Fat)
More desserts for your table!
Apple Pie Cinnamon Rolls With Cream Cheese Frosting
Best Fudgy Chocolate Cake
Hot Fudge Chocolate Pudding Cake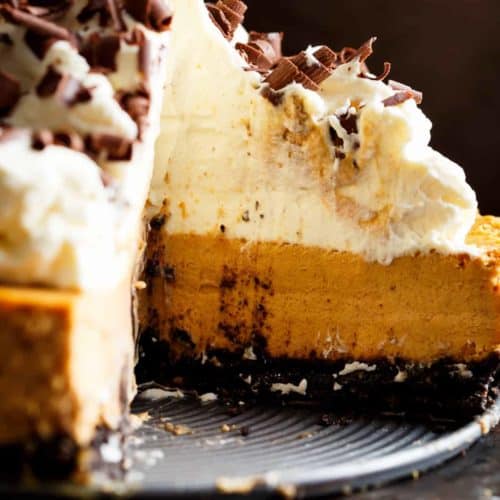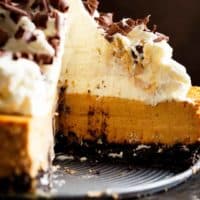 Chocolate Pumpkin Cheesecake (with an optional bourbon whipped cream topping)
Chocolate Pumpkin Cheesecake is a fluffy, creamy pumpkin cheesecake perfect for Thanksgiving! Easy to make with an Oreo base and beautiful fall flavours!
PRINT
SAVE
go to your favorites
Ingredients
1/4

cup

unsalted butter,

melted

28

Oreo cookies

24

ounces

(680 g) cream cheese

1/3

cup

sour cream

3/4

cup

light brown sugar

1/2

cup

white granulated sugar

3

tablespoons

all-purpose flour

2

teaspoons

pure vanilla extract

2

teaspoons

pumpkin pie spice

1/2

teaspoon

ground cinnamon

1/2

teaspoon

of salt

3

large eggs

15

ounces

canned pumpkin puree

(not pie filling)
For Bourbon Whipped Cream Topping
1 1/2

cups

cold heavy cream (or thickened cream)

3

tablespoons

confectioners' sugar (or icing sugar)

1-2

tablespoons

bourbon

2

teaspoons

vanilla extract

3 1/2

ounces

(100 grams) milk or semi sweet block chocolate,

at room temperature
Instructions
Heat oven to 350°F (175°C). Lightly grease a 9-inch springform pan with butter or non stick spray.

In a food processor, pulse the Oreos to form fine crumbs. Add the melted butter and pulse to incorporate. Press the crumb mixture evenly into the base with a glass jar or using your fingertips and knuckles in a fist. Set base aside in the refrigerator while making your cheesecake batter.

In a large bowl, combine the cream cheese, sour cream, sugar/s, flour, vanilla, pumpkin pie spice, cinnamon and salt. Beat with an electric mixer until smooth. Beat in the eggs and pumpkin puree until smooth and well combined. Pour the pumpkin batter into the crust.

Bake the cheesecake until set around the edges, and the centre has a slight wobble to it, (about 50 to 55 minutes). Allow the cheesecake cool completely in the pan, then refrigerate until chilled. (At least 4 hours or overnight.)
Bourbon Whipped Cream Topping:
Just before serving, beat cream with sugar in a medium bowl with an electric mixer until soft peaks form. Add bourbon and vanilla and continue to beat until stiff peaks form.
Chocolate Curls and Shavings
Using a vegetable peeler, scrape the blade lengthwise across the chocolate to create delicate curls and shavings. Top the cheesecake immediately before they begin to melt (refrigerate before using if you need too).
Nutrition
Calories:
348
kcal
|
Carbohydrates:
40
g
|
Protein:
3
g
|
Fat:
19
g
|
Saturated Fat:
10
g
|
Cholesterol:
71
mg
|
Sodium:
200
mg
|
Potassium:
187
mg
|
Fiber:
2
g
|
Sugar:
29
g
|
Vitamin A:
4905
IU
|
Vitamin C:
1.4
mg
|
Calcium:
52
mg
|
Iron:
2.9
mg