Apple Pie Cinnamon Rolls are soft and fluffy, filled with apple pie filling to make the ultimate twist for your table!
No waiting overnight for dough to rise! Also, no need to wait ALLLLL DAY! This is THE cinnamon roll recipe you all loved when I first posted it here last year. Adding apple pie to the inside is just an added bonus! I have no doubt in my mind you will love these Apple Pie Cinnamon Rolls, and anyone who eats them will be asking for tray filled of rolls to take home.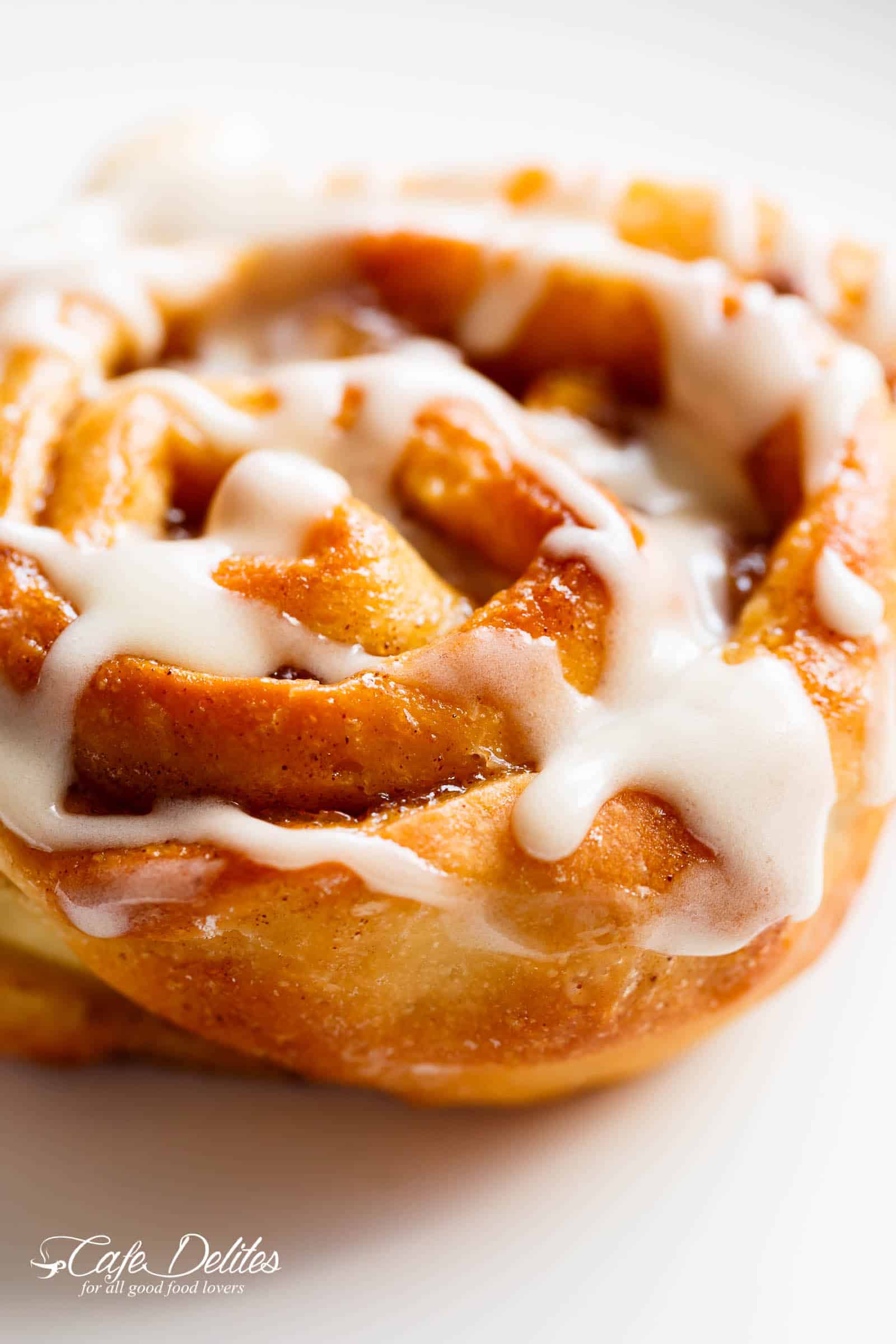 Cinnamon Rolls
If that's not enough, they are drizzled in a beautiful thick and creamy cream cheese frosting. With or without frosting, these rolls are so addictive. Proceed with caution.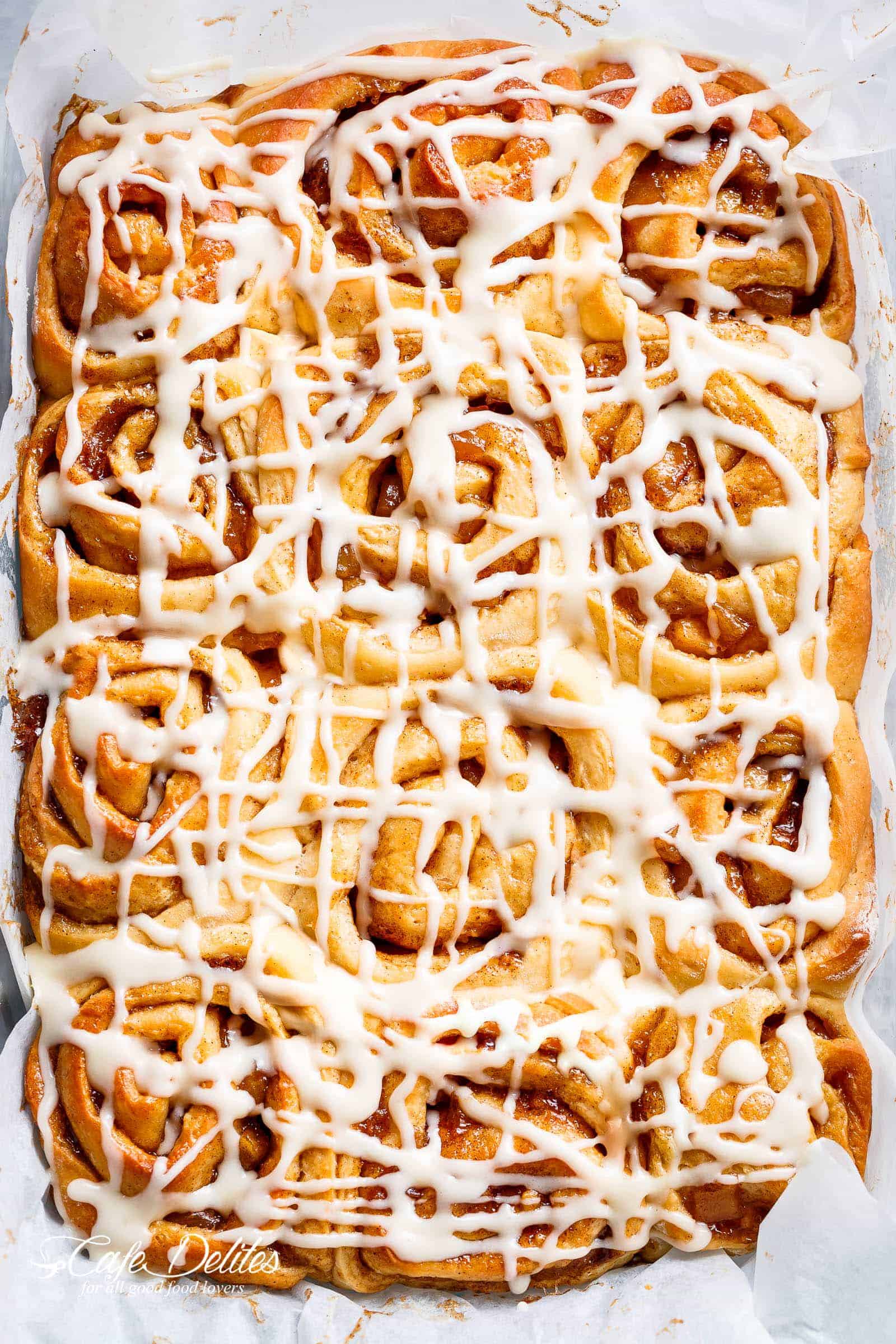 Apple Pie
As always, there are options with the recipe. You can either cheat and use canned apple pie filling, cutting the slices into square pieces to better fit these rolls. OR you can make your own from scratch. During recipe testing, we found both to taste the same, with a similar 'gooey' texture in the middle. I decided I preferred making my own pie filling since I was going to the trouble of making my own rolls from scratch. However, it is completely up to you!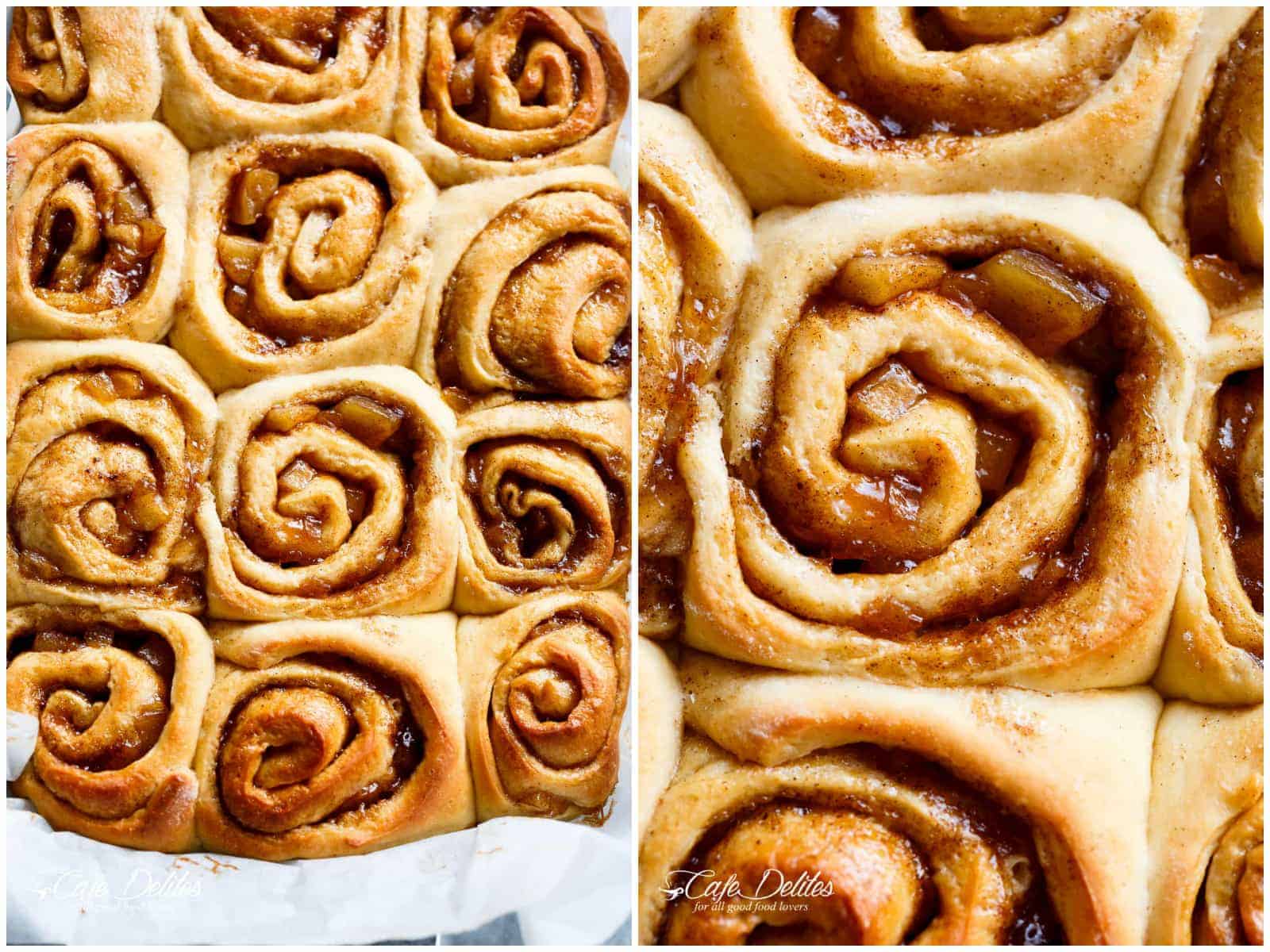 Can I just say how happy I am that I live in one of the coldest parts of Australia and I can keep pretending it's winter, because it still IS when I walk out the door. All that's missing is the snow! Equally just as happy to wake up to these babies on a cold morning with a steaming hot cup of Nutella Hot Chocolate.
YES I SAID IT AND I WENT THERE.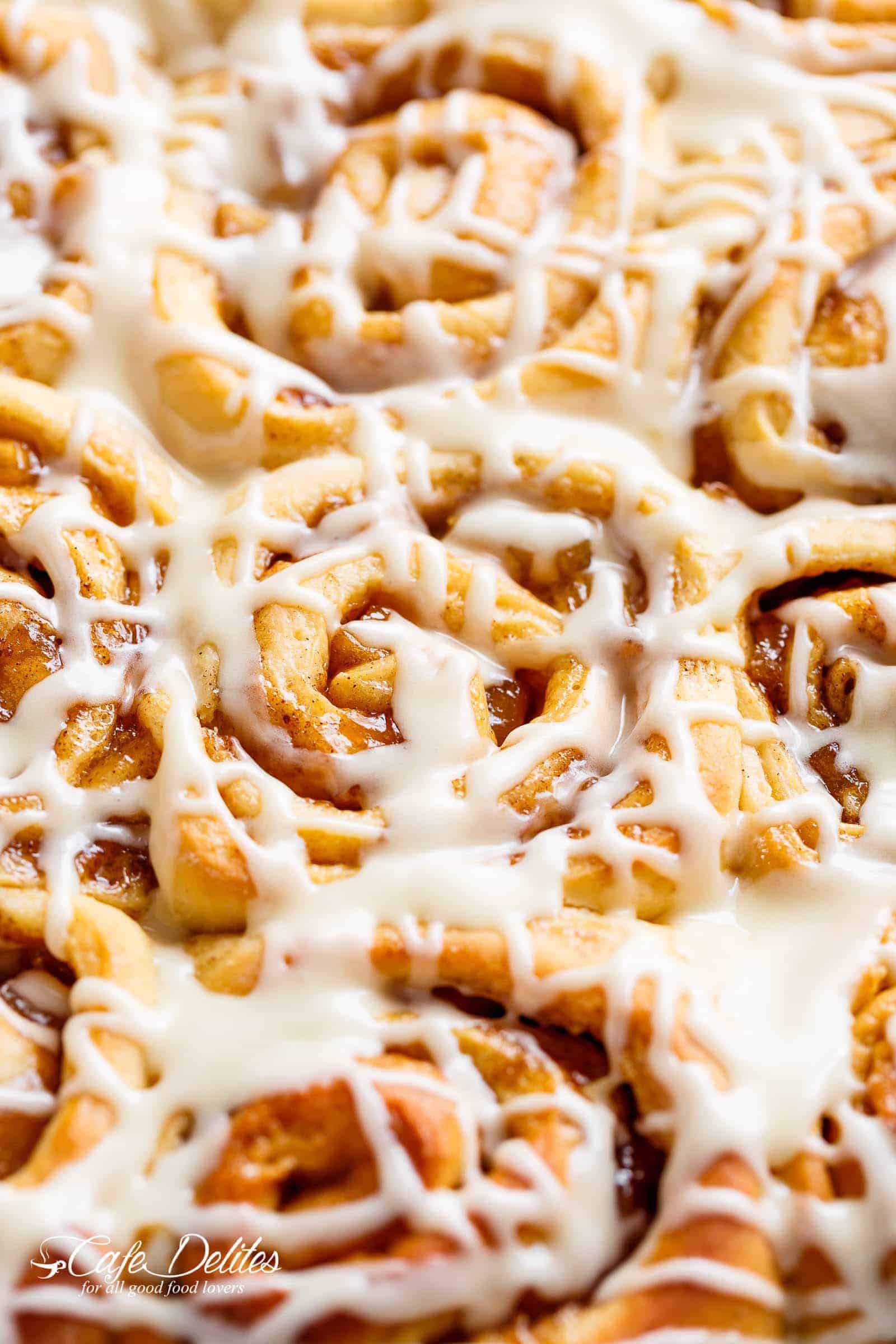 I'm hoping you can see how fluffy these rolls are in these pictures. PLUS the filling! Apple Pie Cinnamon Rolls for the WIN!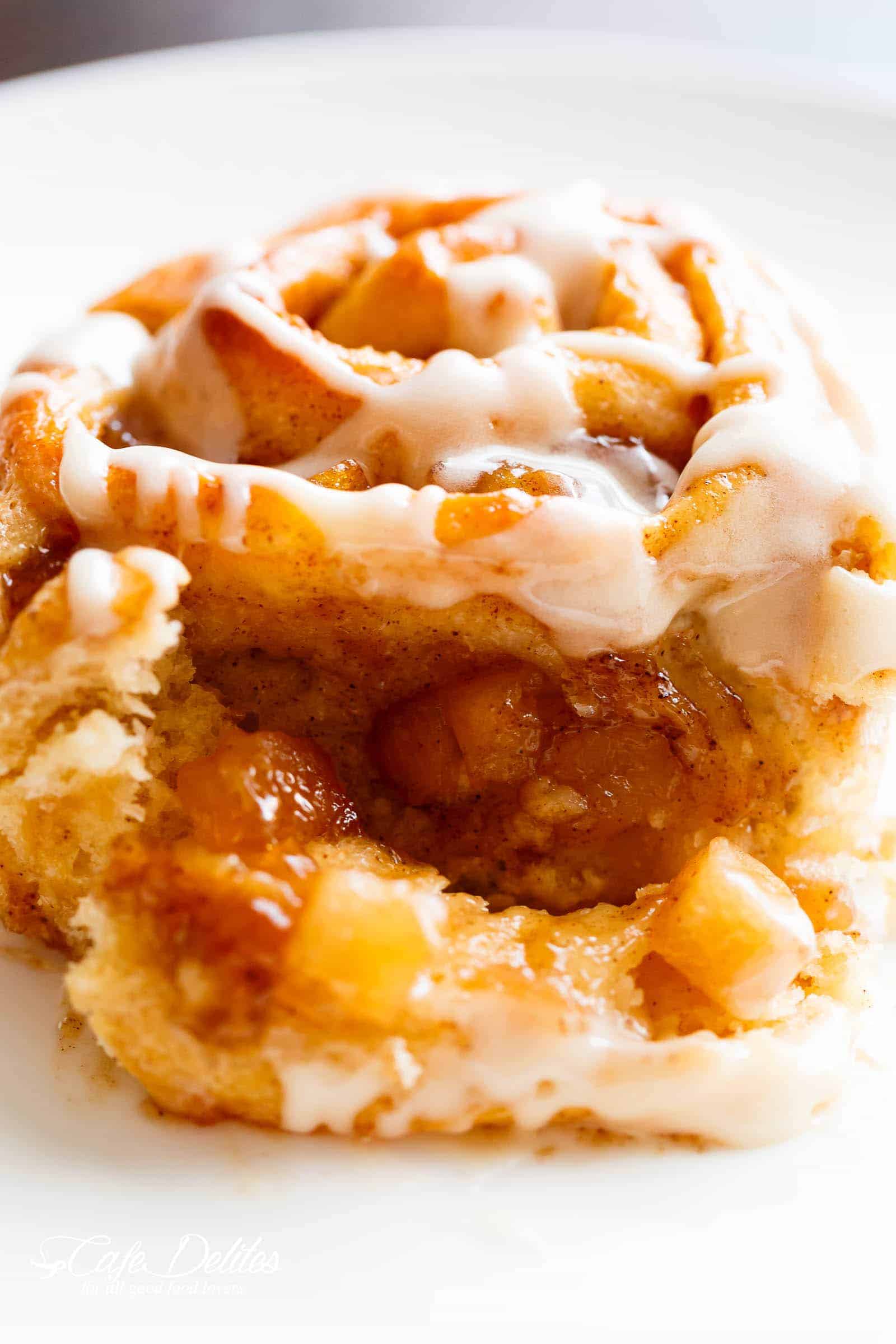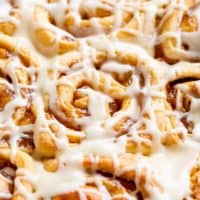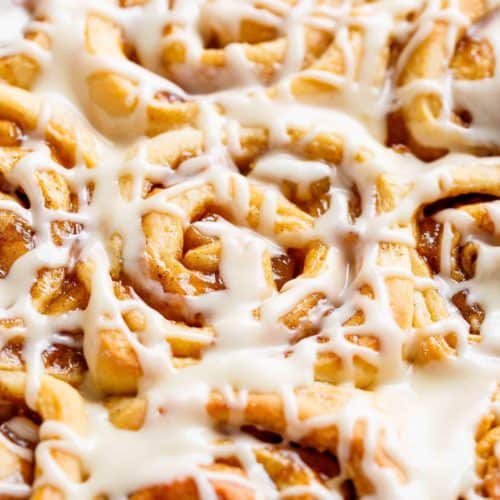 Apple Pie Cinnamon Rolls With Cream Cheese Frosting
Apple Pie Cinnamon Rolls With Cream Cheese Frosting are soft and fluffy, filled with apple pie filling to make the ultimate twist for your dinner table!
PRINT
SAVE
go to your favorites
Ingredients
1

cup

milk

warmed to the touch (NOT HOT -- temp at 110°F or 45°C)

2-1/2

teaspoons

quick-rise yeast,

or look for instant or rapid-rise yeast

1/3

cup

granulated sugar

1/3

cup

melted butter

1

large

egg

lightly whisked

3 1/2

cups

all purpose

or plain flour

1/4

teaspoon

salt

Cooking oil spray
FILLING:
3/4

cup

loosely packed brown sugar

2

tablespoons

butter

melted

1

teaspoon

ground cinnamon

1

can

(21-ounces | 600 grams) apple pie filling
TO MAKE YOUR OWN APPLE PIE FILLING:
5

apples,

peeled, cored and diced

1/3

cup

white sugar

2

tablespoons

butter

2

teaspoons

ground cinnamon

1

teaspoon

pure vanilla extract

(optional)
FROSTING:
2

ounces

(60 grams) cream cheese,

at room temperature

2

tablespoons

butter

1

tablespoon

milk

1/2

teaspoon

pure vanilla extract

1

cup

powdered sugar

(add more if needed)
Instructions
Heat oven to 200°F | 100°C.
FOR THE YEAST:
Combine the warm milk together with the yeast, 2 tablespoons of the sugar and melted butter in a large bowl. Allow to stand for 10 minutes until frothy.
FOR THE ROLLS:
Add the whisked egg to the milk mixture. Add in EXACTLY 3 1/2 cups flour, the remaining sugar and salt, and mix until a soft dough forms (the dough will be really sticky). Turn out onto a lightly floured surface (I use 1/4 cup of flour to lightly dust my bench top). Knead until smooth and elastic (about 2 minutes kneading), occasionally rolling into the flour on your bench top to prevent the dough sticking to your fingers.

Lightly coat a large bowl with cooking oil spray and transfer the ball of dough to the bowl, turning once to coat in the oil. Cover with a damp towel. TURN OVEN OFF and transfer bowl of dough to the warm oven. Allow to rise for 30 minutes. (To check if dough is ready, gently press two fingers into dough. If an indentation remains, dough has not risen enough.) Punch dough down; cover and let rest for an additional 30 minutes or until doubled in size.

While dough is resting, dice the apples FROM THE CANNED apple pie filling into 1/2-inch cubes. Alternatively, make your own!

Heat a large pot over medium heat. Add the apples, sugar, butter, cinnamon and vanilla; stir until butter is melted and apples are fully covered in all of the ingredients. Cover; reduce heat and allow to simmer gently, until apples are softened.


Allow to cool slightly before using.

Roll out dough onto a lightly floured surface, into a 21-inch x 14–inch rectangle. Brush the melted butter over the dough and sprinkle evenly with brown sugar and cinnamon. Gently rub the cinnamon mixture into the butter. Sprinkle the apple pie mixture evenly over the cinnamon (it won't be completely covered, but that's ok). Beginning at one long side, roll up dough tightly like a jelly-roll; then gently pinch the seam down to seal. Trim the ends for even slices, and cut dough into 12x 2-inch slices.

Arrange the rolls in a lightly greased 9x13-inch baking dish. Cover with the damp towel and allow to rise for a further 30 minutes or until doubled in size.

While dough is rising, preheat oven to 175°C | 350°F.

Uncover rolls; bake for 35-40 minutes, or until lightly golden. Cool slightly before frosting.
FOR THE FROSTING:
Prepare icing while rolls are baking. Beat together the cream cheese, butter and vanilla until smooth and creamy. Beat in the powdered sugar until lump free. Drizzle over rolls. Serve warm.
Notes
*For the milk, use full fat, 2% or skim. Warm in the microwave for 1 minute, stir, then warm again for an additional 10-20 seconds. It should be warm to the touch. NOT TOO HOT or you will kill the yeast. If too hot, allow to cool slightly before proceeding with the yeast.
Nutrition
Calories:
412
kcal
|
Carbohydrates:
71
g
|
Protein:
5
g
|
Fat:
12
g
|
Saturated Fat:
7
g
|
Cholesterol:
46
mg
|
Sodium:
185
mg
|
Potassium:
128
mg
|
Fiber:
1
g
|
Sugar:
36
g
|
Vitamin A:
405
IU
|
Vitamin C:
0.8
mg
|
Calcium:
53
mg
|
Iron:
2.1
mg