No Yeast Strawberries And Cream Cinnamon Rolls
Oh. These. Just. Completed. Me. With Mother's Day coming up….I'm pretty sure these will complete every mum out there too.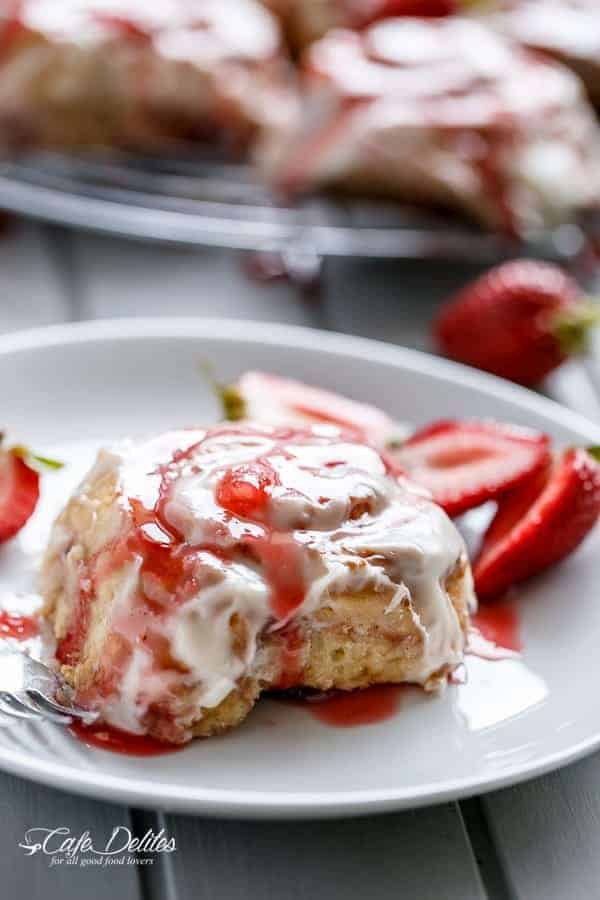 Soft and fluffy pillows of sweet dough smothered with a beautiful strawberry syrup, rolled up and covered in the most perfect cream cheese/buttermilk frosting.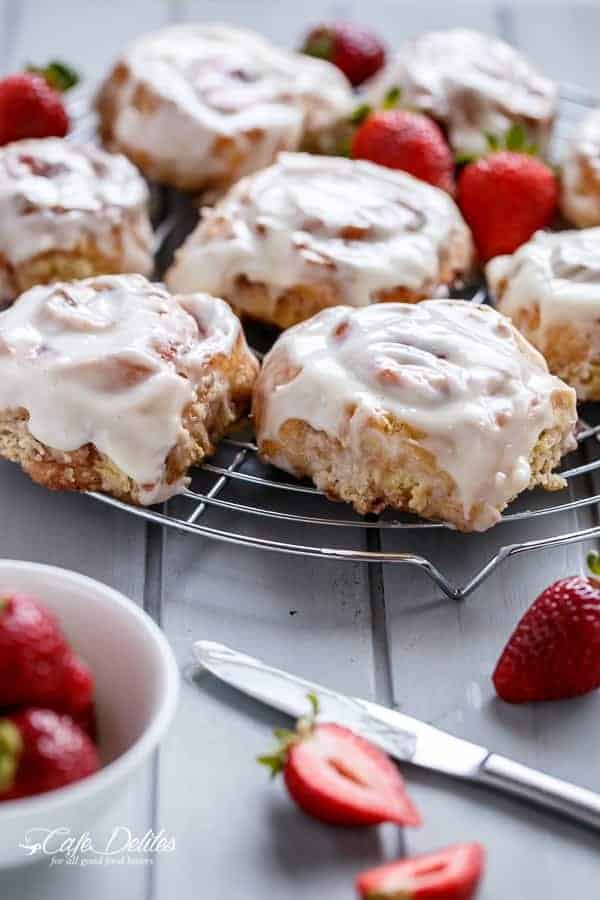 And the best part? No yeast. No waiting around. No rising time. No heart attacks and elevated stress levels watching your dough like a hawk. No covering and refrigerating. Just quick to make and melt-in-your-mouth strawberries and cream rolls.
I have a small confession. Okay, maybe a big one. I was spooning this strawberry syrup-like-nectar out of this pan as if my life depended on it. Extremely addictive I.couldn't.stop.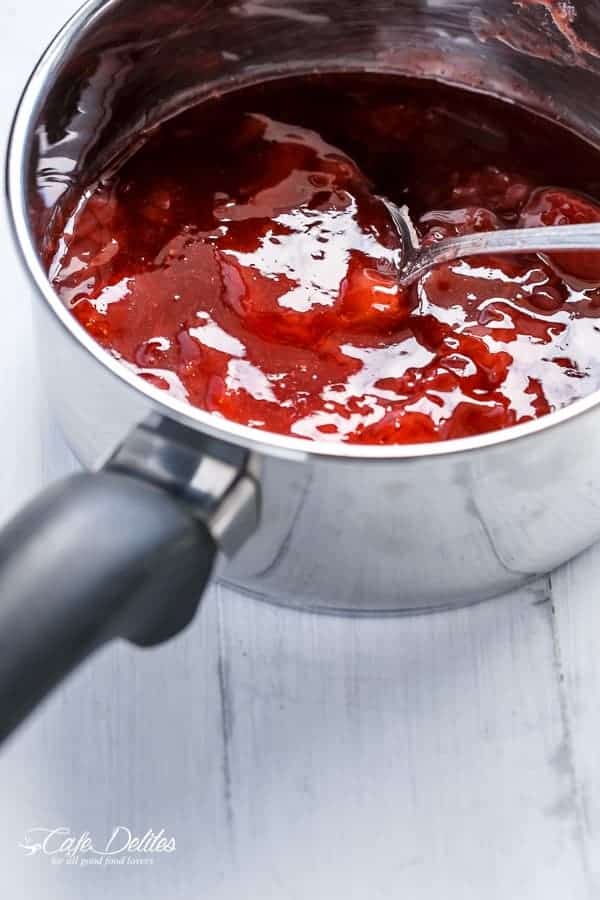 I'm going to start off my sharing some tips I learnt while testing these out once…okay maybe three times….before I got it.
The dough is moist. It's beautifully moist which gives it that melt-in-your-mouth result. So when rolling it out, keep dusting small amounts of flour over it. And when rolling it up with the strawberry syrup….it helps to use the blunt edge of a knife to scrape it up from the bench while licking your syrup covered fingers…..sssshhh.
And that's it. That's about as tricky as it gets.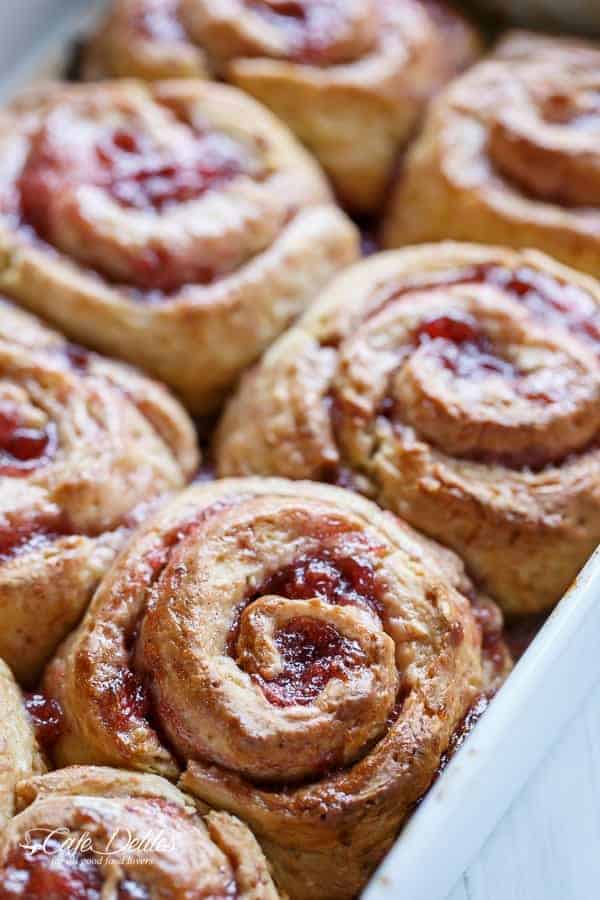 Apart from the fact the your kitchen will start smelling like a bakery…it's so hard keeping that oven door closed. I mean…just look at those rolls! Only to drizzle them in a lemon-scented cream cheese glaze spiked with buttermilk. Cooks Illustrated…how I love you. It's hard to believe there's no yeast in them.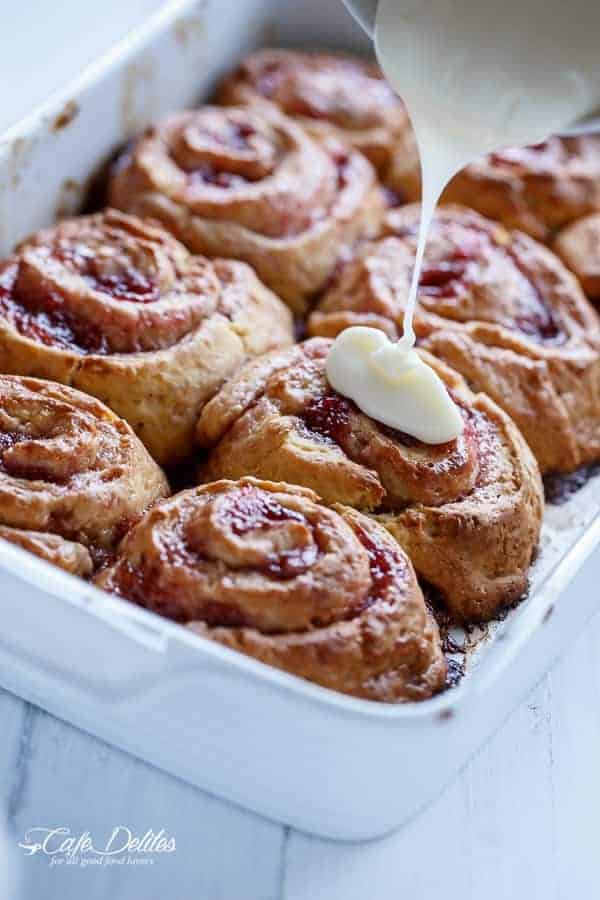 How did this happen? Well…I was thinking of Mother's Day, and how much I miss Strawberry Scrolls. But at the same time…I wanted Cinnamon Rolls. You know…the usual voices in my head arguing between who wants what. So…I mixed them both and got this.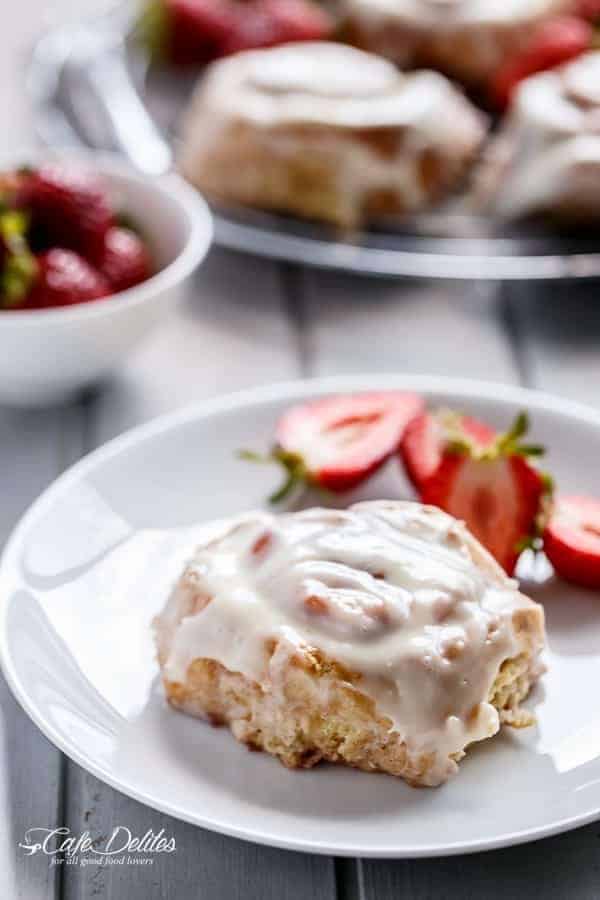 Reserving half of the strawberry syrup to drizzle over the top. Because, like I said, it's addictive.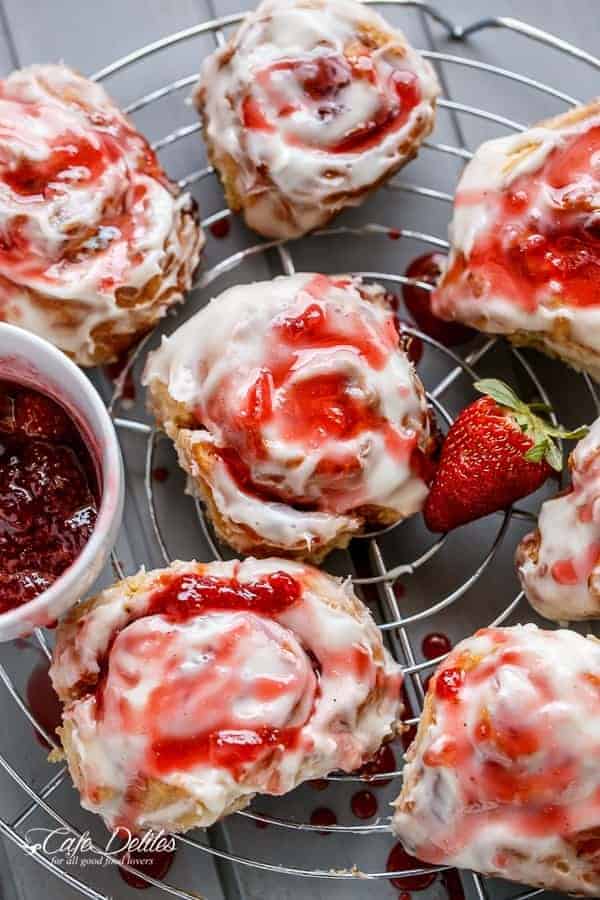 And it was either drizzle…or dip and drench and drown my buns. I went for drizzle. I can only imagine waking up to these first thing in the morning…fresh out of the oven. On Mother's Day. And now you can too! Put the family to work.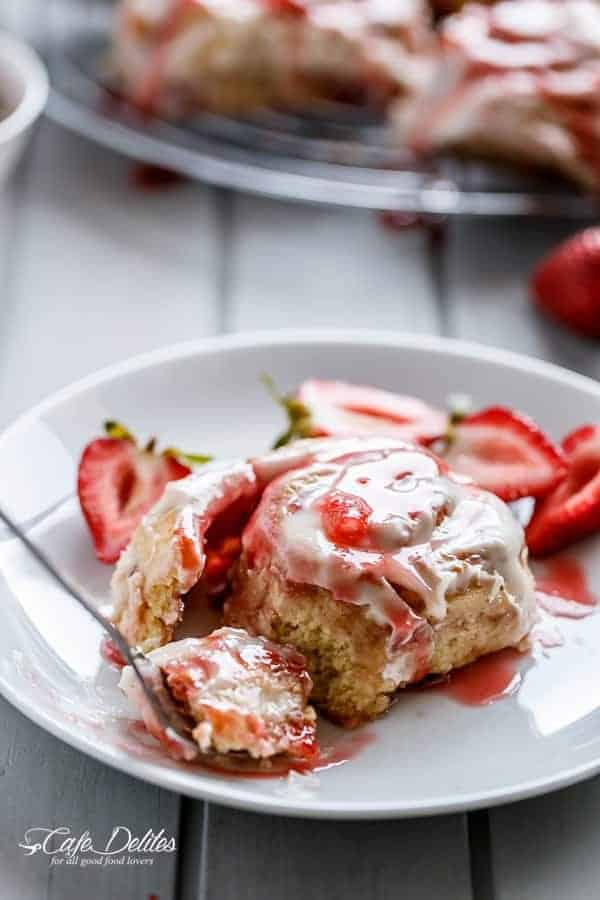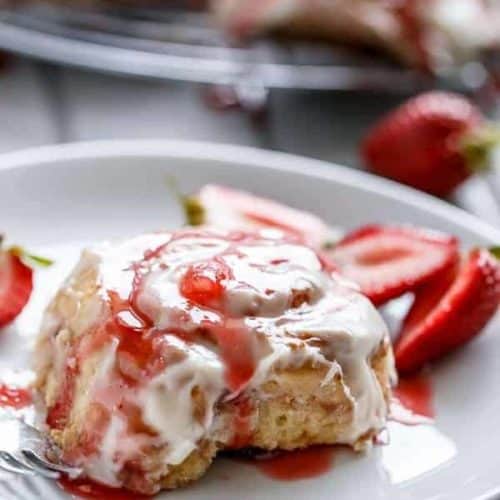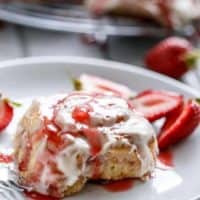 No Yeast Strawberries And Cream Cinnamon Rolls
Soft and fluffy pillows of sweet cinnamon roll dough smothered with a beautiful strawberry syrup, rolled up and covered in the most perfect cream cheese/buttermilk frosting.
Weight Watchers: 6pp per roll
PRINT
SAVE
go to your favorites
Ingredients
2 1/2

cups

flour + 1/4 cup extra for working the dough

1/4

cup

natural granulated sweetener or granulated sugar

1 1/4

teaspoons

baking powder

1/2

teaspoon

baking soda

1/2

teaspoon

salt

1

cup

buttermilk* See Notes

5

tablespoons

melted butter
Strawberry Jam:
1

cup

fresh strawberries

, halved (or frozen if you don't have fresh)

1/2

cup

granulated sugar

2

tablespoons

water

2

teaspoons

vanilla extract

1

teaspoon

ground cinnamon
Cream Cheese Icing/Frosting:
4

tablespoons

low fat/fat free cream cheese

, soft and at room temp

4

tablespoons

buttermilk* See Notes

3/4

cup

icing/confectioners sugar

1

tablespoon

lemon juice
Instructions
Preheat oven to 220C | 425F.
For The Strawberry Syrup:
Combine strawberry ingredients in a small saucepan; bring to the boil; reduce heat and simmer gently while stirring occasionally until a syrup forms and thickens. Set aside and allow to cool.
For The Rolls:
In a large bowl, whisk together the 2 1/2 cups of flour, sugar, baking powder, baking soda and salt. Measure out the buttermilk in a jug; add 4 tablespoons of butter to the buttermilk; mix well; then pour the milk/butter mixture onto the dry ingredients. Slowly stir together until a 'shaggy' dough forms (do not over mix or the dough with become hard when baking). If the dough is too sticky and wet to work with, add 2 tablespoons flour.

Transfer the dough onto a lightly floured surface; coat your hands in a little flour, and shape the dough with your hands (or roll with a lightly floured rolling pin) into a 13x10-inch rectangle.

Evenly spread half of the cooled strawberry jam/syrup over the surface. Start rolling the dough from on the long edge until rolled to opposite end. (The dough will be a little wet. If needed, gently scrape the bottom of the dough off of the bench with the flat side of a knife while rolling over the jam).

Press together the seam and trim off the ends. Using a sharp knife, slice into 9-12 pieces (depending on how thick you like your rolls).

Place rolls into an11×8-inch greased or sprayed with cooking oil spray baking dish (or pan). Brush cinnamon rolls with remaining Tablespoon of melted butter and bake for 25-30 minutes, or until they are golden brown.
For The Icing:
Combine together the cream cheese and powdered sugar with a small whisk or fork until smooth. Whisk in buttermilk and lemon juice and beat until creamy. Drizzle onto hot cinnamon rolls and spread evenly.

To serve, drizzle the remaining strawberry syrup over the rolls.
Notes
*Buttermilk: If you don't have buttermilk, you can make your own by mixing together 1 cup milk + 1 tablespoon lemon juice or vinegar) for the rolls; and 4 tablespoons milk + 1 teaspoon lemon juice or vinegar for the frosting/icing. Allow the milk mixture to stand for 5 minutes to sour before mixing into the dough or through the frosting.
Adapted From: Cooks Illustrated
Nutrition
Calories:
257
kcal
|
Carbohydrates:
41
g
|
Protein:
5.5
g
|
Fat:
4.6
g
|
Fiber:
0.8
g