Buttery Pie Crust without any shortening! The perfect pastry that melts in your mouth. Perfect with any pie filling.
Buttery Pie Crust is so easy to make, you won't buy store bought again. This is one recipe we always go back to when making any pie: Apple, Pumpkin, Pecan…the list is endless. Light, buttery and a little flaky.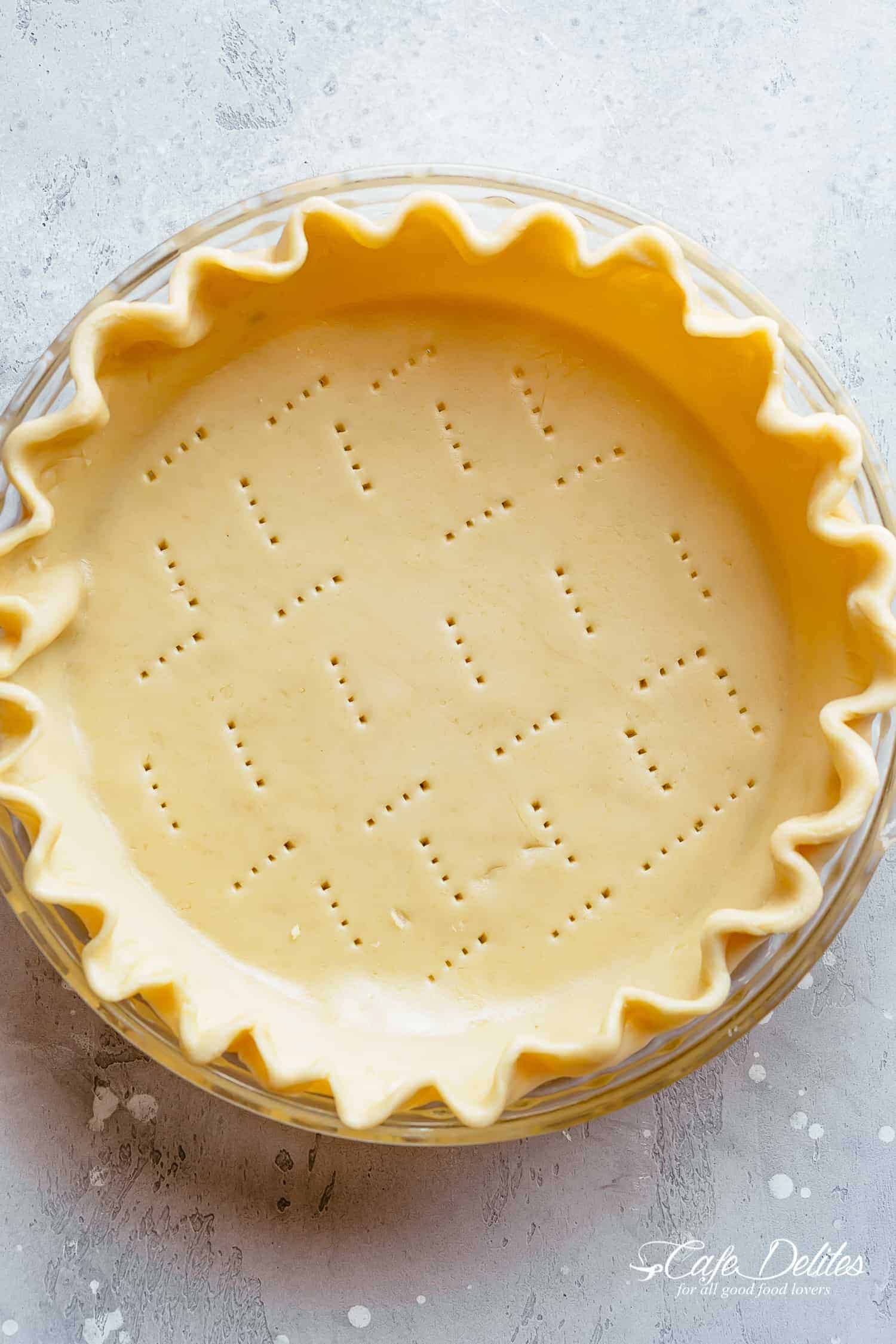 PIE CRUST
If there's one person that's been intimidated by pie crust — it's me. But making your own pie crust is pretty easy. The best part is you only need a handful of ingredients to make it. The greatest part is this crust is all butter — no shortening. A recipe handed down to me from my mum who bakes a pie every week with this pie crust recipe.
HOW TO MAKE A HOMEMADE PIE CRUST
All you need is flour, butter, salt, sugar, ICE COLD water and a little muscle.
Flour: We use plain white or all-purpose flour for our homemade pie crust. I have included weights in the recipe card to ensure you are using the correct amounts. If you don't have a kitchen scale and prefer to measure with cups, make sure you spoon your flour into the cup. Then level it off with the straight edge of a blunt knife or spatula.
It's really important to prevent forcefully packing your cup with flour or try to push more flour into it, as that will impact the end result.
Butter: With many pie crust recipes calling for shortening, we prefer an all butter crust. It may just be a personal preference, but you really can't beat butter. Butter in this recipe is what gives your pie crust an irresistible buttery flavour that melts in your mouth, while keeping your pastry tender.
NOTE: You must use cold butter taken straight out of the refrigerator just before adding it to the flour. While the crust bakes, small pieces of fat melt through it and create small puffy air pockets, which is exactly what you want. A deliciously flaky crust.
Sugar: To enhance the flavour of your pie. Without sugar, sweet pies would be very bland. Even though it's only a little amount, it helps to level out the flavour, making sure you get a well rounded taste in your mouth with each bite. For a savoury pie, you can leave it out if you wish, or lower the amount.
Salt: Also an important ingredient. A touch of salt with a hint of sweetness is the key.
Ice Water: One of the most important ingredients that gets over looked is ice cold water. Chilled ingredients prevent the butter from melting before the crust gets to the oven. If the butter melts before baking, the fat gets absorbed into the flour and a flaky pie crust will be gone.
Have your ice water ready in a bowl and add it a tablespoon at a time. You can use a kitchen fork at this point to blend the water into the flour after each addition. Too much water in your pastry can leave you with a sticky mess, while not enough water will give you a crumbly dough that won't come together.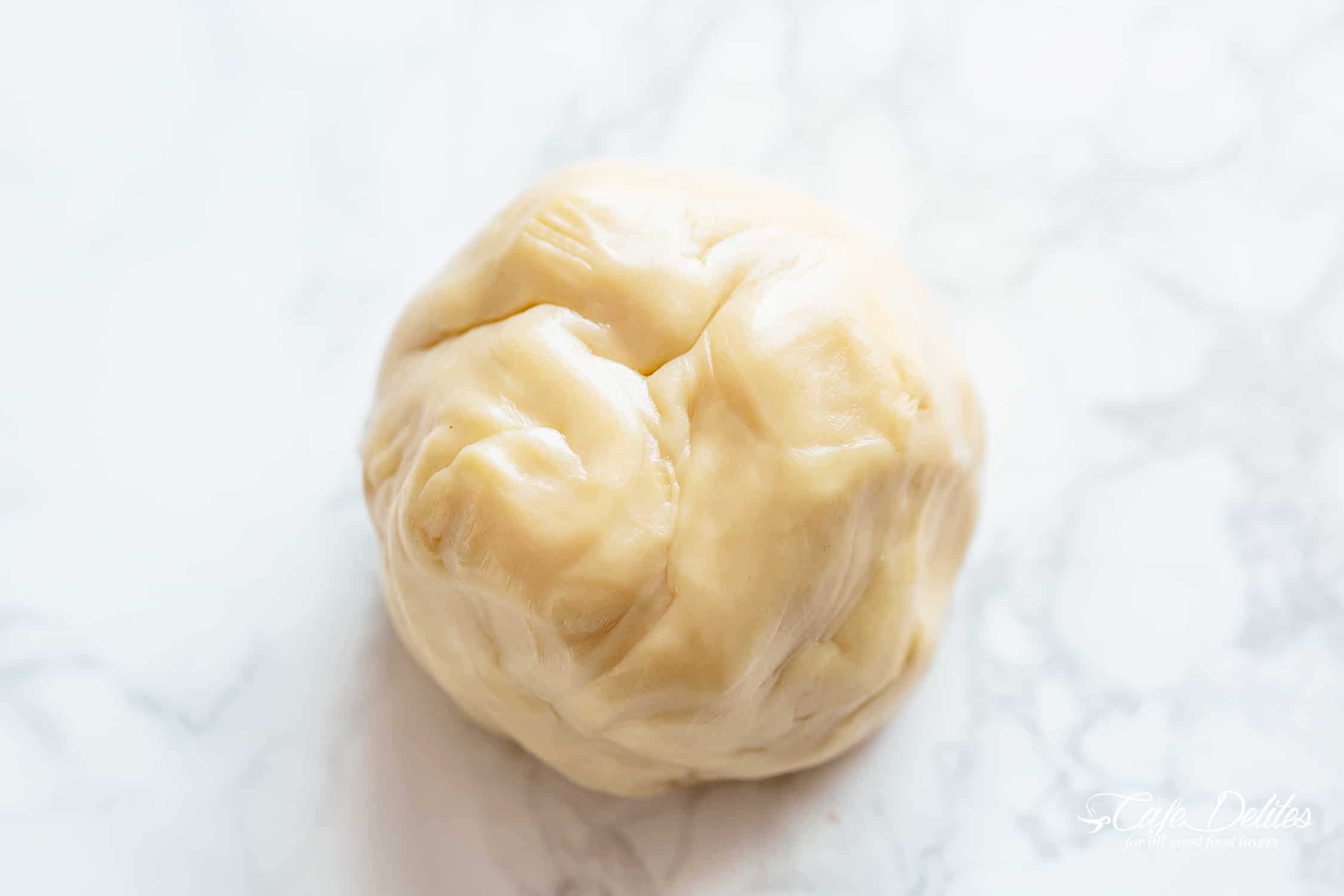 I use a little oil on my hands to bring it together that much more, while adding a little extra moisture to the dough. This also prevents the dough from sticking to your fingers when you're shaping into a ball. It's something I have been doing for years and is not exactly necessary to the recipe, but if you want to try it, see how you go!
ROLLING PIE CRUST
The easiest way to transfer rolled pastry to your pie dish is using parchment paper to begin with.
Place a sheet of parchment paper onto a clean work surface and transfer your ball of pastry onto it. Place another piece of parchment paper over the top of the pastry and roll out — from the middle to the edge — without stretching the dough. Work in a clockwise motion until it's rolled out large enough to fit your pie dish. You can use an 8-inch or 9-inch pie dish wth this pastry.
Remove the top sheet of parchment paper, and very gently, lift the pastry high enough to slip one hand underneath. Slip your other hand under, lift the pastry and lower the pastry into your prepared, lightly greased pie dish, paper-side up.
Carefully peel the parchment paper off, and gently fit the pastry into the base of the pie dish.
Trim the edges, leaving about 1 inch of overhang to pinch or flute the edges.
Refrigerate for at least 20 minutes before using.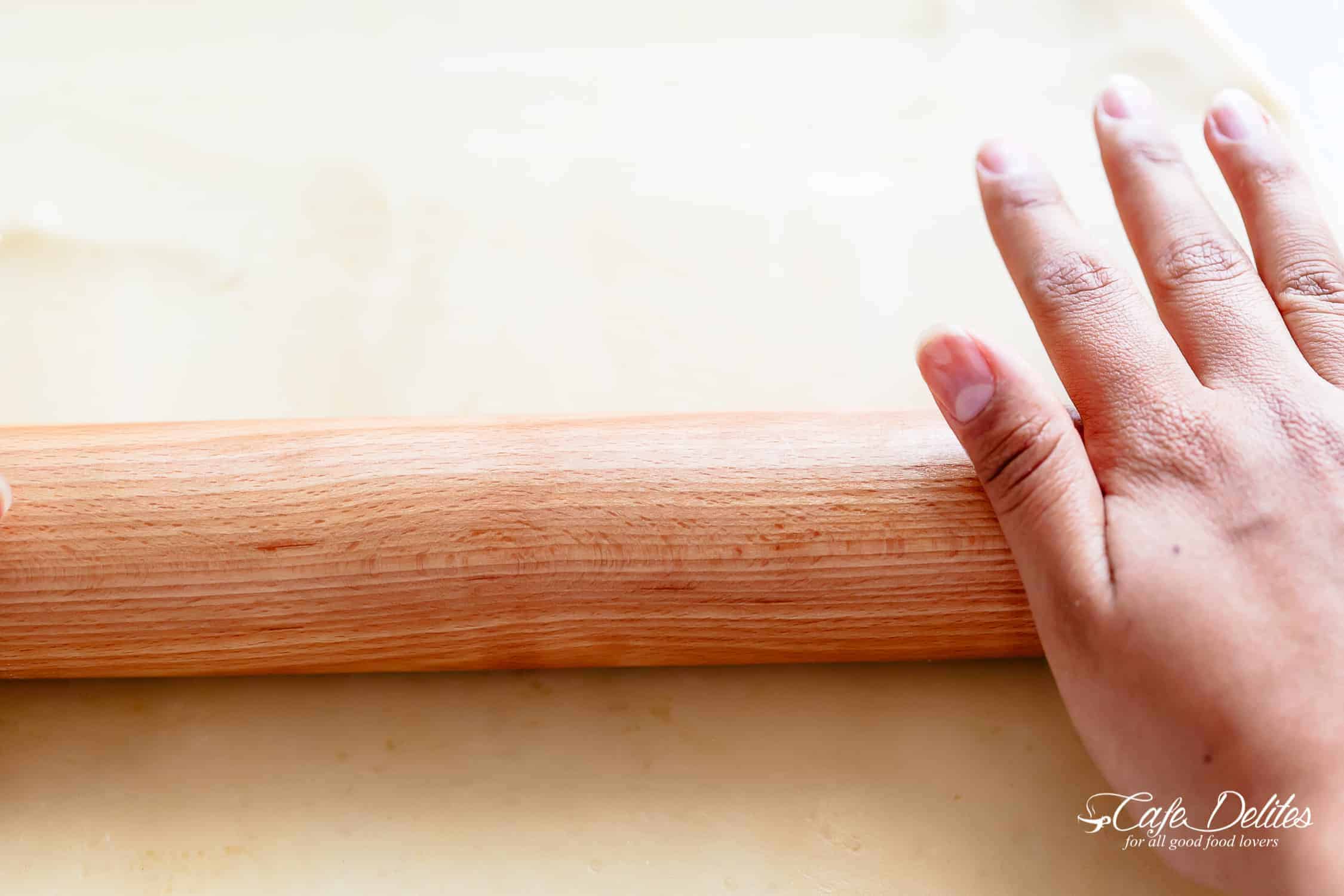 TO BLIND BAKE OR NOT?
This is personal preference. What is blind baking? It's partially baking your pastry before adding wet fillings. It seals the surface and results in a crisp pastry shell, while preventing the bottom of your pie from becoming soft or soggy.
Personally, I prefer a soft dough…it's my favourite part. But if you prefer a solid base:
Prick the base with a fork to prevent air bubbles.
Line the pie crust with parchment paper, covering the base and sides.
Fill with pie weights, dried beans or uncooked rice to prevent the pastry base from rising while baking.
Cook in preheated oven at 425°F (220°C) 10 minutes.
When the pastry case is out of the oven, remove the baking paper and weights you used. Return to the oven for a further 5 minutes or until lightly golden.
For a completely baked pie crust, bake for 15-20 minutes until golden and cooked through.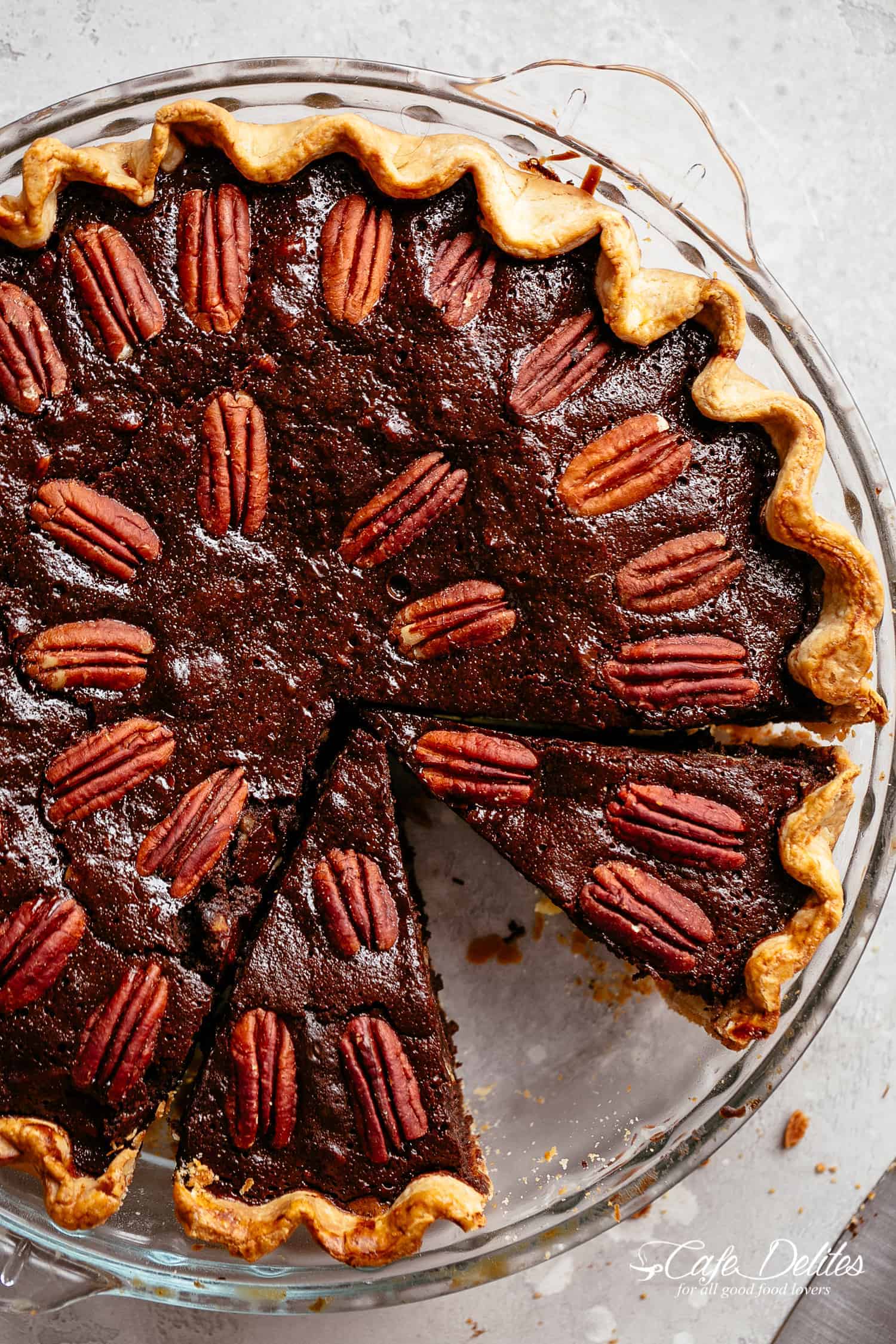 Need a pie recipe? Try these!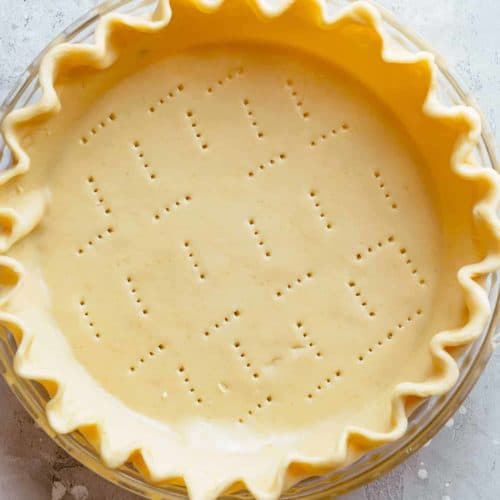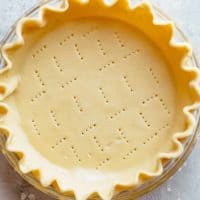 Ingredients
1 1/4

cups

(5 1/4 oz | 150 g) all-purpose flour

spooned and levelled

1

tablespoon

sugar

1/4

teaspoon

salt

3.5

ounces

(100 g) cold unsalted butter

cubed ( + extra to butter your pie dish)

4-6

tablespoons

ice water
Instructions
Lightly grease a 9-inch (23cm) pie dish with butter. Set aside.

Sift flour, sugar and salt in a large bowl. Add butter and rub butter into flour with your fingertips until it resembles fine breadcrumbs.

Make a well in the centre. Add 4 tablespoons of ice cold water and mix with a blunt knife in a cutting action until the mixture comes together to form small beads. (You can also use a pastry cutter.) Use a little extra water if you need it.

Place a sheet of parchment paper onto a clean work surface. Gently gather the pastry together into a ball and transfer onto parchment paper. Place another piece of parchment paper over the top of the pastry.

Roll pastry out between the 2 sheets of parchment paper unit large enough to fit a 9-inch (23 cm) pie dish (about 12 inches in diameter).

Remove the top sheet of parchment paper. Gently place hands underneath the pastry and carefully roll the pastry into pie dish, parchment paper side up. Remove paper.

Trim the edges leaving about 1 inch of overhang to pinch or flute the edges. Refrigerate for 20 minutes.