Fudge Chocolate Pecan Pie is the best, decadent dessert to hit your holiday table!
Not just any chocolate pie…. this Chocolate Pecan Pie is a cross between a pecan pie, chocolate fudge, molten brownies and a hot fudge chocolate pudding. Spiked with optional bourbon, our recipe is addictive and irresistible.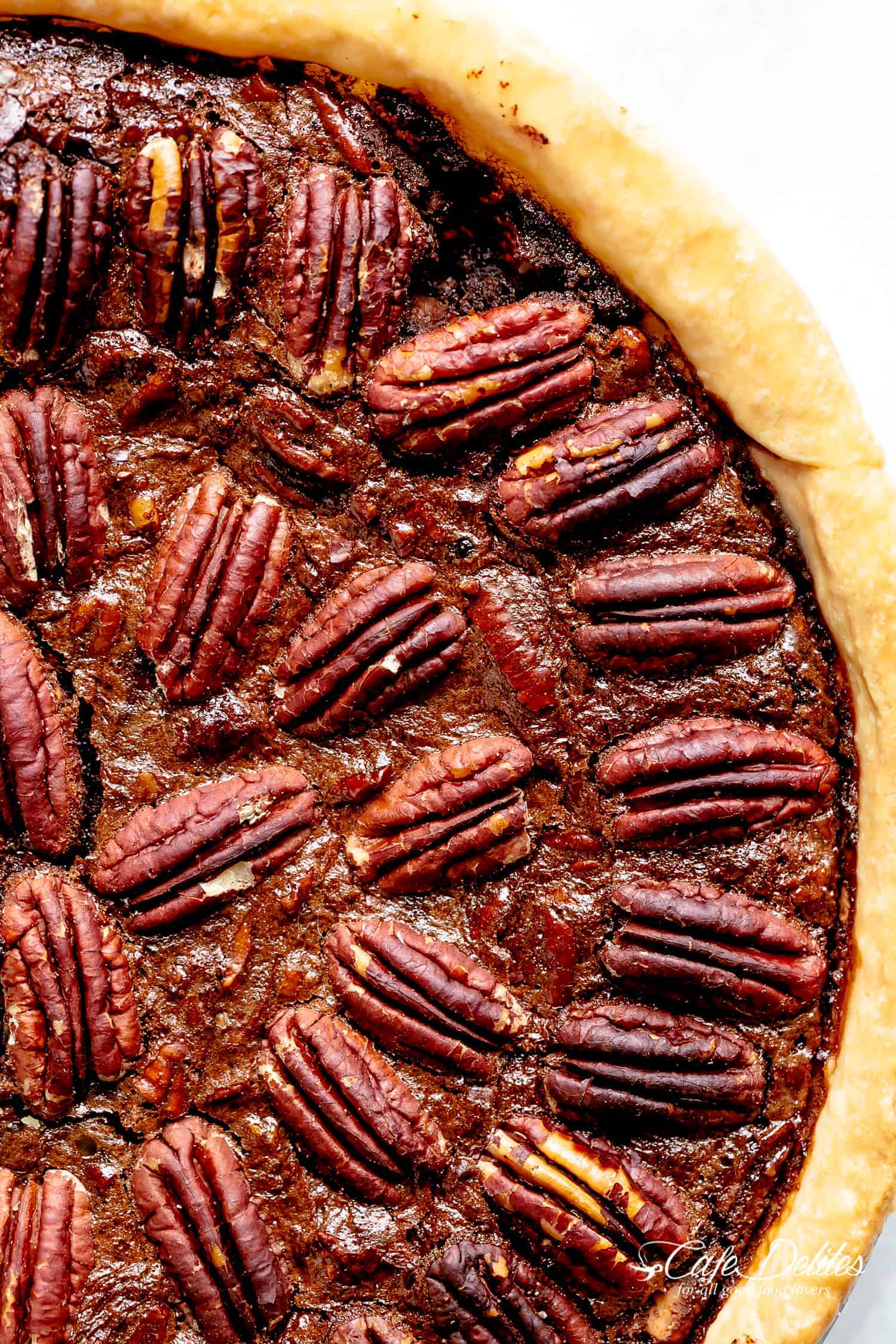 CHOCOLATE PECAN PIE
A fudgy and rich, chocolate molten filling bakes underneath a chewy layer that could almost be passed as a crackly topped molten brownie. The toasted pecans in this Chocolate Pecan Pie offer the perfect crunch, with the perfect balance of flavour and natural pecan flavours shining through. The bittersweet chocolate adds richness and depth to a classic pecan pie, while a hint of bourbon makes it feel like you're eating at a top restaurant.
The most intensely flavoured pecan pie you will ever make. This pie will make the end of your Thanksgiving evening that much better.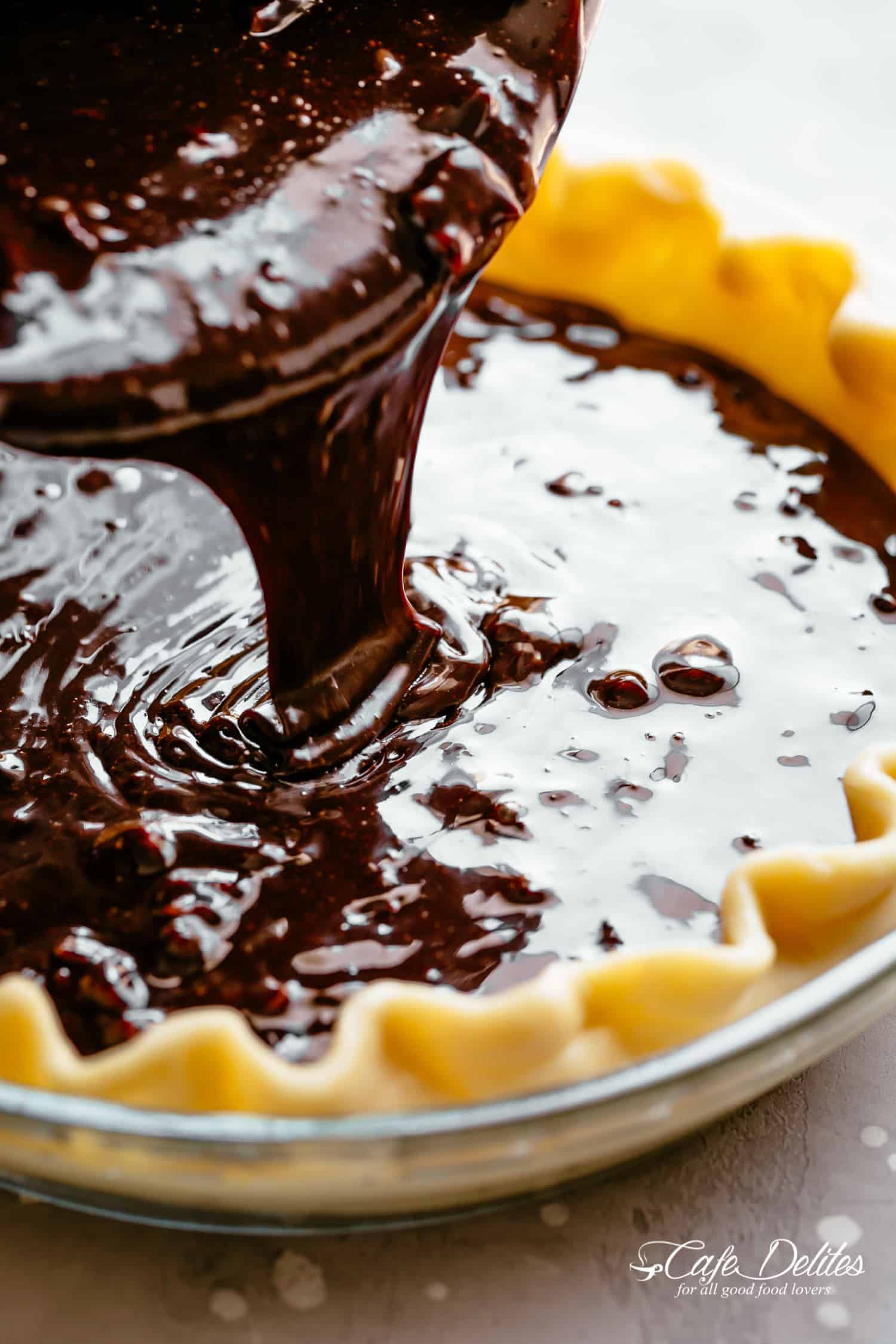 HOW DO YOU MAKE CHOCOLATE PECAN PIE?
Every time I make our Chocolate Pecan Pie, I alternate between baking it in a store bought pie shell or my homemade buttery pie crust. (You might see the difference in these photos.) It doesn't matter which you choose — choose what works for you.
To make this quicker, go with a store bought pie shell. Then all you need to do is make the liquid gold filling!
This recipe includes all of the usual ingredients as a classic pecan pie:
Brown sugar — I use light. If you want a deeper flavour, use dark brown sugar.
Golden syrup (Maple syrup or light corn syrup can be used. Use dark corn syrup for a deeper flavour.)
Eggs — room temperature for the best results.
Salt — creates the perfect sweet/salty balance.
The difference with this chocolate version is melting 60% chocolate (or 70% if you love dark chocolate) with butter until it's wonderfully glossy. I also add a couple tablespoons of unsweetened cocoa powder to make it that much more rich and dense.
The filling has crushed pecans throughout so you get a pecan hit with every bite.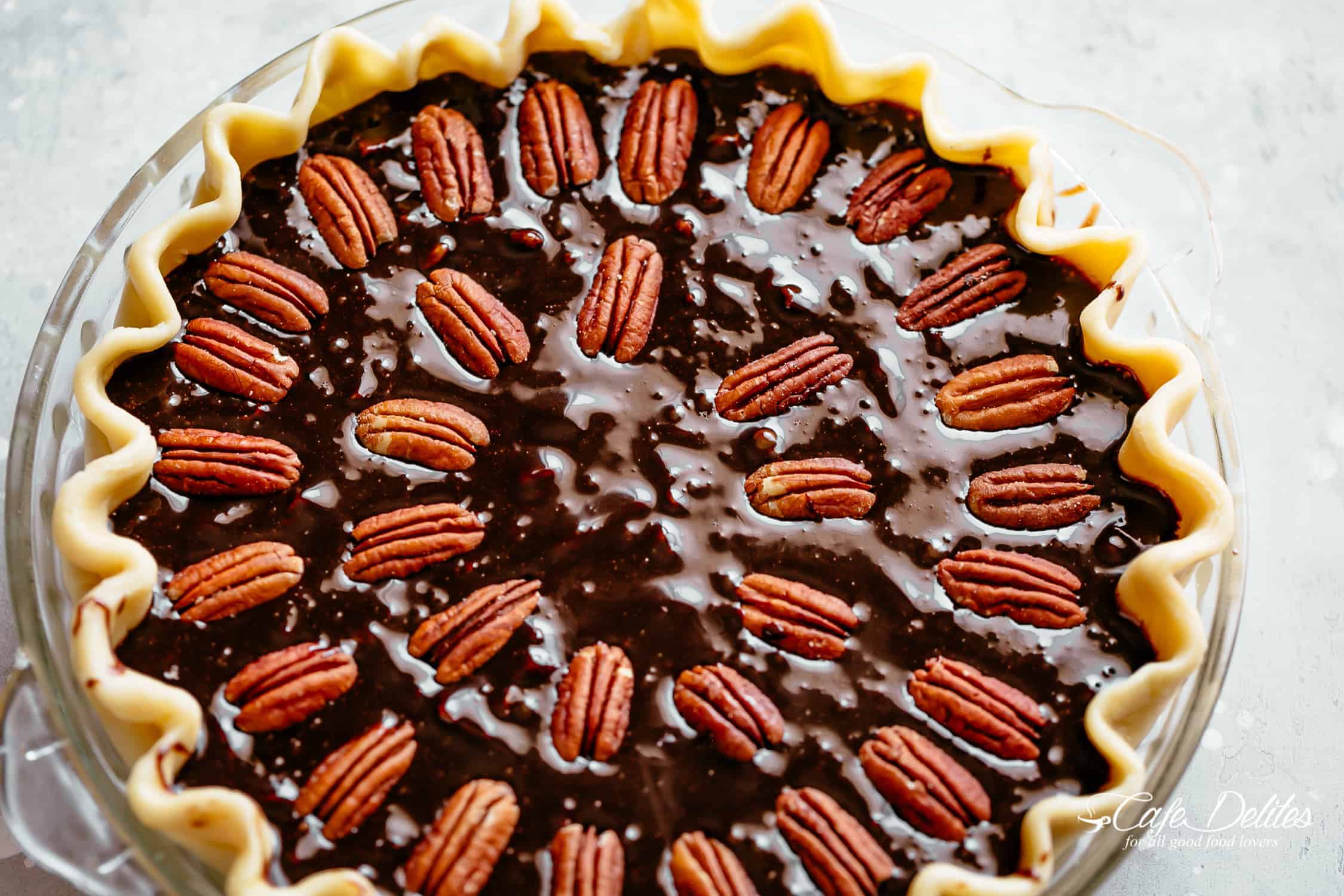 HOW LONG DO YOU BAKE A PECAN PIE FOR?
This Chocolate Pecan Pie needs 50-55 minutes or until centre is just set to the touch. It will still be a little jiggly underneath the top and you will see it puffed up in the oven. This is normal. It deflates and flattens while it cools down.
If your pie is browning too fast while baking, loosely tent with foil to stop it from burning.
Let the pecan pie cool on a wire rack for about 4 hours and serve warm, or refrigerate to chill overnight.
DO YOU SEE that fudgy centre?!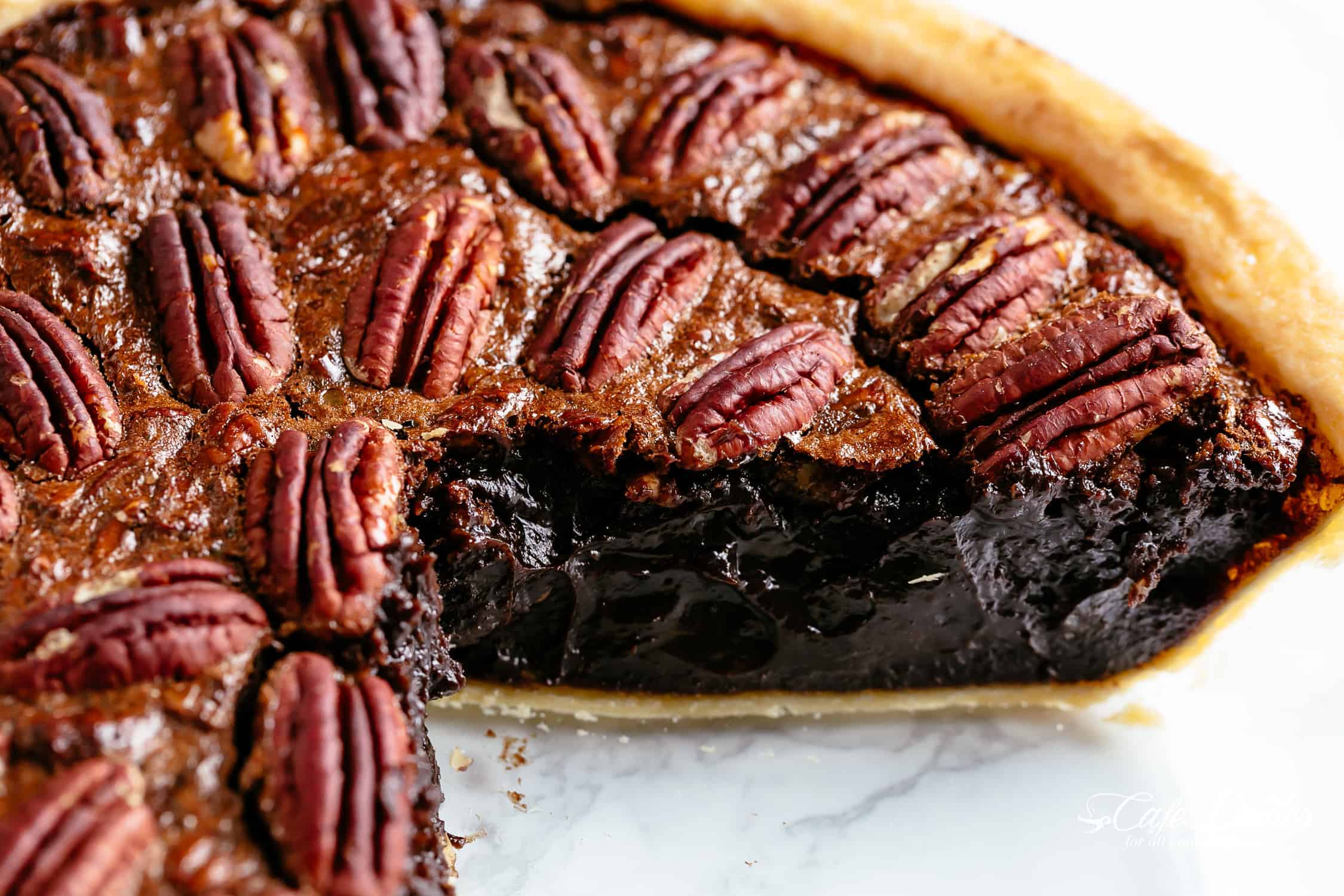 TO SERVE
To serve Chocolate Pecan Pie warm, you can warm the pie up the microwave. Reheat the entire pie in the pie dish (if it's a microwave safe dish), or you can slice it into individual serves and heat for 30-40 seconds each.
You can also warm it in a preheated oven at 350°F (175°C) for 20 minutes. Just keep your eye on it as you don't want to bake it further — just heat it through.
To get the most out of your Chocolate pecan pie, serve warm with a BIG dollop of cream!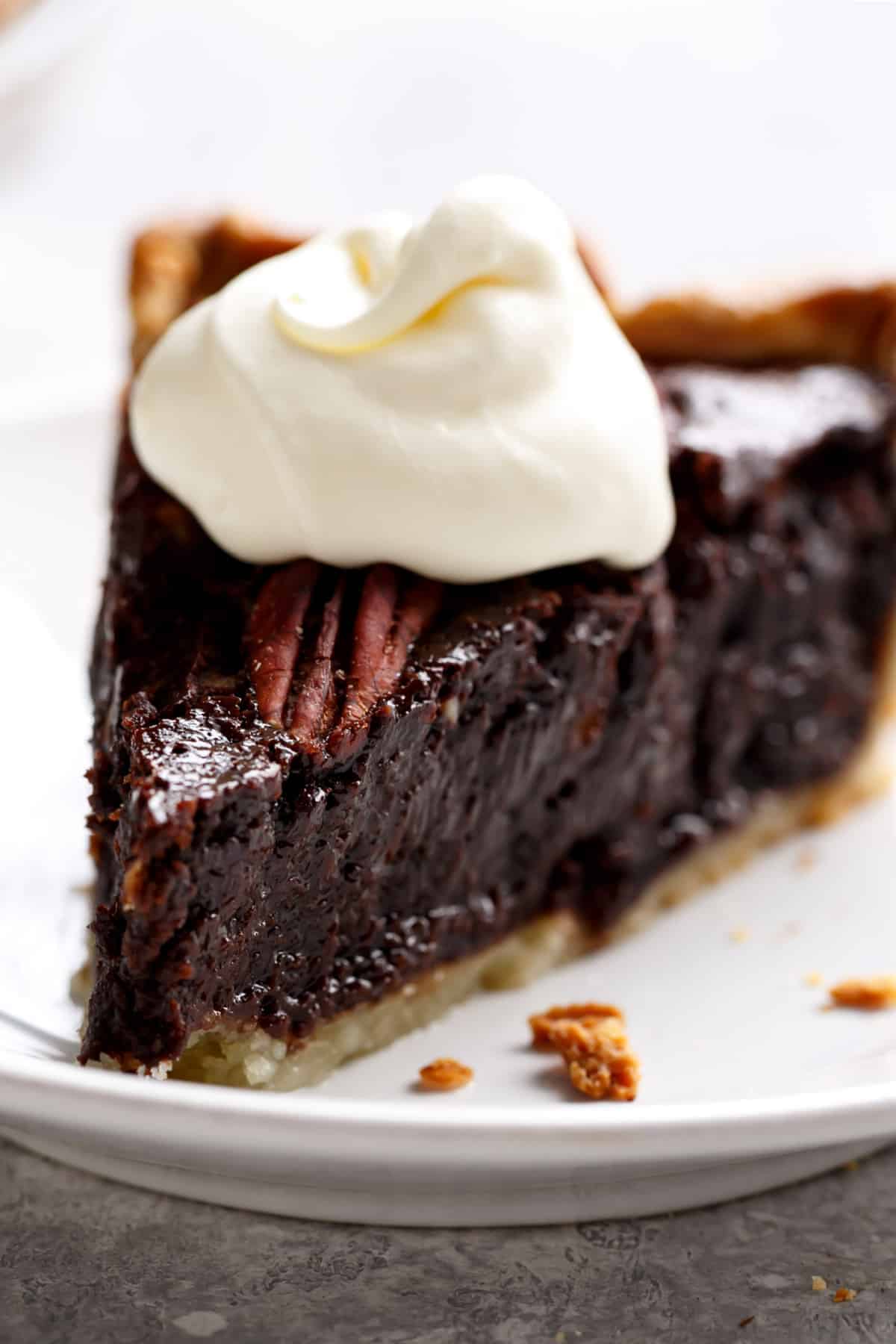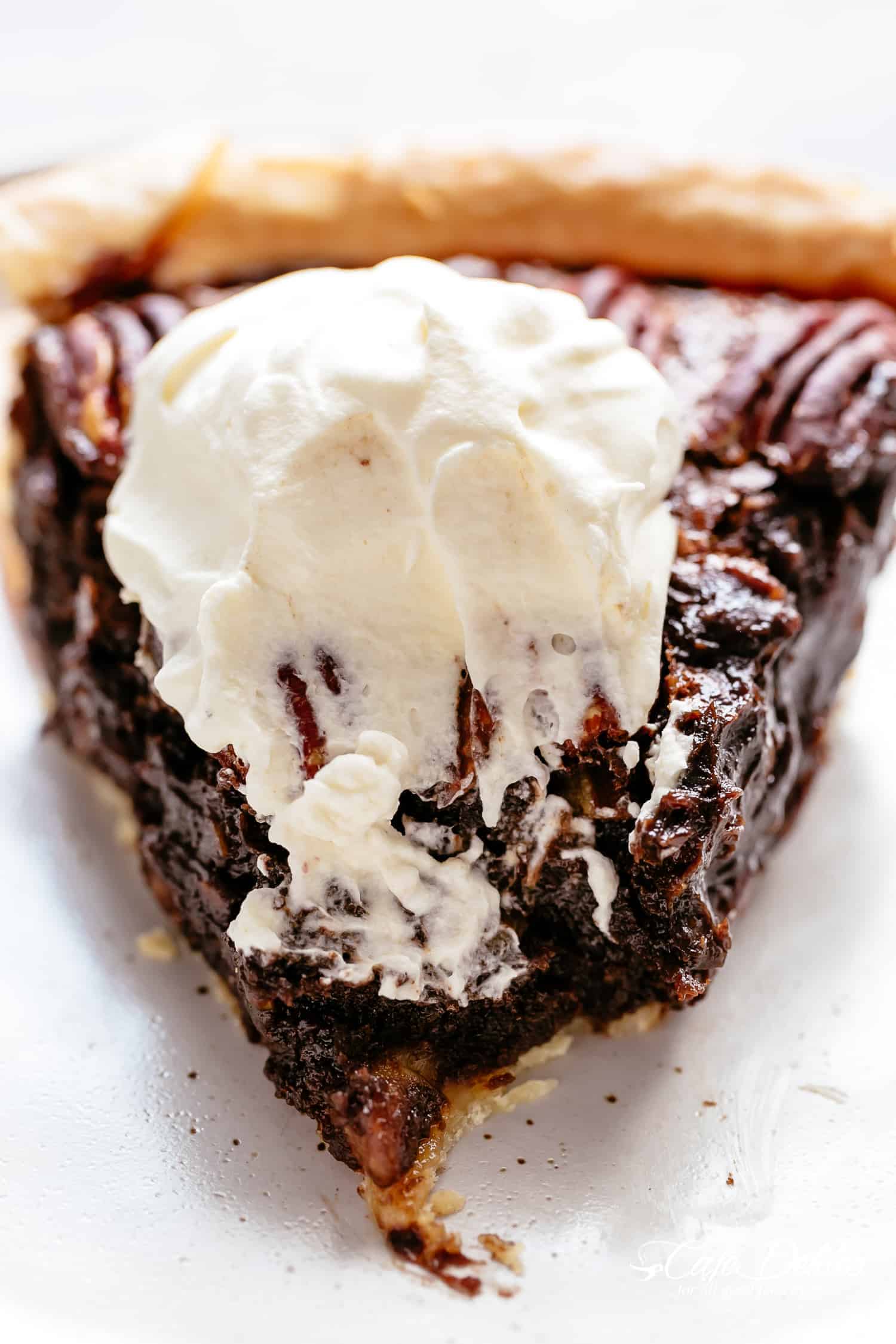 LOOKING FOR MORE DESSERTS? TRY THESE!
Soft Cinnamon Rolls
Pumpkin Pie
World's Best Brownies
Fudgy Chocolate Cake
CHOCOLATE PECAN PIE ON VIDEO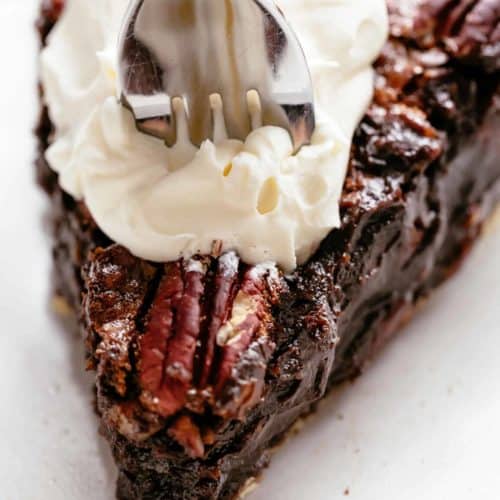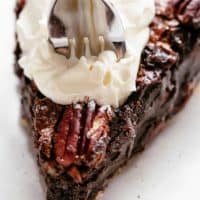 Ingredients
2

cups

pecans

6

ounces

70% chocolate

roughly chopped into pieces (or semisweet chocolate)

1/2

cup

unsalted butter

melted

2

tablespoons

unsweetened cocoa powder

(I use Hershey's)

3/4

cup

golden syrup

maple syrup, rice syrup or light corn syrup

3/4

cup

light brown sugar

packed

2

tablespoons

all purpose flour

2

tablespoons

bourbon

optional

1

tablespoon

pure vanilla extract

3/4

teaspoon

salt

4

large eggs

whisked

9

inch

pie crust

or pie shell
Instructions
Preheat oven 350°F (175°C) with rack on lowest position in oven. Prepare pie crust. If using uncooked pie crust, prick the base a few times with a fork to prevent air bubbles before pouring in the filling.

When oven is hot, toast pecans on a baking sheet for 10 minutes. Roughly chop half of the toasted pecans. Reserve the other half for decorating the top of the pie.

Fill a small pot 1/3 of the way with water and bring to a boil over medium-high heat.

Reduce heat to low and place a heat-proof bowl on the pot. Fill the bowl with the chocolate and stir continuously until the chocolate is melted.

Add the butter to the chocolate, stirring well to combine until butter is melted. Mix in the cocoa powder until completely dissolved.

Take the bowl off the heat. Whisk in syrup, sugar, flour, bourbon, vanilla and salt.

Add the eggs and whisk well to combine. Fold in chopped pecans. Pour into prepared pie shell and top with remaining pecans.

Bake for 50-55 minutes or until centre is just set to the touch but still a little jiggly underneath. If your pie is browning too fast, loosely tent with foil.


The pie will be puffed up as soon as it comes out of the oven, but it will deflate and flatten as it cools. Let cool on a wire rack for about 4 hours and serve warm, or refrigerate to chill overnight.
Nutrition
Calories:
906
kcal
|
Carbohydrates:
104
g
|
Protein:
13
g
|
Fat:
65
g
|
Saturated Fat:
21
g
|
Cholesterol:
75
mg
|
Sodium:
786
mg
|
Potassium:
344
mg
|
Fiber:
6
g
|
Sugar:
36
g
|
Vitamin A:
330
IU
|
Vitamin C:
0.2
mg
|
Calcium:
72
mg
|
Iron:
5.7
mg