Chocolate Marshmallow Molten Lava Cakes
Ohhhh chocolate. Ohhhhh how I love thee chocolate. Especially Hot Chocolate. Chocolate doesn't give problems. It only solves them.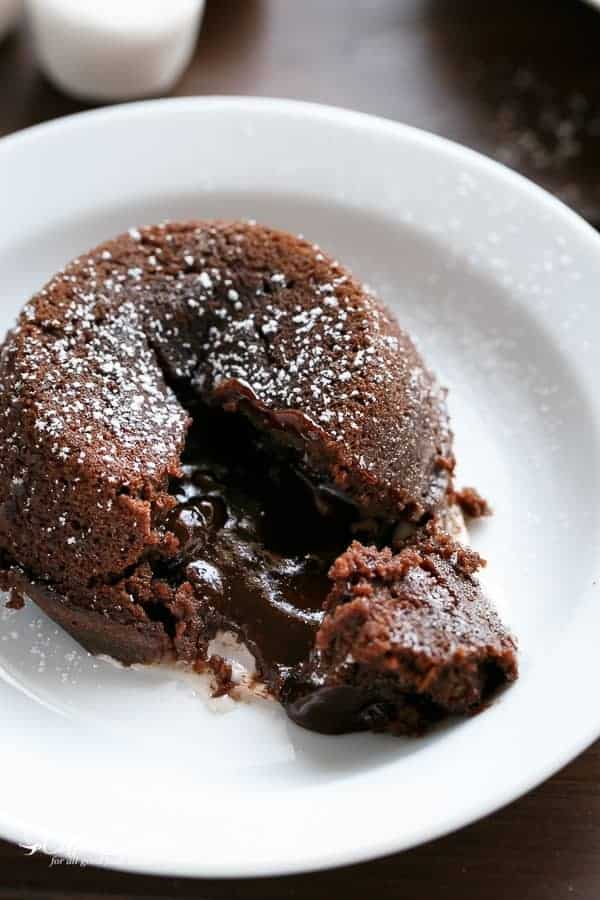 You know when you order a Hot Chocolate, and the marshmallows that were happily floating on top of your hot chocolate suddenly start to melt in and all through your chocolate…only to create the sweetest, thickest and creamiest milky chocolate than you expected? Yeah…well. That was the inspiration for these.

MY LATEST VIDEOS
MY LATEST VIDEOS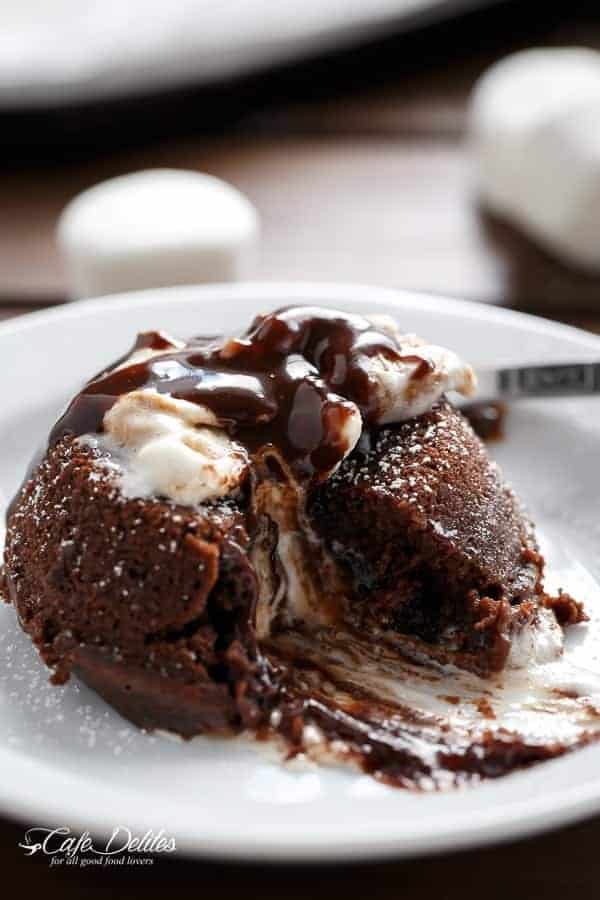 Hot Chocolate transformed into Lava Cakes with melted gooey marshmallow baked into the centre… I mean….do you see the Marshmallow centre?
When they first came out of the oven…hot and smelling so rich and divine…I may have panicked…a little; said a silent prayer; hoped they worked.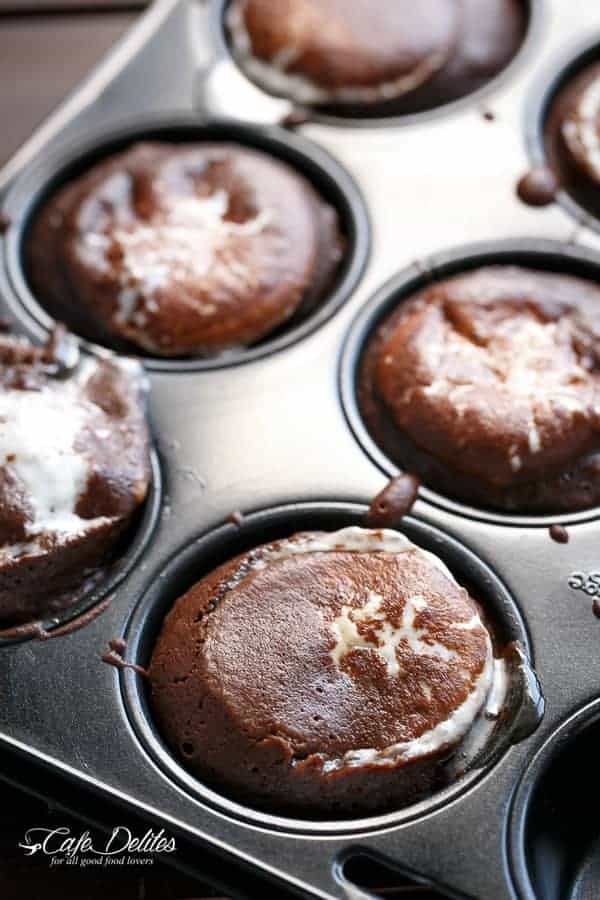 But turning them over revealed perfect little lava cakes. A choc-a-holics dream come true. The centres so soft. So perfect. So I made them again. And again. And….um….again. Just to make sure I was giving you guys the best possible lava cakes you've ever had in your lives.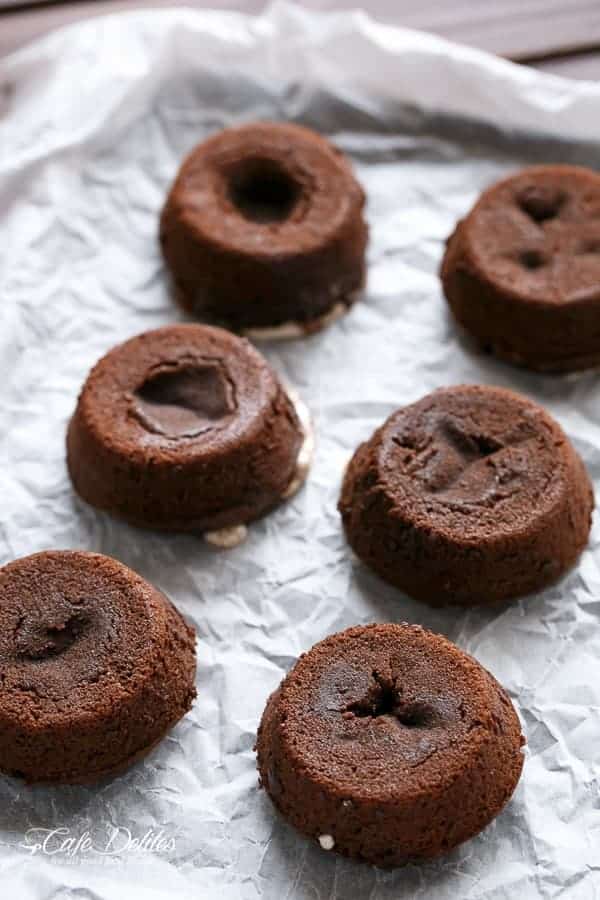 Dust them with icing sugar for added hot chocolate-brownie-ness… It's not an option. Yes, I'm serious.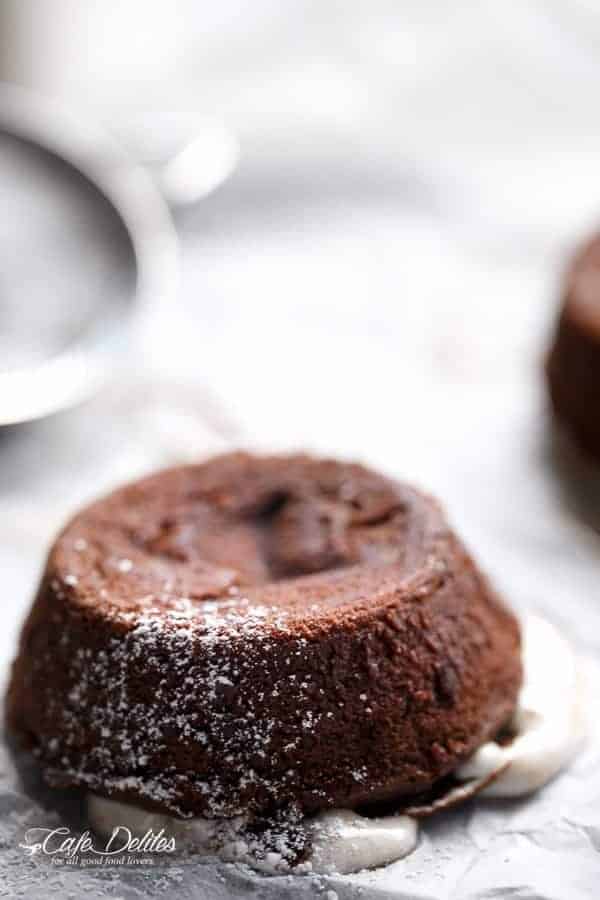 And proceed to cut into them while trying to hold back tears of excitement.
Oozing hot chocolate married with melted marshmallow melts out so beautifully all over your plate. I'm not kidding when I say this was a breathtaking moment.
So of course; I went a step further; roasted some-more marshmallows and spooned them over my cakes. Oh…and then drizzled them with chocolate ganache. Um. Yeah.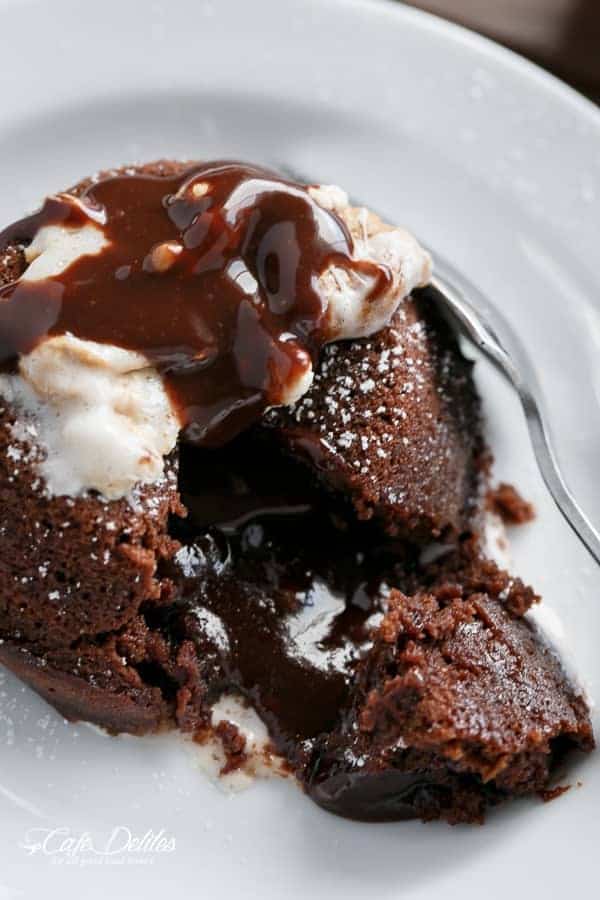 I could sit and stare at this more than sit through another Magic Mike movie. Gooey-ness with every blissful mouthful. So s'xcuse me while I go make more.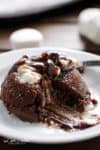 Chocolate Marshmallow Molten Lava Cakes
Hot Chocolate transformed into Lava Cakes with melted gooey marshmallow baked into the centre! All in a muffin pan and so easy to bake!
Weight Watchers: 7pp per lava cake!
Ingredients
1/2

cup

light butter/spread of choice

100

g

dark chocolate

(I used Lindt 70%)

1/2

cup

powdered/caster sugar

1

tsp

pure vanilla extract

1/4

cup

flour

2

medium egg

(s)

6

large Marshmallows

1

tsp

icing sugar

, to dust
Chocolate Ganache:
1/4

cup

chocolate of choice

(I used Lindt again)

3

tablespoons

skim/low fat milk
Additional:
Extra marshmallows for roasting

(OPTIONAL)
Instructions
Preheat oven to 220°C | 425°F. Lightly grease a 6-hole muffin tin (or 6 small ramekins) with butter or cooking oil spray; wipe excess over with a paper towel and set aside.
Stovetop:
Combine the butter/spread and chocolate in a medium-sized saucepan over low heat. Cook while stirring until melted and smooth.
Microwave:
Combine butter and chocolate in a medium-sized microwave safe bowl; melt in 30 second increments stirring between each until chocolate and butter are melted and well combined.

Remove from heat (or microwave); stir in sugar and vanilla.

Add flour to the chocolate mixture in the pan; whisk until combined. Whisk one egg into the mixture at a time until a smooth chocolate batter is formed..

Pour the batter into the prepared muffin tray (or ramekins) until full. Add 1 marshmallow into each mould and press them down (they will float up slightly but sink as they bake).

Place muffin tray onto a baking tray and bake for 10 minutes or until the edges have set but the centre of each cake is a little soft. Allow to cool in the muffin tray for 5 minutes. Using a knife, gently pull cake away from the sides of the tray before turning out onto a baking tray lined with parchment/baking paper. Lift each cake onto a serving plate with a wide spatula while still warm and gooey (or they will stick to the tray if left for too long).
To serve:
Dust with powdered/icing sugar and serve with extra marshmallows or roasted marshmallows. Drizzle over melted chocolate.
Chocolate Ganache:
Melt the chocolate in a microwave safe bowl in 30 second increments, stirring between each increment until melted (it should only take 1 minute all together). Pour in the milk and mix until smooth and combined.
Roasted Marshmallows:
Place marshmallows onto a baking tray lined with parchment/baking paper in a single layer. Change oven settings to grill/broil on medium heat; grill until marshmallows have puffed up and are golden and melted. Spoon them onto the top of each cake (OPTIONAL).
Nutrition Facts
Chocolate Marshmallow Molten Lava Cakes
Amount Per Serving
Calories 248
Calories from Fat 126
% Daily Value*
Total Fat 14g 22%
Total Carbohydrates 27g 9%
Protein 7g 14%
* Percent Daily Values are based on a 2000 calorie diet.