Chocolate Molten Lava Cakes with melted gooey marshmallow in the centre! Baked in a muffin tin…it doesn't get any easier!
Chocolate doesn't give problems…it solves them. Especially in the form of soft and decadent molten lava cakes.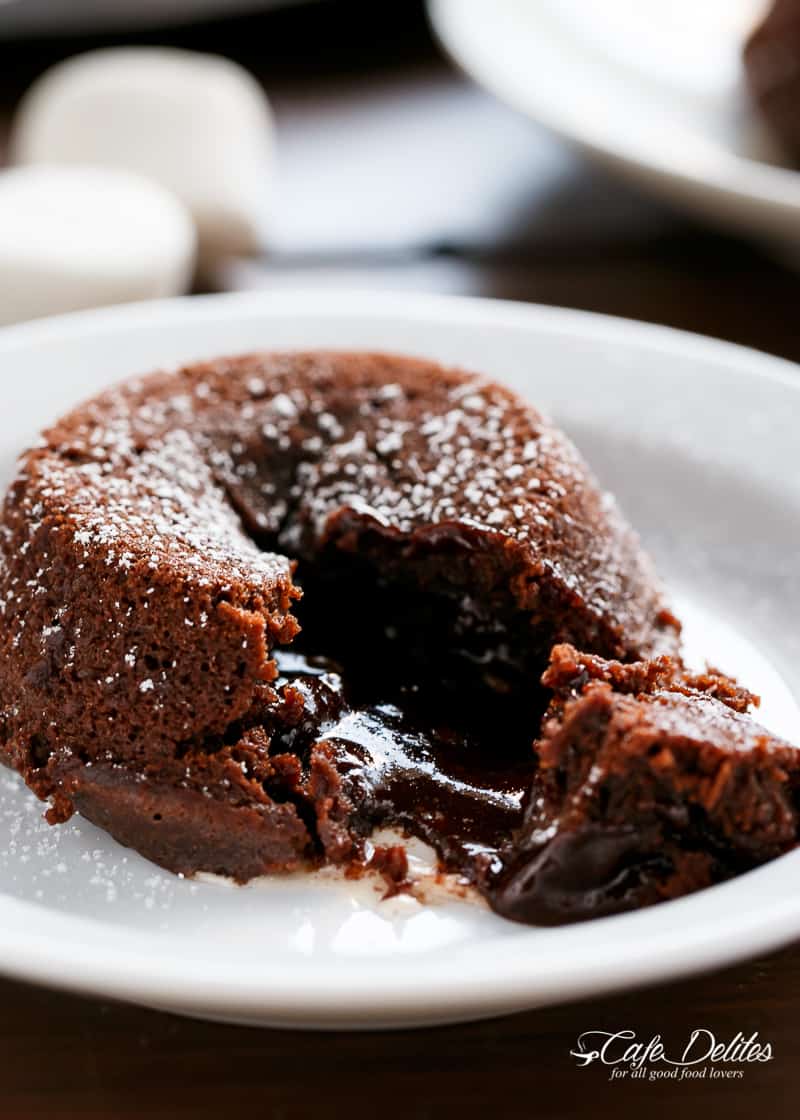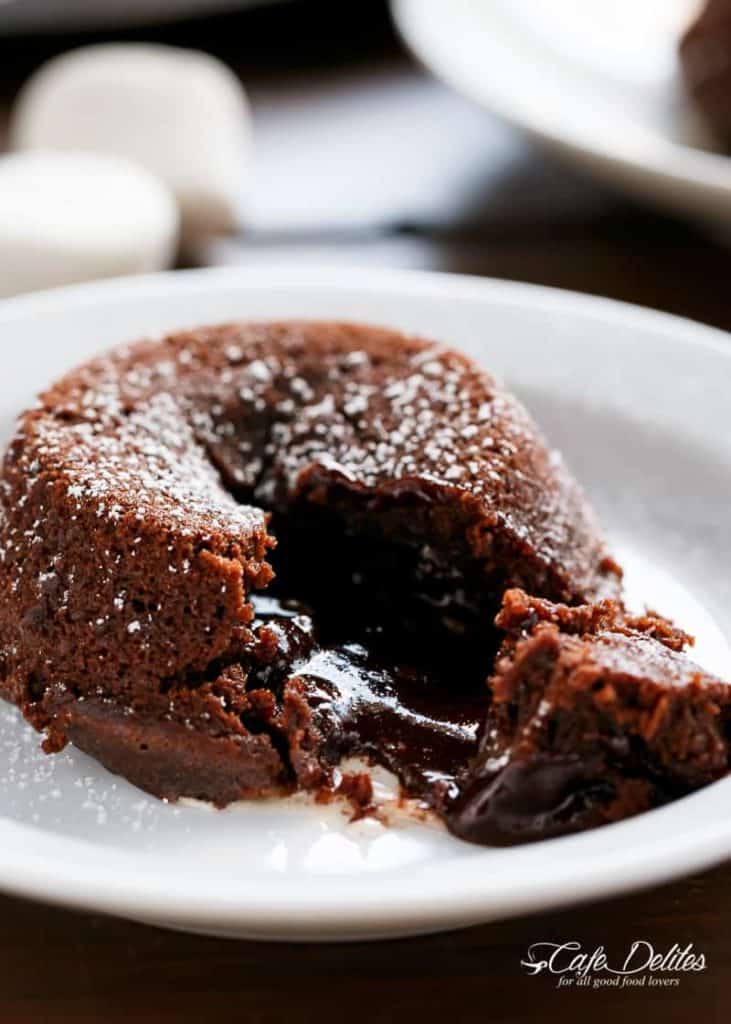 MOLTEN LAVA CAKES
Picture this: you order a Hot Chocolate at your favourite cafe. The marshmallows floating on top slowly dissolve and melt through your drink, creating a sweet, thick and creamy hot chocolate.
That was the inspiration for this. I mean, do you see the soft Marshmallow centre?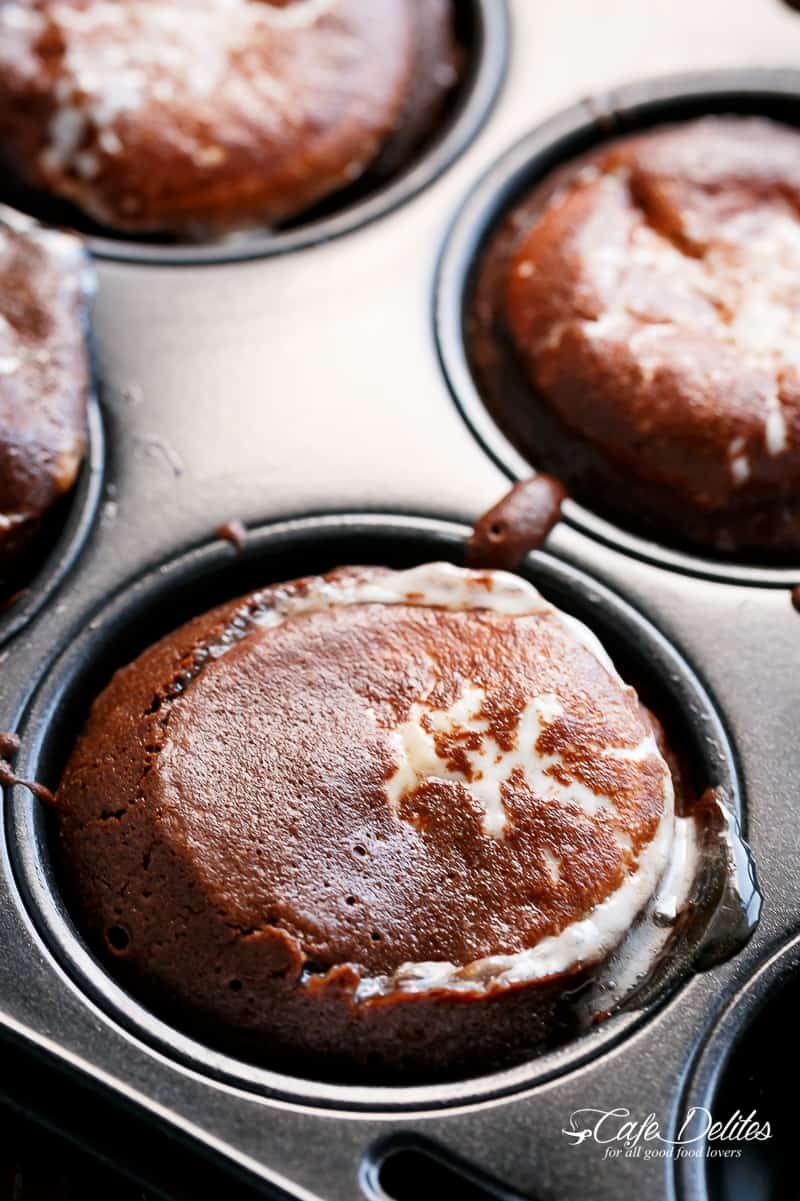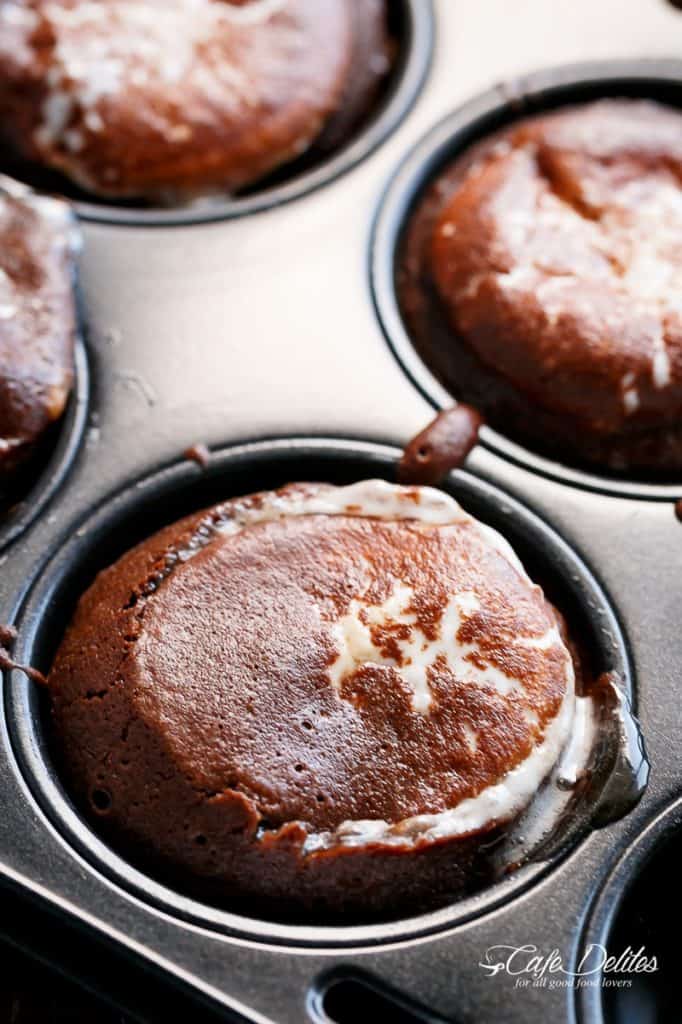 WHAT ARE THEY MADE OF?
Hot Chocolate transformed into Lava Cakes with melted gooey marshmallow baked into the centre.
They are usually prepared with five main ingredients: chocolate, butter, flour, eggs and sugar. FIRST, the chocolate and butter are melted together on the stove before the rest of the ingredients are whisked in.
When they come out of the oven, your kitchen quickly fills with rich chocolate aromas. You may find yourself saying silent prayer hoping they've turned out, even holding your breath, only to see perfect little cakes.
A choc-a-holics dream come true.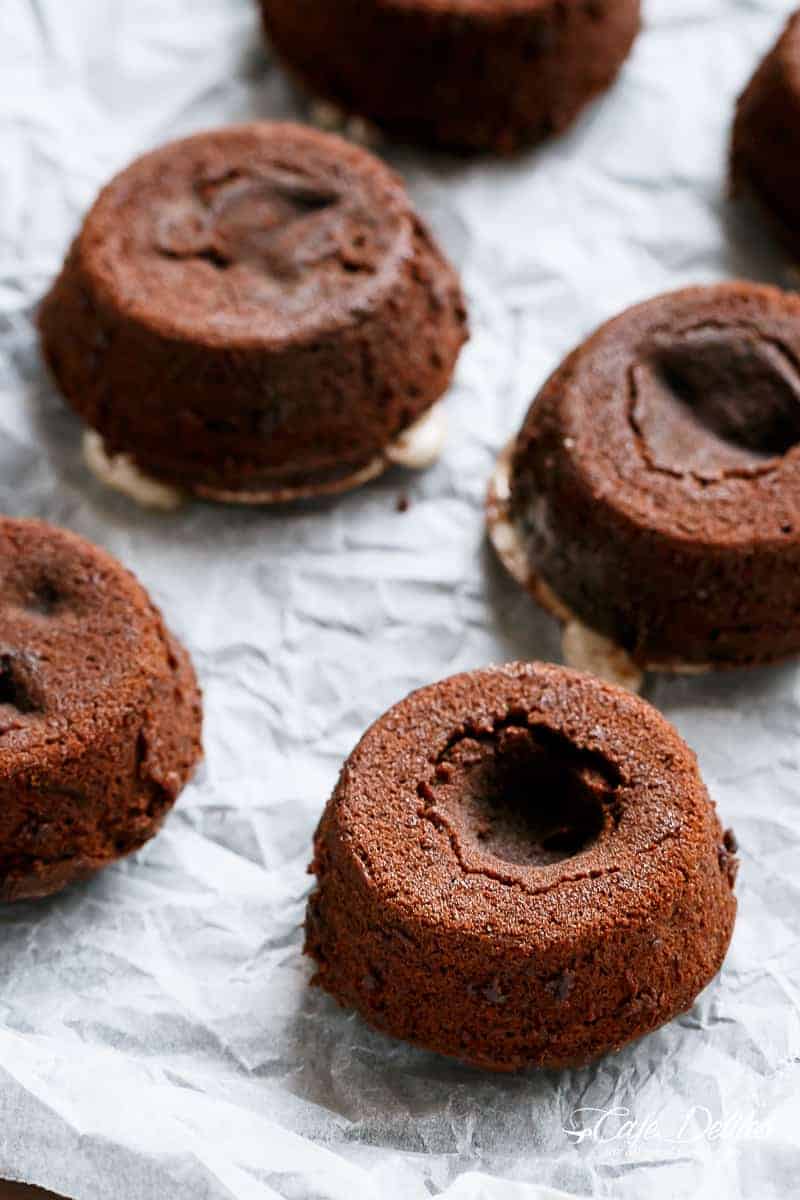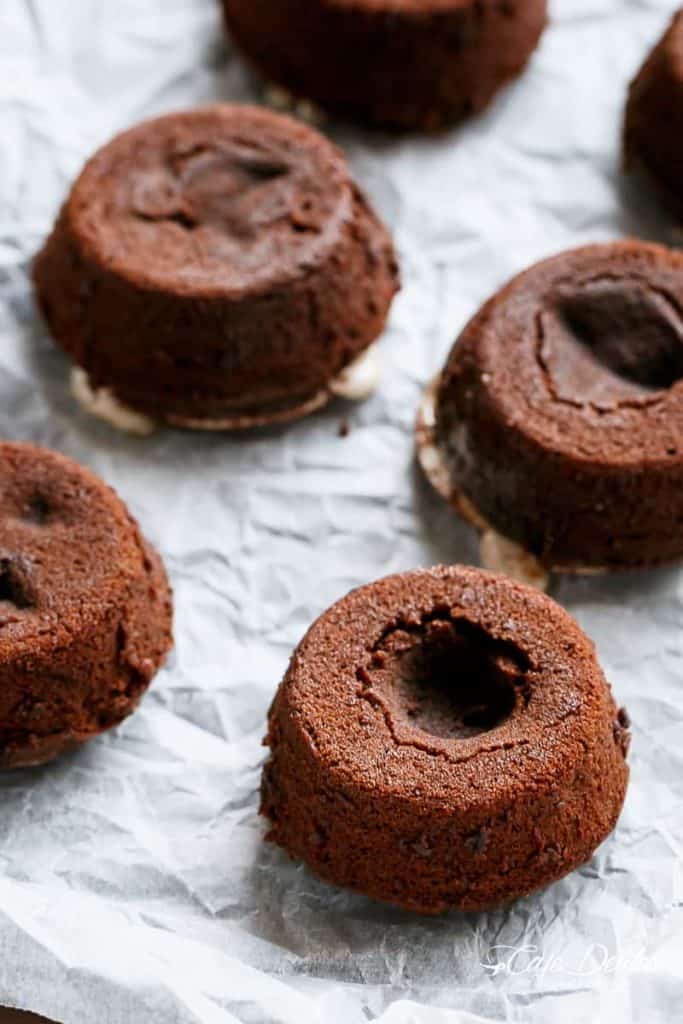 WHAT IS INSIDE A LAVA CAKE?
The centres are so soft, giving you the best possible lava cakes oozing with warm molten chocolate and melted marshmallows all over your plate. I'm not kidding when I say this is a breathtaking moment.
Dust them with icing sugar and proceed to cut into them while trying to hold back tears of excitement.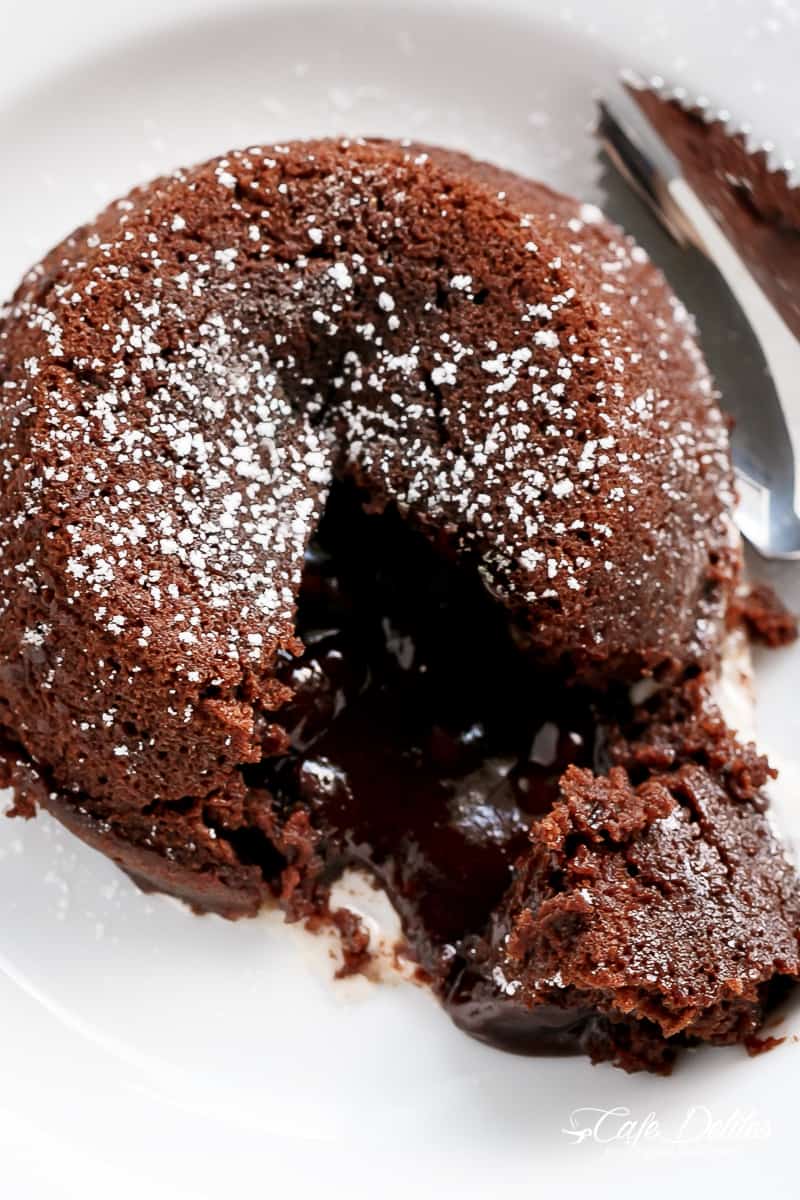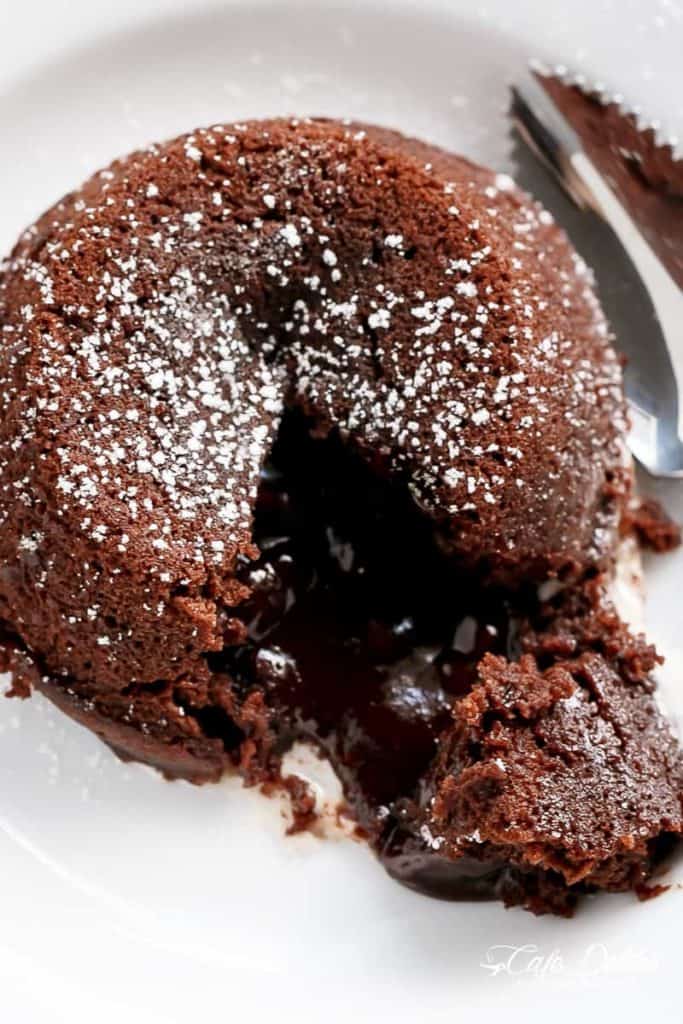 CAN THEY BE FROZEN?
Allow cakes to cool completely before freezing for up to 3 months, then re-heat in the microwave.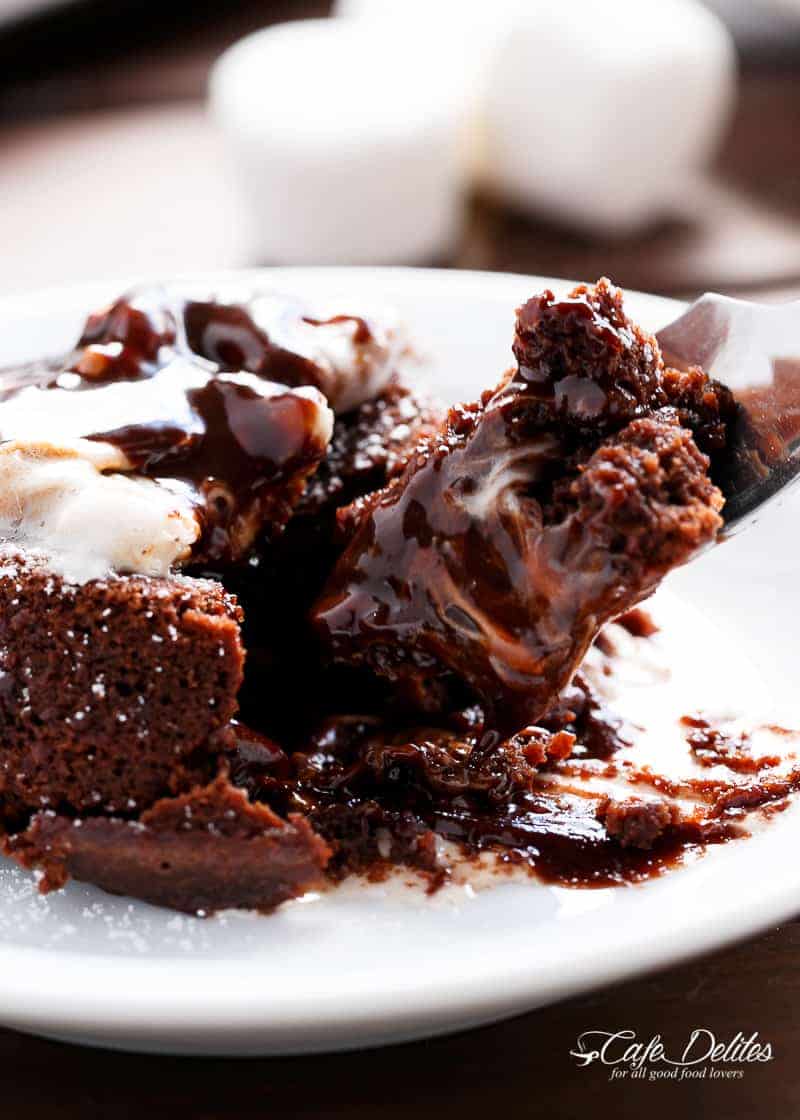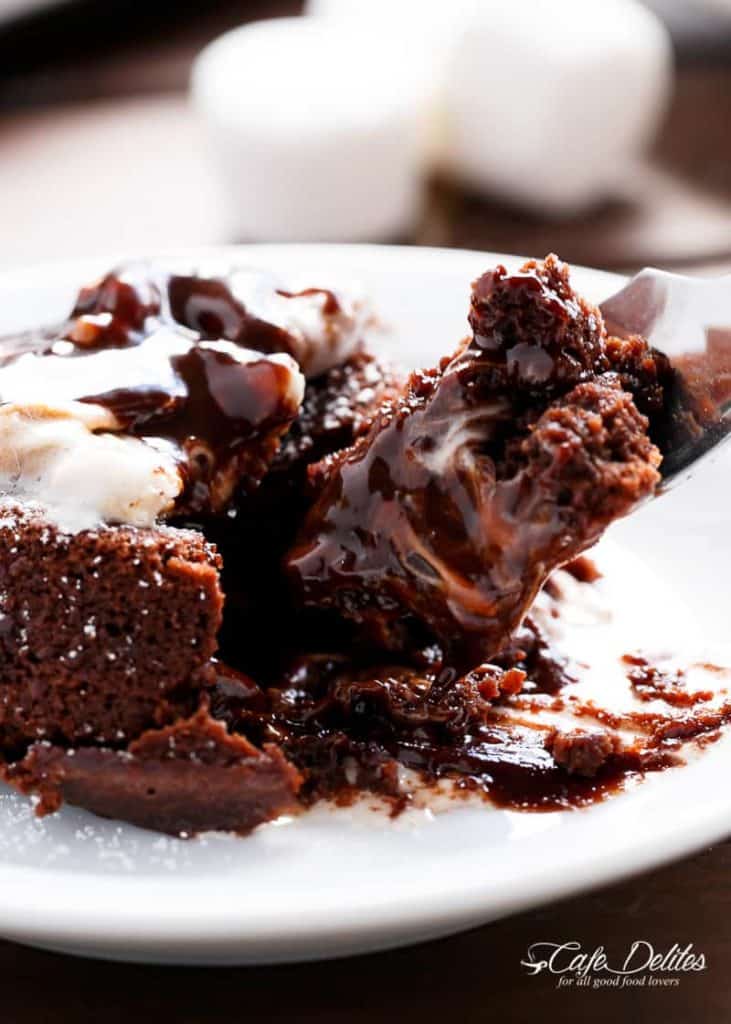 MORE CAKE RECIPES
Best Fudgy Chocolate Cake
Best Red Velvet Cake
Carrot Cake Cheesecake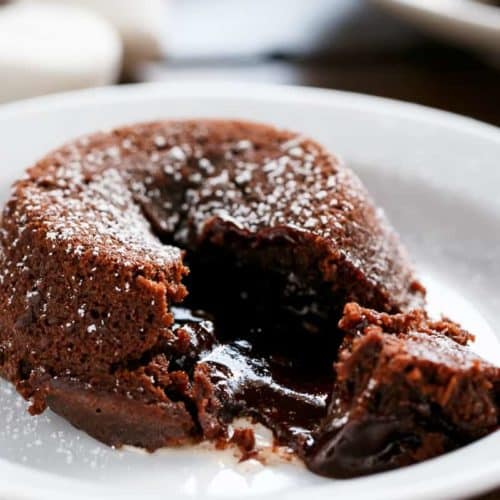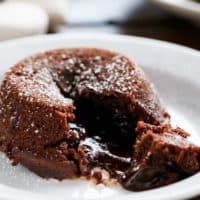 Chocolate Lava Cakes
Hot Chocolate transformed into Lava Cakes with melted gooey marshmallow baked into the centre! All in a muffin pan and so easy to bake!

PRINT
SAVE
go to your favorites
Ingredients
1/2

cup

unsalted butter

3.5

oz

(100 g) dark chocolate

(I used Lindt 70%)

1/2

cup

caster sugar

(superfine sugar or white granulated sugar)

1

teaspoon

pure vanilla extract

1/4

cup

flour

2

large

eggs

6

Marshmallows

1

teaspoon

powdered/confectioners or icing sugar

for dusting
Instructions
Preheat oven to 425°F (220°C). Lightly grease a 6-hole muffin tin (or 6 small ramekins) with butter or cooking oil spray; wipe excess over with a paper towel and set aside.
Stovetop:
Combine the butter and chocolate in a medium-sized saucepan over low heat. Cook while stirring until melted and smooth.

ALTERNATIVELY: Combine butter and chocolate in a medium-sized microwave safe bowl; melt in 30 second increments stirring between each until chocolate and butter are melted and well combined.

Remove from heat (or microwave); stir in sugar and vanilla.

Add flour to the chocolate mixture in the pan; whisk until combined. Whisk one egg into the mixture at a time until a smooth chocolate batter is formed..

Pour the batter into the prepared muffin tray (or ramekins) until full. Add 1 marshmallow into each mould and press them down (they will float up slightly but sink while baking).

Place muffin tray onto a baking tray and bake for 10 minutes or until the edges have set but the centre of each cake is a little soft. Allow to cool in the muffin tray for 5 minutes.

Using a knife, gently pull cake away from the sides of the tray before turning out onto a baking tray lined with parchment/baking paper. Lift each cake onto a serving plate with a wide spatula while still warm and gooey (or they will stick to the tray if left for too long).

To serve, dust with powdered/icing sugar.
Nutrition
Calories:
370
kcal
|
Carbohydrates:
34
g
|
Protein:
4
g
|
Fat:
24
g
|
Saturated Fat:
14
g
|
Cholesterol:
111
mg
|
Sodium:
38
mg
|
Potassium:
144
mg
|
Fiber:
1
g
|
Sugar:
25
g
|
Vitamin A:
575
IU
|
Calcium:
27
mg
|
Iron:
2.5
mg