Nutella Stuffed Deep Dish Chocolate Chip Skillet Cookie (Pizookie)
This buttery and gooey on the inside – crispy and set on the outside – Nutella stuffed magical pie of-a-chocolate-chip-cookie had all of us weak at the knees begging for more, desperately scraping each and every crumb directly outta the pan like we'd been starving for weeks! Okay. I confess. Again. I may have committed the ultimate sin, because if making a jumbo sized chocolate chip cookie is not enough….I decided to stuff it with Nutella. Nutella Stuffed Deep Dish Chocolate Chip Skillet Cookie, to be exact.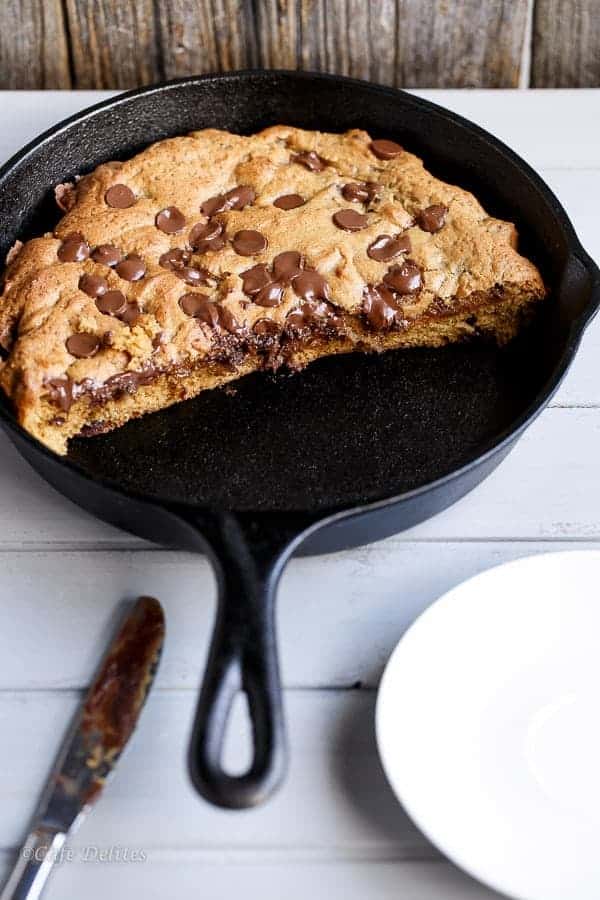 And. To make matters even better (because it's never worse when Nutella is involved), I accidentally on purpose made this twice. My children being on school holidays didn't help? Oh, but it did. I made this for them…originally. They love Nutella just as much as I do. And of course, I need taste testers. Well, that's my excuse anyway.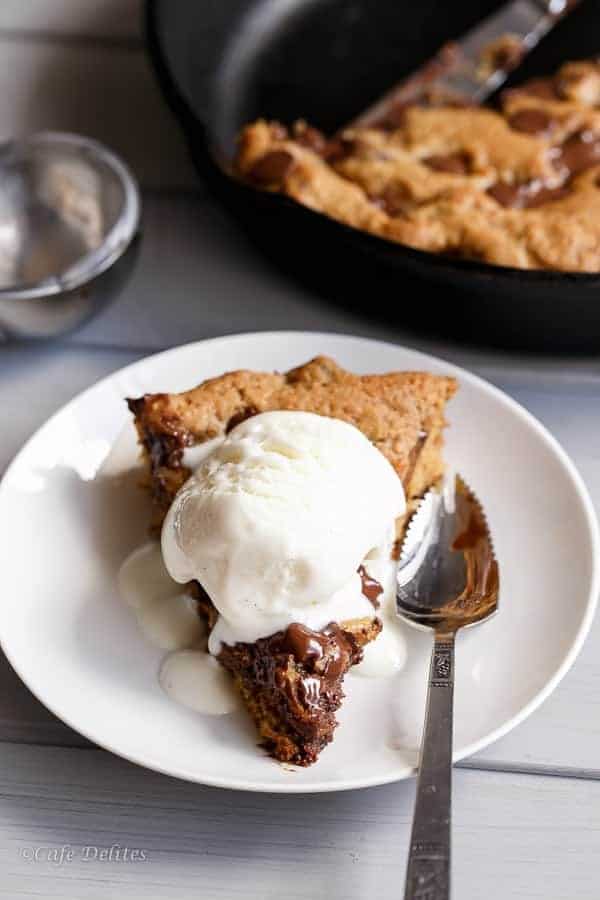 I mean, do you see the Nutella goodness in there?
While making the Peanut Butter Chocolate Chip Skillet Cookie last week, I kinda thought about layering it with Nutella somehow but the Peanut Butter aromas fogged my senses and I couldn't think straight. The.very.next.day…a little experiment began. The fudgiest Nutella Stuffed Chocolate Chip Cookie. Deep Dish. Skillet. Cast Iron. Sexiest cookie known to man. What matters is what's on the inside, right?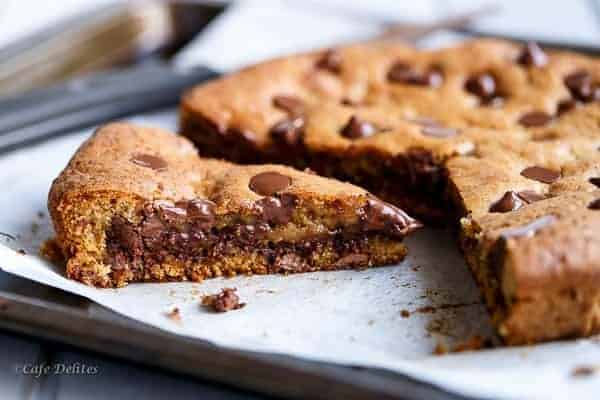 How To Make A Nutella Stuffed Deep Dish Chocolate Chip Skillet Cookie
Or, to make the name shorter, a Nutella Skillet Cookie. You're going to need THREE layers!
Chocolate chip cookie dough.
Nutella
More chocolate chip cookie dough.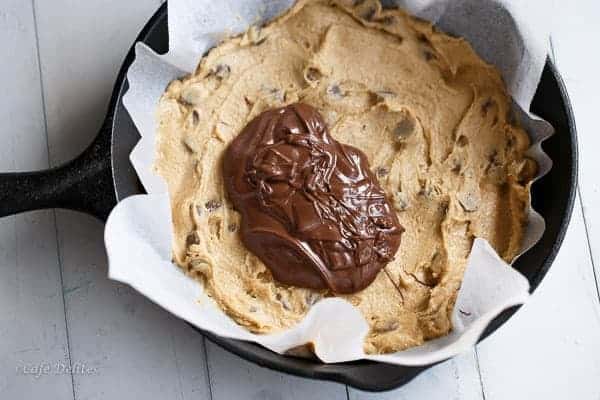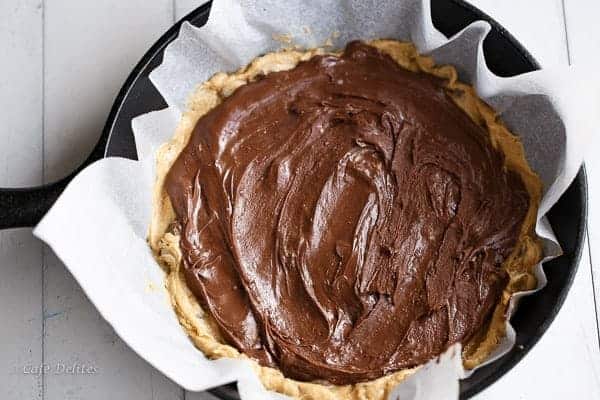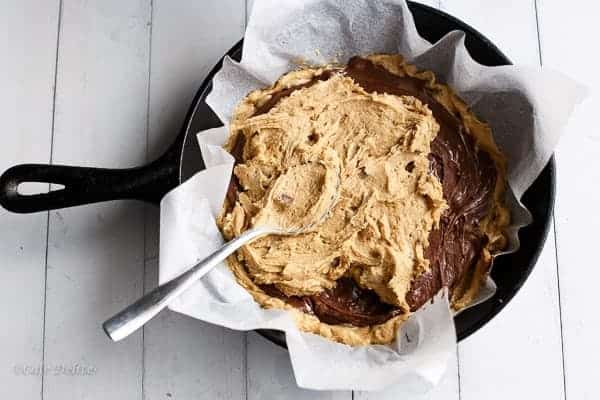 With a lot of finger licking in between. Easier than I expected it to be….both times. And both times a major success with the family. Like….the whole skillet was cleaned in less than 5 seconds.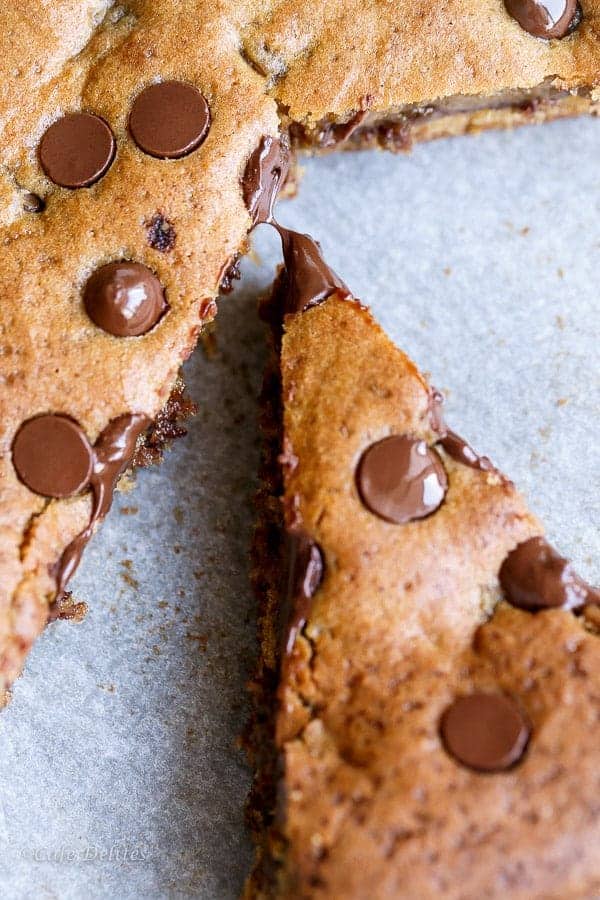 I mean….not only are we talking melty chocolate chips on top and throughout this whole entire thing of beauty… We're talking Nutella right.inside.this.gooey.cohocolate.chip.cookie.
Because cutting into this, you can feel the stickiness and the gooeyness and the Nutella sticking to every part of the knife like it's meant too. But biting into this is pure pleasure. The easiest-to-bake and best cookie I've ever had in.my.life.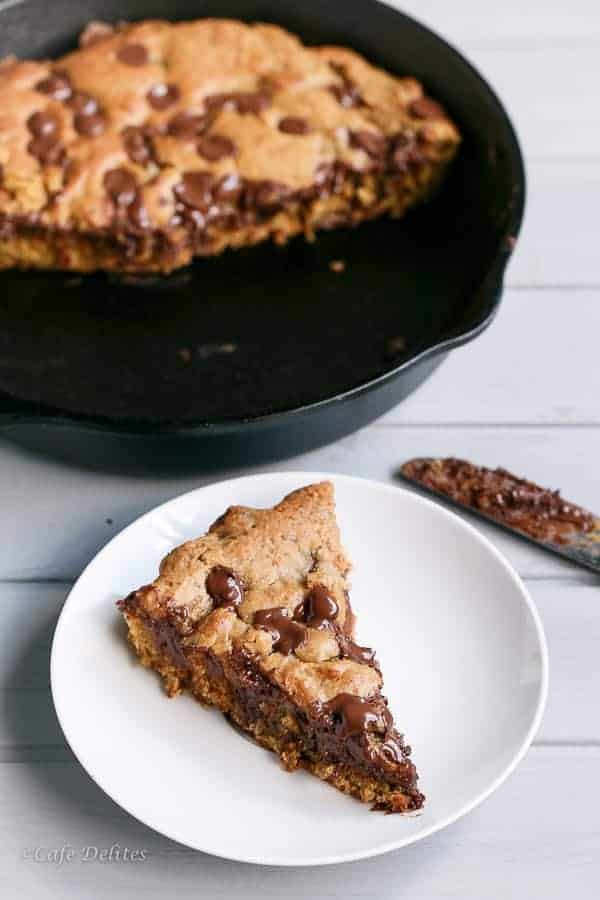 Watch how we make it right here!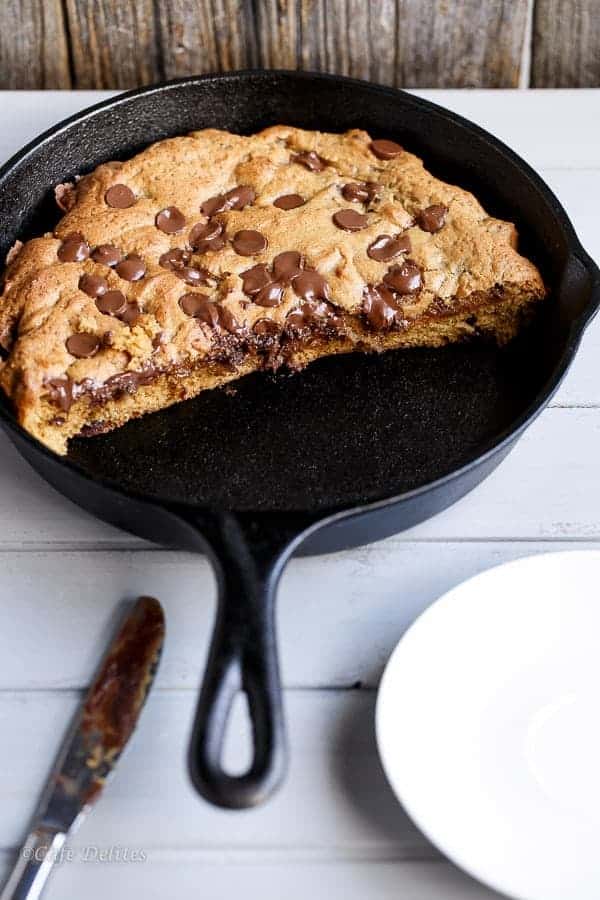 Nutella Stuffed Deep Dish Chocolate Chip Skillet Cookie (Pizookie)
Gooey and buttery on the inside - crispy and set on the outside - Nutella stuffed magical deep dish skillet chocolate-chip-cookie will have you weak at the knees begging for more!

Weight Watchers: 4pp per slice (from 16 slices)
Ingredients
1/2

cup

light butter

(or your spread of choice), softened

1/2

cup

light brown sugar

1/3

cup

natural sweetener

(or your sugar of choice: white, coconut, raw, castor, etc)

2

teaspoons

vanilla extract

1

egg

1

cup

flour

(light spelt)

1/2

teaspoon

baking soda

1/3

teaspoon

salt

1/2

cup

dark/semi-sweet chocolate chips

1/3

cup

nutella

, melted (or this Refined Sugar-Free Nutella Spread!)
Instructions
Preheat oven to 175c | 350° F. Line a 9"

cast iron skillet

(or pie dish) with baking/parchment paper and set aside.

In a large bowl, combine the butter, sweetener/sugar and vanilla, and whisk until light and creamy. Add the egg and whisk again until combined. Add the flour, baking soda and salt, and mix the dry ingredients into the wet until just combined. Fold in half the chocolate chips and spoon 1/2 the cookie dough onto the prepared baking sheet.

Melt the nutella in the microwave for 30 seconds OR over stove top in a heat-proof dish over a pot of boiling water until it becomes thinner in consistency.

Pour the nutella over the cookie dough in the skillet evenly to 1-inch of the edges. Top with remaining cookie dough, smoothing the layer with the back of a metal spoon (and your fingers if you need to). Sprinkle with remaining chocolate chips.

Bake in preheated oven for 25-30 minutes for a gooey cookie, or cover after 30 minutes with aluminium foil and bake for a further 10 minutes for a 'set' cookie. Cool for about 10 minutes before serving.
Recipe Notes
COPYRIGHT © 2014-2015. All rights reserved. All images & content are copyright protected. Please do not use my images without prior permission. If you want to republish this recipe, please ask permission FIRST and provide a link back to this post for the original recipe.
Nutrition Facts
Nutella Stuffed Deep Dish Chocolate Chip Skillet Cookie (Pizookie)
Amount Per Serving
Calories 142
Calories from Fat 65
% Daily Value*
Total Fat 7.2g 11%
Total Carbohydrates 19.2g 6%
Protein 3.8g 8%
* Percent Daily Values are based on a 2000 calorie diet.