A Crustless Chocolate Raspberry Cheesecake that happens to be only 89 calories per slice! Low carb, low fat, low in WW points, but ridiculously high and rich on the flavour scale. It's happening right now to save us on the weekend! For those moments when you're craving a chocolate hit, this cheesecake hits the spot. It hits ALL the cravings. It distresses. It calms your nerves. It relaxes you, yet fills you with a deep sense of gratification.
BUT. This isn't just your ordinary, every day, chocolate cheesecake. No, this is full of bursts of fresh raspberries inside with every mouthful. A cheesecake that's creamy, rich and fluffy, without any of the guilt or calories!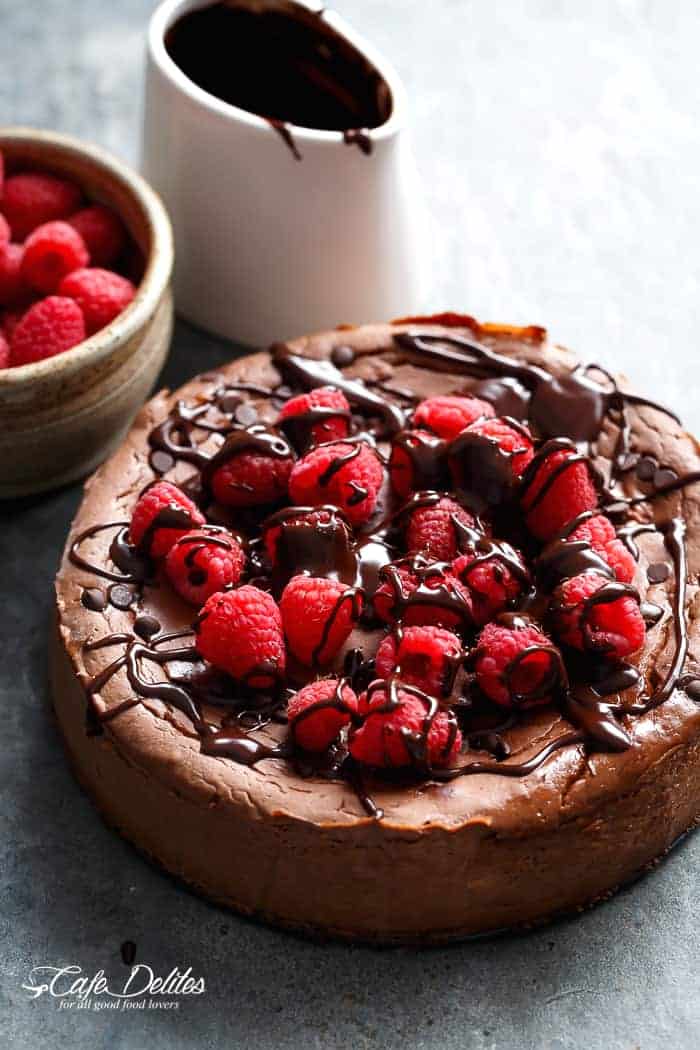 With all of the site issues we've been having with Cafe Delites, and the stress of moving host providers, this cheesecake has been sitting in my 'to-post' folder for over a week now, waiting for traffic to die down just a little so I could post! I never thought I'd be praying for lower traffic. I mean, who does that?
I just wanted this cheesecake up already! Plus the other 12 recipes waiting in-line, not-so-patiently.
To calm down my nerves and prevent any more grey hairs or stress-induced injuries, I made it three more times, to soak every bit of my emotions into it, while sitting at my desk watching and waiting for that quick little fall to upload my images. And finally, here we are.
A million apologies if you have had issues jumping on a recipe. These issues will not exist next week! Can I get an AMEN? Or a shot of tequila even? Or maybe just another whole cheesecake to myself. That would do it.
This cheesecake is a remake of a Cheesecake back in June, 2014 when I first started Instagramming. In fact, that cheesecake was made even lower calorie and fat than this one, so feel free to jump on that recipe if you wish.
After playing around with that recipe, this cheesecake is creamier, lighter and fluffier. To keep this chocolate raspberry cheesecake low carb, the option is there to use a natural granulated sweetener that measures cup for cup with sugar, however, you can use normal sugar if you wish.
I have a large variety of followers and readers on Cafe Delites: some watching their sugar intake, some not caring about sugar and focused more on calories or fat, and some who don't really care and just want a good recipe! Whichever category you fall into, I like to think I can cater for everyone. That's what the options are for in the recipe — if you need them, they're in there!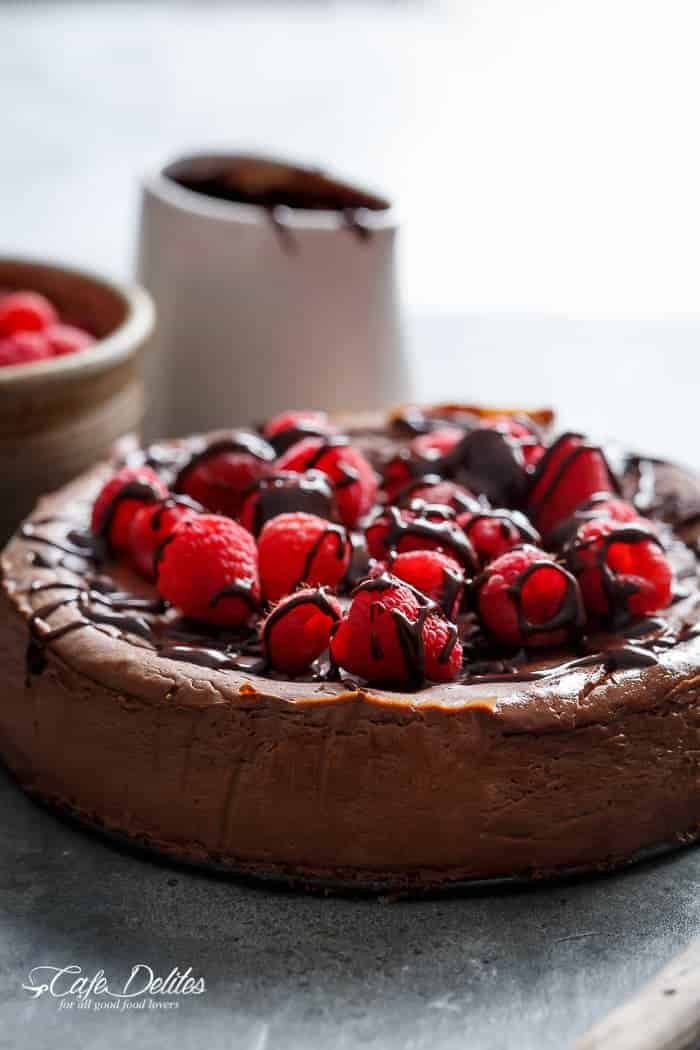 The option to drizzle chocolate over the top is completely up to you. It's not necessary, as you can see here ↑↓ because it's rich enough already. Especially if wanting to keep the calorie count down.
But this is Cafe Delites after all, and nothing gets done half measured. Life is too short hold back on what you love, and over here we all love chocolate. And that's enough Oprah moments from me!
Ridiculously creamy. Do you see it?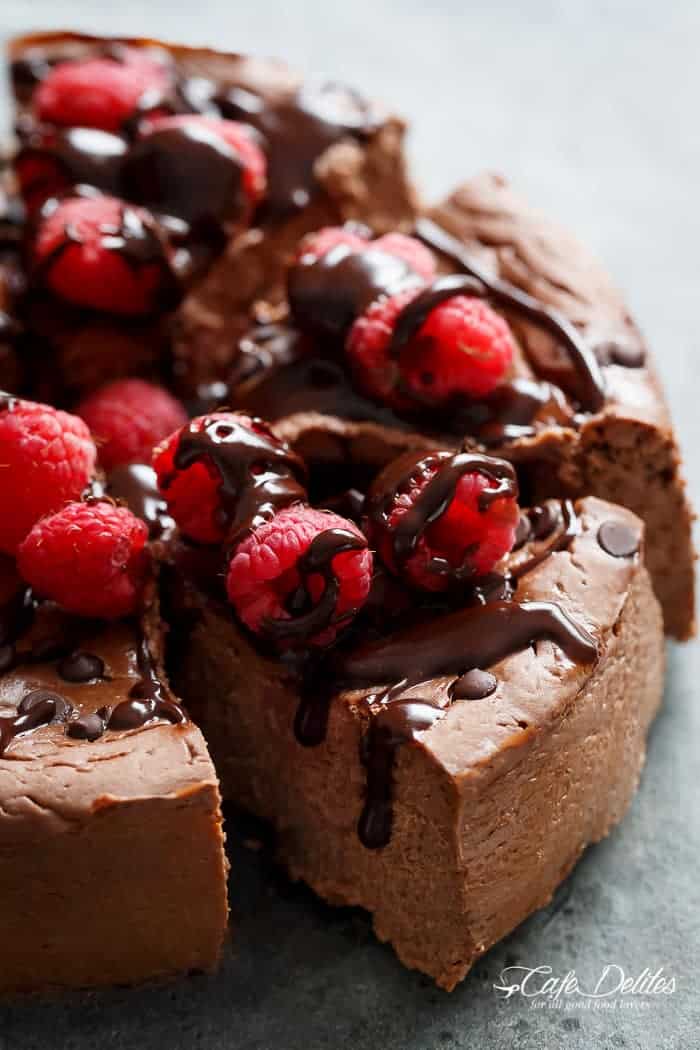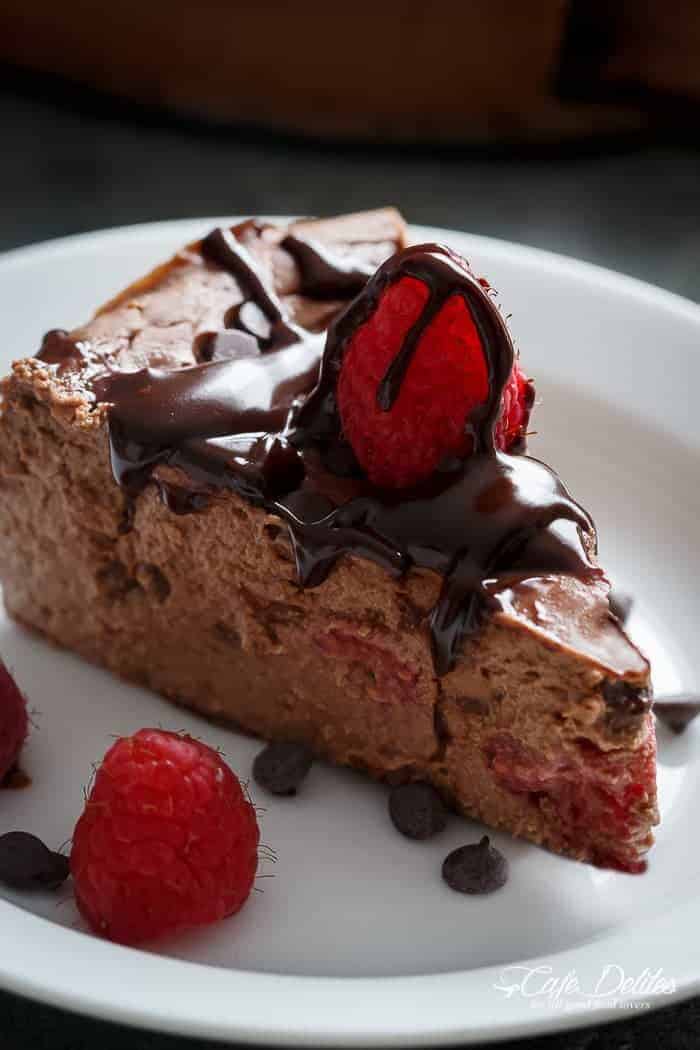 And those raspberries inside each slice? Is it bad that I didn't stop at one slice? No, right?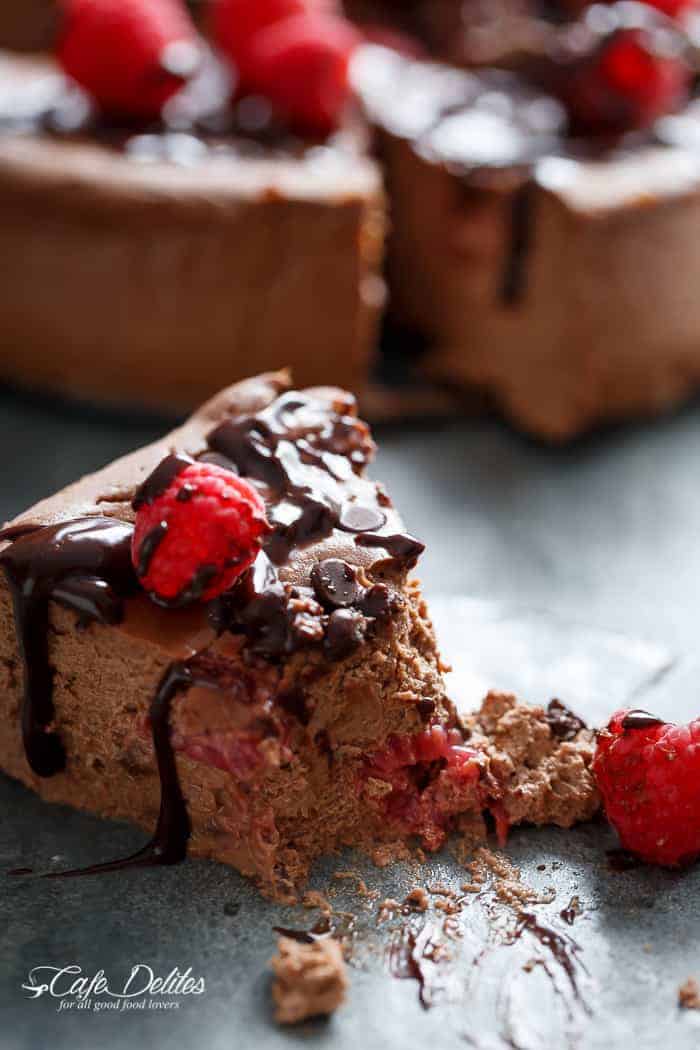 REMEMBER TO SUBSCRIBE TO CAFE DELITES NEWSLETTER FOR FREE AND RECEIVE FRESH RECIPE NOTIFICATIONS DELIVERED INTO YOUR INBOX!
If you try a recipe, please use the hashtag #cafedelites on INSTAGRAM for a chance to be featured!
FOLLOW CAFE DELITES ON FACEBOOK, INSTAGRAM, PINTEREST AND TWITTER FOR ALL OF THE LATEST CONTENT, RECIPES AND UPDATES.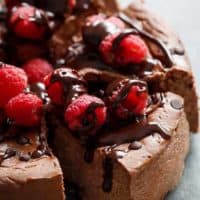 Crustless Chocolate Raspberry Cheesecake (Low Carb + Low Fat)
Crustless Chocolate Raspberry Cheesecake that is rich in flavour BUT low in carbs, fat and only 89 calories per slice! A guilt-free chocolate pleasure!
Weight Watchers Smart Points: 4 per slice (out of 16 slices) or 5 per slice (out of 12 slices)
PRINT
SAVE
go to your favorites
Ingredients
18

oz

| 500 g reduced fat cream cheese

, at room temperature (80% less fat)

2/3

cup

non-fat plain Greek yogurt

1/2

cup

natural granulated sweetener

(or caster sugar)

1/4

cup

unsweetened cocoa powder

2

large eggs

1

cup

fresh raspberries

(not frozen), divided

1/3

cup

mini chocolate chips of choice

(I use Lilly's Premium Dark Chocolate Chips)

1/4

cup

melted chocolate of choice

(optional) to serve
Instructions
Preheat oven to 280°F | 140°C. Pour boiling water halfway up the sides of a large, deep baking dish and arrange dish on the lowest rack in the oven (this helps keep the moisture in the oven and prevent the cheesecake from developing deep cracks and drying out). Grease and line an

8-inch round springform cake tin

. Set aside.

Combine the cream cheese, yogurt and sweetener (or sugar) in a bowl. Beat on low speed until smooth and combined. Fold the cocoa powder through until incorporated into the cream cheese mixture. Add in the eggs and beat again until smooth, for about 1 minute.

Add 3/4 cup of the raspberries and one third of the chocolate chips, and gently fold them through.

Pour into prepared cake tin; top with the remaining chocolate chips and bake for 40-50 minutes on the middle rack in your oven, until just set in the centre (it will still have a little wobble in the centre). Turn oven off and leave the cheesecake inside, with the oven door slightly ajar, to cool slowly for about 1 hour.

Once cooled, place on a wire rack to cool completely before covering and placing in the refrigerator to chill for 5-6 hours or overnight.

When ready to serve, top with the remaining fresh raspberries and drizzle with melted chocolate (optional).
Nutrition
Calories:
89
kcal
|
Carbohydrates:
4
g
|
Protein:
4.9
g
|
Fat:
5.8
g
|
Cholesterol:
2
mg
|
Fiber:
1.3
g
|
Sugar:
2
g