Garlic Steak & Cheesy Bacon Potato Hash Foil Packs are two favourites cooked in ONE PACK! No pans to wash up afterwards!
Cheesy potato hash –> tender-juicy-charred steak –> grilled OR cooked how ever you like in garlic butter for the ULTIMATE flavour combination! And if thats's not enough, it all gets topped with bacon. CRISPY BACON. I'm so excited to share these extremely versatile Steak & Cheesy Bacon Potato Hash Foil Packs!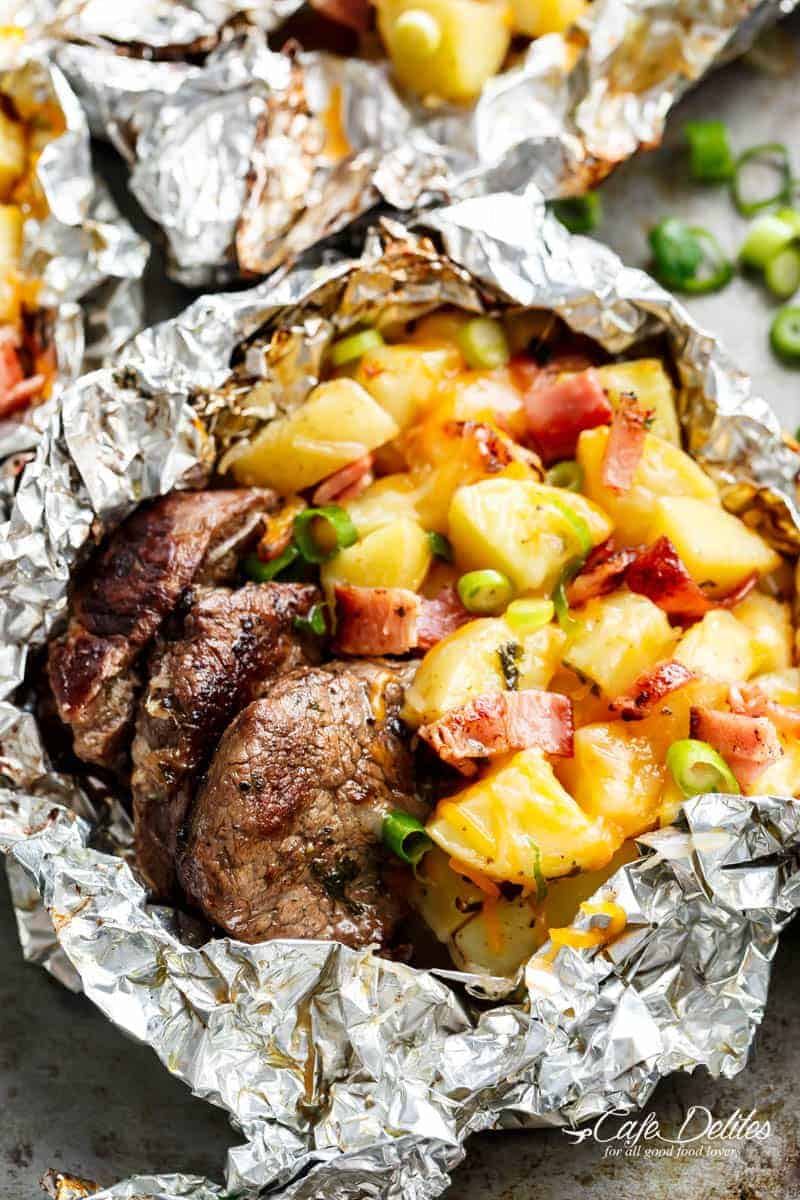 These packs can be cooked anywhere. I do recommend grilling, but what if you don't have a grill? No worries! Get your skillets out and cook them on your stove top! During testing, we tried cooking them on a really hot cast iron skillet. Cover the skillet and you won't believe it when they're done. PLUS the bonus of NO WASHING PANS!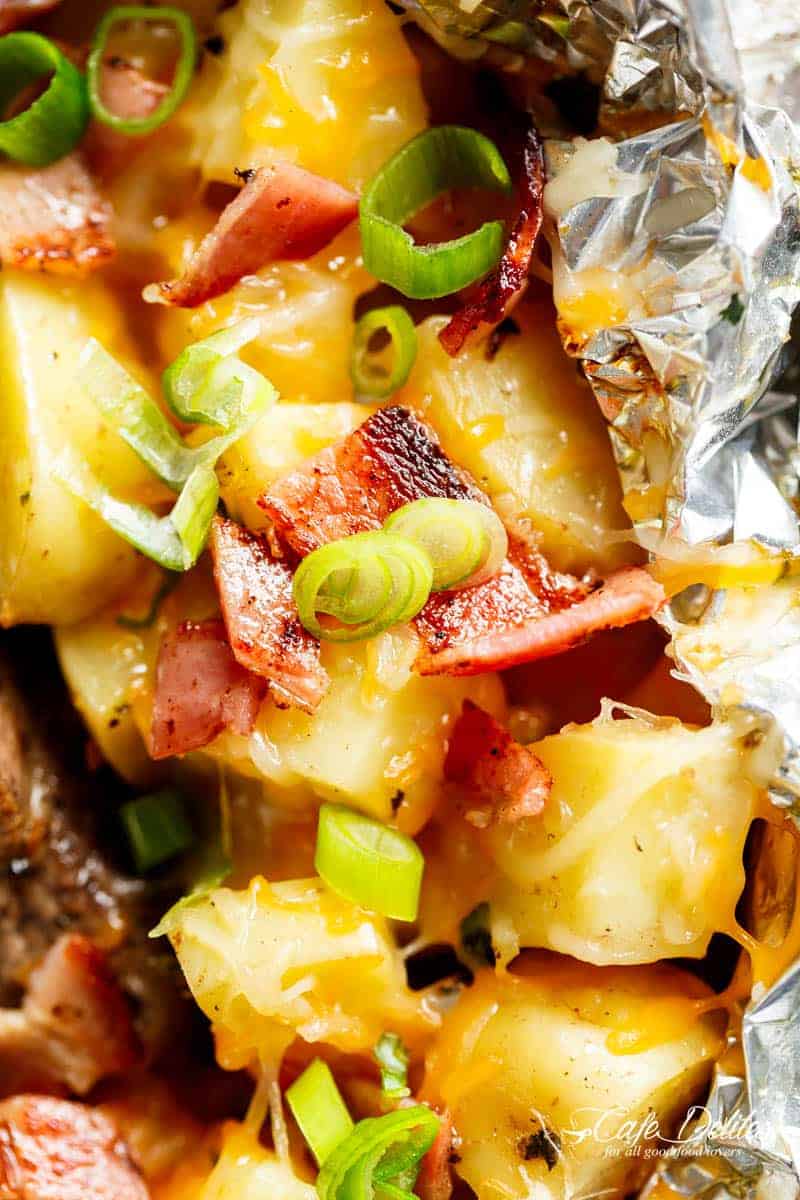 If you don't have a skillet, a stove top OR a grill, throw them on a baking sheet in the oven, and let the oven do all the cooking for you. As stated in the recipe, I've catered for medium-rare and well-done. Personally, give me a juicy steak with charred edges and I'm your new best friend.
Topping the potato with bacon is optional. We fried ours on a seperate heavy duty based foil sheet on both the bbq AND skillet to keep with the no washing pans thing. Right? Because that's totally a thing now. Pictured below 👇 is what you will do for NON DRY STILL JUICY well-done steak pieces 👇 You're going to slice it into 1-inch rounds.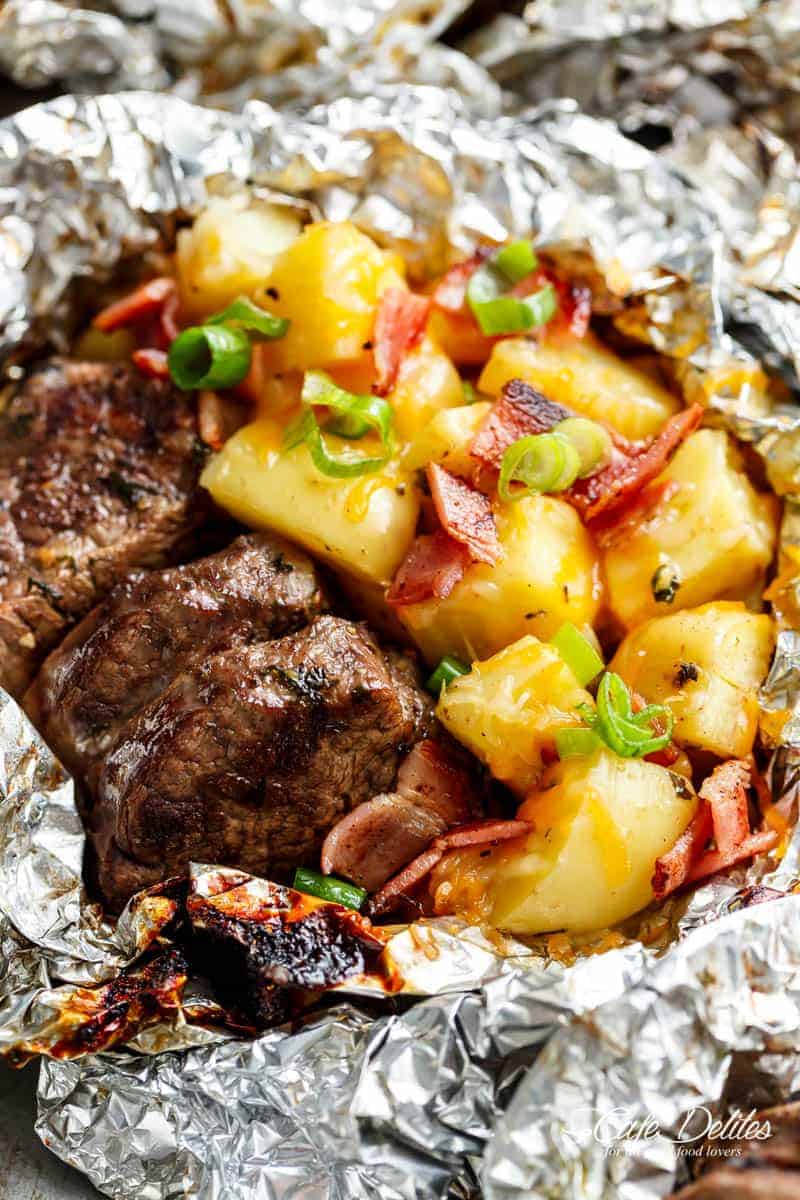 This picture down here👇 is what you will do for a beautiful piece of medium-rare, juicy steak 👇. Leave it as a whole piece in its foil pack. If you try these Steak & Cheesy Bacon Potato Hash Foil Packs, PLEASE let me know what you think!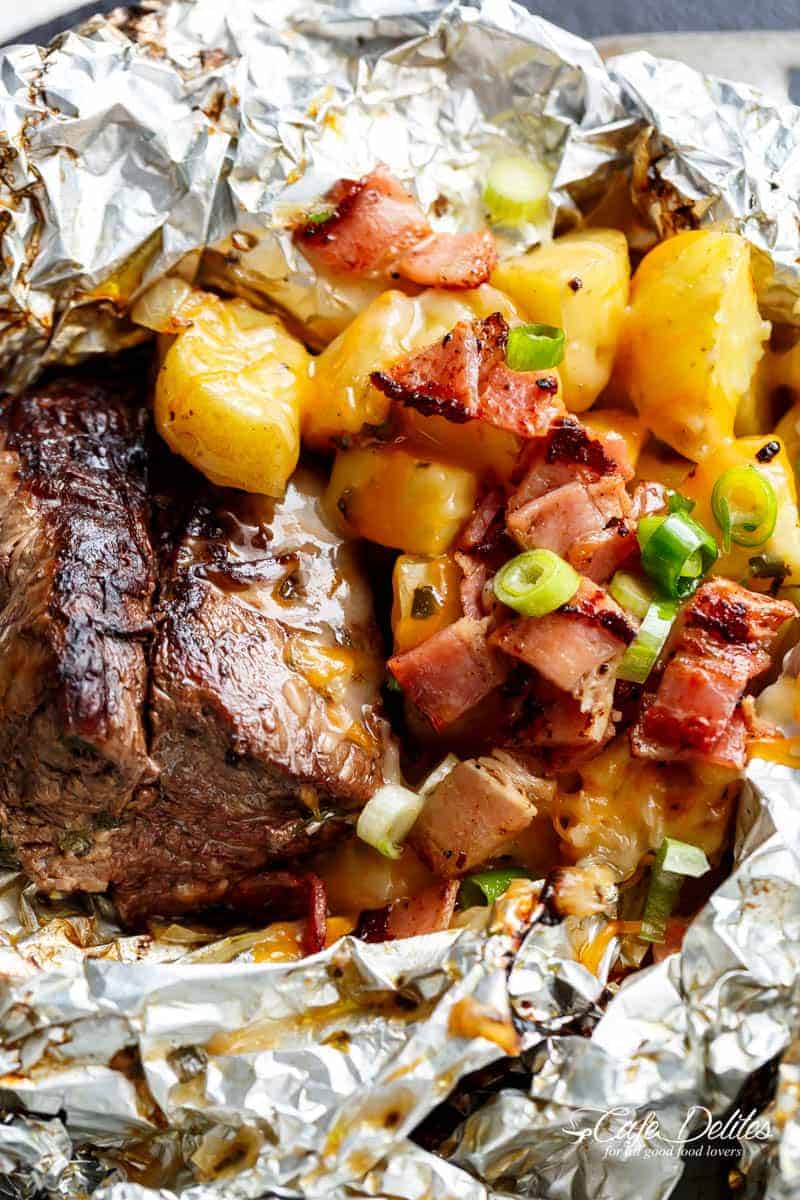 Watch them being cooked right here!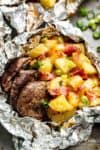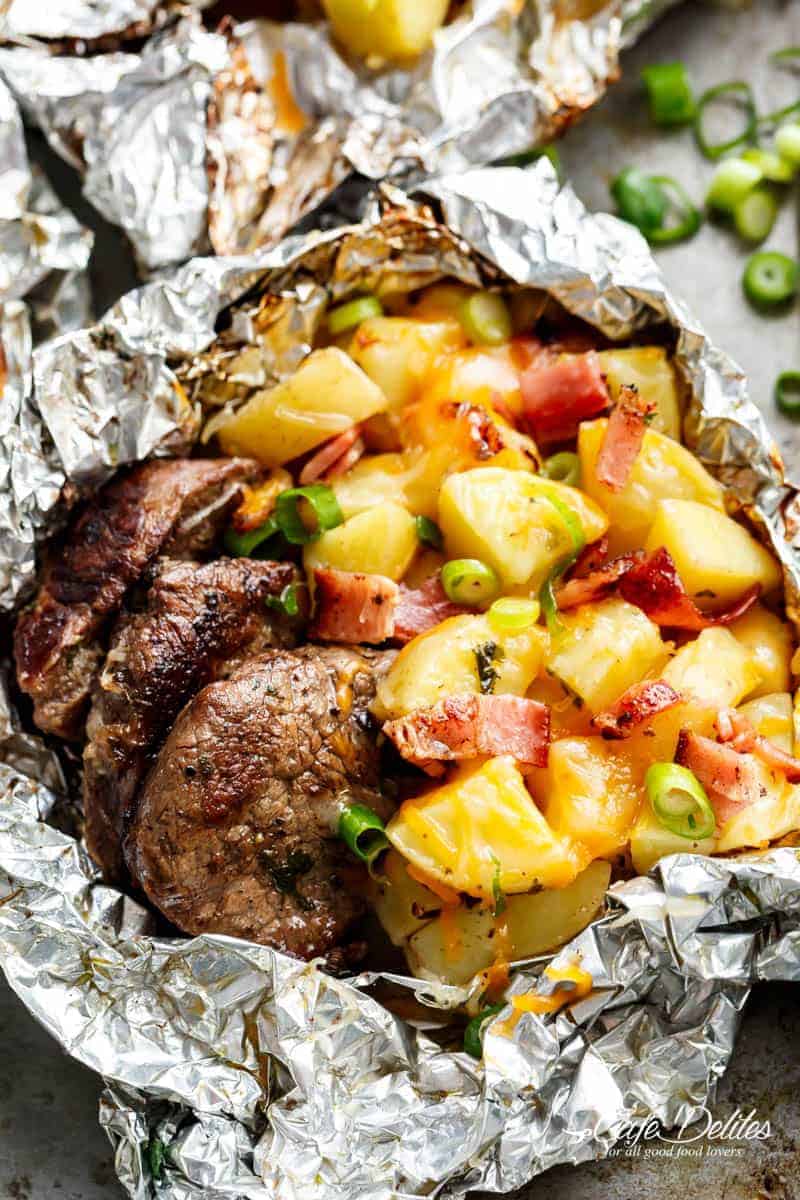 Garlic Steak & Cheesy Bacon Potato Hash Foil Packs
Garlic Steak & Cheesy Bacon Potato Hash Foil Packs can be cooked on the grill, stove top OR oven! Two favourites cooked in ONE PACK means NO pans to wash up!
Ingredients
For The Potatoes:
26

ounces

baby potatoes

(or 750 grams), washed (peeled or unpeeled), cut into quarters

1/4

cup

onion

diced

2

tablespoons

fresh parsley

finely chopped

Salt

to taste

Cracked black pepper

to taste

1/3

cup

diced bacon

cooked

1/3

cup

scallions

(or green onions/shallots), sliced
For The Steak:
2

pounds

whole eye fillet (or ribeye) steak

(or 1 kg)*

Salt

to taste

Cracked black pepper

to taste

1/4

cup

cheddar cheese

shredded

1/4

cup

mozzarella cheese

shredded**
Instructions
Preheat grill to medium-high heat.

Make a batch of this Garlic Butter. Divide in half and melt in the microwave for 20-30 seconds. Combine the potatoes and the onions in a bowl. Pour the melted garlic butter over the top; set aside.

Spread the remaining non-melted butter over the steak to evenly coat.
FOR WELL DONE STEAKS:
Slice your fillet into 1-inch thick slices (the smaller the pieces, the more cooked through it will be -- be careful not to slice them too small or they will dry out).
FOR MEDIUM RARE STEAKS:
Cut your fillet into 4-6 large pieces.
TO COOK:
Tear four or six 15-inch (40cm) pieces of heavy duty foil and arrange on your kitchen counter or bench top. Divide steaks and potatoes among the top half of the foil sheets. Sprinkle with parsley, and season with salt and pepper

Fold up the sides of the foil first over the steak and potatoes, then fold up the entire bottom half of the foil over the ingredients to join the ends. Fold down to seal, pressing the seal tightly to prevent any juices from spilling out.

Place foil packets on the grill, cover and cook for 7 minutes on one side. Flip and cook on the other side for a further 5 minutes, until potatoes are cooked through, (about 12 minutes all together). CAREFULLY open the foil packets (being careful of the escaping steam). Sprinkle the cheese over the potatoes, and loosely tent with the foil again to allow the cheese to melt through for a further 3 minutes while still on the grill.

Top the potatoes with the cooked bacon, garnish with the scallions (or green onions), and season with a little extra salt and pepper, if needed.
Recipe Notes
*It's very important you use a cut of steak that will stay tender during the cooking process. Eye fillet, ribeye, porterhouse, top sirloin, etc. 
**Substitute cheddar/mozzarella with Monterey Jack cheese if you prefer.
For Stove Top:
If you can, use a cast iron skillet or a heavy based pan. Preheat skillet over medium heat. When foil packs are ready, place them in the hot, preheated skillet to cook for 7 minutes, covered (you may need to do them in batches of two). Flip and cook for a further 7 minutes (covering again), until done.
For Oven:
Preheat oven to 220°C | 430°F. Prepare foil packs; place packs on a baking sheet/tray, and bake for 20 minutes in the hot oven. Flip packs and cook for a further 10 minutes, or until cooked to your liking. OPTIONAL: open foil packs being careful of trapped steam, and broil for 3-4 minutes, until charred.
Nutrition Facts
Garlic Steak & Cheesy Bacon Potato Hash Foil Packs
Amount Per Serving
Calories 589
Calories from Fat 360
% Daily Value*
Total Fat 40g 62%
Cholesterol 142mg 47%
Sodium 291mg 12%
Potassium 954mg 27%
Total Carbohydrates 22g 7%
Protein 35g 70%
* Percent Daily Values are based on a 2000 calorie diet.