Herbs, garlic, parmesan cheese and potatoes are roasted together to make the best Crispy Browned Butter Roasted Potatoes! A delicious side dish with so much flavour, these potatoes go with ANYTHING!
Regular Roasted Potatoes are one thing, BUT these ROASTED POTATOES are on a whole other level! Picture this: olive oil, garlic, herbs, crispy parmesan cheese and deliciously hot browned butter smothered all over golden roasted potatoes.
Fluffy and buttery soft on the inside with irresistibly crisp edges!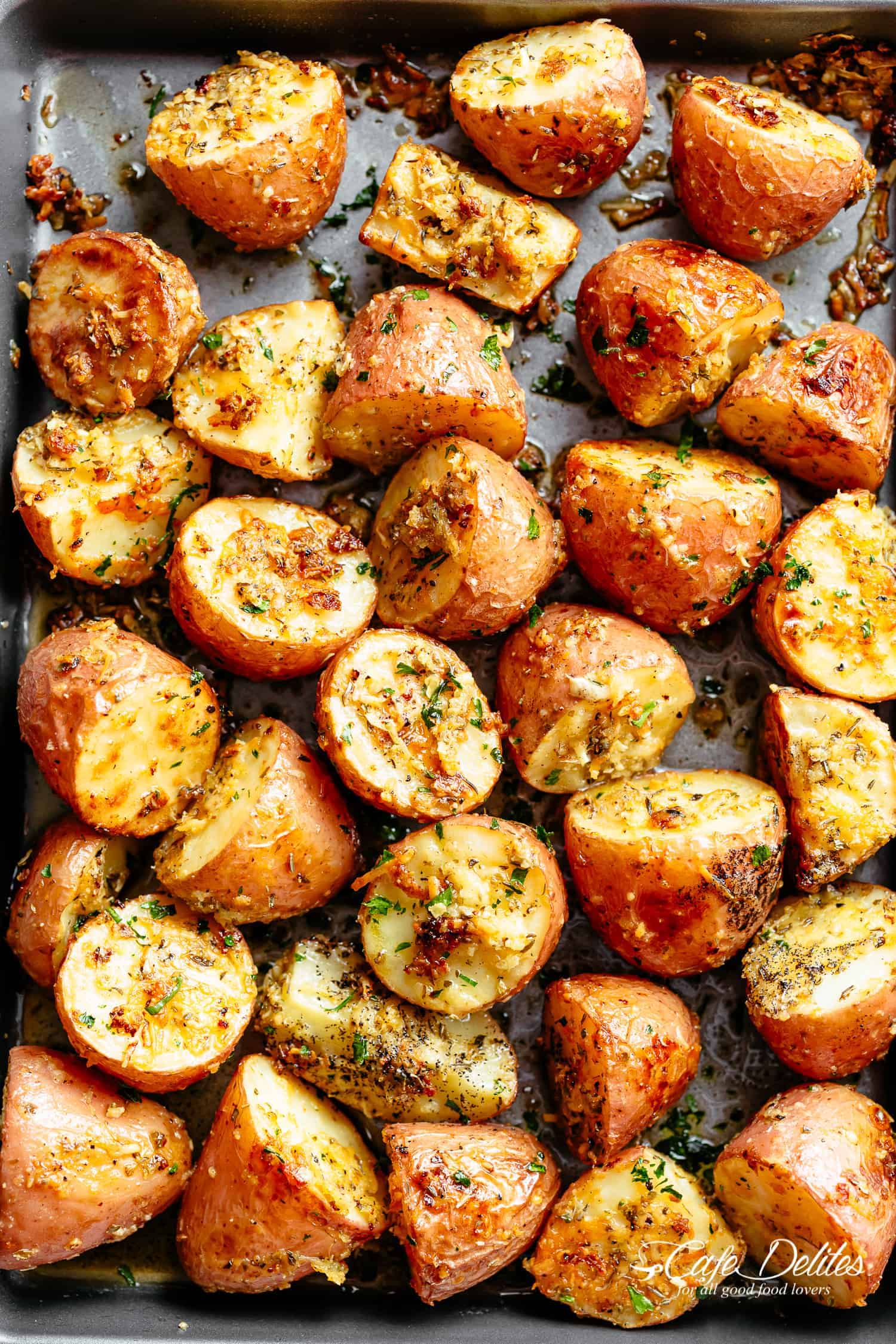 OVEN ROASTED POTATOES
Nutty golden browned butter gets poured all over these oven roasted potatoes to make some of the best tasting potatoes you will ever try in this lifetime. How? And why even? These may be some of the questions lingering on your lips right now, and I don't even know the answers. I'm sorry.
Basically, we had roasted potatoes and for some reason I screamed out BROWNED BUTTER before my brain could process what was about to happen. Five minutes later, we were pouring mouthwatering browned butter all over these potatoes like our lives depended on it.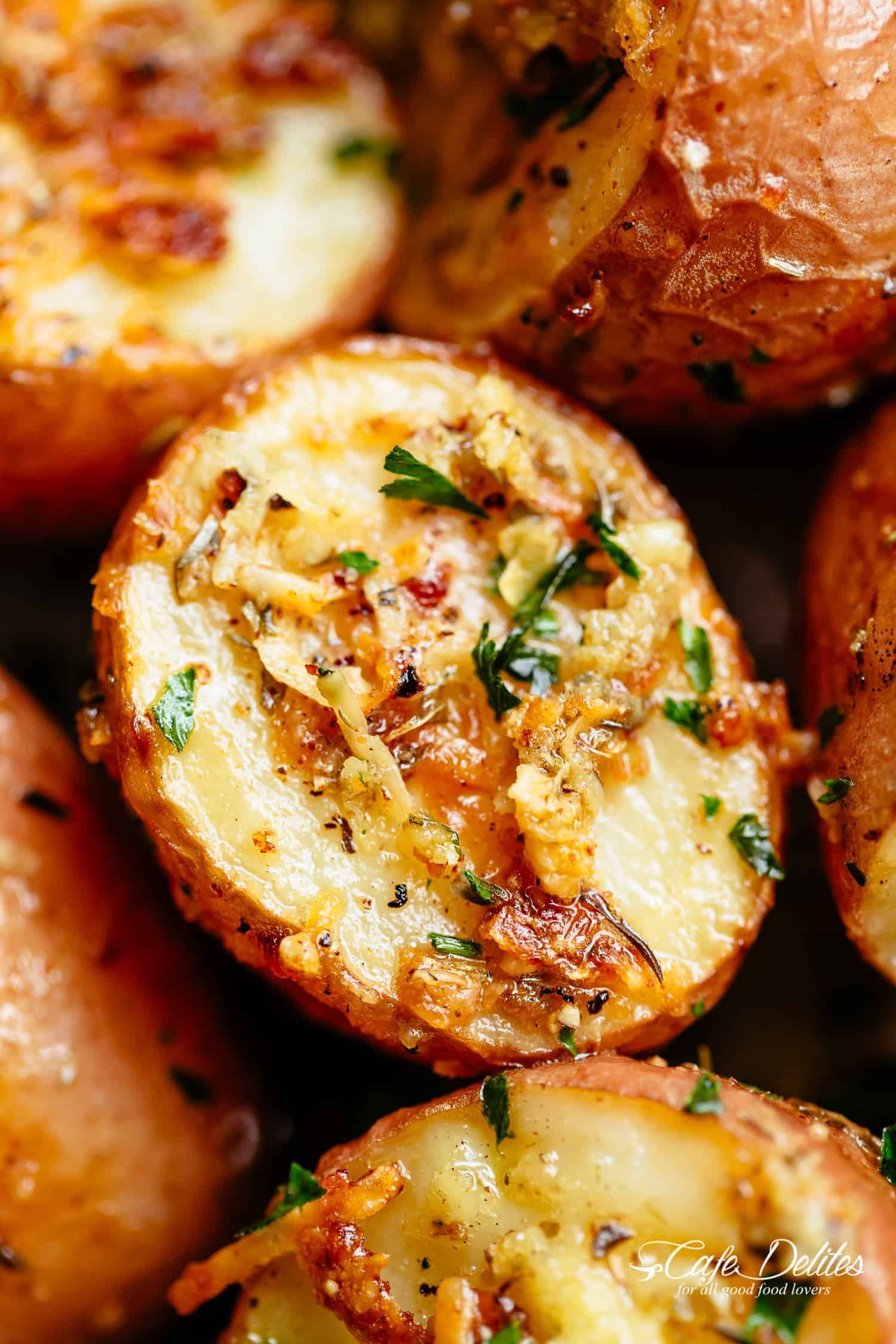 WHAT KIND OF POTATOES TO USE FOR ROASTED POTATOES?
This recipe is so versatile, your can use ANY kind you have on hand! You can use Yukon gold, Russets or your favourite small or baby potatoes. We used small red potatoes, halved or quartered to make them all the same size.
I recommend red potatoes because they hold their shape while cooking and taste amazing paired with the flavours in this recipe!
HOW DO YOU MAKE THE BEST ROAST POTATOES?
Roasting potatoes in a HOT, preheated oven set at a high heat gives you the best, crispy results with melt-in-your mouth fluffy interiors.
Use fresh grated or shredded parmesan instead of the powdery parmesan you find in jars.
This recipe calls for dried herbs, but if you want to use fresh or can only find fresh herbs, go for it! Chop 'em up and throw 'em in!
To ensure an even distribution of flavour, mix the herbs and seasoning together with olive oil before tossing in your potatoes. If you find 1/4 cup of oil isn't enough (fresh parmesan loves to absorb oil), then add a couple tablespoons more and give it a good mix. The mixture doesn't need to be loose, but oily enough to coat the potatoes evenly.
Use clean hands to toss the potatoes in the oil mixture. A wooden spoon won't do the job here!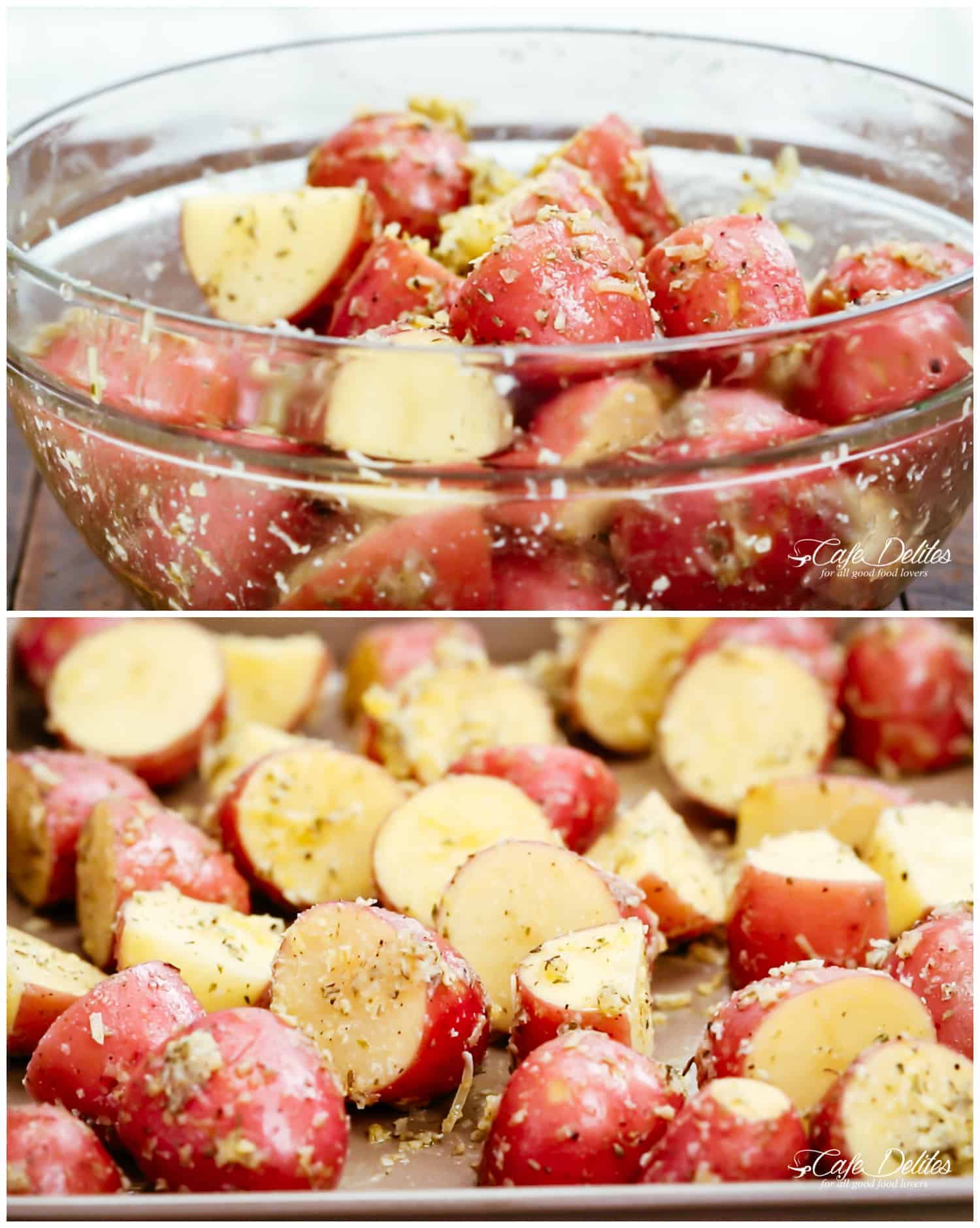 HOW DO I GET CRISPY ROAST POTATOES?
After roasting, I love blasting them under the broiler (or grill) for a couple of minutes to get them golden browned and SUPER crispy with crunchy edges.
Season with a little extra salt, pepper and sprinkle over some fresh parsley!
DO I NEED TO PEEL POTATOES?
Not at all! We love the flavour the peel absorbs while roasting, but you can peel them if you prefer.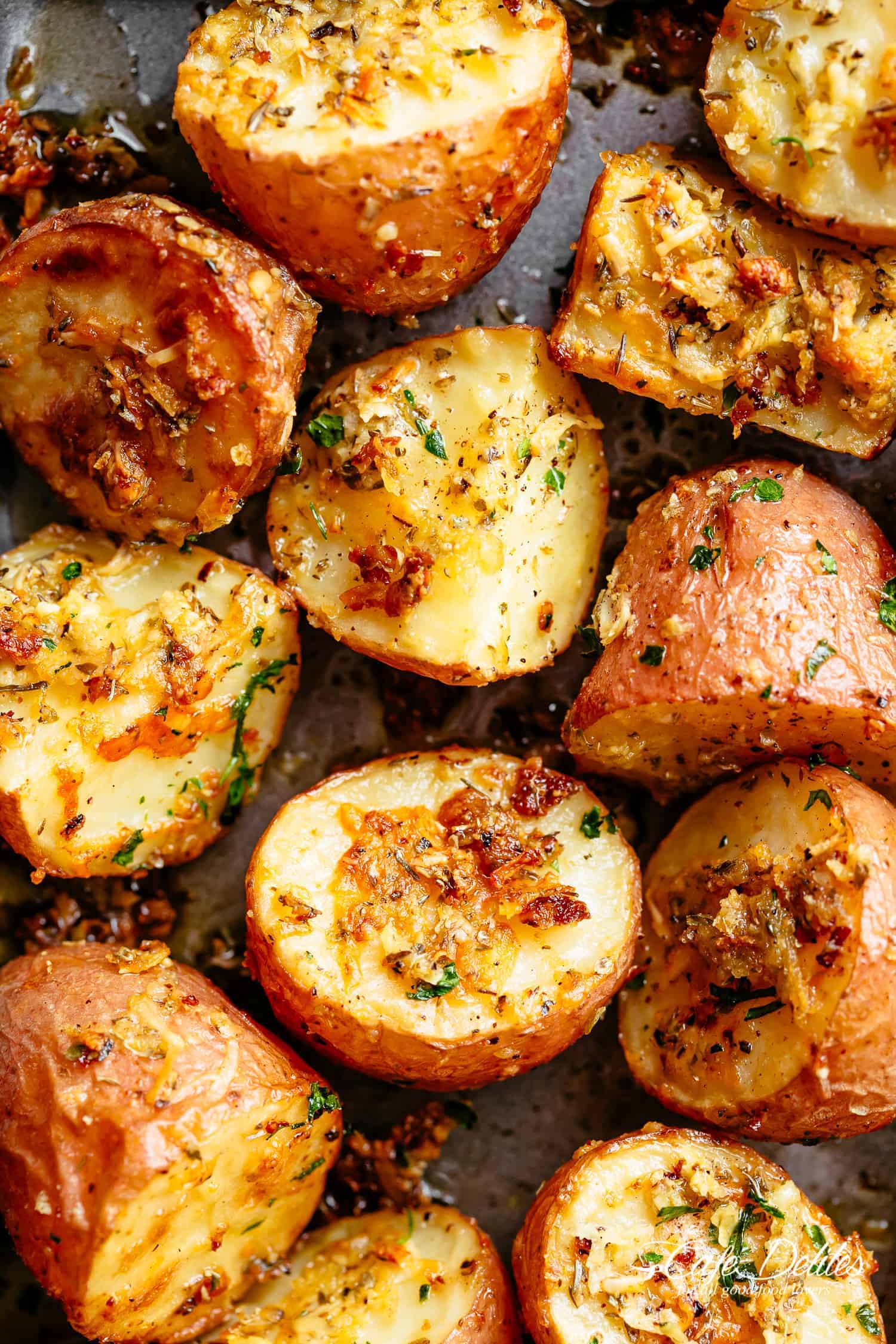 In the last 10 minutes of roasting, start browning your butter!
HOW TO BROWN BUTTER
Browned butter is one of those special ingredients that just enhances the taste of pretty much anything. You can make browned butter (Beurre Noisette) in a matter of minutes! How?
Melt butter in a pot over medium heat. (If it's your first time, use a sliver or white pan to clearly see the colour. See video below for an example!)
Mix continuously with a wooden spoon to avoid the butter from splattering all over your stove.
Swirl the pan occasionally to allow the butter to cook evenly.
Foam: Once the foam begins to settle down, let it cook a little more (about a minute) until it turns into a rich golden brown colour.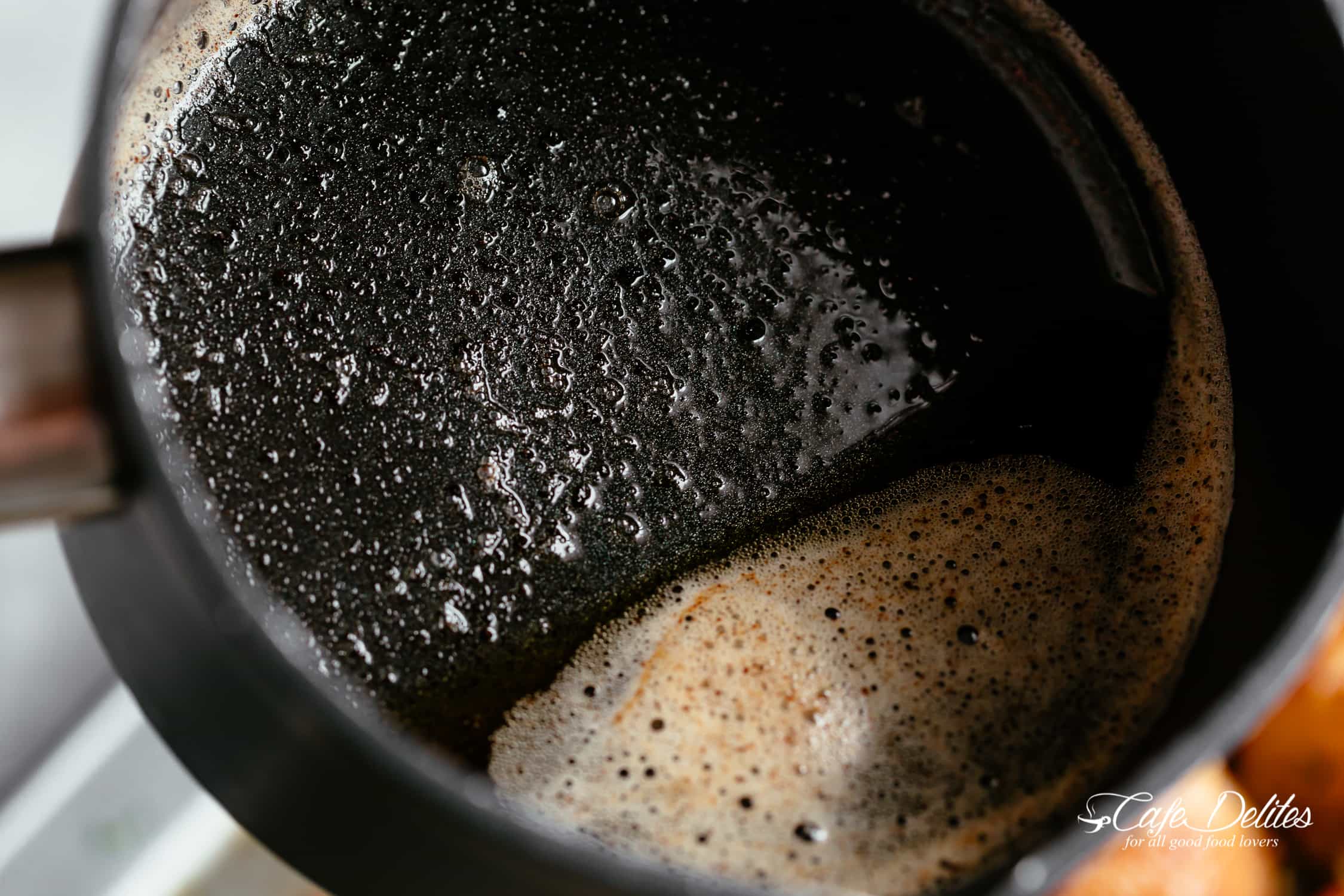 As soon as you smell that deliciously irresistible nutty aroma coming out of that pan, pour the brown butter HOT over those potatoes and get them SIZZLING.
If serving your potatoes later, then take the butter off the heat and immediately transfer the browned butter into a heat-proof bowl to stop the cooking process. You can reheat it slowly over low-medium heat when ready to use!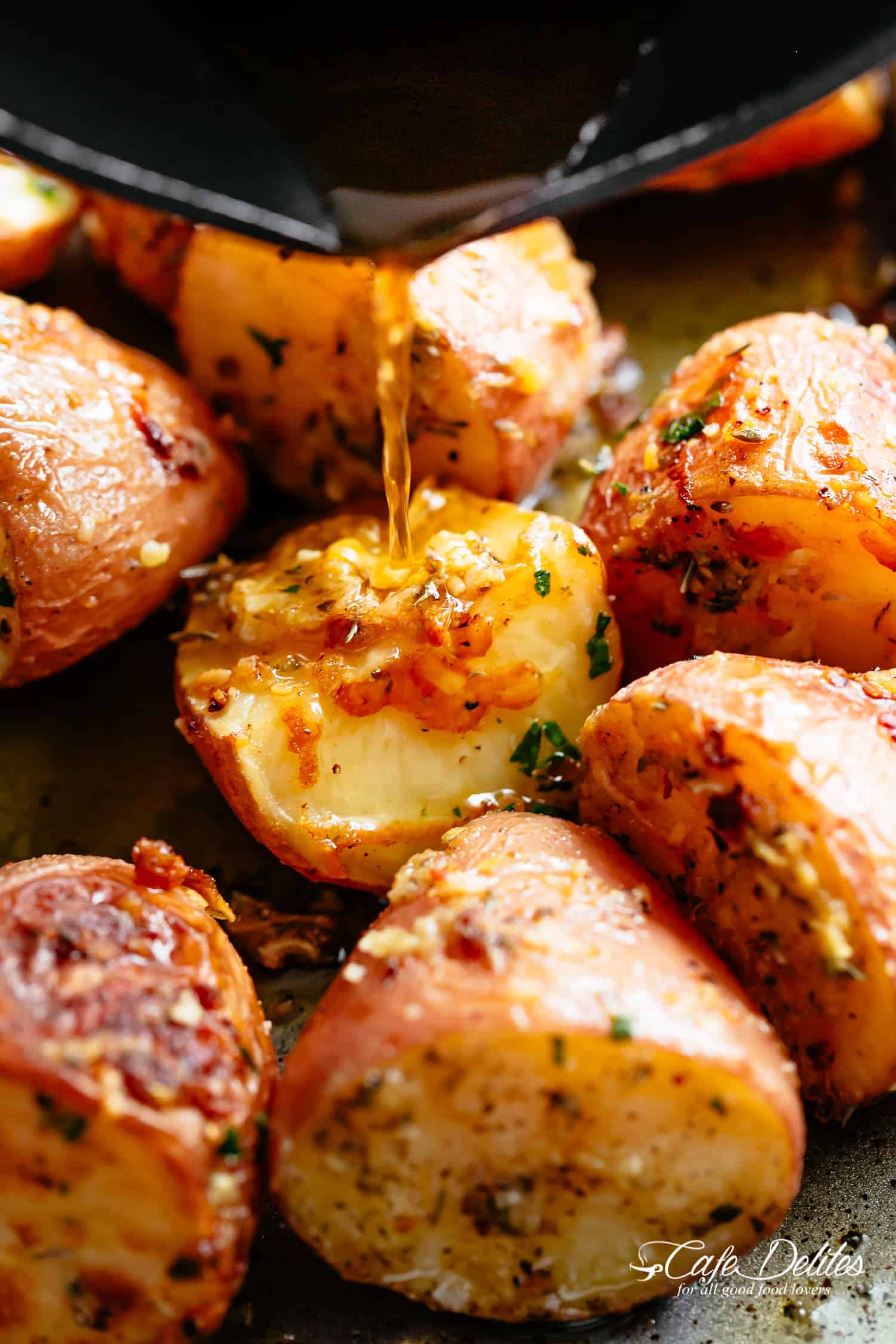 If you have too many milk solids on the bottom of the pan, you can strain the butter through a fine meshed strainer to remove most of them.
I LOVE those flavours. It comes down to personal preference!
WHAT GOES WITH ROASTED POTATOES?
These potatoes can be served with anything! Steakhouse Steak, Ribs, Salmon, Prime Rib Roast, Garlic Herb Butter Roast Chicken… ANYTHING!
More Browned Butter Recipes To Try!
Garlic Browned Butter Baked Asparagus
Garlic Parmesan Browned Butter Mashed Potatoes
Browned Butter Honey Garlic Chicken
BROWNED BUTTER ROASTED POTATOES ON VIDEO!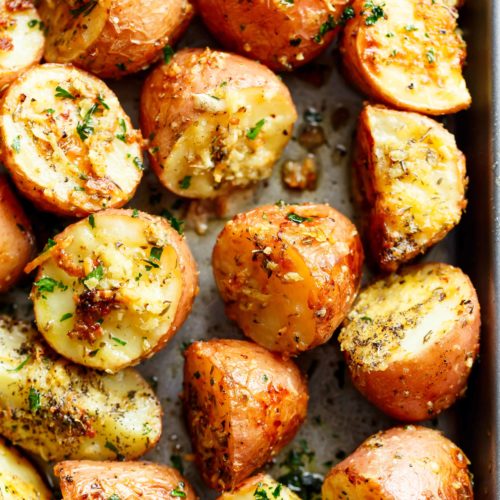 Browned Butter Roasted Potatoes with Parmesan
Herbs, garlic, and parmesan cheese are roasted together to make the best Crispy Browned Butter Roasted Potatoes! A delicious side dish with so much flavour, these potatoes go with ANYTHING!
PRINT
SAVE
go to your favorites
Serves:
8
serves as a side dish
Ingredients
1/4-1/3

cup

olive oil

6

large

cloves of garlic

finely chopped or minced

1 1/2

teaspoons

salt

1

teaspoon

dried parsley

1

teaspoon

dried thyme

1

teaspoon

dried oregano

½

teaspoon

fresh cracked black pepper

3/4

cup

fresh grated Parmesan cheese

3

pounds

(1.5 kgs) red potatoes, washed and quartered

1/2

cup

unsalted butter

4

tablespoons

fresh parsley,

finely chopped (for serving)
Instructions
Preheat the oven to 400ºF (200°C). Grease a large baking sheet with non-stick spray or olive oil. Set aside.

In a bowl, combine 1/4 cup of olive oil, garlic, salt, herbs, pepper and parmesan cheese together, mixing to combine. Add the remaining oil if the parmesan cheese has absorbed most of it.

Toss potatoes through the mixture to evenly coat.

Arrange coated potatoes in a single layer onto prepared baking sheet. Spread them out and bake for 45-50 minutes, carefully turning every 15 minutes or so with tongs or with a spatula, until potatoes are browned and edges are crisp.

For extra crispy potatoes, broil (or grill) for 2-4 minutes, or until browned to your liking.
While potatoes are in the oven, brown your butter:
Melt 1/2 cup of butter in a small pot or skillet over medium heat.

Stir the butter continuously and swirl the pan occasionally to allow the butter to cook evenly and prevent too much splattering.


When it begins to foam, the colour will change from yellow to tan to a rich golden brown colour. As soon as you smell a nutty aroma, take the pan off the heat. Give it a light mix with a wooden spoon to lift up any browned bits on the base of your pan and pour over the roasted potatoes.

Season with a little extra salt and pepper (If desired), and sprinkle with fresh parsley before serving.
Notes
ORIGINALLY PUBLISHED NOVEMBER 30, 2017
Nutrition
Calories:
324
kcal
|
Carbohydrates:
28
g
|
Protein:
7
g
|
Fat:
21
g
|
Saturated Fat:
9
g
|
Cholesterol:
38
mg
|
Sodium:
613
mg
|
Potassium:
796
mg
|
Fiber:
3
g
|
Sugar:
2
g
|
Vitamin A:
615
IU
|
Vitamin C:
17.5
mg
|
Calcium:
135
mg
|
Iron:
1.7
mg