Browned Butter Honey Garlic Chicken thighs OR breasts cooked in browned butter infused with honey, garlic and lemon juice. Simple ingredients and maximum flavours!
A deliciously simple recipe that has been requested time and time again…Browned Butter Honey Garlic Chicken! One of the most popular recipes on this site has been this Browned Butter Honey Garlic Salmon.
Originally posted back in 2015, I still remember the flavour combo idea hitting me over the head at 4 in the morning and dying to get into my kitchen to work magic on those salmon pieces.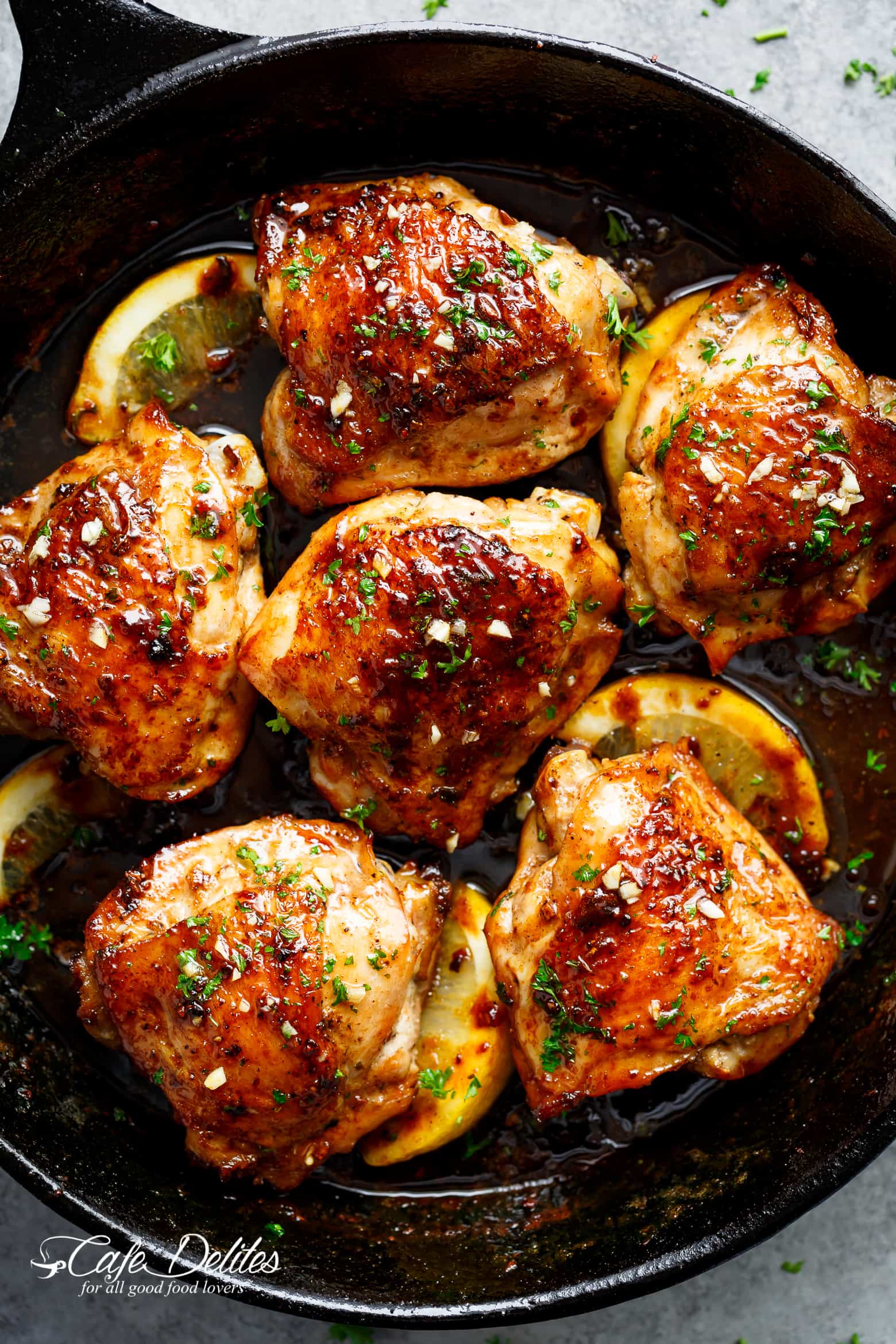 Chicken Recipes
Since then, that recipe and flavour combo has been going crazy on Pinterest, on YouTube, on recipe websites. You name it, it's gone there. Then there's this Browned Butter Honey Garlic Shrimp recipe I did soon after the salmon in order to please some very eager readers wanting to try it out with shrimp!
The one thing that has been asked time and time again though since posting that original salmon recipe from readers who aren't fans of seafood is: WHAT ABOUT CHICKEN?! WHAT ABOUT CHICKEN KARINA!
Well, I tried fulfilling you guys with this Easy Honey Garlic Chicken, but people WANT BROWNED BUTTER….more so now after posting this video to Facebook. *Takes a breath*
Just LOOK AT THAT SAUCE!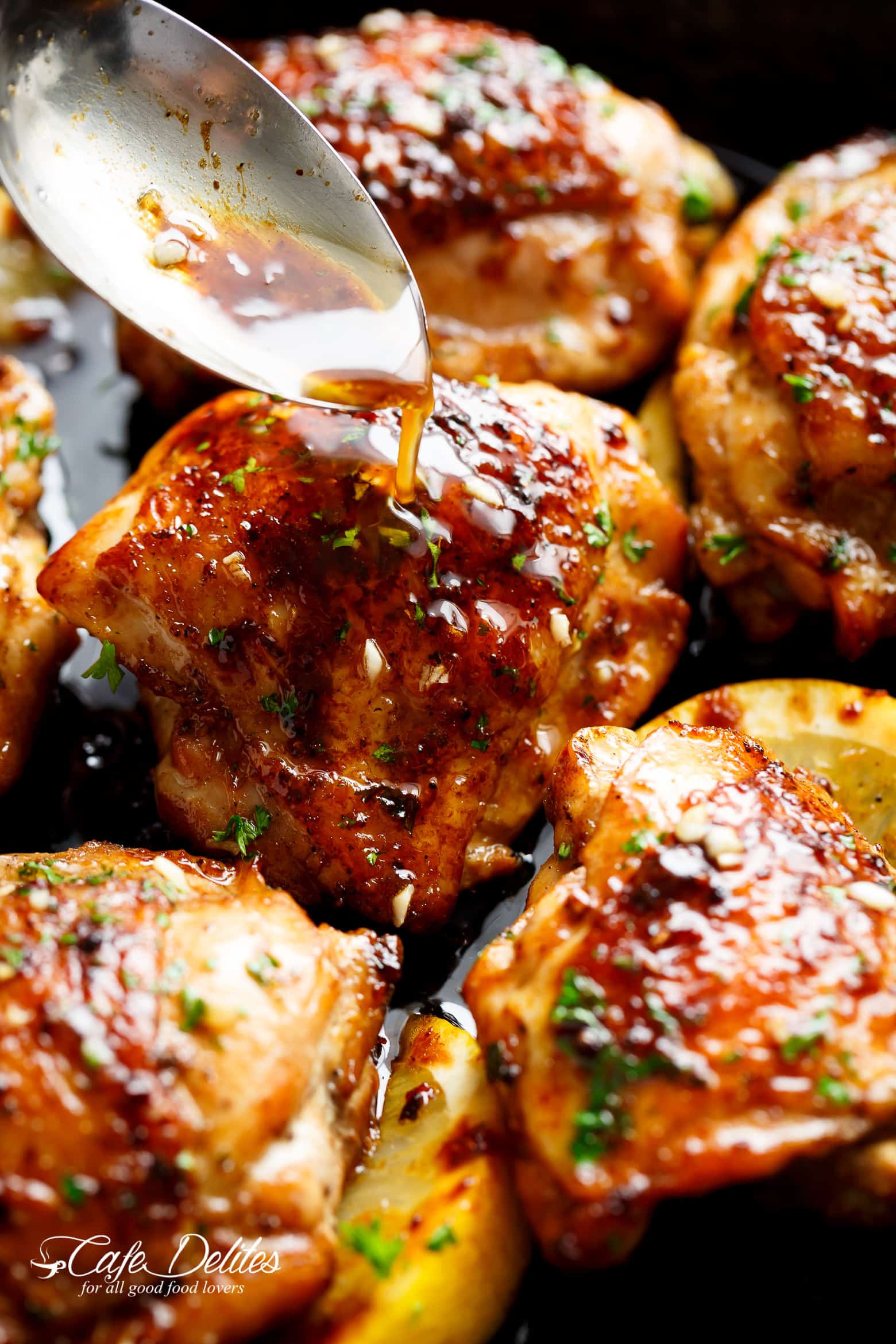 Browned Butter Sauce for Chicken
The sauce is filled with browned butter flavour — nutty and mouthwatering tastes and aromas. THEN, adding honey into the browned butter and allowing it to melt through it gives off an even more incredible aroma.
But, the best part is adding that garlic, sautéing it until it becomes fragrant through the browned butter. That's where the magic lies. Right there.
Now, since I was serving this at lunch time, I added some broccoli florets into the pan before broiling the chicken so they could get nicely charred. If you want to do this, the broccoli does stay crisp in the centre. However, for softer broccoli, steam the florets first until tender (or to your liking), before adding them to the pan!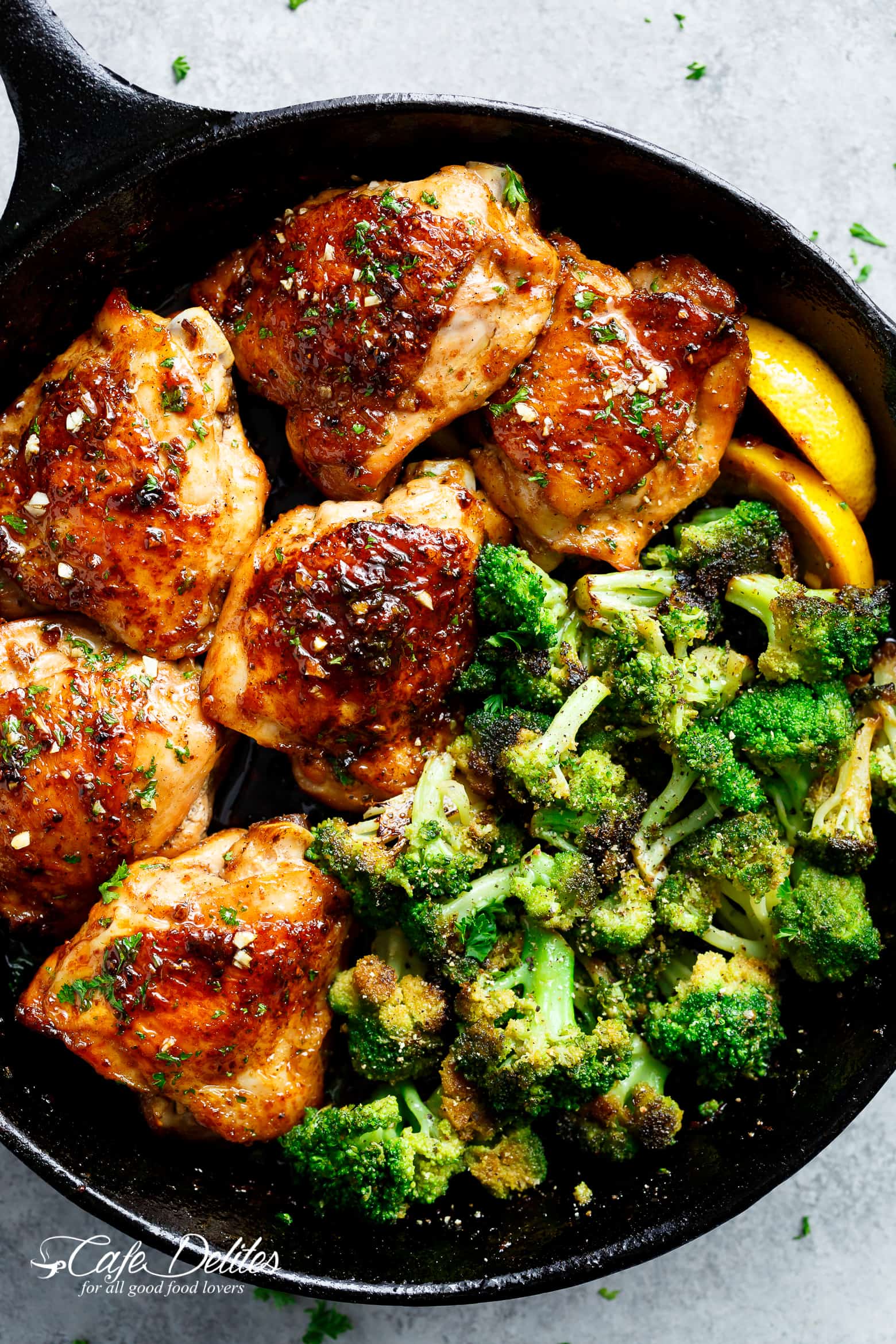 How To Make Browned Butter Honey Garlic Chicken:
The recipe gives you options: chicken thighs > bone in or out > skin on or off. The same goes with breasts.
Honestly, I lOVE bone in thighs. To me, a juicy thigh with the bone in provides so much flavour in a recipe like this. However, I understand a lot of readers don't like dark meat and prefer breasts.
The first step is to have all of your ingredients together and ready for you when you start cooking! This is an easy recipe where you need to act fairly quickly to get all of those flavours perfect in the pan. Also, make sure your oven shelf is not so close to your broiling/heat element, or your chicken will burn. A good 8-inches away is a great place to start.
I like searing the chicken first in this recipe rather than just adding the raw chicken straight into the sauce. You can do that to save time, but I suggest searing first if wanting all the flavours in your skillet/sauce.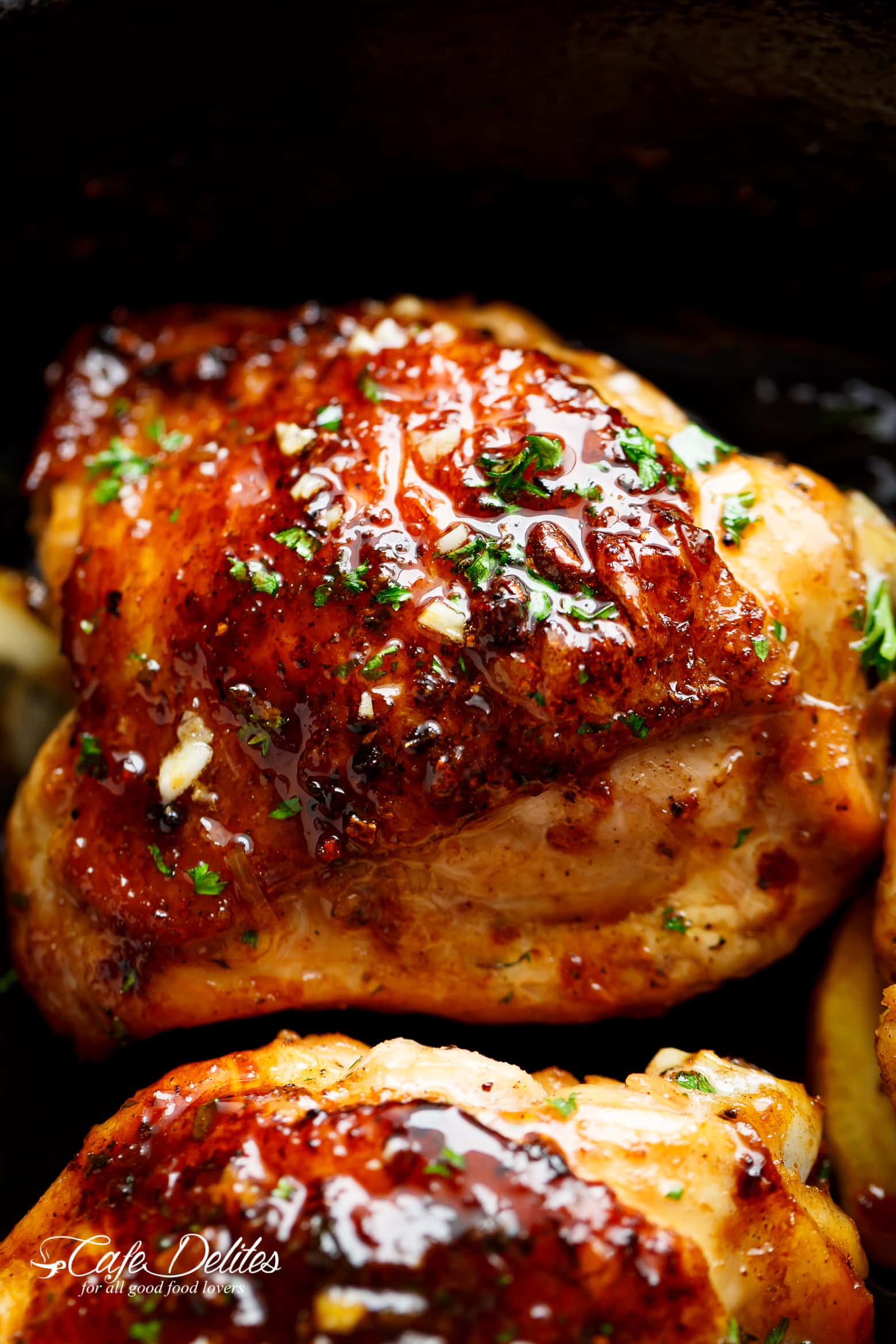 Making the browned butter sauce:
As much as it may sound intimidating or difficult to do, it's the easiest thing in the world!
Make sure your heat is on medium-high. If you have a 'stove that runs hot,' then medium is enough.
After your butter melts, watch it continuously while it bubbles up, then foams and starts to give off a nutty aroma. At this point, stir it occasionally and swirl the pan carefully until the foam subsides. You'll be left with a dark golden hue and some charred bits on the bottom of your pan! THIS IS GOOD! From here you need to act quick.
Once you add your honey, allow it to melt completely though the browned butter.
Allow your garlic to sauté for a good minute. Let all the flavours infuse into your sauce mixture.
Add in your lemon juice, being careful of the butter spitting up.
Once the chicken is back in the pan, I like to baste them while it cooks in the skillet, to let them soak up the sauce as much as possible.
While broiling, put your timer on for 3 minutes, and keep an eye on the chicken.
Don't want to continue cooking them over stove top? There's an oven method in the recipe!
More Browned Butter Recipes!
Browned Butter Honey Garlic Salmon
Browned Butter Honey Garlic Shrimp
Garlic-Parmesan Browned Butter Mashed Potatoes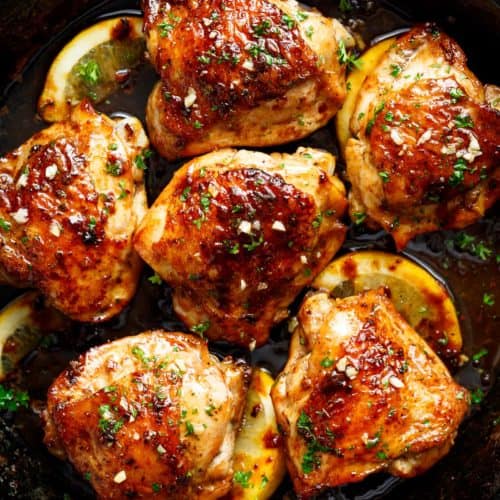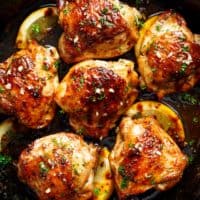 Ingredients
6

chicken thighs (or 4 large chicken breast fillets pounded thin)

(bone in or out | skin on or off)

Salt and pepper,

to taste

6

tablespoons

butter,

divided

1/4

cup

(4 tablespoons) honey

1

tablespoon

minced garlic,

or 4 cloves garlic, minced

2

tablespoons

fresh squeezed lemon juice,

or juice of half a lemon

2-4

tablespoons

chicken broth

(OPTIONAL)

3

cups

broccoli florets

(raw or steamed) OPTIONAL

4

Lemon wedges,

to serve

2

tablespoons

fresh chopped parsley
Instructions
Arrange oven shelf about 8-inches away from heat element in your oven. Preheat your oven to broil (or grill in Australia) on medium heat.

Pat chicken dry with paper towel, then season with salt and pepper. Melt one tablespoon of butter in an oven-proof pan or cast iron skillet over medium high heat.

Sear chicken thighs, skin side down first, until the skin is nice and crispy (about 5 minutes). Flip and sear again until golden and crisp (about another 5 minutes).

Drain most of the excess oil from the pan, leaving about 2 tablespoons of the pan juices for added flavour.

Transfer chicken to a warm plate; set aside.
FOR THE SAUCE:
Melt the butter in the same pan or skillet the chicken was seared in over medium heat, scraping any bits left over in the pan from the chicken with a spatula. Stir the butter and swirl the pan occasionally for about 3 minutes or until the foam settles; the butter begins to change in colour to golden brown and has a nutty fragrance.

Pour in the honey and let it dissolve into the butter while mixing it through. Then add in the garlic and sauté for about 1 minute until fragrant. Add in the lemon juice; stir well to combine all of the flavours together.
AFTER MAKING THE SAUCE:
Add the chicken back into to the browned butter/honey mixture in the pan.

Cook SKIN SIDE UP

for 5 minutes in the sauce, while occasionally basting the tops or skin with the pan juices. Reduce heat, cover skillet with a lid and continue cooking until the chicken is cooked through, while turning every 5 minutes or so until done. Season with a little extra salt and pepper, to your taste, if desired. Add in 2-3 tablespoons of chicken broth if the sauce becomes to thick (this is an option only).

Transfer the skillet to your oven to broil (or grill) for a further 2-3 minutes, or until the tops of the chicken are nicely charred. (If serving with broccoli, move the chicken to one side of the pan and arrange your florets on the other side. Season broccoli with salt, pepper, a pinch of garlic powder and a drizzle of olive oil. For tender-charred broccoli, steam first. For crisp-charred broccoli, use raw.)

ALTERNATIVELY FOR OVEN BAKED CHICKEN: Preheat oven to 400°F or 200°C. Sear chicken in an oven proof skillet or pan, skin side down first for 3 minutes. Flip and sear for a further 3 minutes until browned. Transfer chicken to a plate; make the sauce following recipe directions, then add the chicken into the sauce in the pan. Transfer to the oven for a further 20-25 minutes until completely cooked through and no longer pink inside. Change oven settings to broil (or grill), until nicely charred on the tops.


To serve, add the lemon wedges around the chicken, garnish with parsley and drizzle with the pan juices. Serve with steamed vegetables; over rice or noodles, or with a salad!
Notes
FOR BONELESS SKINLESS CHICKEN FILLETS:
Sear boneless chicken thigh fillets or breast fillets on both sides until golden and cooked through. Transfer chicken to a warm plate; set aside.
Make the sauce following recipe directions.
Add the chicken back into to the browned butter/honey mixture in the pan and cook for 5-7 minutes in the sauce, while basting the tops with the pan juices. Flip and continue cooking in the sauce until cooked RIGHT through. Season with a little extra salt and pepper, to your taste, if desired.
Nutrition
Calories:
306
kcal
|
Carbohydrates:
22
g
|
Protein:
22
g
|
Fat:
15
g
|
Saturated Fat:
8
g
|
Cholesterol:
127
mg
|
Sodium:
128
mg
|
Potassium:
517
mg
|
Fiber:
3
g
|
Sugar:
14
g
|
Vitamin A:
785
IU
|
Vitamin C:
83.6
mg
|
Calcium:
59
mg
|
Iron:
1.8
mg