Garlic-Parmesan Browned Butter Mashed Potatoes! Get your pots and pans out because this right here is the ultimate mashed potatoes you've ever eaten in your life.
Personally, I never get tired of mashed potatoes. You will usually find me in the kitchen with my face in the pot, impatient to wait for anyone else to come to the dinner table, spooning as many spoonfuls as I can before some takes it from me. Yes. I am that person. Shamelessly.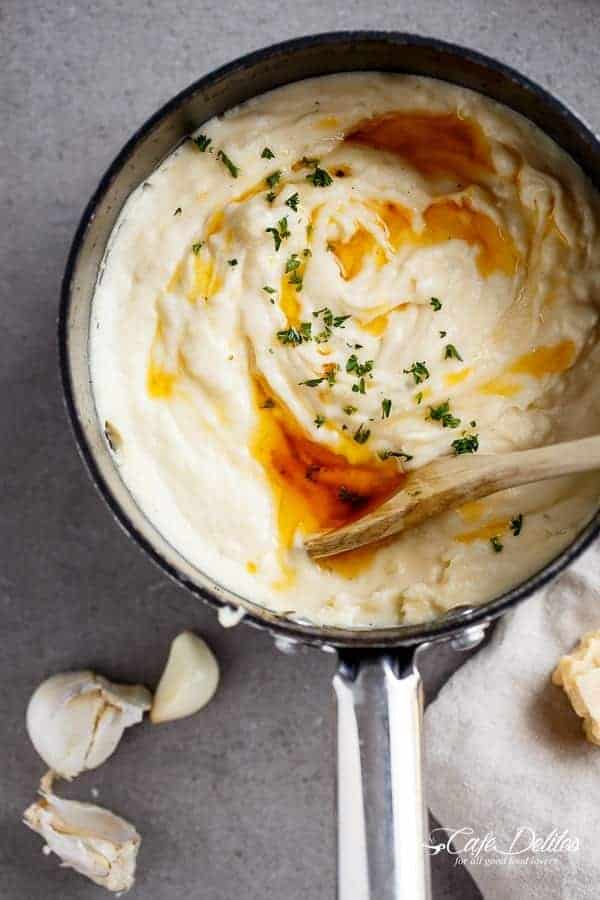 However. Since my new found love affair began a few months ago with browned butter (Browned Butter Honey Garlic Salmon, Browned Butter Skillet Cookies, Browned Butter Dutch Pancakes), I was looking at my beloved potatoes thinking WAAAAIT A SECOND! Why don't I put browned butter in mashed potatoes? What haven't I EVER done that?
And with crispy garlic pieces? Someone…hold me.

MY LATEST VIDEOS
MY LATEST VIDEOS
Turns out though, I'm not the genius I thought I was, because hello, browned butter mashed potatoes everywhere….BUT! Putting garlic and parmesan cheese into them is a law in the house. So, I accidentally on purpose started browning butter only for my kitchen to be filled with the most beautiful buttery smells, only then to add the garlic into said butter…and all the boys came to my yard.
Okay. Well, a small sized boy came into my kitchen.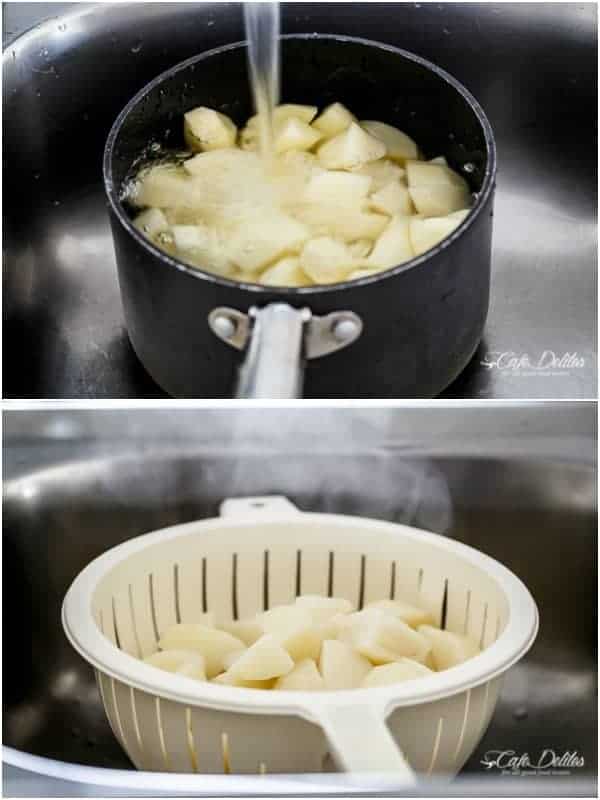 Pretty sure all of the neighbours could smell the crispy fried garlic smells wafting out through the windows… Sorry neighbours. I don't share mashed potatoes.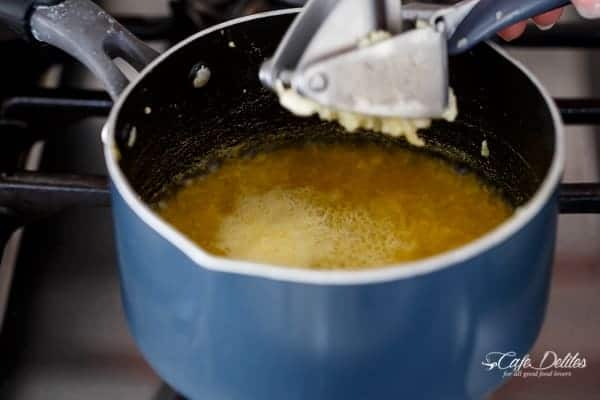 My joy pouring the butter into the potatoes was probably a little over exaggerated. But, can you blame me?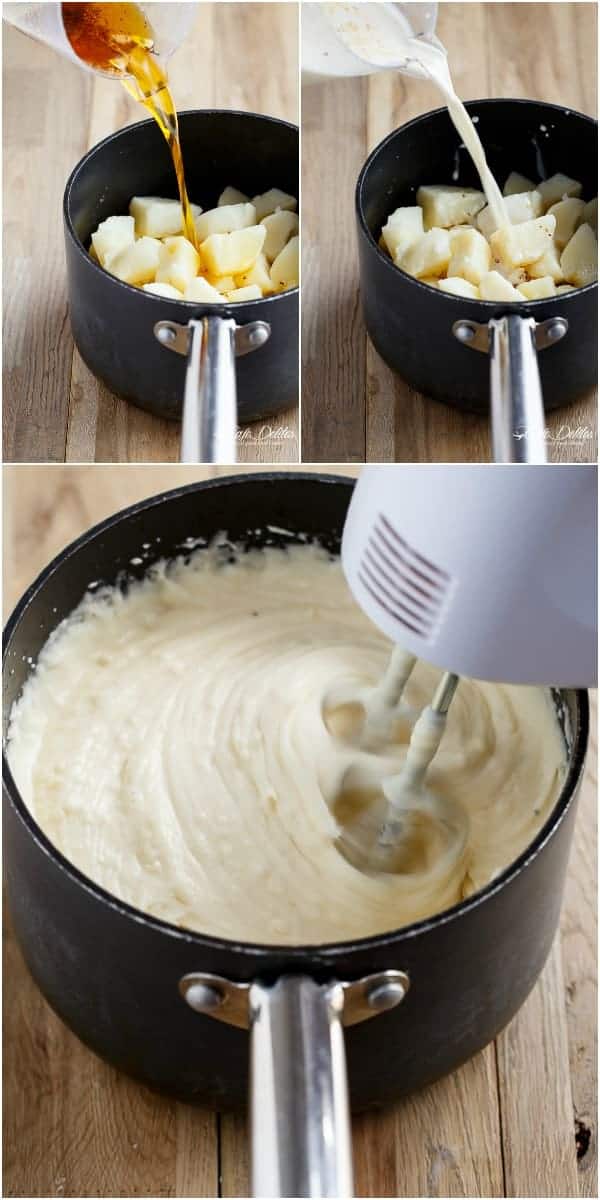 Beat with a hand beater/mixer, and if you don't already do this…then do it. Rest your arms. It will change your life.
Pour over some more golden butter over the top, with more parmesan cheese, parsley, and those crispy garlic pieces.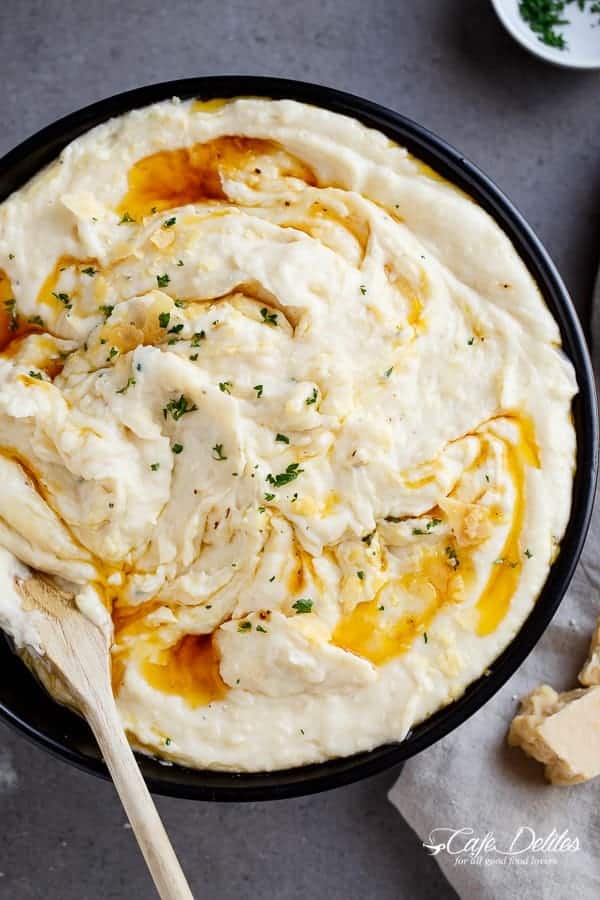 Mix it all through and get ready for your mind to be blown.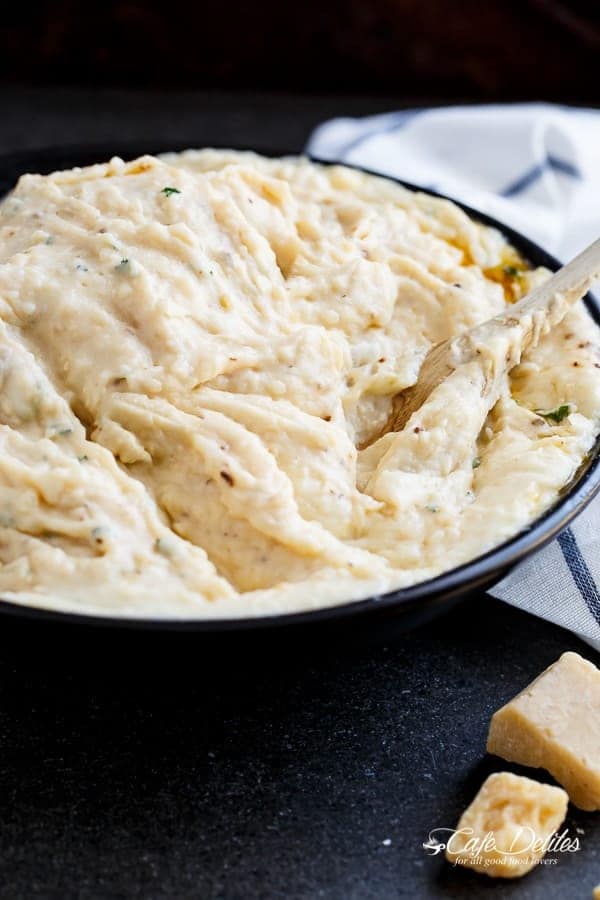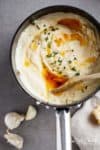 Garlic-Parmesan Browned Butter Mashed Potatoes
Ingredients
10

large potatoes of choice

(1.4kg | 3lbs) (Chat Washed, Yukon Gold or Russet Potatoes), peeled

3/4

cup

butter

4

cloves

garlic

, crushed

1/2

cup

grated parmesan cheese

1

cup

milk

(more if needed)
Instructions
Peel potatoes and cut into large chunks. Cover with water in a large saucepan/pot, add a good amount of salt and bring to the boil for 20 minutes or until soft and tender but not falling apart.

Halfway through cooking time, heat butter in a small pan over medium-heat. When butter begins to foam, add the crushed garlic, lower heat to medium and stir continuously until it begins to change colour and turn brown (it's normal to see crispy little brown bits at the bottom of the pan). Remove immediately from heat.

Drain potatoes, transfer them back into the pan/pot. Strain the butter through a sieve straight into the potatoes (reserve the crispy garlic pieces to serve later), and add the cheese and milk. Beat with a hand beater until smooth and creamy (it takes about 1-2 minutes) -- or use a potato masher. Add a small amount of milk if you like a thinner mashed potato consistency. Taste and add more salt if needed.

Serve with more parmesan, chopped parsley and the crispy pieces of garlic.
Recipe Notes
*If using a hand beater, it's important not to over beat them, as they can turn gooey.