Coq Au Vin, or chicken in wine, is a popular classic French Chicken Stew made easy with crispy chicken pieces!
An easy chicken recipe with crispy chicken drumsticks, chicken thighs and bacon. This Coq au vin gets everybody talking! Serve with creamy mashed potatoes, rice or cauliflower mash smothered with butter! The most delicious chicken dinner is ready on the table!

COQ AU VIN RECIPE
Coq Au Vin, translated as Rooster In Wine, is traditionally made with chicken on the bone and red wine (traditionally Burgundy. But any wine could be used, with Riesling being a popular choice).
Similar to a well-known Beef Bourguignon, both recipes include bacon (lardons) sautéed onions and garlic. Browned meat needs enough wine to cover and simmer, while mushrooms sautéed in butter are added at the end. Slowly braised until the meat is tender on the inside, our version includes crispy skin on chicken pieces for the best flavour and incredible texture!
Pot or Dutch oven
This recipe is easiest when prepared in a Dutch oven or a heavy based pot (or casserole dish). It starts on the stove and gets finished in the oven, however you can certainly make it without an oven if needed.
Normally, the longer you cook it, the richer the flavour. With this version, we managed to shave off an hour of cook time from the traditional Coq Au Vin recipe, while still getting tender and flavourful chicken.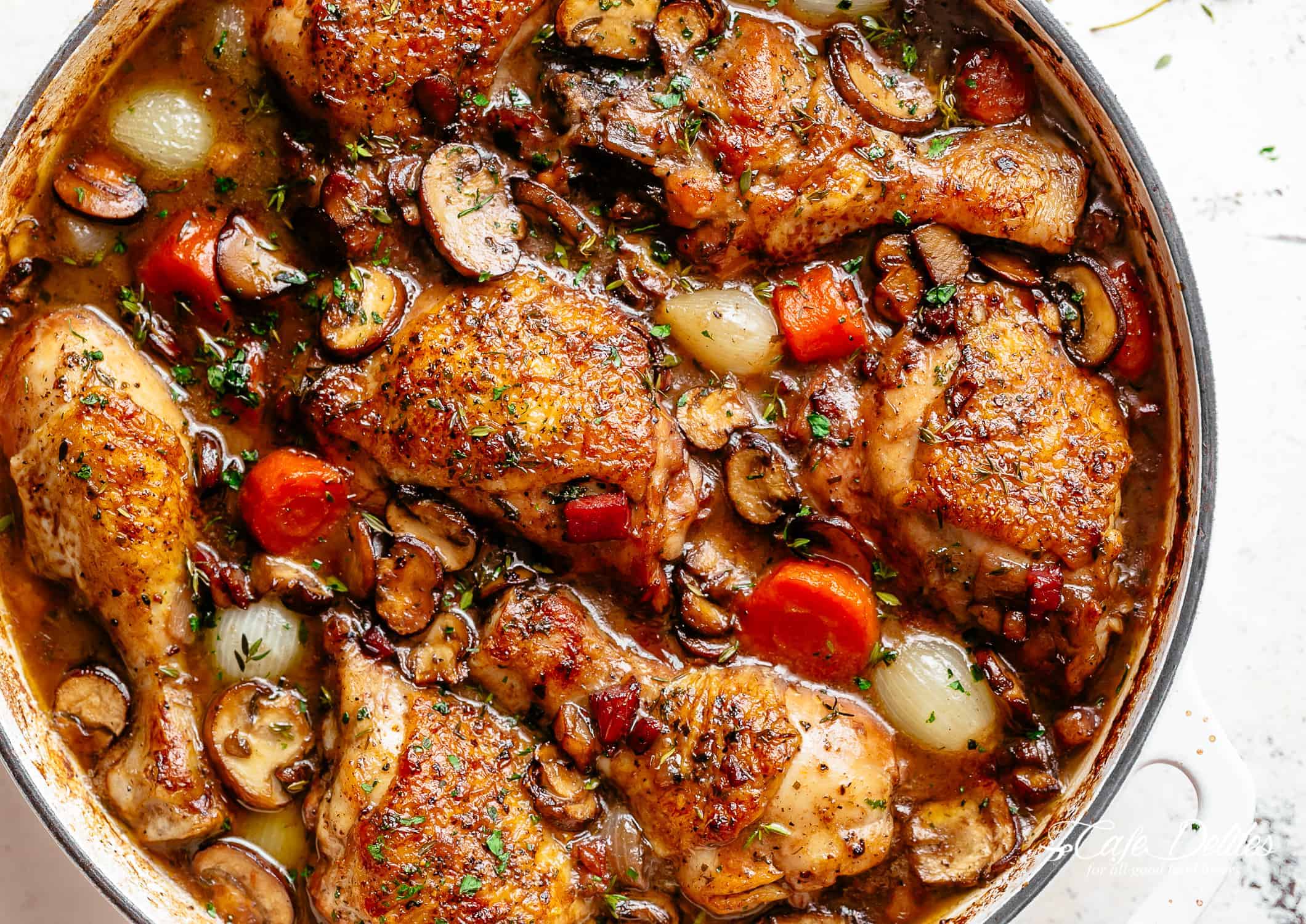 What wine do you use for coq au vin?
Which wine to use? An authentic coq au vin is made with a red Burgundy wine, like a good quality Pinot Noir. I use Shiraz for ours and love the flavours that develop when cooked in with the flavours in the chicken juices and the stock.
Most cooks, however, are beginning to use a dry white wine for their coq au vin, and during testing, we didn't mind using either! I'd recommend a Pinot gris or Sauvignon blanc.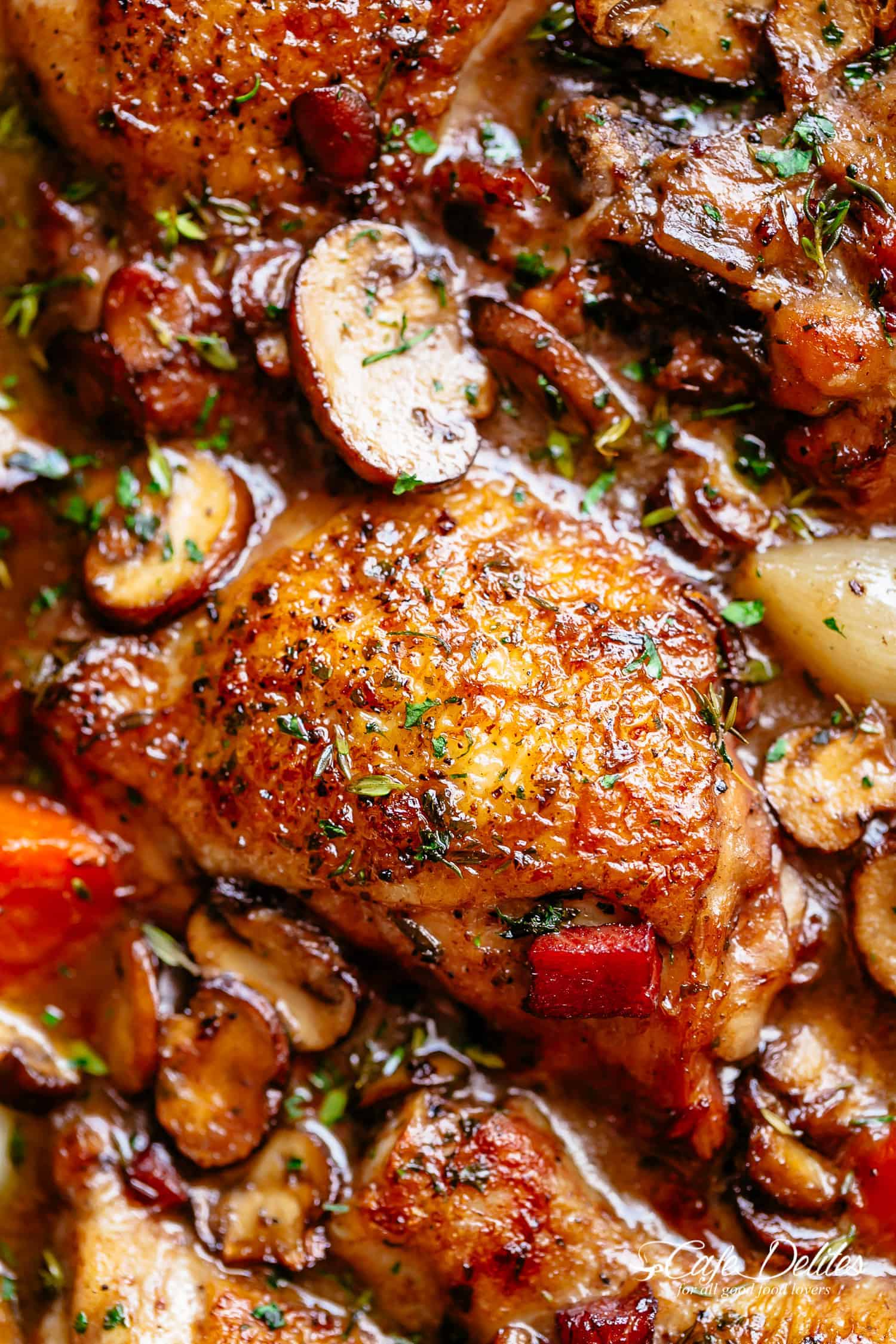 How do you make coq au vin?
Start with frying your bacon first. When your bacon is done, keep the bacon grease in the pan to sear your chicken pieces. If your bacon has released too much oil, you can drain some of it before adding in your chicken.
For the sake of keeping this recipe as simple as possible, we use drumsticks and thighs (bone in and skin on), but feel free to use any chicken pieces you have.
When adding your thighs, make sure you sear them skin side down first so that the fat renders and the skin becomes a crispy, golden browned.
Once your wine, stock and thyme has been added into the pot, you can continue cooking it on the stove over low heat until the chicken is completely cooked through. Or, follow the recipe below for the oven method. We have tried both versions and do prefer the oven method for the depth of flavour.
Mix your butter and flour into a paste with a fork or the back of a spoon. When adding it into the sauce, the paste will look lumpy like it won't dissolve through the sauce. Keep it simmering because it will dissolve and thicken your sauce beautifully!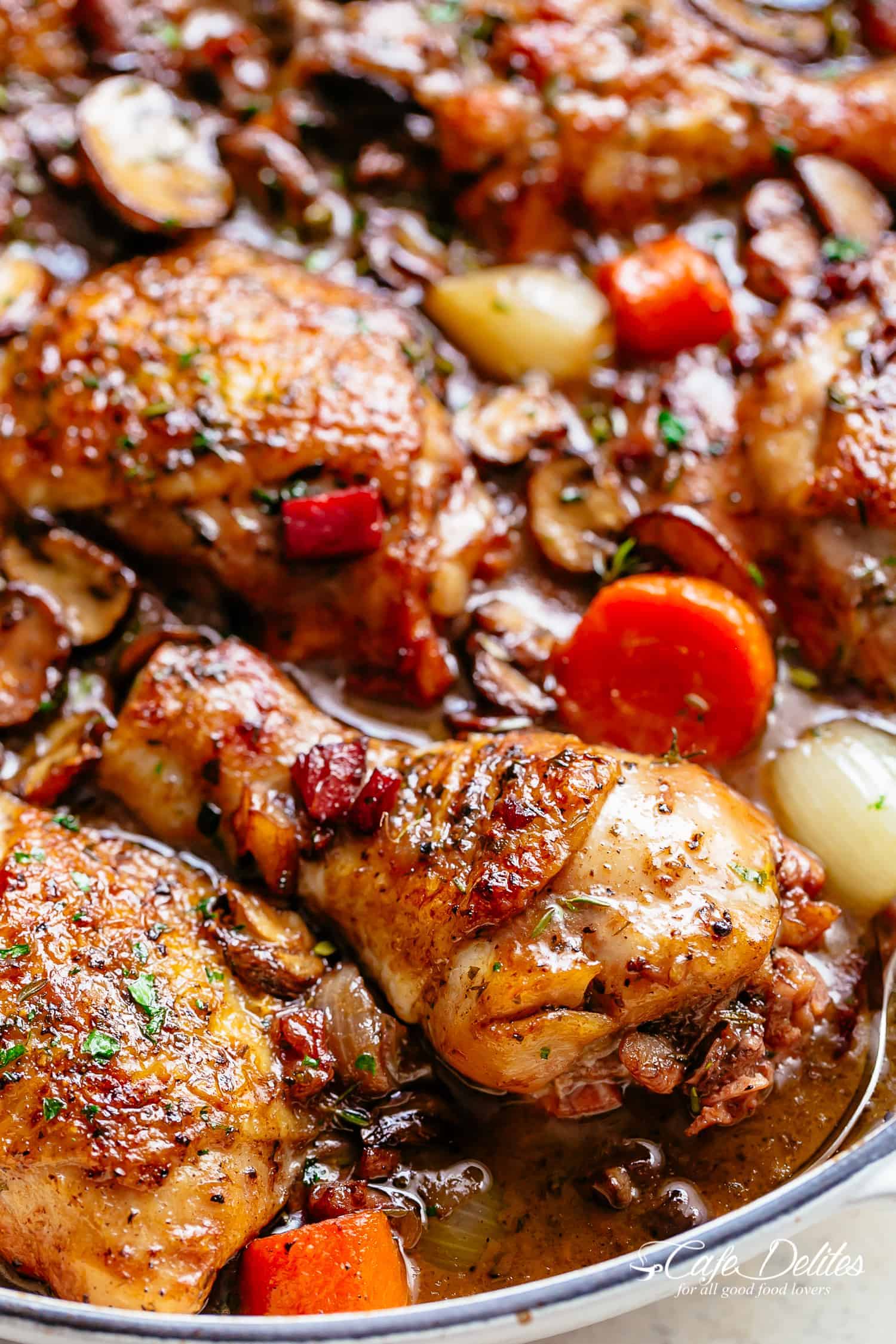 Sautéed mushrooms
You can leave them out if you wish! BUT sautéing them in butter while the chicken is in the oven — then adding them in at the end to simmer with the rest of the ingredients — adds another dimension of flavour. You will LOVE them! If you love garlic mushrooms, add 1-2 teaspoons of garlic to the softened mushrooms in the pan! Y.U.M!
What do you eat with coq au vin?
Mashed Potatoes, Mashed Cauliflower, noodles or plain rice.
Looking for more recipes like this? Try these!
Crispy Beer Chicken with a Creamy Beer Mushroom Gravy
Beef Bourguignon
Chicken Cordon Bleu & Dijon Cream Sauce
COQ AU VIN NOW ON VIDEO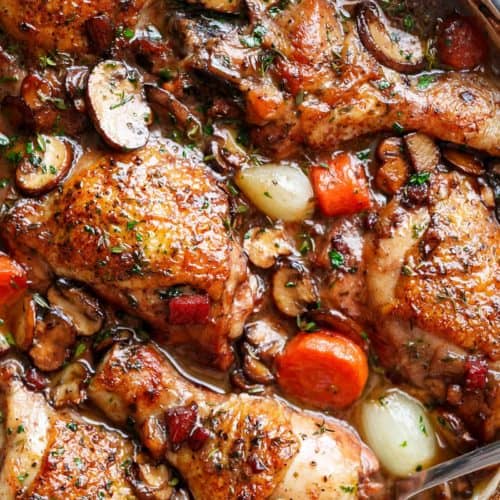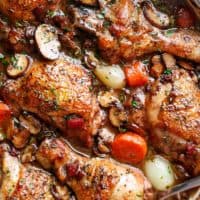 Coq Au Vin
Coq Au Vin, or chicken in wine, is a popular classic French dish made easy in one pan! With crispy chicken drumsticks, chicken thighs and bacon, this Coq au vin gets everybody talking! Serve with creamy mashed potato or cauliflower smothered with butter, and the most delicious chicken dinner is ready on the table!
PRINT
SAVE
go to your favorites
Ingredients
2

tablespoons

olive oil

4

ounces

(120g) diced bacon

8

chicken pieces (4 drumsticks and 4 thighs),

skin on, bone in

2

teaspoons

salt

(plus more to season)

1/2-1

teaspoon

freshly ground black pepper

(plus more to season)

1

onion,

diced

8

oz

(250g) carrots

cut into 1-inch pieces

4

cloves

garlic,

minced

1/4

cup

brandy

(OPTIONAL)

350

ml

good quality red wine

(Burgundy, Pinot Noir, Shiraz)

1 1/4

cups

low sodium chicken stock or broth

5

sprigs thyme

3

tablespoons

unsalted butter

at room temperature, divided

1 1/2

tablespoons

all-purpose flour

8

ounces

(250g) frozen small whole onions

(pearl onions)

8

ounces

(250g) cremini (brown) mushrooms

thickly sliced

2

tablespoons

fresh chopped parsley,

to garnish (optional)
Instructions
Preheat the oven to 350°F | 175°C.

Heat the olive oil over medium heat in a large pot or Dutch oven. Add the bacon and cook until crispy (about 8 to 10 minutes). Transfer bacon to a plate with a slotted spoon.

Pat chicken pieces dry with paper towel and season with salt and pepper.

Add the chicken pieces in batches of two to the leftover bacon grease (skin side down for chicken thighs). Sear for about 5 minutes each side, until skin is rendered, crispy and browned. Transfer chicken to the plate with the bacon. Set aside.

Add the onions, carrots, salt, and pepper to the pan and cook over medium heat for 5 minutes, while stirring occasionally, until the onions are transparent and lightly browned. Add the garlic and cook until fragrant (about 1 minute).

Pour in the Cognac/brandy, wine and chicken stock; stir to combine. Add the thyme, bacon, chicken, and any juices leftover from the plate into the pot. Bring to a simmer, then cover with a lid or foil and transfer to the oven for 20-30, or until the chicken is cooked through and no longer pink in the middle.

While chicken is in the oven, melt 2 tablespoons of butter in a pan over medium heat. Cook the mushrooms for 8 to 10 minutes, until soft and browned. Set aside.

Remove casserole from oven and place on stove. Mash the remaining butter with the flour and stir into the casserole (the heat will cook any lumps out). Add the pearl onions; bring the casserole to a simmer and cook for a further 10 minutes, until sauce has thickened.

Season to taste, if desired. Garnish with parsley and any extra thyme leaves, and serve immediately over mashed potatoes.
Notes
Adapted from Ina Garten
OPTIONAL: BROIL AT THE END OF COOKING TO GET A NICE, GOLDEN SKIN ON THE CHICKEN.
Nutrition
Calories:
507
kcal
|
Carbohydrates:
13
g
|
Protein:
26
g
|
Fat:
34
g
|
Saturated Fat:
10
g
|
Cholesterol:
138
mg
|
Sodium:
108
mg
|
Potassium:
172
mg
|
Fiber:
2
g
|
Sugar:
6
g
|
Vitamin A:
6745
IU
|
Vitamin C:
10.9
mg
|
Calcium:
51
mg
|
Iron:
2.1
mg