20 New Years Eve Recipes 2015
It's that time of year again where we frantically look for places to go, things to do — and FOOD TO EAT! If you're having guests over for your NYE celebrations, I've rounded up the best 20 recipes for New Years Eve 2015, to make your lives and recipe planning easier and leave your guests mouths drooling!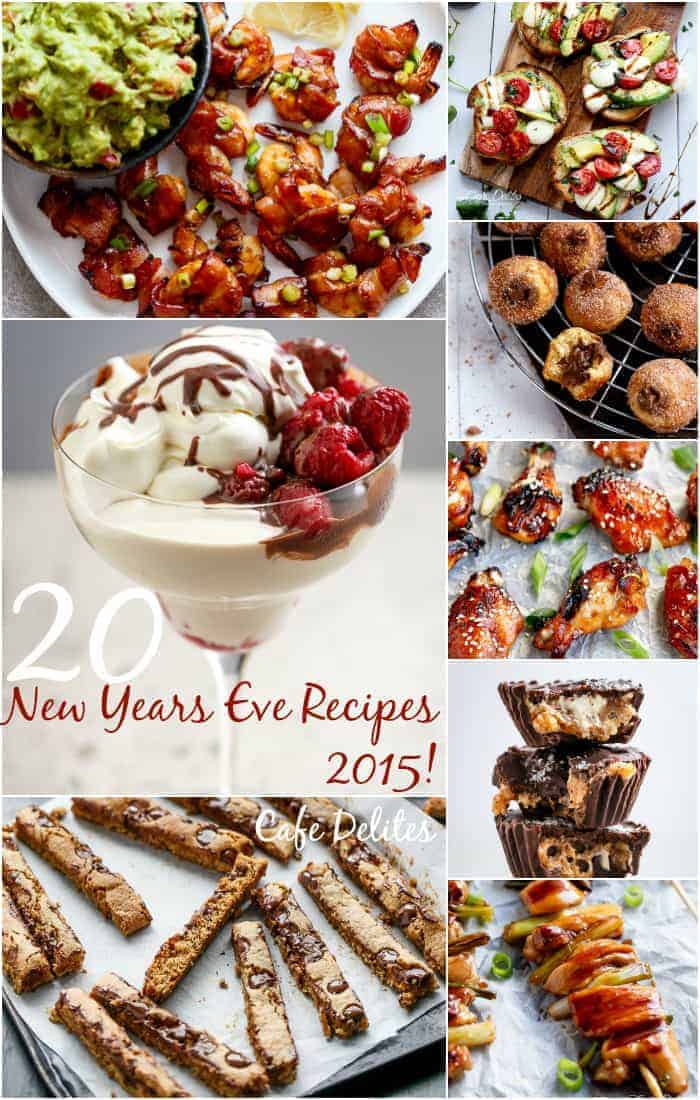 Since New Years parties normally consist of finger foods or foods easily eaten over a napkin or paper plate, I've scoured this blog to find your absolute favourites — la creme de la creme.
9 savoury appetizer recipes and 9 sweet recipes PLUS a cocktail and sangria thrown in!
Cheers to you all and Happy New Years 2015!
THE SAVOURIES
The perfect light appetiser before any festivities… Crispy Bacon Wrapped Barbecue Honey Garlic Prawns (or Shrimp) to kick start the party!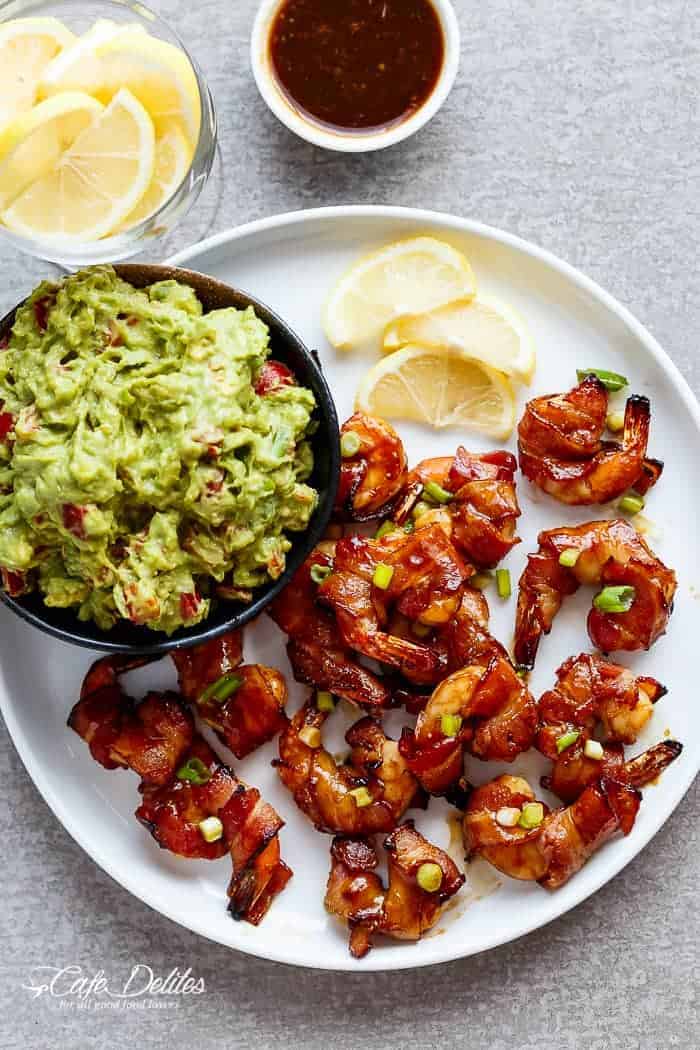 ---
2. Sticky Honey Sesame Chicken Wings
With the perfect amount of sweet and saltiness full of Chinese flavours. It's really hard to believe these are diet friendly and low in points/calories!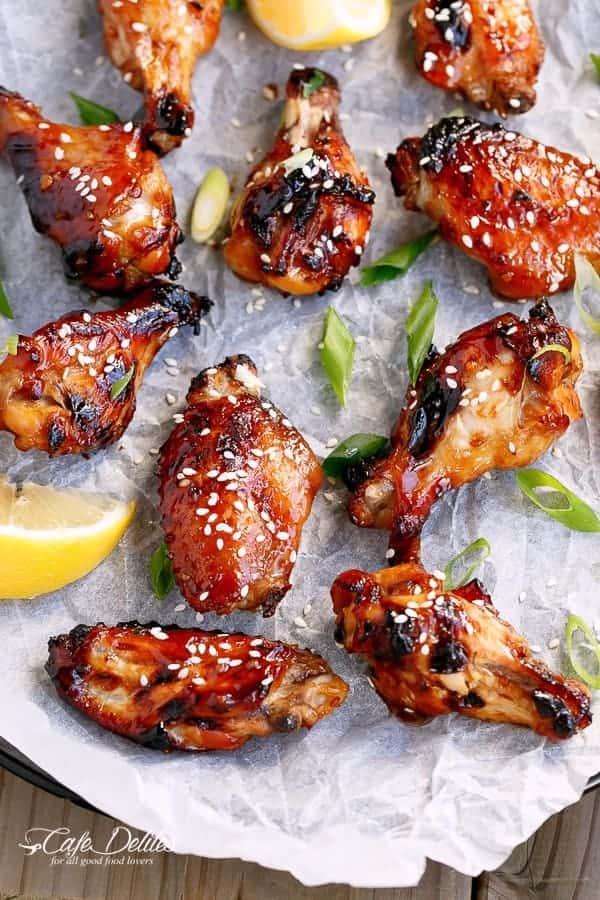 ---
3. Grilled Avocado Caprese Crostini
Crunchy, crusty sourdough bread with the beautiful flavours of garlic olive oil and basil…. and then that warm and melty cheese with the sweetness of grilled cherry tomatoes.
---
4. Crispy Sweet Potato Wedges with Garlic Avocado Aioli Dipping Sauce
Wedges with a crunch when biting into them, and pillows of soft sweetness in the centre and coated with sweet and spicy flavor. Paired with an incredibly creamy Avocado Garlic Aioli; move over potato wedges! These are insane!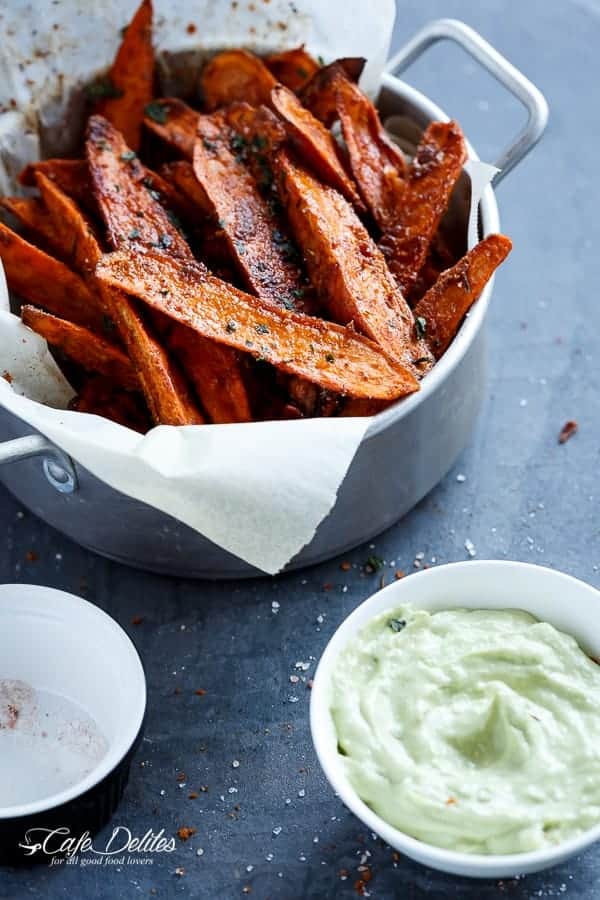 ---
5. Grilled Greek Lamb Souvlaki 
Tender char-grilled seasoned Lamb Souvlaki Skewers with red capsicum/bell pepper pieces and red onion; served with a garlicky yogurt dip, a refreshing Greek side salad and warmed flatbreads.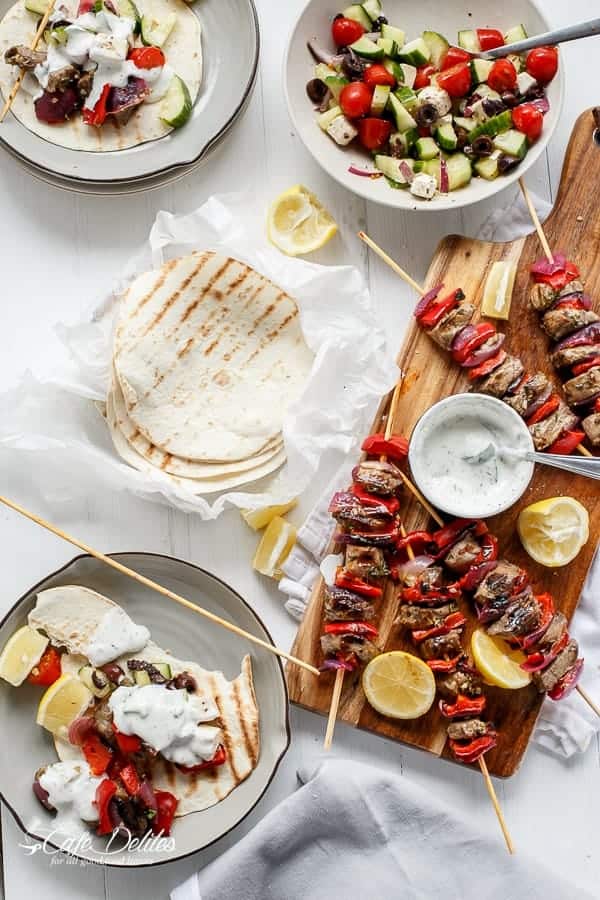 ---
6. Garlic Prawn (Shrimp) Salad Wonton Cups
Fresh garlic prawns, sliced and pan fried to garlicky perfection, mixed through a coleslaw salad full of lemon juice, a touch of mayo and sesame oil…and served in crispy oven baked wonton cups drizzled with sweet chilli sauce.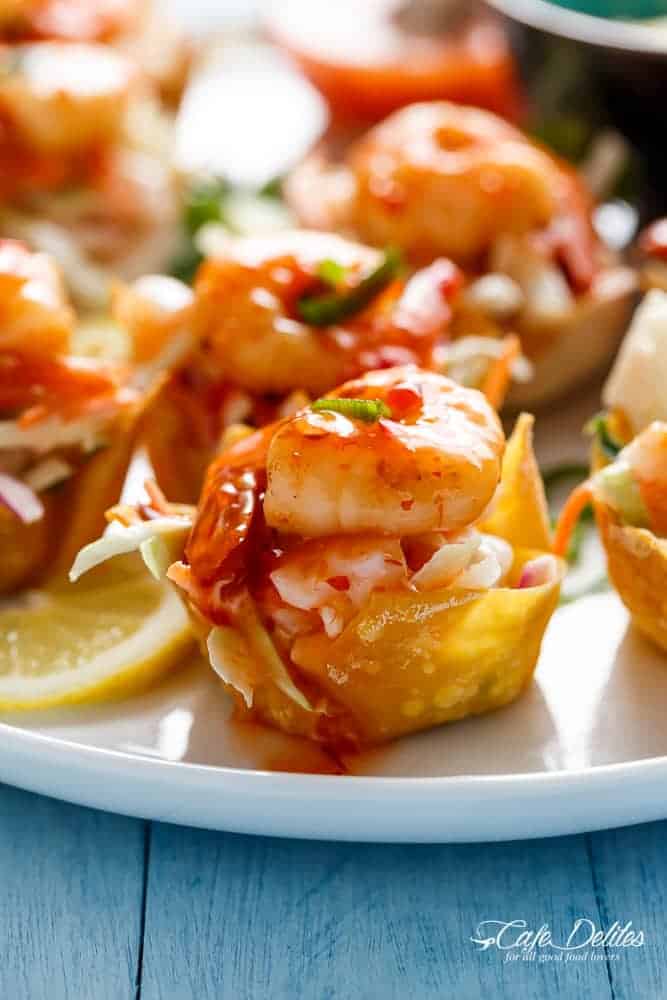 ---
7. Carne Asada Chipotle Pull Apart Bread
 Char grilled pieces of Carne Asada stuffed into each wedge with Chipotle flavours and an abundance of melted cheese.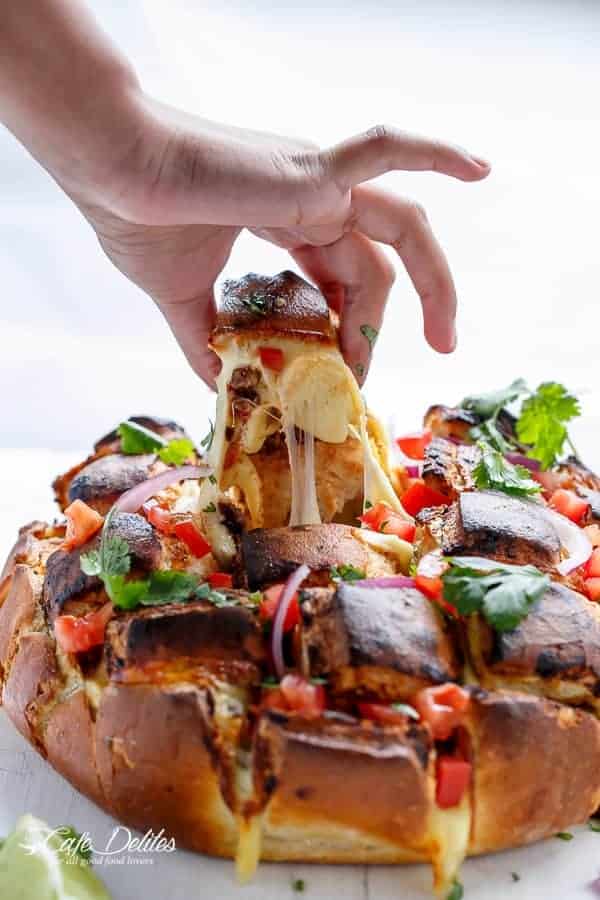 ---
8. Easy Japanese Chicken Yakitori
Tender and juicy chicken thigh pieces smothered in a beautiful and simple to make Yakitori sauce!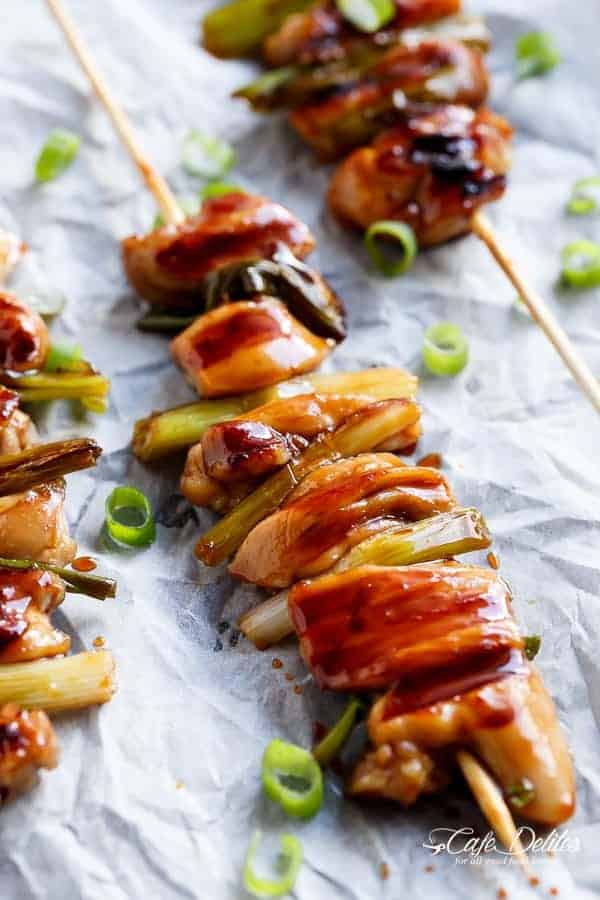 ---
9. Mini Caprese Deep Dish Pizzas
 The perfect appetizer: combining two favourites into one! Caprese salad meets pizza in these delicious deep dish pizzas made easy in a humble standard muffin pan.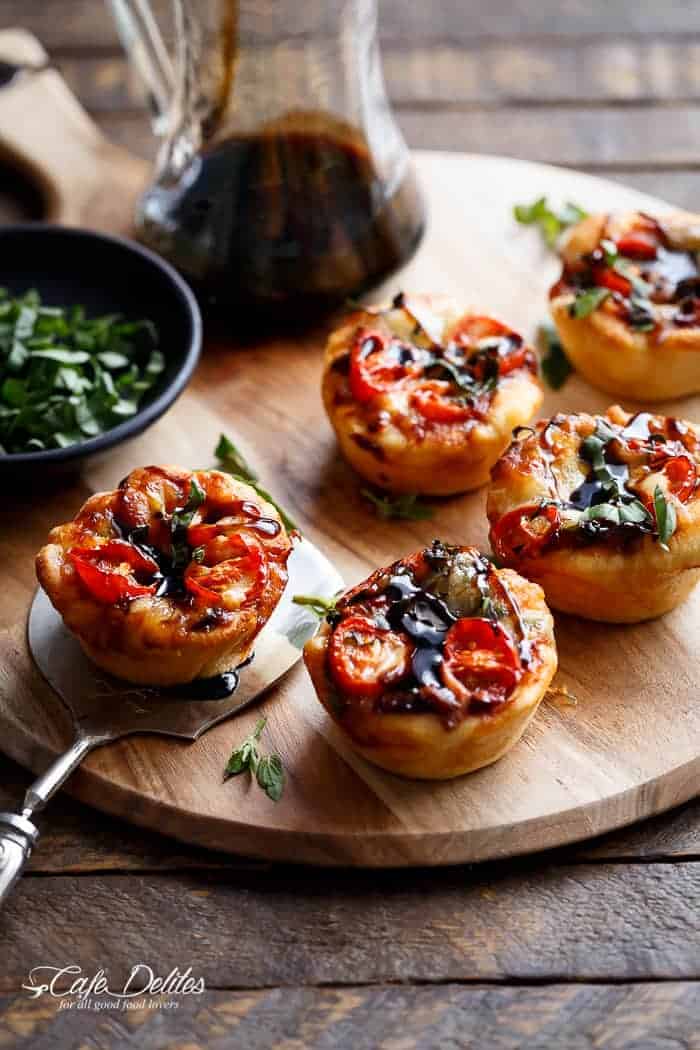 ---
---
THE SWEET STUFF
Bite-sized Churros…oven baked not fried…filled with Nutella and coated in Buttery Cinnamon Sugar, gives you a complete Churro fix without needing to go anywhere!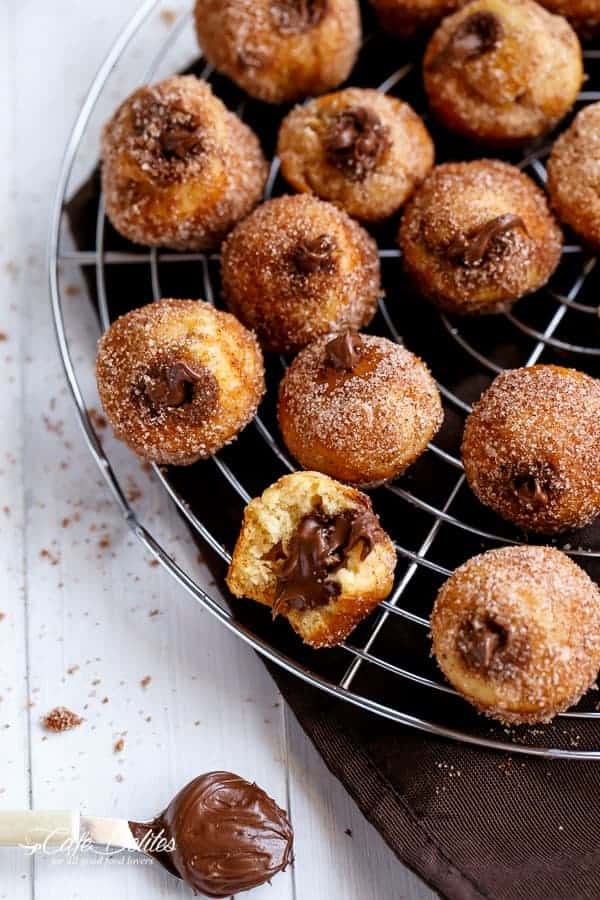 ---
2. Creamy Kahlua + Raspberry Cheesecake Parfaits 
Raspberries melting into surrounding Kahlua spiked 'cheesecake' flavoured with a hint of coffee, and a sweet Kahlua whipped dream, (I mean…cream), and a small river of chocolate sauce.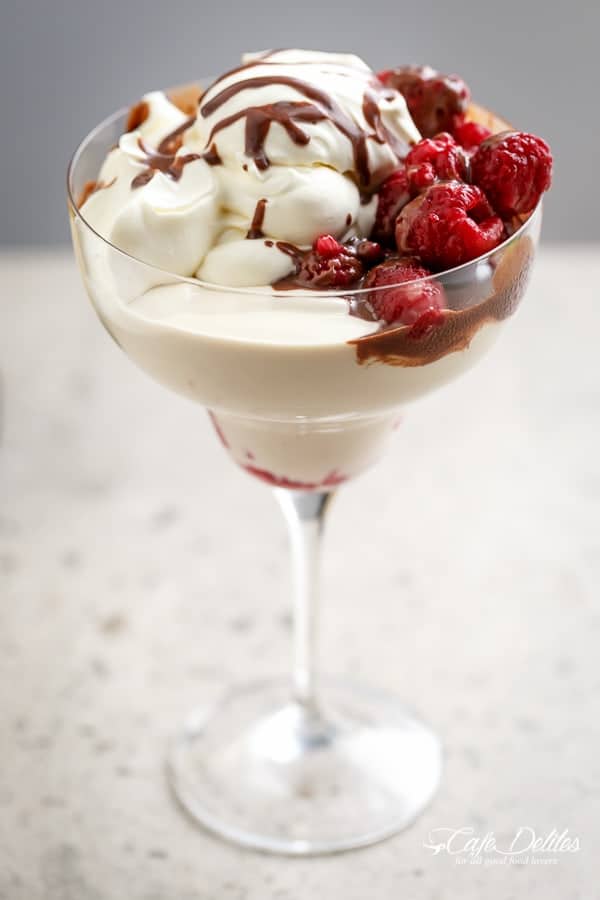 ---
3. Low Fat Chocolate Chip Cookie Sticks
These are highly addictive cookies and do not taste low in fat…at.all. Chewy chocolate chip cookies with the perfect hint of crunch so addictive, it's hard to believe they are low in fat.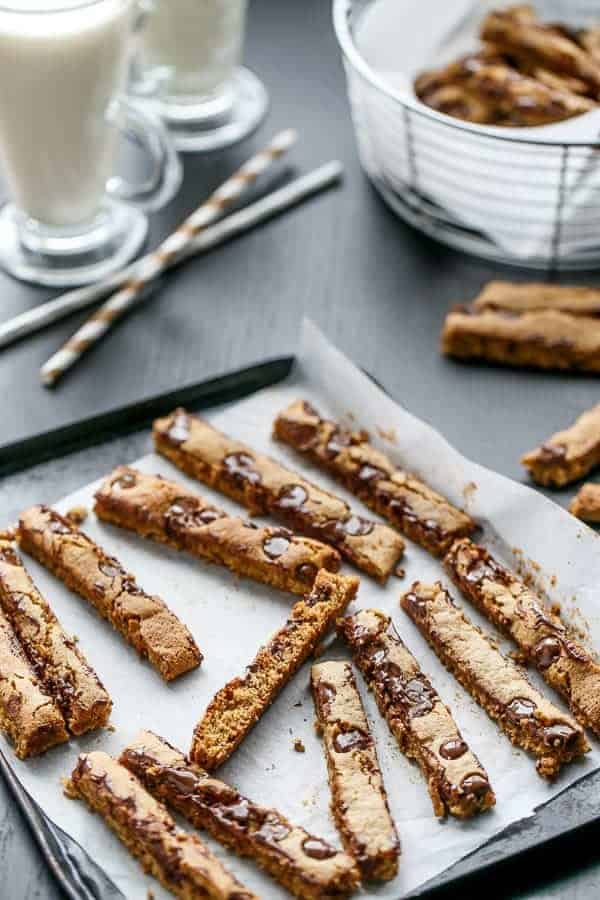 ---
4. Lemon Blueberry French Toast Muffins
And if your party is starting early, start it up with simple and easy to make French Toast Muffin Cups stuffed with juicy blueberries and cheesecake flavours — YES I said CHEESECAKE (sorry for yelling), and a crispy streusel topping.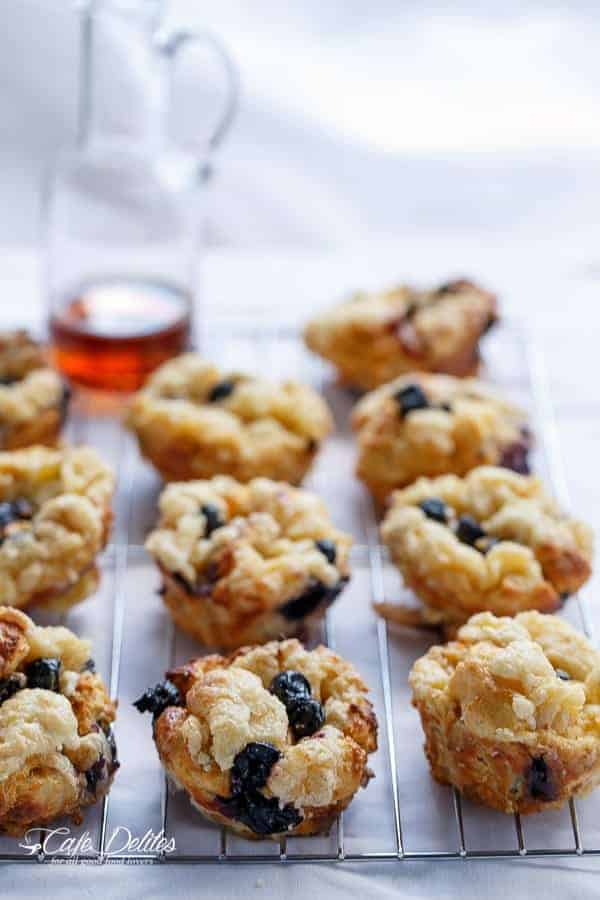 ---
5. Strawberries and Cream Tiramisu Parfaits
Decadent coffee flavoured sponge finger biscuits with a hint of rum for a traditional Tiramisu flavour, putting a spin on this high fat dessert with a low in fat Strawberries and Cream filling. The perfect New Years Eve dessert, and New Years Resolution all in one!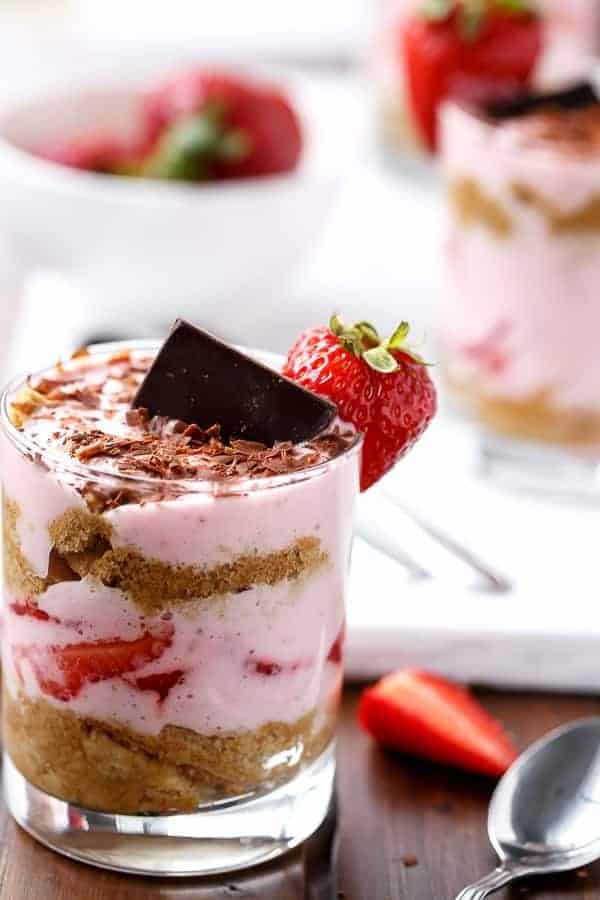 ---
6. Dulce De Leche (Caramel) Churro Empanadas with a Mexican Hot Chocolate Dipping Sauce!
Made with puff pastry, shortcut pastry or crescent roll pastry, these Empanadas take 10 minutes to make! Full of Dulce De Leche, your guests will swoon at these!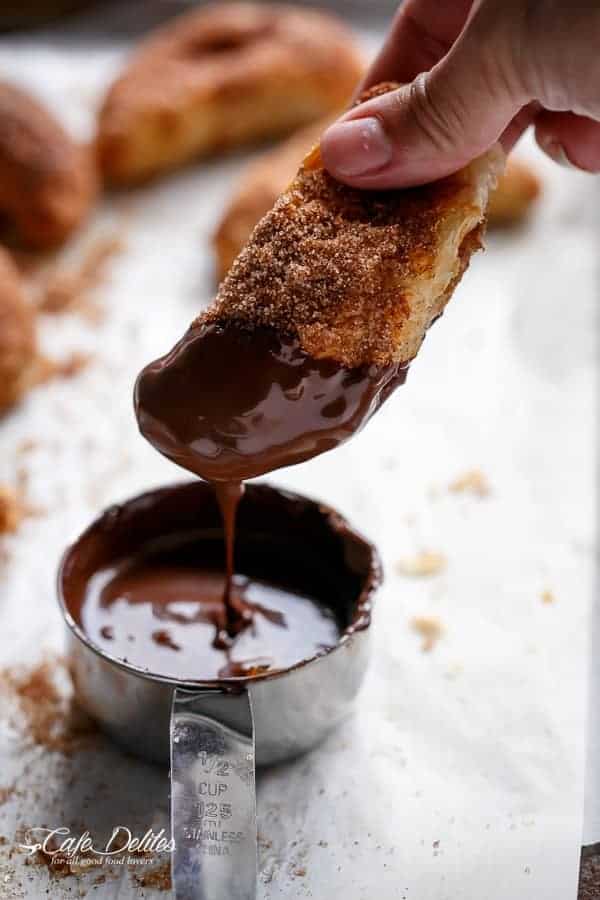 ---
7. Maple Glazed Apple Fritter Donut Holes
A replica of a classically fried donut fritter with half the fat and all of the flavour, these fritters are fluffy but dense at the same time, like how a donut should be, without the use of any yeast or waiting around for any dough to rise…or deep frying nonsense. Baked; not fried, and only 2 Weight Watchers PP per donut hole!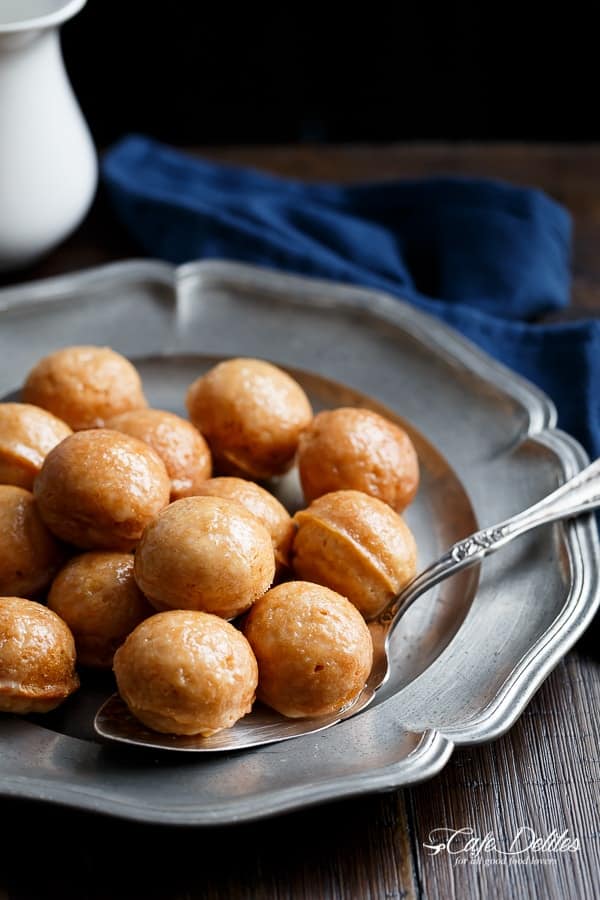 ---
8. Chocolate Marshmallow Molten Lava Cakes
Made in a standard muffin tin: Hot Chocolate transformed into Lava Cakes with melted gooey marshmallow baked into the centre!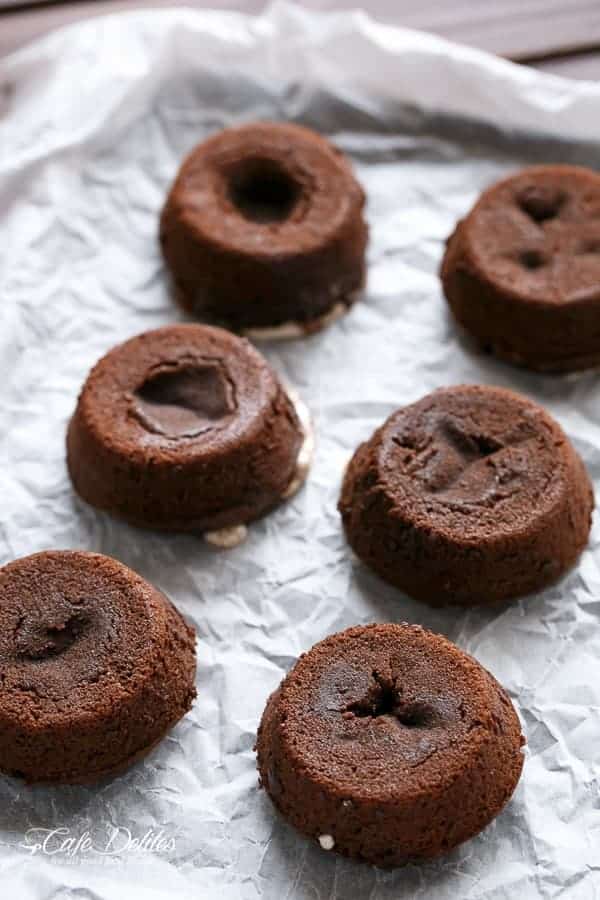 ---
9. Chocolate Chip Cheesecake Cookie Dough Cups
Chocolate chip. Cookie dough. Cheesecake. Salt flakes. Chocolate cups. Only FOUR MAIN INGREDIENTS! I should also mention: flour less, grain free, egg free and refined sugar free!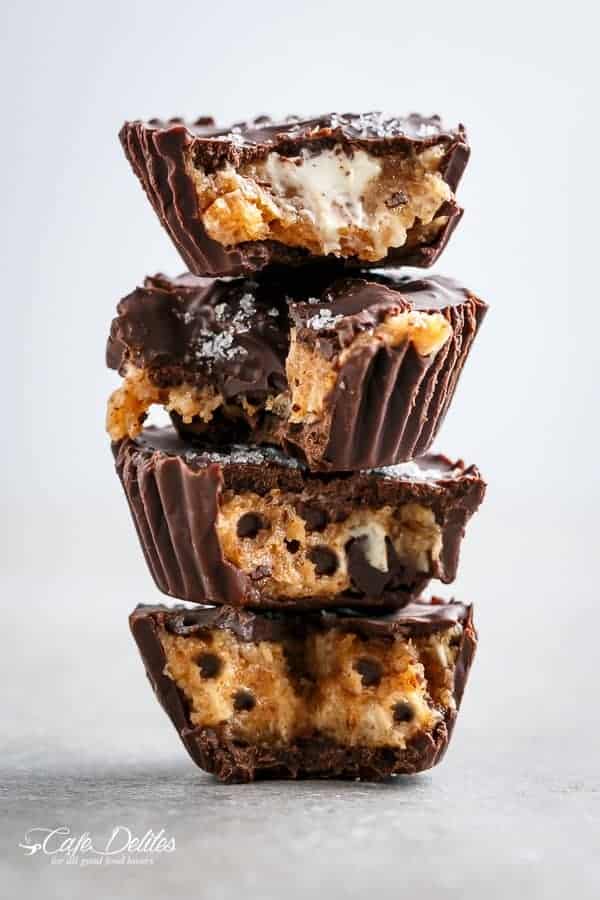 ---
---
The Drinks
Strawberry Mojitos with a coconut twist! Limes; mint leaves, strawberry syrup and coconut rum. Oh happy days!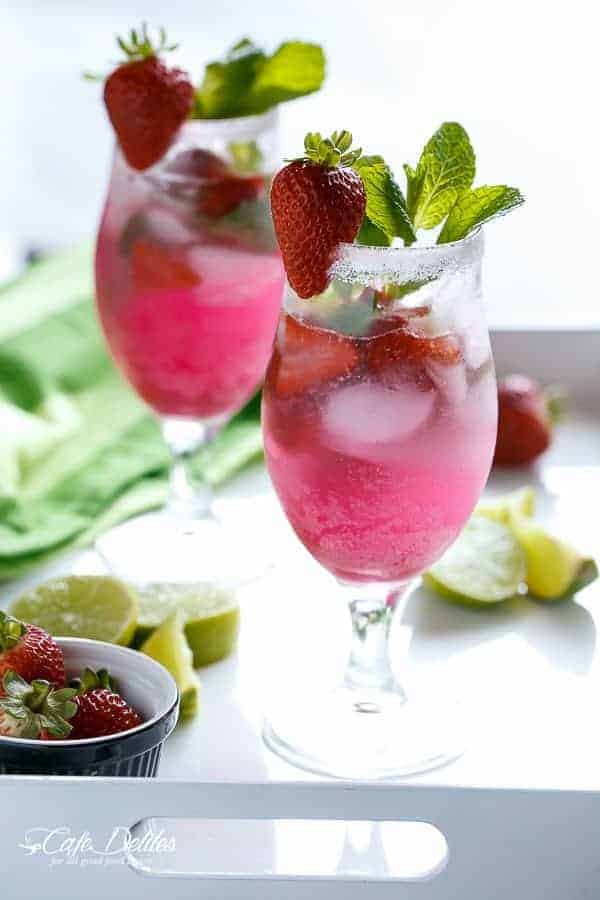 ---
A refreshing spin on a traditional sangria using a mixture of frozen berries for a full berry flavour, a simple to make strawberry syrup, and the Italian tangy-sweet citrus from limoncello! This Berry Limoncello Moscato Sangria will be the talk of your party!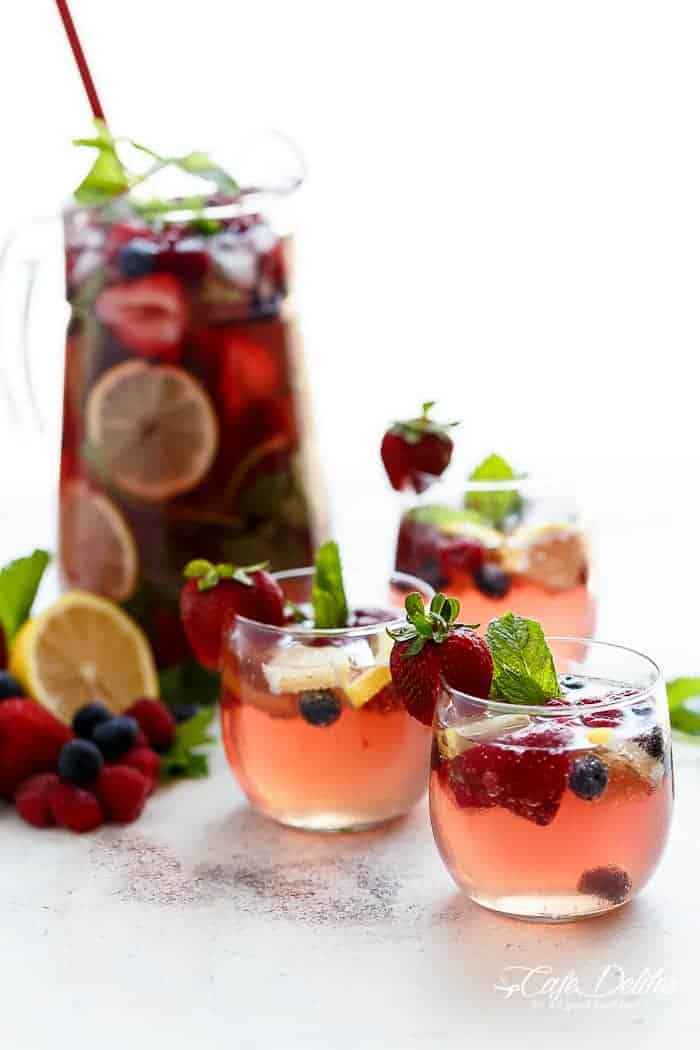 ---
---
A QUICK THANK YOU
Without you all, my blog wouldn't be here and I wouldn't be doing what I love doing and Cafe Delites would be non existent. I wanted to take a moment and thank each and every one of you for all of your love and support this year. It's been a crazy journey and one I will cherish when I'm in a wheelchair some where remembering all of the cuts and burns and recipe fails and flops. But most importantly I'll be remembering all of your comments and support, both on here but especially on my Instagram account. I hope you enjoy these recipes, and if you have any of your own favourite recipes you'd love to be made over, low fatted or diet friendlier, please email me on the Contact Me Page and I'll see what I can do in the new year!
HAPPY NEW YEAR 2015
FROM ME TO YOU!
---
---