Crispy Bacon Wrapped Shrimp drizzled in an irresistible sticky Honey Garlic Sauce makes the perfect appetizer for any special occasion!
Juicy, crispy and 100% addictive, bacon wrapped shrimp are so quick and easy to make and will wow your guests every time!
Always a hit with family and friends, crispy bacon envelopes around tender shrimp, what's not to love? Drizzled with a sauce that has the perfect balance of sweet and salty makes these shrimp perfect.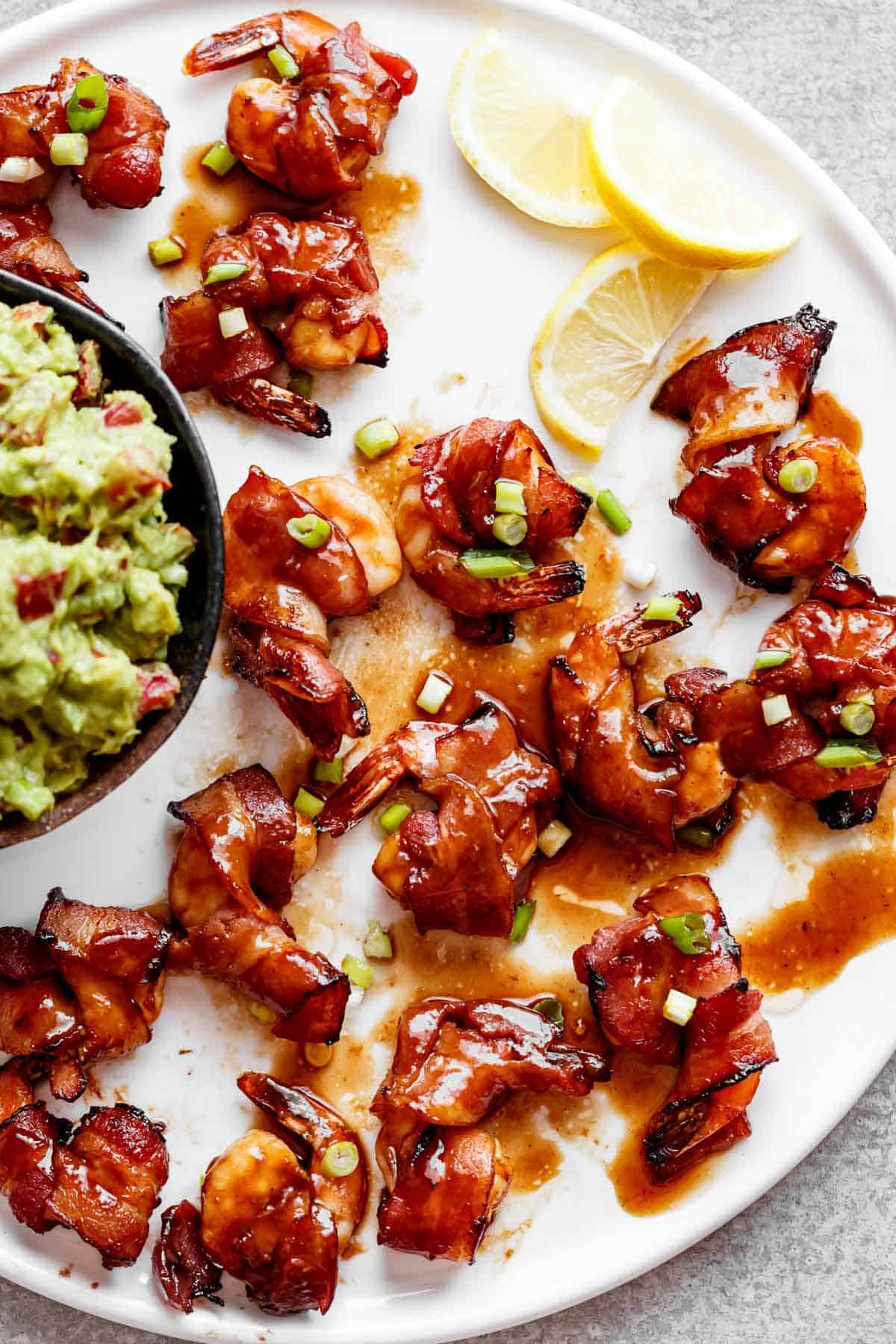 BACON WRAPPED SHRIMP
Bacon Wrapped Shrimp never last on your table! Usually GONE in about 10 minutes with everyone asking for more, this platter of delicious shrimp is served with extra sauce PLUS a creamy guacamole to go with it!
Shrimp and avocado together are a winning combination, whether it's a good sushi roll, a salad, or these Garlic Prawn and Avocado Crostini.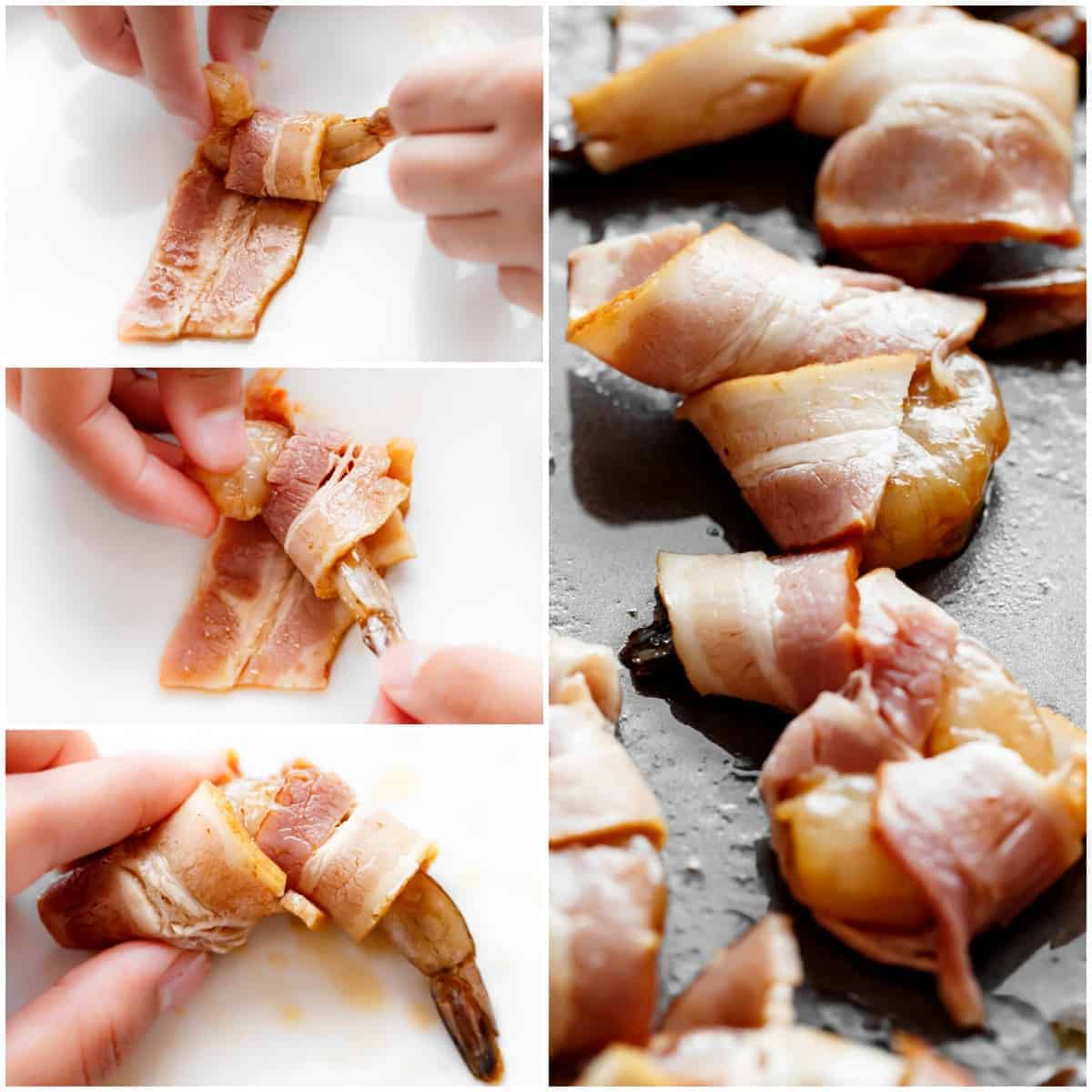 HOW TO MAKE BACON-WRAPPED SHRIMP
To make sure you get the best shrimp, be careful not to overcook them in the oven! Raw shrimp don't take long to cook in a hot, preheated oven… and it doesn't take long for bacon to crisp up! Try to find thin slices of bacon to make sure both cook at the same time.
Bacon-wrapped shrimp will give you visual cues:
shrimp will change colour, turn opaque and become tender when cooked through.
bacon will be nicely charred on the edges and crispy.
First, you're going to make a honey-garlic sauce mixed with a kick of bbq sauce and a splash of soy; pour out half of it to serve with later, and marinate your shrimp for at least 10 minutes so that they take on as much flavour as possible.
Wrap your shrimp with bacon, arrange on a baking sheet lined with parchment paper to prevent sauce from sticking or burning onto your tray, and broil (or grill for us Aussies)!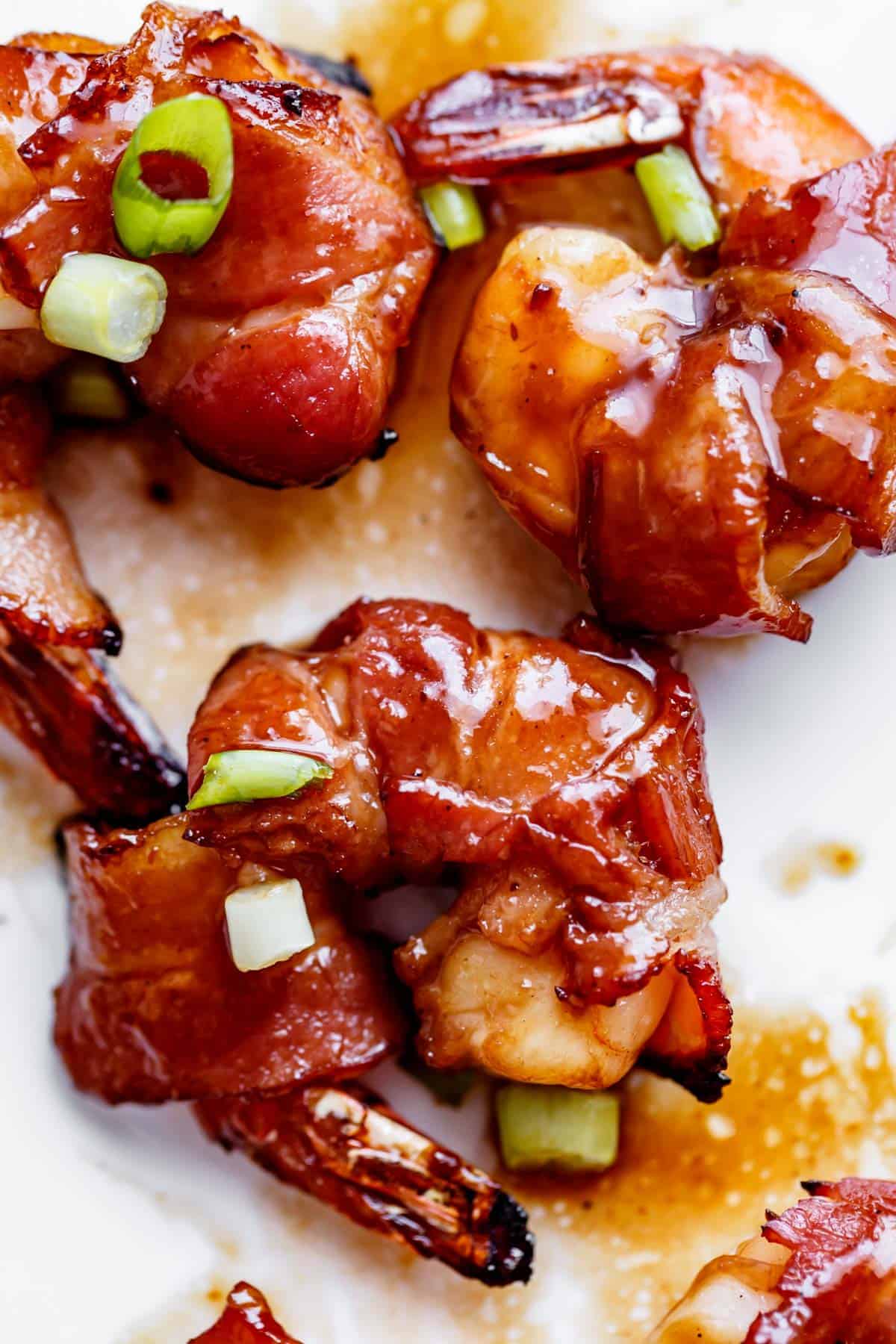 SHRIMP WITH SHELLS OFF
For our shrimp recipe, buy cleaned and deveined shrimp (the dark strip removed from the inner back-side of the shrimp, aka the digestive track). Make sure the shells are removed and tails are still intact to give your guests a cleaner way to pick them up and enjoy them.
WHAT TO SERVE WITH BACON WRAPPED SHRIMP
Served your bacon wrapped shrimp hot with the remaining sauce, fresh chopped green onions (or chives) and guacamole!
Glazed with a honey garlic sauce are perfect for Game Day, holiday parties, celebrations or anytime a craving for bacon and shrimp hits you at the same time!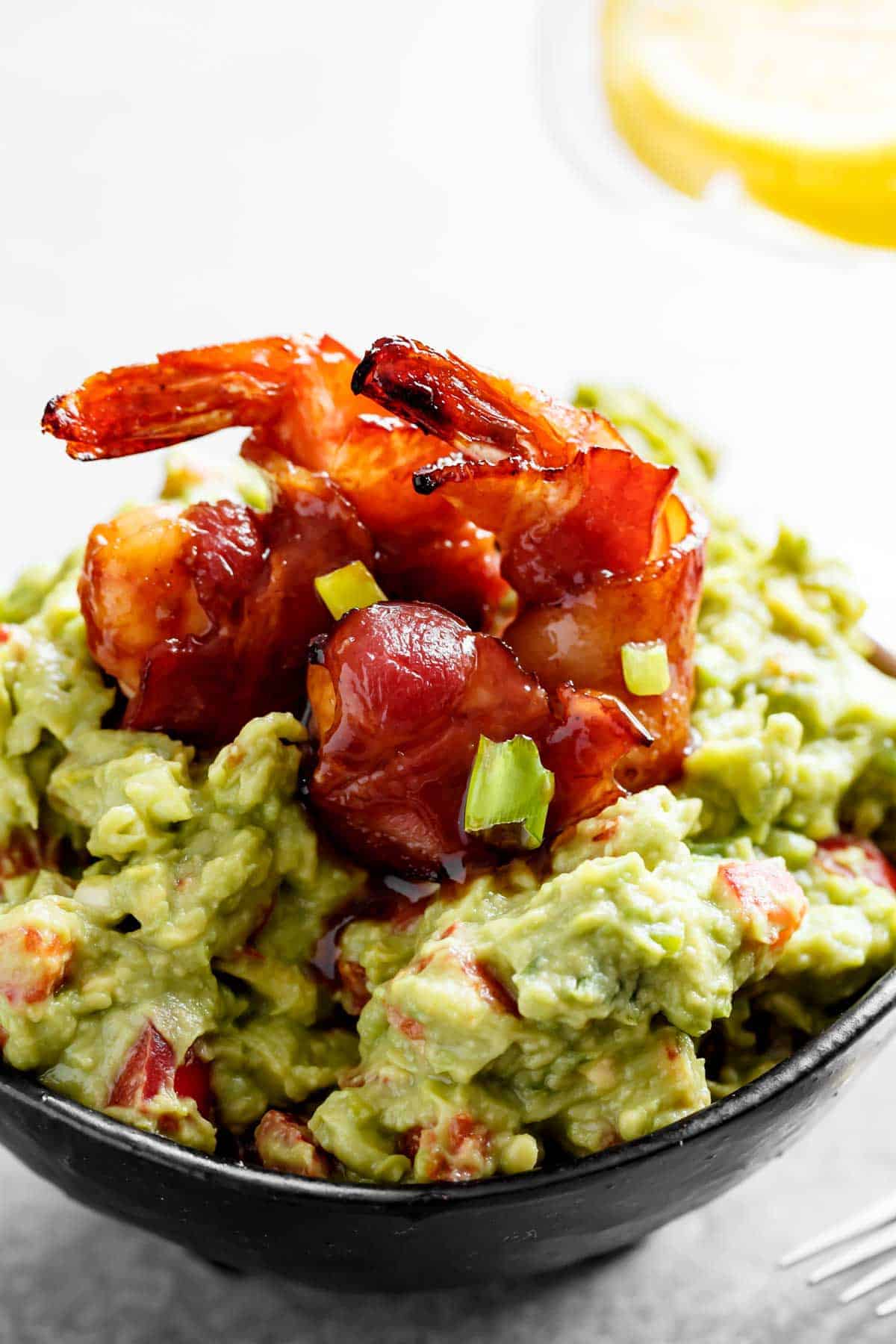 They crisp up so quickly and are ready on your table in less than 20 minutes.
TIP
Use the pan juices and mix them with the remaining  sauce to make even MORE flavourful sauce!
MORE APPETIZERS
Shrimp Salad Wonton Cups
Mini Caprese Pizzas
Cocktail Meatballs with sweet and sour sauce
Buffalo Chicken Dip
Crispy Buffalo Hot Chicken Wings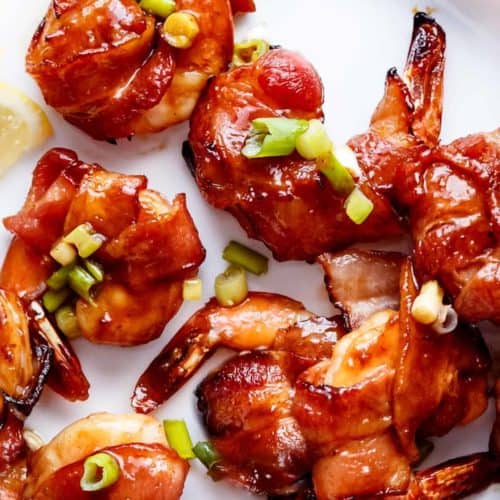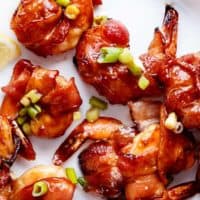 Bacon Wrapped Shrimp
Crispy Bacon Wrapped Shrimp drizzled in an irresistible sticky Honey Garlic Sauce makes the perfect appetizer for any special occasion! Addictive, quick and easy to make, wow your guests every time!
PRINT
SAVE
go to your favorites
Ingredients
Bacon Wrapped Shrimp (Prawns):
1/4

cup

barbecue sauce

3

tablespoons

low-sodium soy sauce

2

tablespoons

honey

2

tablespoons

lemon juice

3

teaspoons

minced garlic

1

teaspoon

sesame oil

1/2

teaspoon

minced ginger

1/2

teaspoon

salt,

to season

1/4

teaspoon

cracked black pepper

1

pound

(500g) jumbo-sized shrimp,

peeled and deveined, tails intact

14

slices

bacon
Instructions
Adjust oven rack on the top third half of the oven (just above half way). Preheat oven to broil (or grill) settings on medium-high heat (400°F | 200°C.)

Combine bbq sauce, soy sauce, honey, juice, garlic, oil and ginger in a shallow bowl. Pour out half of the sauce into a separate small bowl and store it in the refrigerator for later.

Add the shrimp to the sauce in the shallow bowl, season with salt and pepper and let marinate for 10 minutes if time allows.

Slice bacon slices in half lengthwise. Wrap one slice of bacon around one shrimp; repeat wih remaining bacon and shrimp until all done.

Arrange the bacon wrapped shrimp in a single layer on a lined baking tray/sheet. Broil (or grill) for 8 minutes until bacon is crispy and sizzling. Flip and broil for another 2 minutes until shrimp/prawns are cooked through.

Serve the shrimp/prawns with the remaining sauce.
Nutrition
Calories:
230
kcal
|
Carbohydrates:
8
g
|
Protein:
16
g
|
Fat:
13
g
|
Saturated Fat:
4
g
|
Fiber:
1
g
|
Sugar:
7
g