Cocktail Meatballs in a super easy sweet and sour sauce with a subtle kick of heat! The best appetizer!
An instant hit at your table. Juicy, tender cocktail meatballs simmered in an irresistibly sticky, sweet and sour sauce are so addictive your guests won't stop at one.
Watch them disappear in minutes!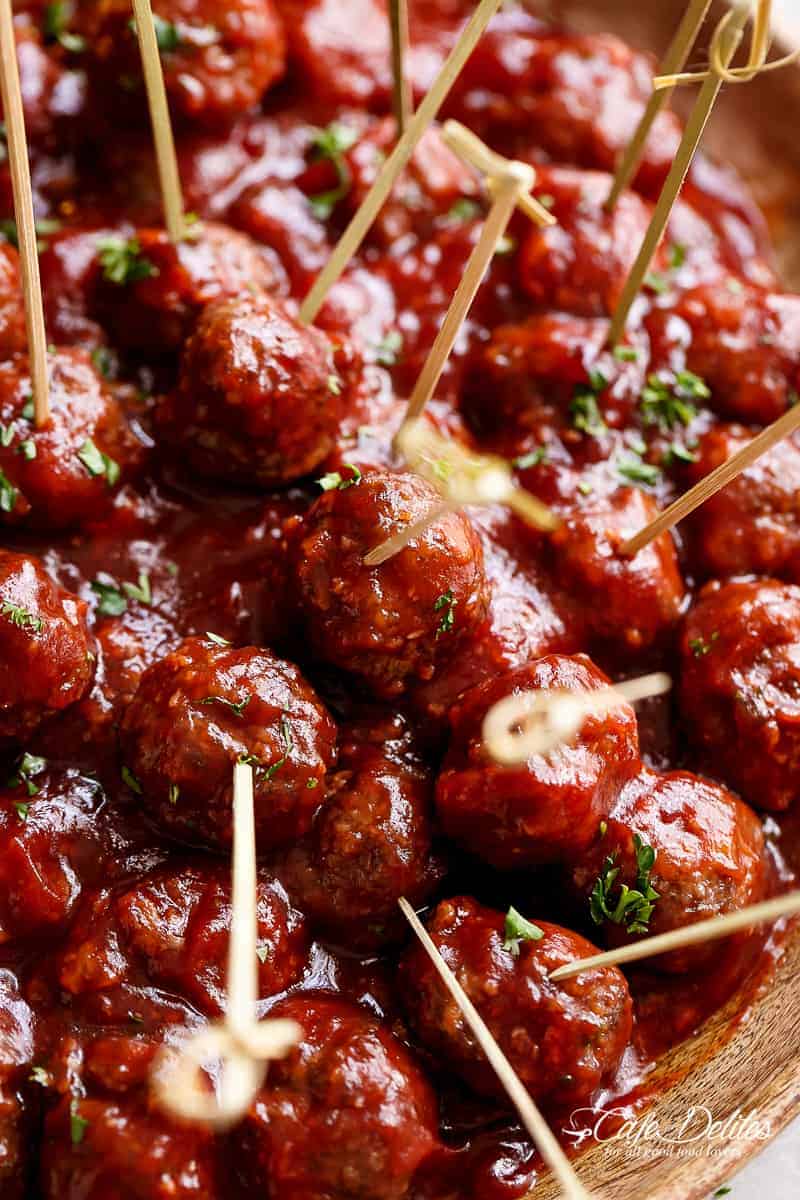 COCKTAIL MEATBALLS
This cocktail meatballs recipe needs to come with a disclaimer. I never see meatballs disappear so fast as I do when I put these in the middle of a table.
Make the meatballs from scratch OR if you're pressed for time, buy plain, frozen ready-made meatballs and add them into the 4-ingredient sauce.
(Don't use seasoned meatballs as they may clash with the flavours in the sauce. Garlic meatballs are fine to use.)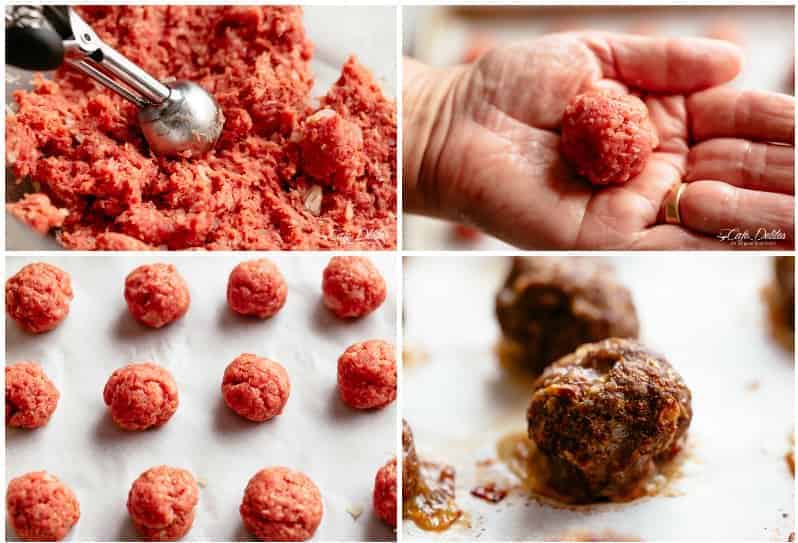 HOW DO YOU MAKE PARTY MEATBALLS?
This meatball recipe is easy to make with minimal ingredients. Just like most meatball recipes, you're going to combine together lean ground beef (mince), onion, ketchup (tomato sauce for Aussies), Worcestershire sauce and breadcrumbs.
Use a small cookie scoop (approximately 1 1/2 tablespoons capacity) to scoop them out and roll into balls.
Bake them in the oven for about 25 minutes until they're cooked, then throw them into our incredible sweet and sour sauce for the most irresistible cocktail meatballs.
SWEET AND SOUR SAUCE FOR MEATBALLS
The sauce itself is so easy to prepare, with ingredients I'll bet you already have or can get your hands on in a flash:
Cranberry jelly (not whole cranberry sauce). You can also use Grape jelly if you have it on hand.
Chili sauce: Use the Heinz chili sauce in a bottle that has a ketchup consistency. You can find it next to all of the ketchups in your store.
Brown sugar — light or dark.
White vinegar, apple cider vinegar or fresh squeezed lemon juice.
FOUR ingredients for one of the best sauces you'll try for cocktail meatballs.
Heat all of the ingredients in a skillet until combined.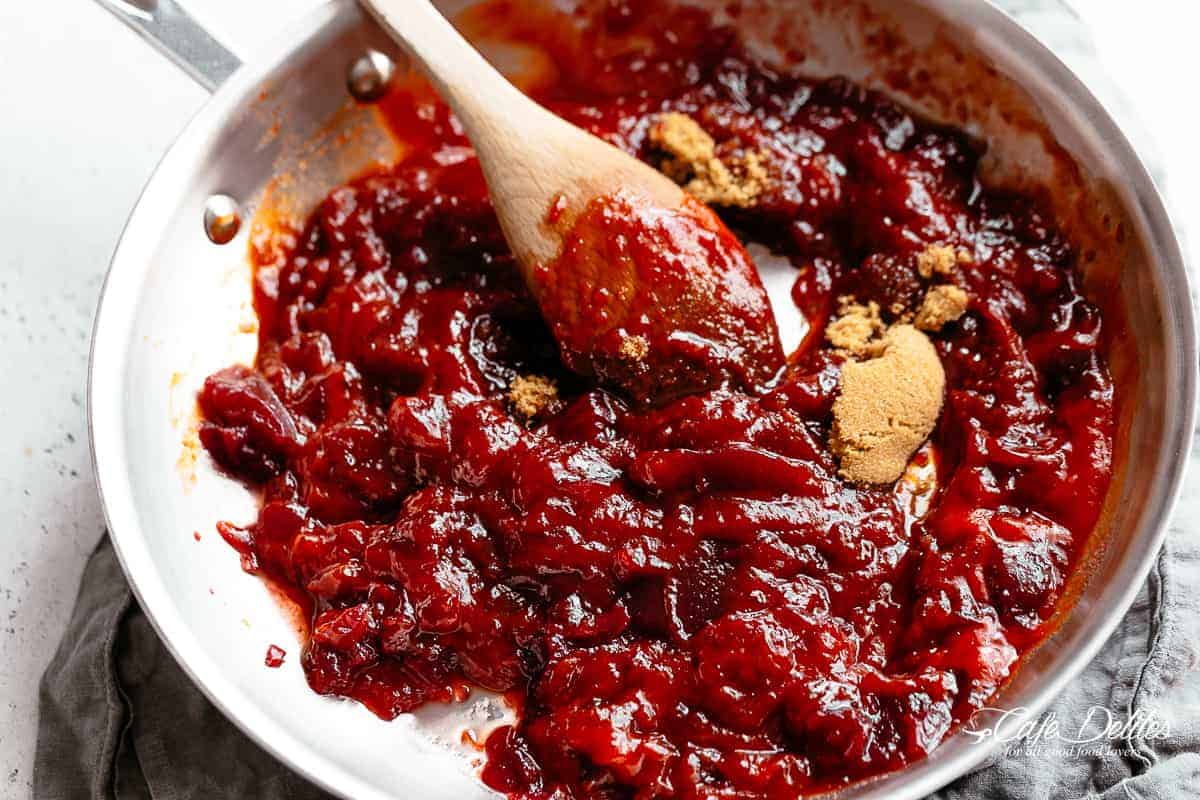 Add in your meatballs and let them simmer for a good hour before serving.
Don't skip this step. The sauce needs time to simmer and settle into the meatballs, tenderising them while blending all of the flavours together.
This is what makes your cocktail meatballs stand out from the rest.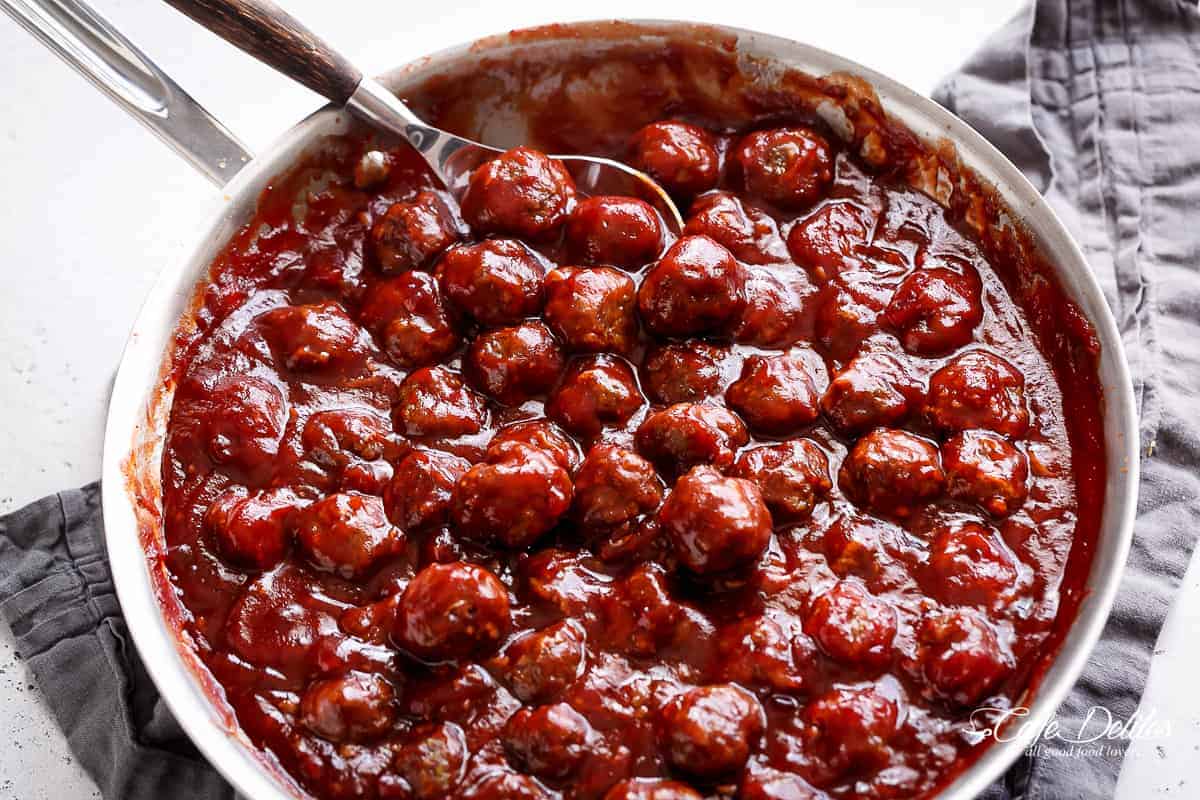 CROCK POT MEATBALLS
You can also add the meatballs with sauce into a 3 or 4 quart (litre) capacity crock pot or slow cooker bowl and simmer them on low heat setting for an hour before your guests arrive.
Flick the switch to 'keep warm' setting so your guests can enjoy fresh, warm cocktail meatballs throughout the evening!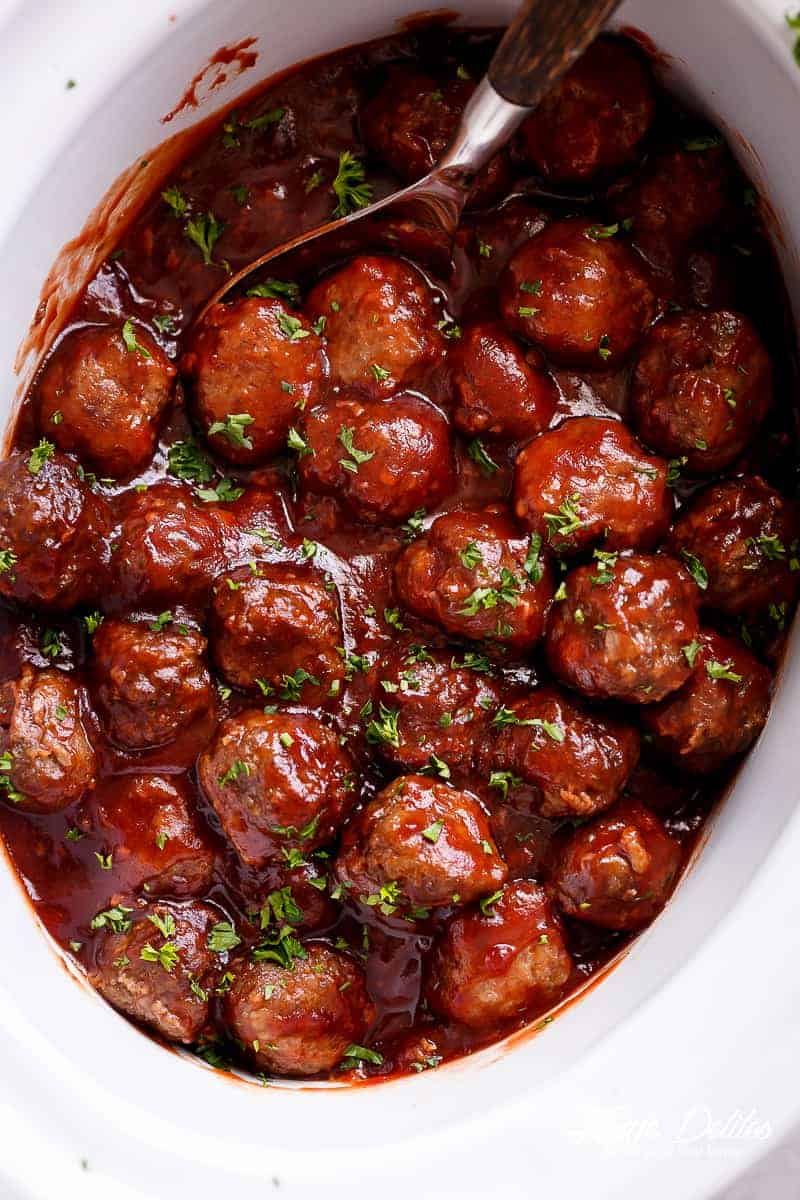 MAKE AHEAD
If making your meatballs from scratch, prepare them (rolled into balls) up to 2 days ahead and refrigerate in airtight containers.
When you need them: get your sauce going, throw in the meatballs (crock pot or skillet), simmer on low for an hour, switch to keep warm and voila! Easy cocktail meatballs!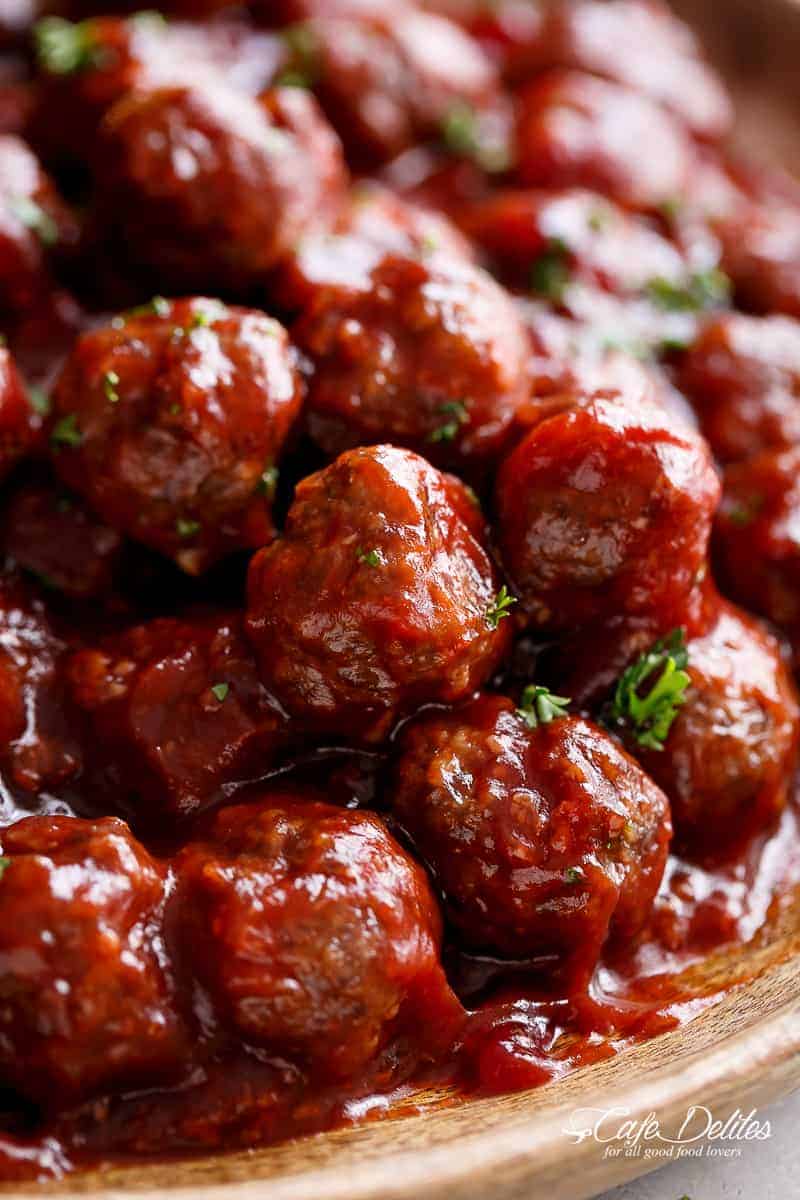 Looking for more appetizers? Try these recipes!
Swedish Meatballs
Teriyaki Beef Meatballs
Mongolian Glazed Meatballs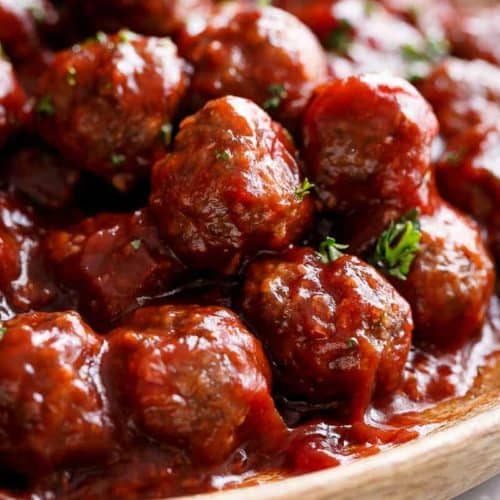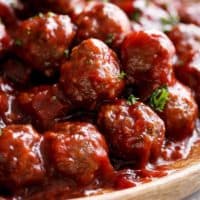 Cocktail Meatballs
Cocktail Meatballs in a super easy sweet and sour sauce with a subtle kick of chili. The best appetizer and an instant hit at your table! Your guests won't stop at one... watch them disappear in minutes.
PRINT
SAVE
go to your favorites
Serves:
70
- 80 meatballs
Ingredients
2

pounds

(1 kg) lean ground beef mince

2

large

eggs

1/4

cup

ketchup

(Australian tomato sauce)

1

tablespoon

Worcestershire sauce

1

cup

plain breadcrumbs

1/3

cup

onion,

finely chopped or grated

16

ounces

jellied cranberry

(Ocean Spray brand)

12

ounces

Heinz chili sauce

(adjust to suit your tastes/heat preference)

2

tablespoons

brown sugar

2

teaspoons

white vinegar

(or fresh squeezed lemon juice)
Instructions
Preheat oven to 350°F (175°C). Like a baking sheet with parchment paper. Set aside.

In a large bowl, mix together the beef, eggs, ketchup (tomato sauce), Worcestershire sauce, breadcrumbs and onion. Use a small cookie scoop ( 1 1/2 tablespoon capacity) to roll into small meatballs. (Arrange onto prepared baking sheet as you go.)

Bake in preheated oven for 20 to 25 minutes, turning once while cooking.

While meatballs are cooking, combine the sauce ingredients in a large skillet or a slow cooker on low heat. Stir to blend, then add the meatballs. Simmer for 1 hour before serving.
Notes
OPTIONAL: Transfer to slow cooker bowl and set to 'keep warm' setting to enjoy warm meatballs through the evening.
Nutrition
Calories:
41
kcal
|
Carbohydrates:
5
g
|
Protein:
3
g
|
Cholesterol:
12
mg
|
Sodium:
95
mg
|
Potassium:
74
mg
|
Sugar:
3
g
|
Vitamin A:
45
IU
|
Vitamin C:
1
mg
|
Calcium:
6
mg
|
Iron:
0.5
mg