Crispy Sweet Potato Wedges with Garlic Avocado Aioli
It's been a long mission of mine to make crispy, crunchy wedges. Wedges with a crunch when biting into them, and pillows of soft sweetness in the centre.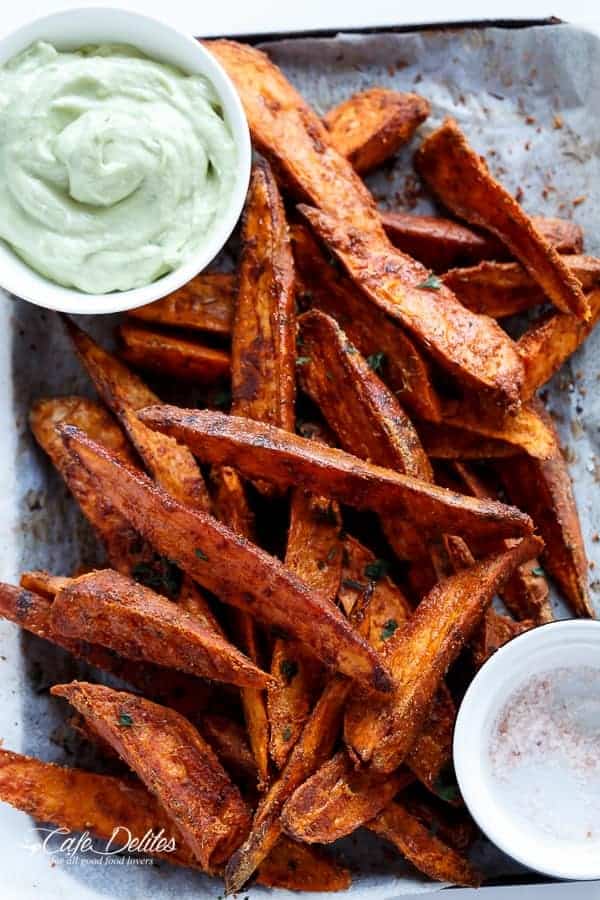 Believe it or not….it is possible. These wedges are crispy on the outside; soft and caramelized on the inside, and coated with sweet and spicy favour….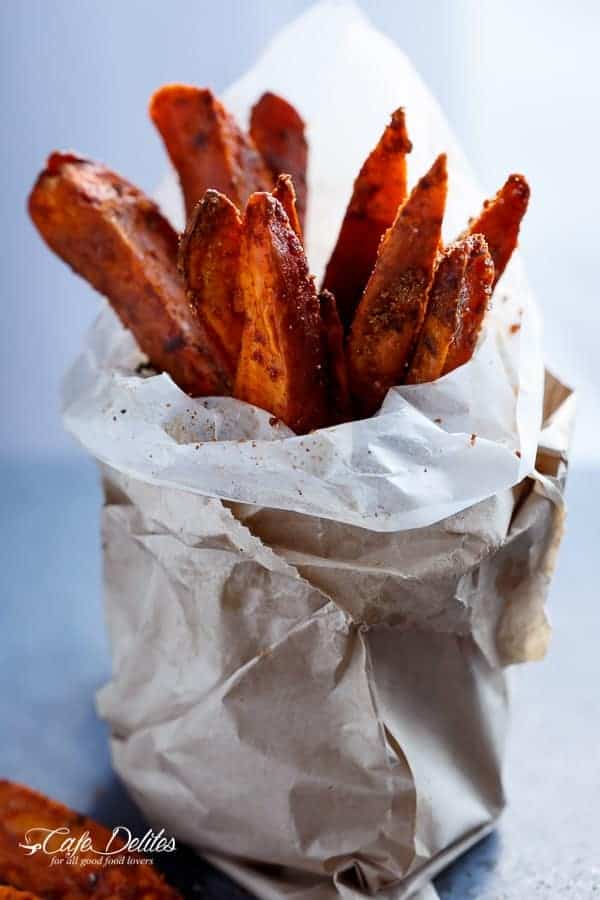 Paired with an incredibly creamy Avocado Garlic Aioli; move over potato wedges! These are insane!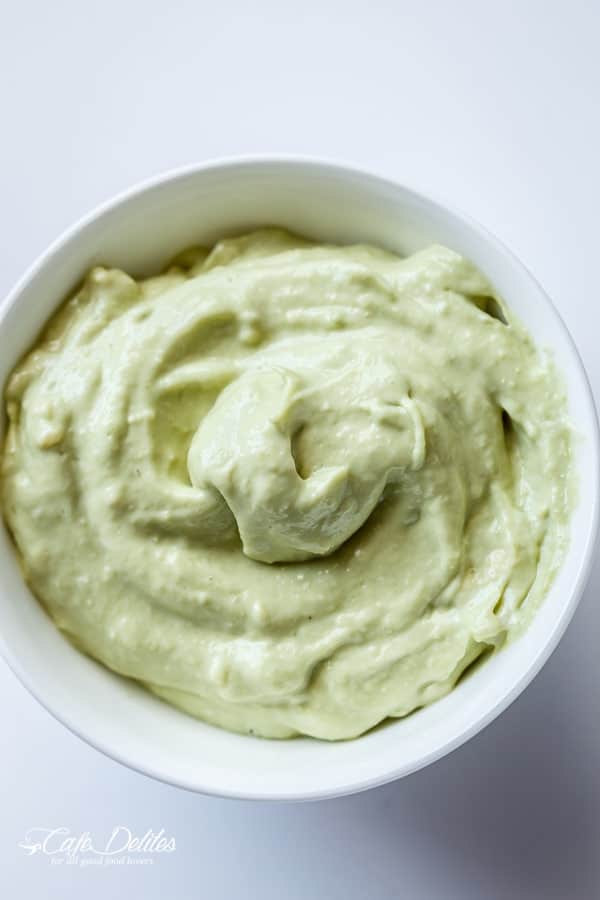 I'm not going to lie. I may have broken out in a dance taking these out of the oven. After three tries of smushy wedges, I finally got the crunch I was after!
Those Mexican Beef Wedges have been all over my craving list. Only I had a couple of sweet potatoes here needing some love and attention.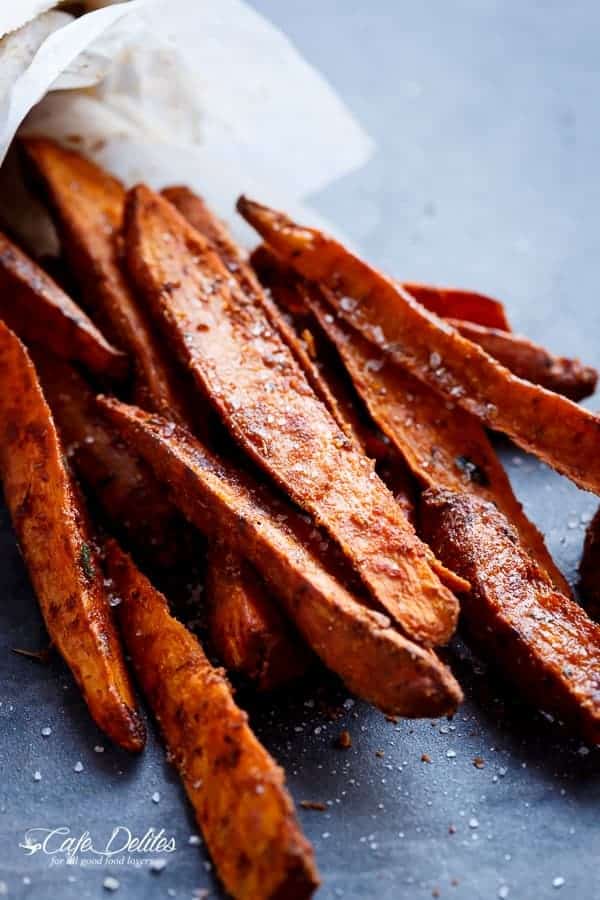 So, after researching and reading an endless amount of websites, comments and feedback; and after 3 failed attempts and mushy sweet potatoes, I finally, finally got it!
At first, following these steps may seem kind of complicated, but believe me when I say the whole process was easier than expected. If I can do it, anyone can. Trust me.
The secret weapon is soaking them in water for over an hour. I know, I know…sometimes you don't want to soak anything for a whole hour and just get on with it. Right? But. Let me tell you…it's worth the crunch. Soaking them draws out excess starch from the sweet potatoes and guarantees the crispy outside and soft on the inside results without burning them.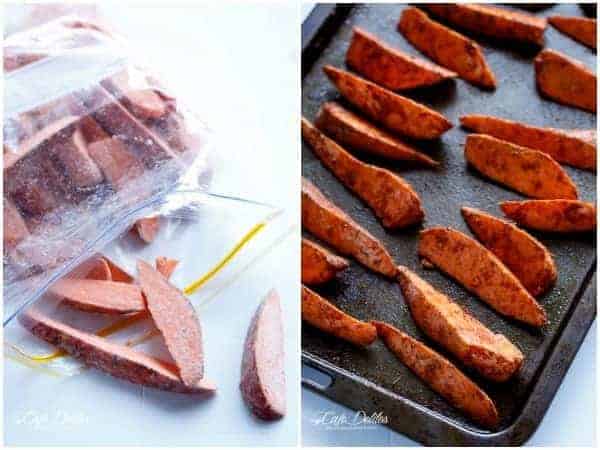 Next is coating them in cornflour (or corn starch).
The corn flour helps to absorb the natural moisture that occurs during the baking process of the humble sweet potato. I don't know how, but it works with a satisfying crunch. Plus, seasoning them with dried herbs instead of fresh herbs helps prevent extra moisture being baked into them. And no salt pre-baking! Salt them after you've baked them. Not before… trust me.
Bake them on preheated baking trays that have been sitting in your preheated oven (this step is optional, but it's what worked for me, so I'm recommending it); and line them with baking (parchment) paper. No sticking and no mess issues. Good non-stick baking trays work too. But I love baking paper! It's a guarantee they won't stick!
Spray your wedges with Canola oil (or coconut oil) to crisp them perfectly; and space them out on your baking tray making sure they're not touching, even if you need 2 trays to prevent them from steaming and turning to smush.
Just look at the crispiness. Repeat after me: it's worth it. Love at first bite.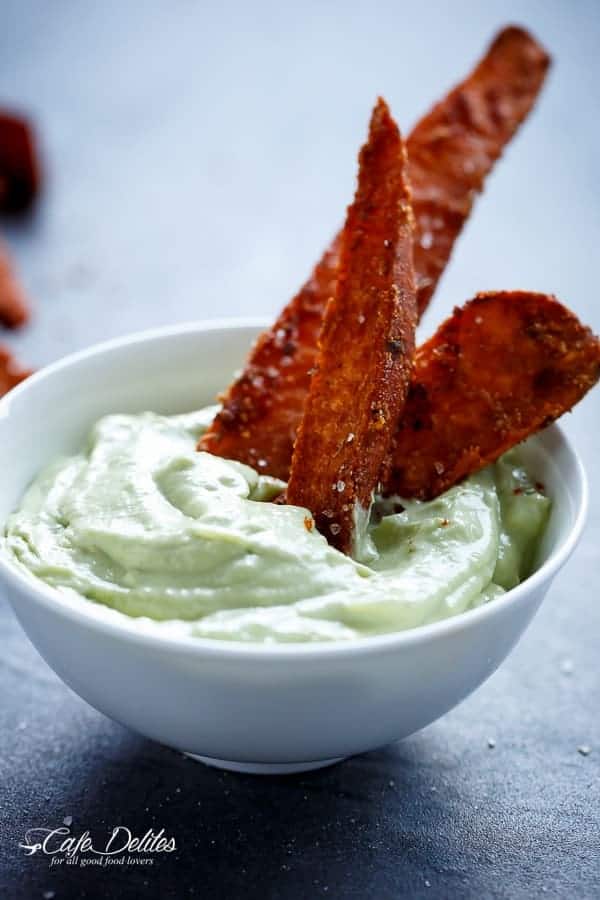 While they're oven 'frying,' whip up your Avocado Aioli in your magic bullet blender or a small food processor. 20 seconds later, the most creamiest dip is ready for your dipping pleasure. Because Avocado and Sweet Potatoes go together in the perfect pairing.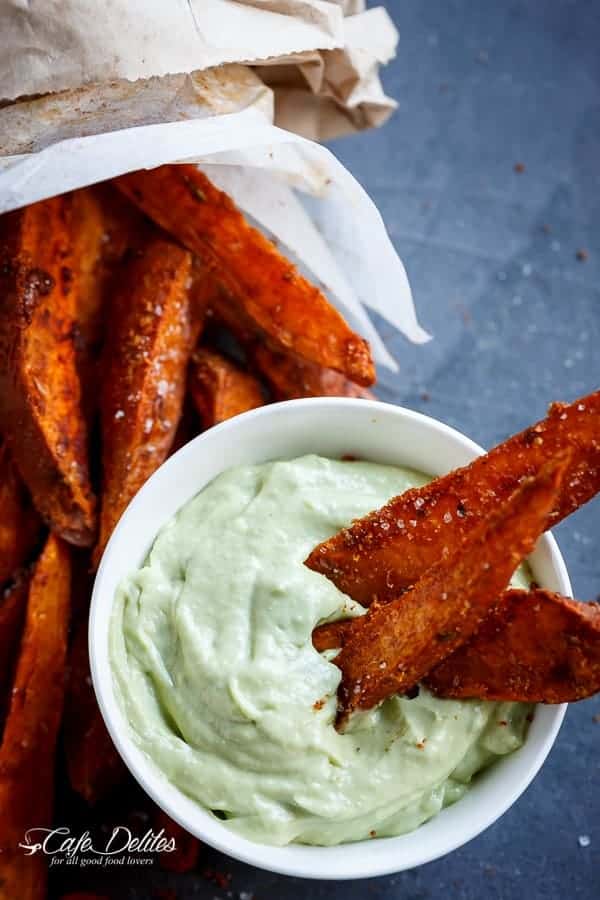 Season your new found crunchier wedges with sea salt and extra herbs…spray them with a little extra canola oil, and be proud of your new found wedges that taste deep fried but really aren't. Get ready…they will disappear.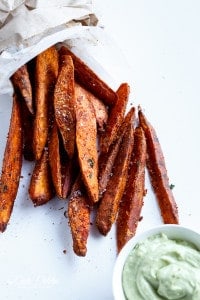 Ingredients
Wedges:
2

large sweet potatoes

, scrubbed and cut lengthwise into wedges

1-2

tablespoons

cornflour/corn starch

1-2

tablespoons

Canola oil

2

teaspoons

sweet paprika

2

teaspoons

garlic powder

1/4

teaspoon

Cayenne pepper

1/2

teaspoon

red chilli powder

(or 1 teaspoon red chilli flakes) - Optional

2

teaspoons

dried thyme

Sea salt to taste
Avocado Garlic Aioli:
1

large Avocado

2

tablespoons

reduced fat mayonnaise

(or sour cream or plain greek yogurt for healthier options)

1

clove

garlic

, crushed

2

teaspoons

freshly squeezed lemon juice

Sea salt to taste
Instructions
Arrange oven racks to the upper level of your oven. Place sweet potatoes in a large bowl and cover with cold water. Allow them to soak for over an 1 hour.

Preheat oven to 230°C | 450°F and place baking trays into the oven to heat them up.

Drain wedges; pat them dry with paper towels. Add the cornflour/corn starch into a large zip-lock (or plastic) bag, and add the wedges. Seal the bag with air in it, and shake vigorously to evenly coat the fries. Remove the heated oven trays from the oven; line with baking/parchment paper and lightly spray with cooking oil spray. Empty the wedges onto trays and coat them with the oil and herbs/seasonings. Arrange the fries in a single layer with plenty of space between them (at least 1cm | 1/2 an inch).

Bake for 15-20 minutes; remove trays from the oven and test wedges with a fork. If they are just tender; flip them (keeping them in a single layer again with plenty of space between them) and return them to the oven for a further 5-10 minutes, or until they are tender-crisp.

Turn oven heat off oven and leave oven door ajar allowing the wedges to further crisp in the oven for about 5 minutes extra before serving. Prepare your Aioli dip.
Avocado Aioli:
Combine the avocado, mayonnaise (or sour cream/greek yogurt), garlic and lemon juice in a

magic bullet small cup

or a small

food processor

. Blend for 20 seconds or until smooth and creamy. (Scrape the sides with a spoon and blend for a further 10 seconds if needed). Season with salt to your taste. Sprinkle wedges with salt before serving.and serve with your Aioli!