Sweet Potato Wedges with Garlic Avocado Aioli are CRISPY on the outside, soft and caramelized inside and coated with sweet and spicy flavours. The perfect side dish or snack!
It's been a long mission to make super crispy sweet potato wedges with the perfect crunch. With a few simple steps, it is possible. These wedges are everything! Especially when served with a deliciously creamy Avocado Garlic Aioli. Move over Potato Wedges — these are insane!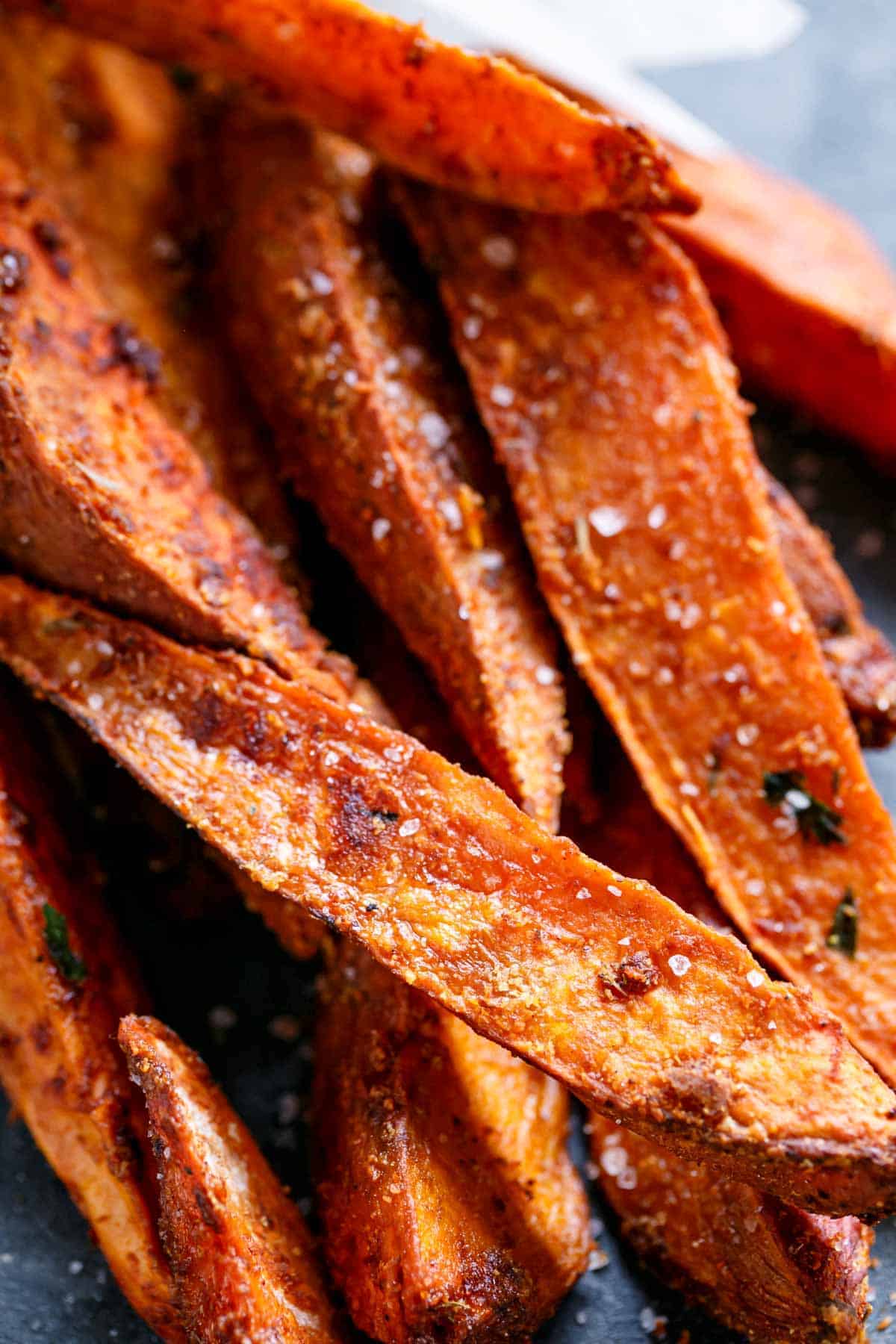 CRISPY SWEET POTATO WEDGES
One of our favourite side dishes, sweet potatoes are easy to make with so much natural flavour. Usually you have them mashed, roasted, smashed or stuffed. But wedges? Well, I'm not going to lie here. You may break out some epic dance moves after taking these out of the oven and seeing just how crispy they are!
If you need a crazy good side dish, appetizer or snack, homemade sweet potato wedges are just what you've been looking for.
HOW TO MAKE SWEET POTATO WEDGES (OR FRIES)
Bake perfect crunchy sweet potato wedges every time with this recipe. All you need is:
SWEET POTATOES: Look for sweet potatoes that are roughly the same size and length with a smooth skin and straight lines/edges. Minimal curves make them easier to cut into wedges. For American readers, choose sweet potatoes labeled 'yams'.
OLIVE OIL: canola and coconut oil/s can also be used.

SEASONINGS: 

our recipe uses paprika, garlic powder, onion powder, red chili powder, cayenne pepper and dried thyme. However, you can make them your own and use the seasonings you have on hand.

SALT: I LOVE flaky sea salt on these! There's something extra special about salty potatoes.

HOW TO CUT WEDGES
Slice PEELED OR UNPEELED (your choice) sweet potatoes in half, then halve each half again. Continue until you get all your wedges equal in size and thickness, about 3/4-inch thick, ensuring your wedges cook evenly.
CRUNCHY WEDGES
The secret weapon to get them super crispy is soaking them in water first for over an hour. I know…sometimes you don't want to soak anything for a whole hour and just get on with it, right? But, this step is well worth the crunch. Soaking them draws out excess starch from the sweet potatoes and guarantees the crispy edges you want without having to crank up your oven and risk burning them.
Once they've soaked for an hour, thoroughly pat them dry with paper towels. Evenly coat in cornstarch to help absorb moisture while baking.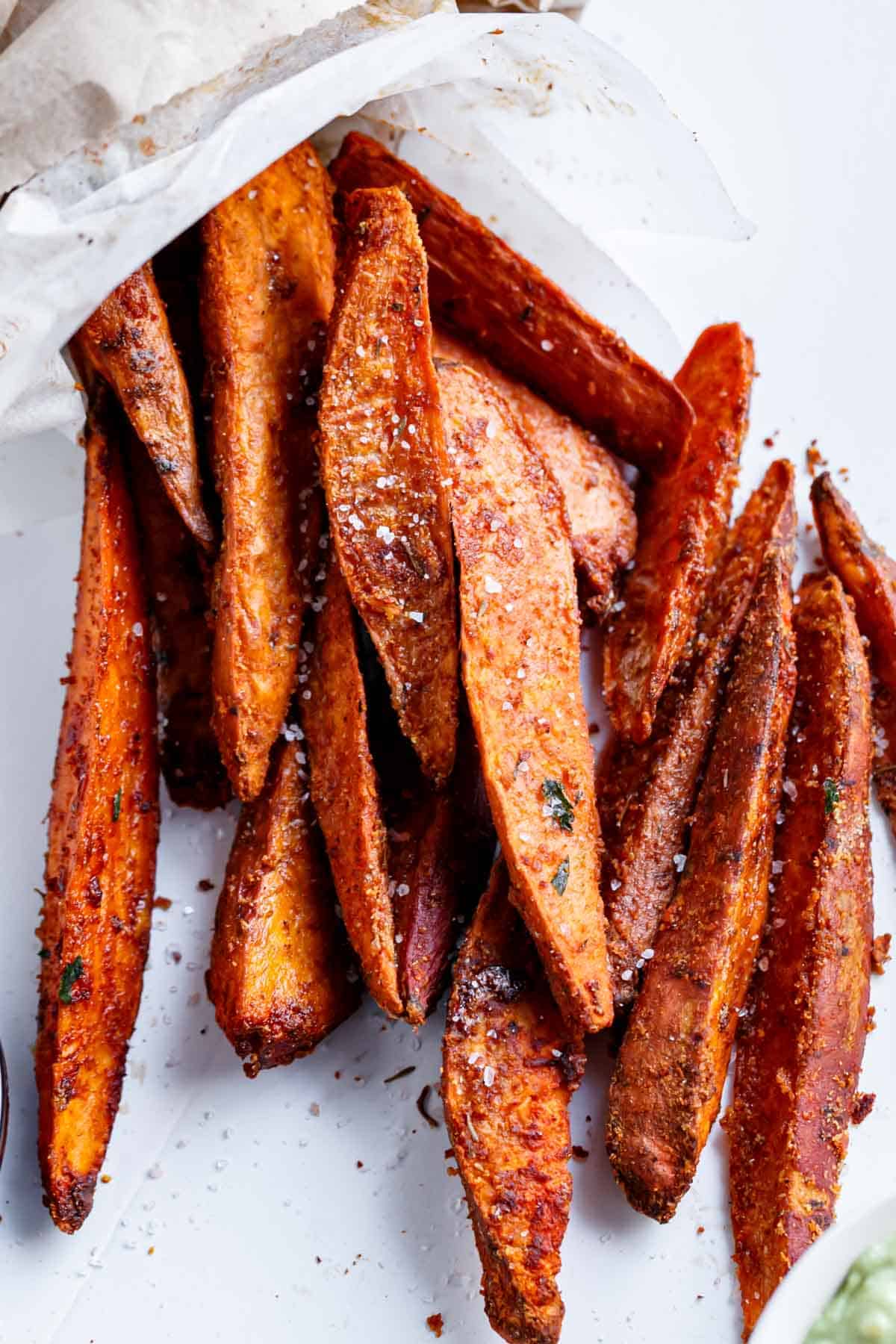 SEASONING
Seasoning them with dried herbs instead of fresh herbs helps prevent extra moisture being baked into them. DO NOT ADD SALT BEFORE BAKING! This is crucial to sweet potato wedges. Salt them after baking.
OVEN BAKE WEDGES (FRIES)
Bake them on greased, preheated baking sheets or trays that have been sitting in your hot oven. They start sizzling immediately! Space them out in a single layer, making sure they're not touching to avoid steaming.
Just look at the crispiness. Repeat after me: it's worth it. Love at first bite.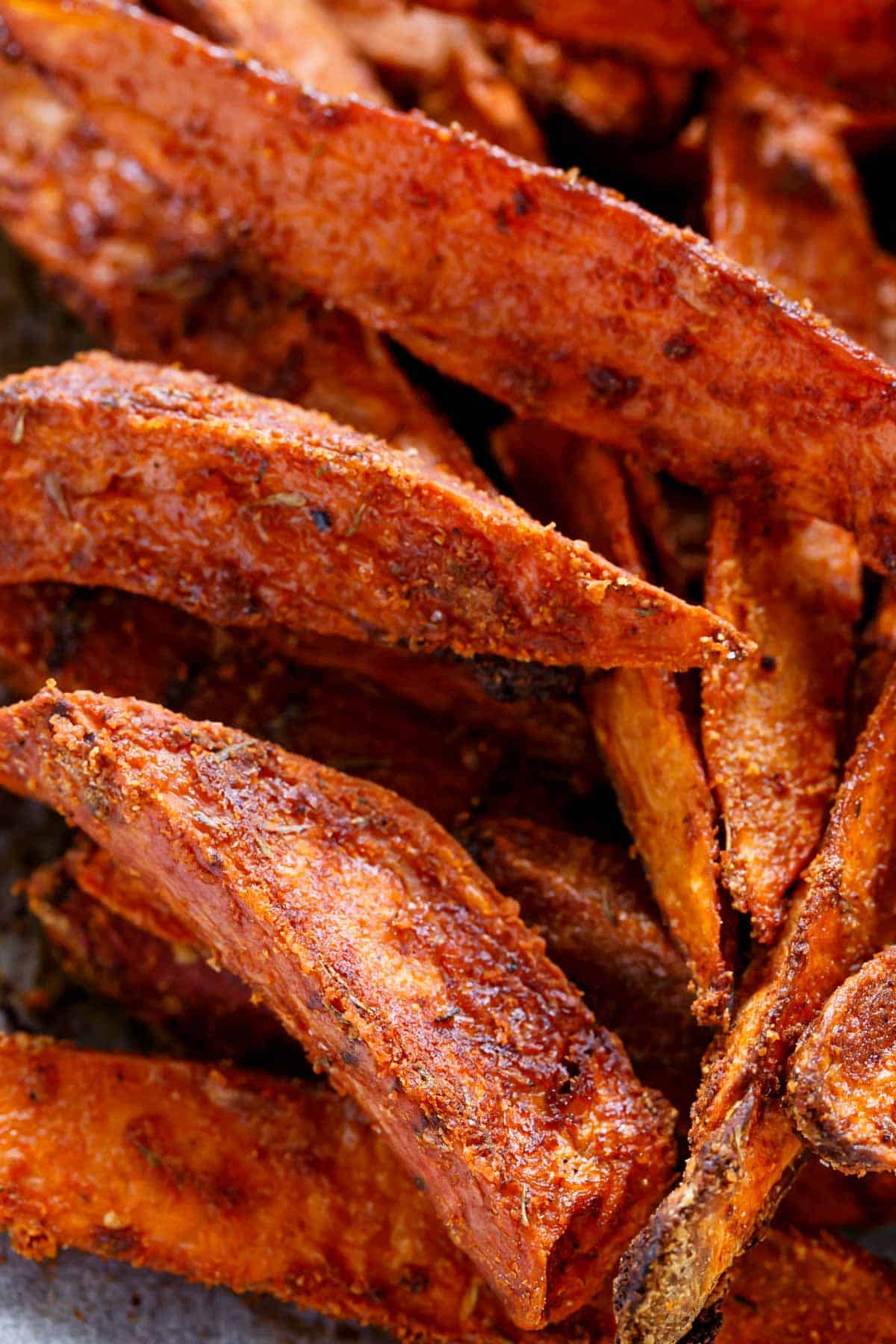 AVOCADO AIOLI
While your sweet potato wedges are oven 'frying,' whip up your Avocado Aioli in a magic bullet blender or small food processor. 20 seconds later, the most incredible dip is ready for your dipping pleasure. Because Avocado and Sweet Potatoes make for a happy marriage.
Season your new found crunchier wedges with sea salt and extra herbs…spray them with a little extra oil, and be proud of your new found wedges that taste deep fried but really aren't. Get ready…they will disappear.
MORE SWEET POTATO RECIPES
Cheesy Garlic Sweet Potatoes
Sweet Potato Casserole
Bacon Bolognese Sweet Potatoes
FIRST PUBLISHED JUNE, 2015.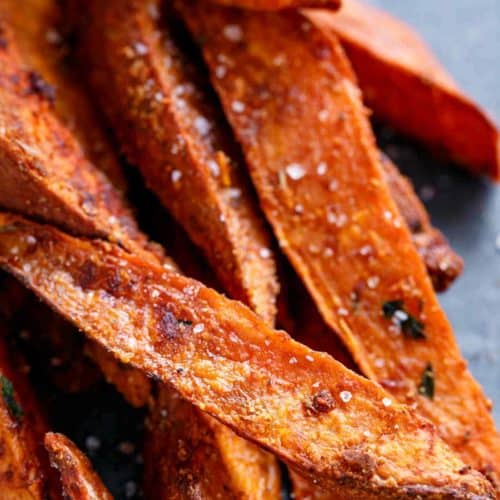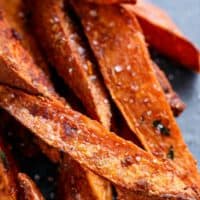 Crispy Sweet Potato Wedges with Garlic Avocado Aioli
Crispy Sweet Potato Wedges with Garlic Avocado Aioli are crunchy on the outside and buttery soft inside. The perfect side dish or snack! 
PRINT
SAVE
go to your favorites
Ingredients
SWEET POTATO WEDGES:
2

large

sweet potatoes,

scrubbed and cut lengthwise into wedges

1-2

tablespoons

corn starch,

(cornflour)

2

tablespoon

olive oil
SEASONING:
2

teaspoons

sweet paprika

2

teaspoons

garlic powder

1/2

teaspoon

onion powder

1/4

teaspoon

Cayenne pepper

1/2

teaspoon

red chilli powder,

(OPTIONAL)

2

teaspoons

dried thyme

Sea salt,

to taste (after baking)
AVOCADO GARLIC AIOLI:
1

large

avocado

2

tablespoons

whole egg mayonnaise

1

clove

garlic,

minced

2

teaspoons

fresh squeezed lemon juice

Sea salt to taste
Instructions
SWEET POTATO WEDGES:
Arrange oven racks to the upper level of your oven.

Place sweet potatoes in a large bowl and cover with cold water. Allow them to soak for just over 1 hour.

When ready to bake, preheat oven to 450°F (230°C). Lighlty grease 2 baking sheets with nonstick cooking oil spray or brushed with oil. Place baking sheets into the oven to preheat.

Drain wedges and pat dry with paper towels as much as you can to get as much moisture out as possible.

Spoon corn starch into a large zip-lock (or plastic) bag. Add the wedges; seal the bag with air in it and shake vigorously to evenly coat.

Using tongs, transfer coated wedges into a large bowl, shaking off the excess starch. Drizzle wedges with the oil and seasonings (DO NOT ADD SALT). Toss well to evenly coat.

Carefully remove pre-heated oven trays from the oven and arrange wedges in a single layer with plenty of space between them (at least 1/2-inch or 1cm gaps).

Bake for 15-20 minutes. Remove trays from the oven and test wedges with a fork. If they are just tender; flip them into a single layer again with plenty of space between them. Return wedges to the oven and bake for a further 5-10 minutes, until tender-crisp.

Turn oven heat off oven and leave oven door ajar allowing the wedges to dry out slightly and crisp up in the oven for about 5 minutes extra before serving. Prepare your Aioli dip.
AVOCADO AIOLI:
Combine the avocado, mayonnaise, garlic and lemon juice in a magic bullet small cup or a small food processor. Blend for 20 seconds or until smooth and creamy. (Scrape the sides with a spoon and blend for a further 10 seconds if needed). Season with salt to your taste.

Sprinkle wedges with a generous amount of salt and serve with Aioli.
Nutrition
Calories:
142
kcal
|
Carbohydrates:
22
g
|
Protein:
2
g
|
Fat:
6
g
|
Saturated Fat:
1
g
|
Fiber:
5
g
|
Sugar:
4
g