Sweet Potato Casserole with tips and tricks to cook your sweet potatoes in a QUARTER amount of time for last minute rushed preparation!
Sweet Potato Casserole is a traditional Thanksgiving side loved by many. Soft and buttery mashed sweet potatoes with a buttery brown sugar and cinnamon pecan crumb topping. It doesn't get any better!
You will fall in love with this casserole as a side or dessert!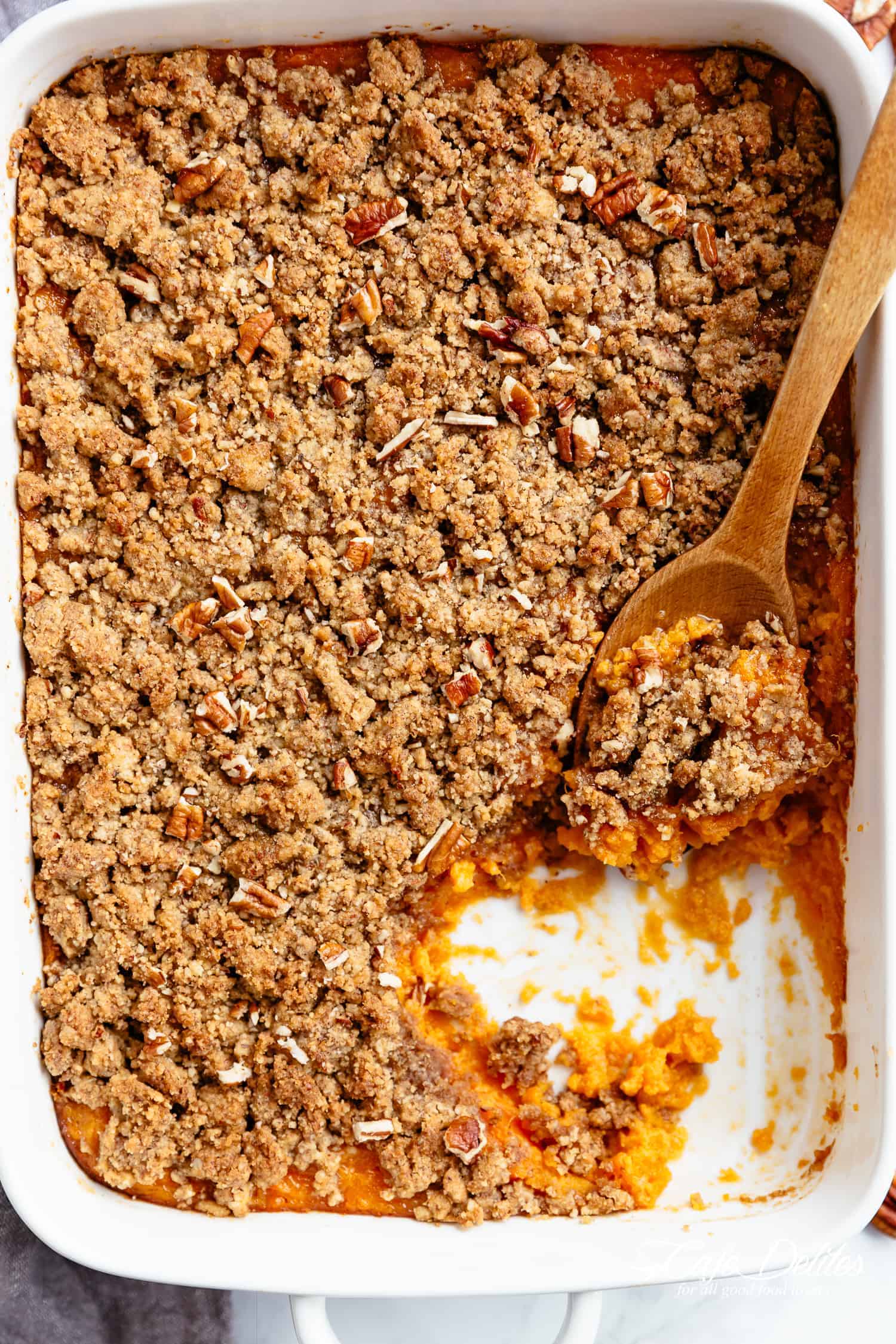 Sweet Potato Casserole
This Sweet Potato Casserole is baked with the traditional flavours you love, while allowing the sweet potatoes and pecans to shine through each mouth-watering bite. Perfect for Thanksgiving, Easter or Christmas, the best part is you don't need super expensive ingredients to make it!
Not only are cooked sweet potatoes a great source of fibre, Vitamin C, beta-carotene and potassium, they are comforting, filling and delicious!
SWEET POTATO RECIPE
If you're ANYTHING like me, last minute is your middle name and we're on the same page. Also, if you prefer the taste of food made from scratch instead of canned foods. Or never have the time to wait around an oven for to an hour and a half, or over a stove for half an hour. How about you CAN'T be bothered peeling and chopping because WHO has time for that?
Then this last minute recipe is for you.
And in true 'me' fashion, I'm posting this recipe for you….last minute. See where I'm going?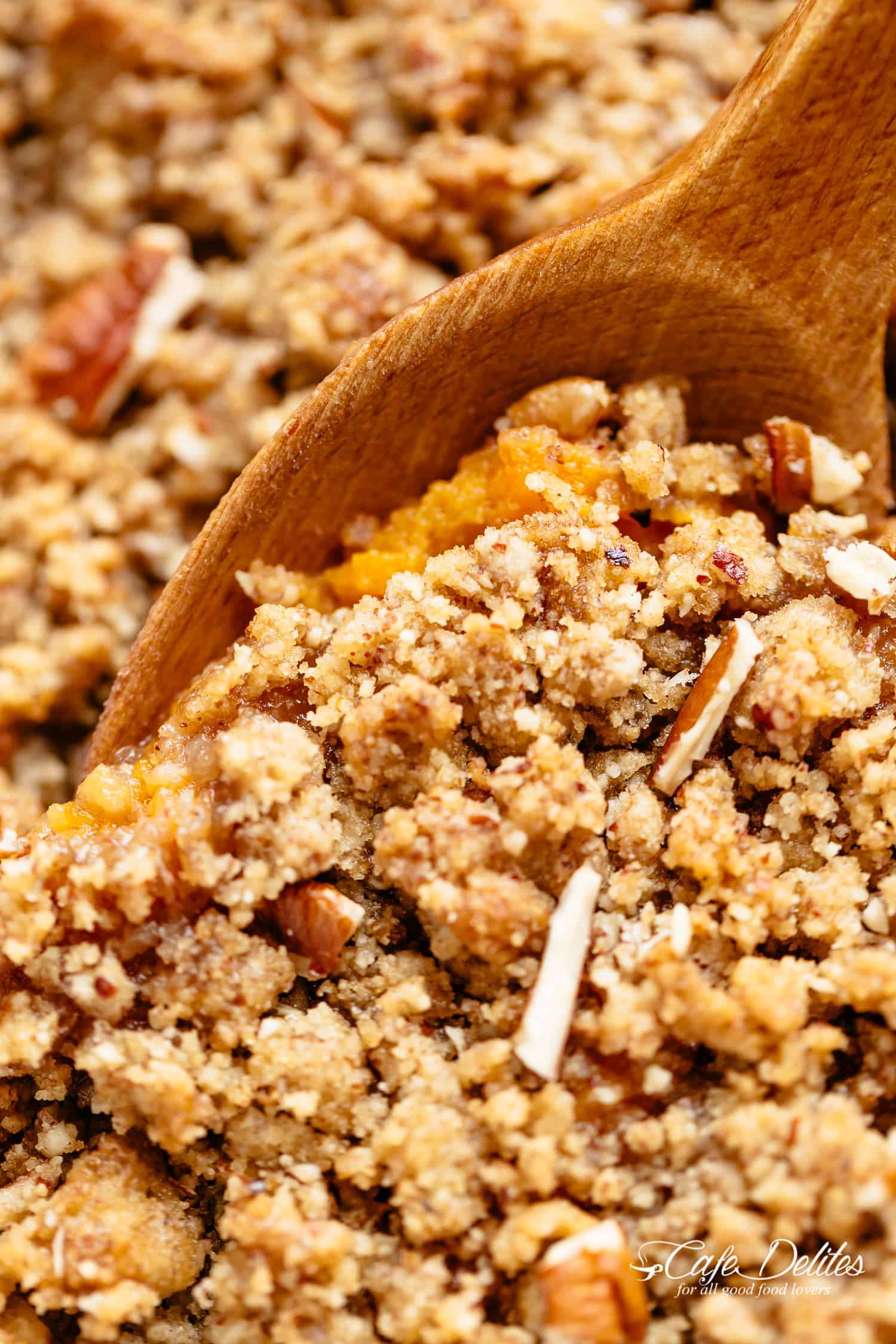 How To Make Sweet Potato Casserole
The trick I use all the time and it has never failed me is using the microwave. When I want sweet potatoes ready — like, NOW — I turn to my microwave. If you've been following me for a while, you may remember my mentioning it in this Chicken Fajita Stuffed Sweet Potatoes recipe.
How does one do this? You simply:
Wrap your sweet potatoes in one piece of paper towel
Microwave on high settings for 8 minutes
Remove carefully from microwave and unwrap (being careful of the steam that will escape from inside the paper towels)
Pierce all over with a fork
Wrap again
Microwave for a further 2 minutes until soft (if the centres are still a little hard, don't worry they will continue to cook in the oven later).
Now, if you're not into microwaves, I've included an oven method in the recipe instructions.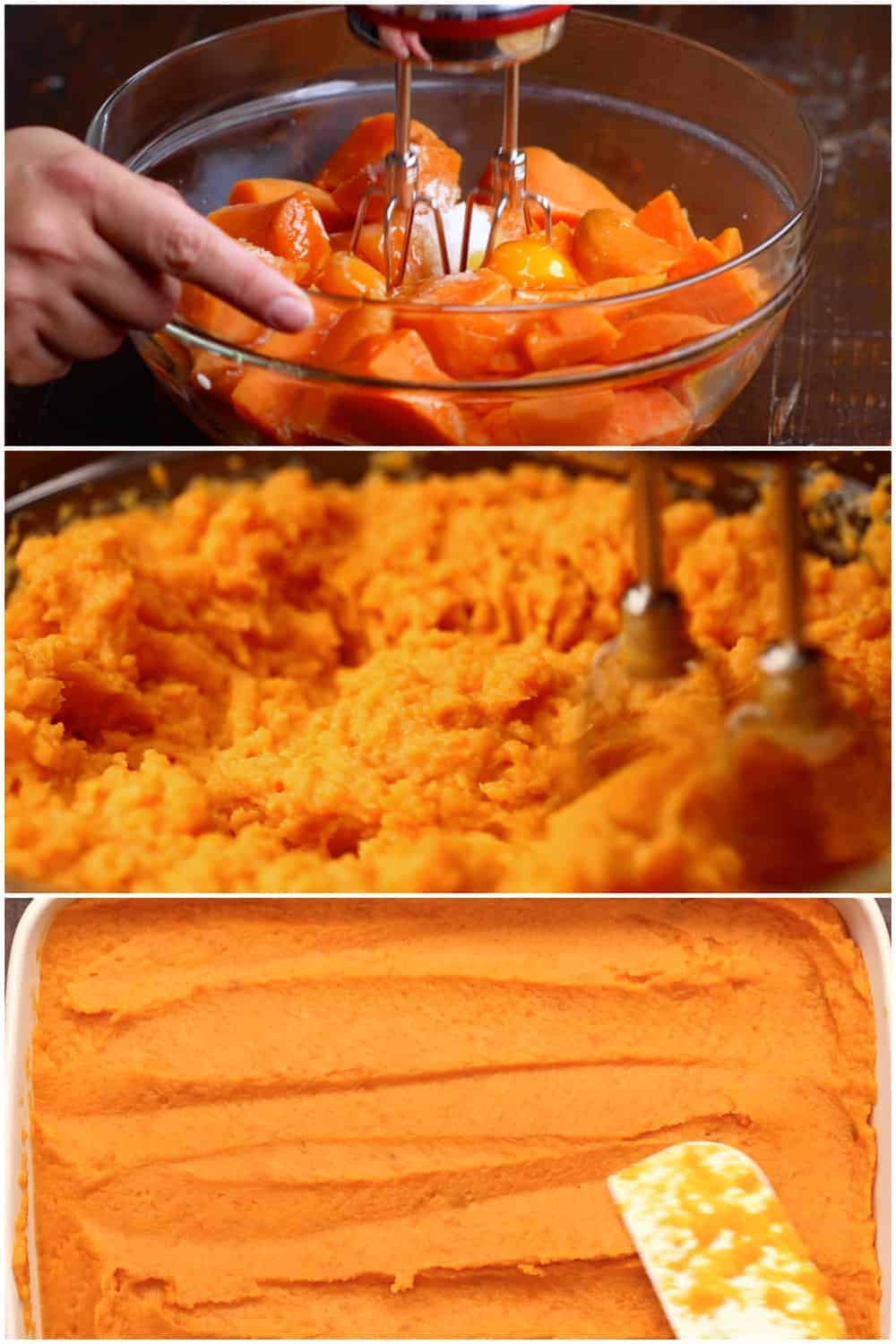 Mixing
The easiest way to get all of your ingredients together is to beat them with a hand blender. You could also use a food processor, or mash the old fashioned way!
Can you make sweet potato casserole ahead?
Absolutely! Prepare the sweet potato mash mixture the night before, cover and refrigerate overnight and make meal prep a breeze the morning of baking!
You can also prepare the crumb topping, mixing the dry ingredients together and setting them aside on your counter in a ziplock bag.
Remove the mashed sweet potatoes from the refrigerator at least 30 minutes before baking to take some of the chill out before transferring into your hot oven.
Heat for about 20 minutes without the topping first as cold sweet potatoes take much longer to heat through. Then top with the prepared topping and continue with the recipe directions below!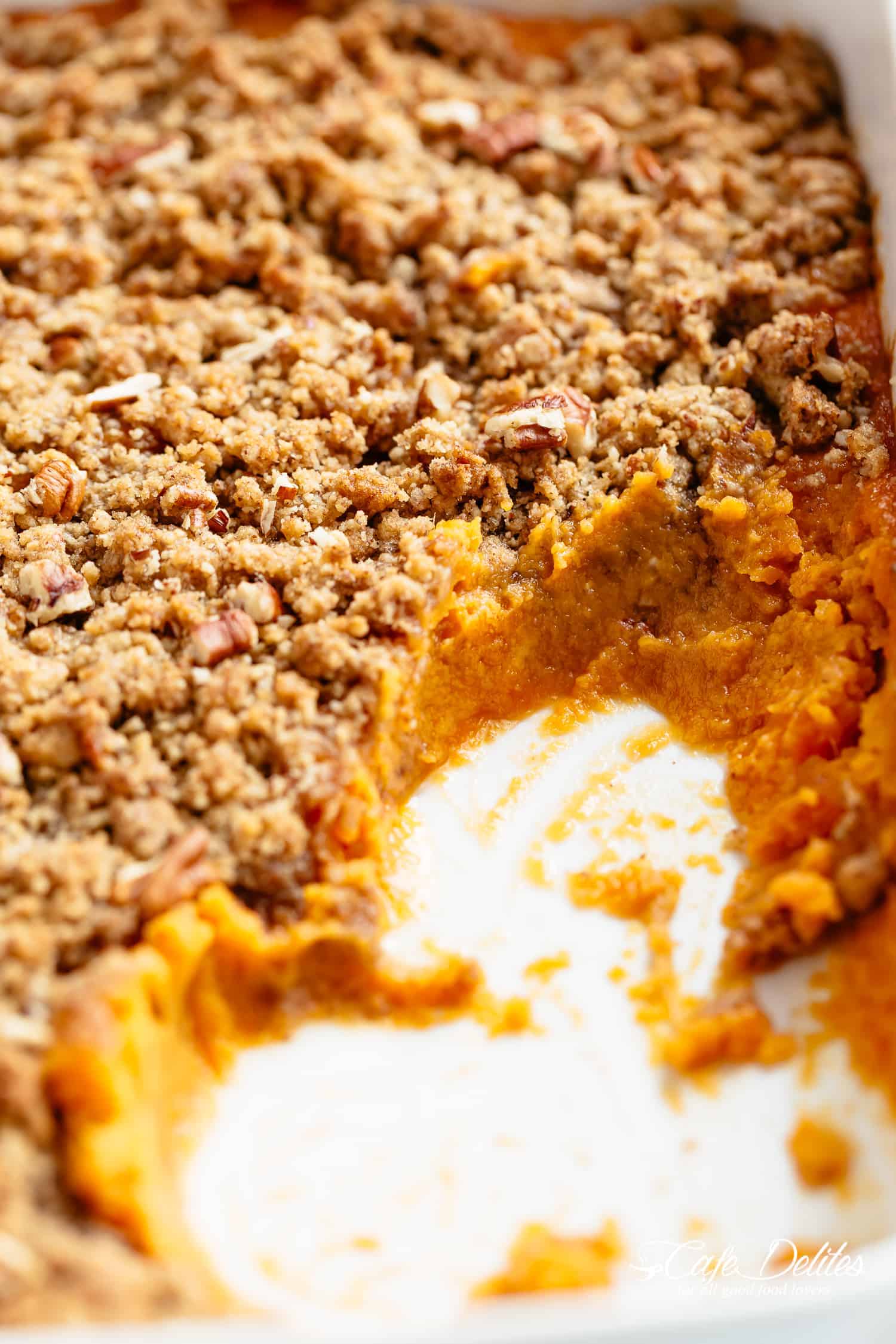 In the meantime, HAPPY THANKSGIVING to all of my US readers!
If you're on the look out for more sides: try these:
NEED A TURKEY RECIPE?
One Pan Juicy Herb Roasted Turkey & Potatoes With Gravy
Crispy Beer Roast Turkey
Ham
Looking for DESSERT?
Hot Fudge Chocolate Pudding Cake
Pumpkin Cheesecake
Sweet Potato Casserole VIDEO!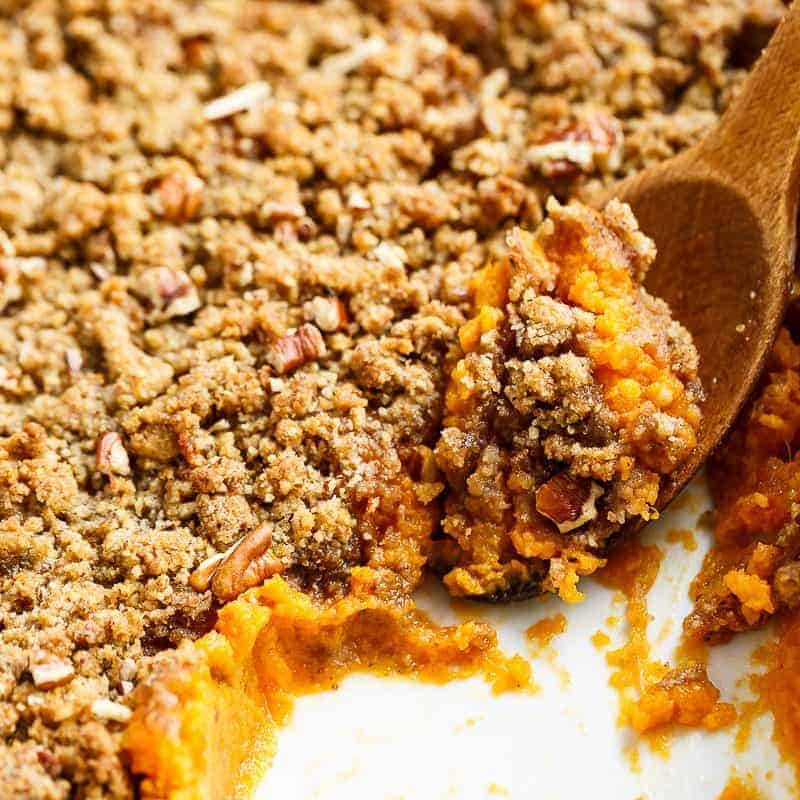 Sweet Potato Casserole
Sweet Potato Casserole with a trick to cook your sweet potatoes in a QUARTER amount of time for last minute preparation!
PRINT
SAVE
go to your favorites
Serves:
8
(as a side dish)
Ingredients
FOR THE SWEET POTATOES:
4

cups

sweet potatoes

cooked and peeled *See Notes

1/2

cup

granulated sugar

1/4

cup

milk

(2% or skim)

1/4

cup

unsalted butter

melted

2

teaspoons

pure vanilla extract

2

large

eggs

whisked

1/2

teaspoon

salt to taste
PECAN TOPPING:
1/2

cup

all-purpose flour

1/2

cup

light brown sugar,

firmly packed

2

tablespoons

unsalted butter

melted

1/2

cup

pecans

crushed (blitz in a magic bullet or food processor for a smoother crumb)

1/2

teaspoon

salt

2

tablespoons

cinnamon sugar
Instructions
Preheat oven to 350°F (175°C). Lightly spray a 13 x 9–inch baking dish with cooking oil spray (or grease with a light coating of butter); set aside.
FOR THE SWEET POTATOES:
Beat sweet potatoes with the sugar, milk, butter, vanilla, eggs and salt. Mix well to combine. Pour into prepared baking dish. Set aside.
FOR THE TOPPING:
Combine flour, brown sugar, butter, pecans and salt. Mix well to form crumbs. Sprinkle evenly over the sweet potatoes. Top evenly with the cinnamon sugar.

Bake for 25 minutes or just until golden.

Change oven settings to broil (or grill), and broil for 5-10 minutes, until the top has crisped a little and browned.

Allow to stand for 5-10 minutes to set before serving.
Notes
Fast MICROWAVE Method:
Wrap 2 large sweet potatoes in one piece of paper towel each. Microwave on high settings for 8 minutes. Remove carefully from microwave and unwrap (being careful of the steam that will escape from inside the paper towels). Pierce all over with a fork, wrap again and microwave for a further 2 minutes until soft (if the centres are still a little hard, don't worry they will continue to cook in the oven later).
Slow Roast OVEN Method:
Preheat oven to 220°C | 430°F. Spray a baking tray/sheet with nonstick spray and arrange 2 large sweet potatoes the tray. Roast for one hour in the oven, or until soft (check them after 40 minutes, pierce with a fork, and continue roasting if needed). ORIGINALLY POSTED NOVEMBER 23, 2016
Nutrition
Calories:
225
kcal
|
Carbohydrates:
34
g
|
Protein:
4
g
|
Fat:
11
g
|
Saturated Fat:
5
g
|
Cholesterol:
70
mg
|
Sodium:
206
mg
|
Potassium:
294
mg
|
Fiber:
2
g
|
Sugar:
20
g
|
Vitamin A:
9780
IU
|
Vitamin C:
1.6
mg
|
Calcium:
49
mg
|
Iron:
1.1
mg