Cheesy Bacon Bolognese Stuffed Sweet Potatoes
Now if you were wondering how the best way to eat a sweet potato is, this is what you are looking for!

This was one of those dinners that I needed in an emergency. What was my emergency?
Hunger. Hunger was my emergency.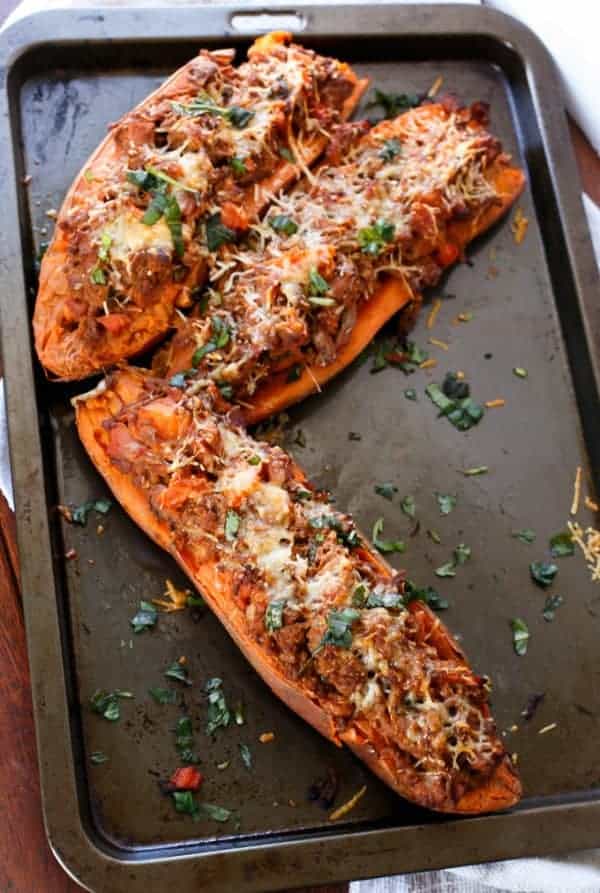 I love when bacon goes on sale. I don't know if I'm the only one, but I kinda go a little over board and buy enough to feed a whole entire army — as if my life depended on it. Because….bacon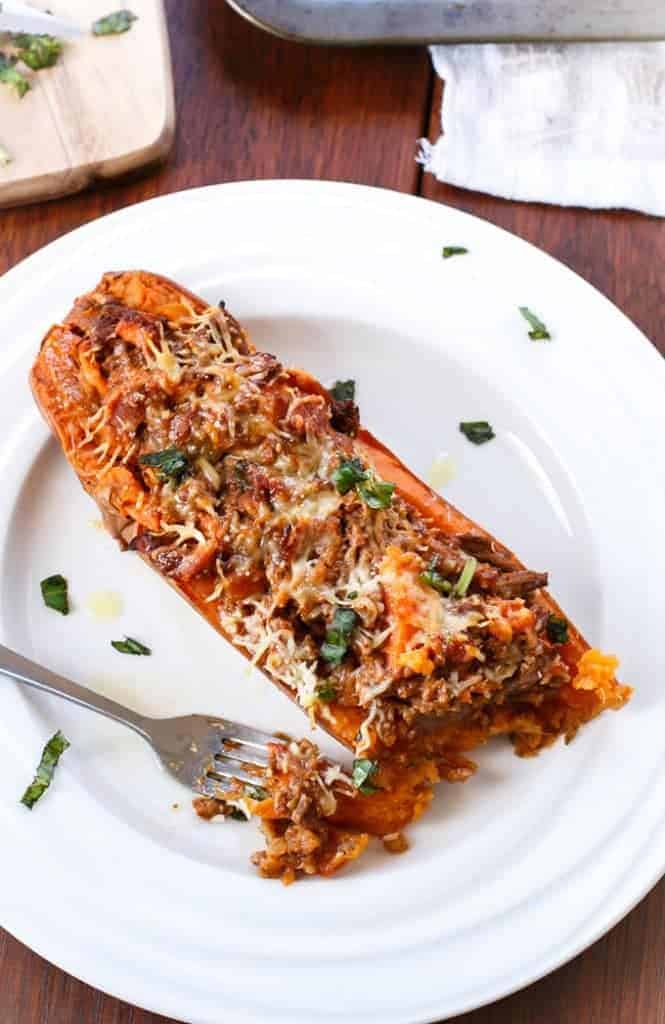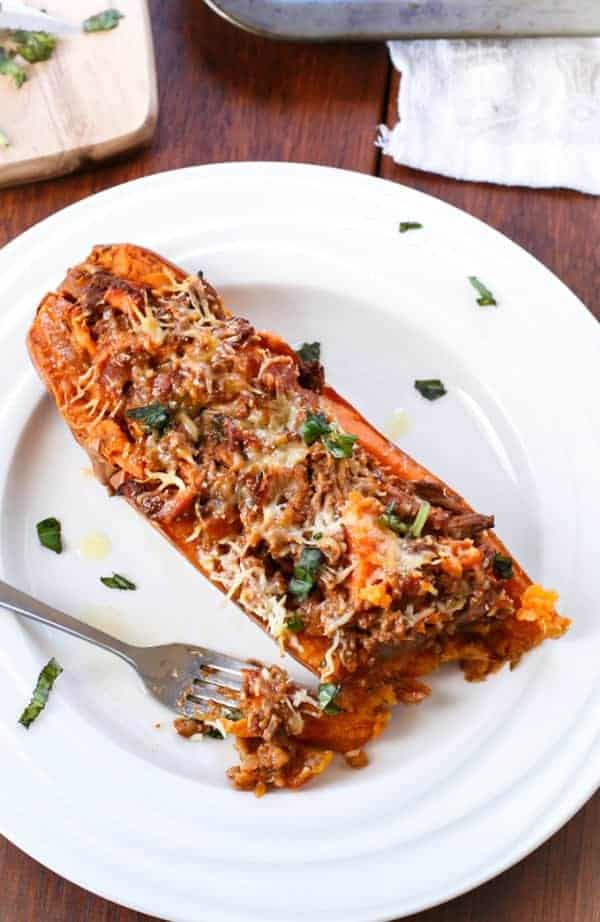 And when the family is craving pasta…pasta…pasta…I get scared. I quiver from the thought of fluid retention clinging to every part of my being. Hence the emergency. And sweet potatoes are so creamy…so filling…and one of my favourite things (besides chocolate, but I can't picture bolognese with chocolate…or maybe I can?)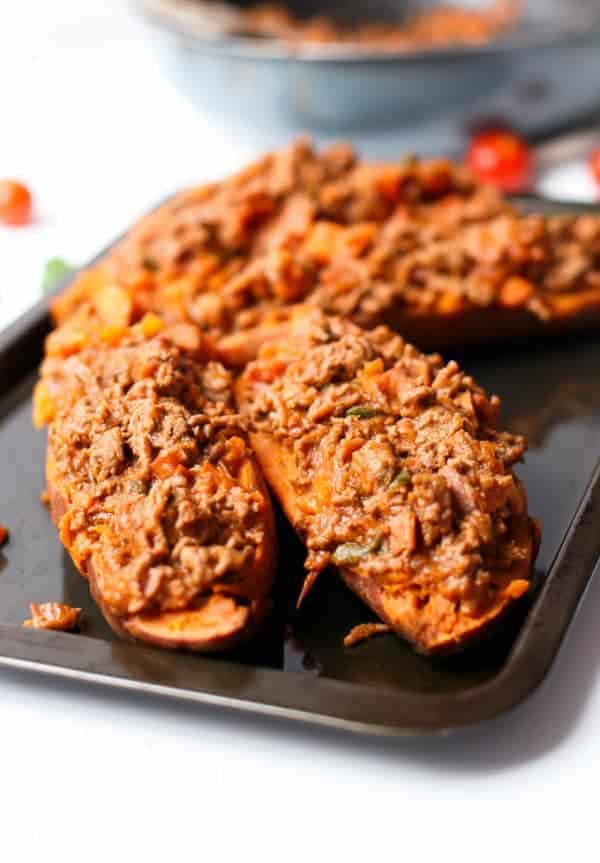 So, stuffing sweet potatoes comes as second nature to me. Stuffed sweet potatoes and I go way back. This is a meal I've done many times before, as posted up on my
instagram
page a couple of times, or here even with these
bacon and vegetable stuffed sweet potatoes
 from sooooo long ago….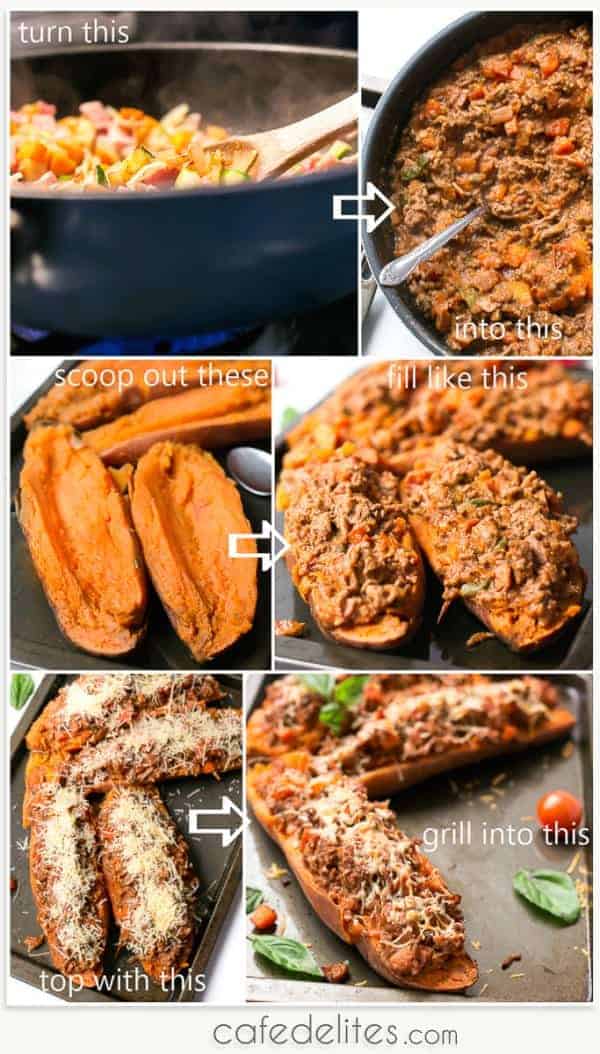 And what looks like a lot of work is actually a quick meal. Because there's a light at the end of the tunnel. A yummy one. A 'so worth my time' one.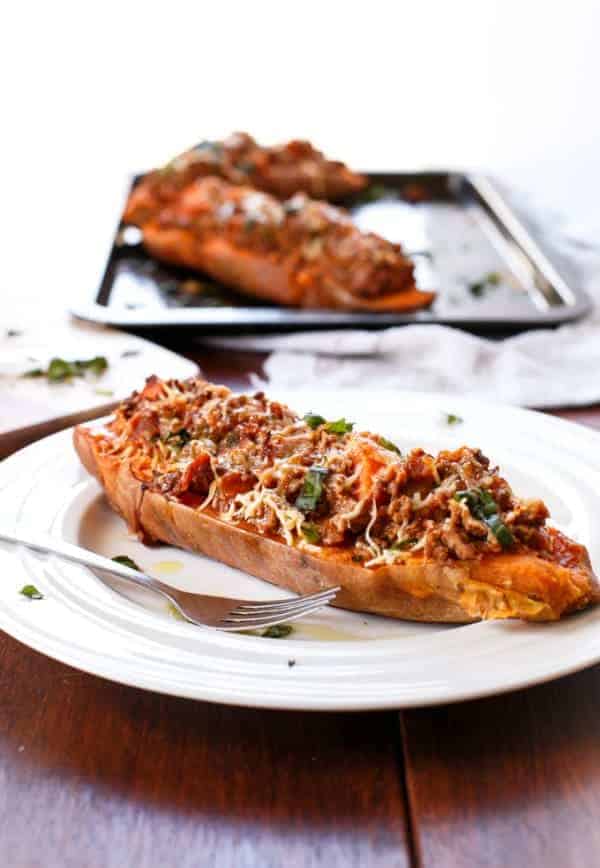 Because the eating part is the best part. Legit. Peace out.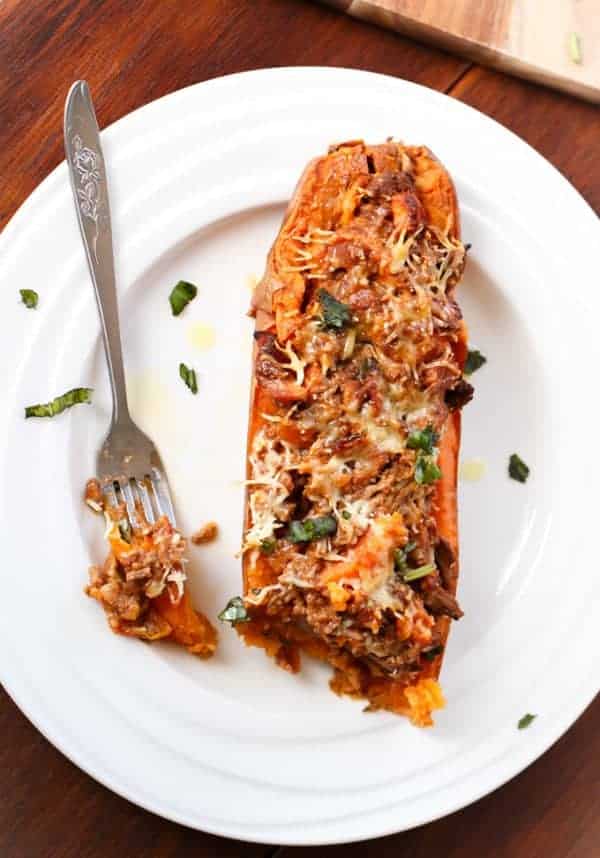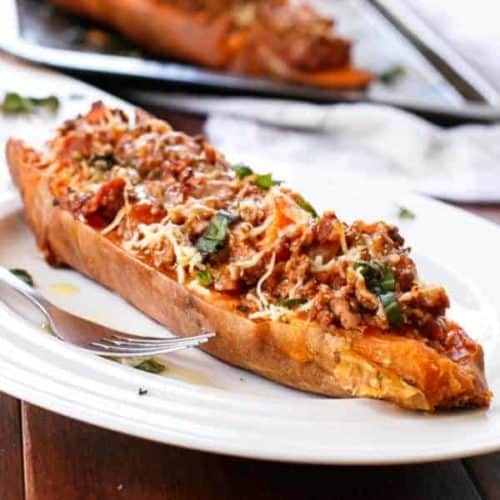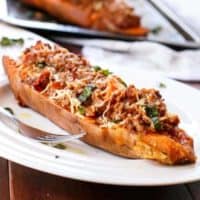 Ingredients
4

medium - large sized sweet potatoes

, washed and scrubbed well*

1

onion

, chopped

2

teaspoons

minced garlic

(or 2 garlic cloves, minced)

1

carrot

, finely chopped

1

zucchini

, finely diced

500

g

lean short cut bacon

, diced

1

kg

| 2lbs lean ground beef mince

1 420

g

| 15oz can condensed tomato soup

(or your favourite jar of pasta sauce)

1

tablespoon

vegetable stock powder

(I love Vegeta)

1/2

cup

freshly grated parmesan cheese

Freshly chopped basil
Instructions
Firslty, prepare sweet potatoes*
Microwave Option
Prick each sweet potato surface with a fork all over, and wrap sweet potatoes with paper towel (2 paper towel sheets per sweet potato should be enough). Microwave 1 sweet potato at a time on high for 8 minutes or until cooked through. (If not cooked all the way in the centre, microwave in 1 minute increments until fully cooked inside).

Oven Option:
Preheat oven to 200C | 410F. Place sweet potatoes on a lightly sprayed (with cooking oil) baking tray, cover with foil and place in the oven for about an hour, or until sweet potatoes are fully cooked in the centre (test with a fork).

Slice sweet potatoes horizontally to open, and allow them to cool slightly before scooping out the flesh. Leave an inch of layer of sweet potato flesh on the skin so the potatoes can withhold the filling. Reserve the filling to add into the sauce.

While sweet potatoes are cooking, cook your sauce:
Bolognese Sauce:
In a medium - large sized pan, fry onion, garlic, carrot and zucchini on medium heat until onion is transparent. Add the bacon and cook until crispy. Add the beef and cook stirring, while breaking up the mince. Once meat is browned, add the condensed soup (or sauce of choice) and vegetable stock powder, and cook until sauce begins to thicken and ingredients are soft. (Pour in 1/4 cup water if sauce is too thick). Add the reserved sweet potato flesh and mix into the sauce.

Distribute sauce evenly into each sweet potato half until they're all filled.

Sprinkle with cheese, and place into the oven under medium grill/broil settings, and cook until cheese has melted.

Top with fresh herbs and enjoy!
Notes
*The sweet potatoes can be cooked in advance and refrigerated prior to making this dish to save time
Nutrition
Calories:
562
kcal
|
Carbohydrates:
49
g
|
Protein:
32
g
|
Fat:
14
g
|
Fiber:
7
g