No Bake Chocolate Chip Cheesecake Cookie Dough Cups (LOW CARB)
For those 'I want something really bad for me moments but I don't want the 10kgs/20lbs that come with it' type of situations. Chocolate chip. Cookie dough. Cheesecake. Salt flakes. Chocolate cups. Only FOUR MAIN INGREDIENTS!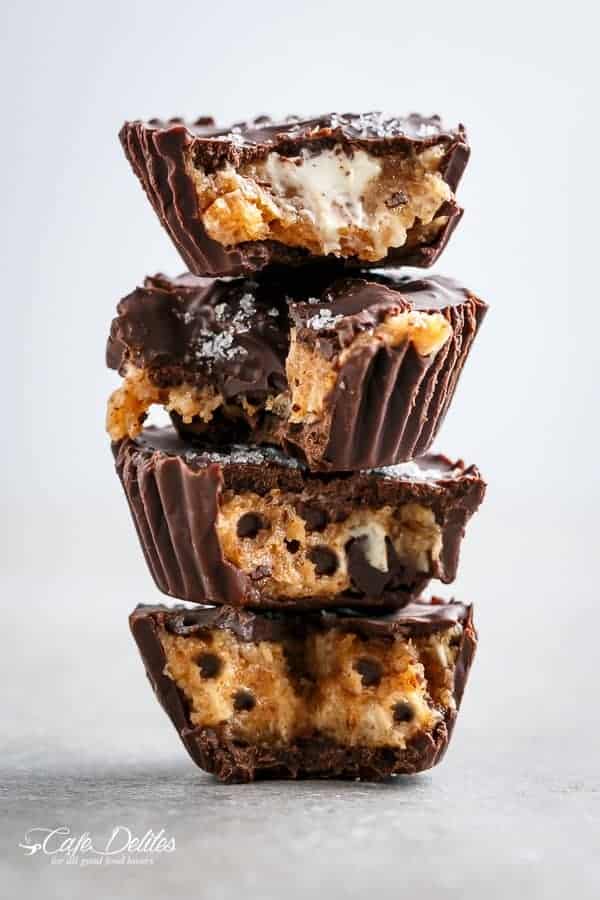 I should also mention: flour less, grain free, egg free, refined sugar free, suitable for low carbers….and out of this world insane.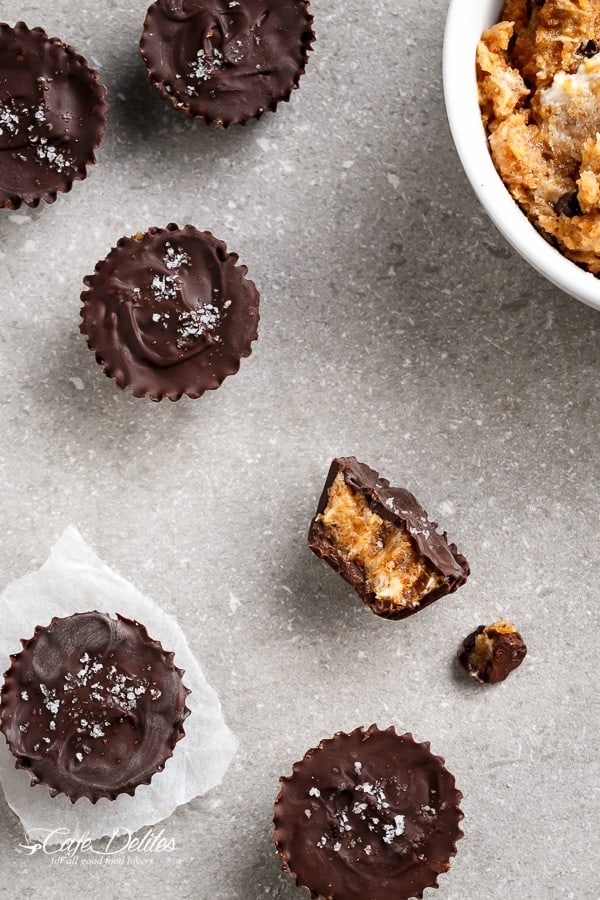 Surprisingly, these things were way too good to be true.
I mean…the making of and the eating after. Because pour, spread, spoon and cover isn't technical. At.ALL. Right?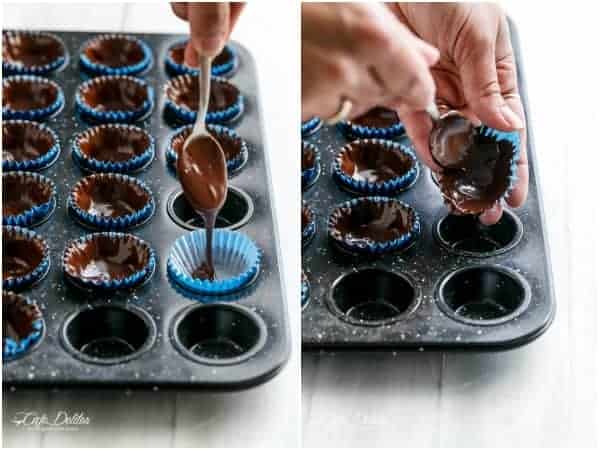 With ingredients you either have on hand already…or can get just as easily for the store.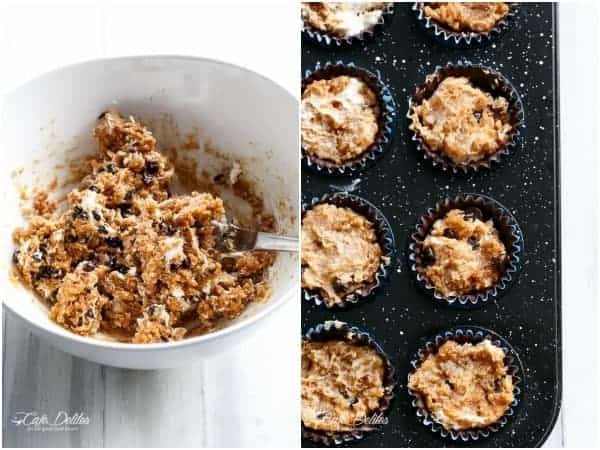 Almond butter. Or peanut butter, even. A raving chocaholic's dream come true. Yes, that's the secret in these. But don't go running for the flour now, hiding from this recipe. Because the almond butter is in there but can fool anybody that didn't know any better! Especially all those under 15 years old. And if using peanut butter? Oh even better.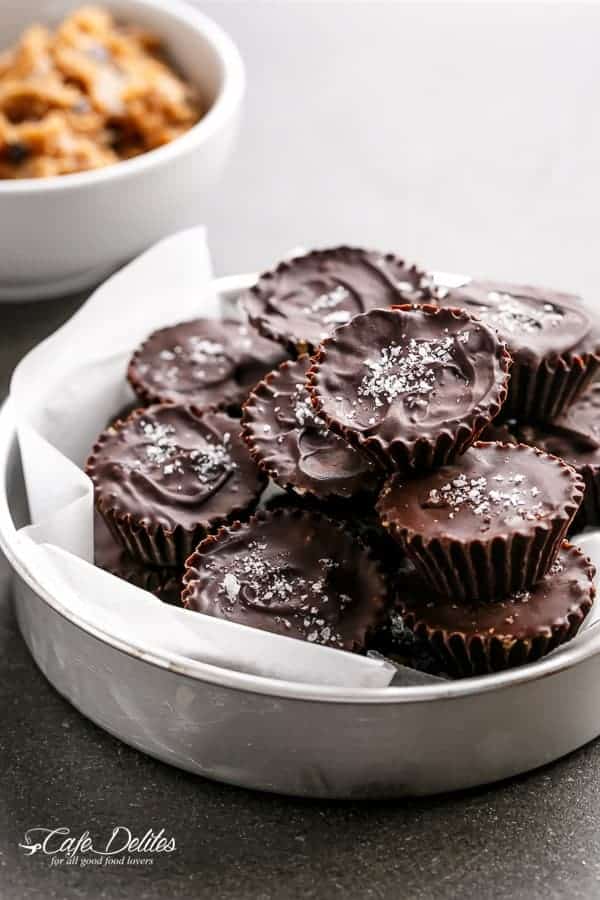 And every bite reaches a soft, cookie dough centre with an unforgettable cheesecake flavour hard to stop at one.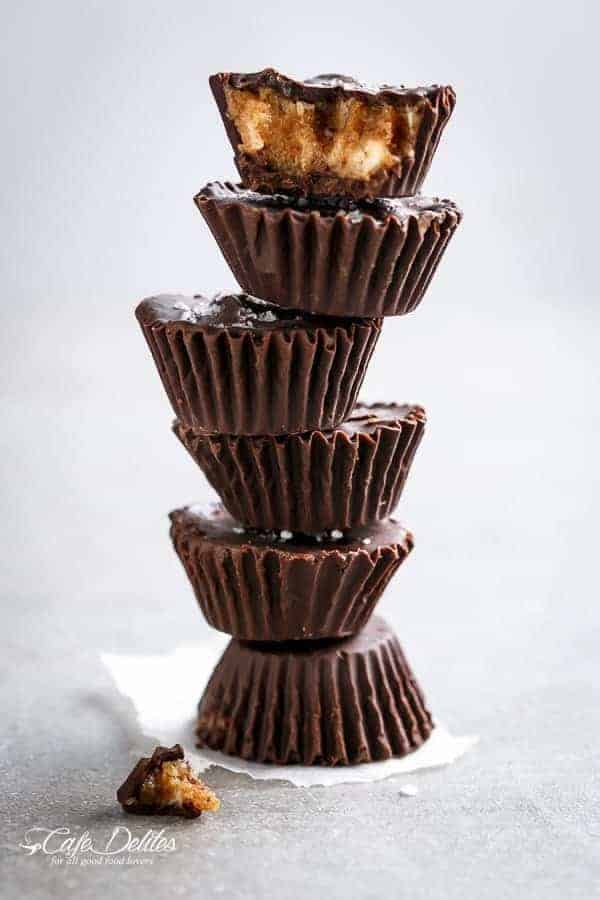 Even the pickiest of eaters couldn't stop at one.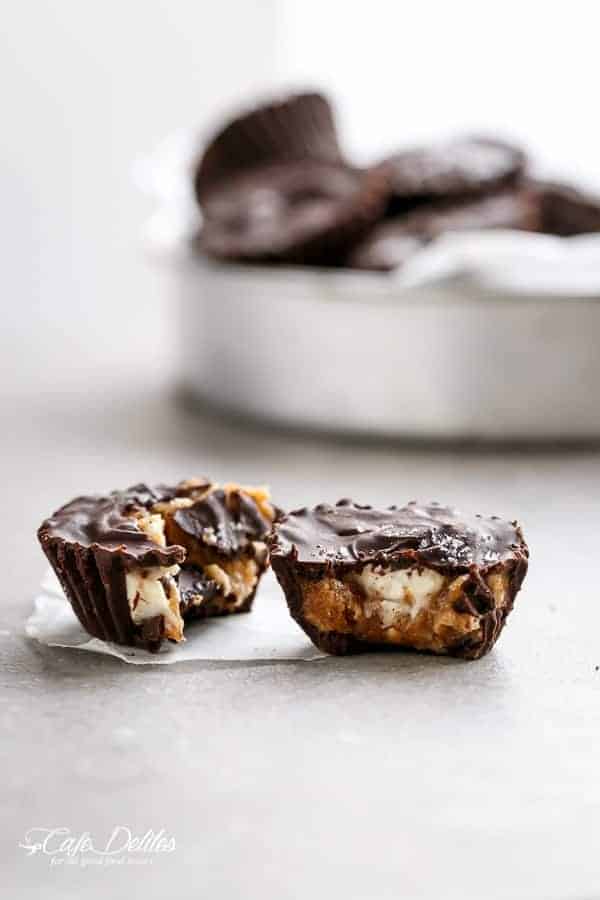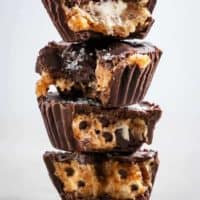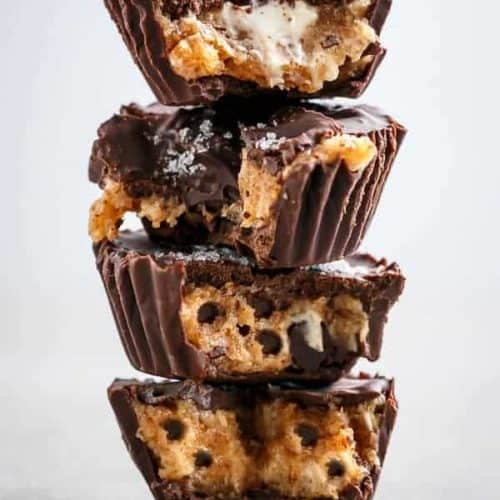 No Bake Chocolate Chip Cheesecake Cookie Dough Cups (Low Carb)
Chocolate cups with a soft, cookie dough centre and an unforgettable cheesecake flavour hard to stop at one!
Weight Watchers: 2pp per cup!
PRINT
SAVE
go to your favorites
Ingredients
Cookie Dough:
2/3

cup

(250g) creamy almond spread/butter (or peanut butter)

1/3

cup

natural granulated sweetener

(or coconut sugar if not following lower carb)

1/2

teaspoon

pure vanilla extract

(optional)

Pinch of salt

1/2

cup

cream cheese

, softened

1/3

cup

Lilly's chocolate baking chips
Chocolate Coating:
2

cups

Lily's chocolate chips

1

tablespoon

coconut oil

Salt flakes

(optional)
Instructions
Cookie Dough:
In a medium sized bowl, combine the almond butter, sweetener (or sugar), vanilla and salt; mix until well combined. Add half of the cream cheese, mixing through until the 'batter' becomes creamy. Fold through the chocolate chips. Add the rest of the cream cheese, cutting it through to create a marble effect.
Chocolate Coating:
Combine the chocolate chips and coconut oil together in a microwave safe bowl; microwave in 30 second increments, stirring in between, until fully melted. Alternatively, melt in a metal bowl over a pot of boiling water (being careful not to let any liquid into the chocolate or it will seize, until fully melted.
Assemble:
Line a 24-hole mini muffin pan with mini muffin liners. Pour 1 teaspoon of chocolate into the base of a liner, and using the back of the teaspoon, spread the chocolate evenly around the sides to create a 'cup.' Repeat with remaining chocolate and liners until all have been fully coated.

Freeze for 5-10 minutes or until fully set. Remove for the freezer; spoon about 1 teaspoon of 'cookie dough' into each cup and cover each cookie dough cup with the remaining melted chocolate, smoothing over with a spoon.

Freeze again and allow to set (approximately another 10 minutes), or allow to set at room temperature (it may take a little longer). Sprinkle with salt flakes (if using), and enjoy!

Store in the refrigerator, or freeze for emergencies!
Nutrition
Calories:
84
kcal
|
Carbohydrates:
2.8
g
|
Protein:
2.2
g
|
Fat:
6.9
g
|
Cholesterol:
1.2
mg
|
Fiber:
1.6
g