Lemon Blueberry Cheesecake French Toast Streusel Muffins! French Toast…with a Muffin twist!
These French Toast muffins are perfect for on-the-go hungry emergencies…or to sit and eat freshly baked out of the oven….or to have a stash in the refrigerator only to reheat and eat when you need them.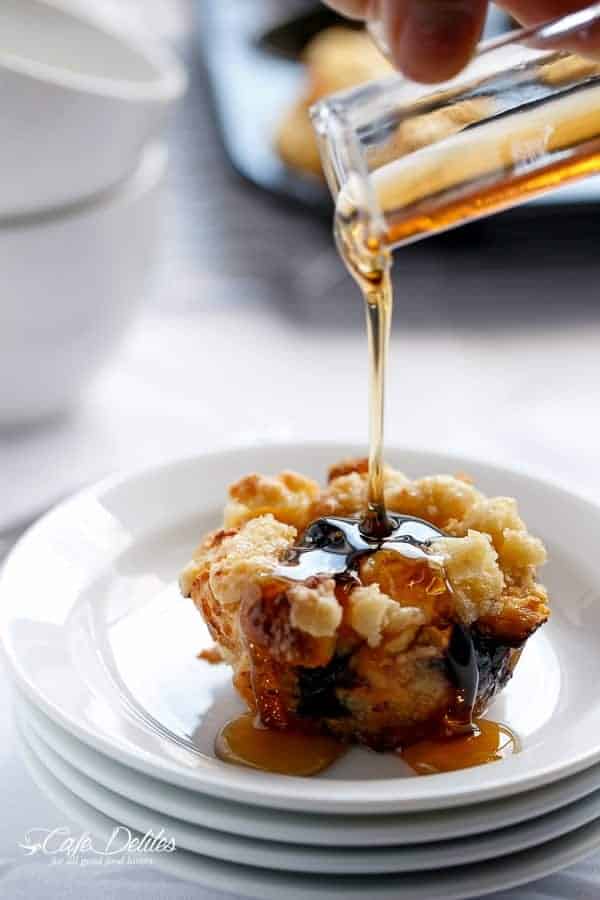 Stuffed with juicy blueberries and cheesecake flavours — YES I said CHEESECAKE (sorry for yelling), and a crispy streusel topping…these were like muffins without the mixing and beating.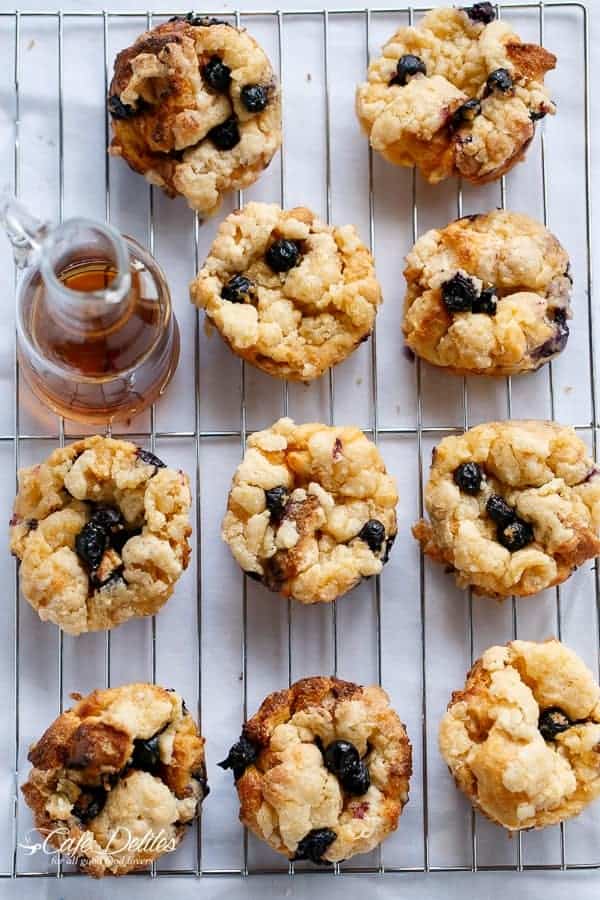 Hands down beats porridge in the morning.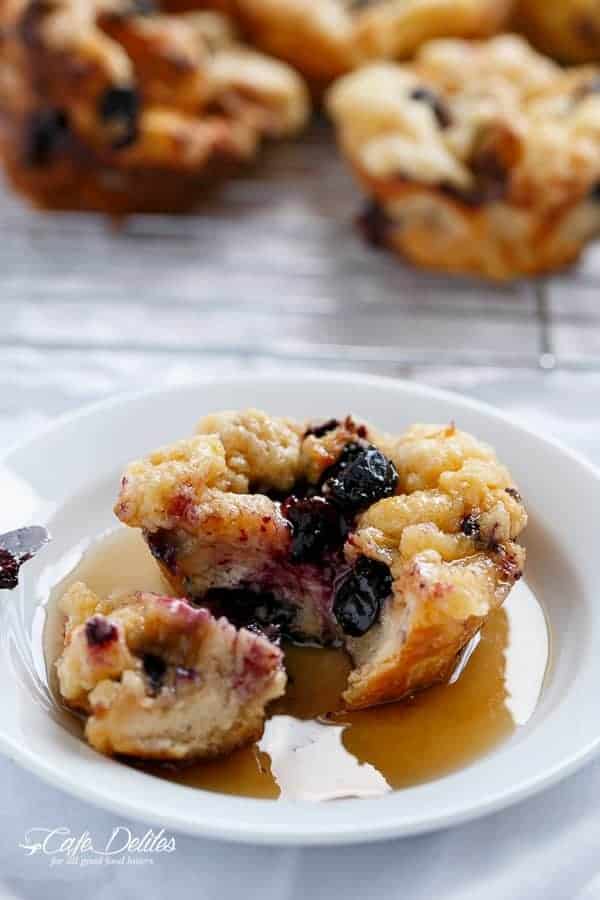 Nothing beats french toast in the morning. Ok…well maybe pancakes and crepes come in close behind…but for those of you with bad-ass sweet teeth like me…these win.
So, here's the breakdown in my MC Hammer pants.
First….spread the 'cheesecake' flavoured spread onto each piece of bread. Meditate while doing so — with eyes wide opened.
Cut them into 1-inch little cubes of cheesecake goodness.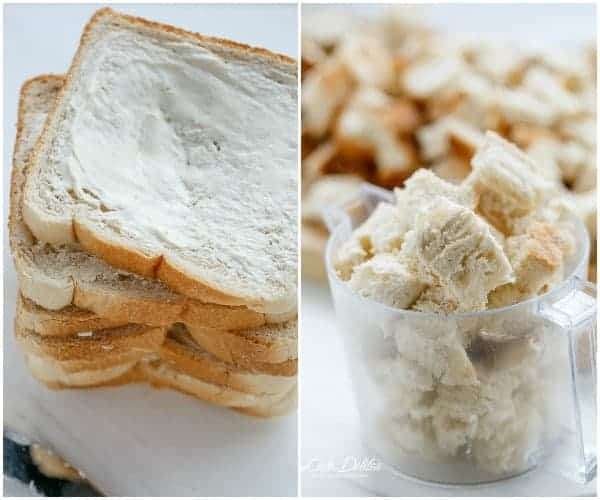 Add them into your super sexy egg wash. Mix around. Add blueberries. Smell those vanilla smells.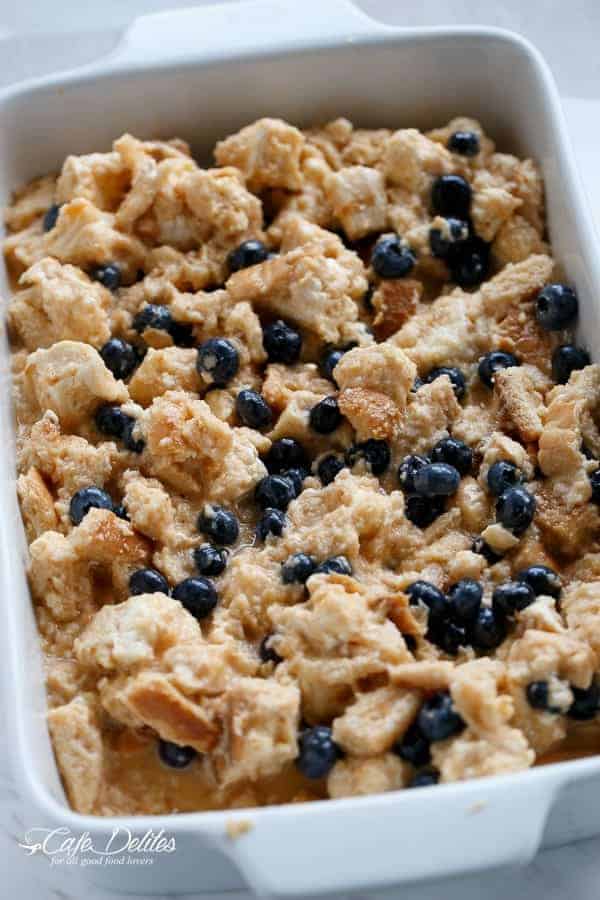 Spoon them (yes…spoon), into a muffin tray. Sprinkle with Streusel (or not, but so freaking good with Streusel for an incredible crispy and crunch sweet top). Add some-more blueberries on top. Bake in your oven.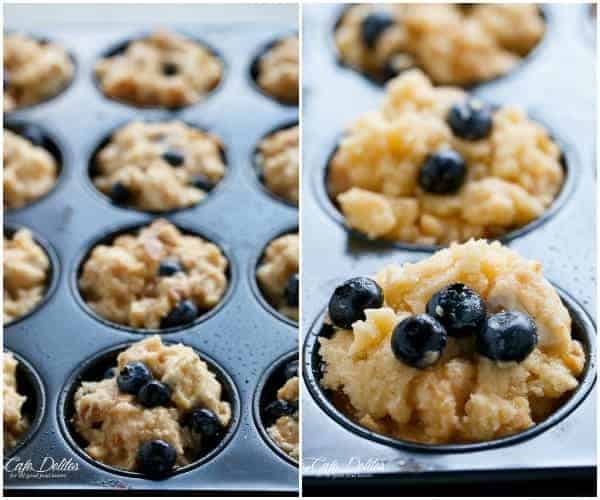 Be-totally-impatient-and-drizzle-them-in-maple-syrup-while-still-in-the-pan-because-you-can't-wait-to-get-them-on-a-plate.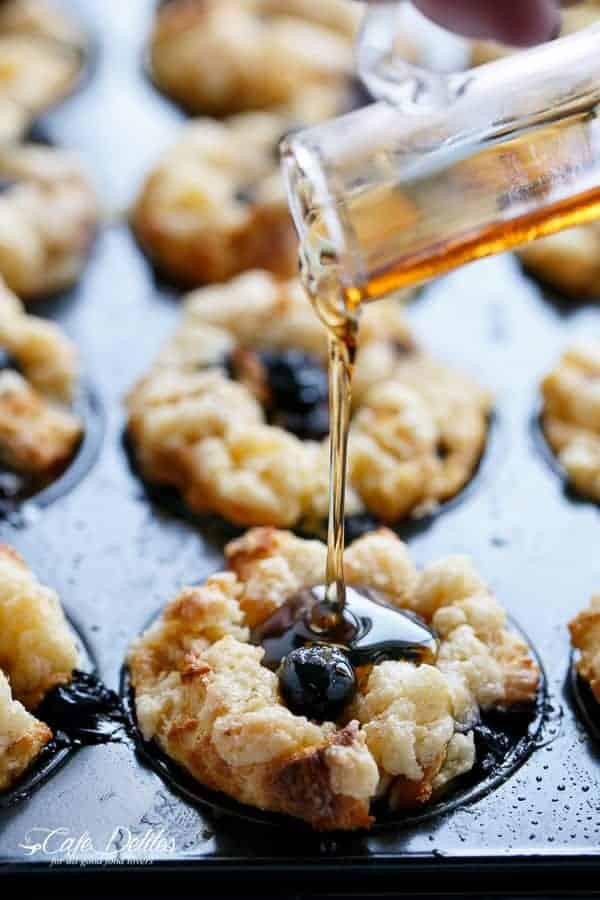 Okay. So drizzle is the minimum. More like drown, maybe.
Or do as normal people do and watch the gloriousness of a perfect full French Toast muffin on your plate.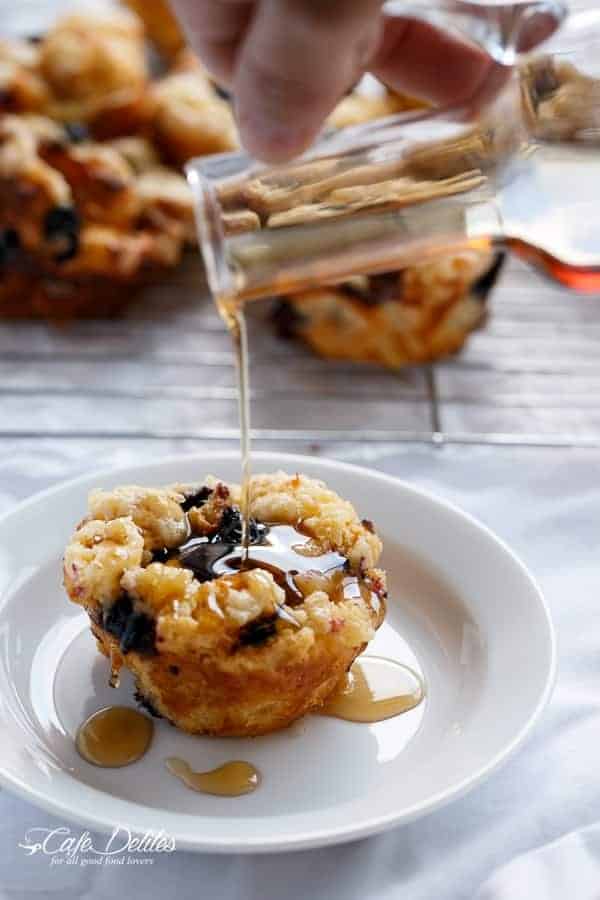 Proceed to rap in your best 90's voice, You can't touch this.' Drown in more maple Syrup, because it's breakfast, and breakfast requires syrup. Right?
Split it open to see those blueberries burst all through your muffins.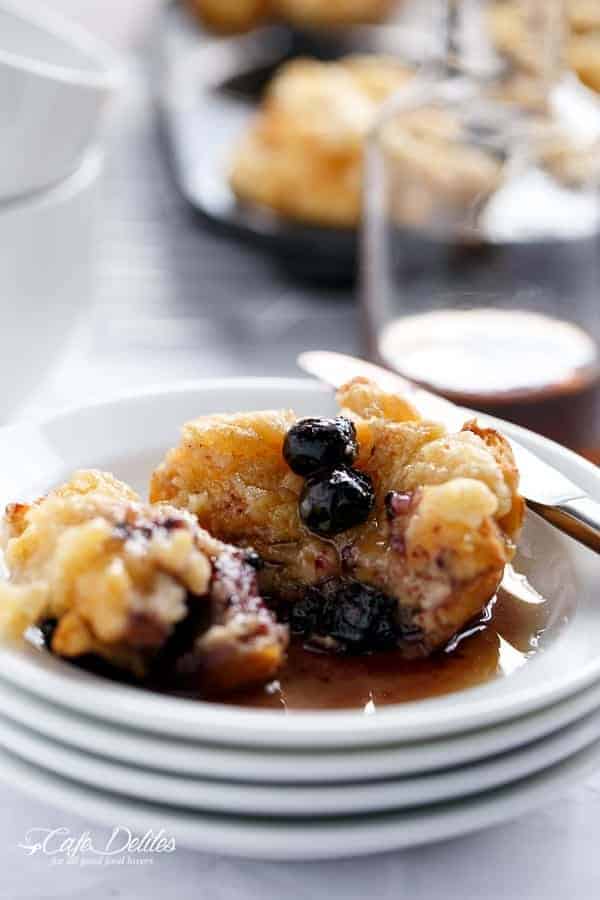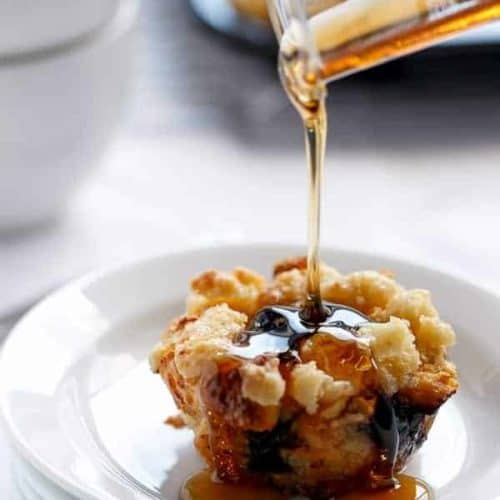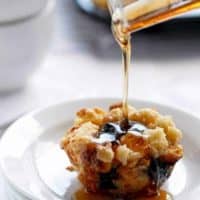 Blueberry Cheesecake French Toast Streusel Muffins
Blueberry Cheesecake French Toast Streusel Muffins are easy to make and a delicious change for breakfast!
Weight Watchers: 5pp per muffin!
PRINT
SAVE
go to your favorites
Ingredients
Cheesecake Spread:
4

tablespoons

cream cheese

1

teaspoon

sugar

2

teaspoons

fresh squeezed lemon juice
French Toast Muffins:
8

slices

sandwich bread

(280 g | 101/2 oz)

4

large eggs

2

cups

skim/low fat milk

(or almond milk)

1/4

cup

sugar

(or a Natural granulated sweetener to lower calories/carbs)

Pinch of salt

(optional - about 1/4 teaspoon))

1

tablespoon

pure vanilla extract

Extra lemon juice of 1/2 a lemon

(optional)

1

cup

fresh blueberries + 1/4 cup extra for the top
Streusel Topping:
1/2

cup

sugar

1/2

cup

flour

1/4

cup

cold butter
Instructions
Preheat your oven to 180C | 350F; line a 12-cup non-stick muffin tray with muffin liners OR spray with cooking oil spray; wipe over excess and set aside.
For Muffins:
Combine cream cheese, 1 teaspoon sugar and lemon juice in a small bowl; mix to combine.

Spread cream cheese mixture over 1 side of each slice of bread. Sandwich two slices together at a time and cut each sandwich into 1-inch cubes. (You should end up with 8 cups of cubed bread).

Whisk the eggs, milk, 1/4 cup of sugar, salt (if using) and vanilla together in a large shallow dish. Add the bread and mix it through the egg wash (using your hands is easier than a spoon), until all bread is thoroughly soaked. Drizzle extra lemon juice over the top (optional), and gently fold through the blueberries. Using a spoon, fill the muffin cups with the french toast mix (about 3 tablespoons per muffin hole). Set aside and make your streusel:
To make Streusel:
Combine the sugar and flour in a small bowl; cut in butter using a metal fork until crumbly. Sprinkle over muffins. Top with extra blueberries.

Bake muffins 20-30 minutes, or until streusel on top has turned golden in colour. Allow the muffins to cool in the pan 5 minutes, or they may fall apart when taken out too soon.

Serve straight away with maple syrup.
Notes
These can also be served with ice cream, frozen yogurt or extra fresh blueberries. Alternatively, store them in the refrigerator for up to 3 days, or the freezer for up to 2 weeks. Reheat in the oven when needed following instructions above. (Microwaving the muffins to reheat them creates a soggier muffin rather than the crispy freshly baked muffin and is not recommended).
Nutrition
Calories:
209
kcal
|
Carbohydrates:
31.2
g
|
Protein:
7
g
|
Fat:
5.2
g
|
Fiber:
1.8
g