Mini Caprese Deep Dish Pizzas are the perfect appetizer: combining two favourites into one! Caprese salad meets pizza in these delicious mini deep dish pizzas.
The easiest part about this recipe is not having to worry about making your own dough and have Mini Caprese Deep Dish Pizzas ready to eat in less time than it takes to order a pizza.
The best part is the deep dish part, meaning generous amounts of filling in (not to be confused with 'on') pizza dough, almost like a pizza pie!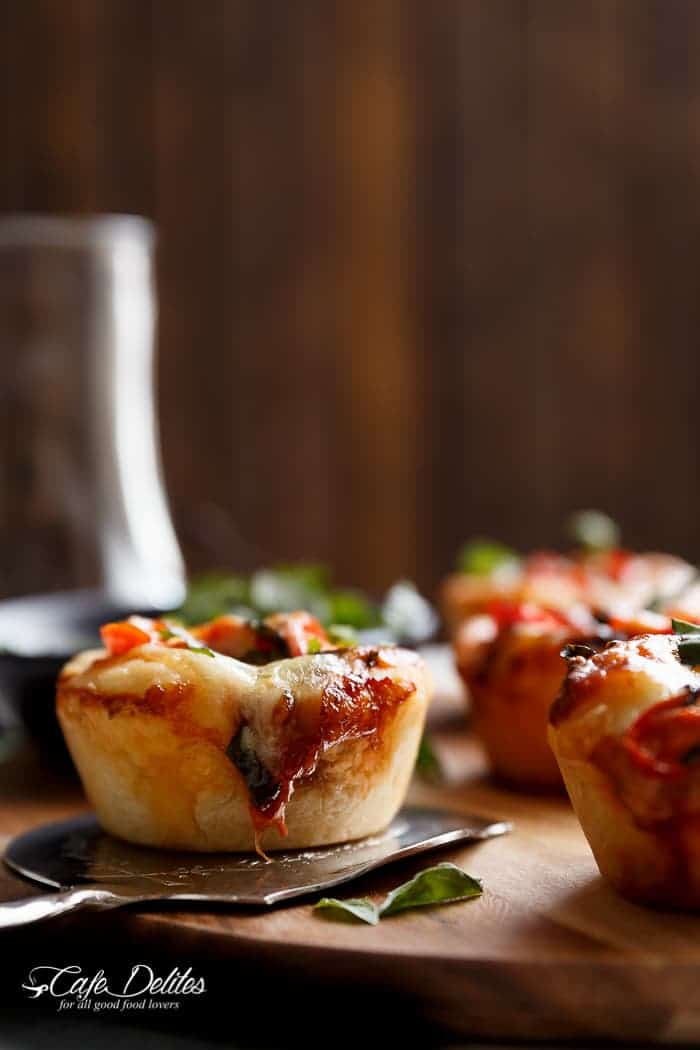 Mini Pizzas
These could very well be passed off as a Margherita flavoured pizza, BUT, drizzled with a balsamic glaze (homemade or store bought), the Caprese flavours aren't lacking at all.

Chicago Pizza
The best deep dish pizza in Chicago is famous for its thick, high golden crust and cheesy fillings/toppings. To keep the Chicago style deep dish pizza momentum going, these mini pizzas begin at the layering process with fresh Mozzarella slices on the base instead of pizza sauce, so the dough doesn't become soggy while cooking and ensures a good amount of melted cheese in every single mouthful.
So.much.cheese.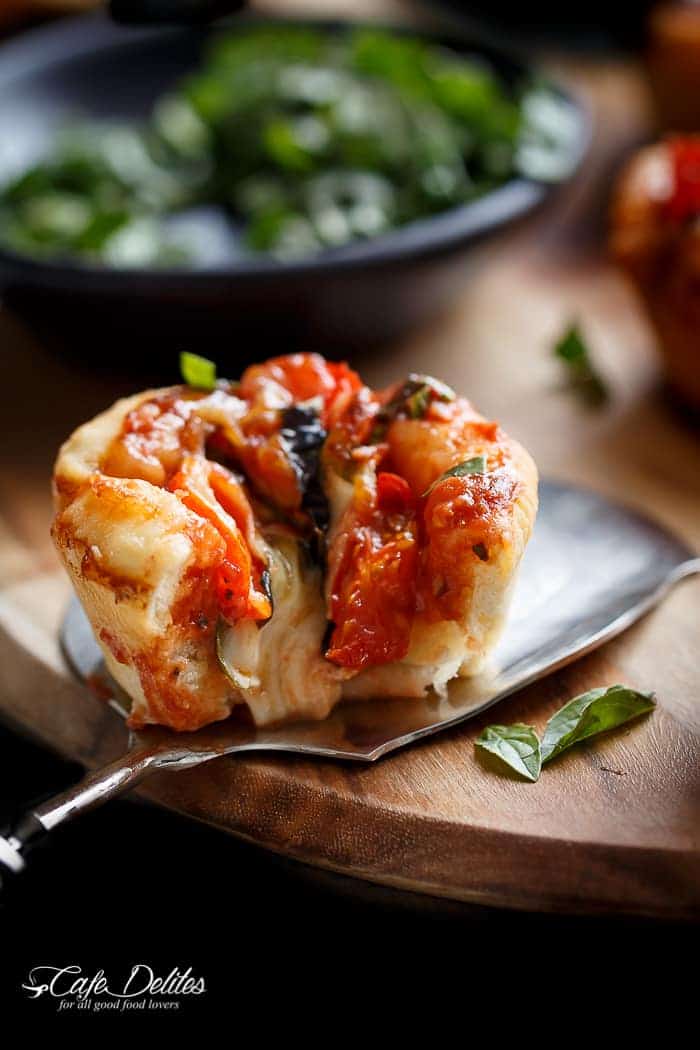 How To Make Mini Pizzas
You're going to go the easy route and grab a packet of pizza dough from the supermarket.
Follow the package instructions and rest dough for about an hour on a lightly floured bench before working with it.
Then cut it into 12 pieces, rolling each piece out before pressing them into a 12-hole muffin tin.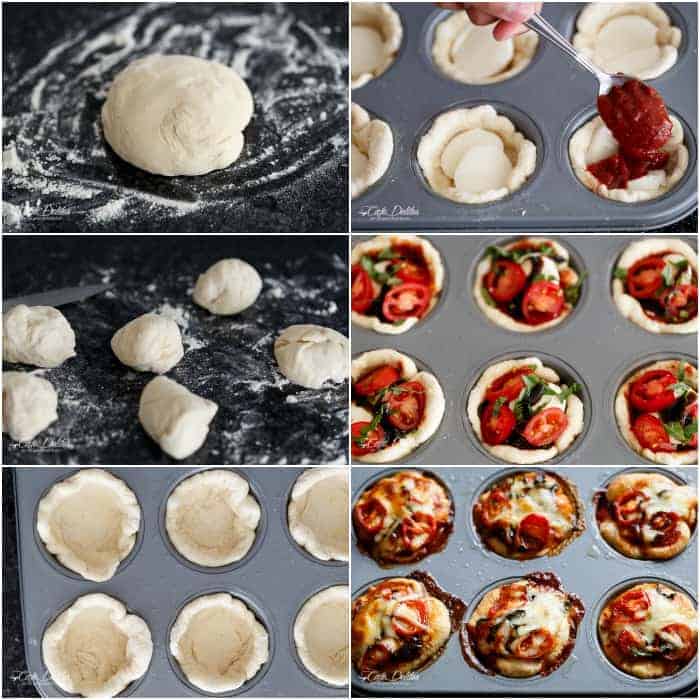 Bake until golden and bubbly.

Serve.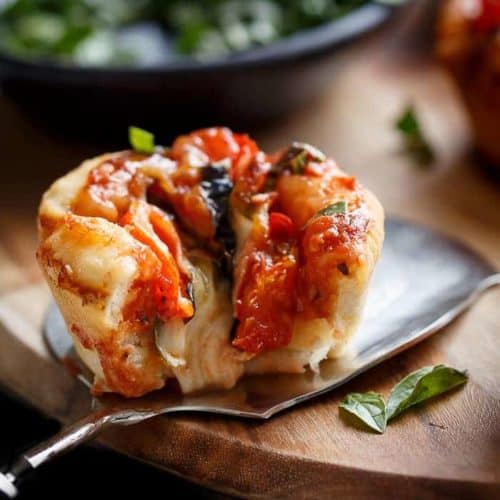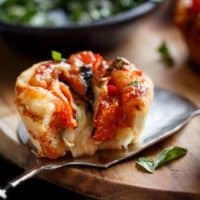 Mini Caprese Deep Dish Pizzas
Caprese salad meets pizza in these delicious Mini Caprese Deep Dish Pizzas made easy in a humble standard muffin pan| https://cafedelites.com
PRINT
SAVE
go to your favorites
Ingredients
500

g

| 17oz package store-bought pizza dough

(or 12 wonton cups)

1/4

cup

plain | all purpose flour

, for rolling

Cooking oil spray

1/4

cup

garlic flavoured pizza sauce

250

g

| 8oz fresh mozzarella

12

grape or cherry tomatoes

, finely sliced

1/4

cup

shredded mozzarella

1/3

cup

finely shredded fresh basil leaves

1/4

cup

balsamic glaze
Instructions
Preheat oven to 220°C | 425°F. Remove pizza dough onto a lightly floured work surface and allow it to come to room temperature (about 1 hour or follow package instructions). Slice dough into 12 equal pieces. Using a rolling pin or your hands, roll out each dough into 13-cm or 5-inch rounds. Lightly spray a 12-capacity muffin pan with oil. Gently press each dough piece into each muffin cup to fit into the base and sides.

Assemble your pizzas: Place 2 slices of mozzarella cheese onto each dough first to prevent the dough from getting soggy. Layer with 1 teaspoon pizza sauce; 2-3 tomato slices; a pinch of shredded basil; one more slice of mozzarella; and top with extra shredded basil. Sprinkle a small amount of shredded mozzarella onto the tops; drizzle with a little balsamic glaze and bake until dough is golden brown and crisp (about 12-15 minutes). Allow to cool slightly before removing from muffin pan.

To serve, drizzle with extra balsamic glaze.