If there's any combination better than chocolate and hazelnuts (aka = Nutella), it has to be liqueur and cream. And Creamy Kahlua Raspberry Cheesecake Parfaits completes the mix!
These parfaits are perfect! My taste buds love me even more now…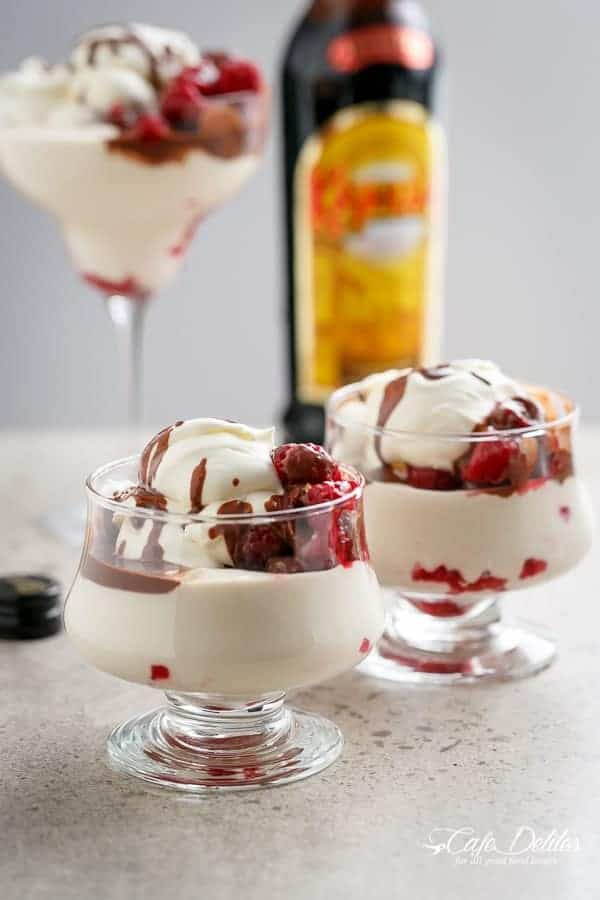 A few weeks ago it was my Dad'd birthday. Happy Birthday to Dad. And, as men go, he loves liqueur. SO of course I had make him something that combines all of his favourites together in one dessert. That's where these came to be born.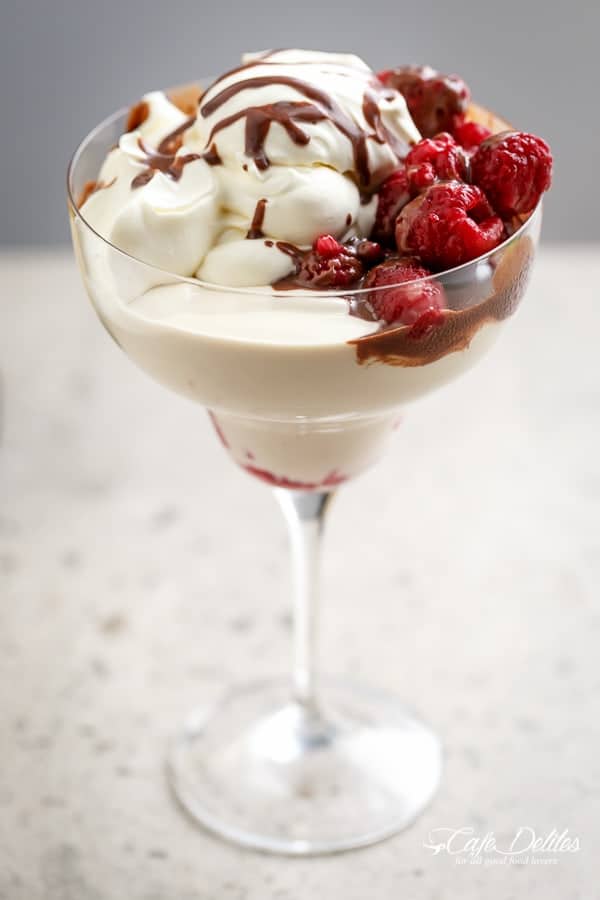 I would say the only bad thing about these is the fact that my kids, (yes, all three of them), have been begging me to make them again ever since. And while they didn't have Kahlua in their versions, they had all of the flavours we had.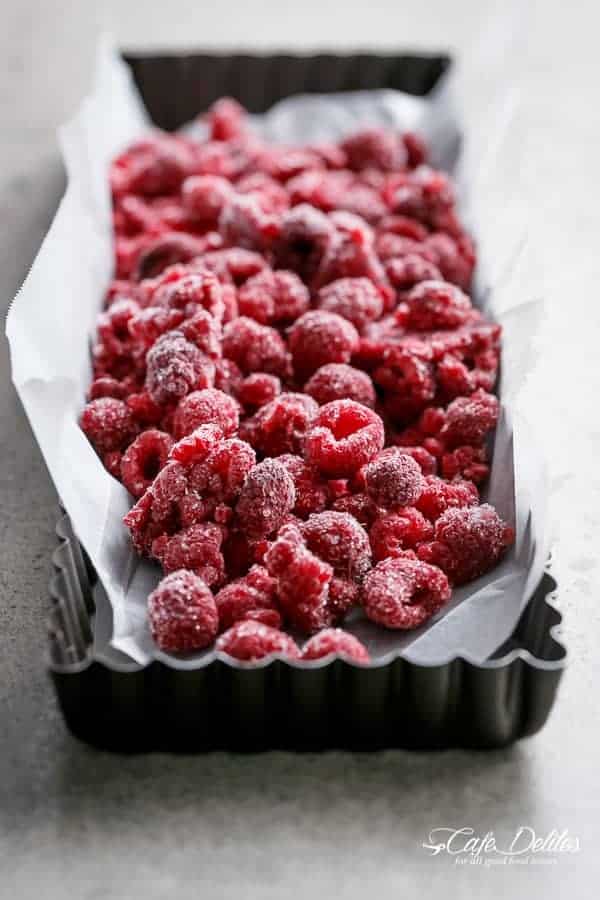 Raspberries melting into surrounding 'cheesecake' flavoured with a hint of coffee, sweet Kahlua whipped dream, (I mean…cream), and a small river of chocolate sauce.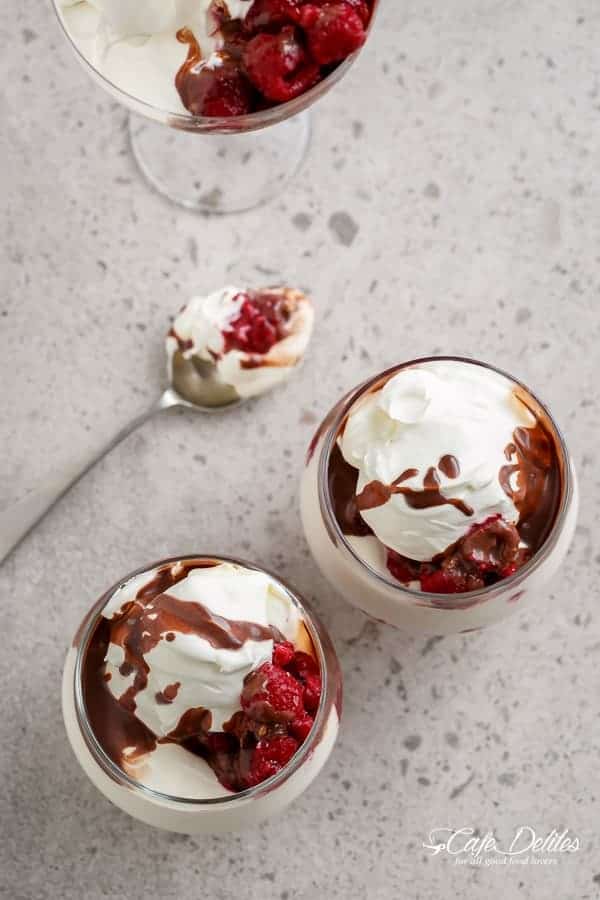 Safe to say I think he loved this more than the gifts we gave him. With each and every spoonful…not only  are you promised a hit of Kahlua…but those raspberries melt down through the cream all on their own and form the most perfect sweet and tangy syrup.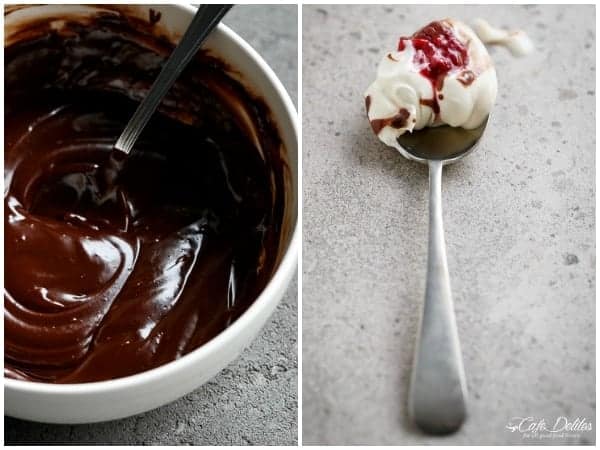 So…on this day…we eat parfaits. And of course, I had to share them with you guys. Both the sugar free, low carb, high fat versions *for any LCHF readers now following my crazy life), and also for my Weight Watchers and low in fat readers.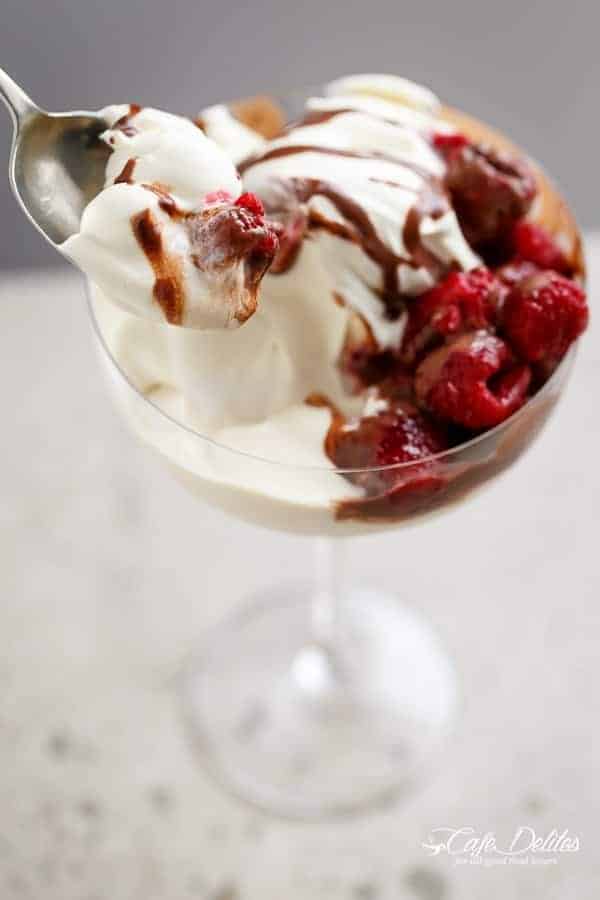 Or maybe you'd like the super decadent Nutella Choc Chip Cookie Parfaits… Or these Raspberry Oreo Parfaits. Either way, they're all incredibly delicious.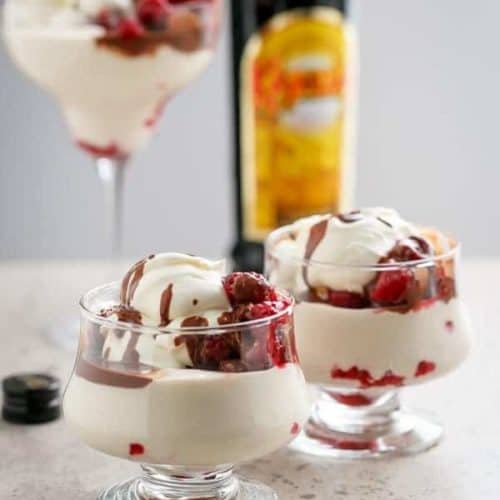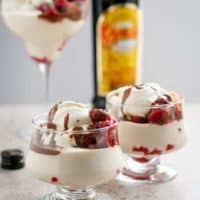 Creamy Kahlua Raspberry Cheesecake Parfaits
Weight Watchers: 4pp per parfait! (See Nutritional Stats for Low Fat Version)
LCHF STATS per parfait (using full fat ingredients plus sweeteners):
Calories: 366 | Fats: 28.5g TOTAL Carbs: 9.2g | NET Carbs: 6.2g | Fiber: 3g | Protein: 5.3g
PRINT
SAVE
go to your favorites
Ingredients
Cheesecake:
1 1/2

cups

cream cheese of choice

, room temperature

1/4

cup

low fat Greek yogurt

(for LCHF: pure cream)

1

tablespoon

granulated sweetener

(or granulated sugar of choice)

1

teaspoon

instant coffee dissolved in 1 tablespoon boiling water

, cooled to room temperature (optional)

2-4

tablespoons

Kahlua

(depending how strong you like it)

1 1/2

cups

frozen raspberries
Cream:
1

cup

whipping cream

(or sub with light/low fat whipped cream)

1

tablespoon

confectioners sweetener/sugar

1

tablespoon

Kahlua

(optional)
Chocolate Sauce:
1/4

cup

chocolate chips of choice

(sugar free or normal)

3

tablespoons

almond milk

(or any milk)
Instructions
Combine the cream cheese, yogurt and sweetener/sugar in a small bowl and beat until smooth. Stir the cooled pre-brewed coffee through the mix. Add the Kahlua starting with 1 tablespoon at a time until reaching your desired taste (I used 3 tablespoons, but you make like less or more depending on your tastes).

Divide 1 cup of the raspberries amongst 6 small glasses and place them into the base of each glass; add the 'cheesecake' mixture over the raspberries and place them into the refrigerator to 'set.'

In a separate bowl, combine the cream and sweetener/sugar together, and beat until small peaks begin to form. Stir the Kahlua through (if adding it in); set aside.

Melt the chocolate chips in the microwave in 30 second increments, stirring between each break, until fully melted. Add the milk slowly while whisking with a fork until combined and smooth. (Alternatively, place the chocolate chips in a small heatproof bowl over a pan of boiling water on the stove and stir until melted.)

Remove the parfaits from the fridge; divide the cream amongst the glasses and top with remaining raspberries. Drizzle with chocolate sauce and serve!
Nutrition
Calories:
185
kcal
|
Carbohydrates:
14.3
g
|
Protein:
5.3
g
|
Fat:
8.6
g
|
Fiber:
3
g