Roasted Cauliflower is a delicious side dish with garlic, caramelized onions, olive oil and Parmesan cheese to add a tasty vegetable to your dinner table.
Transform bland and boiled water-logged cauliflower into a crispy, nutty flavoured dish with perfect, golden caramelized edges. With irresistible flavours, our roasted cauliflower recipe is absolutely delicious. Once you try it, you will never want to make it any other way!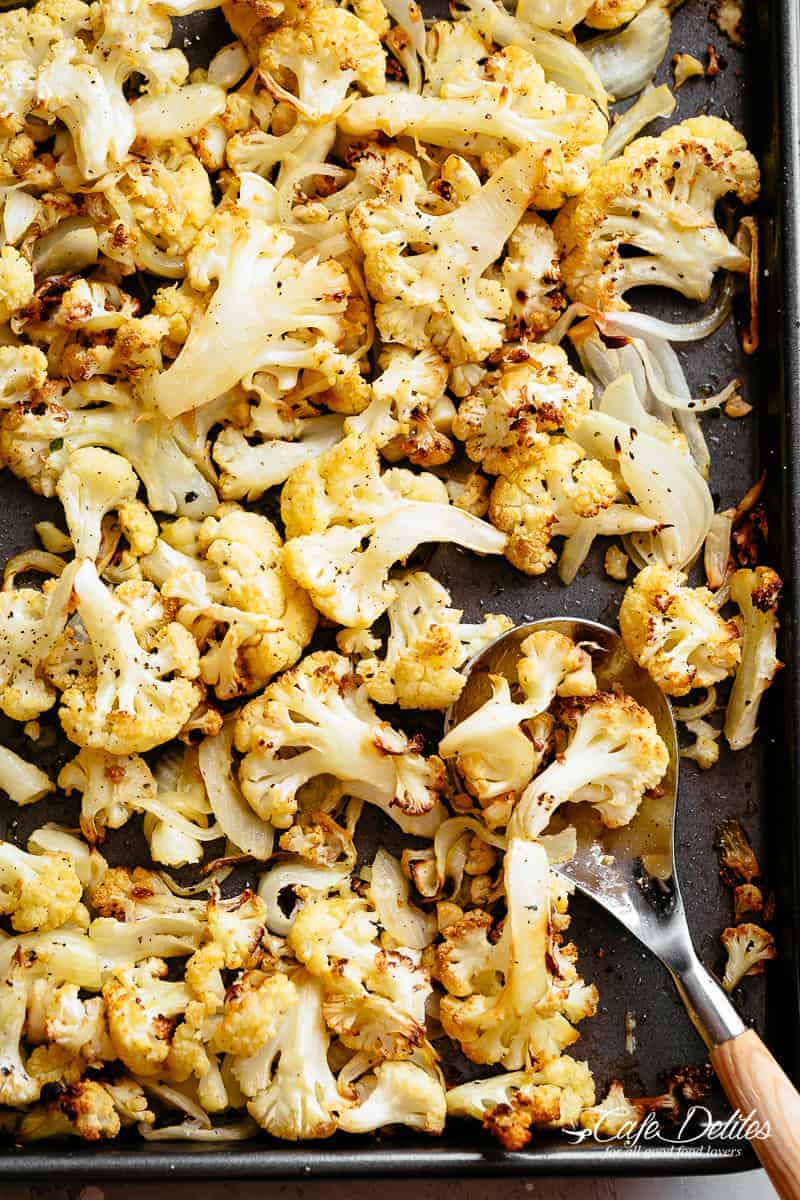 ROASTED CAULIFLOWER
If you LOVE roasted vegetables (think Roasted Carrots, Roasted Asparagus or Crispy Roasted Potatoes), you can now add roasted cauliflower to your list!
This recipe is great for those that can't stand boiled or steamed cauliflower any more. Roasting cauliflower brings out the natural buttery and nutty flavours of it… and you only need a handful of ingredients.
The best part about Cauliflower is that it is so mild in flavour, you can cook it with whatever seasonings you have on hand and completely transform it!
HOW TO CUT CAULIFLOWER FOR ROASTING
Cauliflower is EASY to prepare, just make sure all florets are roughly the same size for even cooking.
To cut a whole head of cauliflower:
Discard any leaves and cut/discard the base.
Halve the entire head of cauliflower from the top through the stem to the bottom.
Cut each piece in half, then halve each piece again.
Remove the core of each piece so you're left with the florets.
Cut any larger florets to match the smaller florets so you end up with pieces roughly the same size. (Larger pieces will need to roast more while smaller florets will need less time.)

HOW TO COOK CAULIFLOWER IN THE OVEN
For our Roasted Cauliflower recipe, you just need a few simple ingredients:
Olive oil
Onion: sub with brown shallots.
Garlic: fresh is best with this recipe.
Parmesan cheese: gets beautifully crispy in the oven and adds another dimension of flavour.
Salt: or a crushed chicken bouillon cube.
Crushed Red Pepper: this is an optional ingredient but adds a nice bite.
Cracked Black Pepper: just enough to taste.
Toss with all of those ingredients and roast — toss halfway through cooking to ensure flavours are evenly coated. Season with a little extra salt and pepper to taste after roasting if needed. 
TIPS
PREHEAT OVEN: Make sure your oven is nice and hot so you get those caramelized edges, nutty flavour and a crispy result.
LIGHTLY GREASE or line your baking sheet with foil for quick and easy cleanup.

REHEAT LEFTOVERS
Refrigerate any roasted cauliflower in an airtight container for up to 3 days. When ready to serve, reheat roasted cauliflower in the microwave for a quicker result, OR in the oven at 350°F (175°C) until warmed through for a crispier result.
IS ROASTED CAULIFLOWER HEALTHY?
Absolutely…cauliflower is somewhat of a powerhouse! High in fibre, promotes digestive health, reduces inflammation and can boost immune health against some chronic diseases including cancer, diabetes and heart disease.
WHAT TO SERVE ROASTED CAULIFLOWER WITH
Roast chicken, pork loin roast, lamb chops, steak, baked salmon, prime rib, the list is endless!
MORE CAULIFLOWER RECIPES
Cauliflower Soup
Buttery Mashed Cauliflower
Cauliflower Hash Brown Egg Cups (Low Carb + Gluten Free)
Cilantro Lime Cauliflower Rice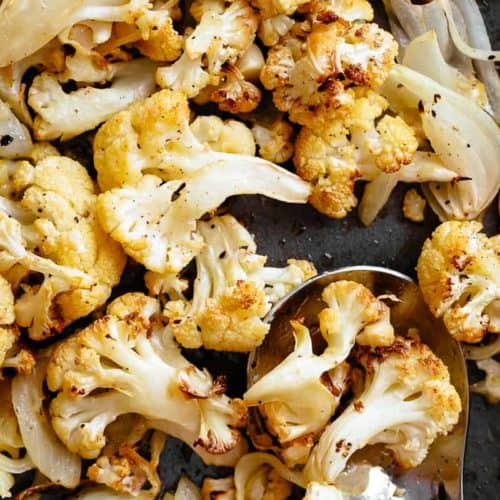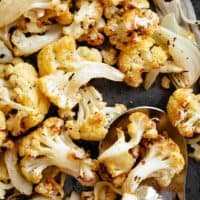 Roasted Cauliflower
Roasted Cauliflower is a delicious side dish with garlic, caramelized onions, olive oil and Parmesan cheese to add a tasty vegetable to your dinner table.
PRINT
SAVE
go to your favorites
Serves:
4
serves as a side dish
Ingredients
1

large

head cauliflower

(about 2 pounds OR 1 kilo), cut into florets

1

large

onion

sliced or chopped

6

cloves

garlic

smashed with the back of a knife (or minced)

1/4

cup

olive oil

2

tablespoons

fresh grated parmesan cheese,

2

teaspoons

salt

to taste

1/4

teaspoon

crushed red pepper

black cracked black pepper,

to season
Instructions
Preheat the oven to 425°F (220°C).

Lightly grease a large rimmed baking sheet. Combine cauliflower, onion and garlic on the baking sheet. Toss with olive oil, salt and pepper(s) to evenly coat.

Arrange in a single layer and bake for 15 minutes.

Sprinkle with the parmesan cheese and toss through cauliflower. Return to the oven to bake for a further 10-15 minutes until the cauliflower is caramelized on the edges and fork-tender.
Nutrition
Calories:
86
kcal
|
Carbohydrates:
6
g
|
Protein:
3
g
|
Fat:
4
g
|
Saturated Fat:
1
g
|
Fiber:
3
g