Cauliflower Hash Brown Egg Cups are low carb and gluten free! Point friendly hash browns made into cups with a perfectly runny egg.
Cauliflower Hash Brown Egg Cups was something I thought would take up a whole entire day…and it didn't. Something that I thought would stress me out…and didn't at all. Come to think of it, this might be something that scares the pants off of you as much as it did to me!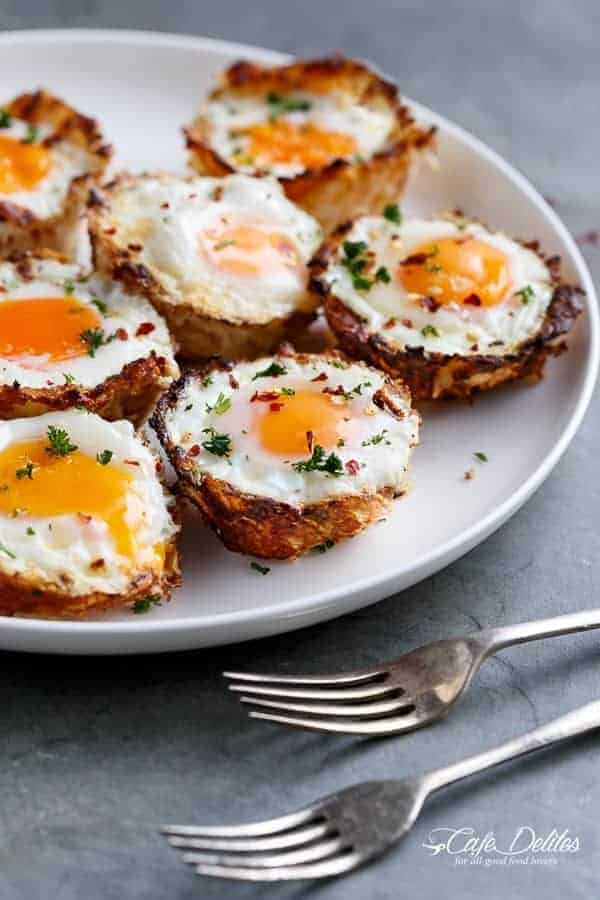 Cauliflower Hash Brown Egg Cups
Here I was thinking crispy, deep fried hash browns would be a thing of the past…you know, with the going healthy kick I'm on. But I was wrong. Or to put it bluntly, I proved myself wrong with a huge kick up the hash brown butt. I'm going to break it down into steps with photos to help convince you guys that you have to try these. Are they complicated? No. Do they take some work? Yeeahhh…KIND OF. Are they worth it? YES.
Just look at that runny egg!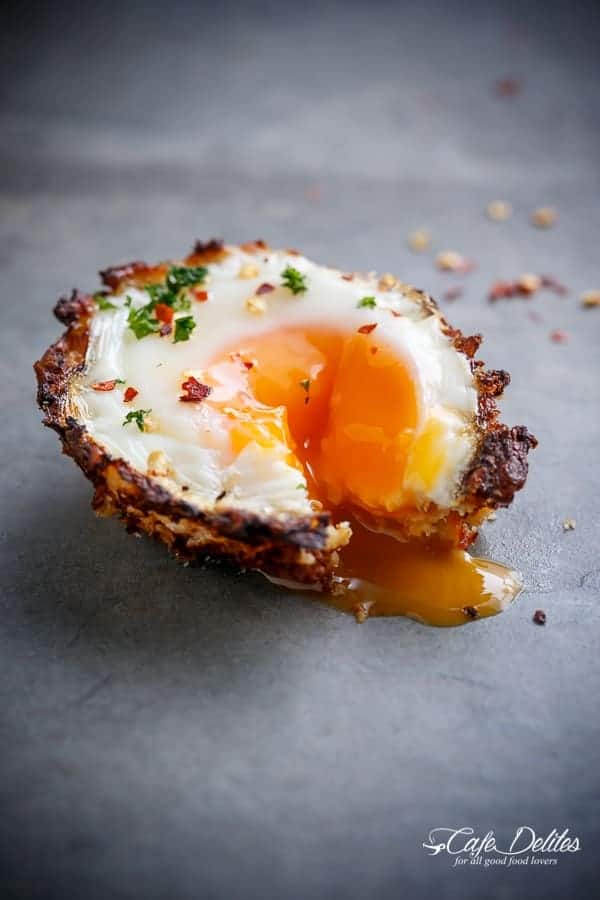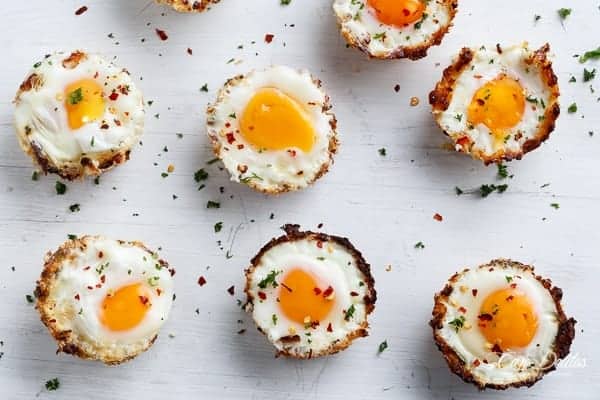 How To Make Cauliflower Hash Brown Egg Cups
Process a whole head of cauliflower (stalk and leaves removed) in two batches until it resembles a 'rice.' A couple pulses for about 30 seconds, you should end up with just over 3 cups of cauliflower rice.
Pour the 'rice' into a microwave safe bowl and heat through for a good 8-10 minutes. Alternatively lightly steam until it becomes soft and, well, smushy. (You may have around 1/2 cup left over, which you can save for later.)
Squeeze as much liquid as you can out of your cauliflower, or the cups will be soft and may fall apart after baking. You can use paper towels (be prepared to use a few doubled up), a cheesecloth or a tea towel just make sure you squeeze out as much liquid as you can.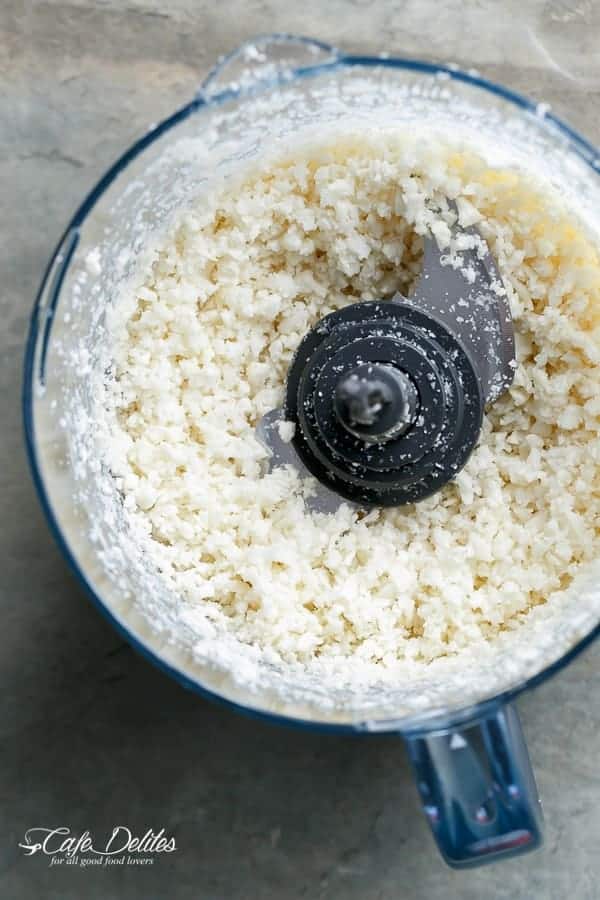 Why am I saying this? Well, let's just say after 2 times trialling and flopping at my cups, I want you to be successful from the very beginning. It reads harder than it is. I promise.
Once the cauliflower is dry, add your egg, cheeses and seasonings and mix to form a 'dough.'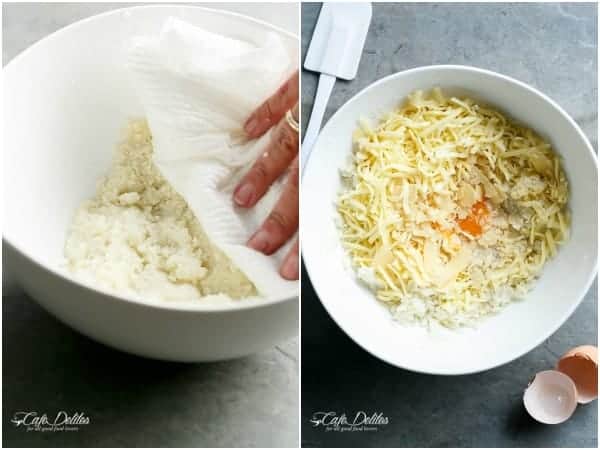 Spoon them into your lightly greased muffin trays (or ramekins), and press them down to form cups. Easy, yes? Right.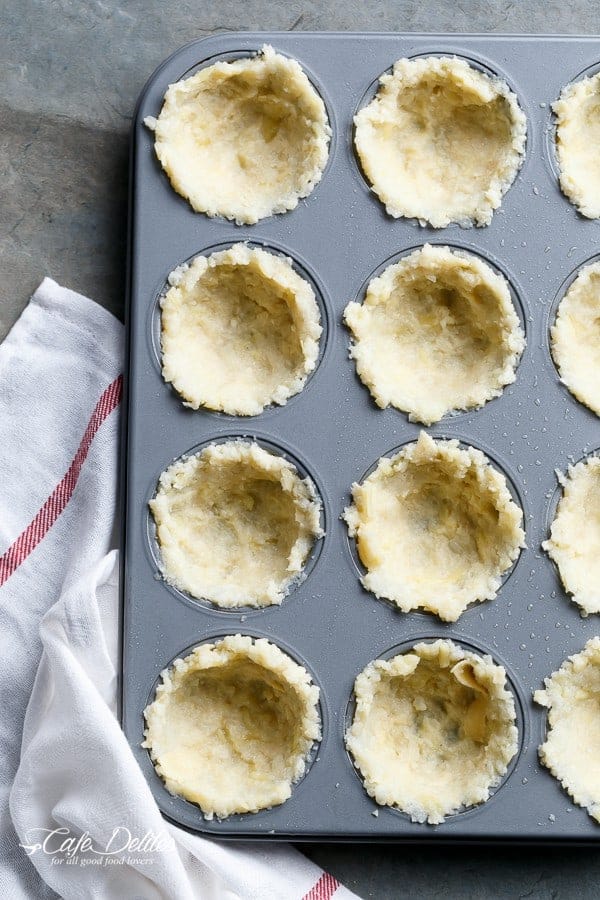 Bake them in your oven until they're all golden and the aroma in your kitchen has changed from cauliflower to golden melted cheesy smells. Remove from the oven; break your eggs into each cup (make sure they're small-medium sized eggs or you will have egg whites spilling out everywhere and all over the place. How do I know that? Um…doesn't matter), and return to your oven for about 15 minutes or until the whites are set and the yolks are to your liking.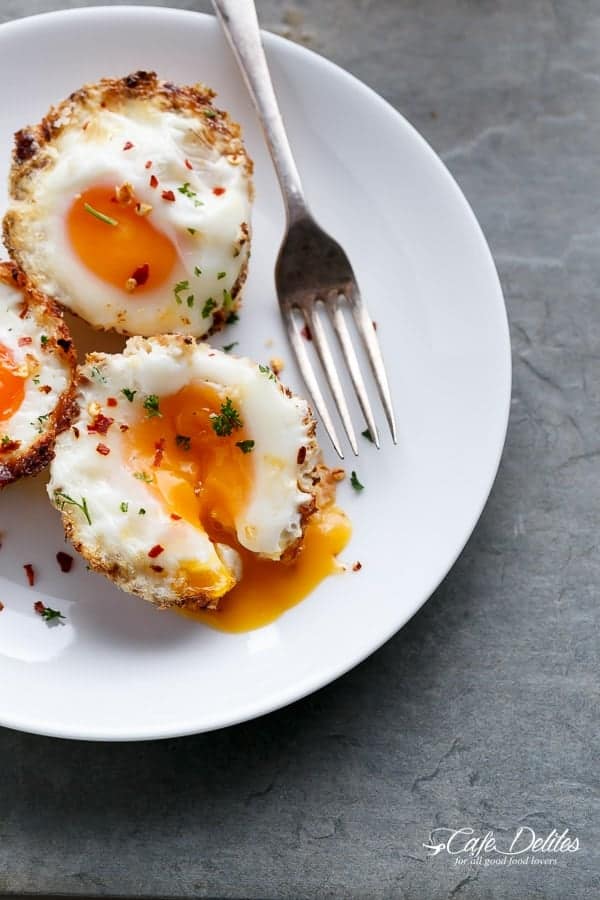 Depending on how you like your eggs…this egg porn right here was the highlight of my month. Good morning egg porn. We heart you. For more low carb recipes, try this Creamy Garlic Shrimp Cauliflower Rice Risotto!
WATCH US MAKE Cauliflower Hash Brown Egg Cups RIGHT HERE!
Cauliflower Hash Brown Egg Cups
Hash Brown Egg Cups (Low Carb + Gluten Free) with a perfectly runny egg!
Weight Watchers: 2pp per hash cup!
PRINT
SAVE
go to your favorites
Ingredients
1

head of cauliflower,

stalk and leaves removed, cut into florets

1

extra large egg,

whisked

1/2

cup

cheddar cheese,

(or Mozzarella)

1/4

cup

grated Parmesan cheese

1/2-1

teaspoon

salt,

(to your tastes)

pepper,

(optional - to taste)

1/2

teaspoon

garlic powder,

(or 1 teaspoon onion powder)

12

small-medium sized eggs
Instructions
Preheat oven to 230C | 350F Lightly spray a 12-hole muffin tin with cooking oil spray (or grease with butter), wipe over excess with a paper towel and set aside.

Pulse the cauliflower in two batches for about 30-50 seconds until a fine 'rice' is formed. It's ok if there are a few bigger pieces in there. (Be careful not to over process or the cauliflower will form a raw puree.)

Measure out 3 cups (480g or 17oz in weight) of the cauliflower rice into a microwave safe bowl and heat for about 8 minutes or until soft. Alternatively, lightly steam over a pot of boiling water or in a vegetable steamer until soft. Remove and allow to cool for a good 5 minutes before handling.

Using paper towels, an old tea towel or a cheesecloth, squeeze out as much liquid as you can until hardly any liquid can be squeezed out. (It's easier to wrap the cauliflower in the towel (or cloth) and squeeze it into a ball over the sink. Less mess)

Transfer back into your bowl (make sure there's no liquid in it), and add the whisked egg, cheeses, salt and garlic powder. Divide the mixture into each muffin hole and firmly press them with your fingertips to create a 'nest' or cup.

Bake for about 15-20 minutes or until the cheese has melted, the cups are golden and the edges are browned. Remove from the oven; break the eggs into each cup; season with salt and pepper; return to the oven and bake for a further 10-15 minutes, or until the whites are set and the yolks are cooked to your liking.

Allow them to cool for 5 minutes before handling them, or they may fall apart. Lightly slide a knife around the sides of each cup. Using a fork, gently lift one side first to make sure they're not sticking to the bottom, and lift out of the pan.

Garnish with red chilli flakes and parsley (optional) or leave as is.
Nutrition
Calories:
98
kcal
|
Carbohydrates:
1
g
|
Protein:
8
g
|
Fat:
6
g
|
Saturated Fat:
2
g
|
Cholesterol:
184
mg
|
Sodium:
228
mg
|
Potassium:
97
mg
|
Vitamin A:
325
IU
|
Vitamin C:
4.3
mg
|
Calcium:
86
mg
|
Iron:
0.9
mg