Grilled Steak made better with Browned Butter infused with garlic and black pepper! Get the unbeatable browned butter flavour of a Steakhouse Steak right on your barbecue WITHOUT butter dripping right through the grill!
Whether you're grilling steak outside OR inside your house, your menu is not complete without a GOOD steak recipe. No restaurant can compare to this one, ESPECIALLY with the flavours going on here!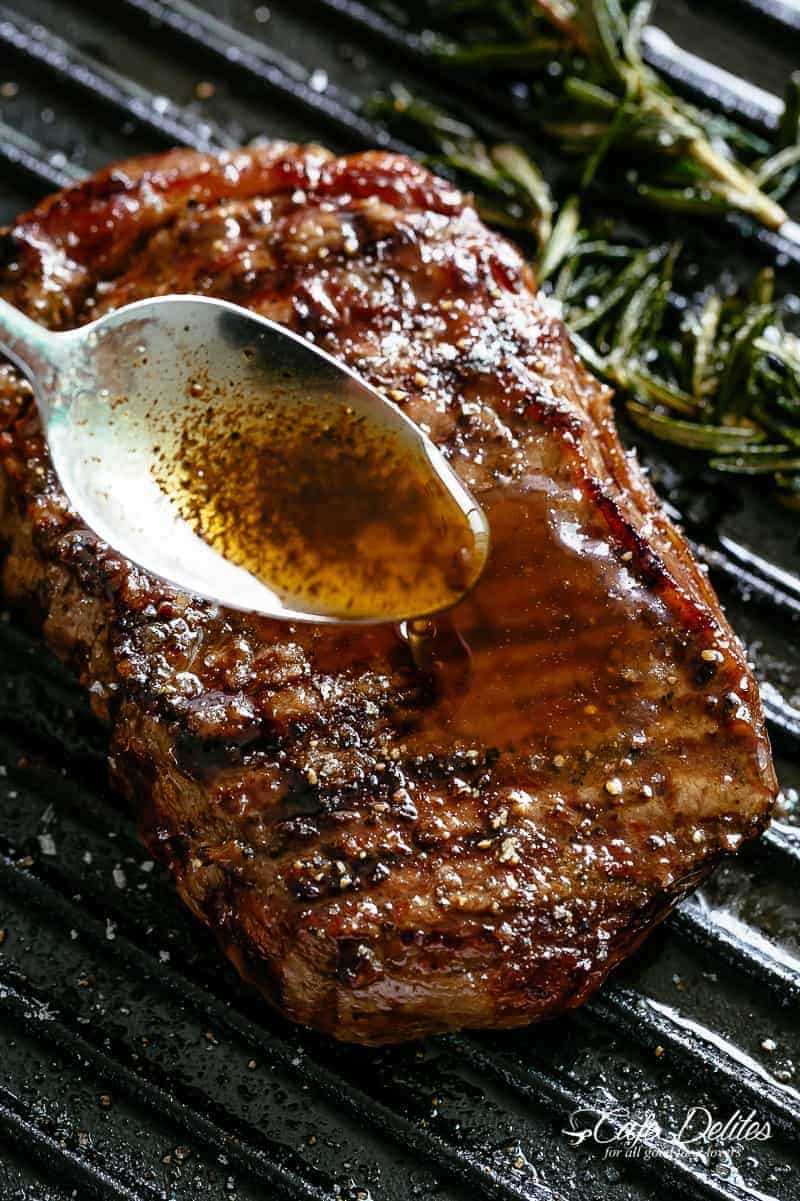 Grilled Ribeye, Strip Steaks, Sirloin, Eye Fillet, Porterhouse, Scotch Fillet or Rump Steaks for Australian readers… the choice is yours!
GRILLED STEAK WITH A BROWNED BUTTER SAUCE!
Whether your grilling tender eye fillets, or Skirt Steak, any wet ingredient you baste your steak with on the barbecue will usually end up running over your steaks and through the bars on your grill plates. Of course this depends on how runny your sauces or marinades are.
With steaks seared in a skillet, it's so easy to keep all of the browned butter surrounding your steak in the same place (see below for reference).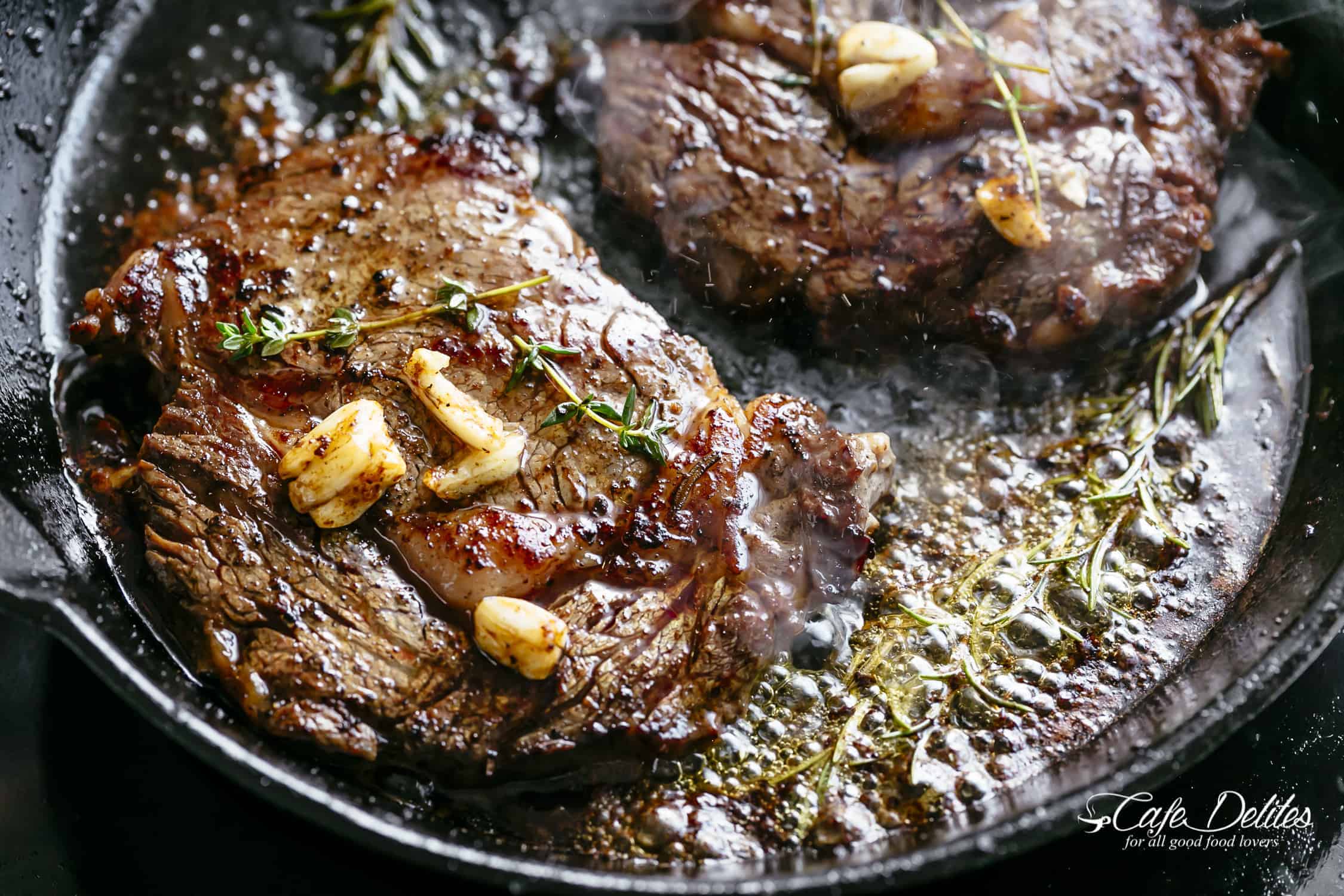 However, not so much browned butter can happen on a grill. This is where this recipe comes in!
HOW TO COOK STEAK ON THE GRILL
Set up the grill — at least 15 minutes before you start grilling. Start with clean grill plates to prevent steaks from sticking when flipping.
Preheat grill or barbecue — Your grill needs to be HOT! At least 450°F (230°C) to get a good sear and a crispy edges. Find the hottest areas by carefully and slowly waving your hand 6 inches above the grill plates.
Lightly oil — Using tongs, lightly grease grill plates with a folded paper towel dipped in oil.
Pat steaks dry — Let steaks sit out at room temperature for at least 15 minutes, then pat dry with paper towel to ensure the perfect sear. Season with salt and pepper, plus anything else you like: paprika, chili powder, cumin, garlic powder, etc.
Flip with tongs — Use a pair of tongs instead of a barbecue fork to avoid piercing holes in the meat and releasing crucial juices. Flip only once during cook time to give them time to form that beautiful crust. You'll know they are ready when they easily lift off the grill.
Drizzle steaks with a little browned butter.
HOW TO BROWN BUTTER
Browned butter is one of those special ingredients that just enhances the taste of pretty much anything. You can make browned butter (Beurre Noisette) in a matter of minutes! How?
Melt butter in a pot over medium-high heat directly on your grill plates. (If it's your first time, use a sliver or white pan to clearly see the colour.)
Mix continuously with a wooden spoon while swirling the pan to avoid the butter from splattering all over your grill.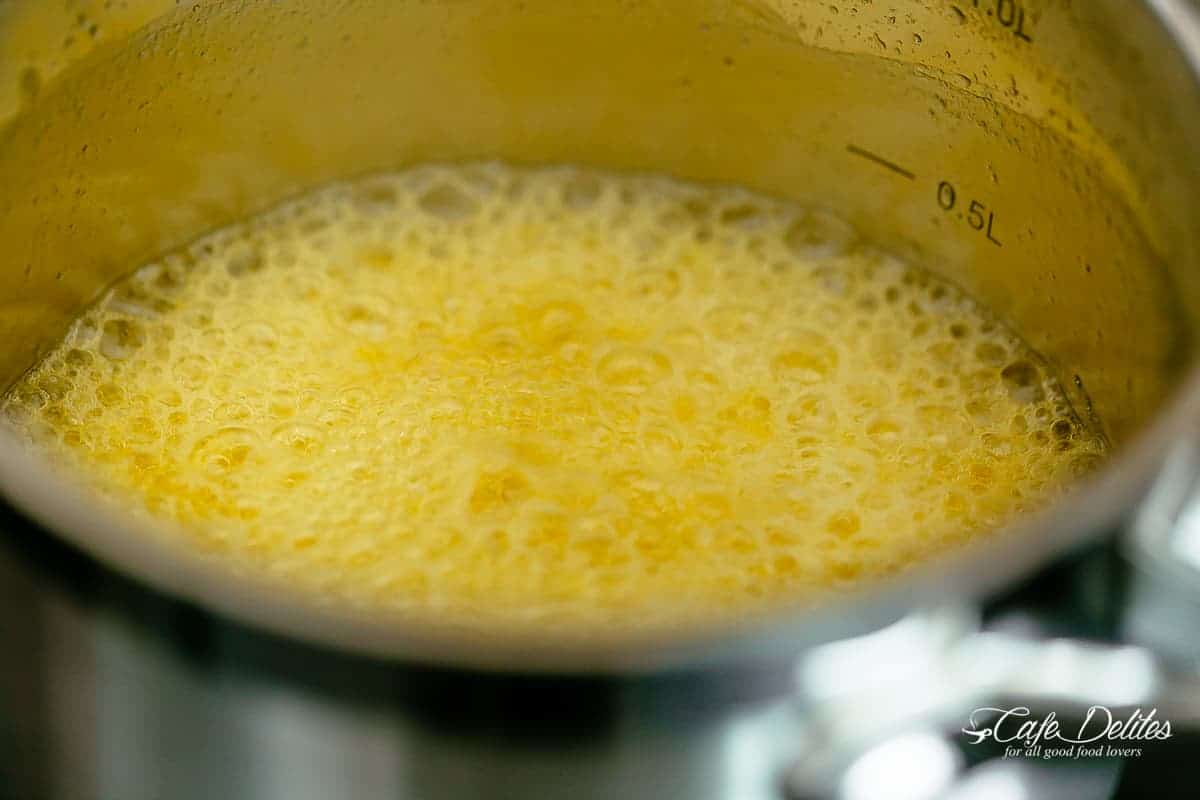 Foam: Once the foam begins to settle down, let it cook a little more (about a minute) until it turns into a rich golden brown colour.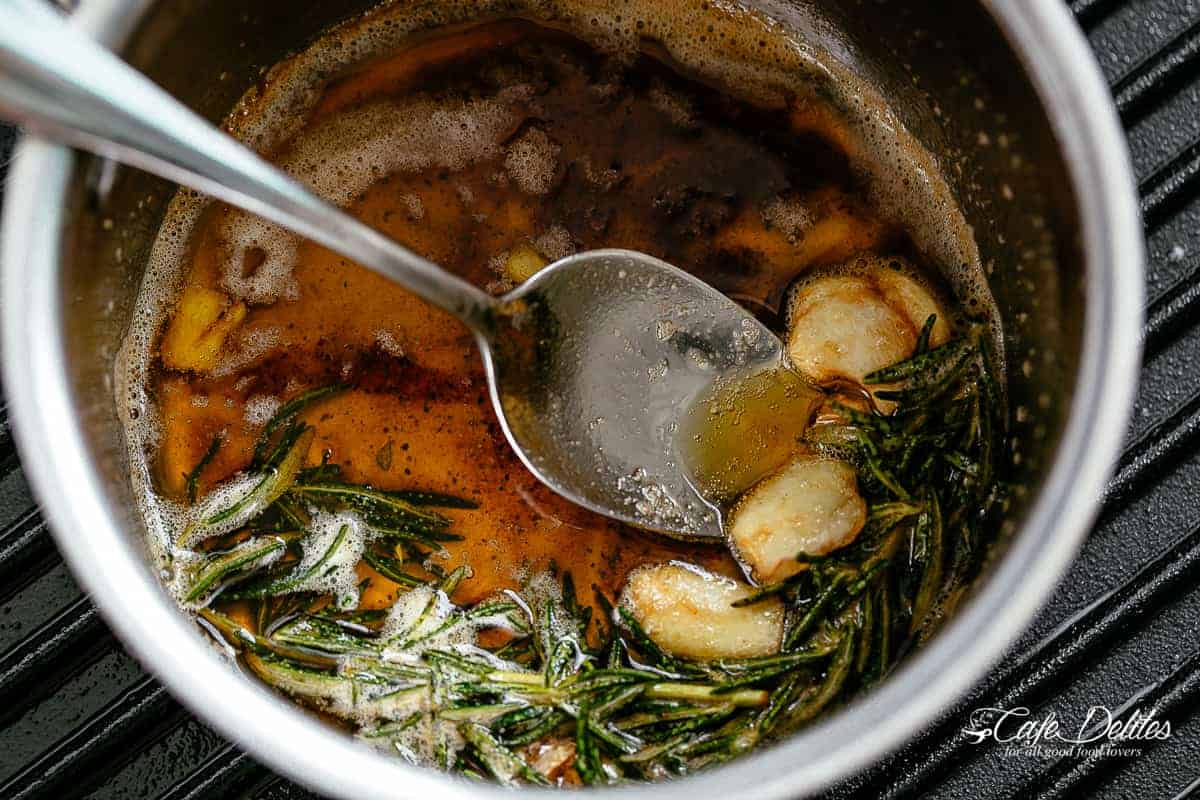 After drizzling with browned butter, let steaks rest for a good 5 minutes before serving to let the juices settle.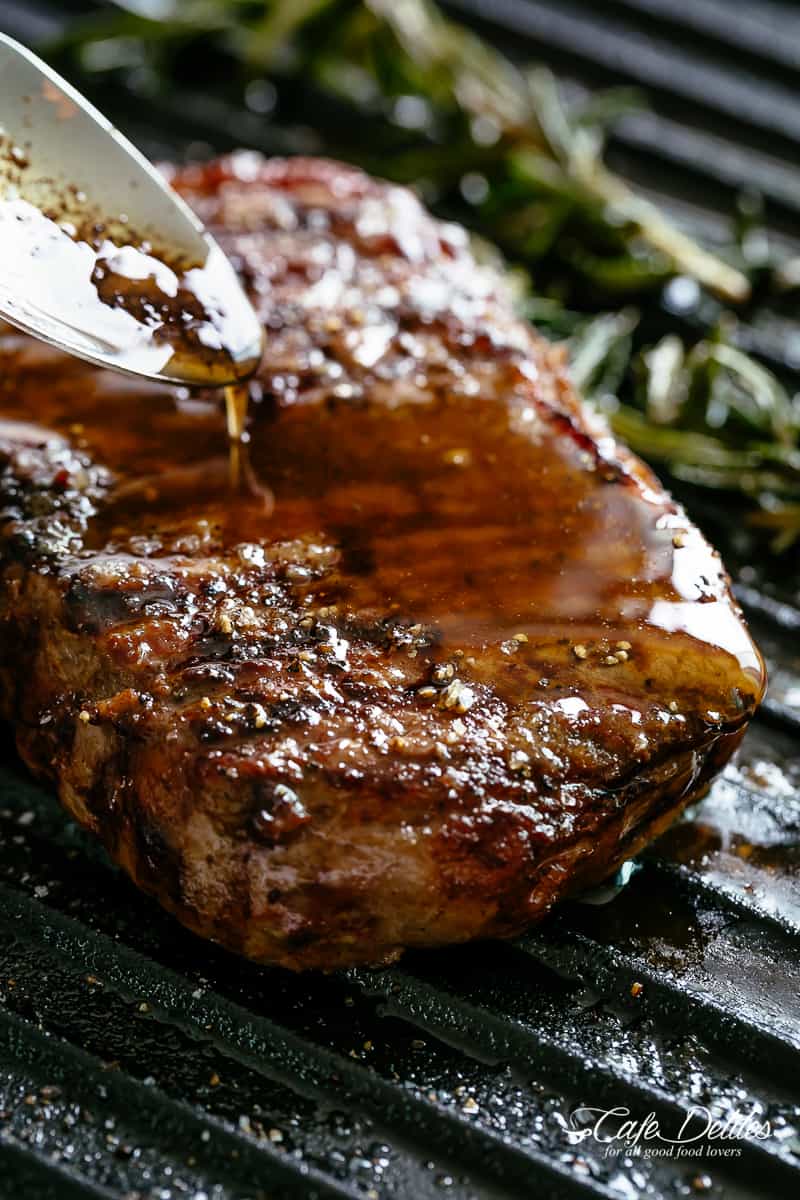 HOW CAN YOU TELL IF STEAK IS COOKED?
Rare steaks. Soft textured steaks that maintain an indent when pressed will be rare — 140°F (60°C) internal temperature
Medium-rare steaks. Steaks with a soft and springy feel will be medium rare — 145°F (63°) internal temperature
Medium steaks. Steaks with a springy feel will be medium (bounce back up fast) — 160°F (70°) internal temperature
Well done steaks. Firm steaks are well done — 170°F (76°) internal temperature
I recommend removing steaks off the grill when they are around 5° below desired doneness as they continue cooking while resting!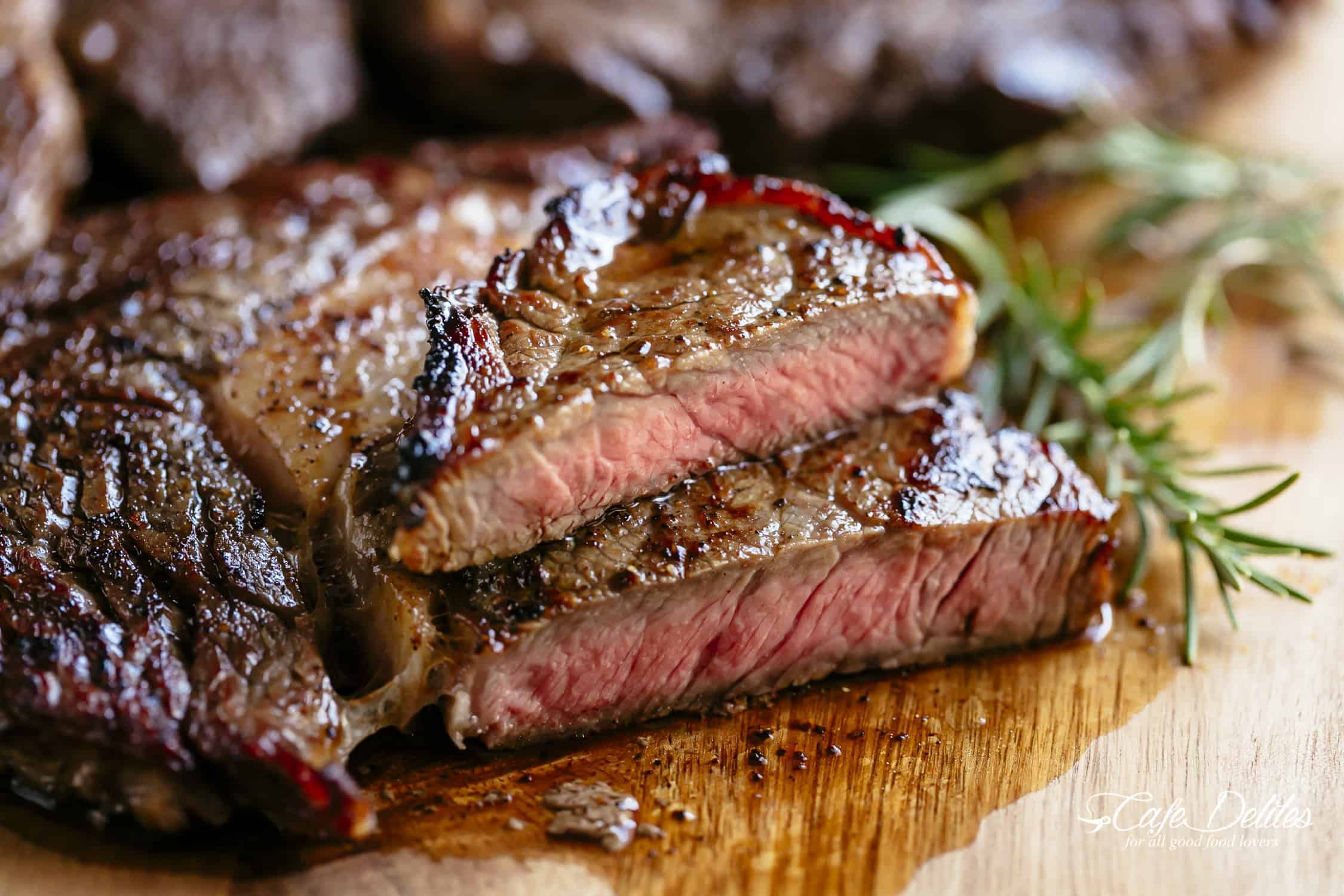 Of course, you can use a good quality grill pan in grilling steak inside.
WHAT TO SERVE WITH GRILLED STEAK
Cauliflower Potato Salad
Avocado, Corn and Tomato Salad
Garlic Mushrooms
Chili Lime Texas Caviar
Crispy Garlic Parmesan Smashed Potatoes
Parmesan Zucchini
Garlicky Herb Red Potato Salad
Cucumber Salad
MORE STEAK RECIPES
Salisbury Steak
Steak with Creamy Mushroom Sauce
Chimichurri Steak.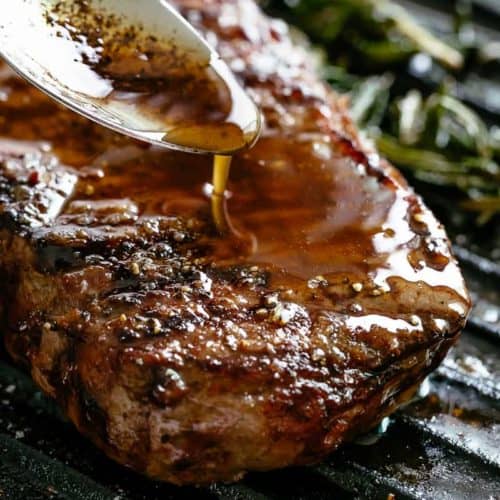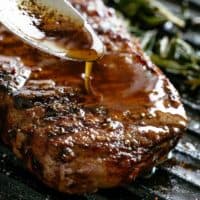 Grilled Steak with Browned Butter
Grilling Steak is even better when served with bowned butter infused with garlic and black pepper! Get the unbeatable browned butter flavour of a Steakhouse Steak right on your barbecue WITHOUT butter dripping right through the grill!
PRINT
SAVE
go to your favorites
Ingredients
1/2

cup

(4oz | 125g) unsalted butter

6-8

cloves

whole garlic cloves,

smashed with the blunt end of a knife

2

sprigs

fresh herbs,

thyme or roasemary work well

Salt,

to taste

1/2-1

teaspoon

fresh cracked black pepper

4

Steaks of your choice,

(I suggest Ribeye, Strip, Porterhouse, T-Bone, Rump, Sirloin or Eye Fillet for best results)

1-2

tablespoons

cooking oil

(I suggest canola oil)

Salt and pepper,

to season steaks
Instructions
Remove steaks from refrigerator for at least 15-30 minutes before grilling. Cover with wrap or foil.

While steaks are out, melt butter in a small pot or skillet over on the grill plates over medium-high heat. Stir the butter continuously and swirl the pan occasionally to allow the butter to cook evenly and prevent too much splattering. 

When butter begins to foam, the colour will change from yellow to tan to a rich golden brown colour. As soon as you smell a nutty aroma, take the pan off the heat.

Add in smashed garlic cloves, herb sprigs, pepper and salt. Give it a light mix with a wooden spoon to evenly brown the garlic and lift up any browned bits on the base of your pan.

Cover and set browned butter aside to absorb garlic and herb flavours.

Heat grill over high heat. Lightly grease grill plates with oil. Pat steaks dry with paper towel. Brush lightly with oil and generously season with salt and pepper.

Grill steaks for 4-5 minutes each side until browned and cooked to desired doneness. Spoon a little browned butter over the steaks, then transfer steaks to a warm plate and let rest for 5 minutes if time allows.

Serve with the rest of the browned butter.
Notes
For steaks, you can use Strip, Sirloin, Rib eye, T-bone, Eye fillet, Scotch fillet or Porterhouse steaks.
If you don't want to rest your steaks, prepare browned butter first, then reheat if needed on low heat before serving.
Nutrition
Calories:
748
kcal
|
Carbohydrates:
2
g
|
Protein:
47
g
|
Fat:
61
g
|
Saturated Fat:
29
g
|
Cholesterol:
242
mg
|
Sodium:
122
mg
|
Potassium:
725
mg
|
Fiber:
1
g
|
Sugar:
1
g
|
Vitamin A:
751
IU
|
Vitamin C:
2
mg
|
Calcium:
67
mg
|
Iron:
3
mg