Crispy Stuffed Zucchini are so easy to make! One of THE best ways to enjoy zucchini!
Crispy and crunchy, this Stuffed Zucchini is the perfect side dish OR snack! Fresh zucchini is topped with breadcrumbs, parmesan, garlic and herbs. Mixed with melted butter, this is the perfect oven baked Zucchini recipe to make!
Tender crisp with every mouth-watering bite.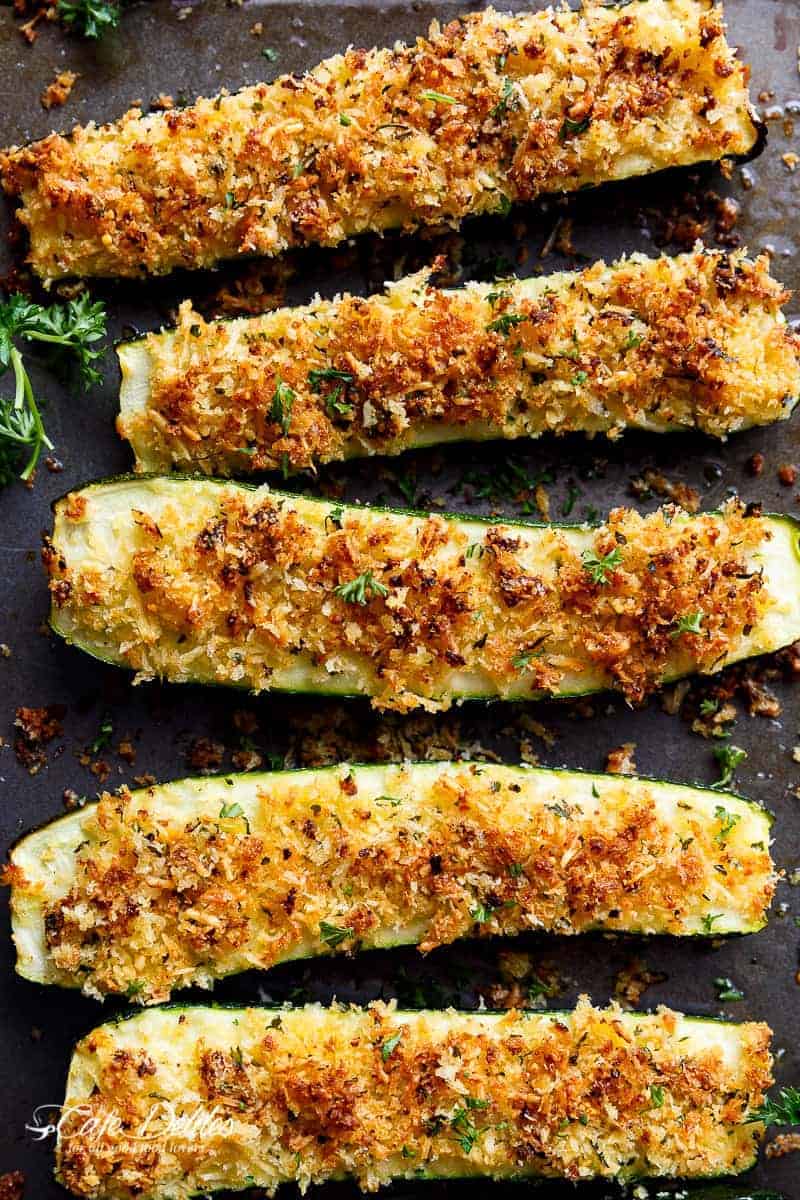 ZUCCHINI
Where did this Crispy Parmesan Zucchini come from? From having way too many zucchini in the house. With this Crispy Garlic Parmesan Salmon going crazy on Facebook, I thought, what would happen if I used zucchini? Well, it came out better than expected!
ZUCCHINI RECIPES
Zucchini is one of our favourite veggies. Normally, we love to use it as a low carb option to pasta recipes, like Zucchini Carbonara or Spinach And Ricotta Zucchini Cannelloni). Or in sweet recipes like Low Carb Zucchini Brownies.
Trying so many zucchini recipes over the years, this one is so quick easy to make filled with so much flavour, it's our favourite! Forget baking zucchini in oil and salt…you NEED to try this!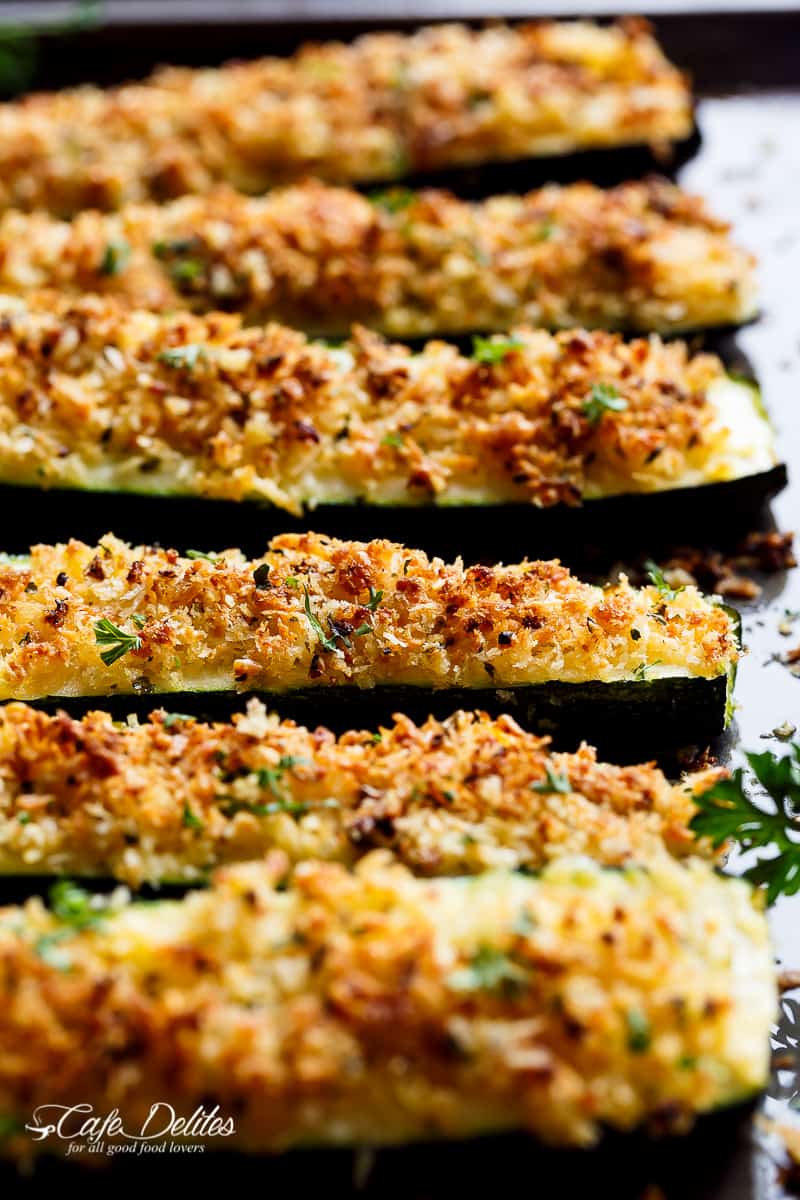 HOW TO BAKE ZUCCHINI
The best way to avoid over cooking your zucchini is to set an oven timer. Over cooked Zucchini can be soggy and unpleasant to eat.
For this recipe, you are going to first bake your Zucchini at a high heat for 20 minutes, then broil (or grill) for an additional 5 minutes to get that irresistible golden and buttery crumb to crisp up nicely.
HELPFUL TIPS:
The larger the zucchini, the better!
I used Panko for a crispier topping, but you can use normal breadcrumbs
Fresh grated Parmesan tastes incredible in this recipe
Stuffed, oven baked zucchini is an easy, delicious recipe. A popular reader favourite and perfect for any occasion.
The bonus? You may have everything you need in your kitchen to make them! Loaded with incredible, buttery flavour and addictive to the extreme!
Need more crispy side dishes? Try these recipes!
Garlic Parmesan Roasted Carrots Recipe
Crispy Asparagus with Garlic Butter
Crispy Smashed Potatoes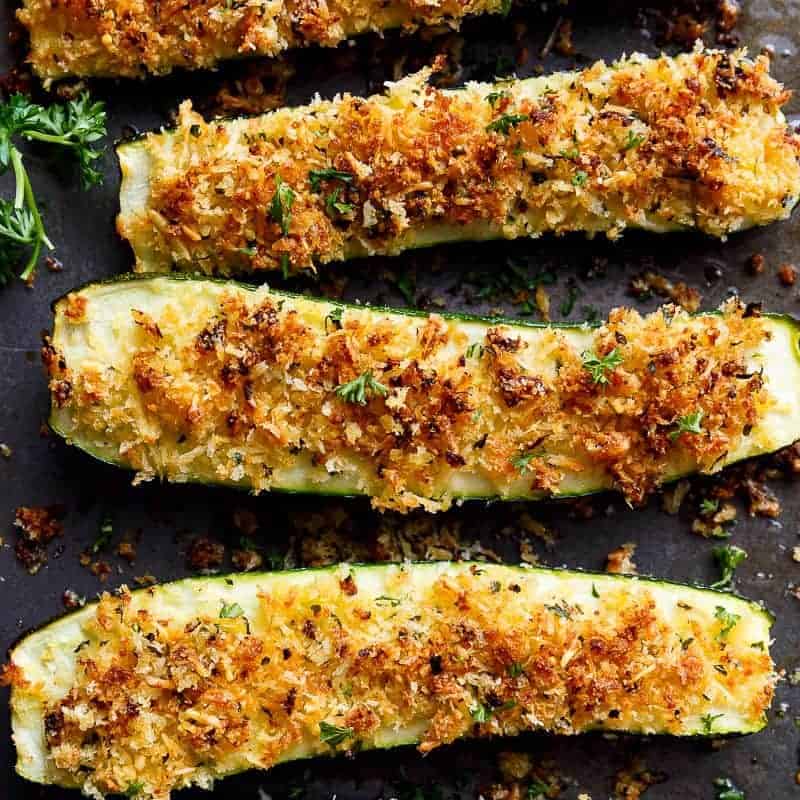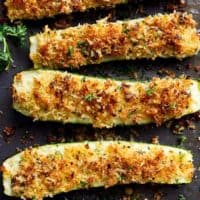 Crispy Stuffed Zucchini
Crispy Parmesan Stuffed Zucchini is easy to make and is one of THE best ways to enjoy zucchini! Crispy and crunchy, the perfect side dish OR snack!
PRINT
SAVE
go to your favorites
Ingredients
4

large

zucchini

halved lengthwise

2/3

cup

panko breadcrumbs

1/2

cup

fresh grated parmesan cheese

¼

cup

finely chopped parsley

4

cloves

garlic

, minced

1/4

cup

melted butter

Salt and pepper
Instructions
Preheat oven to 400°F (200°C). Spray a baking tray or sheet with non stick cooking oil spray.

Arrange zucchini halves, cut side up, on the baking sheet. Set aside.

Mix together the breadcrumbs, parmesan cheese, parsley and garlic in a small bowl.

Pour in the melted butter, season with ¾ teaspoon salt and ⅓ teaspoon pepper (or to taste). Mix the ingredients together until the breadcrumbs absorb the butter (about 40 seconds).

Spoon the mixture over each zucchini half, to evenly cover. Spray the topping with a little cooking oil spray.

Bake for 20 minutes in the hot oven until the crust is golden and the zucchini halves are cooked through.

Broil for a further 5 minutes on medium heat to crisp the topping.

Garnish with parsley and serve as a side accompaniment to any main dish.
Nutrition
Calories:
255
kcal
|
Carbohydrates:
18
g
|
Protein:
10
g
|
Fat:
16
g
|
Saturated Fat:
9
g
|
Cholesterol:
41
mg
|
Sodium:
394
mg
|
Potassium:
911
mg
|
Fiber:
3
g
|
Sugar:
8
g
|
Vitamin A:
1425
IU
|
Vitamin C:
63.8
mg
|
Calcium:
223
mg
|
Iron:
2.1
mg