Juicy Slow Cooker Honey Garlic Chicken thighs with the best sauce, you will want to drink it straight out of the bowl!
What better way to come home to a delicious home cooked meal ready for you in a crock pot? Slow Cooker Honey Garlic Chicken without weird ingredients, just fall apart-tender, bone-in and skinless chicken thighs cooked in plenty of sauce with crispy, charred, sticky edges!
A dinner the whole family will love time and time again!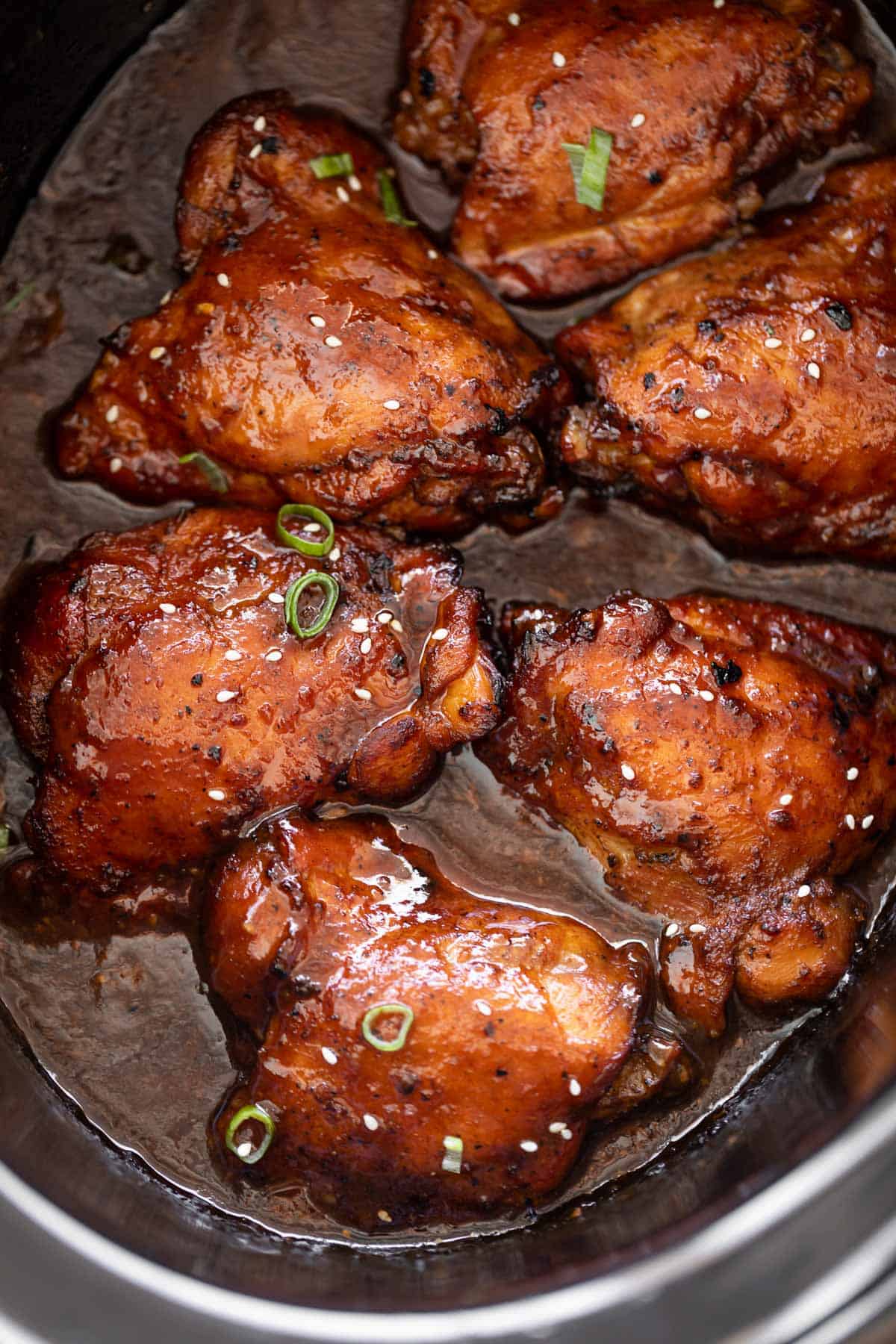 SLOW COOKER HONEY GARLIC CHICKEN
After publishing our Pork Loin Roast with an irresistible honey garlic sauce, our readers have been asking non stop for this recipe — THE chicken of all chicken versions. When you ask, we listen!
Apart from the tender, melt in your mouth chicken, the sauce is truly memorable — a dinner that you will be thinking about long after the leftovers have disappeared.
A simple  'no-stress' slow cooker recipe impressive enough to feed your family — skinless bone-in chicken thighs beg for this delicious sauce to go with those dark meat flavours. Cooking them in a rich Honey Garlic Butter Sauce is PERFECT and gives you the ideal sauce to serve them with.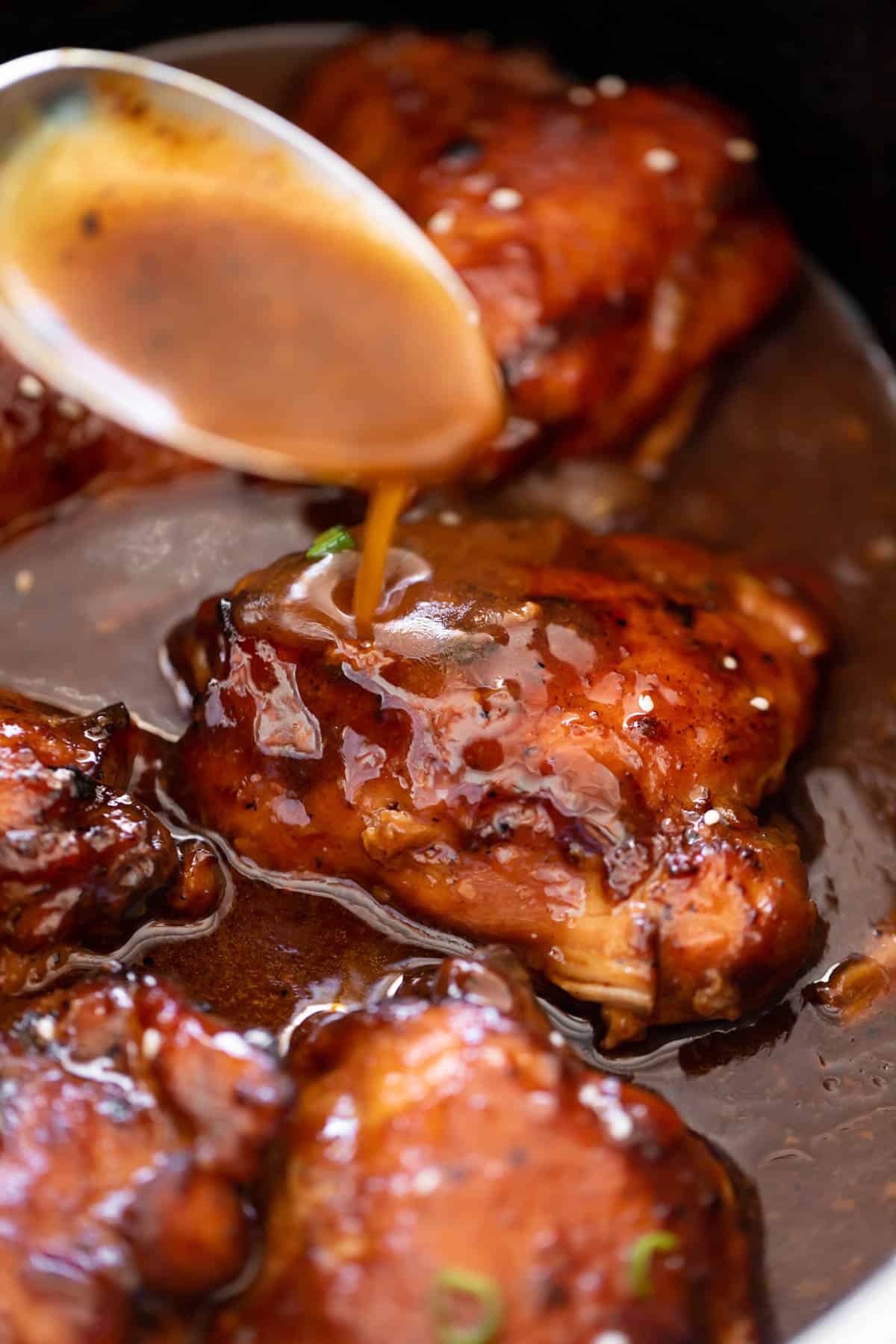 SLOW COOKING BONE-IN CHICKEN THIGHS
Slow cooked chicken thighs need a bit of love before cooking to give you an incredible tasting meal:
SEASON: Seasoned in a delicious rub with paprika, garlic powder, onion powder, brown sugar to help caramelize those edges and an optional pinch of cayenne pepper. Pat them dry with paper towel first so that the seasoning sticks and absorbs better.
OPTIONAL SEAR: While chicken usually goes into a slow cooker raw, searing thighs first in those seasonings for just 2 minutes each side helps lock in juices. It doesn't necessarily speed up cook time when we're searing for such a short amount of time, but it does create DEEPER flavours on your chicken AND in your sauce! However, this is optional. You don't have to do this step if time doesn't allow for it, or if you just don't want to. Chicken still tastes INCREDIBLE without searing.
COOK: For the purposes of making the best chicken of your life, you're going to flip them in the sauce half way through cooking time, basting them in all of those important flavours. Then cover and continue on cooking. I know the general rule is never to uncover your slow cooker in the middle of cooking, but this recipe works perfectly! (Just don't take too long!)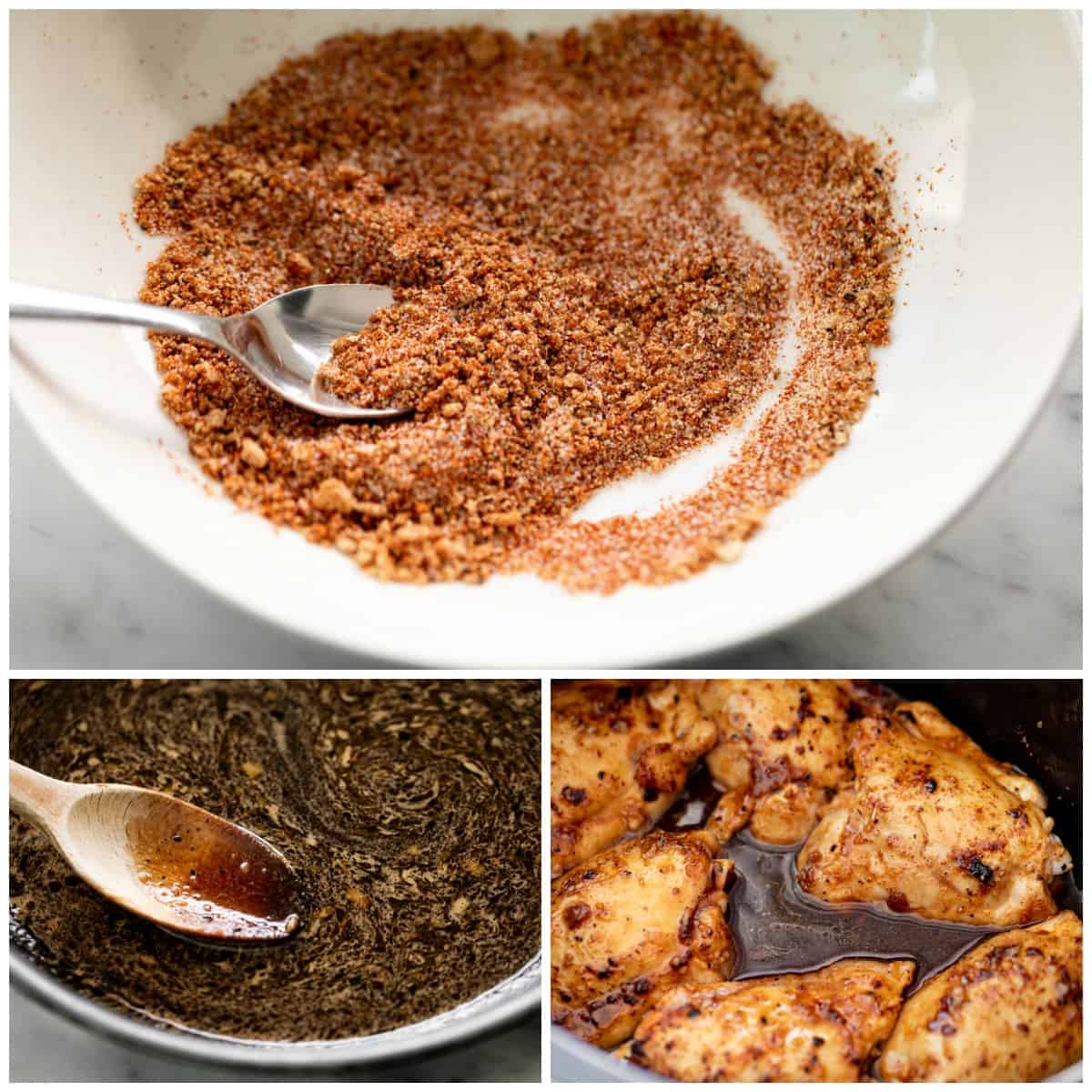 HOW LONG DOES CHICKEN NEED TO COOK IN THE CROCKPOT?
For our crock pot recipe, cook chicken thighs with the suggested times:
LOW SETTING: 5-6 hours
HIGH SETTING: 2-3 hours
To check if they're done, make sure they are fork-tender and register an internal temperature of 165°F (75°C).
SAUCE FOR CHICKEN
Honey, butter, soy sauce (make sure you use low sodium), rice vinegar (or cider vinegar), and a good kick of garlic is all you need. The added bonus is chicken releasing juices while slow cooking, which mixes through the honey garlic sauce to create incredible flavours!
This recipe makes SO MUCH SAUCE to drizzle all over rice, noodles, veggies and potatoes.
While chicken is resting: pour juices from the slow cooker bowl into a pot. Bring to a simmer and whisk in a cornstarch slurry to thicken it to a beautiful, velvety syrup.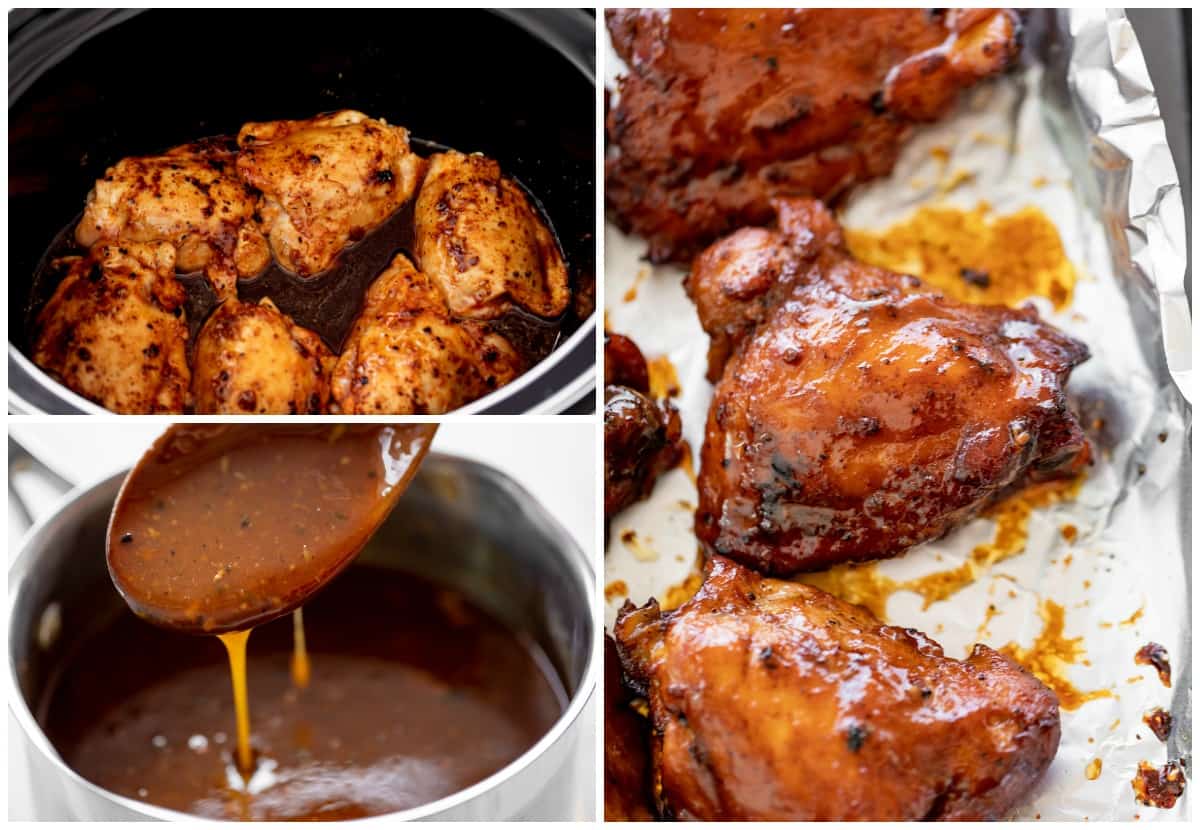 CRIPY EDGES ON SLOW COOKED CHICKEN? YES!
If you want those charred, crispy edges, broil thighs for a couple of minutes each side! You'll need a lined baking sheet; baste chicken with some of the thickened sauce and broil until nicely charred. It doesn't need long thanks to the brown sugar and honey in the sauce!
MAKE AHEAD OF TIME
Chicken and sauce can be prepared up to 1 day ahead:
Pour sauce over seared/browned chicken (store in your slow cooker bowl, baking pan or a large, shallow dish).
Cover and refrigerate for up to 12 hours. Keep the sauce in separate dish.
Slow cook as per recipe.
Don't have a slow cooker? No problem! Try our stove top/oven recipe here.
LEFTOVERS
Refrigerate with the sauce for up to 3 days, or freeze for 3 months. The sauce soaks through the chicken while stored and tastes even better the next day!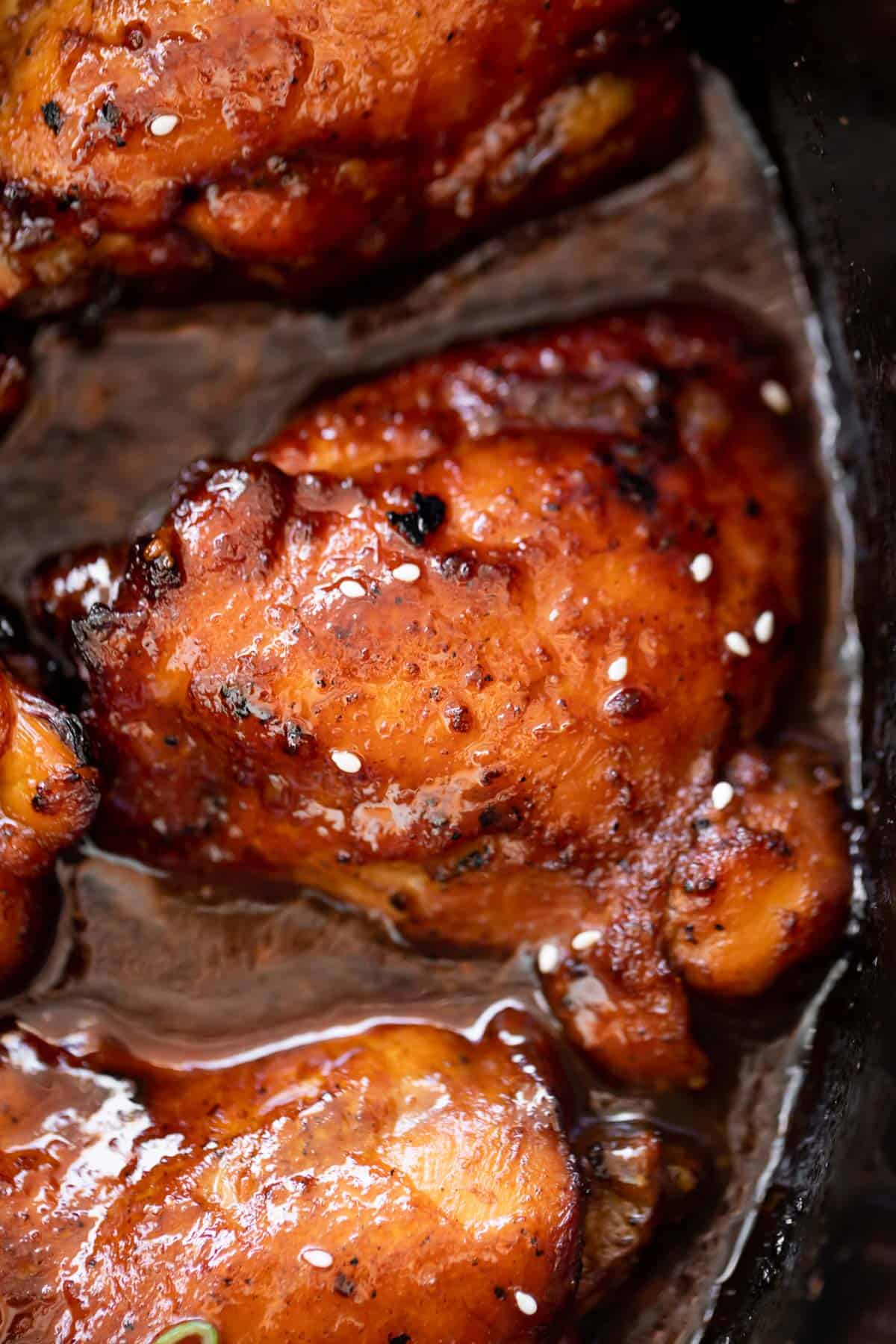 SERVING SUGGESTION
Serve over steamed or plain rice with buttery sautéed green beans or roasted cauliflower, mashed potatoes, cauliflower mash or noddles!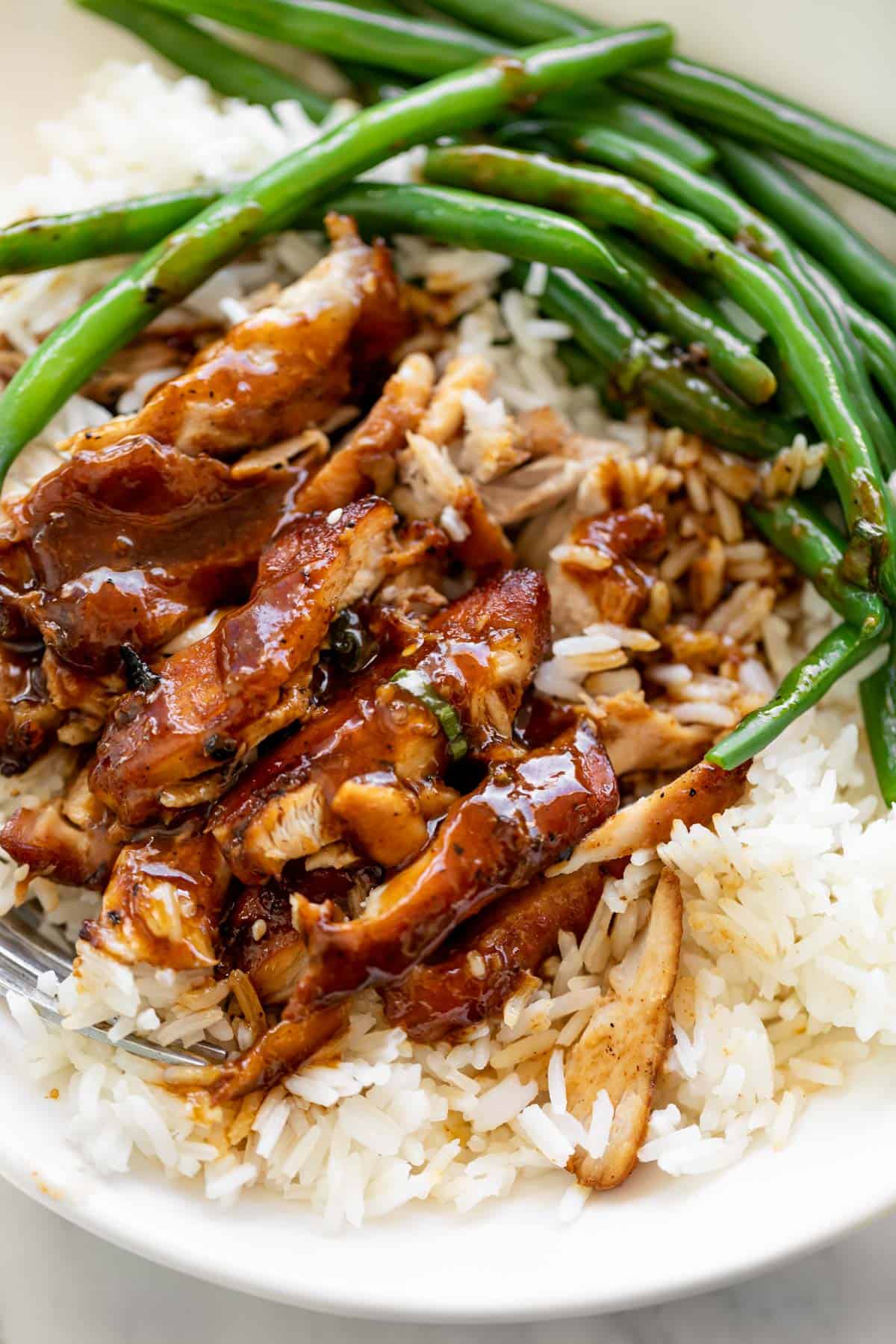 MORE SLOW COOKER RECIPES
Barbecue Ribs
Beef Stew
Chicken Cacciatore
Spaghetti Bolognese
Chili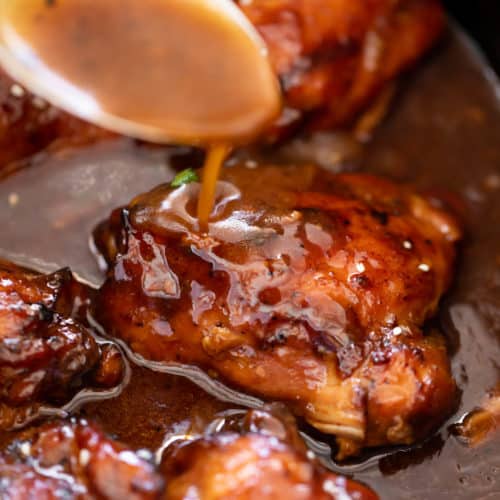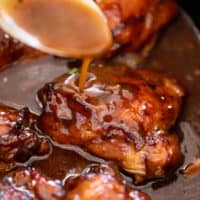 Slow Cooker Honey Garlic Chicken
Slow Cooker Honey Garlic Chicken cooked in the most incredible sauce. NO weird ingredients, just fall apart-tender, bone-in and skinless chicken thighs cooked in plenty of sauce with crispy, charred, sticky edges! Delicious crock pot chicken recipe.
PRINT
SAVE
go to your favorites
Ingredients
CHICKEN:
6

large

chicken thighs,

skinless and bone-in (2 1/2 pounds or just over 1 kg)

1

tablespoon

olive oil,

divided
RUB:
1

teaspoon

paprika

(mild or smoked)

1/2

teaspoon

brown sugar

1/2

teaspoon

each garlic powder and onion powder

1/8

teaspoon

cayenne pepper,

(optional)

1

teaspoon

coarse salt

1/4

teaspoon

black cracked pepper
HONEY GARLIC BUTTER SAUCE:
1/2

cup

(6-oz | 170 g) honey

1/2

cup

(125 g | 4-oz) unsalted butter

6

cloves

garlic,

finely chppped or minced

2

tablespoons

low sodium soy sauce

2

tablespoons

rice wine vinegar,

(or cider vinegar)

Good pinch of salt

1/2

teaspoon

cracked black pepper
ADDITIONAL:
1/4

cup

water,

or chicken broth

2

teaspoons

cornstarch (cornflour)
Instructions
CHICKEN:
Pat dry boneless, skinless chicken thighs with paper towel. Combine 1/2 tablespoon of oil with rub ingredients. Season chicken, rubbing the mixture into the chicken.

OPTIONAL SEAR: Heat remaining 1/2 tablespoon oil in a large pan or skillet over medium heat. Sear chicken for 2 minutes each side to get a nice sear. (Do not cook chicken all the way through, this step is purely for flavour.)

Transfer chicken thighs to a 6-qt (litre) slow cooker bowl.
SAUCE:
Melt butter in the same pan the chicken was in, scraping up any leftover browned bits in the pan. Add garlic and sauté for 1 minute until fragrant. Stir in remaining sauce ingredients; bring to a rapid simmer for 1 minute.

Remove from heat.
SLOW COOK:
Pour sauce over chicken in slow cooker bowl, flipping thighs in the sauce to evenly coat. Cover with lid and cook on HIGH heat setting for 2-3 hours, or LOW heat setting for 5-6 hours. Baste with sauce half way through cooking.

Transfer chicken onto serving dish and tent loosely with foil. Let rest for 5 minutes.

While chicken is resting: pour juices from the slow cooker bowl into a pot large enough to fit the liquid. Bring to a simmer over medium-high heat.

Whisk 1/4 cup water (or broth) with 2 teaspoons of cornstarch/cornflour into a lumpfree slurry. Whisk into sauce and let simmer for a good 2-3 minutes, or until thickend into a syrup-like consistency. (Please note: sauce will thicken as it cools).

For a thicker sauce, repeat this step with 1 teaspoon extra cornstarch mixed with 2 teaspoons water. Add into sauce and cook until thickened. Continue this step until reaching your desired consistency.
BROIL:
Place slow cooked chicken thighs on a lined baking sheet. Baste chicken with some of the thickened sauce, about 2 tablespoons per thigh. Broil briefly for 1-2 minutes each side to char the edges.

Slice chicken and serve drizzled with Honey Garlic Butter Sauce.
Notes
Use skinless, boneless chicken thighs. Skin on thighs are fine to use, as long as you sear the skin to render some of the fat to avoid too much fat melting into your braising liquid/sauce.
Nutrition
Calories:
508
kcal
|
Carbohydrates:
21
g
|
Protein:
52
g
|
Fat:
24
g
|
Saturated Fat:
11
g
|
Cholesterol:
173
mg
|
Sodium:
904
mg
|
Potassium:
908
mg
|
Fiber:
1
g
|
Sugar:
18
g
|
Vitamin A:
638
IU
|
Vitamin C:
1
mg
|
Calcium:
20
mg
|
Iron:
2
mg