Slow cooker whole chicken with gravy is the easiest method to get juicy and tender pieces of Rotisserie style chicken!
When you're short on time nothing is more simple to prepare than a slow cooker whole chicken. For this recipe, chicken is rubbed with a savory spice blend to enhance the natural flavours of chicken, then slow cooked in a crock pot for tender mouth watering results.
Chopped root vegetables and fresh herbs create a flavourful nest for your chicken to gently cook on. The chicken juices drip all over your veggies, boosting the flavour of your veggies, then create the best gravy to serve it all with!
A full dinner made all in one pot!

SLOW COOKER WHOLE CHICKEN
After a long work day, imagine coming home to a delicious dinner that's ready to devour as soon as you step in the door. If you haven't tried making a whole chicken in the slow cooker, you're missing out. You'll be surprised to find how this method yields super juicy pieces of meat.
Hey there! I'm Jessica Gavin, a Certified Culinary Scientist and I unravel the science behind better cooking on my website JessicaGavin.com. There's nothing better than an oven roasted chicken for supper, but did you know there's an even easier way to achieve similar flavors in a Crock Pot?
Slow Cooker Whole Chicken is so easy to throw together!
ROTISSERIE CHICKEN
All you have to do is place all of the ingredients into the slow cooker, and let the low and slow process work its magic. After a few hours, a rotisserie-style chicken is ready to be carved.
Cooking chicken on top of a mix of potatoes, carrots, onion, and celery provides a delicious balance of protein, vegetables, and carbohydrates in your meal.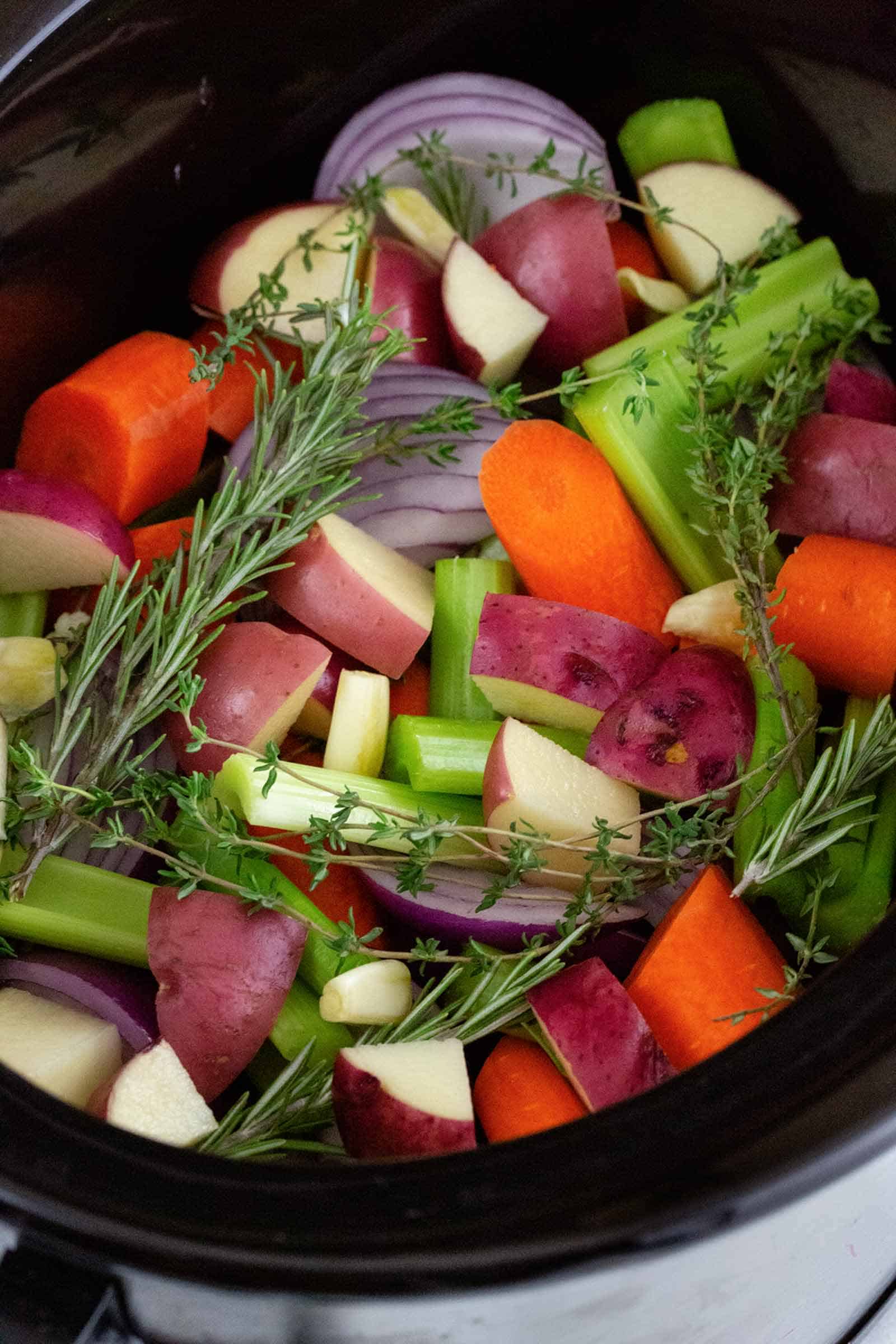 CAN YOU COOK A WHOLE CHICKEN IN A SLOW COOKER?
YES! Using a slow cooker yields mouthwatering results for a whole chicken. Compared to roasting which uses dry circulated heat, the moist heat cooking method of a Crock Pot simmers and steams the ingredients at around 209ºF.
This plays a huge advantage for the dark meat parts of the chicken, as the hot moisture helps to tenderize by softening the connective tissues and turning the gelatin into collagen for a more flavorful braising liquid. Slow Cooker Whole Chicken will become a favourite.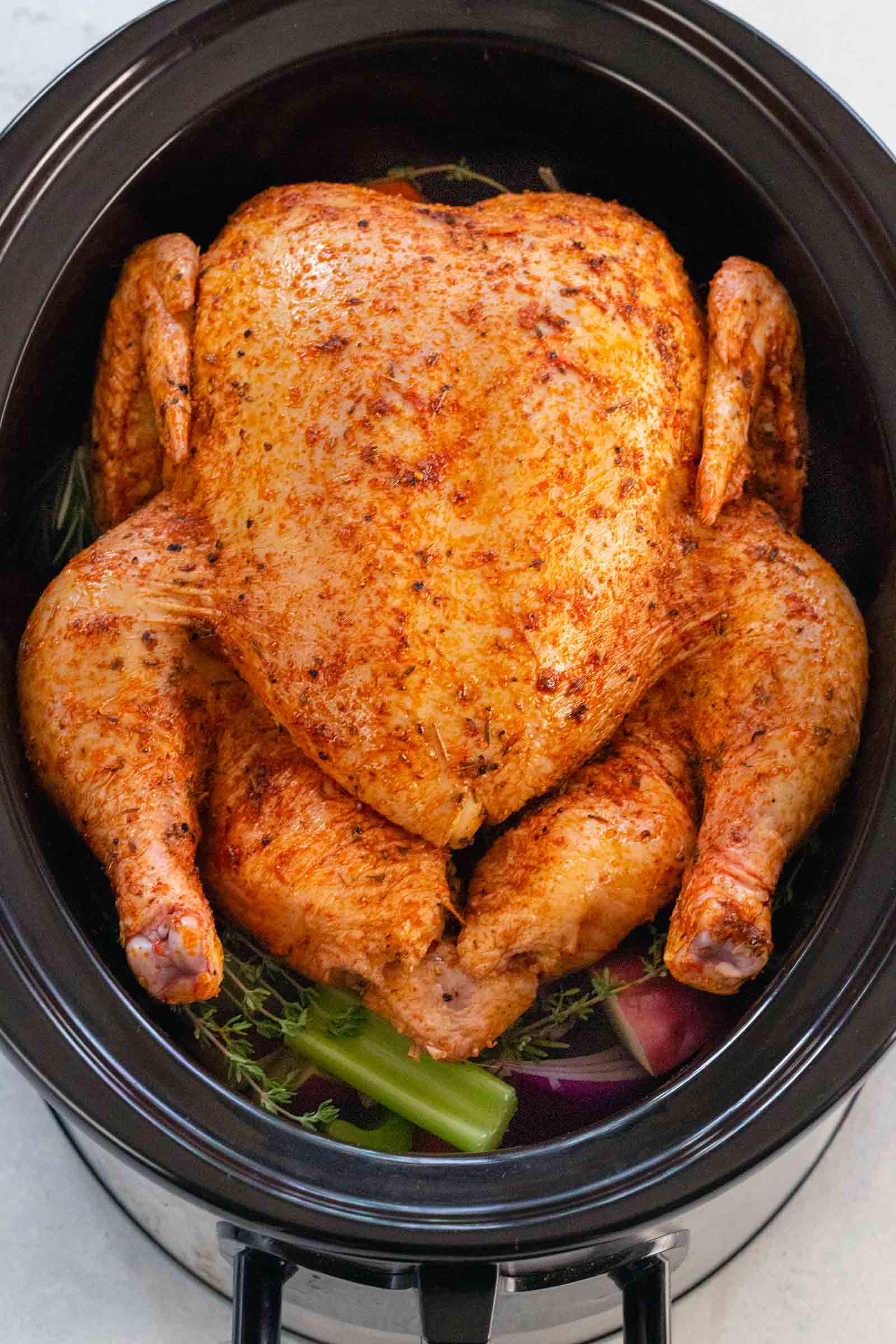 HOW TO COOK CHICKEN IN A CROCKPOT
Make a nest of vegetables and aromatics for the chicken to sit on, like celery, carrots, red onion, red potatoes, garlic, rosemary, and thyme. This elevates the bird so that it doesn't cook in its own juices making the skin soggy.
Evenly coat the outside of the chicken with a mixture of paprika, salt, pepper, and thyme.
Cook the chicken breast-side up for 4 to 5 hours on the high setting, or 6 to 8 hours on low.
The juices should run clear when the thickest part of the chicken breast and thigh are pierced with a knife.
Chicken needs to rest for about 20 minutes before carving. If cut too early the juices will run out instead of stay in the meat to keep each piece moist.
CRISPY SKIN
If you're a fan of crispy browned skin, you can take this Slow Cooker Whole Chicken recipe to the next level with an optional step. Simply brush the skin with olive oil, and then broil until the surface turns amber in color.
You'll find that the vegetables that have been cooking alongside the chicken in the Crock Pot are extremely tasty. The hours of simmering and soaking up the chicken juices maximizes the flavor and make for a delectable side dish.
I recommend broiling the vegetables for a few minutes while the chicken is resting to dry the surface.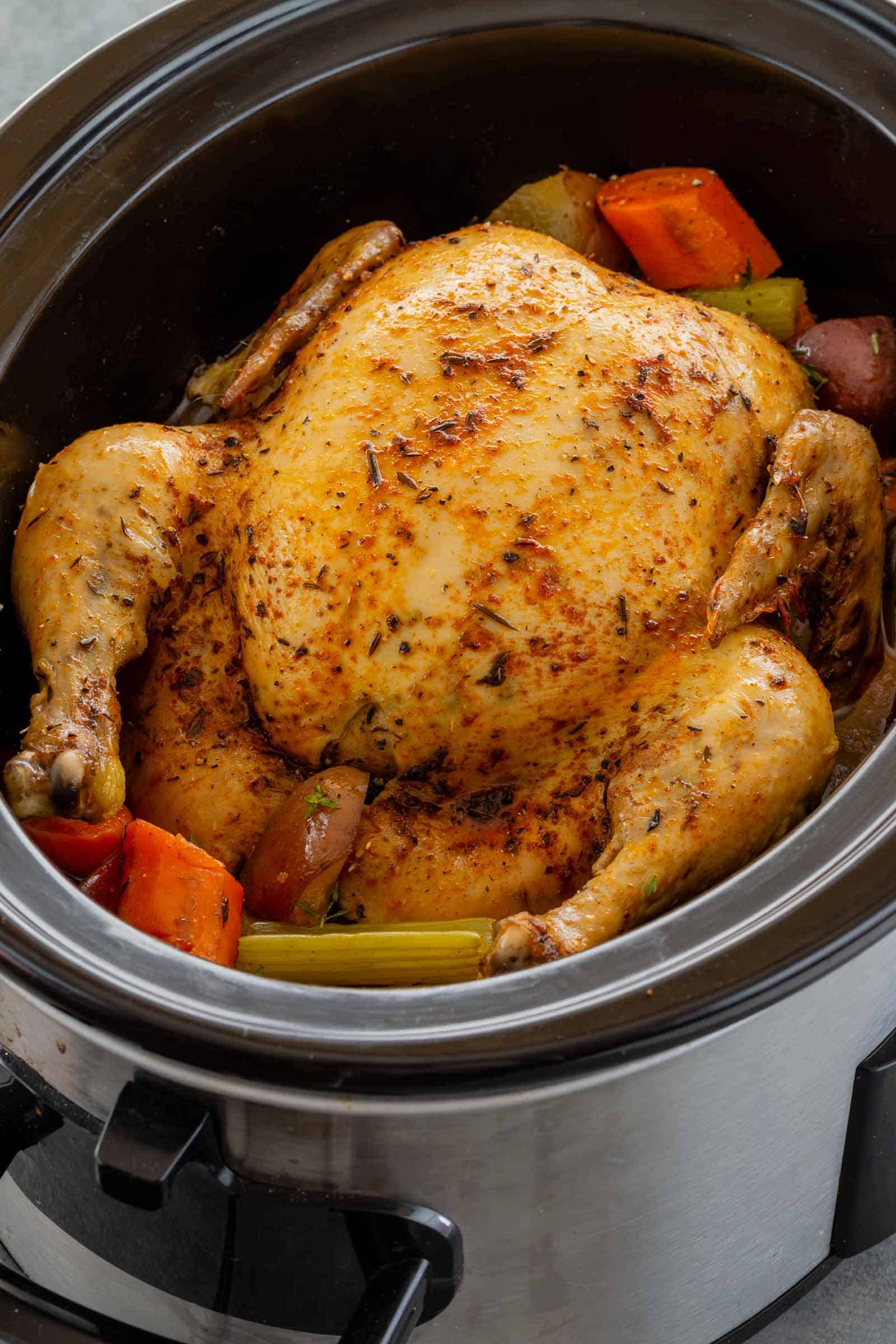 HOW TO MAKE GRAVY
Don't throw away the chicken drippings that collect on the bottom of the pot! Make a quick gravy by thickening the juice with a roux, using flour and butter.
This recipe makes a feast perfect for a complete dinner any day of the week, or even a holiday celebration. Enjoy!
Looking for more Chicken Recipes? Try these!
Garlic Herb Butter Roast Chicken
Lemon Garlic Roast Chicken
Roasted Asian Glazed Chicken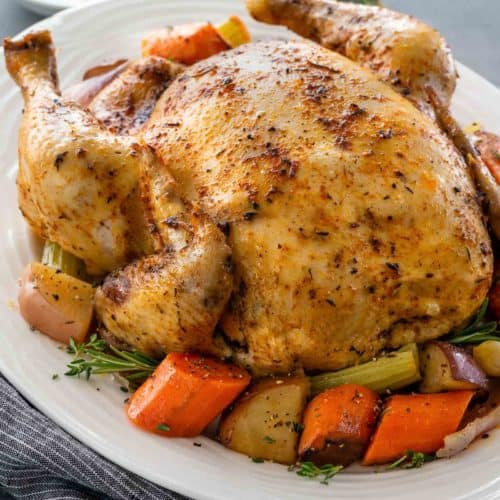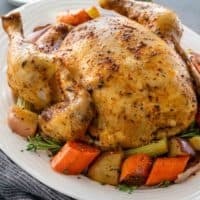 Slow Cooker Whole Chicken
Slow cooker whole chicken with gravy is the easiest method to get juicy and tender pieces of Rotisserie style chicken recipe!
PRINT
SAVE
go to your favorites
Ingredients
6

celery ribs

cut into 2-inch pieces

2

carrots

peeled and cut into 1 ½ inch pieces

1

red onion

peeled and cut into 8 wedges

8

ounces

red potatoes

cut into 1-inch pieces

5

garlic cloves

peeled and smashed

4

sprigs of rosemary

4

sprigs of thyme

2

teaspoons

kosher salt

plus more for seasoning

1 ½

teaspoons

paprika

½

teaspoon

black pepper

plus more for seasoning

½

teaspoon

dried thyme

or 1 teaspoon chopped fresh

4

teaspoons

olive oil

plus more for brushing

4 to 5-

pound

chicken

2

tablespoons

unsalted butter

2

tablespoons

all-purpose flour
Instructions
For Chicken:
Arrange celery, carrots, onion, garlic cloves, rosemary, and thyme sprigs into a 6 quart slow cooker bowl, creating a nest for the chicken.

Combine salt, paprika, black pepper, dried thyme, and olive oil in a small bowl to make a seasoning paste.

Remove the giblets and neck from the chicken. Dry the outside and inside of the chicken with paper towels.

Spread the seasoning paste evenly over the chicken skin. Place the chicken breast side up on the vegetables.

Cover and cook on the "High" setting for 4 to 5 hours, or "Low" setting for 6 to 8 hours, or until the breasts reach an internal temperature of 160 to 165ºF, and thighs reach 170ºF.
For Crispy Skin (OPTIONAL):
Carefully transfer chicken to a foil-lined baking tray with a rack on top. Brush the chicken with olive oil and broil 10-inches away from the top of the oven until the skin is browned and crisp, about 5 minutes.

To further brown the vegetables, transfer to a foil-lined baking tray and broil 10-inches away from the top of the oven for about 8 to 10 minutes.

Transfer chicken to a carving board and rest for 15 minutes before carving.

To serve, add vegetables to a platter and place carved chicken on top.
For Gravy:
Transfer chicken drippings to a fat separator. Heat a medium sized pan over medium heat.

Melt 2 tablespoons of unsalted butter in the pan and then whisk in 2 tablespoons flour. Once a pale roux is formed, turn the heat up to medium-high.

Gradually whisk in 1 cup defatted chicken drippings. Stir continuously until thickened, about 2 minutes. Add more chicken drippings for a thinner sauce. Season gravy with salt and pepper.
Nutrition
Calories:
182
kcal
|
Carbohydrates:
21
g
|
Protein:
2
g
|
Fat:
10
g
|
Saturated Fat:
4
g
|
Cholesterol:
15
mg
|
Sodium:
545
mg
|
Potassium:
383
mg
|
Fiber:
3
g
|
Sugar:
4
g
|
Vitamin A:
5955
IU
|
Vitamin C:
13.4
mg
|
Calcium:
57
mg
|
Iron:
1.4
mg